This post may contain affiliate links. Read my disclosure policy.
Whether you are celebrating a holiday or special occasion, or just the fact that it's the weekend, these Gluten Free Brunch Recipes will make any Saturday or Sunday extra special and delicious! With these ideas, you can make piles of pancakes, mountains of muffins, and more. Get ready to enjoy a meal that lasts from breakfast through lunch even if you can't eat wheat.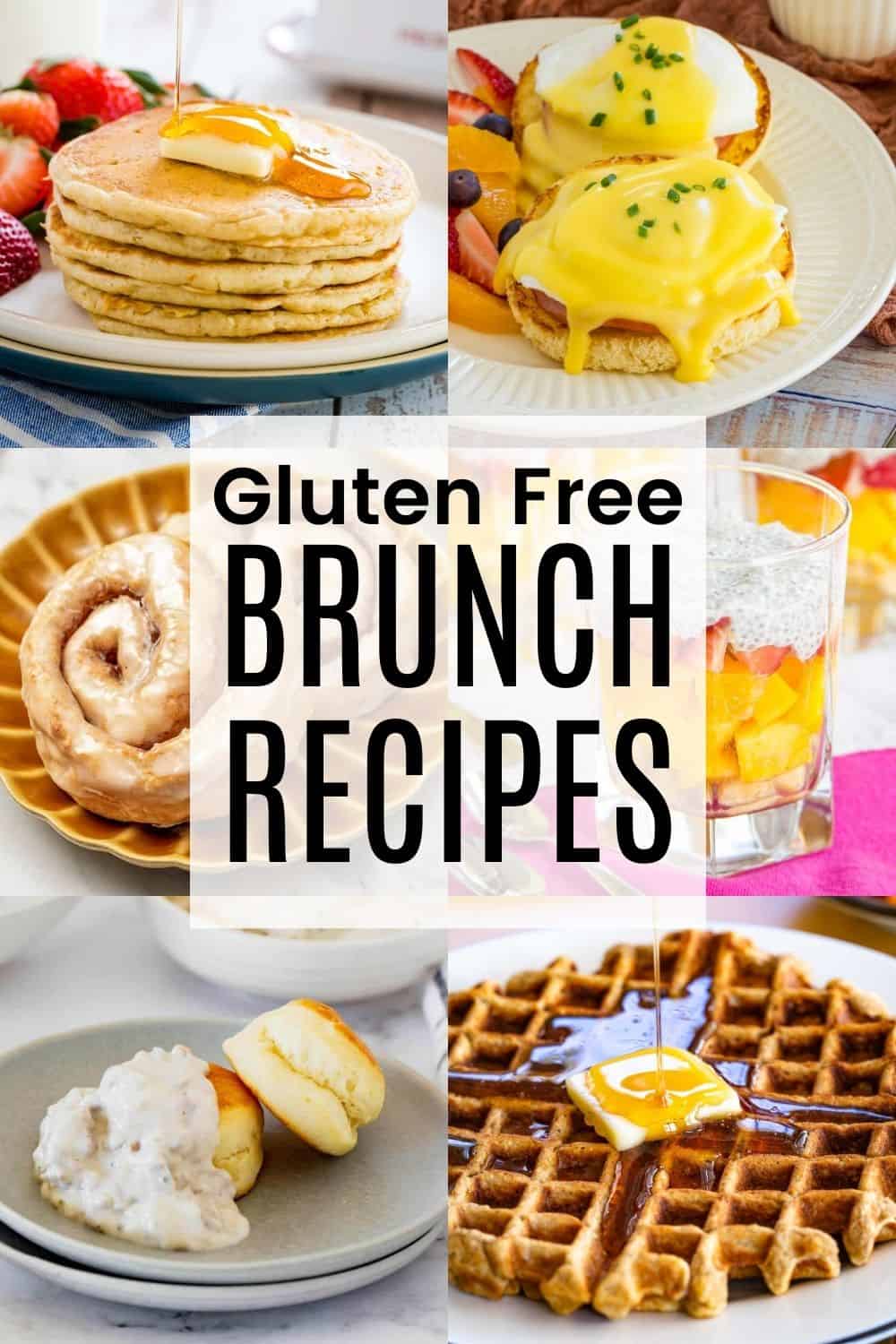 Gluten Free Brunch
As I was growing up, holidays often meant going out for brunch with my family. We'd always go to a buffet, and I'd pretty much pile a little of everything on my plate. First, it was the pastries and pancakes and waffles and eggs. Then I moved on to the salads. After that, it was some glazed ham or prime rib and potatoes. And finally, who can forget about dessert?!
Unfortunately going out for brunch is not as easy as it once was now that I follow a gluten free diet. You can't get good gluten free baked goods or even pancakes everywhere. And those buffets I once loved are a challenge. You have to check for foods that contain gluten and they are a huge risk for cross-contamination.
So what's the solution? Give up brunch forever?
No way!
Instead, make it at home with all the ingredients and foods you can eat on a gluten free diet.
What can you eat for brunch that is gluten free?
Between naturally gluten free brunch foods, an abundance of recipes, and the availability of gluten free flours, really nothing is off-limits anymore.
Pancakes and Waffles: Whether you start with a gluten free mix, make your favorite recipe with a 1:1 gluten free flour blend, or try some of the recipes that don't use any flours at all, you can easily make these all-time favorites.
French Toast: Buy a loaf of your favorite brand or make your own gluten free bread.
Baked Goods: From quick breads and muffins to coffee cakes and yeast doughs for donuts or cinnamon rolls, there are gluten free replacements for pretty much any baked breakfast dish you've always enjoyed.
Fruit, Yogurt, and Granola: Obviously the fruit and many varieties of yogurt are naturally gluten free. Gluten free granola might be harder to find, but it's easy to make as long as you are sure to get certified gluten free oats.
Eggs: Frittatas and omelets are often naturally gluten free. If you want to make a quiche, try your hand at gluten free pie crust, and try that gluten free bread in a casserole.
Keep reading to find all of these gluten free brunch recipes and more! Add them to your menu and you will absolutely be brunch goals!
Best Gluten Free Brunch Recipes
Some people prefer sweet, while others like savory when it comes to brunch. You'll find ideas for everything from sweet baked treats to savory egg dishes. There are classic pancakes and marvelous muffins, fresh fruits and lovely coffee cakes, as well as the perfect sides to complete the meal.
I hope you enjoy these gluten free brunch recipes and add them to your menu soon! And if brunch doesn't end there, you can always add a sweet treat like one of these gluten free spring desserts.