Pineapple Glazed Ham with Hard Apple Cider
Disclosure: This post may contain affiliate links. Cupcakes & Kale Chips is a participant in the Amazon Services LLC Associates Program, an affiliate advertising program designed to provide a means for us to earn fees by linking to Amazon.com and affiliated sites.
Brown Sugar Glazed Ham with pineapples is the classic holiday main course. But this recipe has even more sweet and tangy flavors because it is baked in a mixture of hard apple cider and pineapple juice that are used to make that thick glaze. Festive and delicious, this is a must-make for your Christmas menu this year!
Looking for more holiday main dish recipes? Try my Hard Cider Dijon Marinated Tip Roast or Slow Cooker Corned Beef.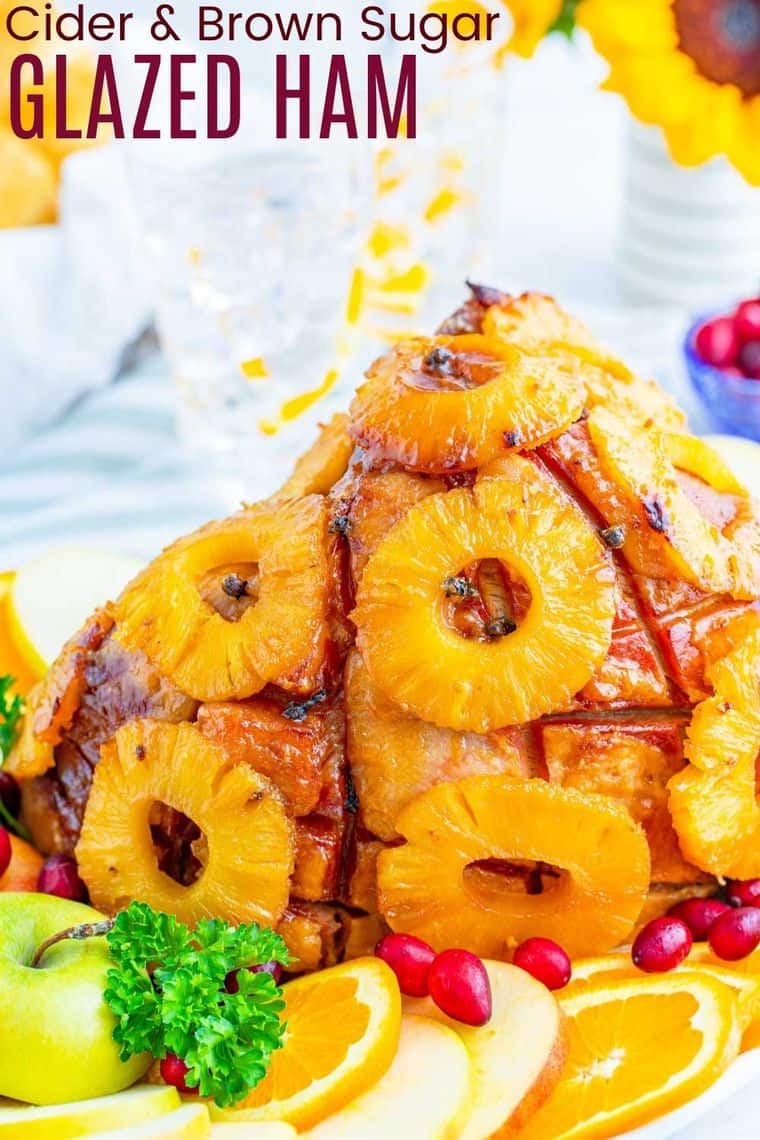 Apple Cider Glazed Ham with Pineapple
There is nothing more satisfying than walking to the table with your family gathered around and presenting them with an absolute showstopper. You know, the kids of dish that make everyone turn their heads and ooh and ahh as you carry it into the room.
It could be a perfectly roasted turkey. Maybe you've made a grand prime rib recipe. But some occasions call for a glorious baked ham like this one.
The best part about this glazed ham recipe, like many of those centerpiece dishes, is that it is actually easier than it looks.
And of course, it tastes just as amazing as it looks. Maybe even better!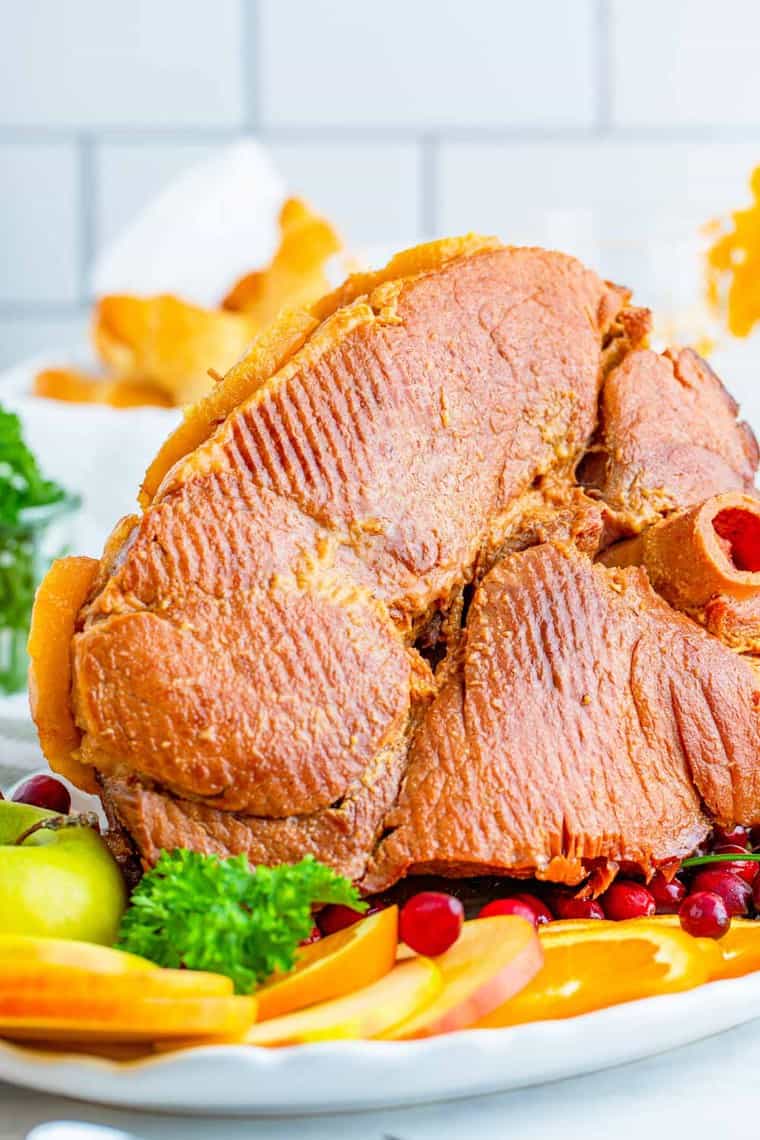 How to Make a Glazed Ham
While it does take some time in the oven, your hands-on time is only about 15 minutes to end up with a sweet and tangy baked ham that is coated in a luxurious glaze and packed with amazing festive flavors.
Here is a brief overview so you can see just how easy it is to make. Scroll down to the printable recipe card for the full quantities and details.
But don't skip my PRO TIPS below!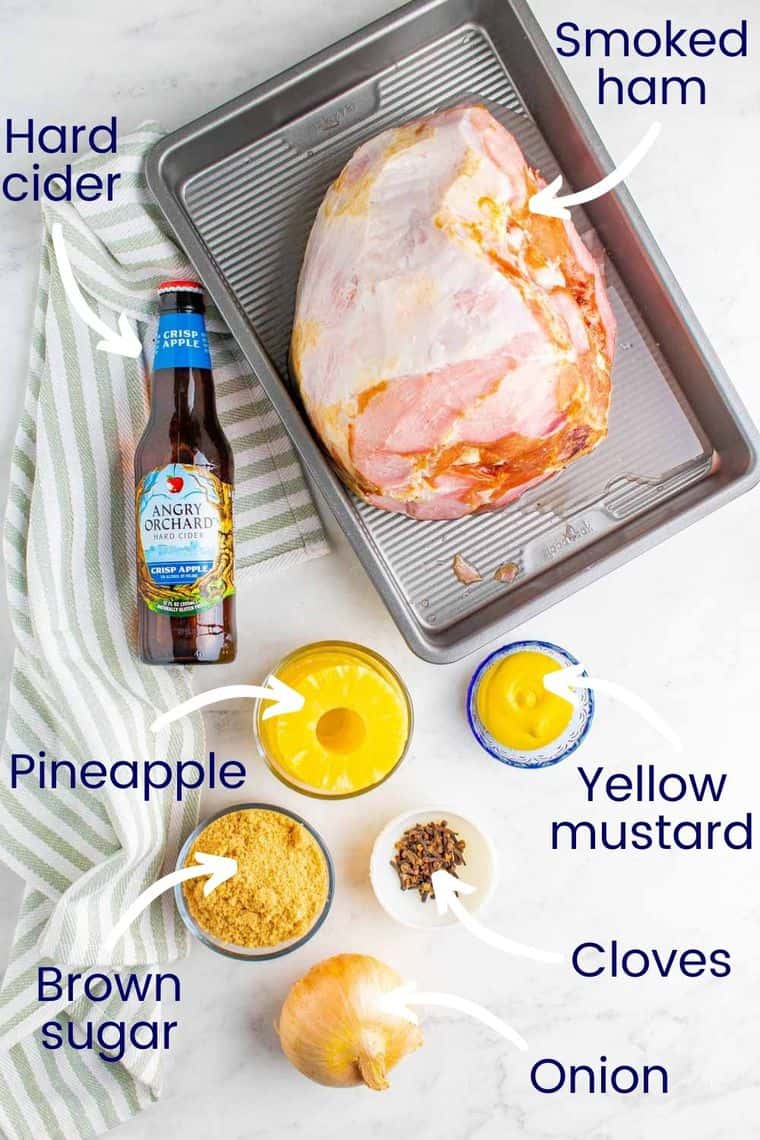 What kind of ham do you need?
For this recipe, you will need a pre-cooked ham. You'll be looking for the shank or butt end with thee bone in. This is also known as a "city ham", which is usually brined and smoked.
Since they are fully cooked, you can actually slice it and eat it cold. In fact, many are sold pre-sliced. For this recipe, you DO NOT want a spiral sliced ham.
How to you prepare the ham for baking?
If your ham has a rind, you can trim it off, but be sure to leave a thick layer of fat. Place the ham in a deep baking pan.
Then with a paring knife, lightly score the fat/meat into a diamond shape, being sure not to cut too deep. Press cloves into the ham and secure pineapple rings to the outside with toothpicks.
NOTE: save the juice from the can of pineapple!
What is in a brown sugar glaze for ham?
You do not want to glaze the ham until you have baked it most of the way, or you run the risk of burning the glaze. So you will start by adding liquids and onions to the pan to keep the ham moist and flavorful. Then use some of the drippings to make the glaze.
Pour the hard cider and pineapple juice over the ham and scatter sliced onions around it. Now bake at 325°F for about 15 minutes per pound.
Make the glaze by mixing the brown sugar and mustard with a couple tablespoons of the juices from the baking pan to make a smooth paste.
Brush the glaze over the ham and return to the oven for another 30 minutes or so to caramelize the glaze and heat the ham all the way through to an internal temperature of about 140°F.
Before serving, let the pineapple glazed ham rest for about 30 minutes. Serve with the pineapple slices and the drippings on the side as an au jus if desired.
Note: remove the toothpicks and cloves before serving!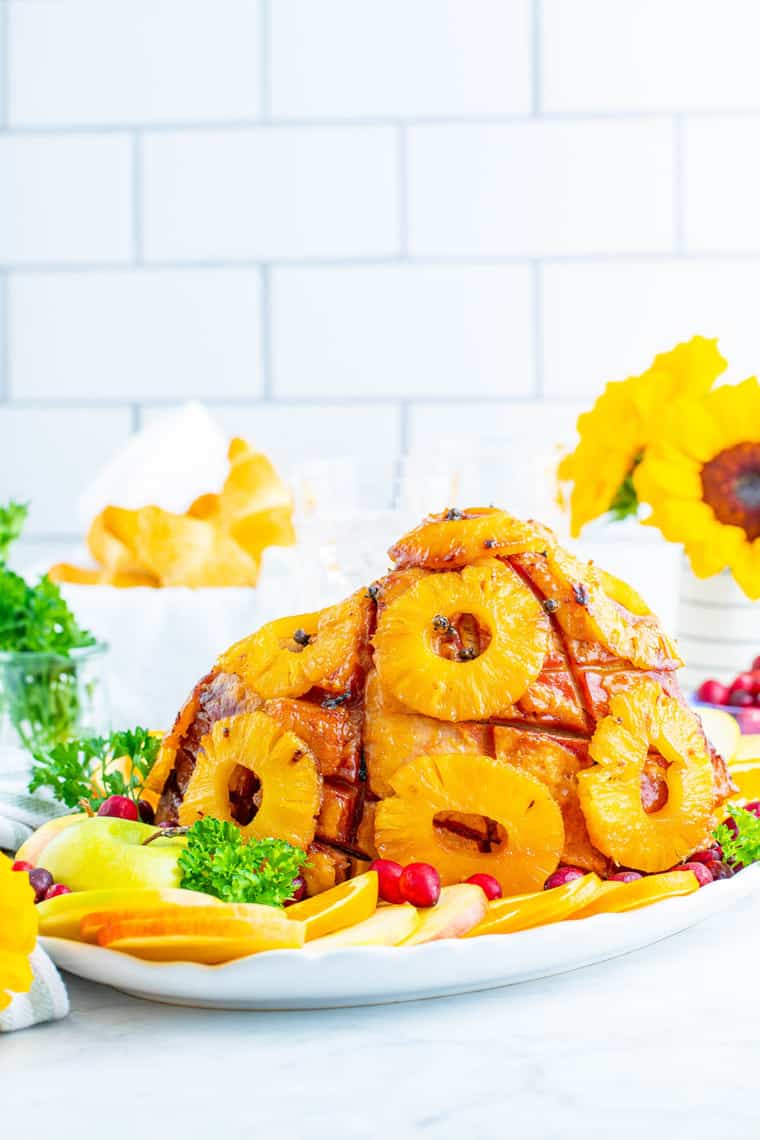 Make it a Meal
Side dishes to serve with ham
Vegetables
Potatoes and starches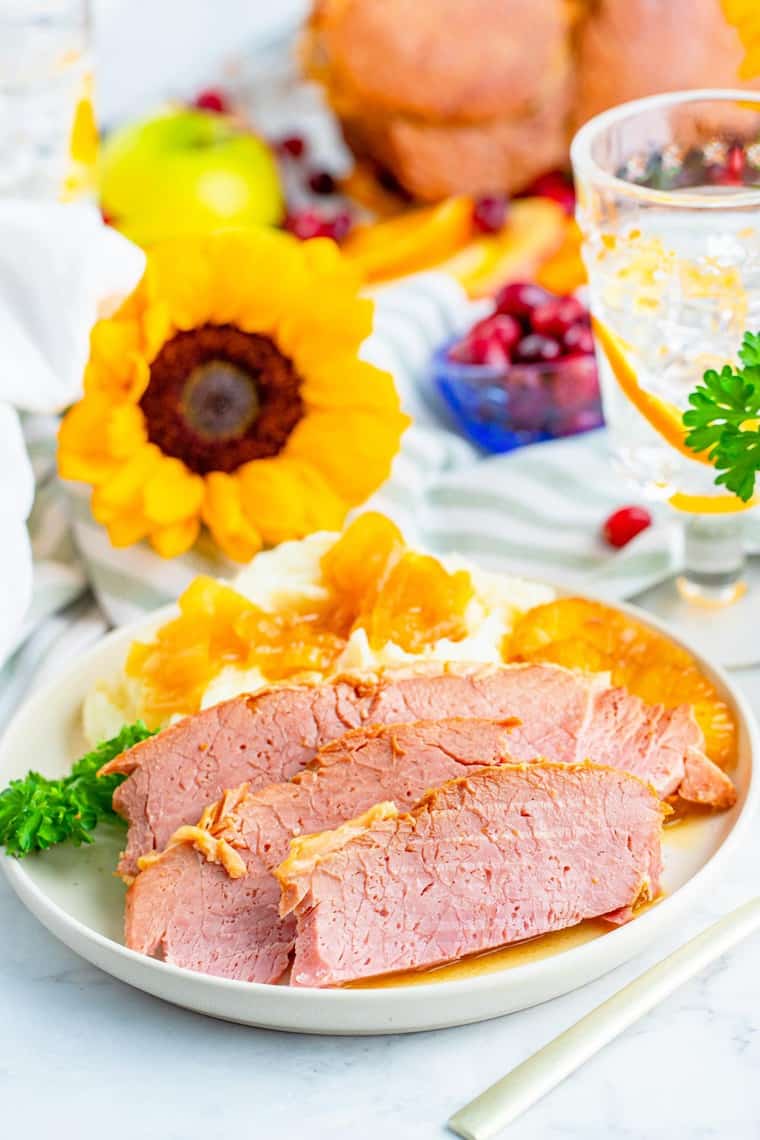 How long does leftover ham last?
If you have any leftover ham, be sure to wrap it tightly, and you can keep it in the refrigerator for about a week.
You can also wrap it and place it in a plastic freezer storage bag and freeze for up to two months.
What can you make with leftover ham?
And don't throw away that ham bone. You can use your ham hock to make Split Pea Soup with Ham (recipe coming soon!).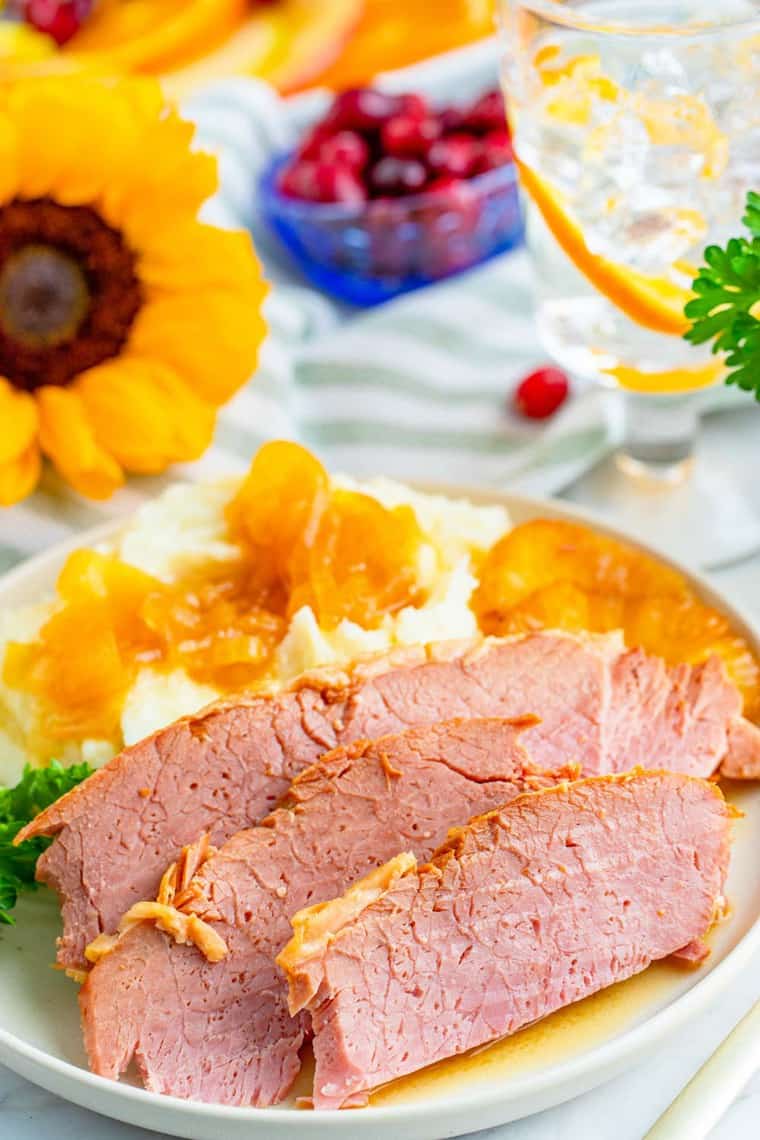 Is ham gluten free?
While the meat itself is naturally gluten free, the ingredients used in the brines to make the hams of the glazes that come with them may not be. This is why it's a good idea to make your own, and why I am sharing this apple cider glazed ham recipe using ingredients that don't contain gluten.
You just need to be sure to buy a ham that does not have gluten-containing ingredients or is a high risk for cross-contamination. While most brands won't state that their products meet the definition of gluten free, they will typically disclose gluten-containing ingredients.
However, it is best to stick with those that are certified gluten free. Look for hams from brands like Cook's and Jones Dairy Farms, which are gluten free at the time of this writing. Be cautious with brands like Smithfield, Hormel, and even HoneyBaked Ham Company, which could be a risk.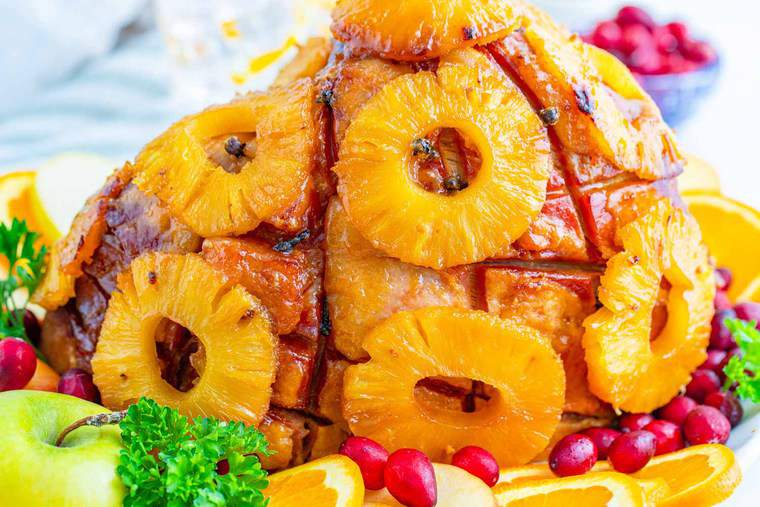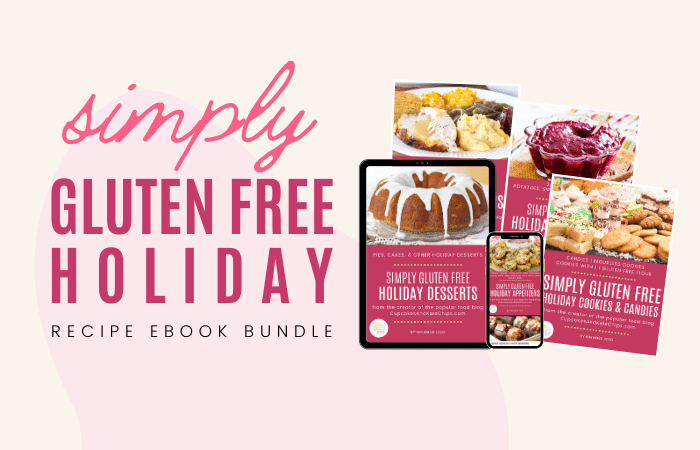 More recipes with hard cider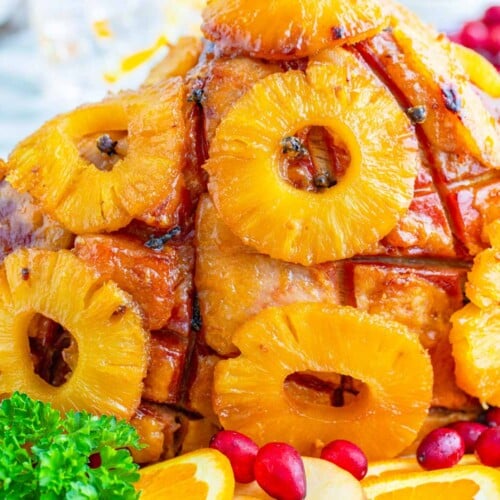 Print Recipe
Hard Apple Cider Brown Sugar Glazed Ham
This is the classic holiday main course, but with even more sweet and tangy flavors because it is baked in a mixture of hard apple cider and pineapple juice that are used to make that thick glaze. Festive and delicious, this is a must-make for your Christmas menu this year!
Ingredients
10-15

lb.

cooked smoked ham

, shank or butt end, not spiral cut

1

Tablespoon

whole cloves

20

oz.

can pineapple rings

, do not drain

12

oz.

bottle of hard apple cider

1

medium onion

, sliced thin

1

cup

light brown sugar

3

Tablespoons

yellow mustard
Instructions
Preheat the oven to 325°F.

If the ham has a rind on the outside, trim this off if you prefer. Do not trim off all the fat, make sure there is still a thick layer of fat on the outside. Using a paring knife, score the fat/meat in a diamond shape all around the ham. Do not cut too far into the meat, just a light scoring.

Place the ham cut side down into a large baking pan with deep sides. Press the cloves into the ham every couple of inches. Attach the pineapple rings with toothpicks.

Pour the hard cider and remaining pineapple juice over the ham. Add the sliced onions to the bottom of the pan.

Cover everything in foil and bake for 15 minutes per pound.

Remove the foil. In a small bowl whisk together the brown sugar and yellow mustard. Add a couple of tablespoons of the ham drippings to help make a smooth paste. Brush the glaze all over the ham.

Place the ham back in the oven to caramelize the glaze, up to 30 minutes. Keep an eye on it because it might burn. You are looking for an internal temperature of about 140°F.

Let the ham rest for 30 minutes before slicing. Make sure to remove the cloves and toothpicks before slicing. Serve with the drippings on the side as an au jus.
Nutrition
Serving:
1
serving
|
Calories:
510
kcal
|
Carbohydrates:
20
g
|
Protein:
54
g
|
Fat:
22
g
|
Saturated Fat:
5
g
|
Cholesterol:
207
mg
|
Sodium:
3312
mg
|
Potassium:
873
mg
|
Fiber:
1
g
|
Sugar:
19
g
|
Vitamin A:
18
IU
|
Vitamin C:
70
mg
|
Calcium:
38
mg
|
Iron:
3
mg