This post may contain affiliate links. Read my disclosure policy.
This homemade Corn Pudding recipe is a family favorite! Made without corn muffin mix, this creamy corn casserole is naturally gluten free. It is an easy side dish perfect for holiday dinners and weeknight suppers alike!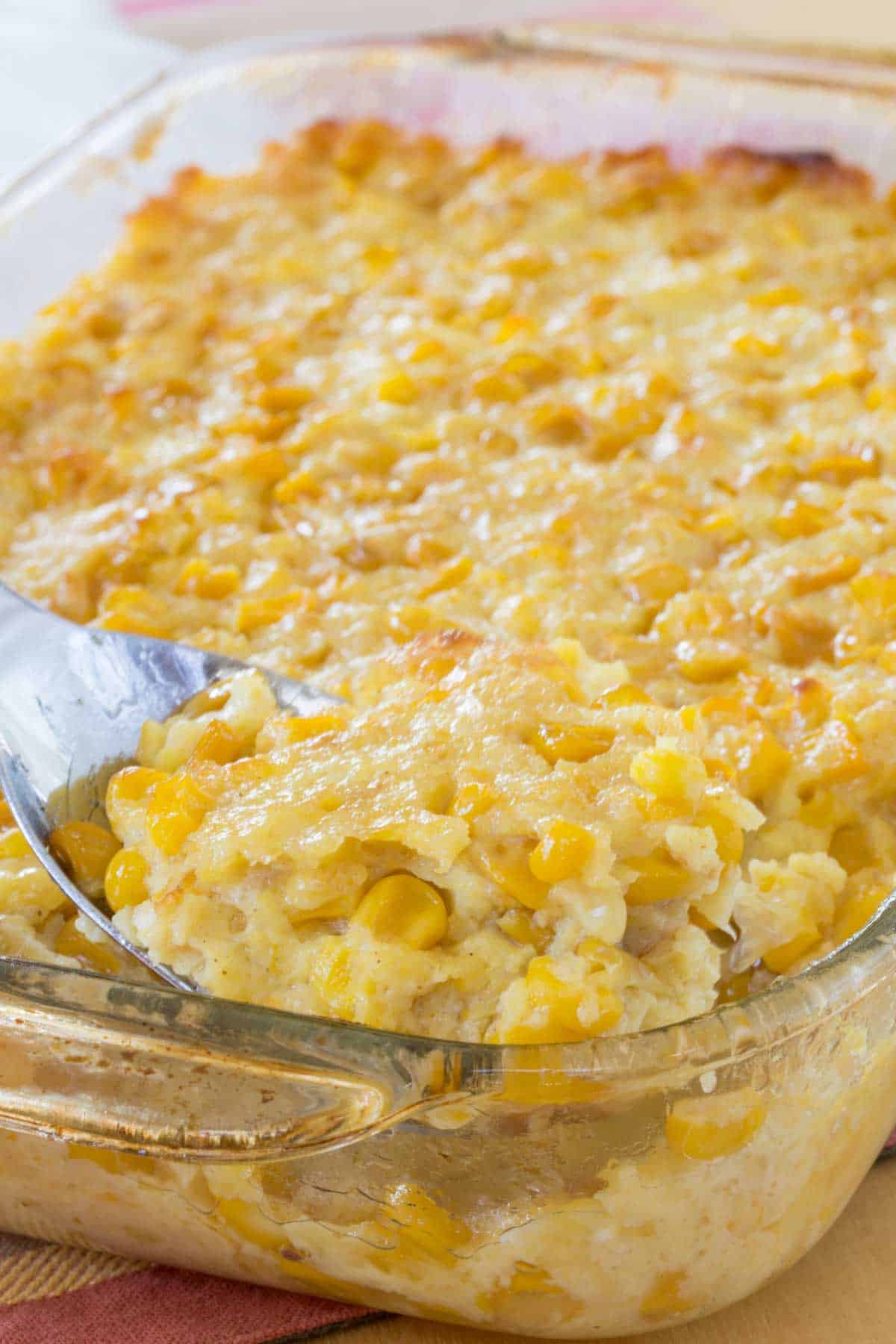 Our Favorite Corn Pudding Recipe – My Family Has Been Loving it for Years!
In my family, we have been making this recipe for years. Only instead of using a cookbook or finding it on a website, we have been reading it off of a little scrap of paper my mom clipped out of a magazine years ago. It was part of an ad for one of the ingredients. I can't even attribute it to the exact source, because there are several brand names listed in the recipe. And I have not been able to find it online, despite many searches.
This homemade corn pudding casserole is made with canned corn kernels and creamed corn mixed with sugar, butter, and a hint of seasonings. It's creamy, sweet, savory, buttery and salty. In other words, it's REALLY good.
In my family, it is as much a part of my Thanksgiving dinner as the roast turkey and my annual serving of No-Crust Mini Pumpkin Pies. And it is a centerpiece of our Christmas Eve and Easter meals with the ham and my famous Honey Nut Baked Brie cheese.
I will literally forego almost any other dish on any holiday just to get my fill of this corn pudding before it disappears.
And it always disappears. Corn Pudding, I can't quit you.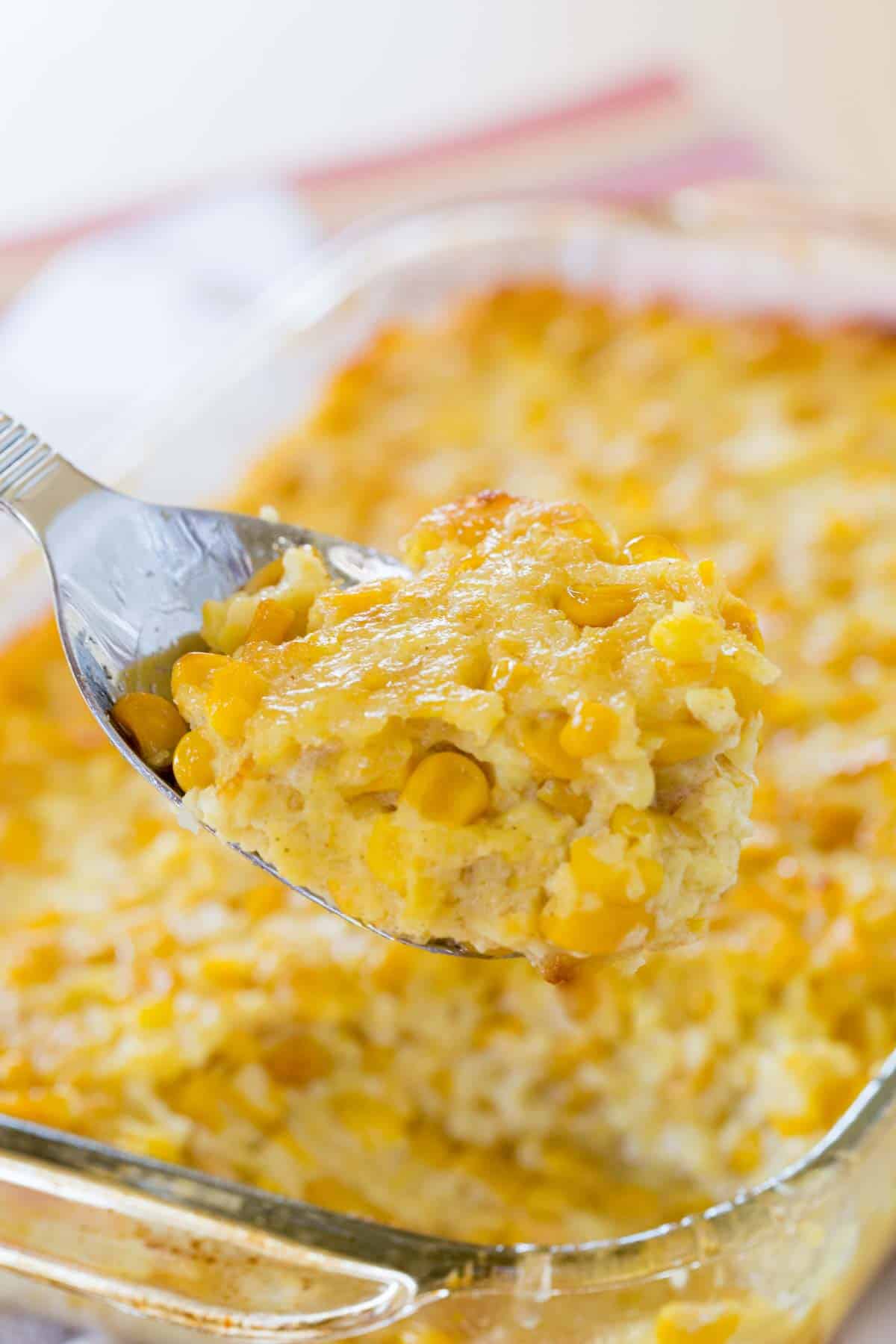 What is Corn Pudding?
Corn Pudding is a custard-like side dish from the United States. This particular version contains corn kernels and creamed corn, eggs, sugar, corn starch, butter, and milk. You season it with seasoning salt, dry mustard powder, and dried minced onions.
This all comes together in the perfect balance of sweet and savory. It is a rich and creamy dish, but it still holds its form when you scoop it out onto a plate.
It does differ from the traditional corn casserole recipe, which is light and fluffy, but has a thicker, more cornbread-like consistency from the addition of a boxed corn muffin mix. The difference here is that this corn pudding recipe is made without Jiffy muffin mix, making it naturally gluten free.
Do you eat it hot or cold?
We typically eat corn pudding hot straight out of the oven. However, if your oven is very full on a holiday, know that you can bake this ahead and pop it back in the oven right before it is time to eat.
Some of my family members will occasionally sneak a few cold bites right out of the fridge, though.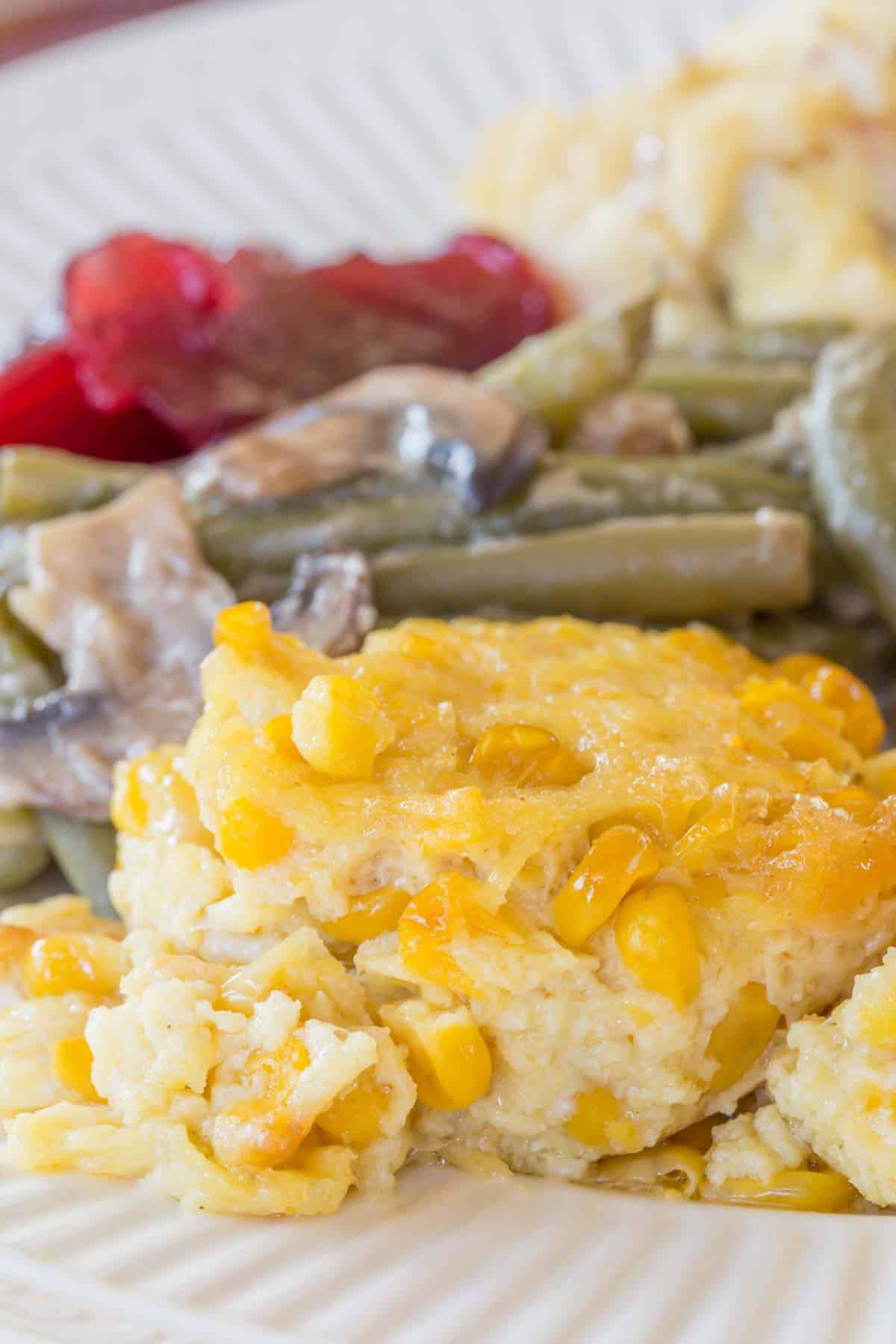 Ingredients
The best thing about this recipe is that many of the ingredients can be purchased in advance. This means you don't have to deal with last-minute crowds in the store before a holiday. Here is a rundown of what you'll need, but the full amounts and details are in the recipe card at the bottom of the post. But keep reading for tips and other helpful information.
Corn. This recipe uses canned whole kernel corn and canned creamed corn. You do drain the canned corn kernels. You can also use frozen corn that you have thawed. Do not drain the creamed corn, and be sure to use a brand that is gluten free, if needed.
Eggs. If you want to save time cracking eggs (especially if you double the batch) or just want to cut back on the cholesterol, you can use a liquid egg substitute.
Sugar.
Cornstarch. This is a naturally gluten free thickener.
Seasoning salt. Also called seasoned salt or season-all salt. Most brands do not contain gluten ingredients, but may not be manufactured in dedicated facilities. So read the label or check with the manufacturer. You can also make your own.
Dry mustard powder.
Dried minced onion.
Butter. I have used salted and unsalted, but prefer unsalted. You can use margarine, though the flavor is better with butter. The butter should be melted and then slightly cooled.
Milk. This recipe has been made with skim, 1%, 2%, and whole milk. It has not been tested with non-dairy milk.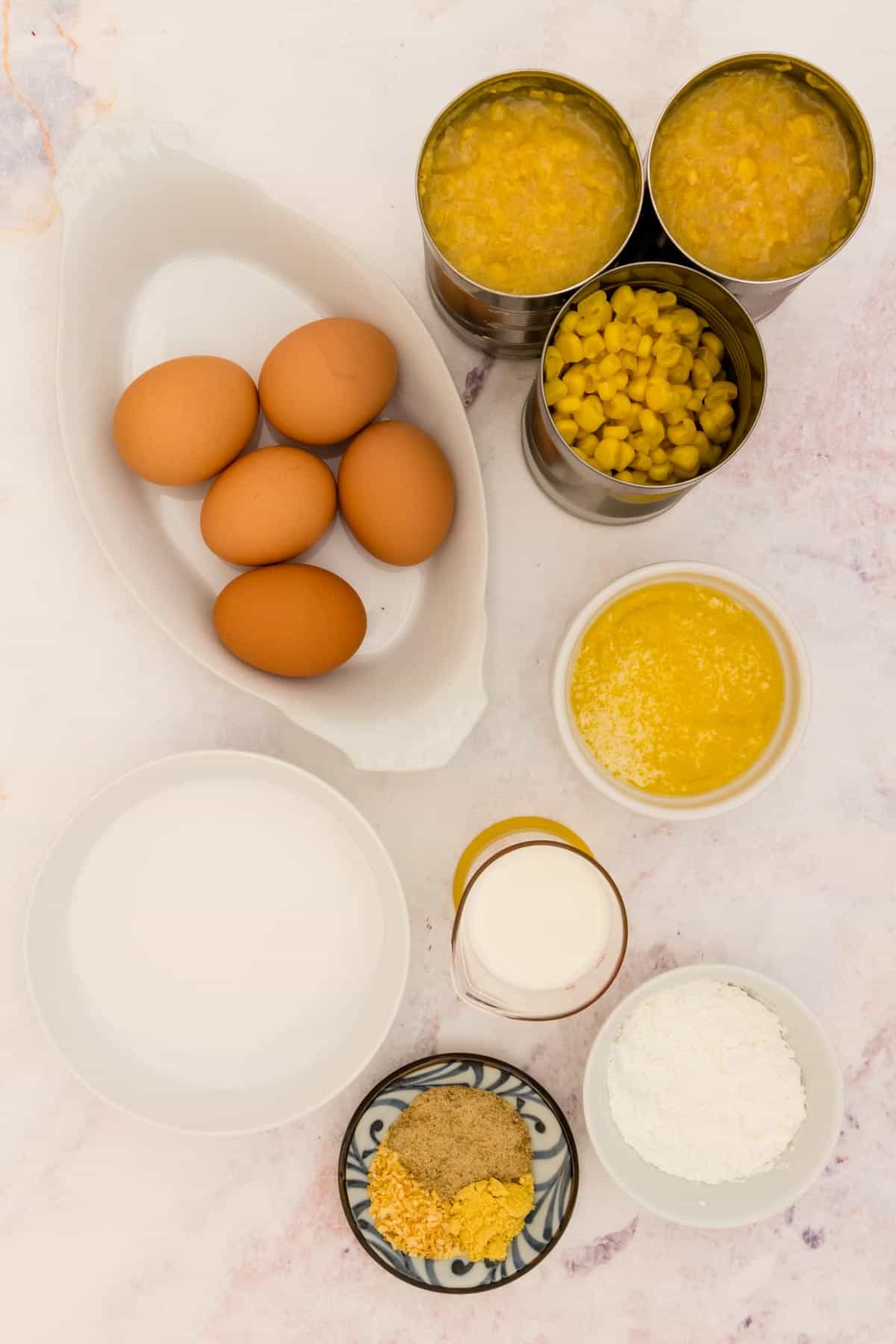 How to Make Corn Pudding From Scratch
This sweet corn casserole is super easy to make. Here's a quick rundown of how to make our family's favorite corn pudding in your own kitchen!
Preparations. Preheat oven to 400°F. Spray your baking dish with cooking spray or oil.
Make the wet mixture. Combine the two kinds of corn and eggs in a large bowl and stir until mixed thoroughly.
Make the dry mixture. Whisk the sugar, cornstarch, seasoned salt, dry mustard, and minced onion together in a small bowl.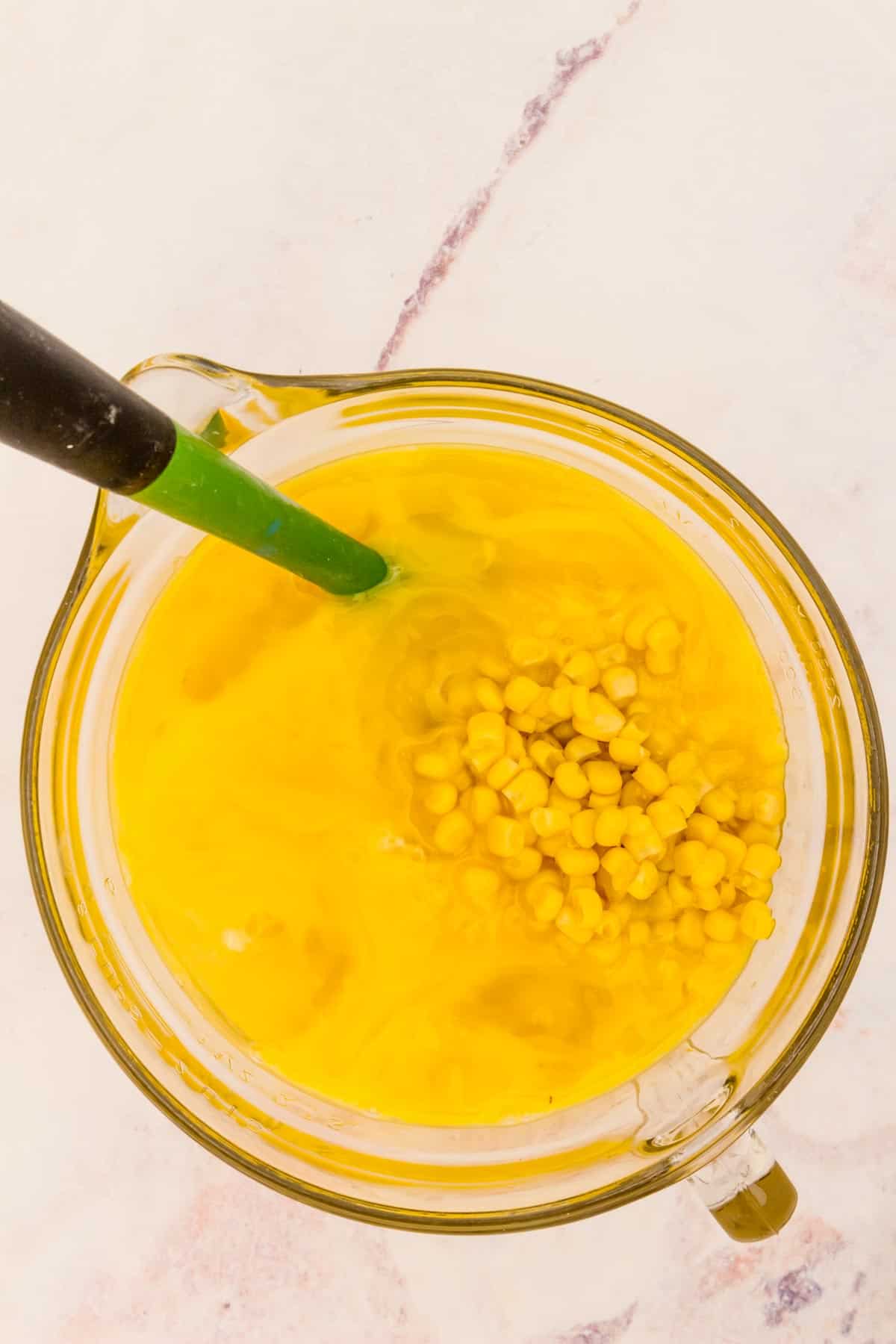 Finish the custard mixture. Fold the dry mixture into the wet ingredients. Then stir in the milk and melted butter until evenly mixed.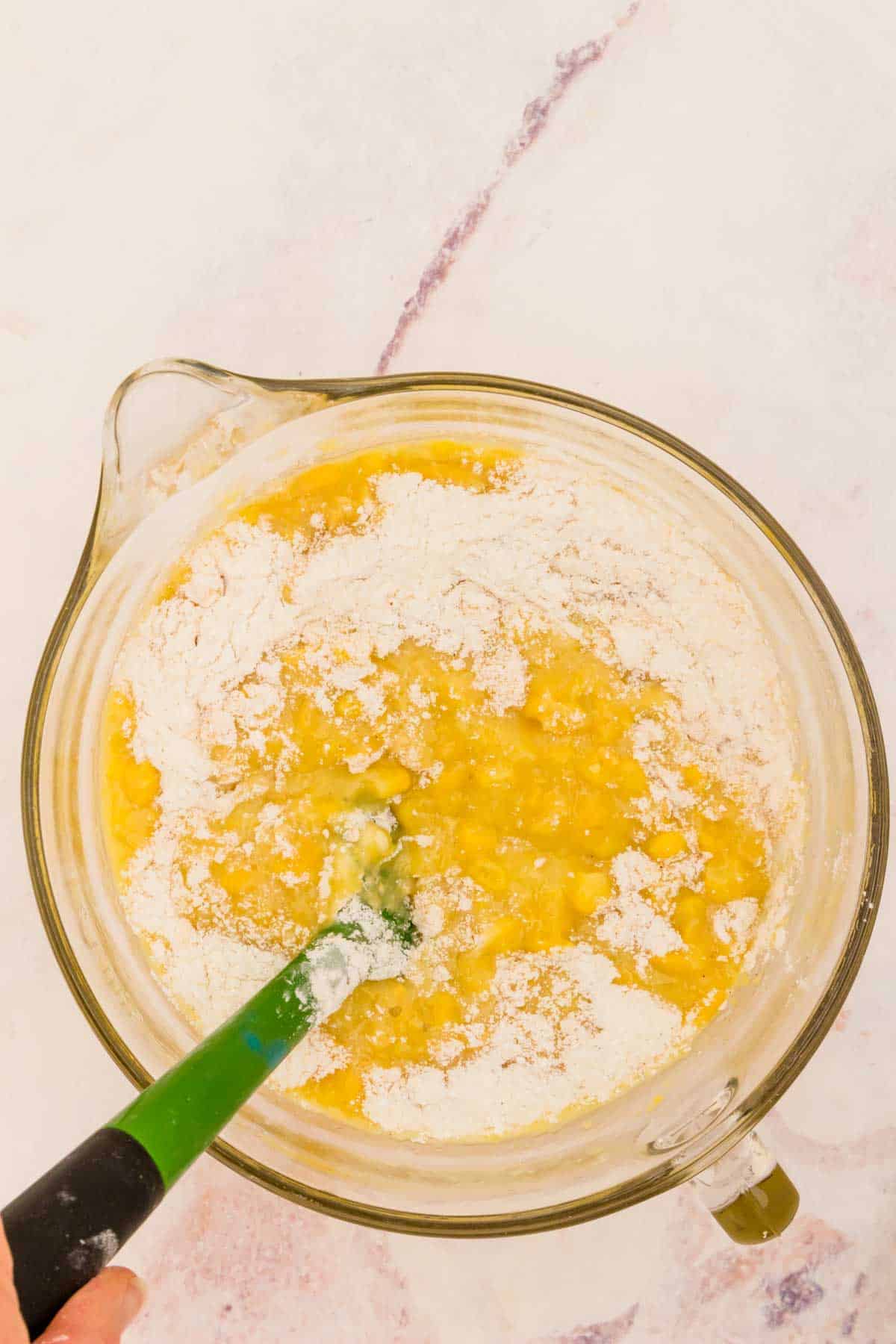 Bake. Pour the mixture into the prepared baking dish and bake at 400°F for an hour, stirring once.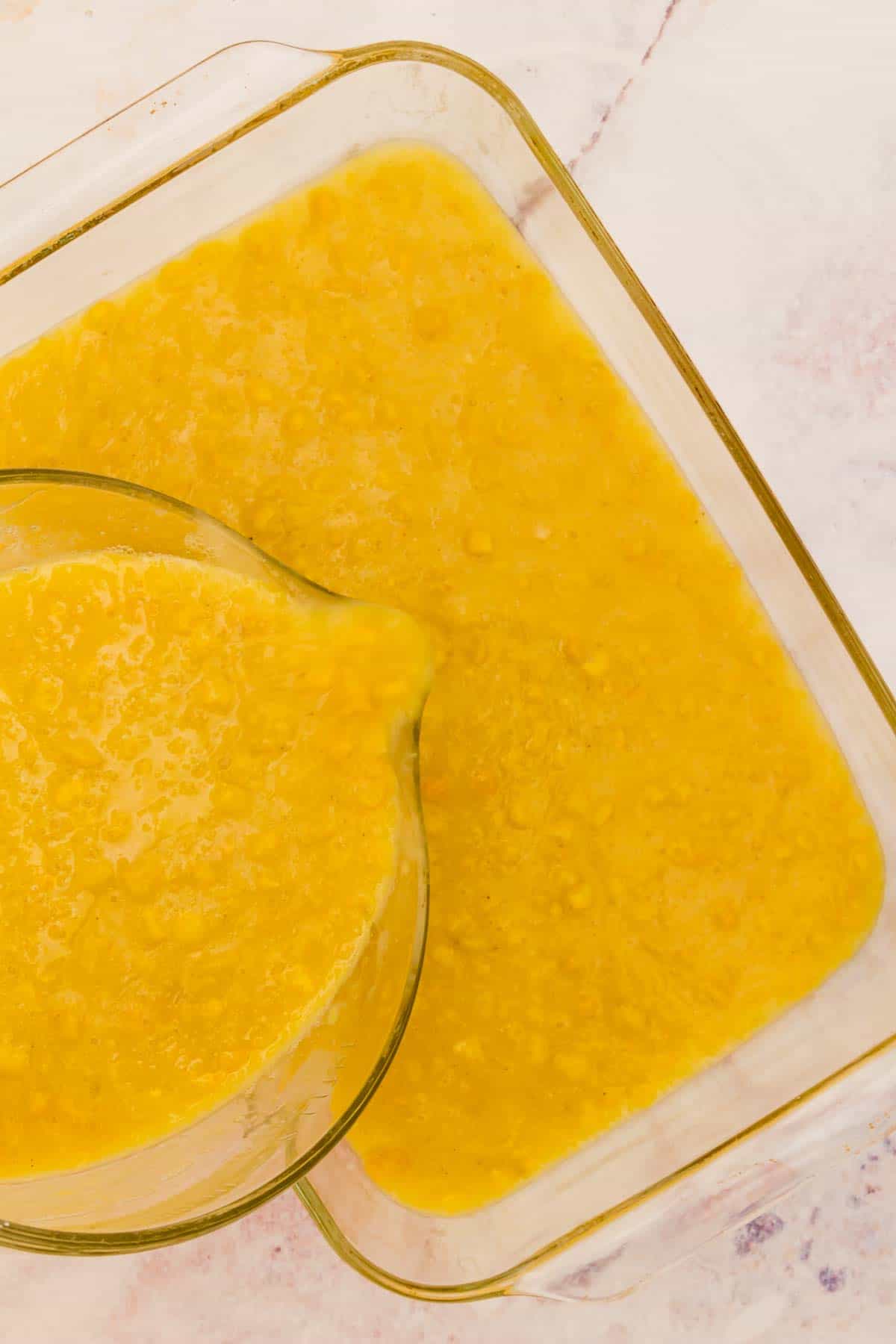 Tips for Success
Pan size: Corn pudding can be baked in a 9×13 inch glass baking dish, a 3-quart ceramic casserole dish, or even aluminum pans if you want to make cleanup a breeze.
Doubling this recipe: You can double the batch when mixing it up, but divide the mixture between two baking dishes before putting it in the oven or it will not cook through in the center.
Adjusting cook temperature: This is a pretty forgiving recipe and can bake at whatever temperature you have your oven on based on the other dishes you are making. You'll just have to adjust the cooking time, baking it longer if your oven is lower, and checking it sooner if it is hotter than 400°F.
Making Corn Pudding in Advance
Yes, you can make it ahead of time. You have a couple of options depending on what works best for you.
Just prepare the mixture. Mix everything together and keep it covered in a bowl in the refrigerator overnight. Then just pour it into a baking dish and let it warm up a bit while the oven preheats. It may need an extra few minutes in the oven.
Bake and reheat. Prepare and bake the corn pudding as directed. Then reheat it in the oven or microwave before serving. It is pretty forgiving and you can reheat it at pretty much any temperature your oven is set at, between 350°F and 450°F. Just be sure to check on it and take it out once it is heated through.
Storing Leftovers
Homemade corn pudding casserole will last for 3-4 days in the fridge. Store it in an air-tight container or snuggly cover your baking dish with plastic wrap before placing it in the fridge. You can reheat it in the oven or microwave until it is steaming hot.
Since it is custard-based, I would not recommend freezing corn pudding. It is safe to eat when frozen and thawed, but it might end up with an undesirable texture.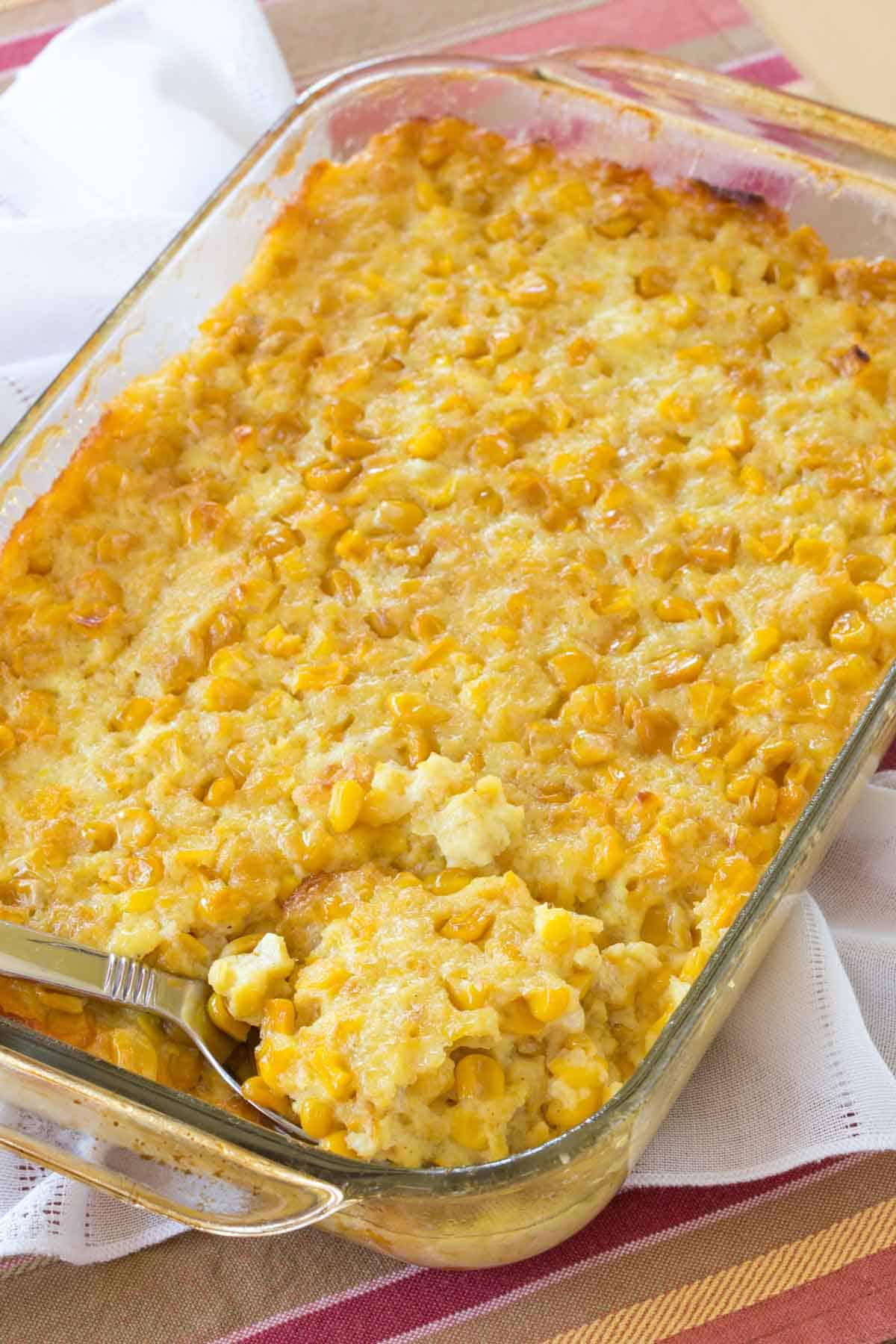 Make it a Meal
All of these holiday main dishes would pair perfectly with corn pudding casserole as a side dish: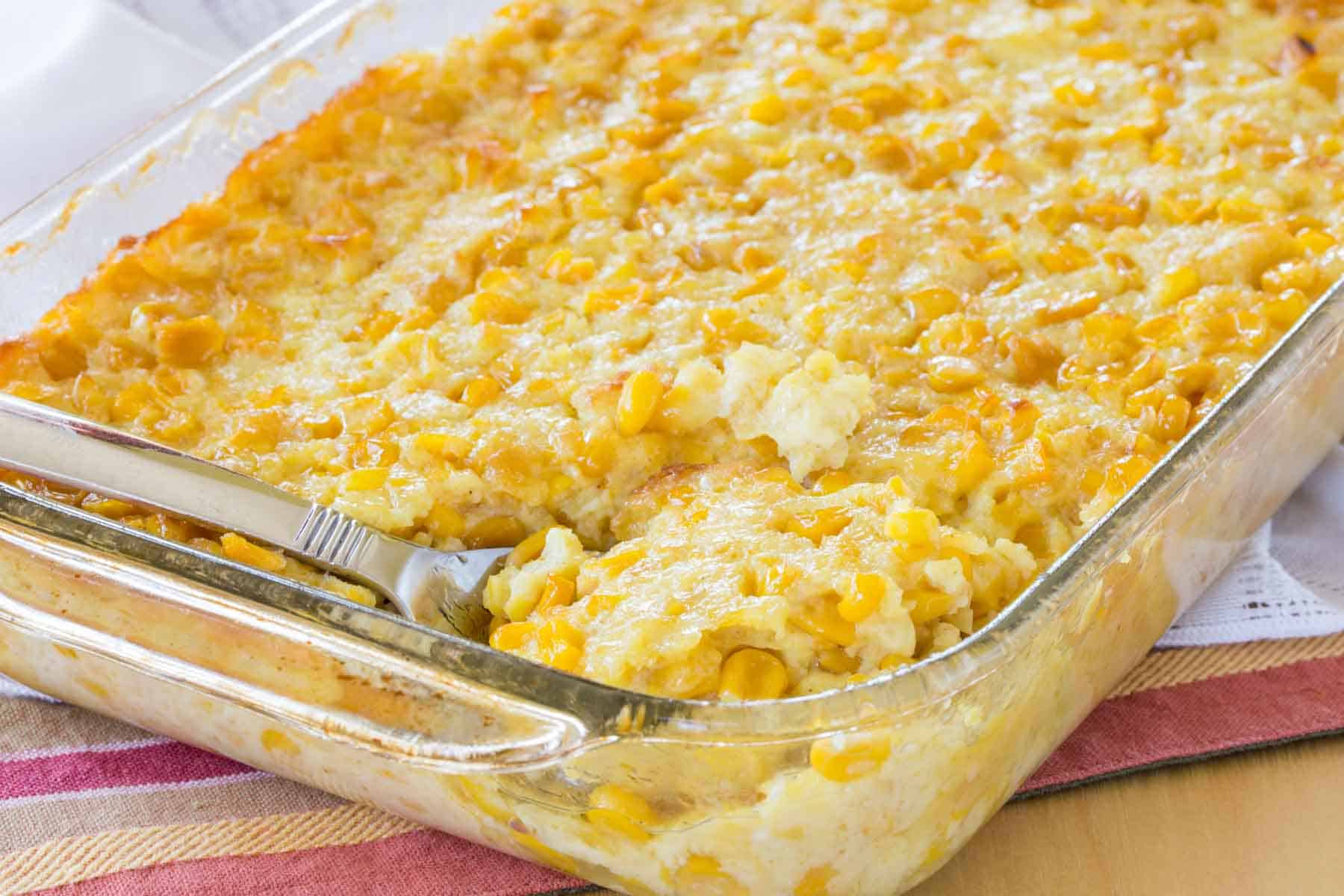 Shop for Gluten Free Ingredients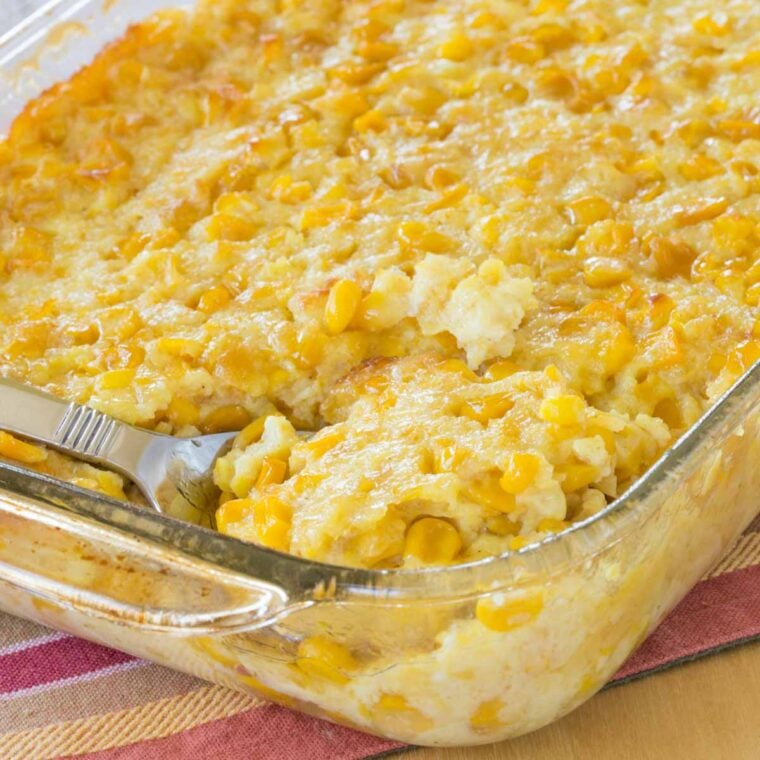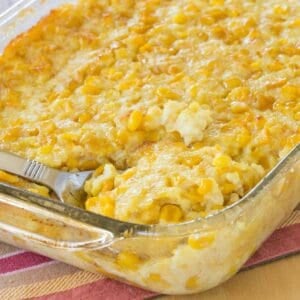 Corn Pudding
This homemade corn pudding recipe is a family favorite! Made without corn muffin mix, this creamy corn casserole is naturally gluten free. It is an easy side dish perfect for holiday dinners and weeknight suppers alike!
Ingredients
15

oz.

can whole kernel corn,

drained or 1 1/2 cups frozen corn, thawed

34

oz.

creamed corn

(two 17-oz. cans)

5

large

eggs,

lightly beaten, or 1 1/4 cups liquid egg substitute

1/2

cup

sugar

4

Tablespoons

cornstarch

1 1/2

teaspoons

seasoning salt

1/2

teaspoon

dry mustard

1

teaspoon

dried minced onion

1/2

cup

milk

– (I have used skim, 1%, and 2% and all have worked fine)

1/2

cup

melted butter

margarine, or vegetable oil spread (like Smart Balance)
Instructions
Preheat oven to 400°F.

Spray a 3 qt. casserole dish or 9×13 in. glass baking dish (or even disposable aluminum pan) with cooking spray or oil.

In a large bowl, combine the two kinds of corn and eggs.

In a small bowl, combine the sugar, cornstarch, seasoned salt, dry mustard, and dried minced onion. Add this mixture to the corn mixture, and stir to combine.

Stir in the milk and melted butter.

Pour the mixture into the prepared dish.

Bake for 1 hour, stirring once, or until set and lightly browned, but still soft.
Nutrition Facts
Corn Pudding
Amount Per Serving (0.5 cup)
Calories 225
Calories from Fat 90
% Daily Value*
Fat 10g15%
Cholesterol 98mg33%
Sodium 667mg28%
Potassium 189mg5%
Carbohydrates 29g10%
Protein 5g10%
Vitamin A 420IU8%
Vitamin C 4.5mg5%
Calcium 29mg3%
Iron 0.7mg4%
* Percent Daily Values are based on a 2000 calorie diet.
Categories:
Favorite holiday gluten free side dishes