This post may contain affiliate links. Read my disclosure policy.
Juicy and flavor-loaded Rosemary Balsamic Roast Chicken is an easy chicken dinner idea that still looks super fancy! This succulent whole-roasted chicken recipe is just as perfect for a family meal as it is for a special occasion.
Easy Balsamic and Rosemary Roasted Chicken
There's something about a juicy roast chicken that makes it a celebration meal for me. Roasting chicken in the oven doesn't take a ton of time or effort, per se, but it's not something that I'll always have time for during the week.
Weeknights are for Lemon Herb Slow Cooker Chicken, Instant Pot BBQ Pulled Chicken, or maybe an Air Fryer Rotisserie Chicken. But when I feel like putting in a bit of extra effort, this oven-roasted rosemary balsamic chicken is first on my list!
When hubby started a new job years ago, this succulent whole chicken roast was on the table to celebrate. It's seasoned with one of my favorite ingredients, balsamic vinegar, infusing every inch of the chicken as it cooks. I stuff the chicken with onions to lock in moisture, while rosemary brings a fresh burst of aromatics.
The hardest part about this chicken recipe is finding ways to distract yourself while your house fills with the amazing smells coming from your oven!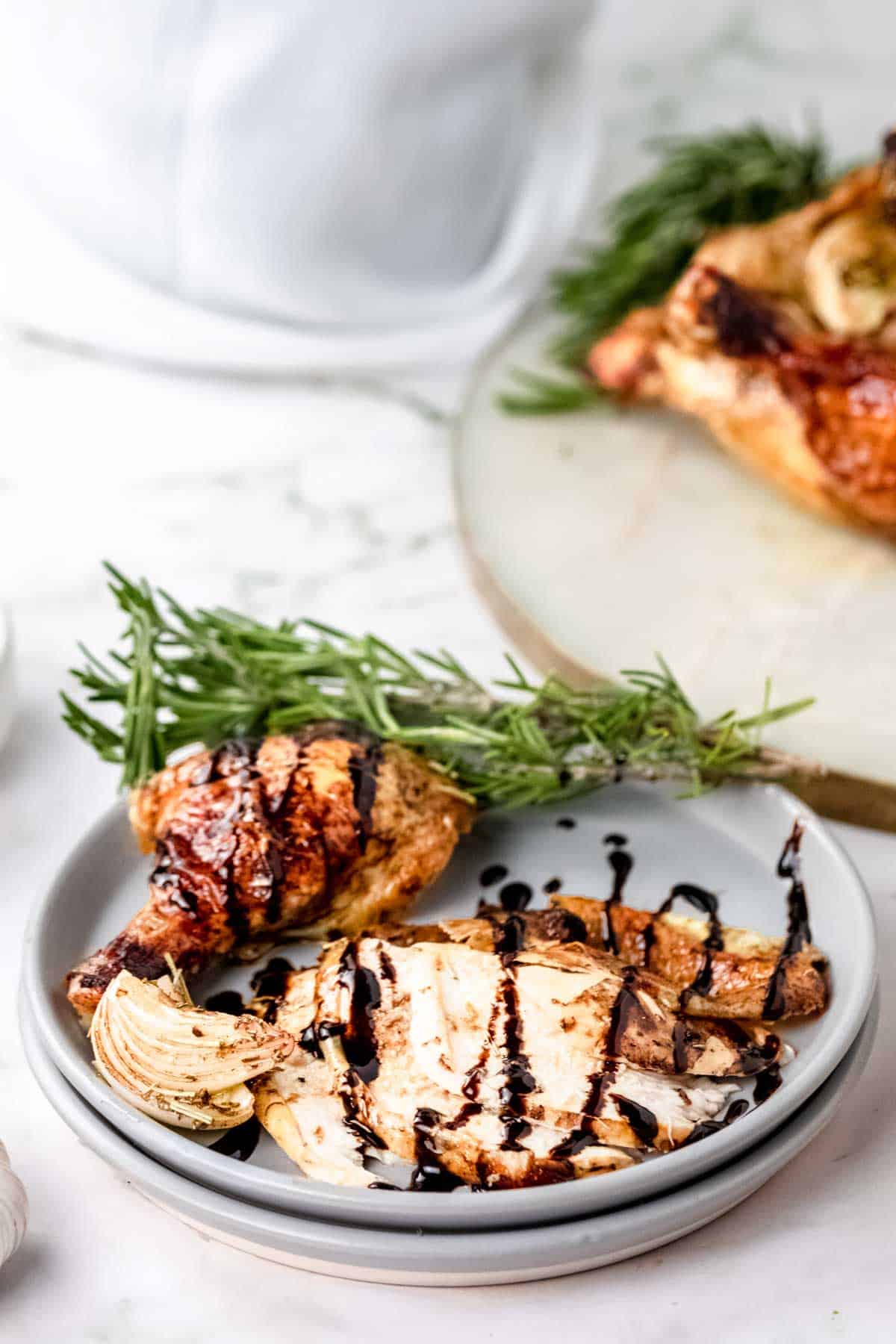 Why You'll Love This Chicken Recipe
Everyone loves a roast chicken, but this one is the best for so many reasons. Here's why you'll love this recipe for your next chicken roast (special occasion or not):
Perfectly roasted. This simple yet flavorful rosemary balsamic roast chicken is foolproof, and always comes out of the oven looking, smelling, and tasting incredible.
Versatile. This oven-roasted chicken is totally occasion-worthy. It's just as suitable for a Sunday roast as it is for a Christmas or holiday table!
Diet-friendly. This rosemary balsamic roast chicken is gluten-free, low-carb, paleo, and Whole 30 compliant.
Great for meal prep. You can roast this chicken on a weekend, and have tons of leftovers throughout the week! This makes this recipe great for healthy meal prep. See below for easy ways to turn leftover roast chicken into a meal.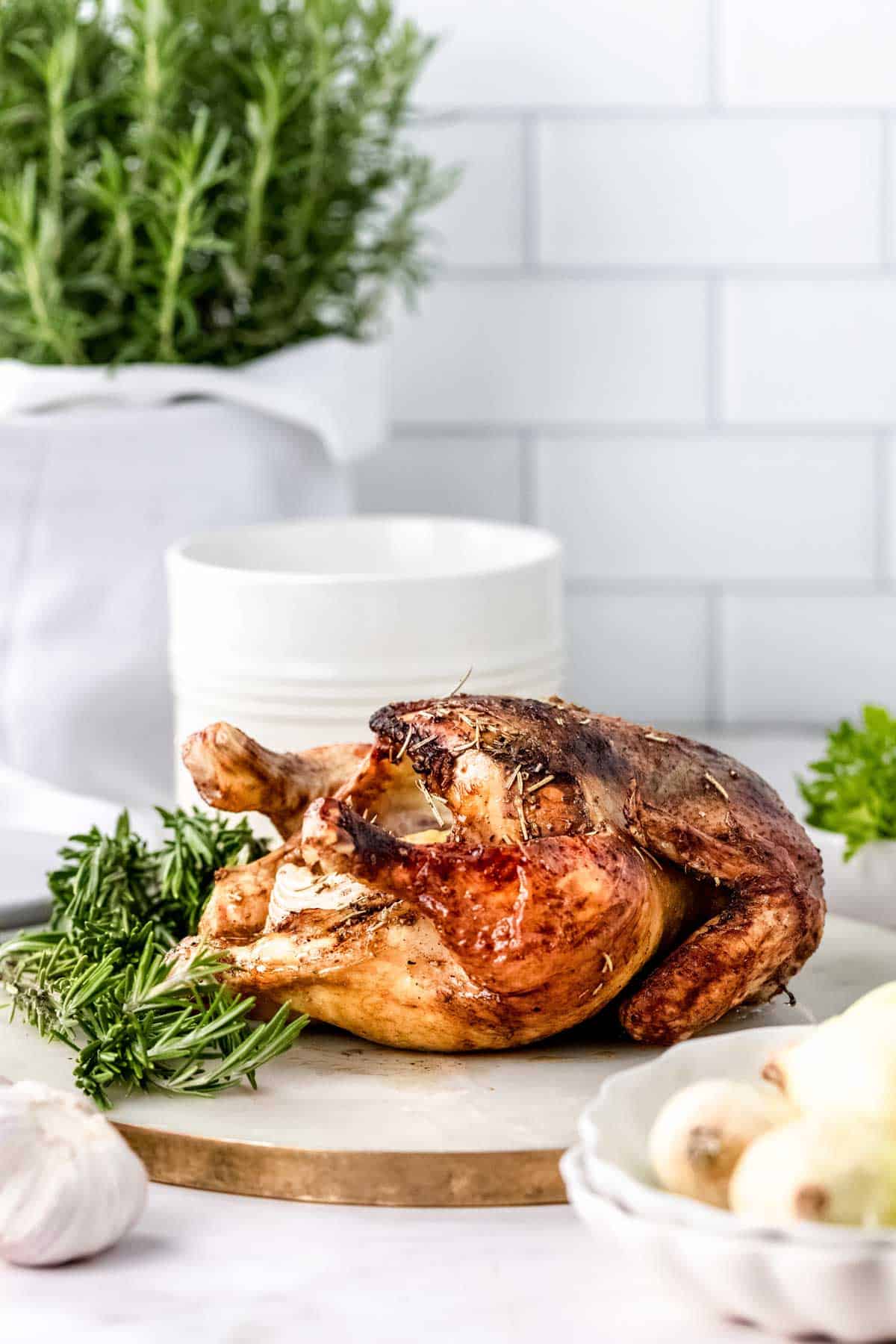 What You'll Need
Below is a brief overview of everything you'll need, so you can see just how easy this roast chicken is to make! Don't forget to scroll to the recipe card for the full quantities and details.
Chicken: You'll need one whole roasting chicken that weighs between 5-8 lbs.
Onion: Use one whole medium onion or half of a large onion. You'll chop the onion into chunks for filling the chicken cavity. Good options for roasting are white, yellow, or brown onions, or a sweet mild onion like Vidalia or whole shallots.
Balsamic Vinegar and Oil: Since it's our star ingredient, choose a good quality balsamic vinegar for glazing your chicken. You'll also want to use a decent quality, extra virgin olive oil. Your local Italian deli is the best place to find both, however, most grocery stores will also carry decent brands.
Rosemary: Fresh or dried, though I'm partial to fresh rosemary in this recipe as it really has the best flavor.
Other Seasonings: I also season my chicken with dried oregano, salt, and fresh cracked black pepper.
Balsamic Reduction: This is optional, for drizzling over the chicken when serving. Use thick aged balsamic vinegar from the store, or simmer regular balsamic vinegar on the stove for a few minutes until it thickens to a syrup consistency.
How to Roast Chicken with Balsamic and Rosemary
Whenever I roast chicken, it's all about flavor and moisture. Luckily, it doesn't take much to bring out both in this easy chicken recipe! While your oven preheats to 425°F, here's how to have your bird ready for roasting:
Prep the Chicken: First things first, take out the giblets. These are the bits and bobs that you'll often find bundled inside the cavity of a whole chicken (usually the neck, gizzard, liver, and heart). You can discard these, or use them to make homemade giblet gravy or stock. Once the giblets are removed, pat the chicken dry with a paper towel and place it in your roasting pan. Next, chop an onion into quarters to fill the cavity.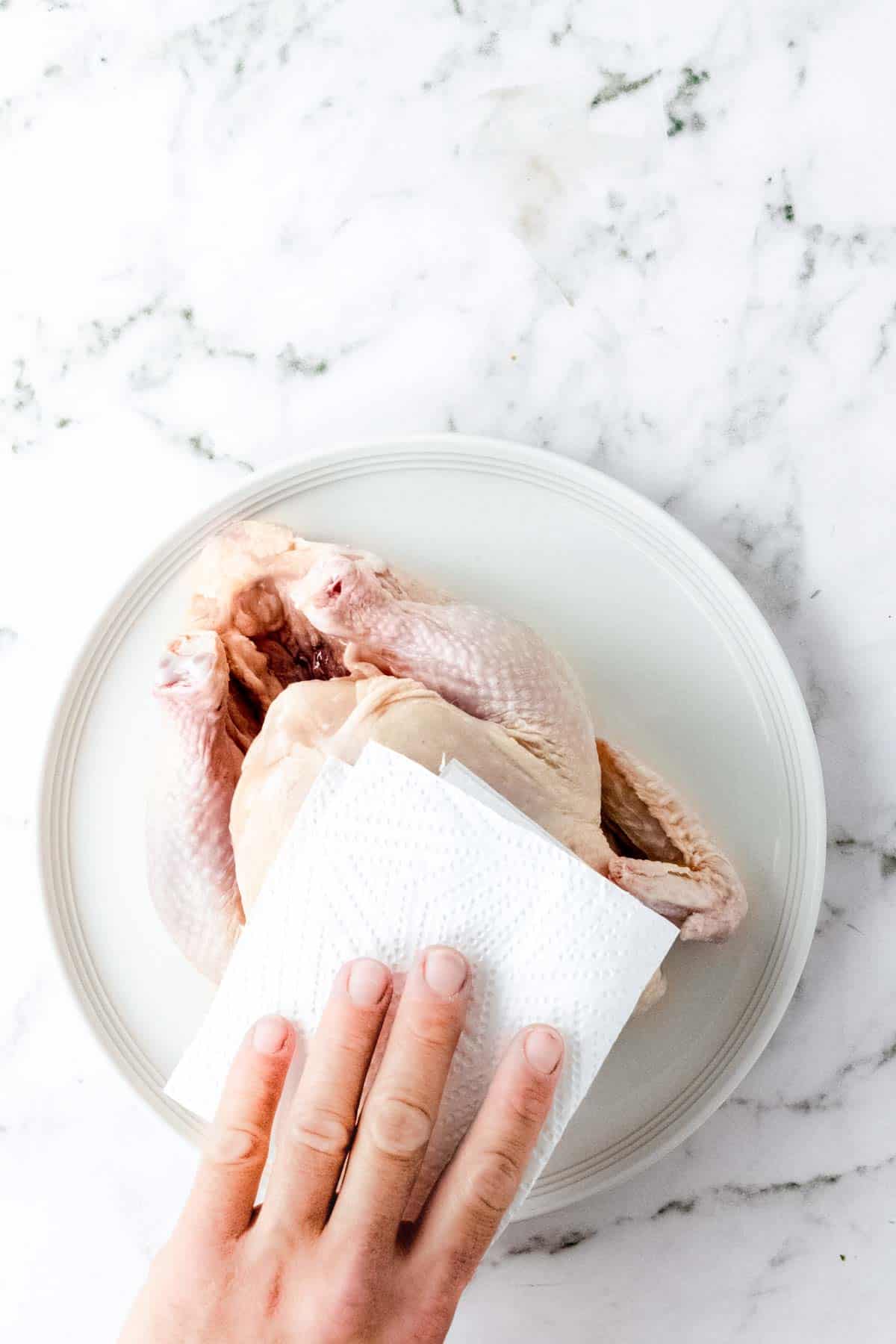 Season with Balsamic Glaze: Whisk together the balsamic vinegar, olive oil, rosemary, oregano, salt, and pepper. Pour the balsamic mixture over the chicken, and use your fingers to rub it all over, inside and out. Be sure to rub the balsamic glaze under the skin, and pour some inside the cavity to really lock in the delicious flavor.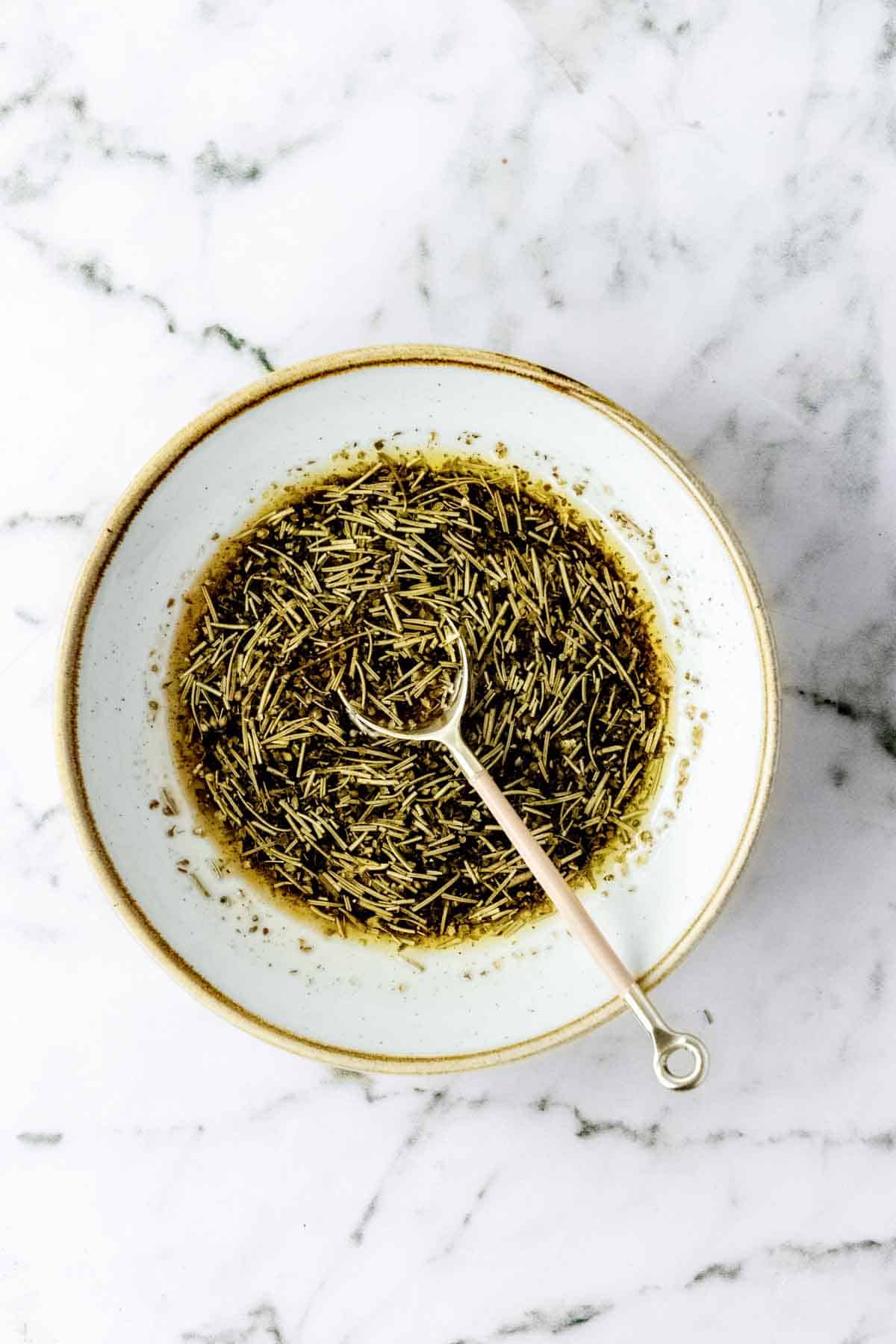 Roast: Roast the chicken for 30 minutes at 425ºF, then you'll lower the oven to 350ºF to slow roast for an additional hour or two. The exact roasting time will vary depending on the size of your chicken. When your chicken is done, take it out and allow it to rest for 10 minutes or so before serving.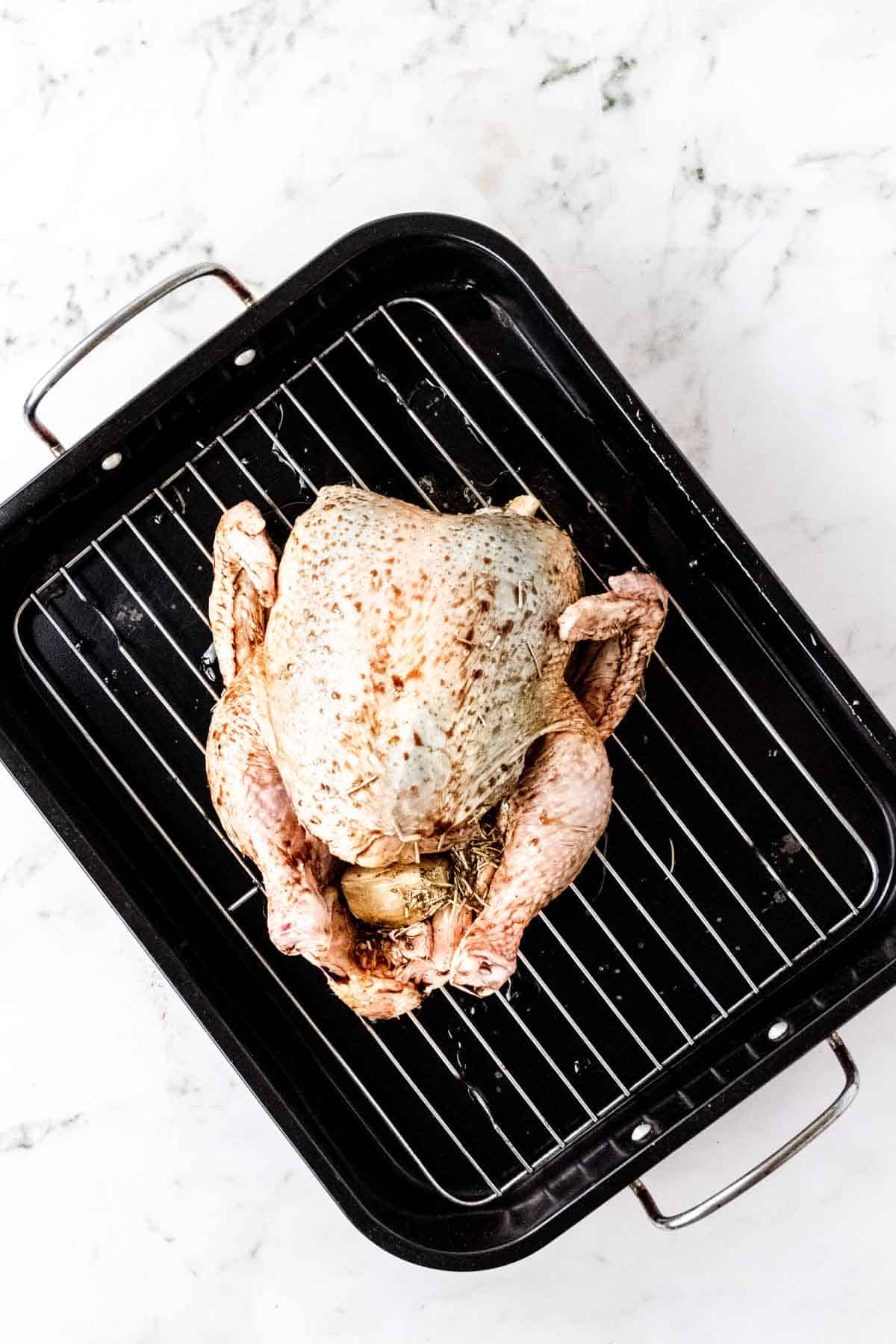 Tips for Success
This roast chicken recipe is super straightforward, but here are some additional tips to have your chicken looking and tasting fabulous:
Do you cover a chicken when roasting? I prefer to roast chicken uncovered so that the skin bakes up crispy and golden. However, if you notice that your chicken skin is browning too quickly, you can tent it with foil and then return it to the oven to finish roasting.
How do I know when roast chicken is done? Your chicken is finished cooking when the internal temperature of the breast meat reads 165°F, and the thighs read 180°F on an instant-read thermometer.
Double the recipe. This chicken recipe is so easy, why not make two? Grab a pair of chickens when they are on sale, and roast both of them at the same time (you can do both in the same pan if it's big enough – see my roasting pan suggestion above). It only adds a couple of minutes to your prep time, and then you'll have plenty of leftovers for lunches and dinners during the week. Perfect for meal prep!
Let the chicken rest. This is key to succulent, ultra-juicy roasted chicken. Resting in the pan after it's out of the oven allows the chicken's juices to redistribute – don't skip it!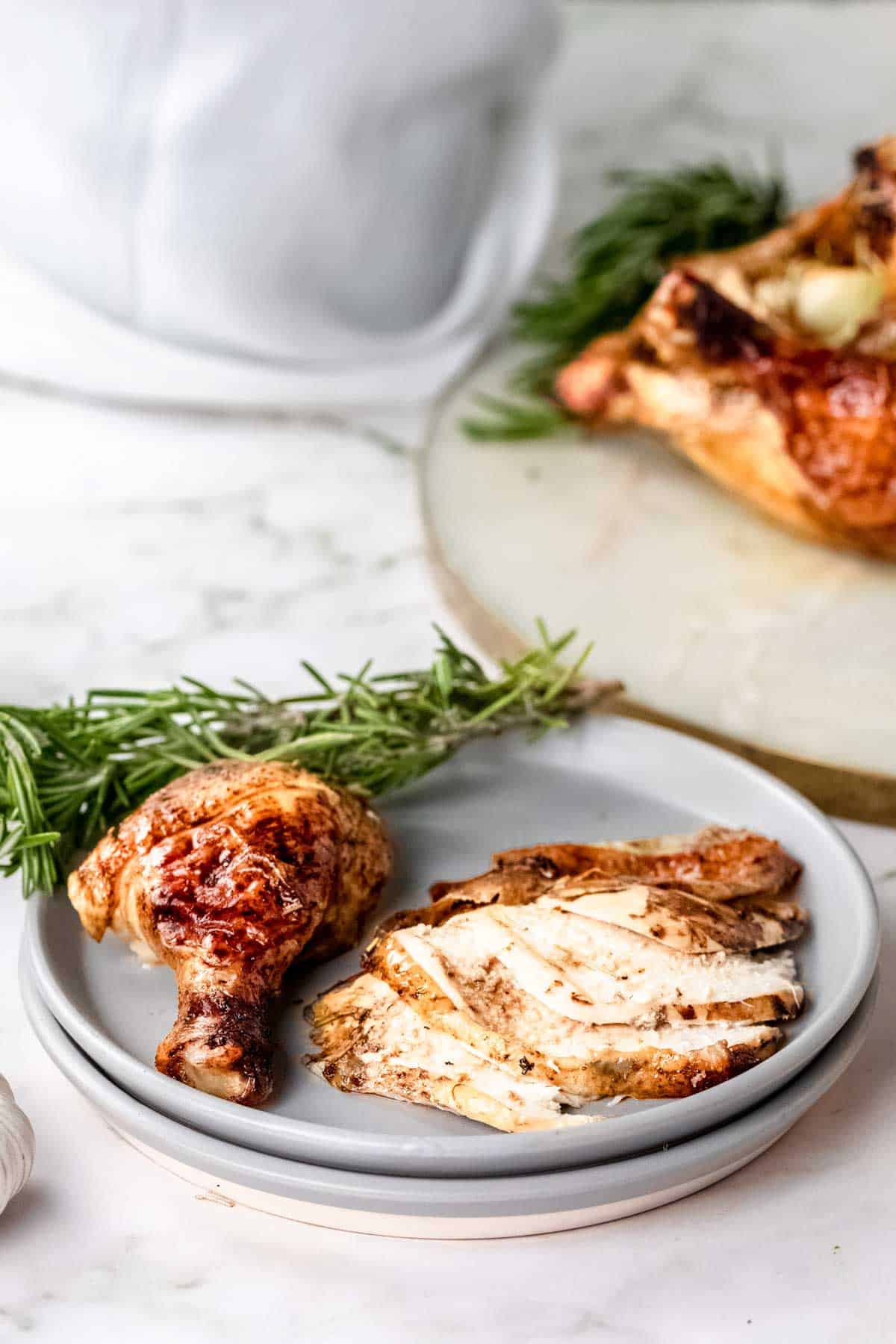 Make It a Meal
I love serving this rosemary balsamic roast chicken with a drizzle of aged balsamic. Meanwhile, the kids are partial to smothering theirs with Cranberry Balsamic Ketchup! There are so many ways to turn this tasty roasted chicken into a satisfying meal. Here are some ideas:
This easy roast chicken is also wonderful for meal prep. These are just some of the tasty meal prep lunches you can make using this rosemary chicken: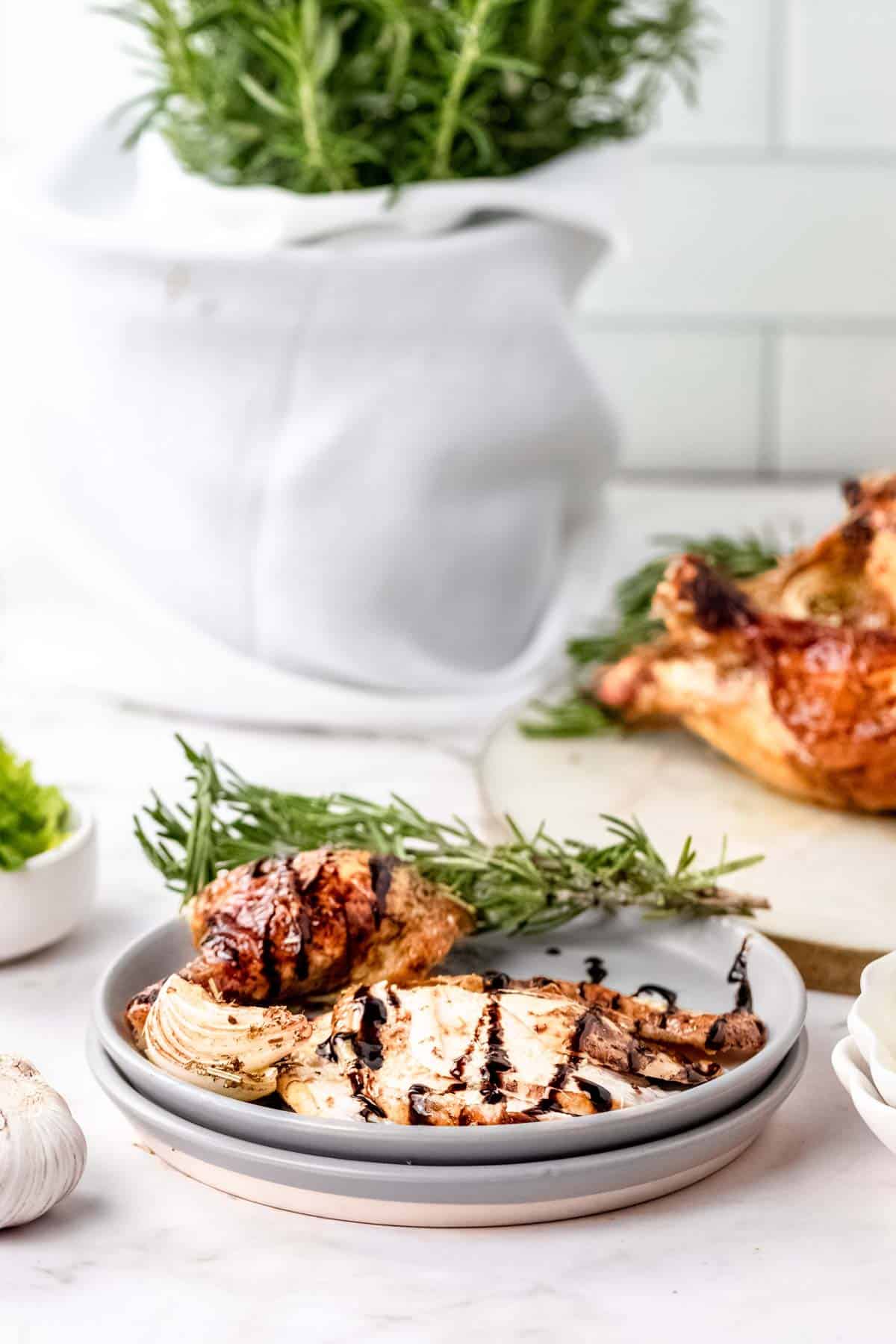 Storing and Reheating Leftovers
Rosemary balsamic roast chicken will keep for up to 5 days when refrigerated airtight. Simply seal leftovers in a gallon zip-top bag or airtight container, or wrap them tightly in plastic wrap or foil.
This chicken can be reheated in the microwave, or in the oven at 350ºF until warmed through. I like to add a dash of water or broth to the dish beforehand, to help retain some of the moisture. If you're reheating the chicken in the oven, wrapping it in foil also helps.
We'll chop up leftover roasted chicken to make a Healthy Chicken Caesar Salad, or pile chicken over leafy greens with Creamy Balsamic Dressing. But there are so many more options! I have an entire post dedicated to Easy Leftover Chicken Recipes if you're looking for more inspo.
Can I Freeze Roast Chicken?
Yes! The cooked chicken can be frozen for up to 3 months. Once the balsamic roast chicken is completely cooled, store it airtight in a freezer-safe bag or container for storage. Then just thaw the chicken in the fridge before serving or reheating.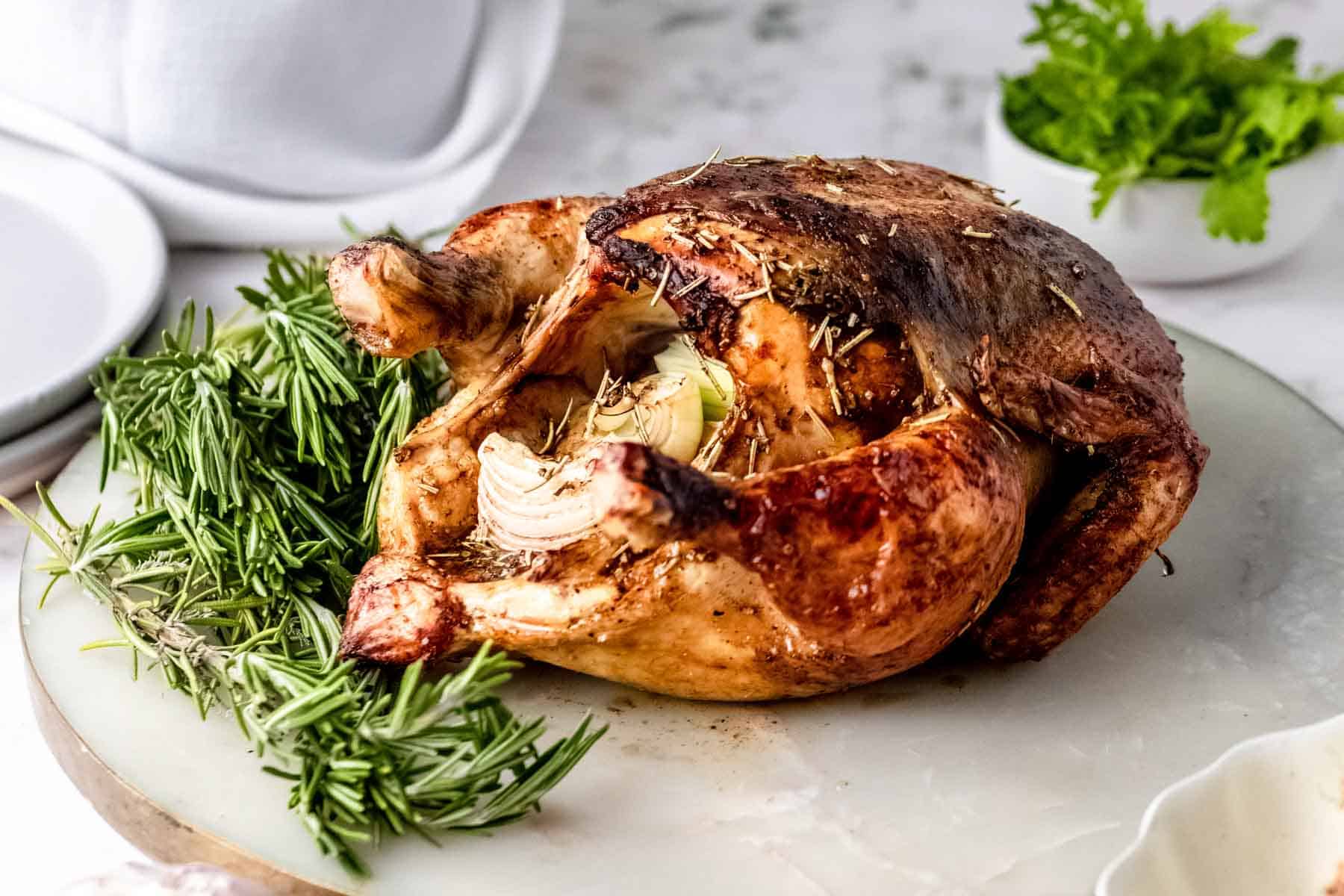 What Pan Do You Use for Roasting?
When it comes to roasting anything – chicken, beef, pork – a good quality, deep-dish roasting pan is key. This All-Clad Stainless Steel Roasting Pan is a worthwhile investment. It can fit one or two chickens, a turkey, or a whole prime rib. Plus, it has a non-stick rack, distributes the heat evenly, and cleans up easily.
Most importantly, it will last for years to come! I've bought cheaper ones over the years and had them warp, chip, and get bits burned to the bottom.
$129.95
$179.99
in stock
13 used from $97.46
as of Dec 7, 2023 5:34 pm
Last updated on Dec 7, 2023 5:34 pm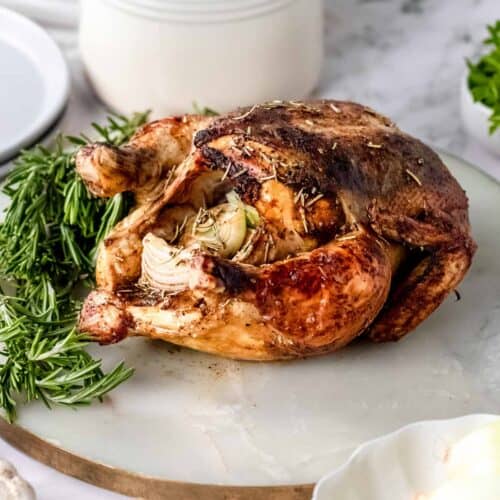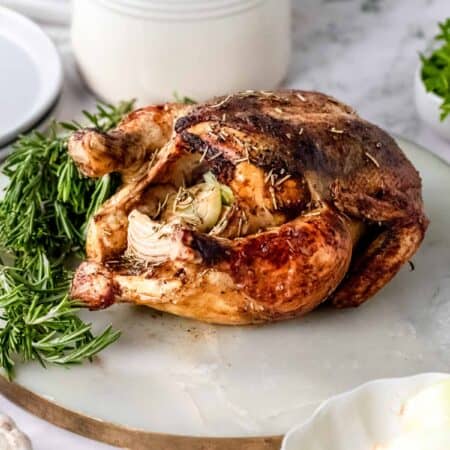 Rosemary Balsamic Roast Chicken
Juicy and succulent Rosemary Balsamic Roast Chicken is a simple way to add plenty of flavor to your basic roasted chicken recipe! This easy chicken dinner is perfect for family meals and special occasions.
Ingredients
one

roasting chicken

(about 5-8 lbs)

1

medium or half of a large onion

1/2

cup

balsamic vinegar

1/4

cup

olive oil

1

teaspoon

dried rosemary

or about 3 teaspoons fresh

1

teaspoon

dried oregano

2

teaspoons

kosher salt

a few grinds of black pepper

Optional thick

aged balsamic vinegar or regular balsamic vinegar, reduced to a syrup, for serving
Instructions
Preheat the oven to 425°F.

Remove the giblets from the chicken, pat dry with paper towels, and place on a rack in a roasting pan.

Cut the onion into about 4 chunks and place inside the cavity of the chicken.

Combine the balsamic vinegar, olive oil, rosemary, oregano, salt, and pepper.

Use your fingers to separate the skin from the breast and pour some of the vinegar mixture under the skin. Pour the remaining mixture inside the cavity and rub some over the outside of the skin.

Put the chicken in the oven for 30 minutes. Reduce oven to 350°F, and roast for an additional 1 to 2 hours, depending on the size of your chicken, or until the breast meat registers 165°F and the thighs register 180°F on an instant-read thermometer. If the skin is browning to quickly, cover lightly with a tent of aluminum foil.

Let rest for about 10 minutes before carving.

If desired, drizzle with the aged or reduced balsamic vinegar for serving.
Nutrition Facts
Rosemary Balsamic Roast Chicken
Amount Per Serving
Calories 370
Calories from Fat 252
% Daily Value*
Fat 28g43%
Cholesterol 109mg36%
Sodium 868mg36%
Potassium 273mg8%
Carbohydrates 3g1%
Protein 21g42%
Vitamin A 1075IU22%
Vitamin C 3.1mg4%
Calcium 24mg2%
Iron 2.1mg12%
* Percent Daily Values are based on a 2000 calorie diet.
Categories:
More Easy Chicken Dinner Ideas