This post may contain affiliate links. Read my disclosure policy.
Rotisserie chicken is a total lifesaver. It is pretty simple to make yourself, but head into Costco or many grocery stores, and they have them ready and waiting for you. Add a couple of your favorite sides and you have a quick and easy dinner. But the real bonus is that you can use the leftovers to make another meal. Leftover rotisserie chicken recipes are a great way to save time and stretch your budget! And these are all gluten free (or can be with a simple swap)!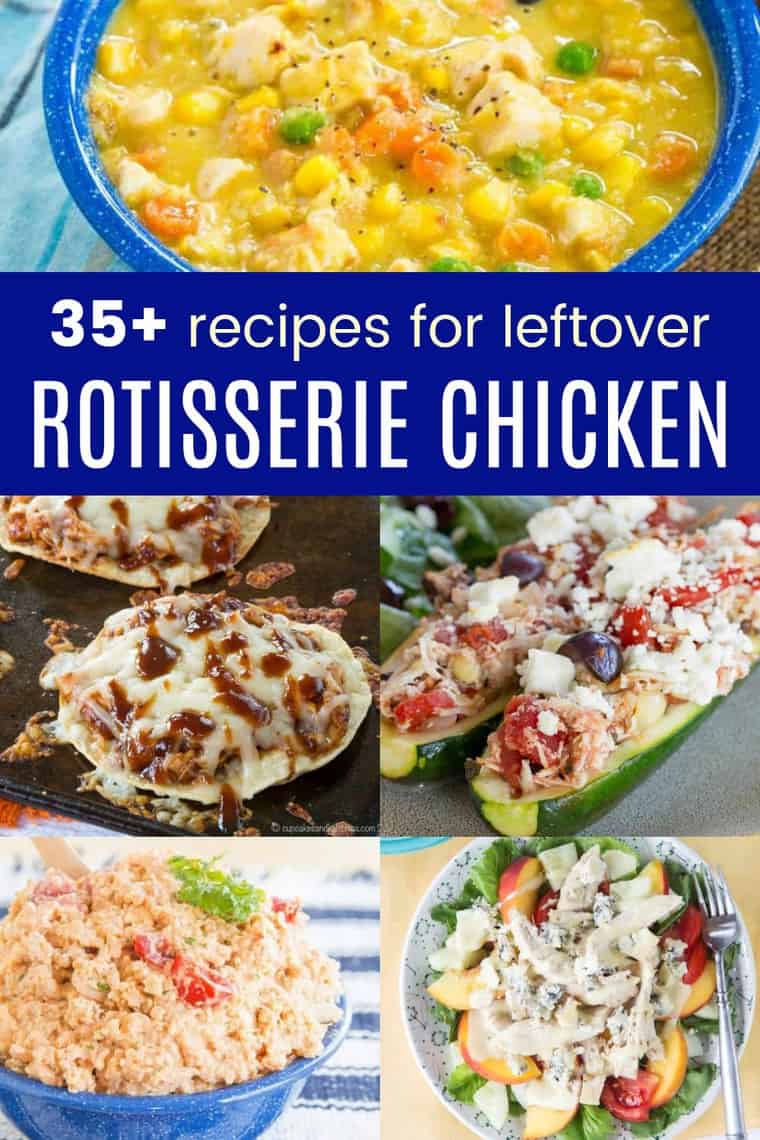 With two growing boys who are basically eating machines and a food blog, you can bet I go to Costco almost every week. And while I love the savings from buying in bulk the things I know we will use up, there are a few things I buy mainly for convenience and saving time.
My kids will devour a fruit platter in a couple of days and I don't have to be asked to cut up a pineapple. And a mango. And a cantaloupe. You get the picture.
The veggie platters get split into lunches for the week and used in things like a frittata or beef stir fry. And…
Costco rotisserie chicken!
Yes, you can totally make a homemade rotisserie chicken, which is an even cheaper option. But for $6, the convenience is worth it. Plus, the ones at Costco are HUGE. For our family of four, we can easily have a roast chicken dinner with a couple of our favorite sides and a second dinner using the leftovers. Sometimes there is even enough to make chicken salad for the week or to put on top of some salads with Greek Yogurt Ranch Dressing or Creamy Balsamic Dressing.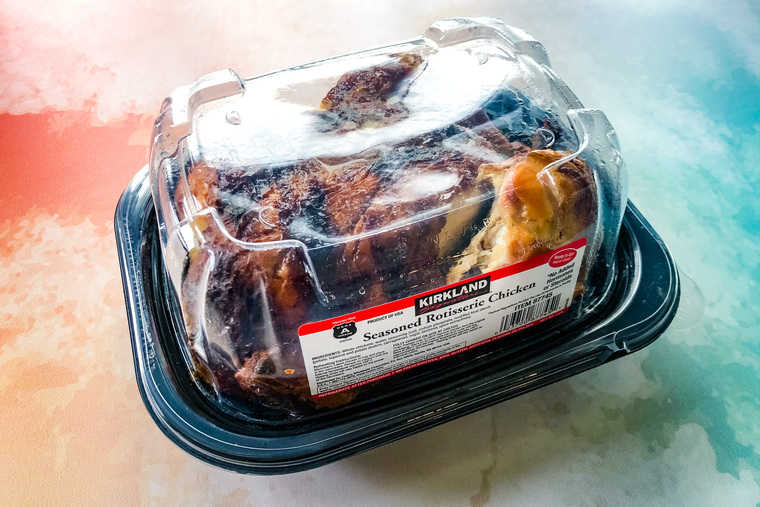 Though if I feel like grabbing one from the grocery store, sometimes I will even grab a second since these are usually smaller. I'll spend a few extra dollars just to be able to make another dinner or meal prep some school lunches!
Is rotisserie chicken gluten free?
Generally, rotisserie chicken is gluten free. You can avoid all concerns by roasting the chicken yourself so that you know what you put into the seasonings. However, the ones from Costco are typically gluten free (do be sure to confirm this at your local Costco).
I have gotten them from several different grocery stores and all have been gluten free, but check the labels to be sure that there are no gluten ingredients added in the seasonings they use.
What do you serve with rotisserie chicken?
As I said, the first meal is usually a more traditional "chicken dinner" when I don't have time to roast one myself. Some of our favorite sides are:
What can you make with leftover chicken?
Easy dinners – chop or shred that chicken and use it for tostadas, enchiladas, salads, fried rice, and more.
Appetizers and snacks – using chicken that is already cooked saves time when making party dishes like dips and other finger food.
Soups – whether you use storebought broth or make homemade chicken stock from the carcass, you have the base of a simple and comforting soup recipe. And since you usually don't need a lot, this is a great way to use up that last bit of meat.
Chicken salad – this is always the obvious choice, so we can't leave it off the list. But there are so many more ways to make chicken salad than just adding mayo. Fruits, nuts, other veggies, and different seasonings and flavors make your chicken salad sandwich (or wrap or lettuce wrap or salad greens) anything but basic.
In this collection, you'll find over 35 recipes to make all of these ideas with your leftover rotisserie chicken!
And you don't just have to use rotisserie chicken. These recipes can be made with any leftover chicken, like:
Really, you could even use your leftover turkey from Thanksgiving or a crockpot turkey breast, too!
So let's go…
35+ Easy Leftover Rotisserie Chicken Recipes
Enjoy!