This post may contain affiliate links. Read my disclosure policy.
This Easy Baked Beans recipe will have everyone asking for the recipe. It has all of the flavors of homemade baked beans, but with a semi-homemade secret. You don't have to tell anyone that it starts with canned baked beans! Plus this classic barbecue side dish is gluten free too!
Originally published on Sep 6, 2015
Easy Baked Beans with a Secret Ingredient
When I was about thirteen, we moved to a wonderful neighborhood that really was kind of idyllic. The kids would roam from house to house finding where and with whom they wanted to play. Parents would gather on someone's front porch or back deck to have a glass of wine or a beer and chat.
There were community picnics and yard sales, kickball tournaments, and even some shenanigans. And of course, neighborhood barbecues. That was where we were first introduced to Laura's beans.
For years we called them "Laura's Beans". But as I made this easy baked beans recipe more and more, they gradually became known as Brianne's Beans. Now, they are often requested and quickly devoured by friends and family alike.
So I finally thought it was time to share it with the world. It's your call whether you tell what the secret is…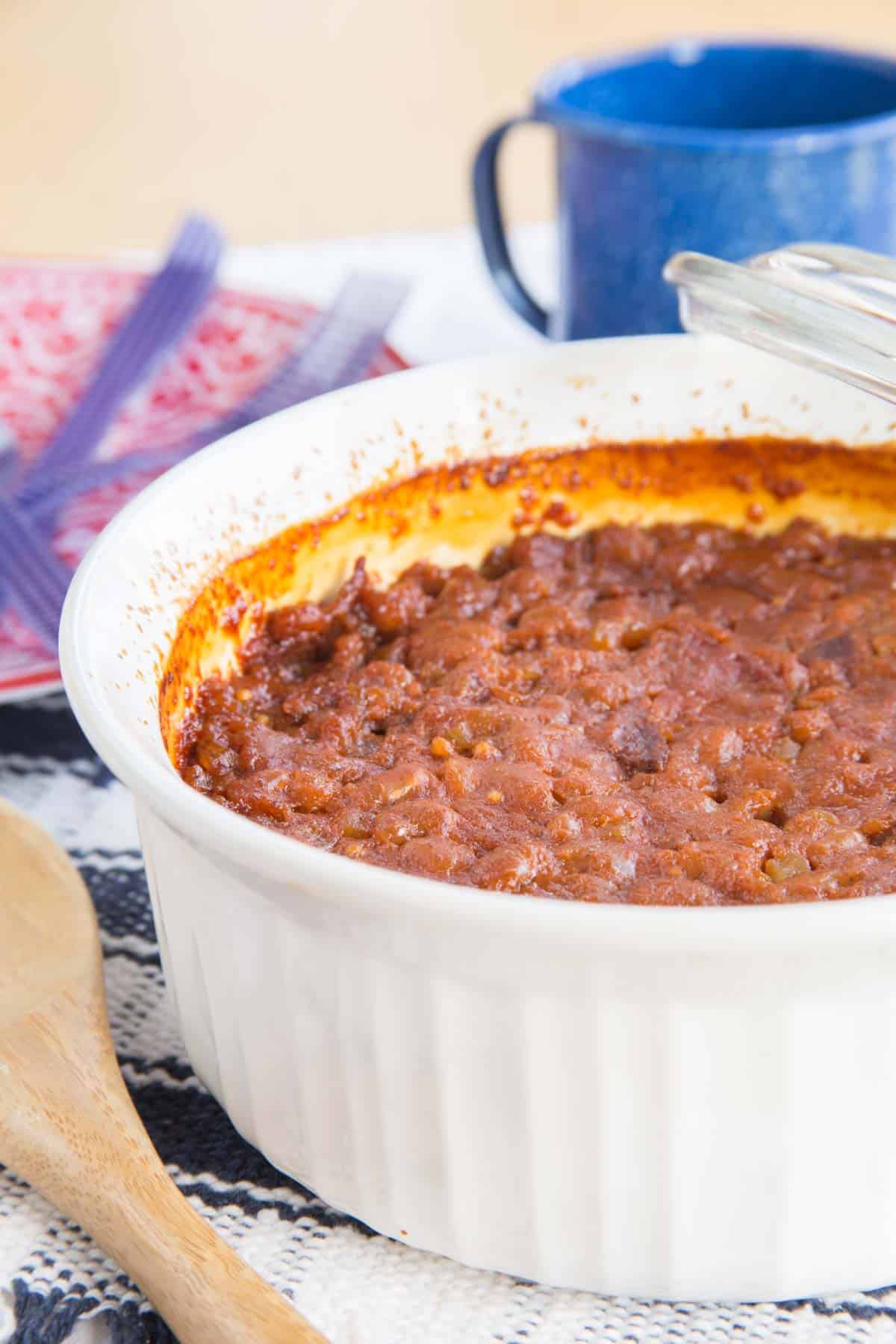 Why this Recipe Works
So the question is, how do you get that cooked-all-day flavor without, you know, cooking all day?
I'll tell you my secret to easy baked beans that taste like they were made from scratch. Shhhh…
You start with a can of baked beans!
You already have beans that are already soft and tender and have absorbed the seasonings. As a result, you don't have to deal with the time and labor of cooking dry beans. But then you dump out all the liquid and replace it with something way yummier.
These doctored up baked beans have an even bolder, more intense flavor and a deliciously rich, thick, gooey texture that is just so much better than that liquidy stuff in the can. And it's barely any more work than dumping canned baked beans in a pot, but totally worth it. It's a gluten free side dish recipe that's the hit of every summer cookout or when you make Instant Pot BBQ Ribs for game day!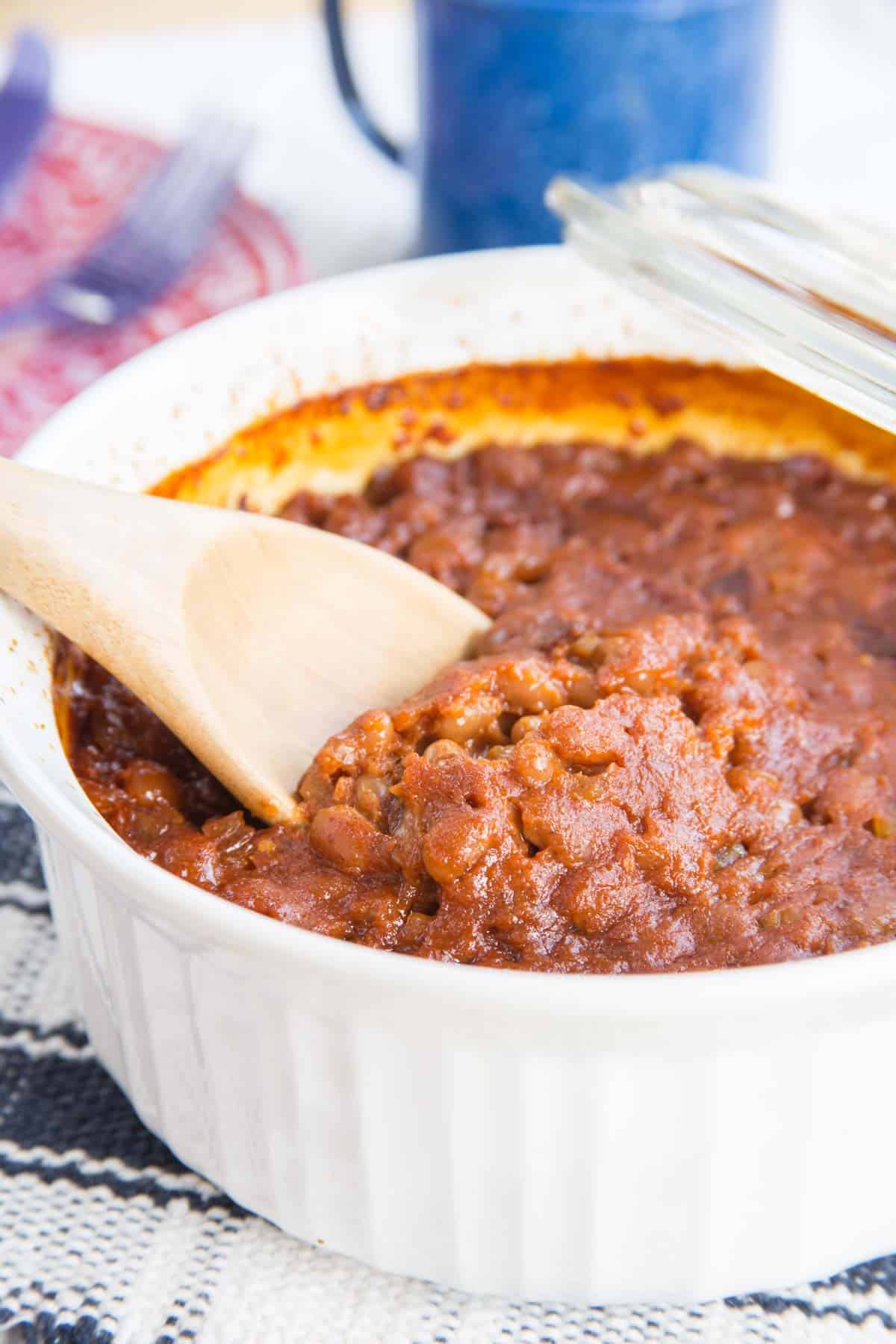 Ingredients
You just need a few simple pantry ingredients to improved canned baked beans!
Can of baked beans: You can choose your favorite. I usually use Bush's, preferably the Vegetarian ones, but any will work. The trick is to drain and discard all of the liquid.
Ketchup: Just enough to replace the bean liquid.
Spicy brown mustard: For just a little kick.
Molasses: Adds that smoky sweetness.
Dry mustard: Enough to henhance the mustardy flavor.
Salt and pepper
Onion: Just one small one, chopped.
Bacon: You'll want it cooked and crumbled. Check out how to cook bacon for six different cooking methods to choose your favorite. You can omit this for vegetarian baked beans.
And an optional bit of brown sugar if you want them sweeter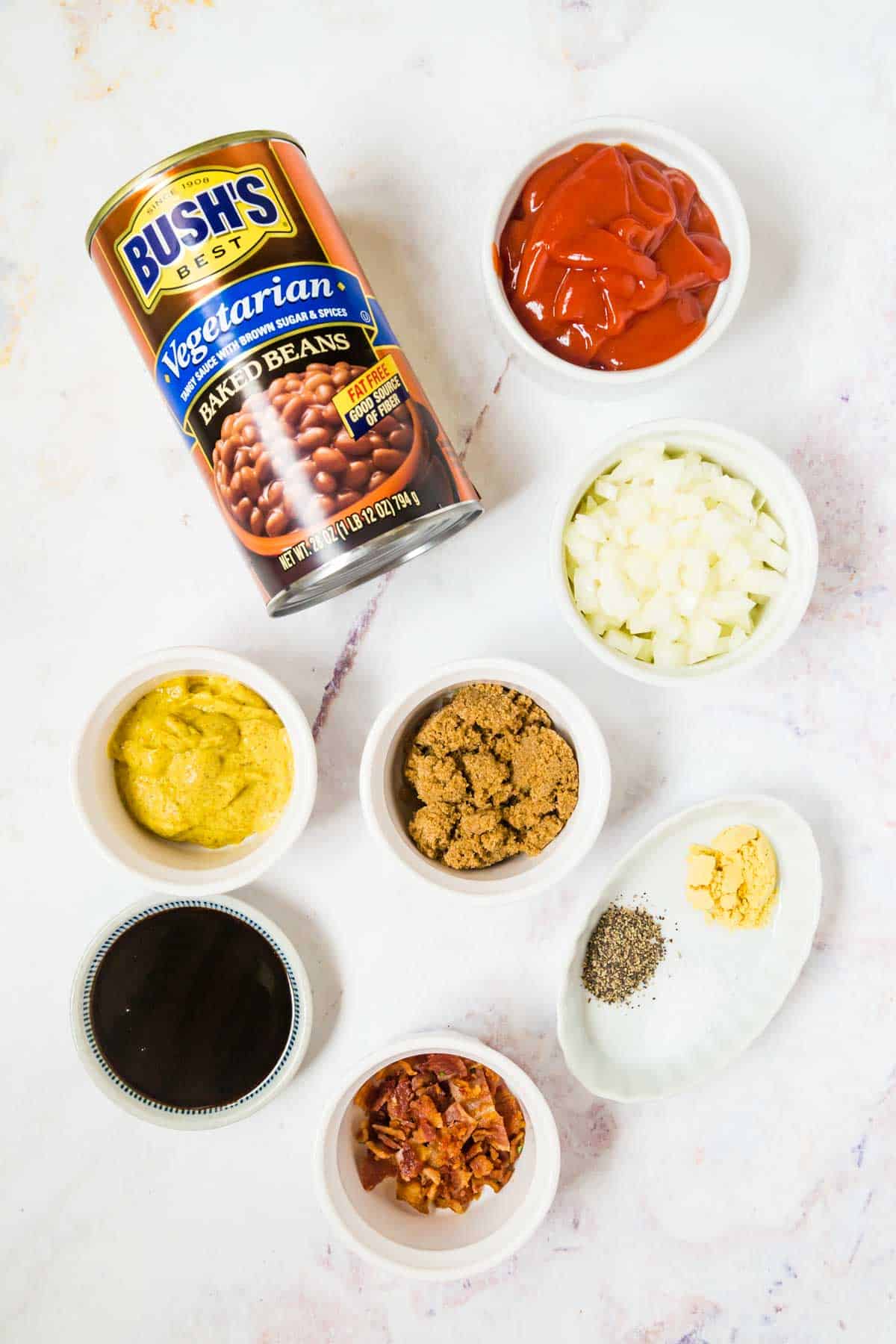 How to Make Canned Baked Beans Better
Doctored up baked beans taste just as good, if not better than homemade. But they are so quick and easy to make, Here's what you do.
Drain: Pour the canned beans into a wire mesh sieve over a bowl to drain the liquid off the beans. Discard the liquid. You can strain it into a measuring cup so you can replace the exact amount with ketchup, but I do give an approximate amount in the recipe.
Mix: Now add the drained beans and all of the remaining ingredients to a bowl and stir everything together.
Bake: Transfer the mixture to a ceramic casserole dish or an aluminum pan that has been lightly sprayed with cooking spray. Then bake for at least 1 to 2 hours at 250°F, or at least 30 minutes to 1 hour at 350°F or on the grill, until heated through and thick and bubbly.
What kind of baking dish should you use?
Baking them in a casserole dish gives you the best flavor and texture. And while you only need to get them hot and allow the onion to get tender, leaving them in a low oven for as long as possible will really let the flavors intensify.
However, you can cook them in an aluminum pan if you are bringing them to an event and don't want to worry about retrieving your dish. And then just throw them on the oven or grill until they are hot.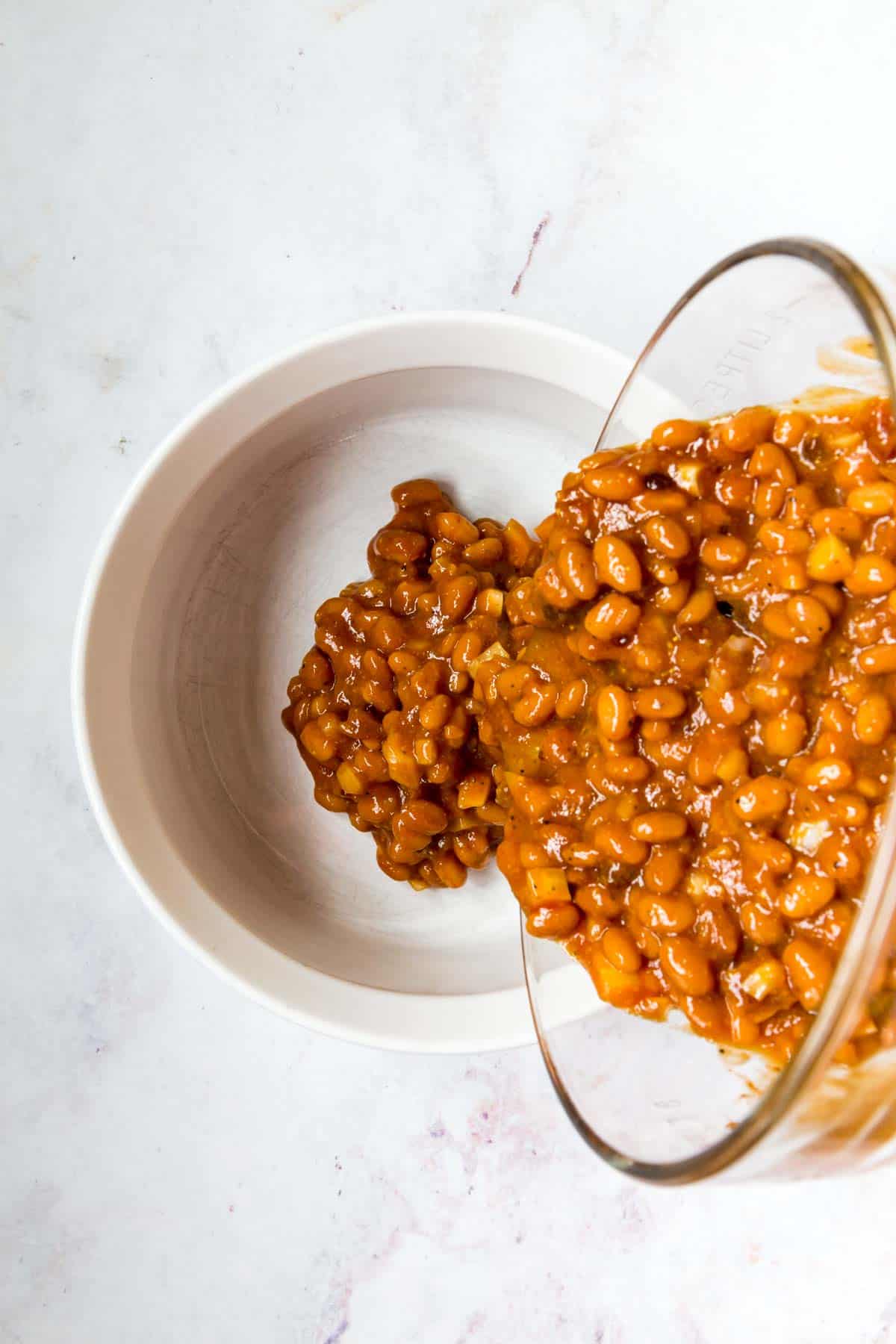 Can you make baked beans in advance?
Yes, you can mix all of the ingredients together, then keep them covered in the refrigerator overnight. You'll either want to let them warm up a bit or add a little extra cooking time to be sure they get nice and hot.
Storing Baked Beans
And leftovers can be kept covered in the refrigerator for up to 4 days.
Reheating Baked Beans
Leftover baked beans can be reheating by keeping them in their original baking dish and popping them back in to over until they are hot. You can also microwave them or transfer to a pot and warm through on the stove.
Can you freeze baked beans?
Yes, if tightly wrapped, baked beans can be frozen for up to two months. Just be sure to thaw overnight in the refrigerator before reheating s directed above.
Are baked beans low carb?
Beans themselves are typically not low carb, and many brands of baked beans in a can and homemade recipes add additional brown sugar or molasses. So this is not a low carb recipe.
That being said, this baked beans recipe does remove all the liquid, and it only calls for a bit of molasses. For those that like sweeter beans, you can add brown sugar. However, we tend to like less sweet and more mustardy beans, so I usually leave it out.
If you are concerned about the carbohydrate content, you can make low carb baked beans!
Variations
Gluten Free – many brands of canned baked beans are gluten free. I typically use Bush's Baked Beans, which are gluten free. And since all of the other ingredients are gluten free, you can safely make this recipe for anyone with celiac disease or gluten intolerance.
Vegan – Bush's actually has Vegetarian beans, which is actually what I use most of the time. And there are other brands that have vegan options. If you start with one of those, you can make this recipe vegan. Just leave out the bacon, and if you still want that smoky flavor, add about a quarter teaspoon of liquid smoke.
Sweet Baked Beans – the residual sweetness from the canned beans and the bit of molasses is enough for my taste, but you can also stir in about a quarter cup of brown sugar if you prefer.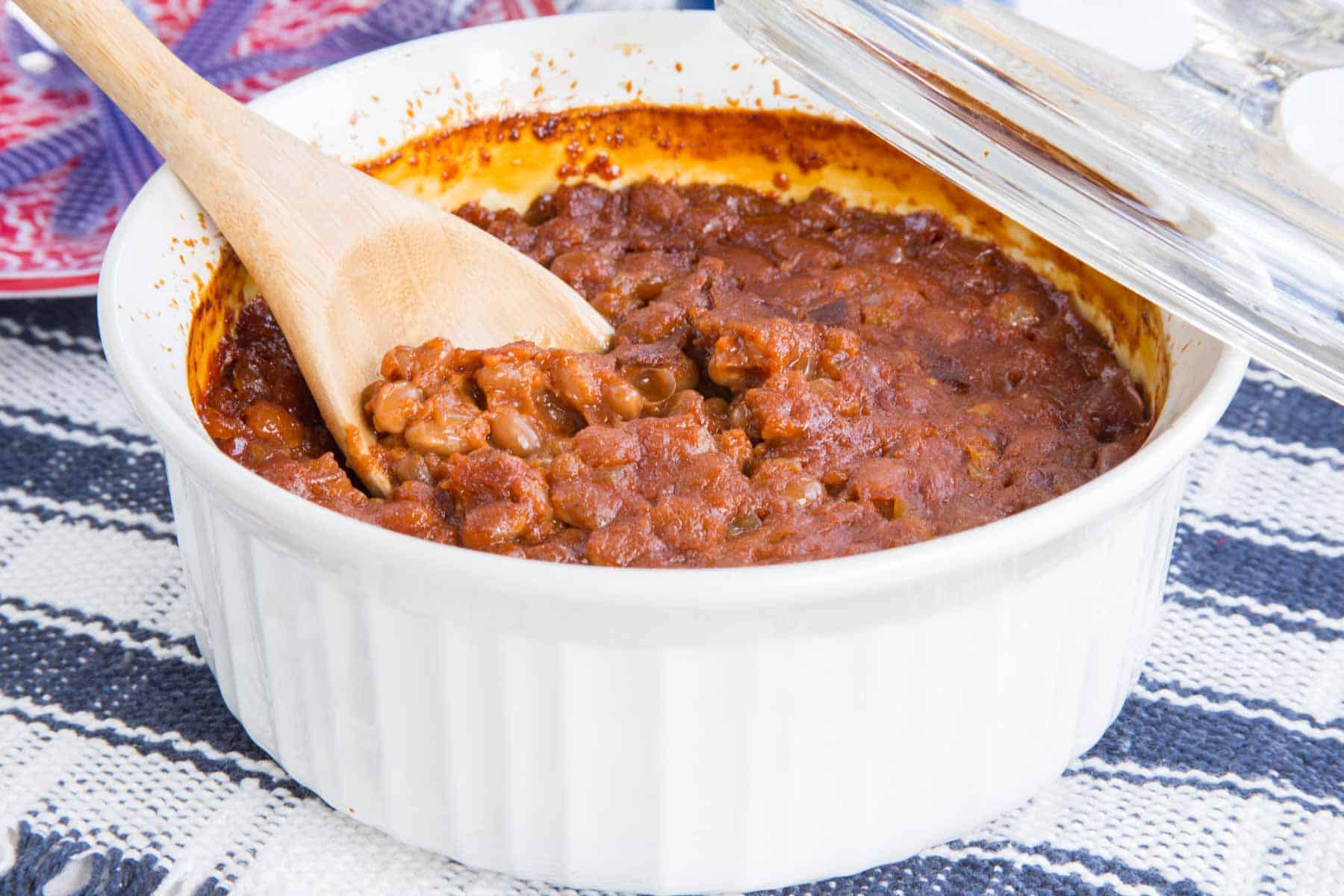 What to Serve with Baked Beans
It's time to Make it a Meal! Baked beans make a delicious side dish with almost anything you want to serve them with. But some of my favorites are barbecue and picnic classics, especially when you pair the meal with potato salad and coleslaw!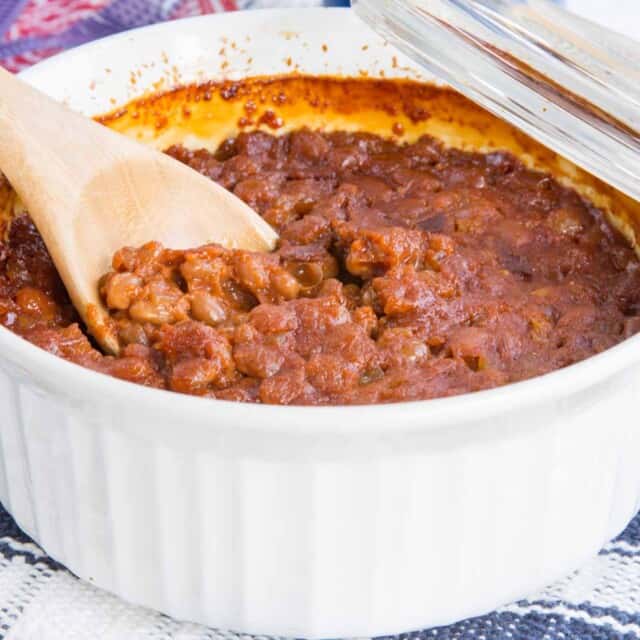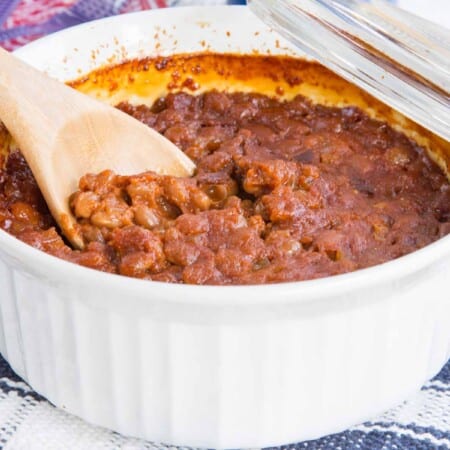 Semi-Homemade Baked Beans
Keep all of the flavor but lose all of the work in this easy version of the classic barbecue side dish. It's a gluten free baked beans recipe that's the hit of every summer cookout!
Ingredients
28

oz

canned baked beans

(I use Bush's Vegetarian Baked Beans)

3/4

cup

ketchup

1/4

cup

spicy brown mustard

2

Tablespoons

molasses

1/2

teaspoon

kosher salt

1

teaspoon

dry mustard

1/2

teaspoon

black pepper

1

small

white onion,

minced

2

slices

bacon,

cooked and crumbled

1/4

cup

brown sugar

(optional)
Instructions
If you have several hours to bake your beans, preheat the oven to 250°F. If you only have thirty minutes to an hour, set it to 350°F. Additionally, you can also cook the beans on the grill.

Drain all of the liquid from the can of baked beans into a measuring cup. Make note of the amount of liquid and discard. This is the amount of ketchup you will use.

Place the beans in the large bowl and add ketchup (an equal amount to the quantity of baked beans liquid you discarded, about 3/4 cup), mustard, molasses, salt, dry mustard, pepper, onion, and bacon, and stir to combine.

Transfer to a ceramic casserole dish (or disposable aluminum pan for cooking on the grill or bringing to a barbecue where you may not get your dish back), and bake for at least 1-2 hours at 250°F, or at least 30 minutes-1 hour at 350°F or on the grill, until heather through and thick and bubbly. The lower and longer you bake them, the better.
Notes
This recipe can easily be doubled.
Nutrition Facts
Semi-Homemade Baked Beans
Amount Per Serving (0.5 cup)
Calories 219
Calories from Fat 27
% Daily Value*
Fat 3g5%
Cholesterol 4mg1%
Sodium 1088mg45%
Potassium 534mg15%
Carbohydrates 42g14%
Protein 8g16%
Vitamin A 295IU6%
Vitamin C 2.2mg3%
Calcium 72mg7%
Iron 2.2mg12%
* Percent Daily Values are based on a 2000 calorie diet.
Categories:
More barbecue side dishes
Enjoy!