Best Semi-Homemade Baked Beans with a Secret Ingredient
Disclosure: This post may contain affiliate links. Cupcakes & Kale Chips is a participant in the Amazon Services LLC Associates Program, an affiliate advertising program designed to provide a means for us to earn fees by linking to Amazon.com and affiliated sites.
Secret-Ingredient Easy Baked Beans will have family and friends begging for the recipe. All of the flavors of slow-cooked beans, but none of the effort. It's a semi-homemade version of the classic barbecue side dish, and now I'm sharing it with you. And you don't have to tell anyone that it starts with canned baked beans! Plus they are gluten free too!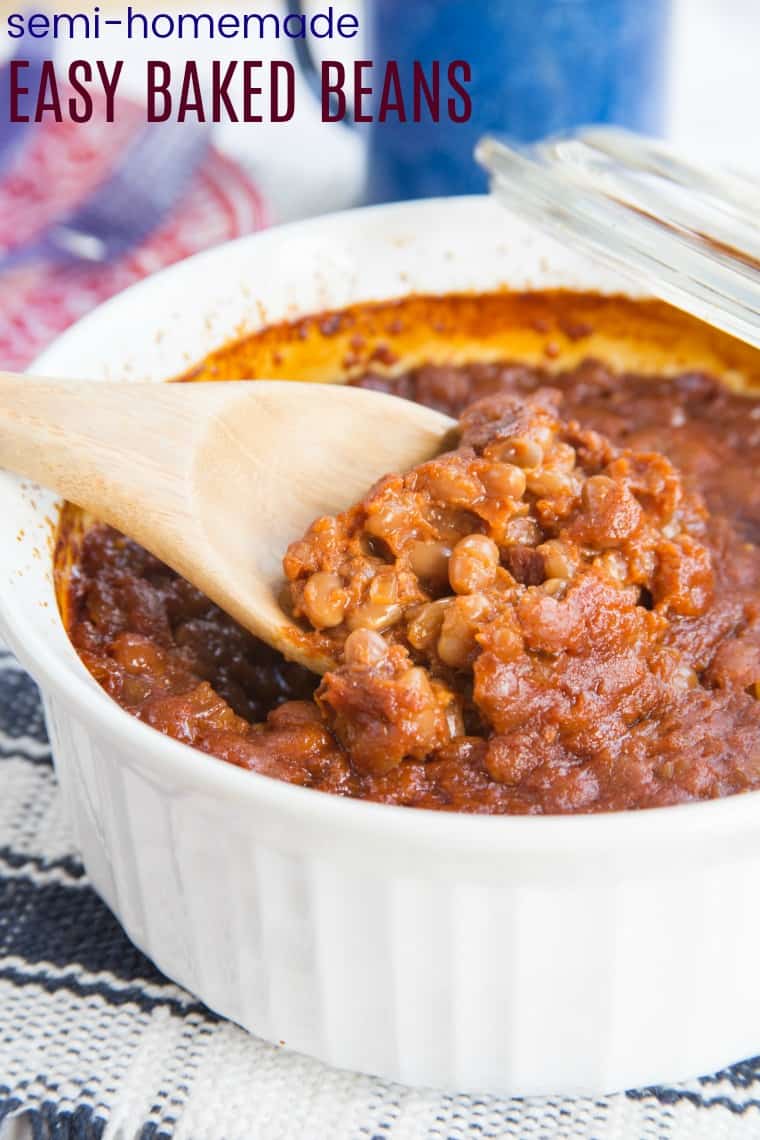 Originally published on Sep 6, 2015
When I was about thirteen, we moved out of the house that we had lived in since I was born. We moved in December to a neighborhood that had all of about five houses, and the day we moved was the first snow storm of a winter filled with ice and snow storms. My mom, sister, and I spent many days stuck in the house feeling quite alone. Gradually the ground thawed and more and more houses went up and families moved in. Ultimately, we came to love that neighborhood, or "The Village", as my sister called it when she was little.
There were only two streets that made a circle, so pretty much everyone knew everyone. It was the typical mom, dad, two point five kids, the occasional dog or cat, manicured landscaping, swing sets in the backyards neighborhood. It was one of those neighborhoods where the kids would roam from house to house finding where and with whom they wanted to play. The parents would gather on someone's from porch or back deck to have a glass of wine or a beer and chit chat. And it took at least a half hour to walk around the very small block because you undoubtedly stopped several times to catch up with someone.
There were community picnics and yard sales, kickball tournaments and donut fights, and yes, even some shenanigans involving reindeer Christmas decorations in compromising positions and a light-up Santa in someone's car.
I was literally the only teenager, and every house had at least one kid under eight. So to say that my high school years were quite lucrative is an understatement. Well, the going rate for babysitting was way less back then compared to now, but I did okay.
The best part was that my sister, who is ten years younger than me, was friends with all of the kids in the neighborhood. So she accompanied me pretty much every time I had a babysitting job. She played with the kids while I watched TV or did my homework (yes, this was ways before the days of smartphones), and I just made sure that nobody got injured. Can you say "easy money"?!
And actually, even though I had made dinner for my family a fair amount since I was in junior high, my real interest in experimenting with recipes and trying to make new things came from our monthly neighborhood dinner parties that I started attending with my parents when I moved back home after college. Every month the hosts chose a theme, and I began making recipes to fit the French and Irish and Mexican and Italian menus, and so much more.
It wasn't all rainbows and unicorns though. There was gossip and a few mini-feuds, and even some more serious things like affairs, divorces, and yes, even a couple of tragedies where we lost members of the "tribe".
But at the end of the day, it was the closest community I have ever been a part of. I loved living there, and even though I only planned to live at home for a short time after I graduated from college, the only thing that could drag me away was getting married.
And the only reason I didn't go back on a regular basis was that my parents moved out of state while I was on my honeymoon. Heck, The Hubby and I actually toyed around with the idea of buying a house there. I'm not sure that where we live now is quite like that, but I hope that many someday my kids will experience that type of neighborhood and sense of community.
One of the other amazing things I got out of living in that neighborhood? This recipe…
Semi-Homemade Baked Beans
This baked beans recipe was originally called "Laura's Beans". In fact, that's how they are labeled in my mom's recipe book. But honestly, I can't remember the last time I referred to the recipe. I usually just added in a little of this, some of that.
As I made this easy baked beans recipe more and more, they gradually became known as Brianne's Beans. Now, they are often requested and rapidly devoured by friends and family alike.
How do you make easy baked beans?
Everyone always wants to know my secret. I guess you could make slow cooker baked beans. But if you don't want to wait all day, I'll tell you my secret. Shhhh…
You start with a can of baked beans!
How to improve canned baked beans?
You already have beans that are already soft and tender and have absorbed the seasonings. As a result, you don't have to deal with the time and labor of cooking dry beans. But then you dump out all the liquid and replace it with something way yummier and thicker and richer. It's a mixture of…
Canned baked beans with the liquid drained off
Ketchup
Spicy brown mustard
Molasses
Onion
Bacon
Dry mustard
Salt and pepper
And a bit of brown sugar if you want them sweeter
Then you can just throw them on the oven or grill until they are hot. But my favorite thing is to put them in a low oven for as long as possible to really let the flavors intensify.
Gluten Free Baked Beans?
Many brands of canned baked beans are gluten free. I typically use Bush's Baked Beans, which are gluten free. And since all of the other ingredients are gluten free, you can safely make this recipe for anyone with celiac disease or gluten intolerance.
Can you make vegan baked beans?
Bush's actually has Vegetarian beans, and there are other brands that have vegan options. If you start with one of those, you can make this recipe vegan. Just leave out the bacon, and if you still want that smoky flavor, add about a quarter teaspoon of liquid smoke.
Are baked beans low carb?
Beans themselves are typically not low carb, and many brands of baked beans in a can and homemade recipes add additional brown sugar or molasses. So these are not a low carb recipe.
That being said, this recipe does remove all the liquid, and it only calls for a bit of molasses. For those that like sweeter beans, you can add brown sugar. However, we tend to like less sweet and more mustardy beans, so I usually leave it out.
If you are concerned about the carbohydrate content, you can make low carb baked beans!
For more yumminess from me and my foodie friends, keep up with me on…
Or sign up to have Cupcakes & Kale Chips delivered straight to your Inbox!
What do you serve baked beans with?
What are more barbecue side dishes?
Easy Baked Beans Recipe
These semi-homemade baked beans are still super flavorful, and the thick, gooey texture is just so much better than that liquidy stuff in the can. And it's barely any more work than dumping canned baked beans in a pot, but totally worth it. It's a gluten free side dish recipe that's the hit of every summer cookout!
I hope you'll leave a comment and give the recipe a FIVE STAR rating. And share a photo of it on this pin, over on Pinterest!

Print Recipe
Semi-Homemade Baked Beans
Keep all of the flavor but lose all of the work in this easy version of the classic barbecue side dish. It's a gluten free baked beans recipe that's the hit of every summer cookout!
Ingredients
28

oz

canned baked beans

(I use Bush's Vegetarian Baked Beans)

3/4

cup

ketchup

1/4

cup

spicy brown mustard

2

Tablespoons

molasses

1/2

teaspoon

kosher salt

1

teaspoon

dry mustard

1/2

teaspoon

black pepper

1

small

white onion,

minced

2

slices

bacon,

cooked and crumbled

1/4

cup

brown sugar

(optional)
Instructions
If you have several hours to bake your beans, preheat the oven to 250°F. If you only have thirty minutes to an hour, set it to 350°F. Additionally, you can also cook the beans on the grill.

Drain all of the liquid from the can of baked beans into a measuring cup. Make note of the amount of liquid and discard. This is the amount of ketchup you will use.

Place the beans in the large bowl and add ketchup (an equal amount to the quantity of baked beans liquid you discarded, about 3/4 cup), mustard, molasses, salt, dry mustard, pepper, onion, and bacon, and stir to combine.

Transfer to a ceramic casserole dish (or disposable aluminum pan for cooking on the grill or bringing to a barbecue where you may not get your dish back), and bake for at least 1-2 hours at 250°F, or at least 30 minutes-1 hour at 350°F or on the grill, until heather through and thick and bubbly. The lower and longer you bake them, the better.
Notes
This recipe can easily be doubled.
Nutrition
Serving:
0.5
cup
|
Calories:
219
kcal
|
Carbohydrates:
42
g
|
Protein:
8
g
|
Fat:
3
g
|
Saturated Fat:
1
g
|
Cholesterol:
4
mg
|
Sodium:
1088
mg
|
Potassium:
534
mg
|
Fiber:
6
g
|
Sugar:
22
g
|
Vitamin A:
295
IU
|
Vitamin C:
2.2
mg
|
Calcium:
72
mg
|
Iron:
2.2
mg
Enjoy!