This post may contain affiliate links. Read my disclosure policy.
Healthy Deviled Eggs without mayo are made with Greek yogurt for a lighter version of this classic appetizer with the same zippy flavor you love. Making them with no mayo saves a few calories, but this easy recipe is still creamy and delicious. This low carb snack is always one of the best potluck dishes or favorite gluten free picnic foods.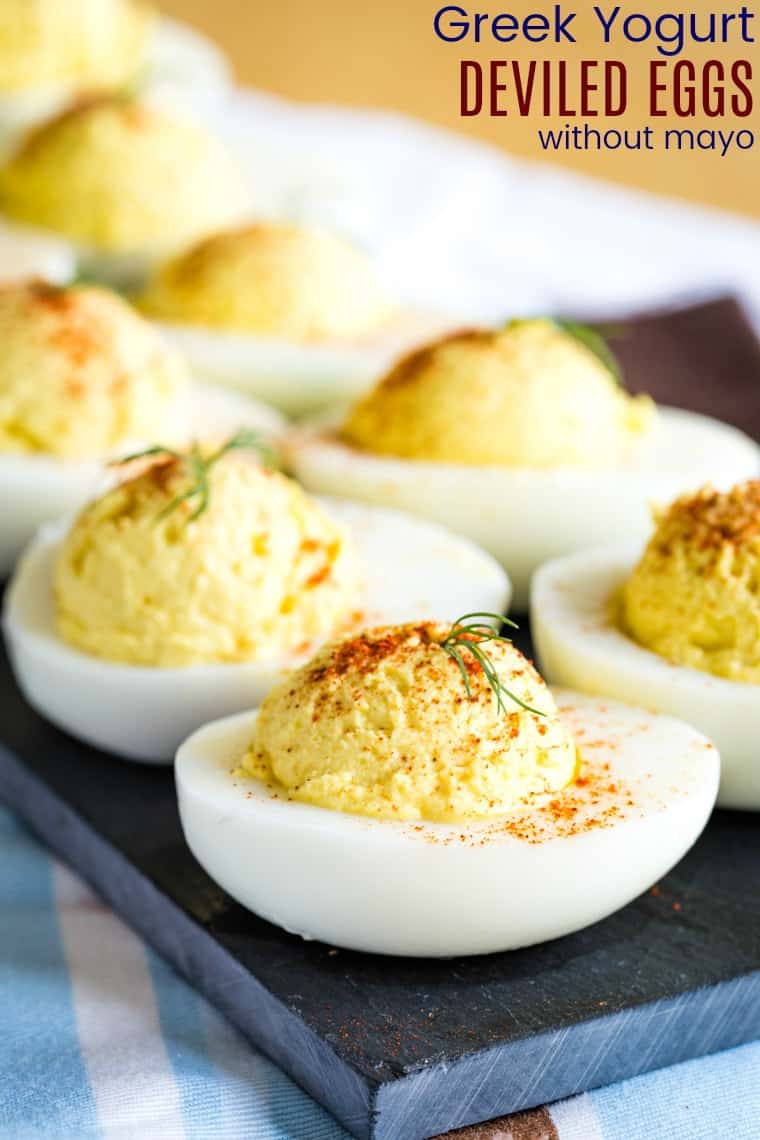 Healthy Deviled Eggs Recipe Without Mayo
No party is complete without a platter of deviled eggs to go along with all the appetizers. While this might not be a classic deviled egg recipe, it sure tastes like it. In fact, they might be even better.
Traditionally, deviled eggs are made by hard boiling eggs, cutting them in half, then scooping out the cooked yolks. The yolks are mixed with a variety of ingredients, then stuffed back into the hole in the hard-cooked whites. The term "deviled" comes from the fact that mustard has long been used, and historically spicy recipes were given names associated with the underworld. Hence, deviled eggs.
One of the other common ingredients in these seemingly innocent little bites with a slightly fiendish name is mayonnaise. While mayo does make the filling creamy, it also means that these aren't always the lightest option.
Are deviled eggs healthy?
Deviled eggs are high in protein and low in carbohydrates, making them a great keto and naturally gluten free dish. Eggs are high in vitamins, lutein, and choline. And myths about cholesterol in eggs being detrimental to heart-healthy have long been dispelled. Yes, you can include eggs in your heart-healthy recipes.
However, it is that mayo that can add extra fat and calories to the mighty egg when you make deviled eggs.
But one simple swap cuts the calories, but still keeps them gluten free and low carb. Or maybe, like me, you are just not a mayo lover. Luckily, my favorite mayo substitute works perfectly.
What is a good substitute for mayo in deviled eggs?
Greek yogurt!
It's creamy and tangy, so you keep the texture and flavor of a classic deviled egg with that zip of mustard. But you'll definitely save a few calories and even add some extra protein. And the extra tanginess from Greek yogurt makes them taste even better, in my opinion.
Each half of a deviled egg has only 40-50 calories depending on whether you use nonfat, lowfat, or whole milk Greek yogurt. And there are basically no net carbs, so these are definitely a keto-friendly snack. Plus they provide a good dose of protein.
Now you can bring healthy deviled eggs to your next picnic or barbecue.
Ingredients
These healthy deviled eggs only have three main ingredients, plus salt and pepper and optional garnishes.
Eggs – hard boiled and cooled.
Plain Greek yogurt – I usually use nonfat, but any kind will do, as long as it isn't sweetened or flavored.
Yellow mustard 
Salt and pepper
Paprika and dill – for garnish, if desired
How to Make Greek Yogurt Deviled Eggs
The recipe card below has all the details and amounts, but here is a quick overview. Keep scrolling for the full recipe.
Make hard-boiled eggs and let them cool
Slice the eggs in half and place the yolks in a bowl. Add Greek yogurt to the yolks along with mustard, salt, and pepper.
Mash it all up until smooth, then stuff it into the egg white halves.
Sprinkle with paprika, and garnish as desired.
Keep in the fridge until ready to serve. You can also add them to a Lobster Cobb Salad.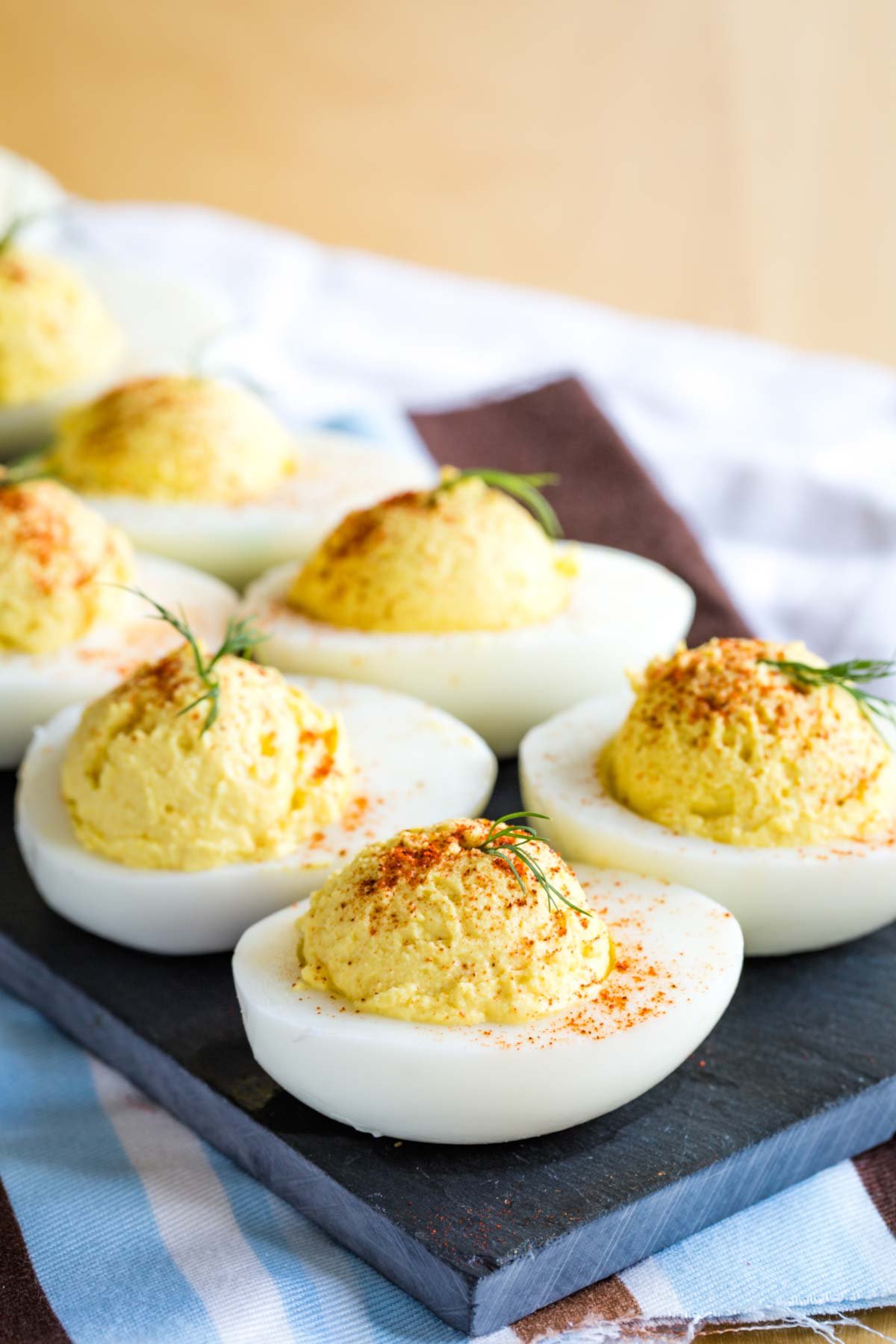 Tips for Success
The best way to make hard boiled eggs
My favorite way to cook hard-boiled eggs is in my Instant Pot using the 5-5-5 method. Set the eggs on a rack in the Instant Pot and add 1 cup of water. Cook on Manual (High Pressure) with the timer set for 5 minutes. When the cooking time is up, let the pressure release naturally for 5 minutes before doing a Quick Release. Then place the eggs in an ice bath for 5 minutes to cool before peeling.
However, you can also cook eggs on the stove or in the microwave, slow cooker, oven, and air fryer. All of the details are in my post on how to make hard boiled eggs.
Make deviled eggs in advance
You have several options to make deviled eggs ahead.
You can hard boil the eggs and keep them refrigerated (peeled or unpeeled) for two or three days. Then just prepare the filling right before serving.
Or you can get them all ready and keep them lightly covered in the refrigerator for a day or two.
Storing leftovers
Because eggs are perishable, you should minimize the amount of time they are kept out of the refrigerator. If they are at room temperature, they should be discarded if they have been out for over 2 hours. But if they are out in the hot sun at a picnic, the amount of time that they are safe to eat is considerably less.
If you refrigerate deviled eggs right away in an airtight container, they are safe to eat for up to 4 days, but they will taste the best within 2 days. However, if you notice any unpleasant odor or an unusual color, they should be thrown away immediately.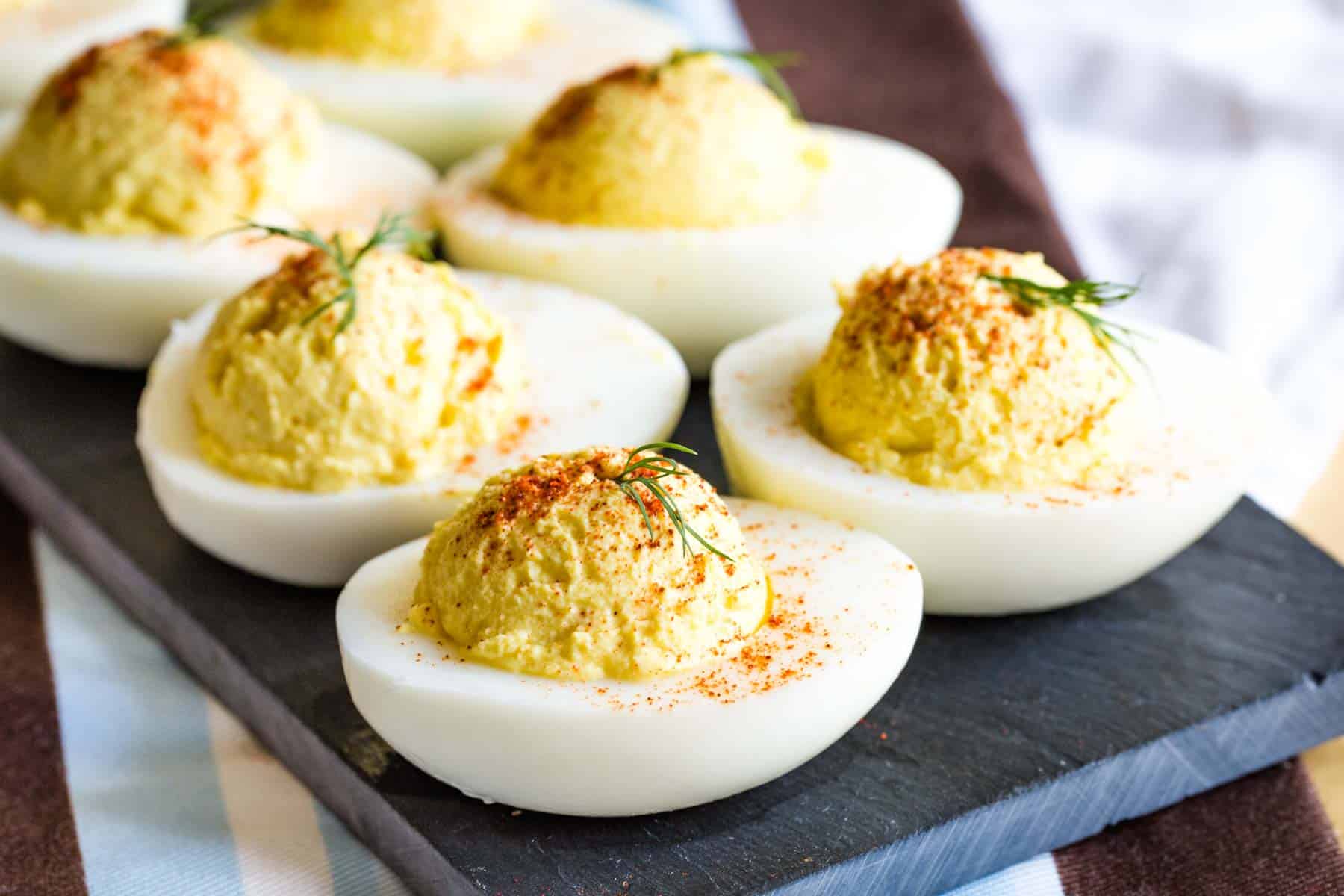 How to Fill Deviled Eggs
Brianne Recommends
A spoon works fine, but it's even easier to use a small cookie scoop.
Want to get fancy? Try a dessert decorator to pipe it in.
You can even use pastry bags and a simple round or star tip.
Last updated on February 3, 2023 9:55 pm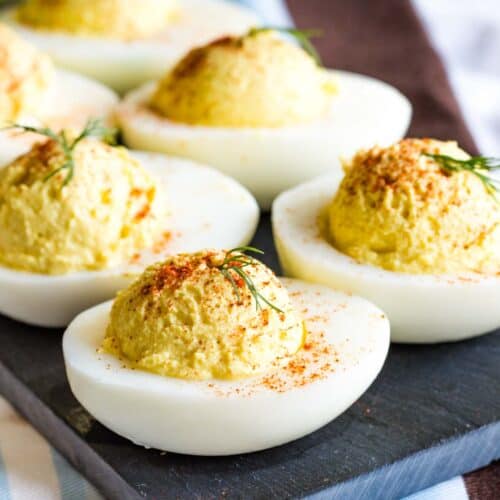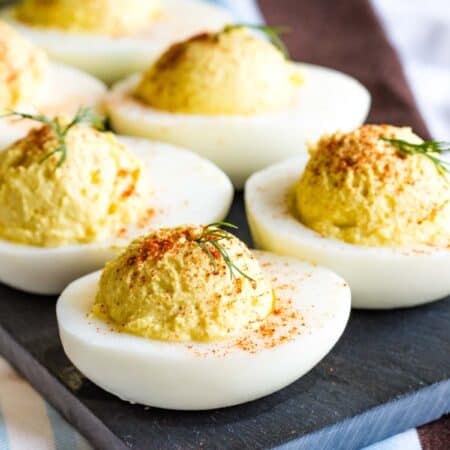 Greek Yogurt Deviled Eggs without Mayo
The picnic classic gets lightened up, but it still has the zippy flavor you love. This gluten free, low carb appetizer is always a crowd favorite.
Ingredients
6

hard boiled eggs,

chilled

1/4

cup

plain Greek yogurt

2

teaspoons

yellow mustard

1/4

teaspoon

Kosher salt

1/8

teaspoon

pepper

paprika and/or dill for garnish,

optional
Instructions
Slice eggs in half lengthwise. Place the yolks in a small bowl and the whites on a platter.

Add the Greek yogurt, yellow mustard, salt, and pepper to the bowl with the yolks, and mash together with a fork, stirring until smooth. Adjust seasoning to taste.

Fill the egg white halves with the yolk mixture. Sprinkle with paprika, and garnish with dill, if desired.

Nutrition Facts
Greek Yogurt Deviled Eggs without Mayo
Amount Per Serving (1 half egg)
Calories 42
Calories from Fat 18
% Daily Value*
Fat 2g3%
Cholesterol 93mg31%
Sodium 90mg4%
Potassium 31mg1%
Protein 3g6%
Vitamin A 130IU3%
Calcium 18mg2%
Iron 0.3mg2%
* Percent Daily Values are based on a 2000 calorie diet.
Categories:
More picnic side dishes made with Greek yogurt
Enjoy!