Kentucky Hot Brown Dip
Disclosure: This post may contain affiliate links. Cupcakes & Kale Chips is a participant in the Amazon Services LLC Associates Program, an affiliate advertising program designed to provide a means for us to earn fees by linking to Amazon.com and affiliated sites.
Kentucky Hot Brown Dip is one of the best hot dip recipes you need and the ultimate Kentucky Derby food. Everything you love from the classic Southern sandwich gets baked into a hot cheese dip recipe loaded with turkey, bacon, and tomatoes.
Whether you need a snack for a party to watch the Run for the Roses, want to use up leftover Thanksgiving turkey, or just looking for hot appetizer dips to add to your holiday menu, you have to try it.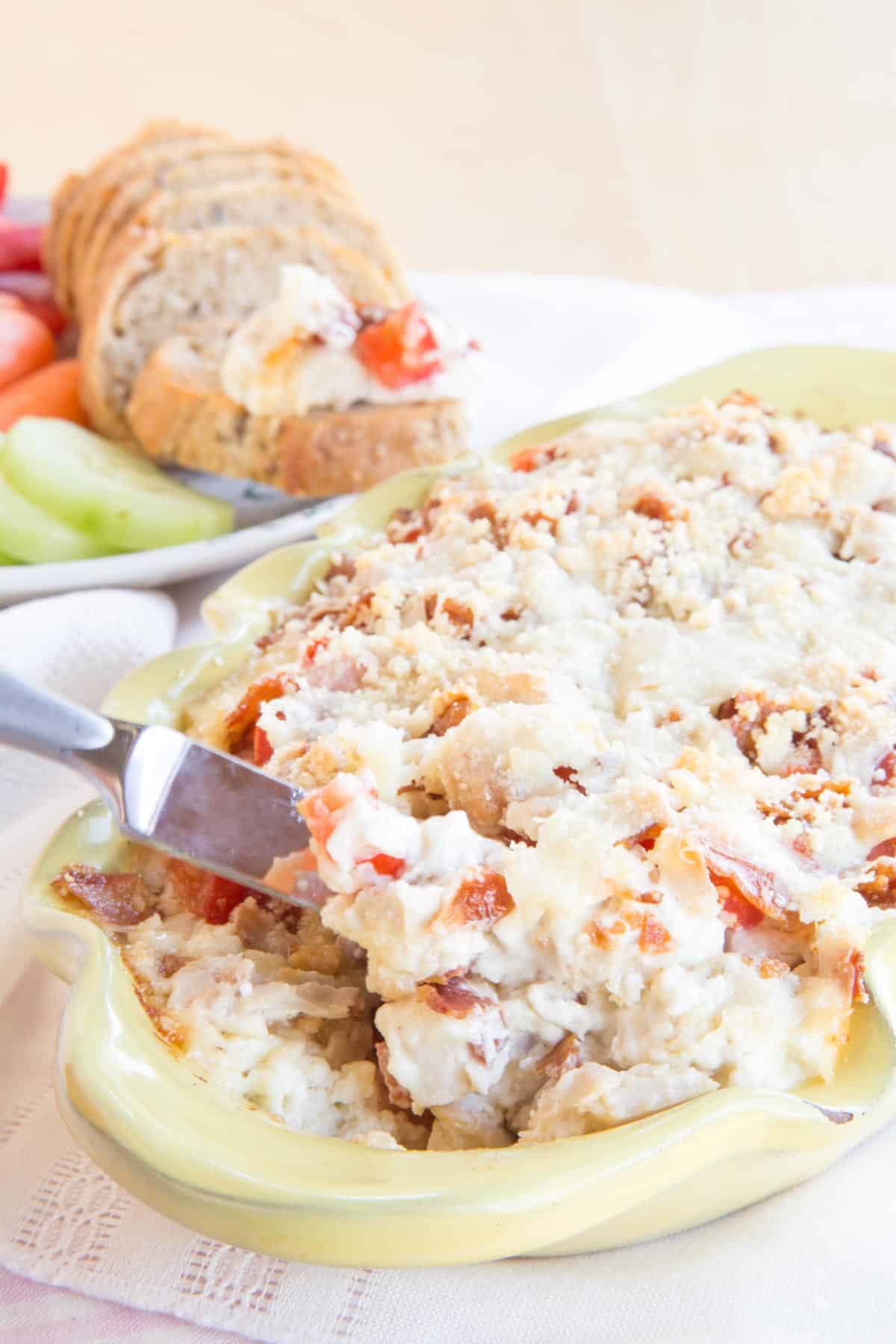 You may think about the Kentucky Derby for making this Kentucky Hot Brown Dip recipe, but it's also perfect for using up a leftover Thanksgiving turkey and snacking on while watching football over the weekend. Or you can add it to your Christmas or New Year's Eve appetizer menu.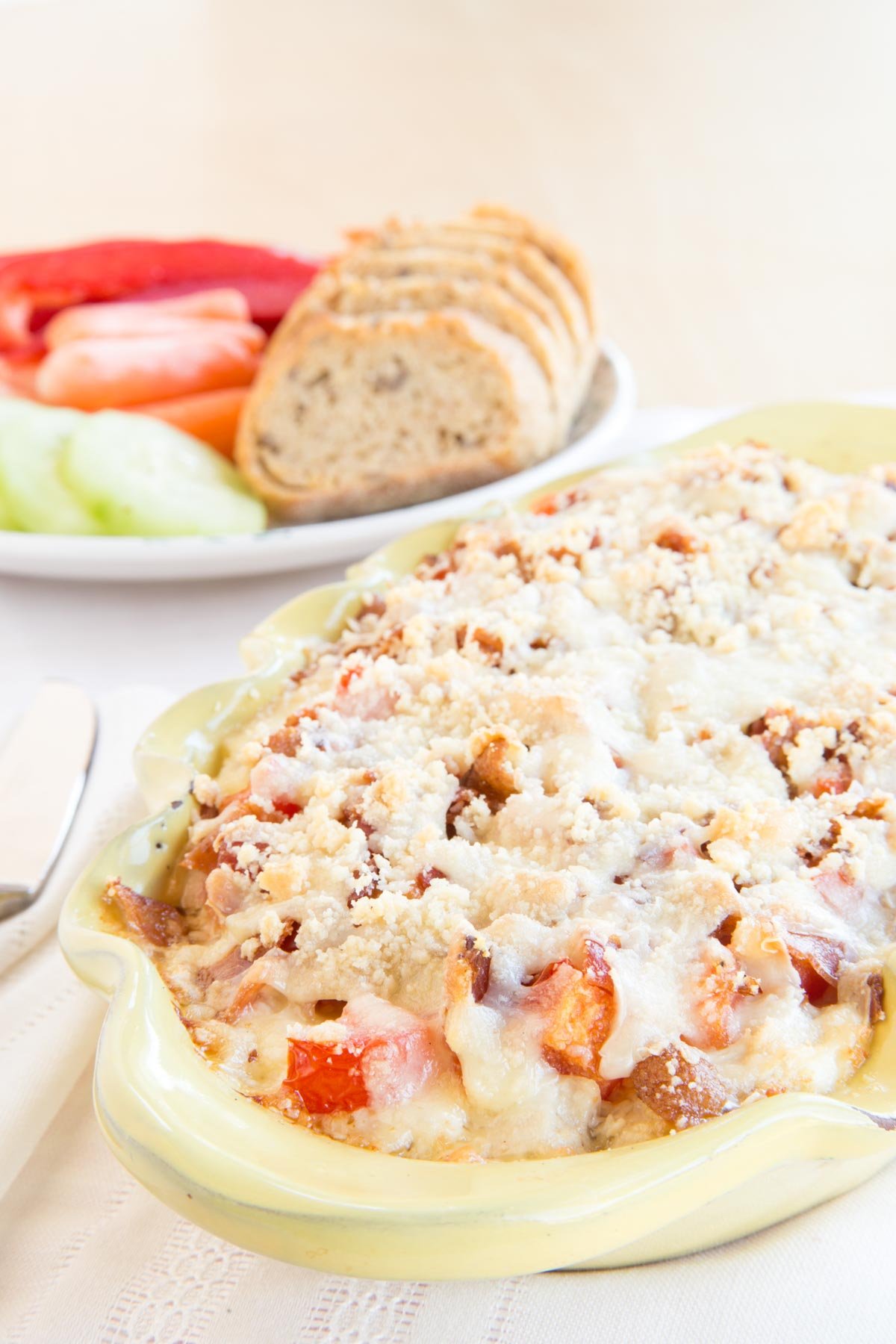 How to Make Kentucky Hot Brown Dip
All you have to do is chop up that turkey, cook up some bacon, and stir it together with plenty of cheese. Pop it in the oven, and out comes a dish of hot, cheesy deliciousness.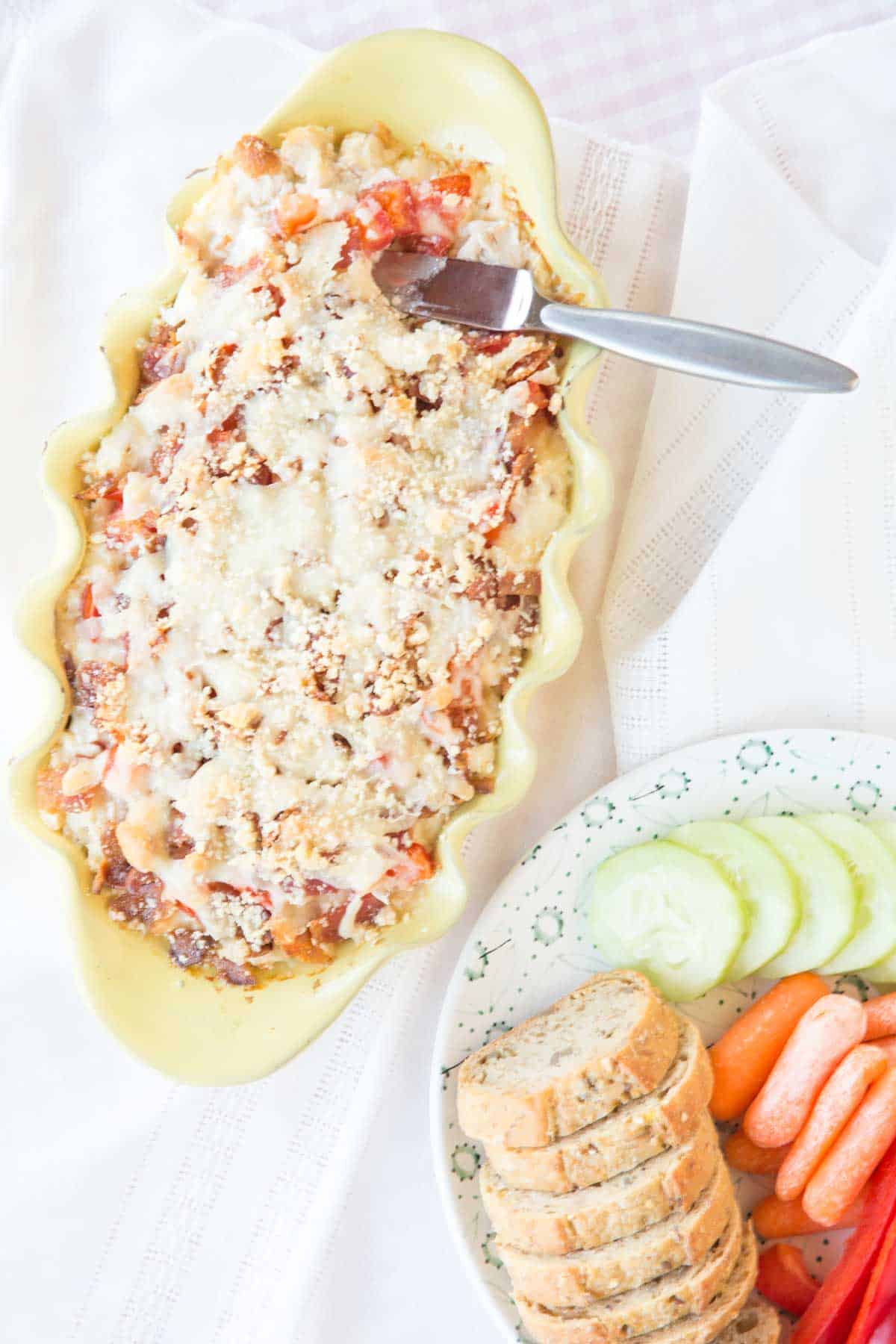 Kentucky Hot Brown Dip is the perfect cheesy hot dip recipe for any party!
While you can certainly spread this dip onto some crackers or slices of bread, instead load it onto some veggies and you can enjoy it as a protein-packed, low carb snack. Believe it or not, we actually had it over a salad for dinner. A small serving is actually super satisfying!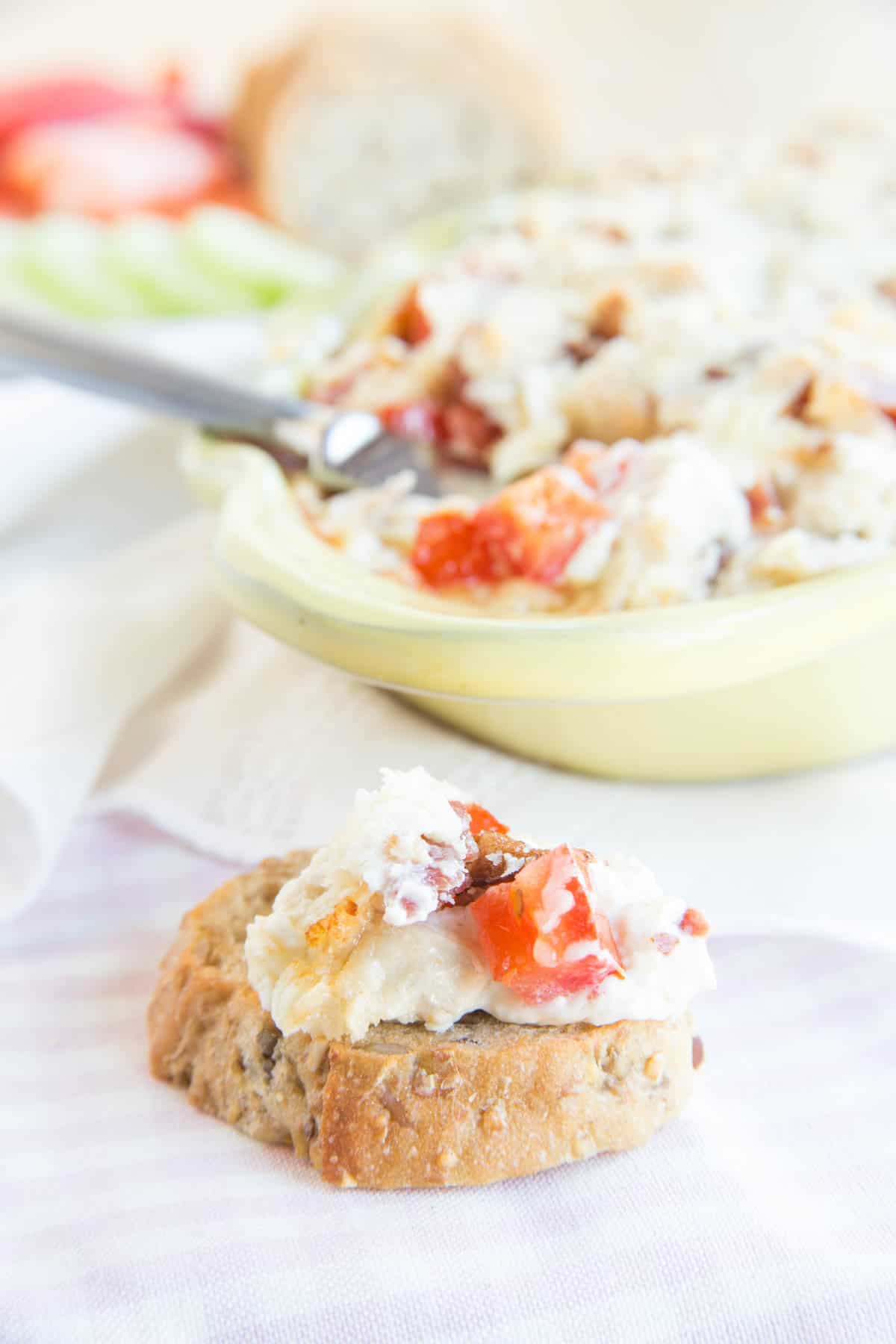 Here's some more hot dip recipes…
Do you love the Kentucky Hot Brown sandwich? Check out this Cheesy Kentucky Hot Brown Quiche from Melissa's Southern Style Kitchen. Swap out the bread and make a Hot Brown Baked Potato from Lemons for Lulu. Or turn it into finger food with Mini Hot Brown Sliders from Taste and Tell. You might also like my Kentucky Hot Brown Grilled Cheese!
Or if you are planning for Derby Day, these 19 Delightful Dishes, Desserts & Drinks for the Kentucky Derby might be helpful.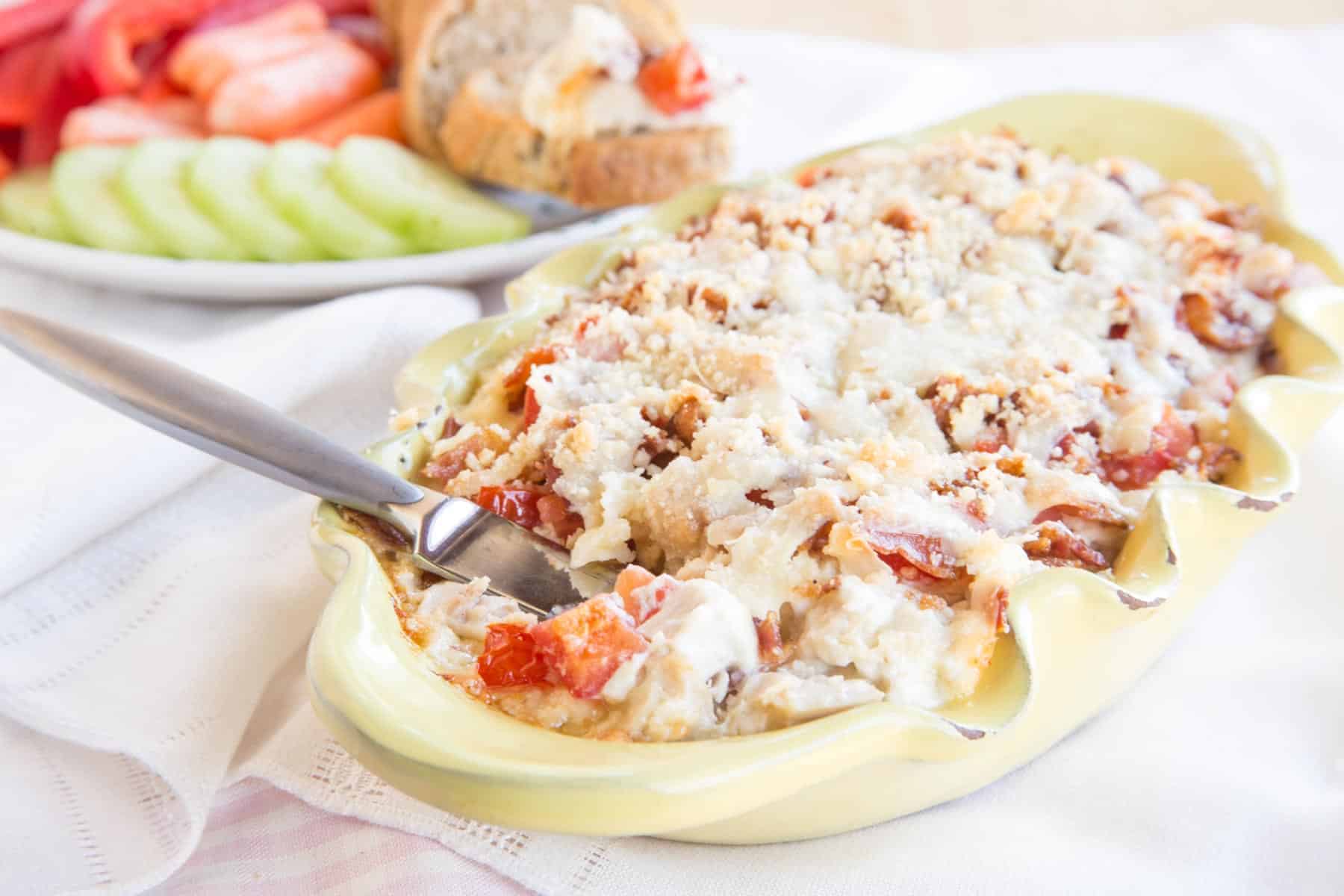 For more yumminess from me and my foodie friends, keep up with me on…
Or sign up to have Cupcakes & Kale Chips delivered straight to your Inbox!
Kentucky Hot Brown Dip Recipe
One of the best hot dip recipes you've ever make, you'll take the best parts of that traditional open faced sandwich – turkey, bacon, creamy goodness, and a few tomatoes for a fresh and acidic balance – and combine it all into one ooey gooey appetizer. The best part is, you really aren't blowing your diet with this one – instead of a heavy cream and butter-based béchamel, you'll get the velvety texture with light cream cheese and Greek yogurt, and lots of flavor from Cabot Extra Sharp Cheddar. And while you can certainly dip bread or crackers, using it as a dip for veggies keeps it gluten free and low carb.
I hope you'll leave a comment and give it a FIVE STAR rating or share a photo on this pin on Pinterest!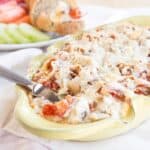 Print Recipe
Kentucky Hot Brown Dip
Takes the classic Southern open-faced sandwich and transforms it into a gooey hot appetizer dip.
Ingredients
8

oz.

cream cheese

at room temperature (I used light)

1/4

cup

plain Greek yogurt

I used nonfat

1/4

teaspoon

grated nutmeg

6

oz.

about 1 1/2 cups shredded white cheddar cheese, divided (I used Cabot Extra Sharp)

2

cups

cooked and chopped turkey

one

small tomato,

seeded and chopped

6

slices

bacon

crumbled

1/4

cup

grated pecorino romano cheese

can also use parmesan

Crackers

sliced baguette, vegetables for serving
Instructions
Preheat oven to 350°F.

In a bowl, stir together the cream cheese, yogurt, nutmeg, 4 oz. (about 1 cup) cheddar, and turkey until thoroughly combined.

Transfer to a glass baking dish and spread evenly.

Top with tomato, bacon, the remaining 2 oz cheddar cheese, and the pecorino romano cheese.

Bake at 350°F for about 30 minutes, or until hot and bubbly, and lightly browned.

Serve with crackers, baguette slices, and veggies for dipping.
Nutrition
Serving:
1
g
|
Calories:
158
kcal
|
Carbohydrates:
2
g
|
Protein:
12
g
|
Fat:
10
g
|
Saturated Fat:
5
g
|
Cholesterol:
38
mg
|
Sodium:
339
mg
|
Potassium:
125
mg
|
Sugar:
1
g
|
Vitamin A:
170
IU
|
Calcium:
198
mg
|
Iron:
0.3
mg
Enjoy!
The horses and jockeys may be running for the roses this weekend, but come August 1st, I'll be running for cheese. Well, maybe not literally, though I'm sure some cheddar will be consumed over the weekend, but I am so excited to be part of the Cabot Fit Team 2015. I am currently training to run my first 10K race – make that my first 10K and my first race, all rolled up into one – at the TD Beach to Beacon 10K Road Race in Cape Elizabeth, Maine on August 1st. I can't tell you how excited I am!
You know I love all things Cabot cheese, so it means more than words can express how honored I am to be running with this group of ladies on behalf of Cabot Creamery Cooperative. While fitness has been a part of my life for quite awhile, my attempts at running have been in fits and spurts through the past several years. But in the back of my mind I've always had this nagging desire to fully commit and train for a race, which is why being part of the Cabot Fit Team is so ideal – the mission of the team is to increase awareness about the importance of wellness through nutrition and exercise.
While I try to keep my photos to just food and, since I can't resist, my super cute boys, you may have seen me posting some personal achievements and sweaty selfies on Instagram. The reason for this is twofold, actually. The first a a leeeeetle bit selfish. As I said, I've attempted to be a runner, but never quite kept at it, my previous attempt being halted because of massive pain in my Achilles. The first few weeks of training were tough as I battled shin splints, soreness, my natural tendency to do too much too soon, and just getting my body used to it. I'm still working on my endurance and speed, and some days it's a struggle to just go two or three miles. That's when I start to doubt myself and feel like I'll never make almost six and a half. Plus, the other ladies on the team do actually run regularly, they've run races, some have even done marathons. I'm the total newbie and don't want to let the team down. So any virtual cheerleaders I can recruit are a huge help.
But the second is that I want to inspire all of you. You guys, I was the chubby kid most of my life. I was terrible at sports, and never lasted more than one season with anything I tried because I felt so pathetic. I hated gym class. In college, I'd follow up my occasional trip to the gym with a trip to pick up Chinese food in the student center. The only fruits and vegetables I ate for the longest time were bananas and corn before I finally started to accept apples and iceberg lettuce into my life. I didn't start working out and making changes in my eating habits until I was out of college. Now I am 35, have two kids, and I am training for my first 10K. I know not everyone is a runner. I know people are busy. But making the choice to move our bodies a little and maybe have a salad or smoothie instead of a double cheeseburger or donut is just the first step. We can all take even small steps to make wellness a priority.
Beyond that, though, close to home and to my heart is my family. I hope to be an example to my boys that it is important to do things that are good for your body. You all know I try to feed them an overall healthy diet (though of course there is room for treats now and then). But I also want to encourage them to be active. The Bug is now taking karate and playing tee ball, and loving it. This summer we will be joining our community pool, and I try to take him and Little Dude for a walk around the block a few times a week. And you know what? I think it's making an impact. The Bug has been asking why I keep getting up early to exercise and for for runs, and on our walk the other evening, The Bug started running ahead of me, calling back, "Mommy, I'm training for my race!"
This is why I run, and this is why I am part of Cabot Fit Team!