This post may contain affiliate links. Read my disclosure policy.
These fluffy Gluten Free Hawaiian Rolls are an easy homemade dinner roll recipe enriched with butter and brown sugar. Serve these pillow-soft sweet rolls with soups and stews, as a holiday side, or fill them to make delicious Hawaiian bread sliders and appetizers.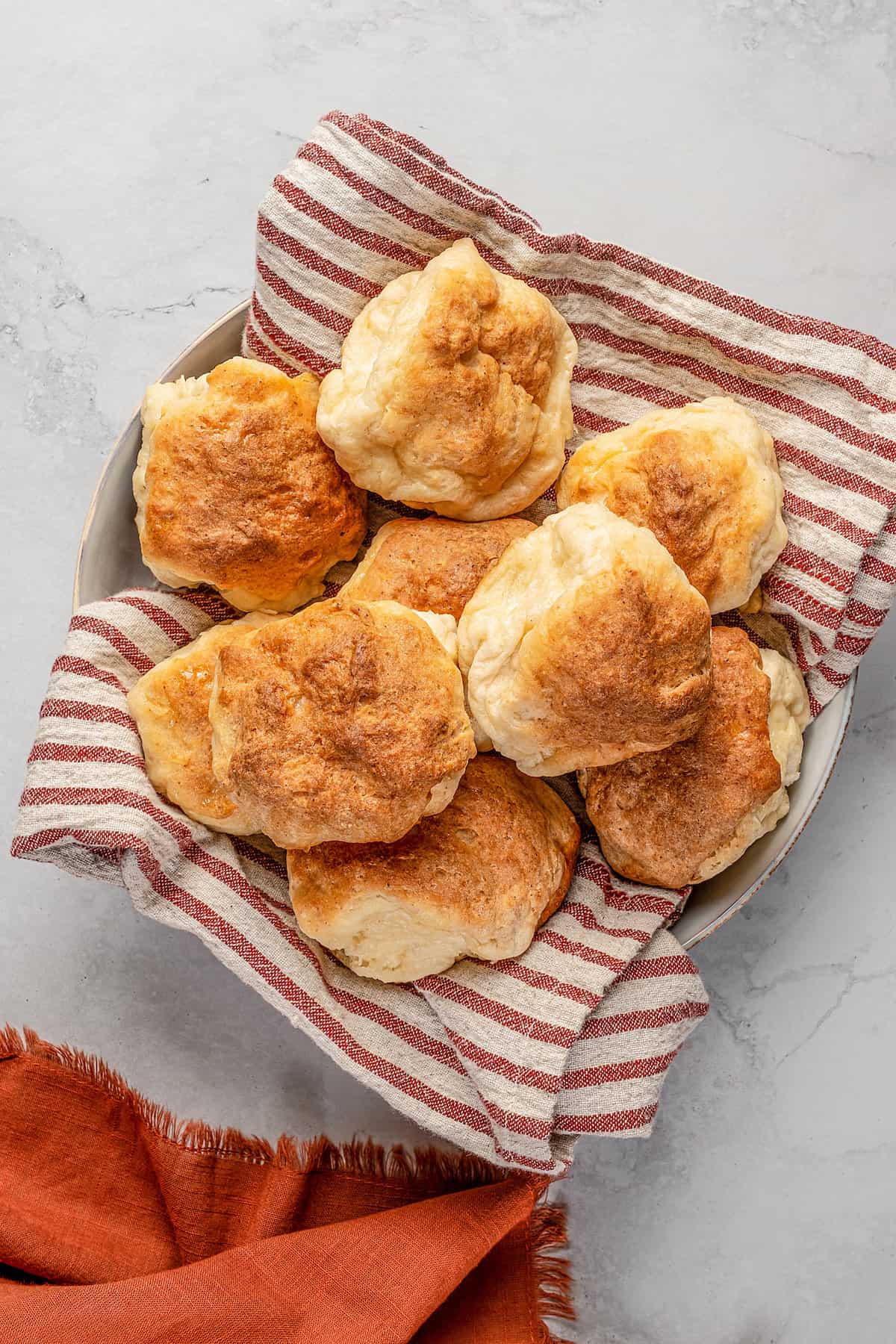 Fluffy Gluten Free Homemade Hawaiian Rolls
These homemade gluten-free Hawaiian rolls are like small poofy pillows with a delectable, sweet flavor and an irresistibly tender crumb. The outsides are a rich, deep brown, yet flaky. They're also super versatile! Sturdy enough to use for sandwiches and sliders, but soft enough to soak up all your favorite soups and sauces as a sweet dinner roll.
This recipe uses instant yeast, so there's no activating and no kneading involved. The prep for these gluten-free Hawaiian rolls is actually super quick, then it's just a matter of a little resting time and a short bake in the oven. We can't get enough of these mouthwatering homemade sweet rolls, they're truly impossible to resist!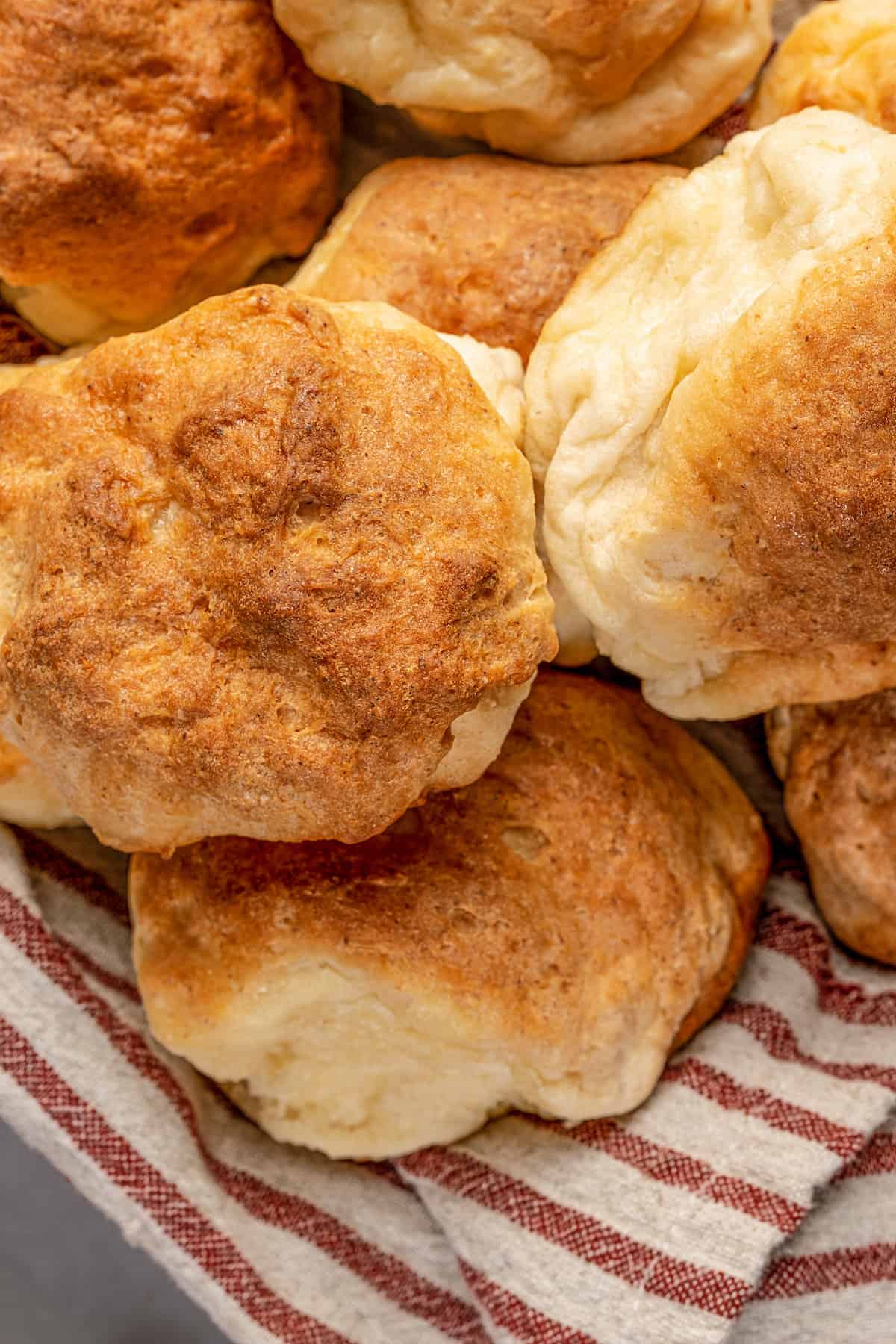 What Is Different About Hawaiian Rolls?
Hawaiian rolls are enriched rolls, made with butter, milk, and eggs. Traditional Hawaiian rolls are also sweetened with pineapple juice, which is where their classic "Hawaiian" flavor comes from.
The pineapple juice is optional in my gluten-free version. With some brands of flour, it inhibits the rising of the rolls. But wither way, these homemade Hawaiian rolls are just as irresistibly soft, flaky, and sweet!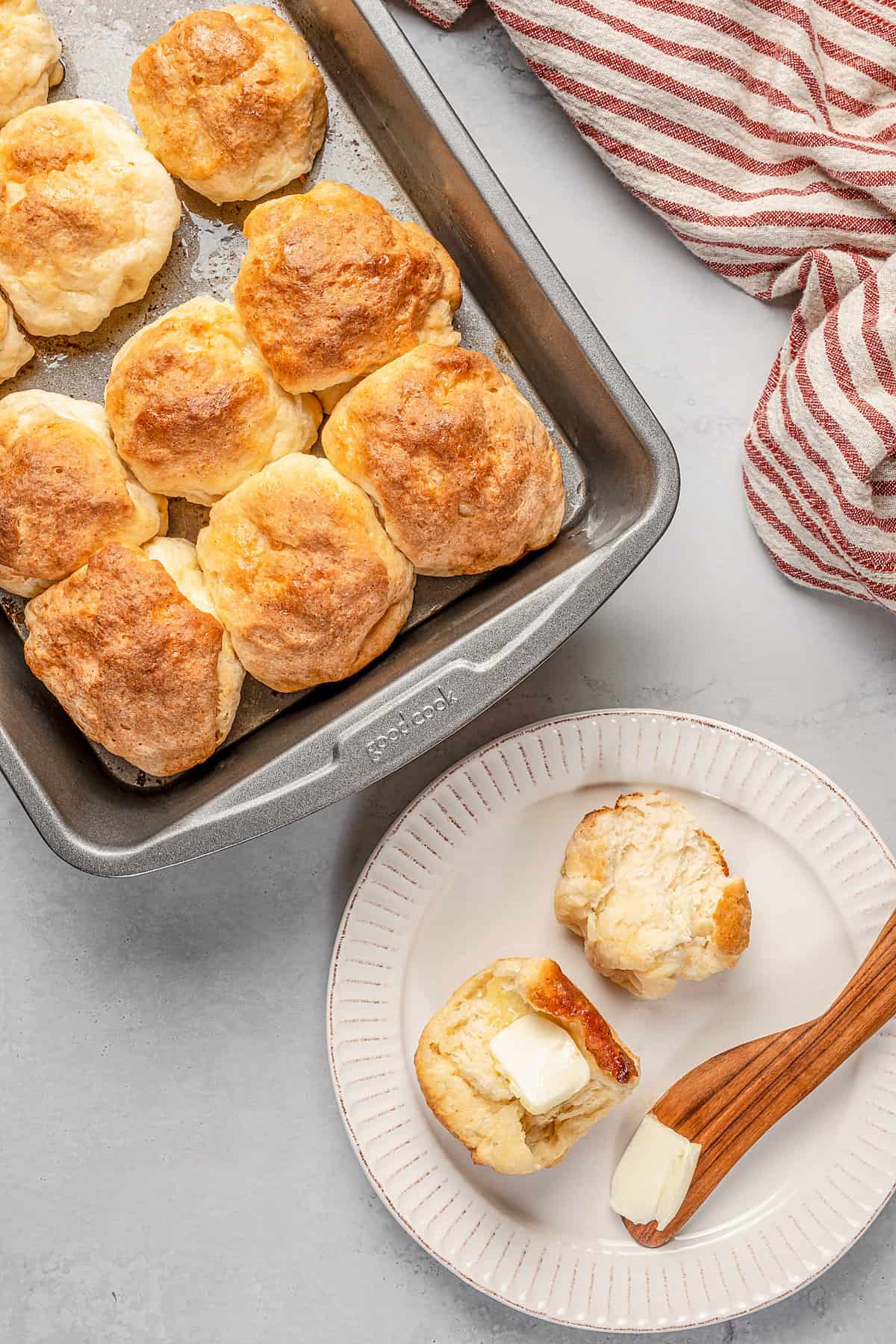 What You'll Need
Below is a quick summary of the ingredients needed to make these enriched gluten-free sweet rolls. Be sure to scroll to the recipe card for the full recipe details and amounts:
Gluten-Free Flour: I had great results with King Arthur Flour Gluten Free All-Purpose Flour (NOT Measure for Measure). It also works well with Caputo Fioreglut gluten-free flour IF you omit the pineapple juice.
Brown Sugar: Brown sugar adds sweetness and moisture to the dough for better browning, and also feeds the yeast.
Rice Flour, Cornstarch, and Salt: Rice flour and cornstarch lend these fluffy Hawaiian rolls their light, crisp texture. Adding salt prevents the yeast from overproducing and helps balance the sweet flavors of the dough.
Xanthan Gum: Xanthan gum acts to thicken and bind the dough in place of gluten in this gluten-free bread recipe.
Instant Yeast: Also called "breadmaker's" yeast, this type of yeast doesn't require activating beforehand. Make sure to check the labels on your yeast sachets to 1) ensure it's certified gluten-free and 2) that the yeast hasn't expired.
Milk, Butter, and Eggs: These ingredients are key to enriched rolls. Cube the butter into smaller pieces, as this will make it easier to melt with the milk. You can also set aside some additional butter to melt and brush over the rolls.
Pineapple Juice: This adds sweetness and a slightly tropical flavor. However, it doesn't play nice with all gluten free flours, so proceed with caution. You can replace 1/2 cup of the milk with pineapple juice when you use the King Arthur All-Purpose Flour.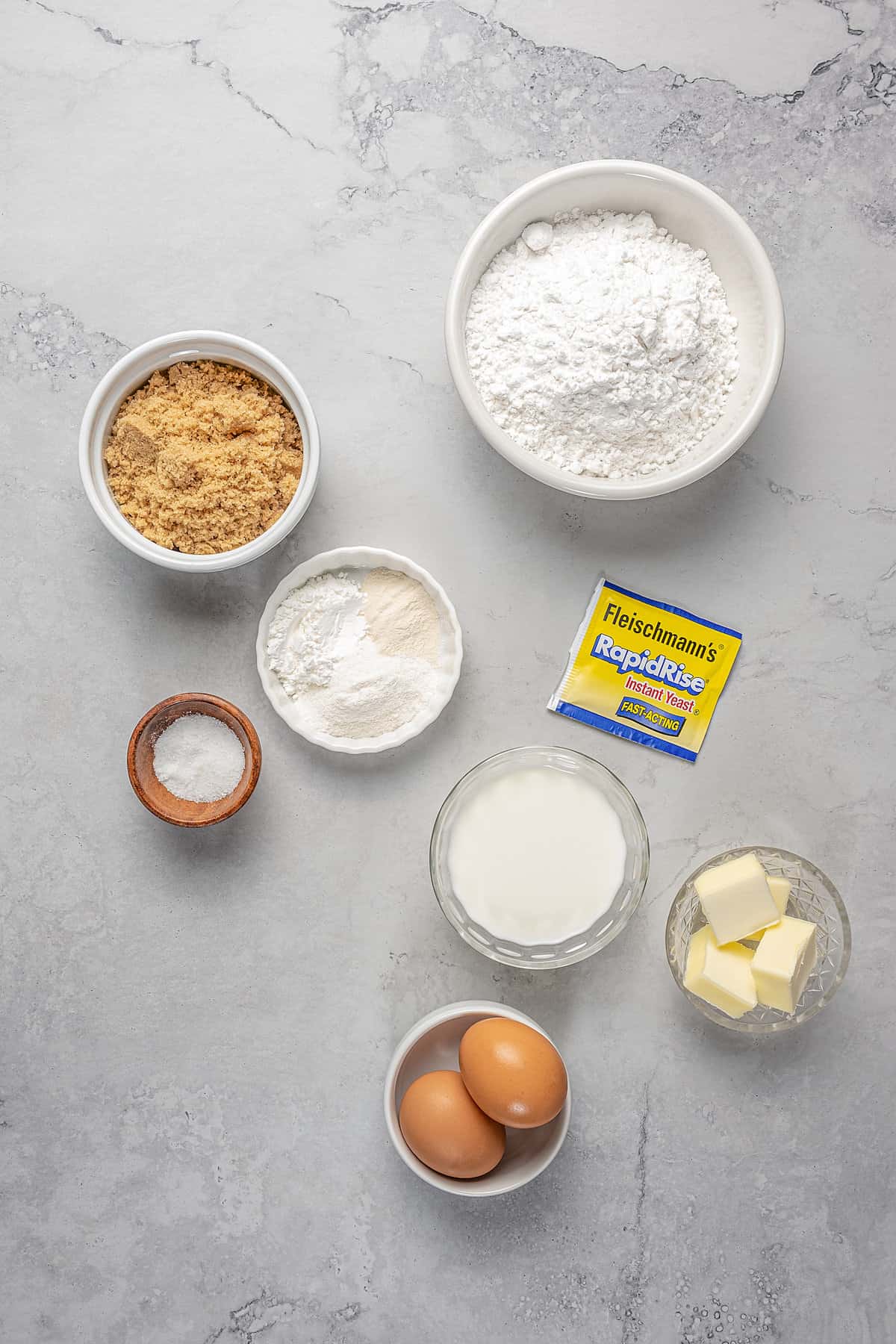 How to Make Hawaiian Sweet Rolls
It couldn't be easier to make perfectly light and tender gluten-free Hawaiian rolls at home. Here's how:
Mix Dry and Wet Ingredients Separately: First, whisk together the dry ingredients. Next, melt the butter into the milk using the microwave, and check that the temperature lands at around 120°F and 130°F. If it's higher, let the mixture cool before adding it to the dry ingredients.
Combine: Gradually mix the milk mixture into your dry flour mixture, followed by the pineapple juice, if using. Then add the eggs one at a time. You should be left with a thick, smooth dough.
Portion and Shape: Scoop and roll portions of dough into 12 even-sized balls, and place them in a greased cake pan. Greasing your hands with a bit of oil also makes it easier to handle the dough.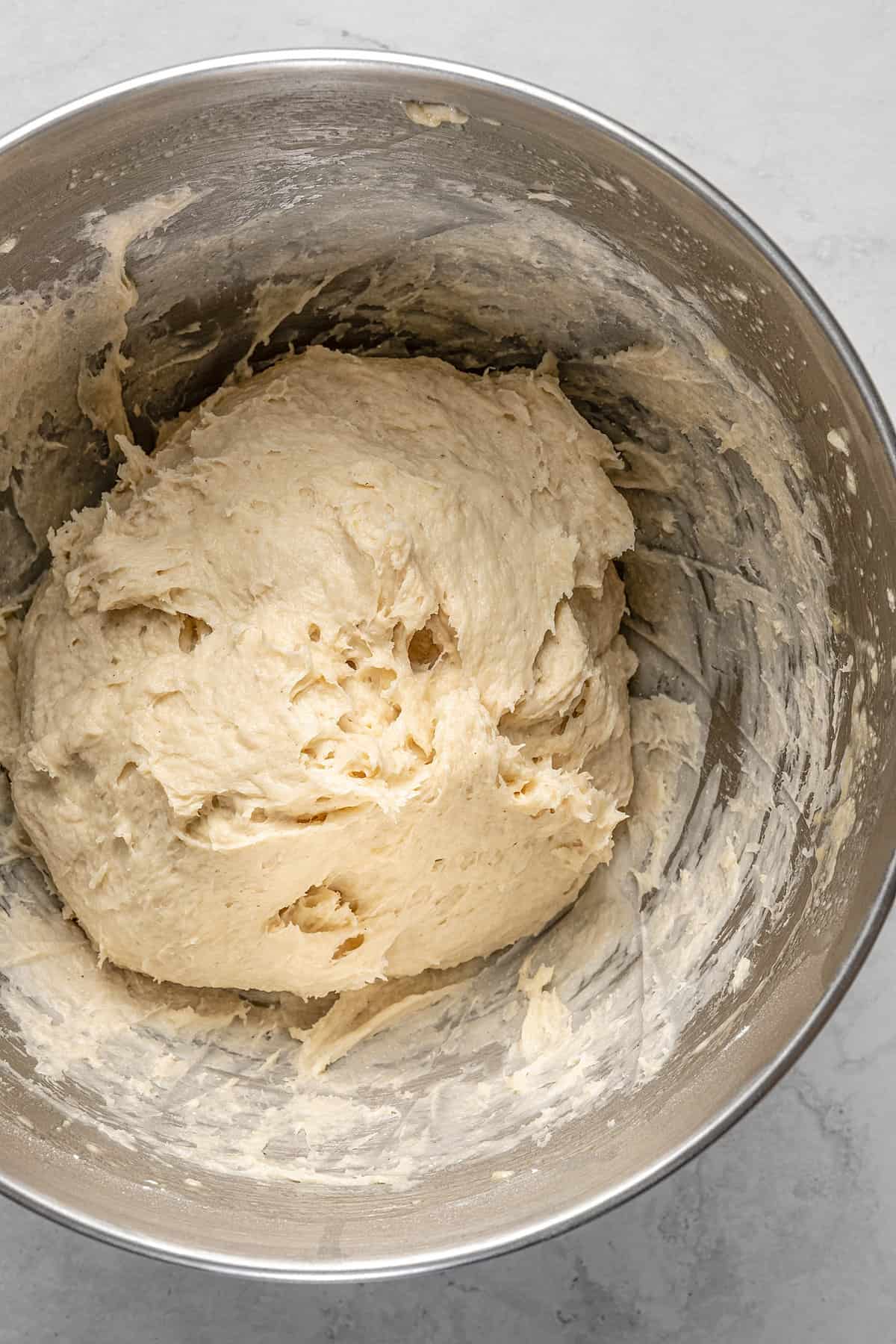 Rise: Place the pan covered in plastic wrap in a warm, draft-free spot to rise for an hour until doubled in size. Towards the end of the rising time, preheat the oven to 350ºF.
Bake: Melt some additional butter in the microwave and brush this over the tops of the dough balls. Pop the rolls into the oven to bake for 20 minutes to a half hour, until golden. You'll want to leave the Hawaiian rolls to rest in the cake pan for another 10 minutes or so once they've left the oven, before moving them to a wire rack.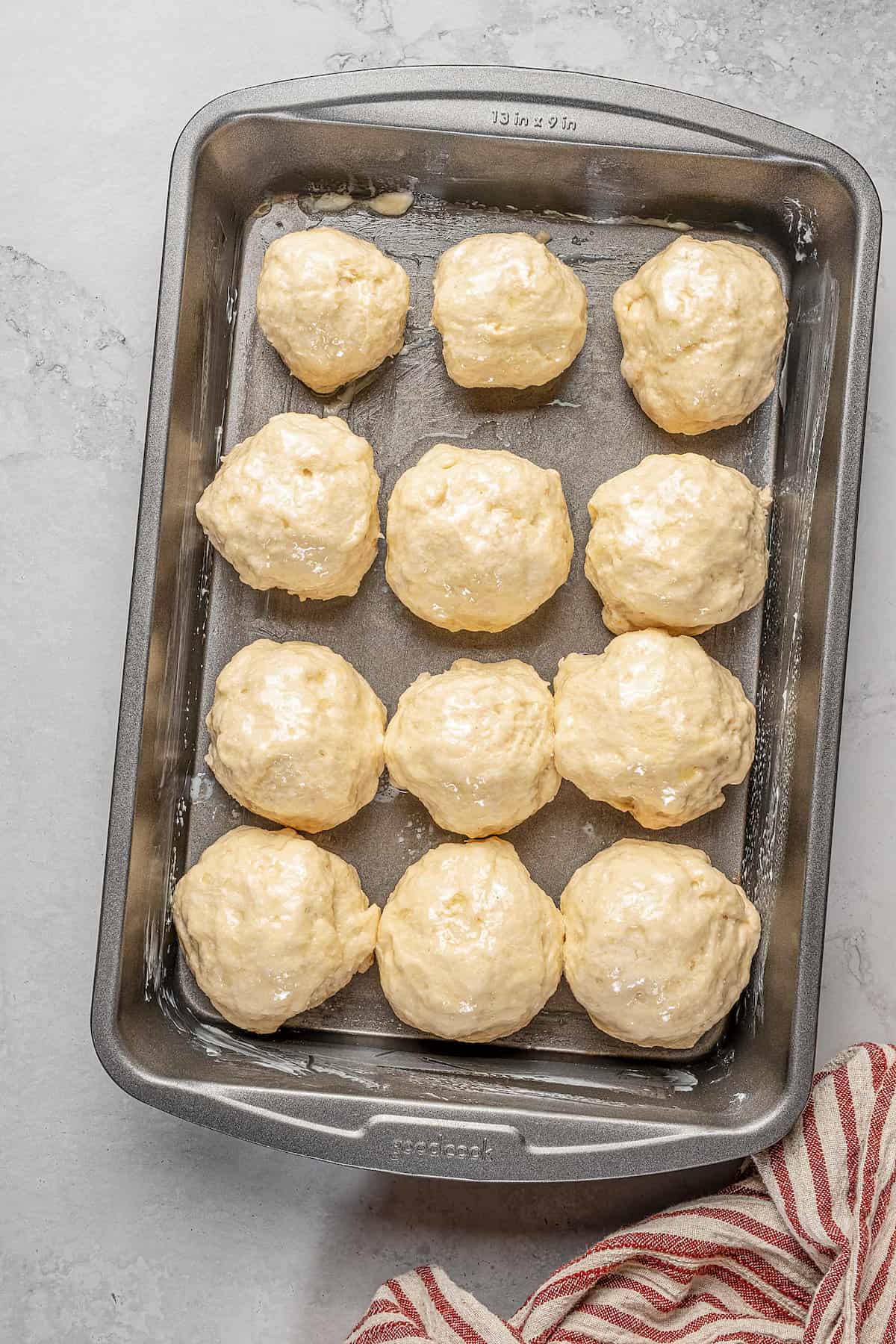 Tips for Success
Here are some additional tips for the best homemade gluten-free Hawaiian rolls:
Grease your hands when handling the dough, as gluten-free bread dough does tend to be stickier than regular bread dough. Give your hands a quick spritz with the same cooking oil you use to grease your cake pan.
For even-sized rolls, a kitchen scale comes in handy. Weigh the total amount of dough, and then divide that by 12 in order to weigh out the rolls. However, you don't have to be too exact if you prefer more rustic-looking rolls, just as long as they're not drastically different in size (otherwise they won't bake evenly).
If your Hawaiian rolls come out too dense, there could be a few reasons for this. Make sure you budget enough time to allow the dough to rise, and always check expiration dates and use fresh yeast for the fluffiest rolls.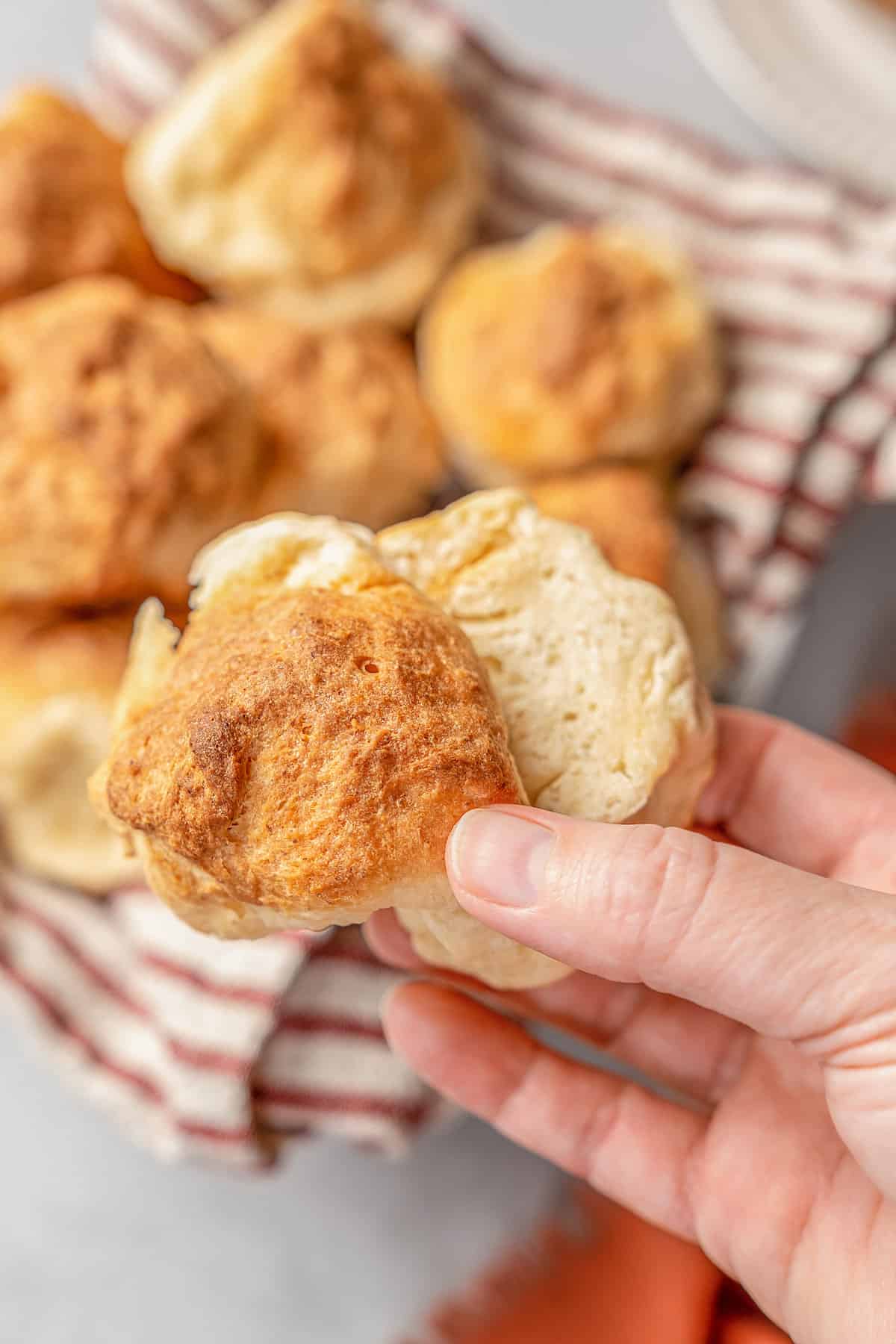 Common Questions
Are King's Hawaiian Rolls gluten-free?
This popular brand of Hawaiian rolls is unfortunately not gluten-free. And while gluten-free sweet rolls do exist in stores, they are also larger, sandwich-sized rolls. Plus, I've found that nothing compares to these homemade rolls!
Can I make these rolls dairy-free?
Vegan butter can be substituted for regular butter and almond or oat milk for the milk if you'd like to make dairy-free, gluten-free Hawaiian rolls.
Can you over-mix gluten-free dough?
Yes, and the dough can turn out a bit rubbery as a result. Be mindful to not overwork the dough when combining the ingredients, but do give it enough time for the moisture to be fully absorbed.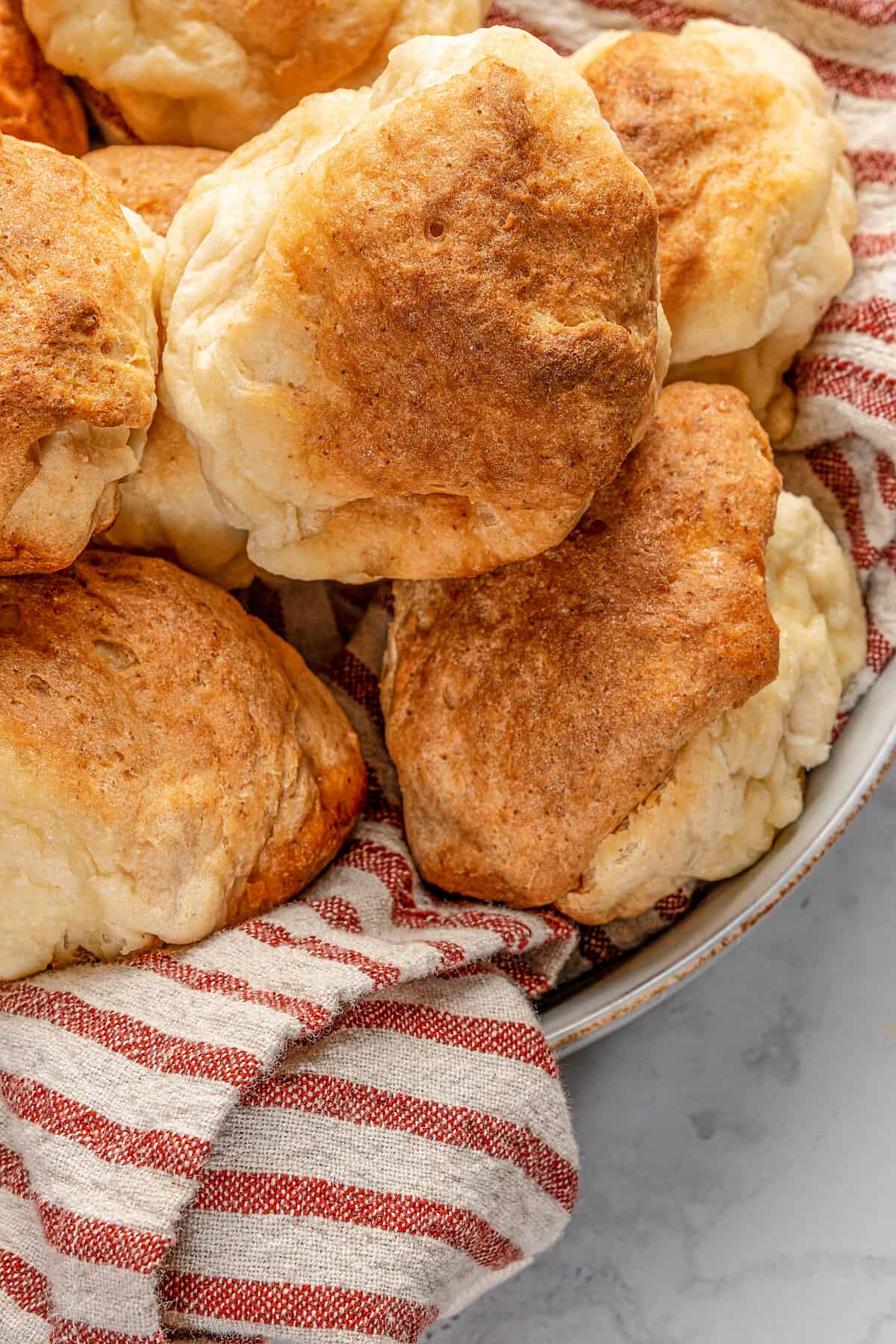 Serving Suggestions
Here are some of our favorite ways to serve these gluten-free Hawaiian rolls: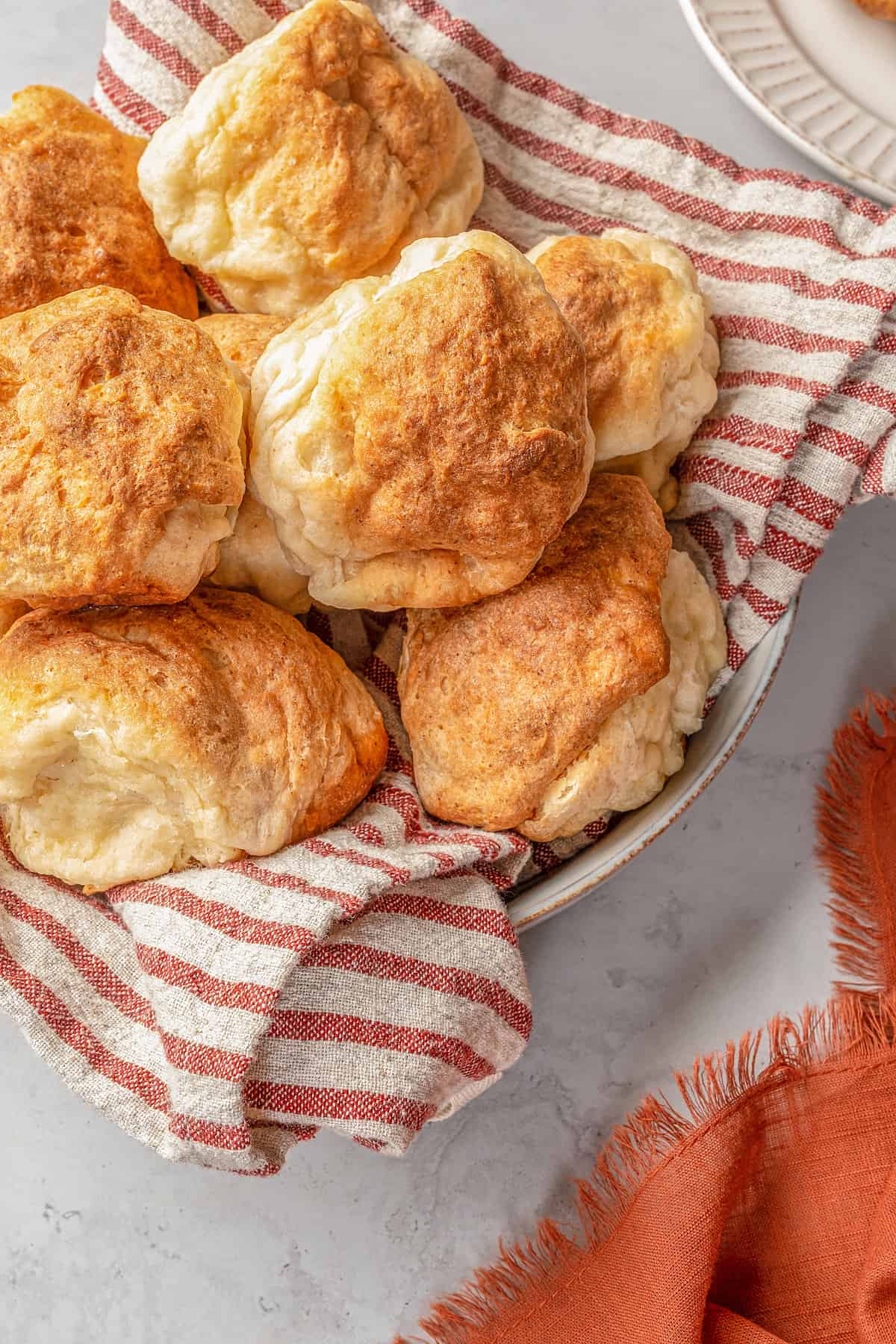 Storing Gluten Free Hawaiian Rolls
Store leftover Hawaiian rolls airtight in a cool, dry place on the counter or in your pantry. They'll keep fresh enough for 3-4 days. If you know you'll have a lot of leftovers, you may want to consider freezing them (see below).
Can I Freeze Hawaiian Rolls?
Gluten-free Hawaiian rolls are great to freeze for longer-term storage. Once the rolls are completely cooled, wrap them tightly in plastic wrap or store them in a freezer bag, and freeze them for up to 3 months.
Thaw the rolls at room temperature, or in the microwave (at 10% or low power). You can also wrap the frozen rolls in foil and warm them in the oven at 300ºF for 15 minutes or so.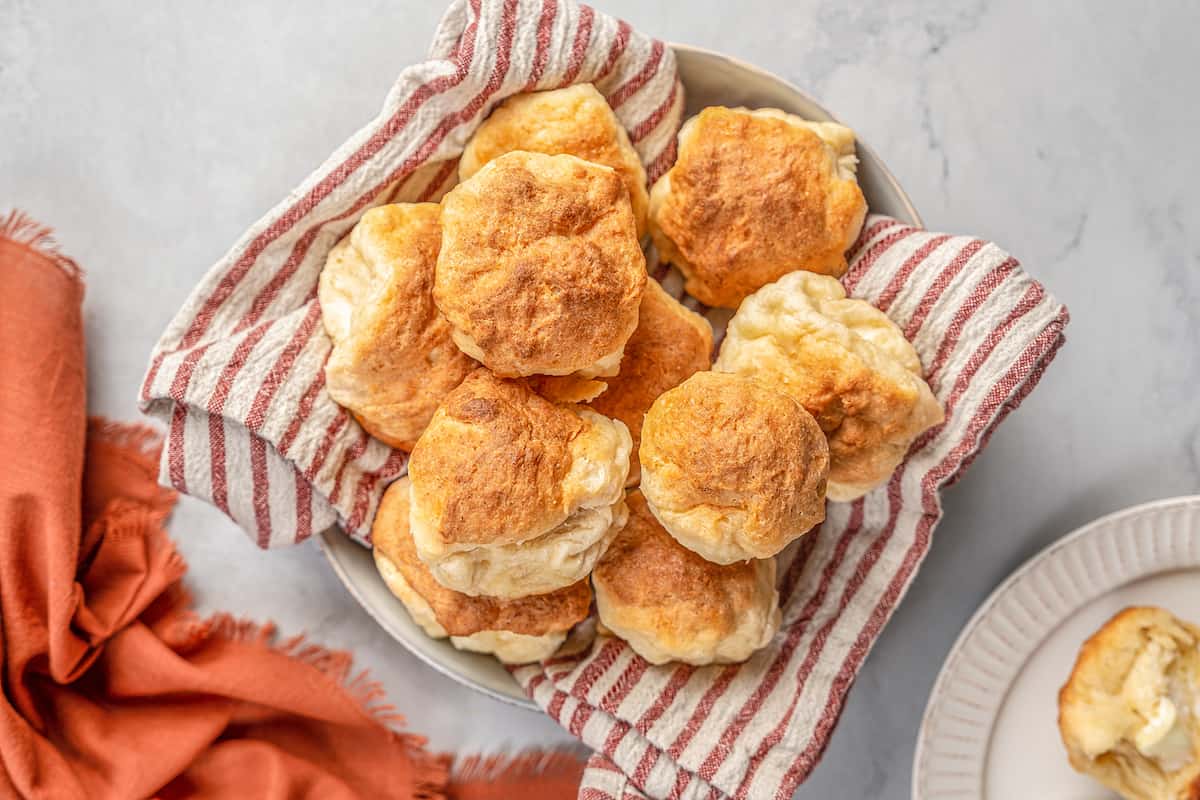 Shop for Gluten Free Ingredients
Here are a few of the baking ingredients you might need to make these homemade rolls.
Last updated on September 24, 2023 5:26 pm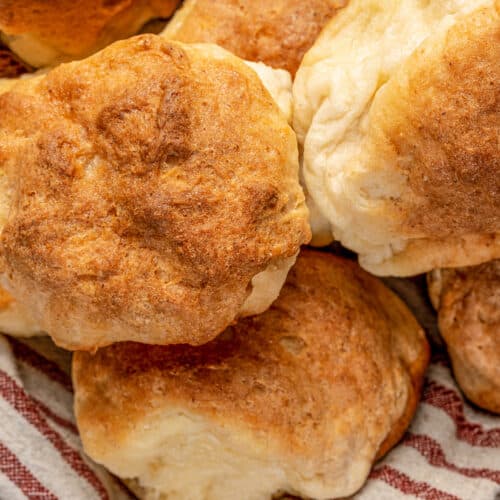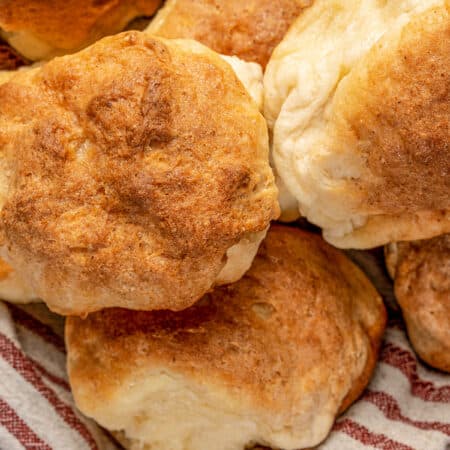 Gluten Free Hawaiian Rolls
Soft and fluffy Gluten Free Hawaiian Rolls are an easy homemade dinner roll recipe. Serve these sweet rolls as a classic side dish, or turn them into Hawaiian roll sliders!
Ingredients
3

cups

Caputo Fioreglut Gluten Free Flour

or King Arthur Flour All-Purpose Gluten Free Flour

2/3

cup

light brown sugar

2

Tablespoons

white rice flour

2

Tablespoons

corn starch

1

Tablespoon

xanthan gum

1

Tablespoon

instant yeast

1 1/2

teaspoons

salt

1 1/2

cups

milk

OR 1 cup milk plus 1/2 cup pineapple juice (see note)

4

Tablespoons

butter,

cut into small pieces

2

eggs

2

Tablespoons

butter,

melted for the top of the rolls
Instructions
In the bowl of your stand mixer, whisk together the flour, light brown sugar, white rice flour, cornstarch, xanthan gum, yeast, and salt.

In a microwave-safe bowl, combine the milk and butter. Microwave for 1-2 minutes to melt the butter. Using a thermometer, check the temperature of the mixture. It should be between 120°F and 130°F. If the temperature is higher than 130°, allow the mixture to cool slightly. You do not want the mixture to be too hot, as it could kill your yeast.

Using the paddle attachment on your stand mixer on low speed, slowly pour the milk and butter mixture into the prepared flour mixture, followed by the pineapple juice, if using Add in the eggs one at a time.

Beat the mixture on medium speed for 5 minutes. The mixture should become thick and smooth.

Grease a sheet cake pan with cooking spray and set aside. Grease your hands using a bit of cooking oil. Scoop out about 1/3 cup of the dough and gently roll it into a ball. Place the ball into your cake pan. Repeat until you have formed 12 equal-sized balls.

Cover the cake pan with plastic wrap. Place in a warm draft-free place and allow the dough to rise for about 1 hour. The dough should rise to about 50% of the original size.

While your dough is rising, preheat your oven to 350°F.

Brush the tops with melted butter.

Bake the rolls for between 20-30 minutes. The rolls should be golden brown on top when they are done.

Allow buns to rest for at least 10 minutes in the pan before removing and transferring them to a cooling rack. You can add more melted butter to the tops for an extra decadent experience!
Notes
With some types of gluten free flour, the addition of pineapple juice inhibits the rising. You can use it with King Arthus All-Purpose Gluten Free Flour, but it does not work as well with the

Caputo Fioreglut. So be aware if you want to try to add the pineapple juice to your recipe.
Nutrition Facts
Gluten Free Hawaiian Rolls
Amount Per Serving (1 roll)
Calories 235
Calories from Fat 72
% Daily Value*
Fat 8g12%
Cholesterol 45mg15%
Sodium 388mg16%
Potassium 76mg2%
Carbohydrates 38g13%
Protein 5g10%
Vitamin A 245IU5%
Vitamin C 0.1mg0%
Calcium 72mg7%
Iron 1mg6%
* Percent Daily Values are based on a 2000 calorie diet.
Categories: