This post may contain affiliate links. Read my disclosure policy.
Who's ready for a touchdown-worthy Game Day recipe? These easy Gluten-Free Ham and Cheese Sliders are filled with salty sliced ham, zesty mayo-mustard, and plenty of melty Swiss cheese. Brushed with a buttery Dijon and poppy seed topping, these are serious #foodgoals!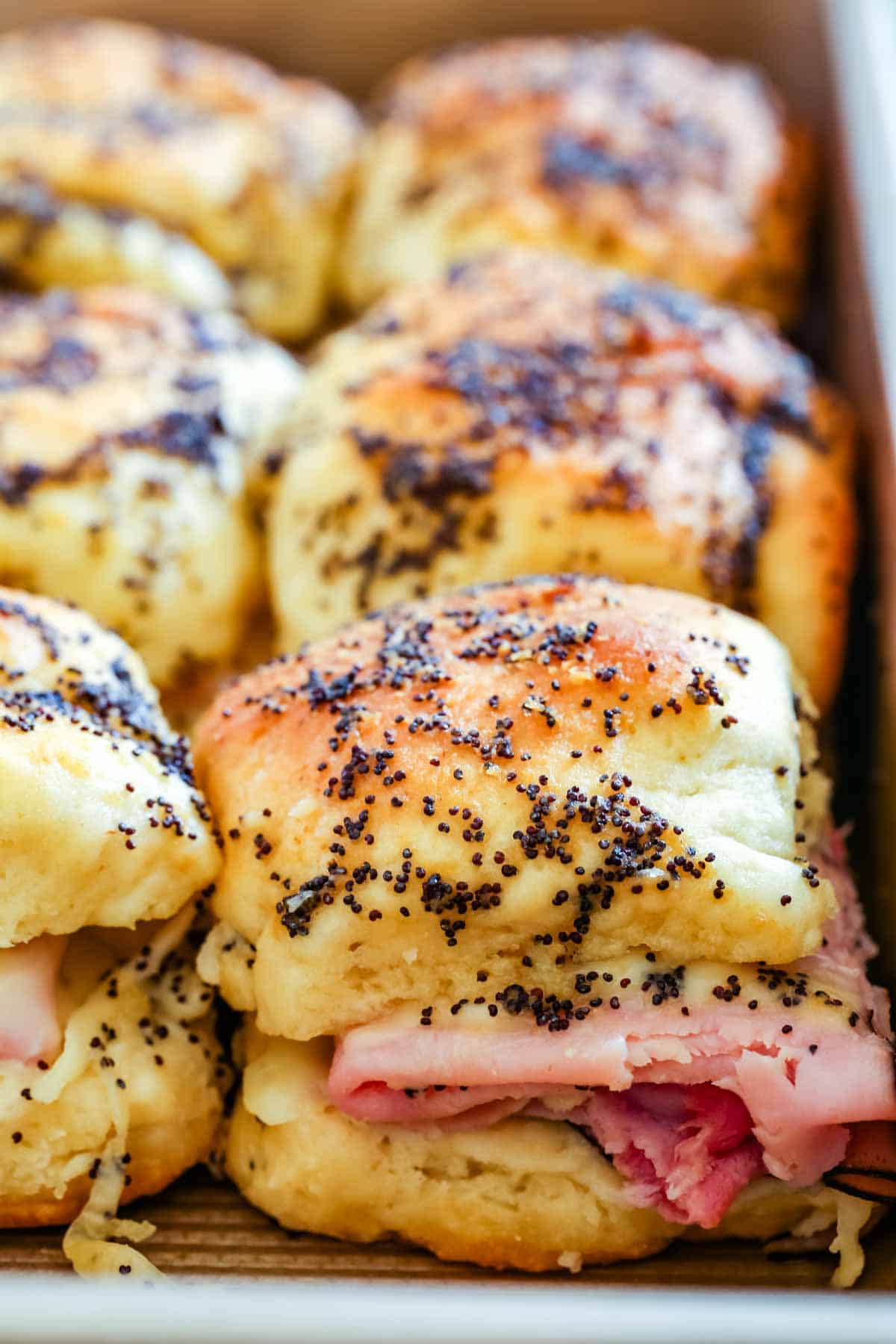 Easy Gluten-Free Ham and Swiss Sliders for Game Day
I think just about everyone has that one recipe that they always fall back on when they entertain. Today, I'm sharing mine! These melty and delicious, gluten-free Hawaiian bread sliders are the best appetizer or main to serve up whenever we have company over to watch the big game.
Everyone loves this recipe for easy ham and cheese sliders. They're made with fluffy gluten-free Hawaiian rolls and loaded with melted Swiss cheese and juicy ham slices, baked crispy and golden in the oven. Sliders are one of our favorite football snacks ever, and these are the best.
Even our friends who eat gluten will happily scarf down these gluten-free Hawaiian roll sliders with abandon. These sandwiches NEVER stick around long on Super Bowl Sunday. Luckily, I'll always have an extra batch ready and waiting!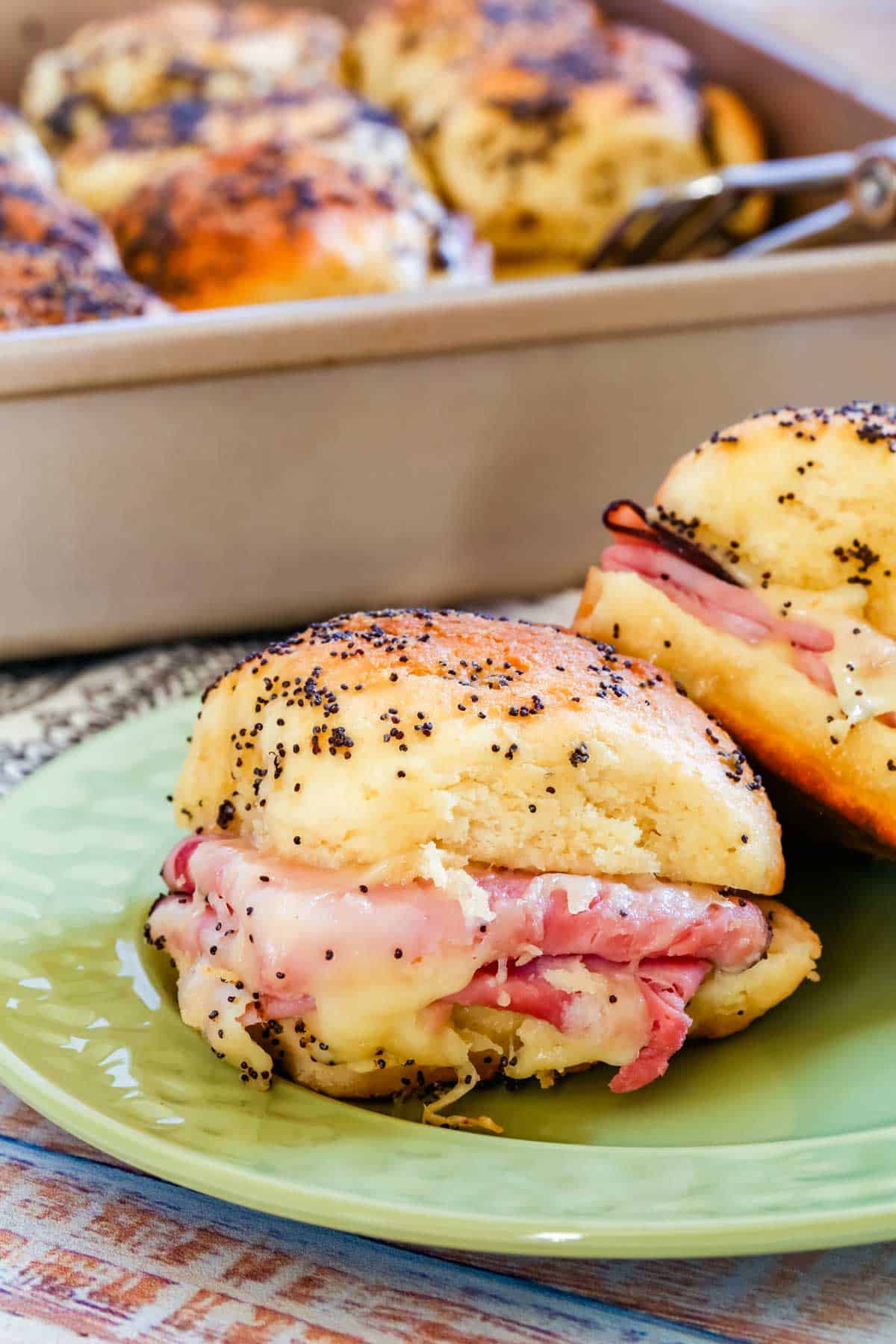 Why You'll Love This Recipe
Here's a quick rundown of why these gluten-free Hawaiian sliders are the best:
Super easy. It doesn't get easier than prepping a batch of ham and Swiss sliders and popping them into the oven. This recipe is great for making ahead, too.
Perfect for entertaining. Whether you're hosting a holiday crowd or screening this year's Super Bowl, these gluten-free Hawaiian bread sliders are a delicious and savory party snack.
The Dijon poppy seed topping. This a special touch that adds bucket-loads of flavor to these otherwise classic ham and cheese sliders.
Why Is It Called a Slider?
The term "slider" originated in the Navy, and actually referred to mini hamburgers. In the 1940s, these small burgers were especially greasy, which made them slide right down the gullet!
What You'll Need
Let's have a look at the common ingredients needed to make the ultimate gluten-free ham and cheese sliders. Below is an overview, with the full ingredient amounts available in the recipe card.
Mayo, Mustard, and Honey: These sliders start with a rich and creamy spread of mayonnaise mixed with sharp Dijon mustard and honey. It's the perfect creamy-tangy-sweet combo. Maple syrup also works in place of honey as a natural sweetener (and pairs great with the ham).
Gluten-Free Slider Rolls: You can use a 6-pack of store-bought gluten-free rolls, like the ones from Canyon Bakehouse (these are slightly on the larger side). If you have the time, I highly recommend making up a batch of soft and sweet homemade Gluten Free Hawaiian Rolls.
Swiss Cheese: Ham and Swiss sliders are classic, but any thinly sliced, melty deli cheese will work here. Provolone and cheddar are also good options.
Ham: Deli ham is perfect and fuss-free. You can ask your local deli counter to slice up your favorite variety of ham (regular, smoked, black forest, etc.) into thin slices for folding into your Hawaiian sliders.
Poppy Seeds: The secret to packing tons of flavor into these slider sandwiches is the buttery Dijon poppy seed topping. You'll combine poppy seeds, additional mustard, Worchestershire Sauce, and Onion Powder with Melted Butter for a wash that gets brushed over the tops of the rolls before baking.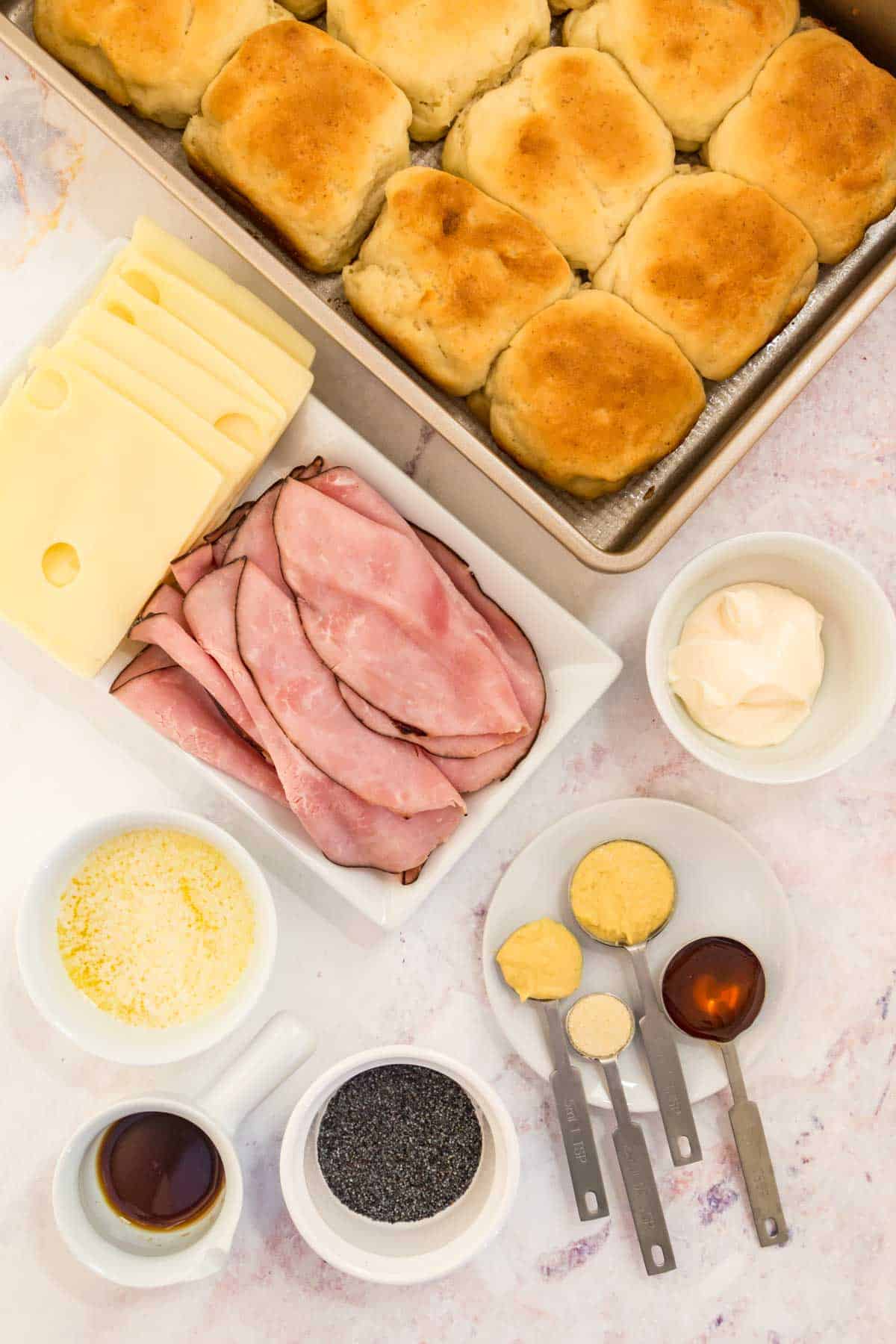 How to Make Hawaiian Ham and Cheese Sliders
You only need one pan to bake a crowd-sized batch of these cheesy Hawaiian sliders. They come together easily in just a few steps:
Prepare the Rolls: First, combine mayonnaise, Dijon, and honey in a bowl for the sandwich spread. Next, slice the Hawaiian rolls in half and arrange the bottoms inside a greased 9" x 13" baking dish. Spread the roll halves with the seasoned mayo.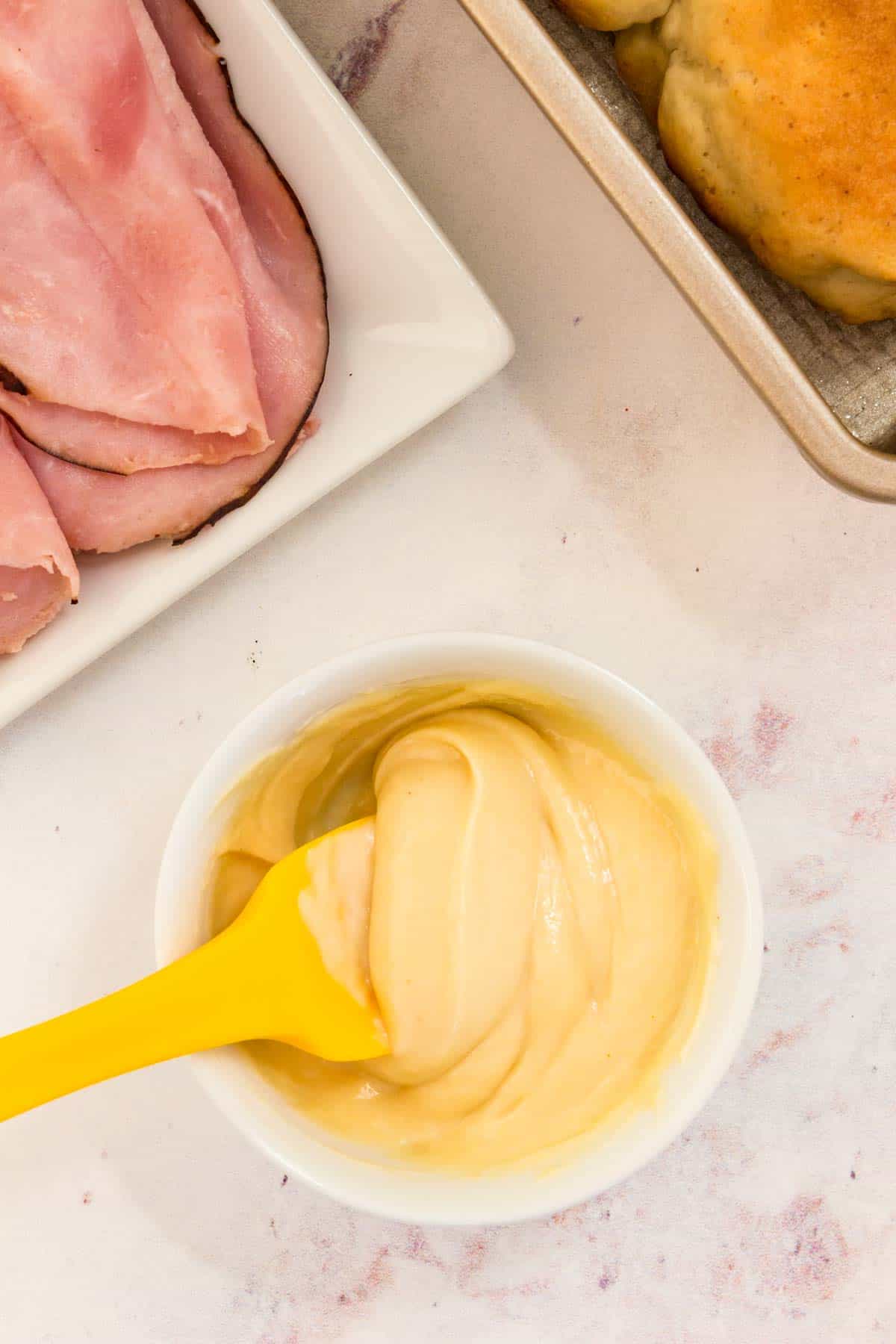 Assemble: To build your sliders, first, place a quarter-slice of Swiss cheese onto each roll, then fold two slices of ham over top. Top this with additional whole slices of cheese, forming a single layer across the sliders (see photo). Finally, place the tops of the rolls over the cheese.
Add the Topping: Next, whisk together melted butter with poppy seeds, Dijon mustard, Worchestershire sauce, and a pinch of onion powder. Brush this savory glaze all over the tops of the sliders. After, cover the pan with foil and leave the topping to soak in for a bit. Doing so gives these ham and cheese sliders a new level of moisture and flavor – don't skip this part!
Bake: After about 10 minutes, with the foil still on, pop your sliders into the oven. Bake at 350ºF for 20-30 minutes, until the cheese is melted, then remove the foil and let the tops of the sliders brown for an additional 3-5 minutes. When your ham and cheese sliders are hot and golden, they're ready to serve! See below for easy ideas to round out your game day spread.
Can Sliders Be Prepared Ahead of Time?
Yes! And that's what makes these gluten-free ham and cheese sliders all the better. If you're looking to get a headstart on your game day feast or party appetizer menu, sliders are easy enough to prepare ahead.
To make your sliders in advance, simply assemble the sandwiches as directed, leaving off the melted butter for now. (I recommend adding the buttery topping only when you're ready to bake so that the sandwiches don't become soggy). Cover and refrigerate the assembled sliders up to 1-2 days ahead.
When you're ready to serve your sliders, give them a quick brushing with the poppy seed topping and proceed with baking as usual. I've included more tips for how to store and even freeze these Hawaiian bread sliders further on.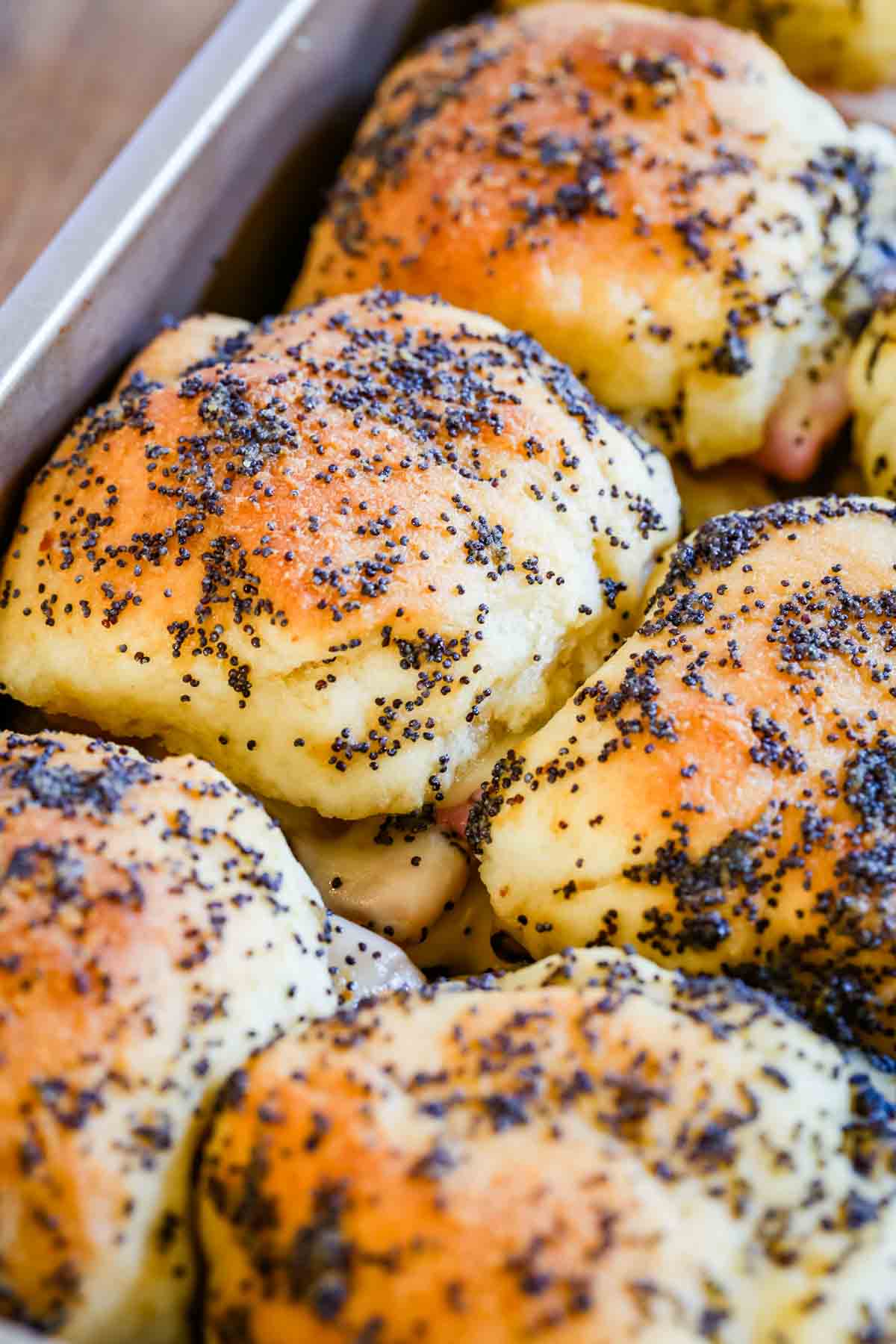 Tips for Success
I've made these ham and Swiss sliders countless times and they always come out delicious! I'm sure you'll experience the same. Here are some additional last-minute recipe notes:
How do I keep the sliders from getting soggy? Removing the foil and baking these Hawaiian bread sliders uncovered for the last few minutes allows the tops to crisp up.
Use leftover ham. Whenever we have leftover Holiday Ham or Air Fryer Ham in the fridge, I'll use it in place of deli meat in these sliders. So good!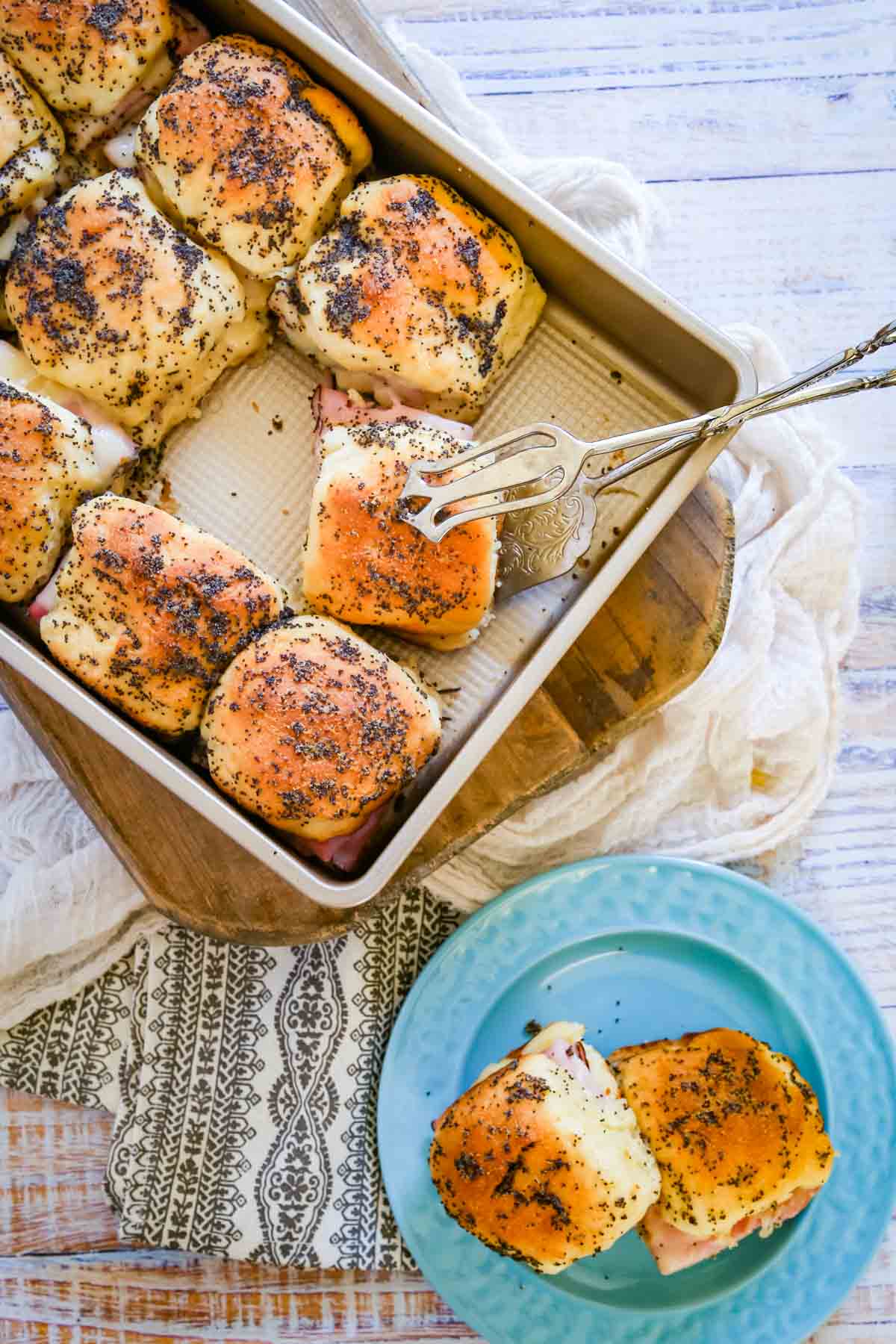 How to Serve Your Hawaiian Bread Sliders
These gluten-free ham and cheese sliders are a filling game-day snack that always disappears from the appetizer table! They also make a great meal next to Potato Salad or Air Fryer French Fries.
Sliders are one of our favorite football foods to enjoy next to more easy appetizers like Air Fryer Gluten Free Pizza Rolls, Buffalo Chicken Bites, and Gluten Free Pretzel Bites dipped in homemade Cheese Sauce.
Here are more tasty ideas to fuel your next watch party along with these savory Hawaiian roll sliders: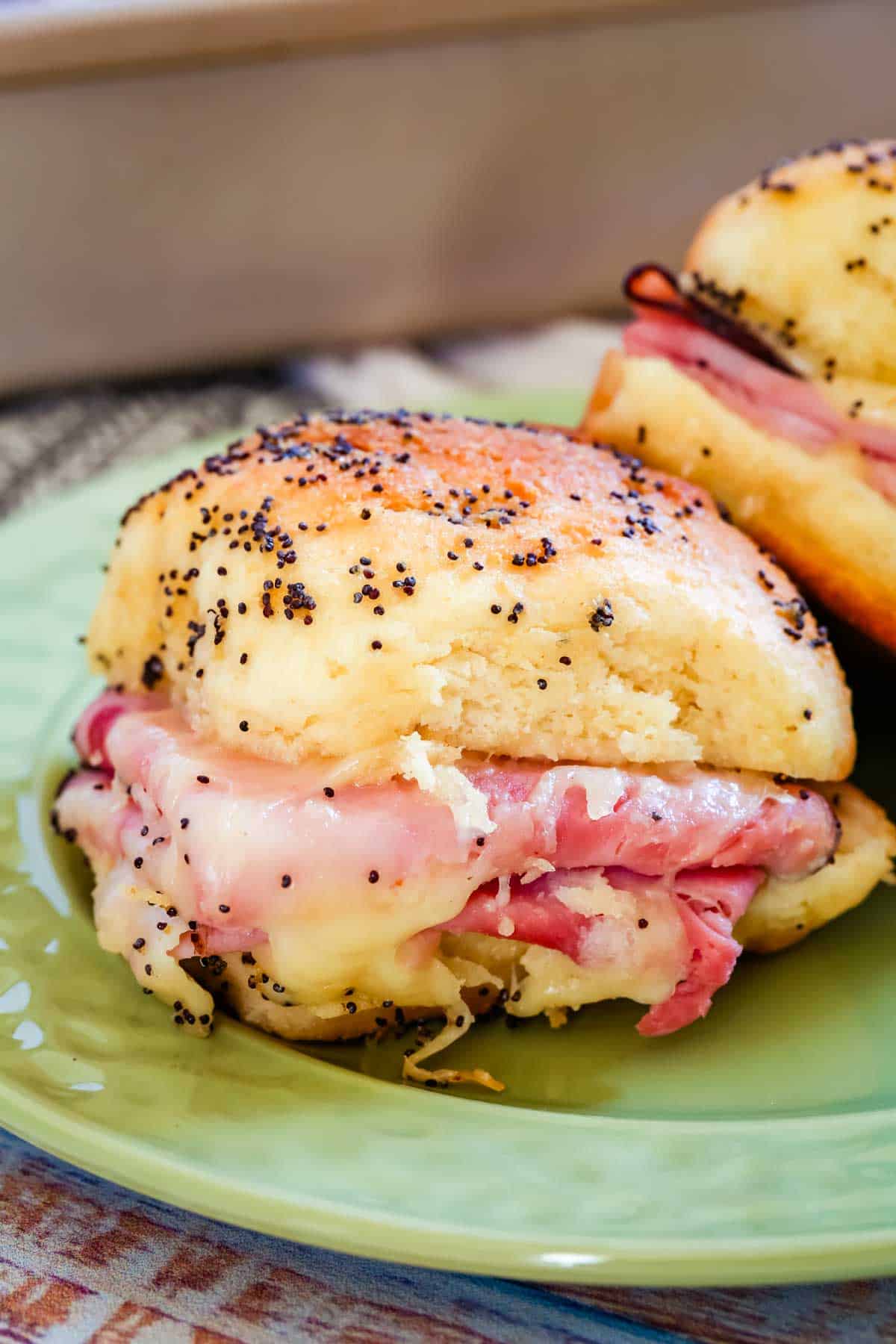 How to Store and Reheat Ham and Cheese Sliders
Store the baked leftover sliders airtight in the fridge. To reheat, place the sliders back into a preheated 350ºF oven until warmed through.
Do Sliders Freeze Well?
While I'll always recommend making these ham and cheese sliders fresh, freezing is a great option in a pinch. Wrap the baked sliders tightly in plastic wrap and freeze them for up to 3 months. It's best to reheat your Hawaiian sliders in the oven straight from frozen.
More Fun Game Day Foods to Try