This post may contain affiliate links. Read my disclosure policy.
Not only are these the tastiest Homemade Pretzel Bites you'll ever make, they're also gluten-free! Enjoy batches of these fluffy and chewy, buttery soft pretzel nuggets as a perfect snack or appetizer. An easy pretzel recipe that's great for dipping in your favorite sauces!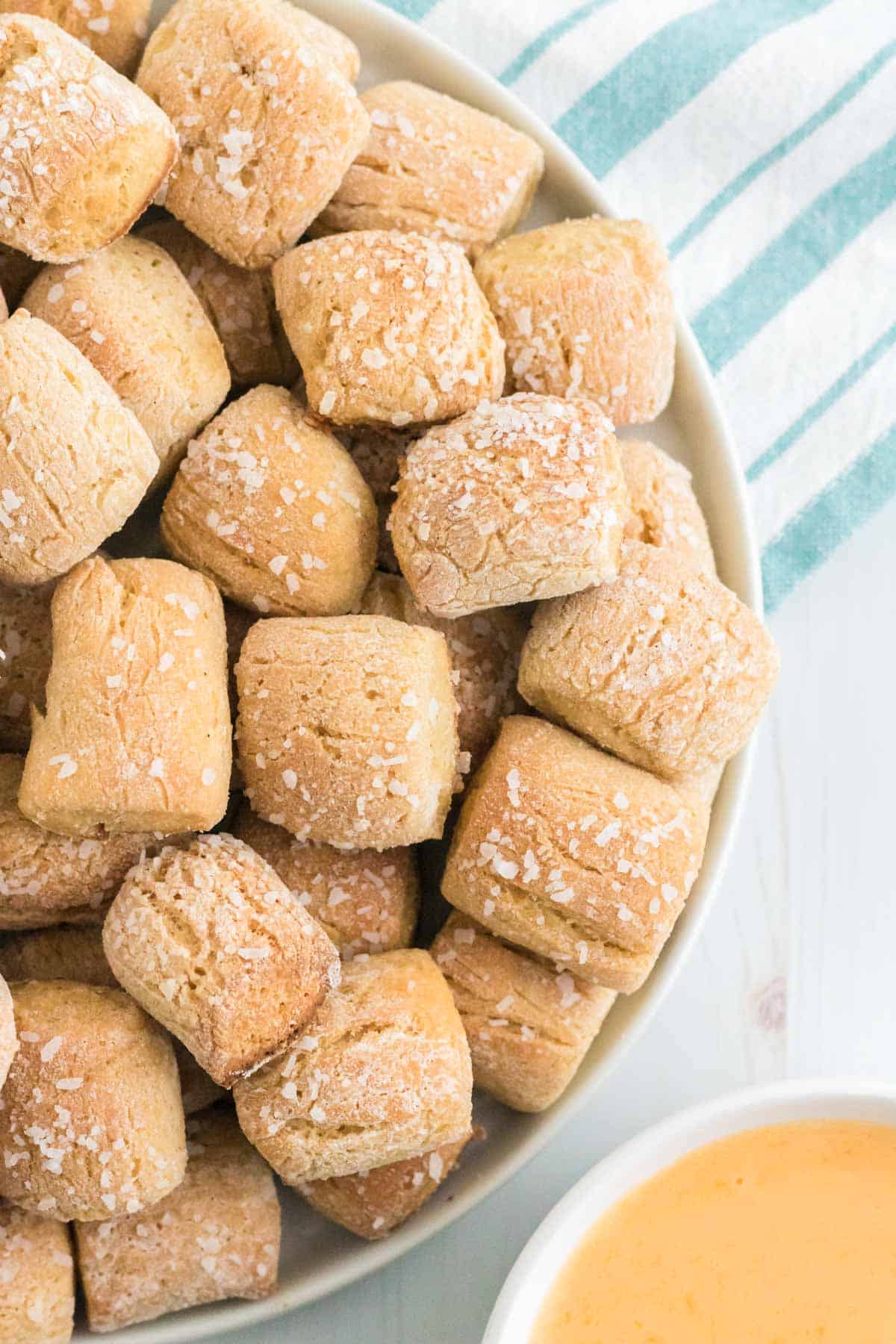 These Buttery Homemade Pretzel Bites are Gluten Free!
If you've ever experienced a perfectly doughy, chewy and fluffy soft pretzel, I think it's safe to say you know what pure bliss is. Now, imagine that you can achieve the same feeling at home, on repeat!
These gluten-free pretzel nuggets are the perfect introduction to homemade pretzels: simple ingredients, ready in about an hour, and no twisting or shaping involved. You won't believe how easy they are to make, and the result is bite-sized pretzel perfection.
This is an incredibly easy recipe for buttery homemade pretzel bites, sprinkled with coarse salt and perfect for dipping. They're such a delicious gluten-free snack or appetizer idea! These pretzel nuggets literally vanish in minutes whenever I make them.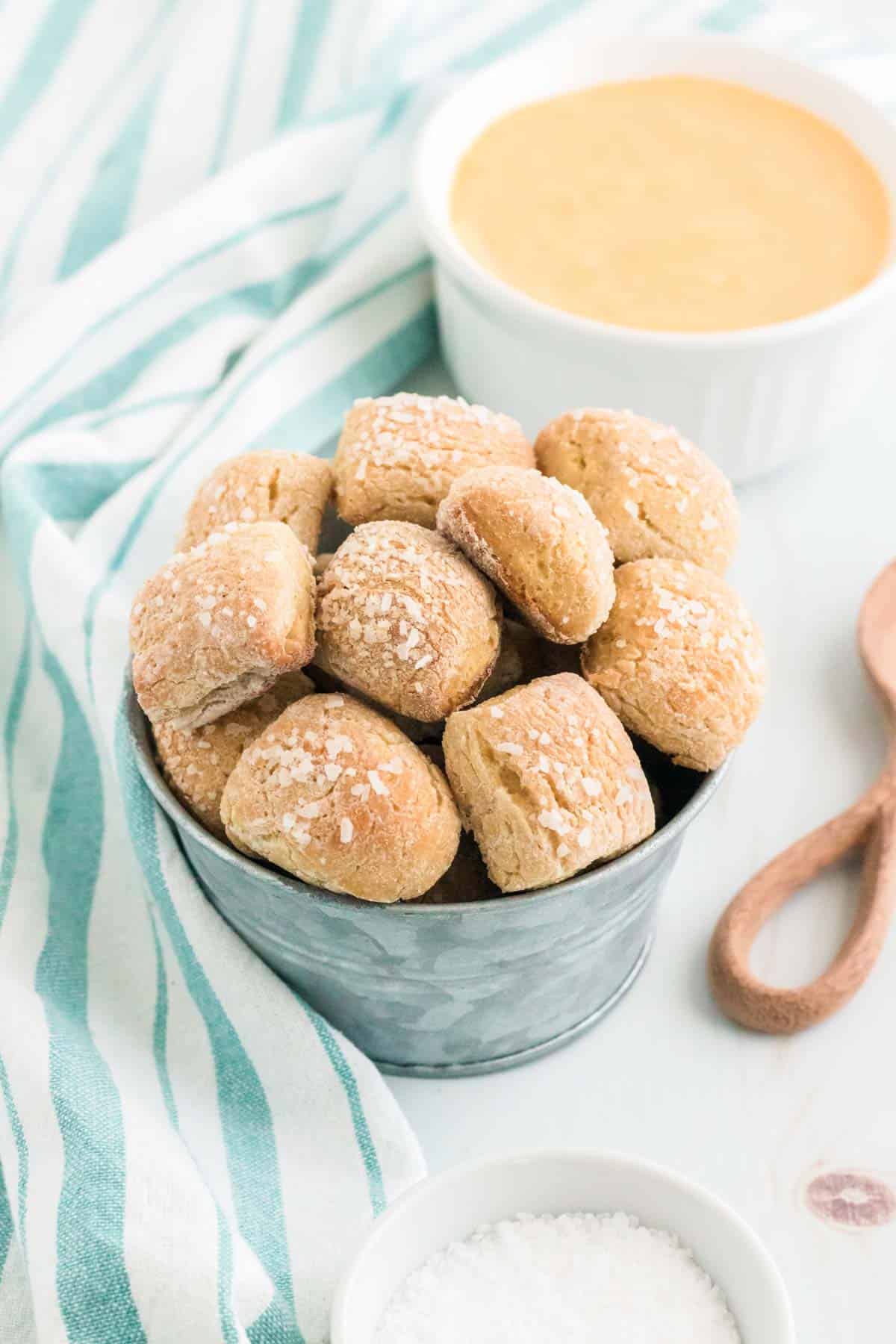 What Are Pretzel Bites/Nuggets?
Pretzel nuggets have all the deliciously soft and fluffy texture of homemade soft pretzels, without the fuss of twisting the dough into intricate pretzel shapes. They're quick, bite-sized versions of classic soft pretzels!
Recipe Ingredients
Gluten-Free 1:1 Flour: I use Bob's Red Mill 1-to-1 Gluten Free Baking Blend.
Instant Yeast: You can also use the same amount of active dry yeast, proofed in water with a pinch of sugar before combining it with the other ingredients.
Honey: Adds a little natural sweetness.
Baking Powder: For leavening.
Xanthan Gum: Gives the pretzel dough the elasticity that normally comes from gluten, minus the actual gluten!
Eggs: Brought to room temperature.
Butter: Unsalted and softened to room temperature.
Milk
Coarse salt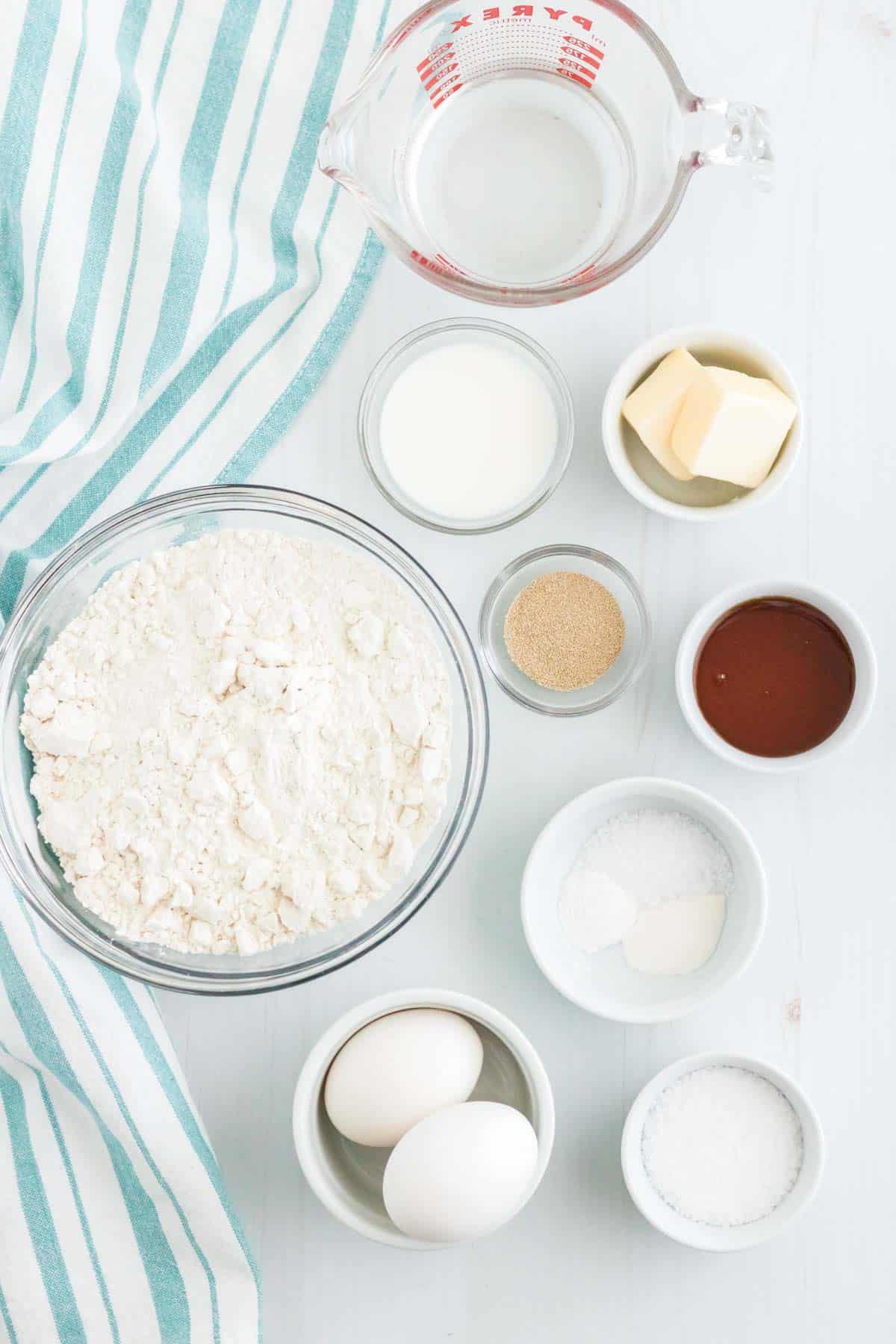 How to Make Gluten Free Pretzel Bites
This soft pretzel recipe comes together in no time, for perfectly pillowy bite-sized pretzels! Here are the steps:
Combine Dry Ingredients: Combine the flour, yeast, salt and baking powder in a stand mixer, and sprinkle in the xanthan gum.
Combine Wet Ingredients: Mix together the honey and water and warm the mixture in the microwave. Whisk in the eggs, followed by the butter and milk.
Mix Wet and Dry Ingredients: Add the wet ingredients into the dry ingredients, and blend until the dough comes together.
Let the Dough Rise: Once you have a smooth ball, leave the dough to rise in a greased bowl covered with a dishtowel. Let it rise for about an hour until it has doubled in size.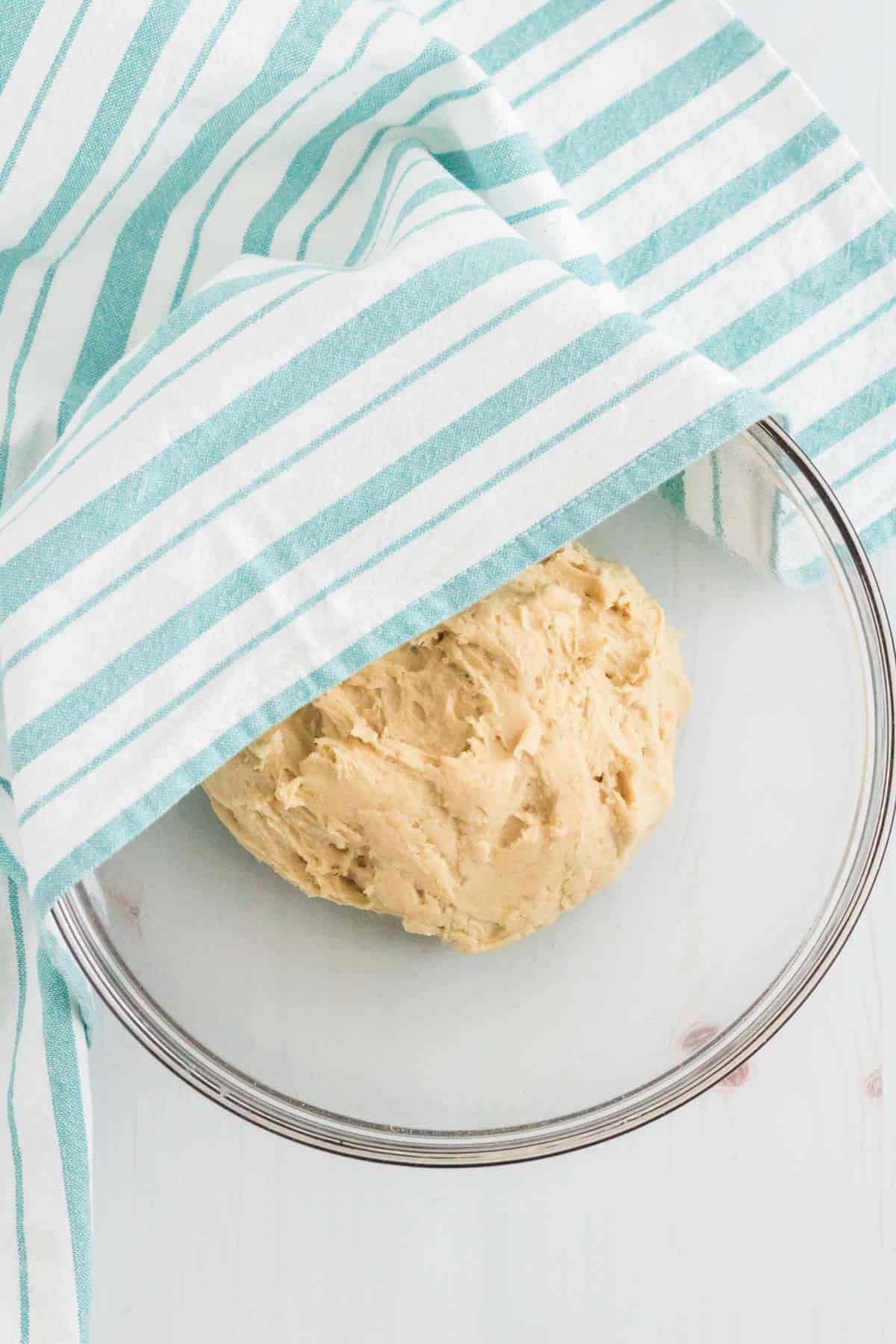 Roll and Cut the Pretzel Dough: On a floured work surface, divide the dough and roll the pieces into ropes about one inch thick. Cut the ropes into smaller "nuggets" and place these on a baking sheet lined with parchment paper.
Brush with Butter: Brush the tops of the pretzels with melted butter and give them a sprinkle with coarse salt.
Bake: Bake your pretzel nuggets in a preheated oven until the outsides are golden and the insides are soft and fluffy.
Tips for Success
Roll the Dough on a Floured Surface: The pretzel dough for this recipe is quite sticky (this is what gives the pretzels their chewiness!), so be sure to flour the surface where you'll be rolling out the dough. Add extra flour as needed as you roll out the pretzel ropes and cut them.
Don't Overwork the Dough: Over-mixing the dough will cause it to become tough. Make sure to mix your dough until the ingredients are just combined, and you can form it easily into a ball.
Don't Overthink the Rise Time: This pretzel dough needs to rise for 45-60 minutes, but it can rise for longer. If you need to run errands and leave the dough for longer it can handle a rise time of up to 90 minutes.
Add Butter: Once the pretzel bites are done baking you can also brush them with melted butter. This adds flavor and makes them taste even more like the pretzels you can find at the mall!
Variation Ideas
Cinnamon Sugar: Why not try cinnamon sugar pretzel bites? Skip the coarse salt and bake the pretzel nuggets as usual, then roll the hot pretzel bites in cinnamon sugar for a sweet treat.
Poppyseed: You can also top the pretzel nuggets with poppyseeds, or everything bagel seasoning.
Cheesy Pretzel Nuggets: For cheesy soft pretzel bites, sprinkle the tops with parmesan cheese.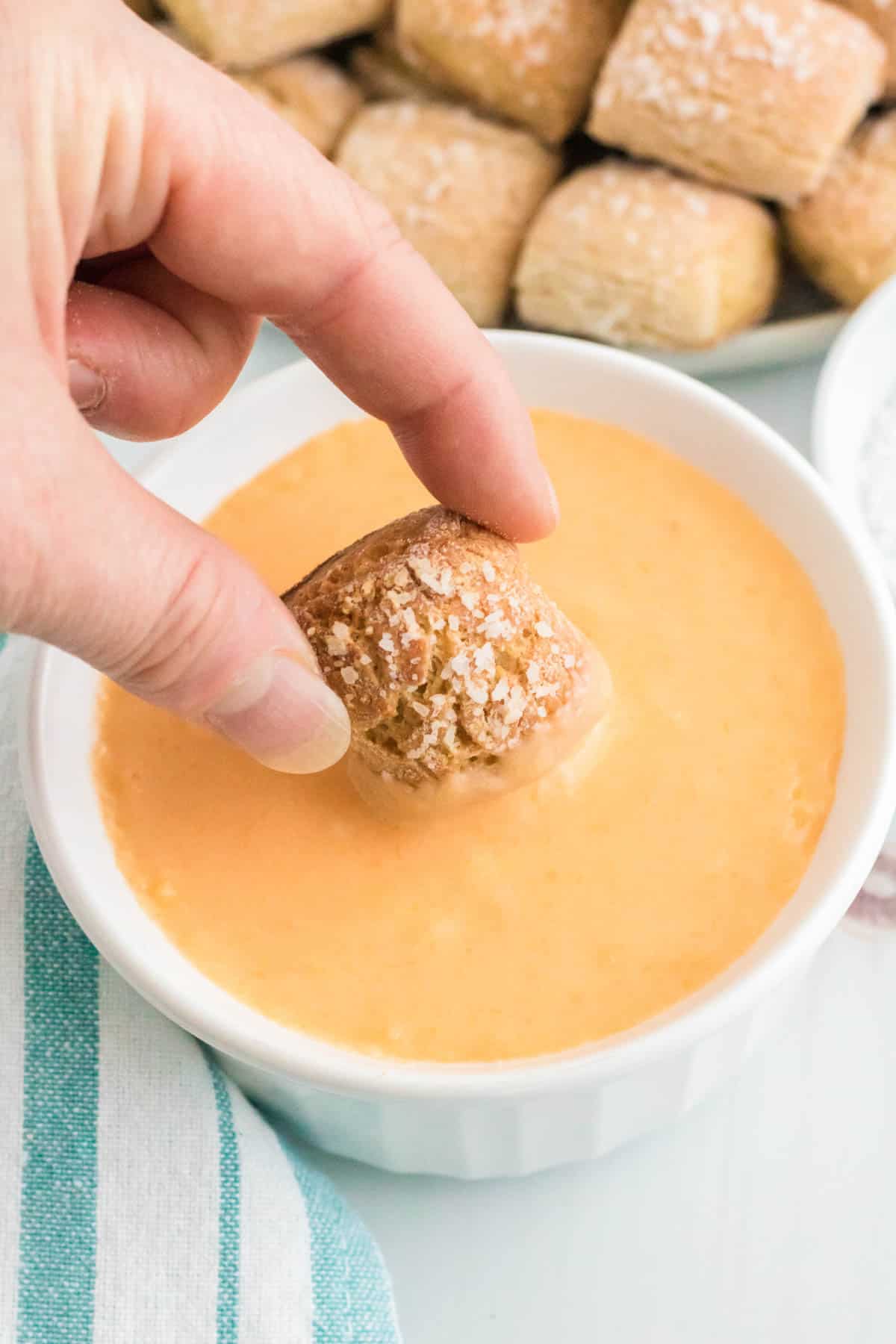 What to Serve with Soft Pretzel Bites
These pretzel bites are the perfect snack to serve alone or with dips. You can opt for your favorites from the store, or try these dipping sauces that are easy to make at home: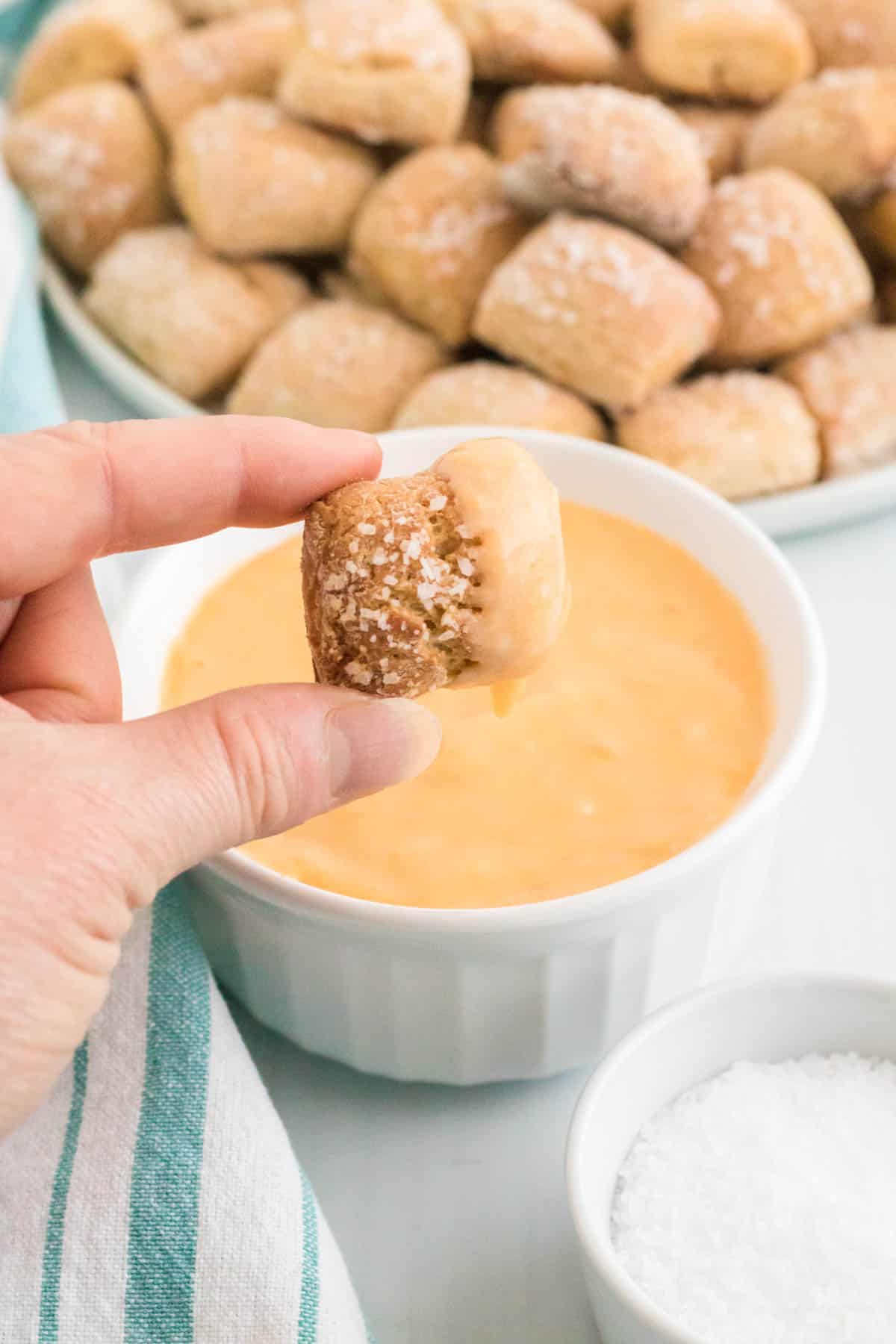 Storing and Reheating Leftovers
These homemade gluten-free pretzel nuggets are best on the day they're baked! However, you can store leftovers airtight at room temperature for a day or two, and reheat them in the microwave for a few seconds as needed.
If you'll be storing your pretzels for longer, I'd recommend freezing! See below.
Are These Freezer-Friendly?
To freeze homemade pretzel bites, store them in a freezer bag to keep them frozen for 2-3 months, or until you're ready to serve them. You can do this in batches ahead of parties, and enjoy easy pretzel bites as an appetizer!
Simply thaw the pretzel nuggets and then reheat them in the microwave or in the oven until warmed through.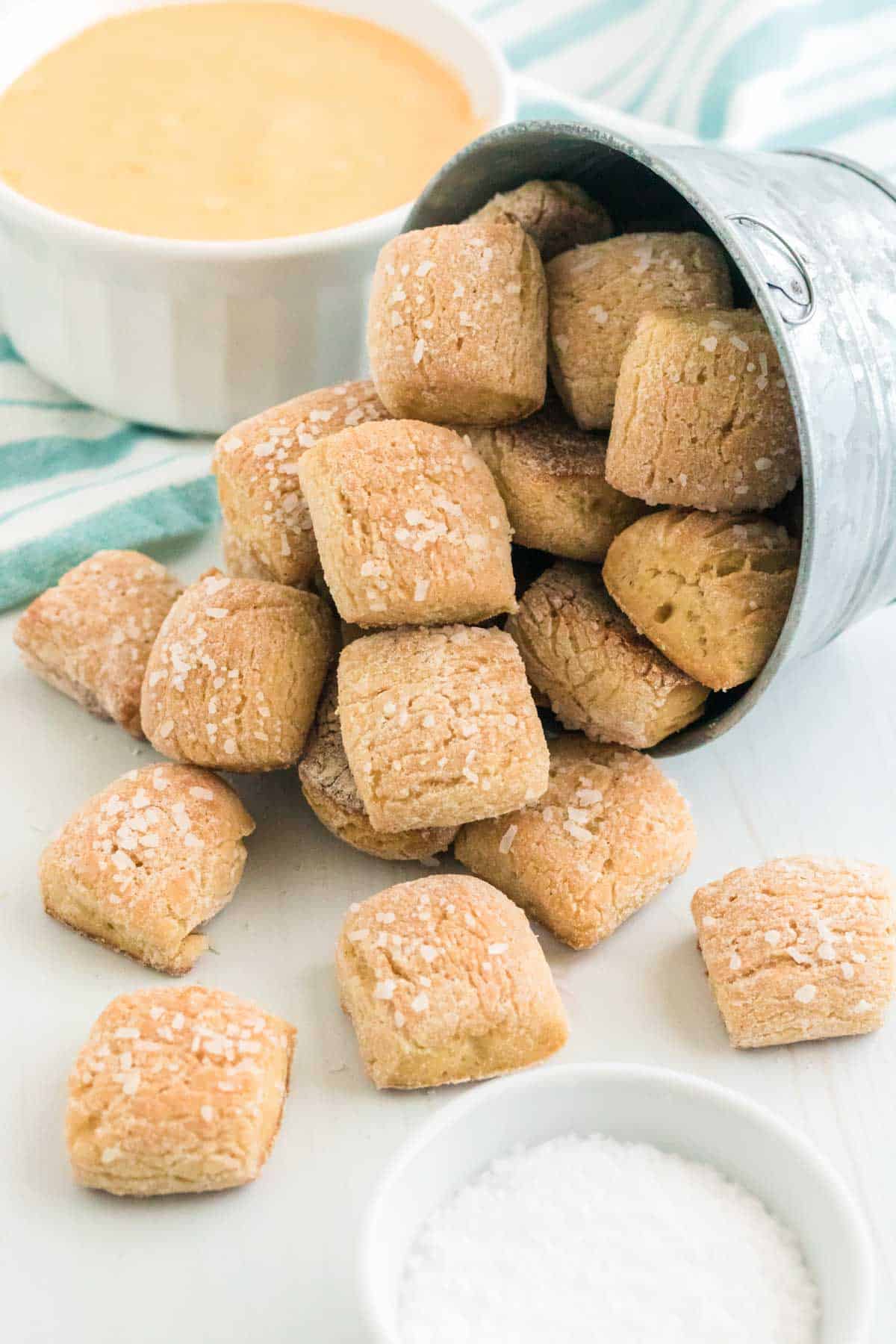 More Gluten Free Bread Recipes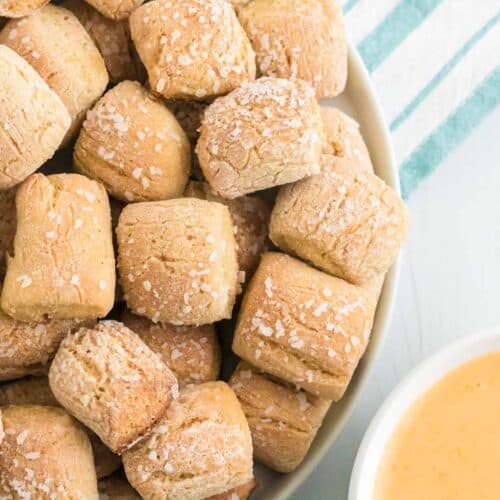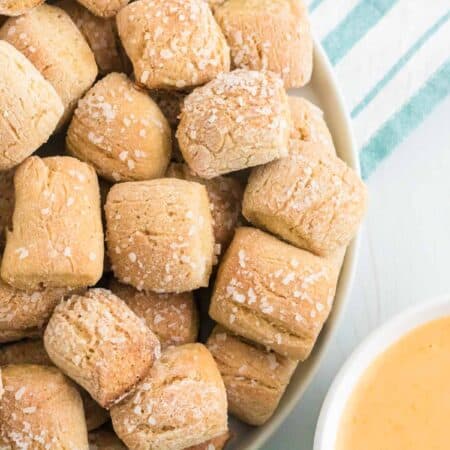 Easy Gluten Free Pretzel Nuggets
These soft and chewy Homemade Pretzel Nuggets are a perfect gluten-free snack! An easy pretzel recipe to enjoy dipped in your favorite sauces.
Ingredients
1 3/4

cups

Gluten-Free 1:1 Flour

(recommended Bob's Red Mill 1-to-1 Gluten Free BakingBlend)

1

tsp

instant yeast

1

tsp

salt

1/2

tsp

baking powder

1/2

tsp

xanthan gum

1/2

cup

water

2

tbsp

honey

2

large

eggs

room temperature

2

tbsp

unsalted butter

softened to room temperature, divided

1

tbsp

milk

coarse salt
Instructions
In the bowl of a stand mixer, combine the flour, yeast, salt and baking powder. Blend with a paddle attachment. With the mixer running, sprinkle in the xanthan gum. Turn the speed to medium-high for a few seconds to make sure the gum is very well combined.

Place the water in a glass measuring cup. Add the honey and microwave for 30-60 seconds, until warm. Add the eggs to the measuring cup and whisk with a fork to combine. Add the butter and milk.

Pour the liquid ingredients into the mixing bowl and blend for 3-4 minutes, until the dough comes together into a smooth ball. Add another 1-2 tablespoons of milk if the dough is dry

Remove the dough from the bowl, grease the bowl with nonstick spray, then return the dough to the bowl. Cover with a dish towel and place somewhere warm to rise for 45 to 60 minutes, until doubled in size.

Preheat the oven to 400°F. Line a baking sheet with parchment paper.

Divide the dough into 6 equal pieces. Roll the pieces into ropes about ¾- to 1-inch thick. Cut them into about 1-inch pieces and place the nuggets on the lined baking sheet. Melt the remaining tablespoon of butter and brush the pretzels with the butter. Sprinkle with salt.

Bake for 15 to 18 minutes, until soft in the center and golden on top.
Notes
Store airtight at room temperature for 1-2 days.
Freeze for up 2-3 months.
Nutrition Facts
Easy Gluten Free Pretzel Nuggets
Amount Per Serving
Calories 204
Calories from Fat 63
% Daily Value*
Fat 7g11%
Cholesterol 72mg24%
Sodium 423mg18%
Potassium 85mg2%
Carbohydrates 33g11%
Protein 7g14%
Vitamin A 209IU4%
Vitamin C 1mg1%
Calcium 53mg5%
Iron 2mg11%
* Percent Daily Values are based on a 2000 calorie diet.