Easy Homemade Greek Yogurt Ranch Dip Recipe
Disclosure: This post may contain affiliate links. Cupcakes & Kale Chips is a participant in the Amazon Services LLC Associates Program, an affiliate advertising program designed to provide a means for us to earn fees by linking to Amazon.com and affiliated sites.
Greek Yogurt Ranch Dip is an easy, healthy veggie dip recipe made with basic ingredients you always have on hand in your fridge or pantry. Stir it together in minutes, then serve it on a platter with vegetables, pack it for lunch, or you can even use it as a salad dressing.
Disclosure: This post has been sponsored by American Family Insurance. All opinions are my own.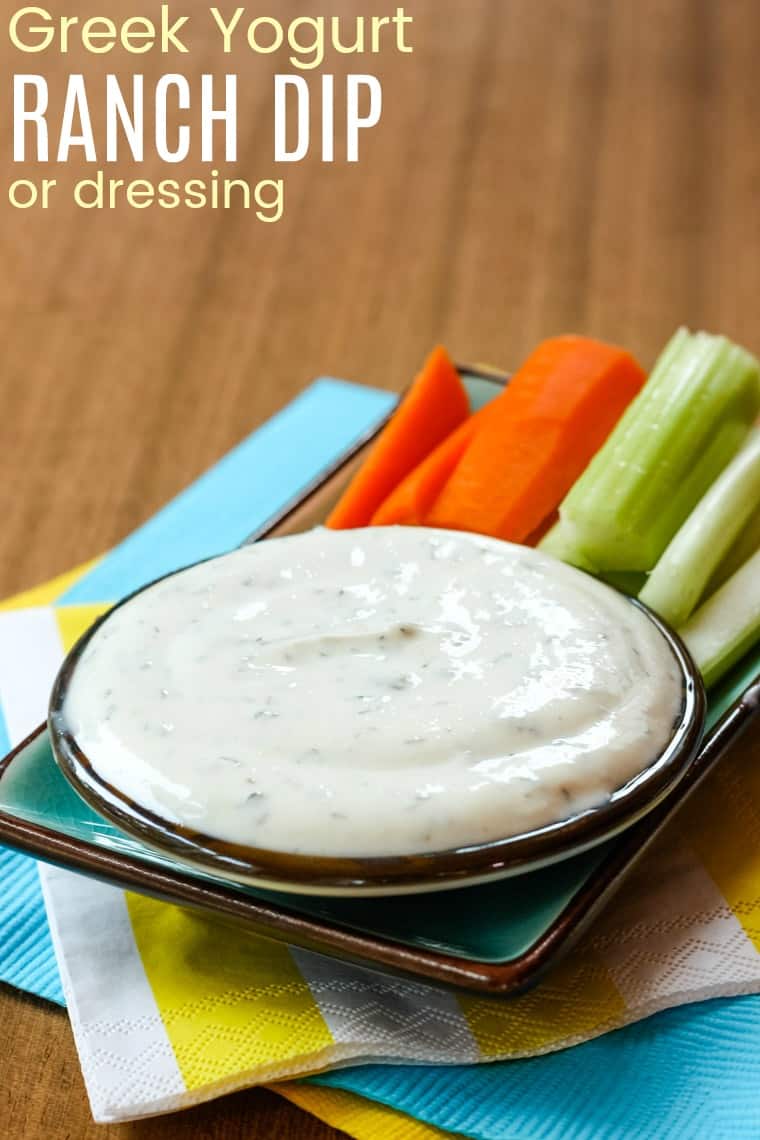 Originally published on Jul 27, 2014
After a long, cold winter, the second the snow melted and the warm weather arrived, my boys have wanted to be outside. In fact, lately, the little guy has taken to running down the hall to find his sneakers the second he gets out of his chair after breakfast. Sometimes before he has even gotten out of his pajamas.
The big guy is usually not far behind. And once they are out, it is not an easy feat to get them back inside.
One of my favorite ways to get the family outside, or to accommodate my little guys not wanting to come back in, is to bring our meals outdoors. While The Hubby is grilling flank steaks or I'm inside making dinner, the boys are playing in the sandbox, climbing up their playset, riding their cars or trikes, or just running around like crazy little boys tend to do.
And then as soon as the food is gone (which never takes too long with those two), they are up and running again. To get the whole family in on the action, mommy and daddy are oftentimes up and chasing them! You don't need to organize a formal game of baseball or go running or lift weights to get exercise. Sometimes it is as simple as just playing!
And it isn't just dinner that we eat outside. Lately, after a morning of playing in the water table or sprinkler, the boys want to have a picnic.
That's when being able to quickly whip up an easy healthy dip for veggies with ingredients I always keep on hand is perfect.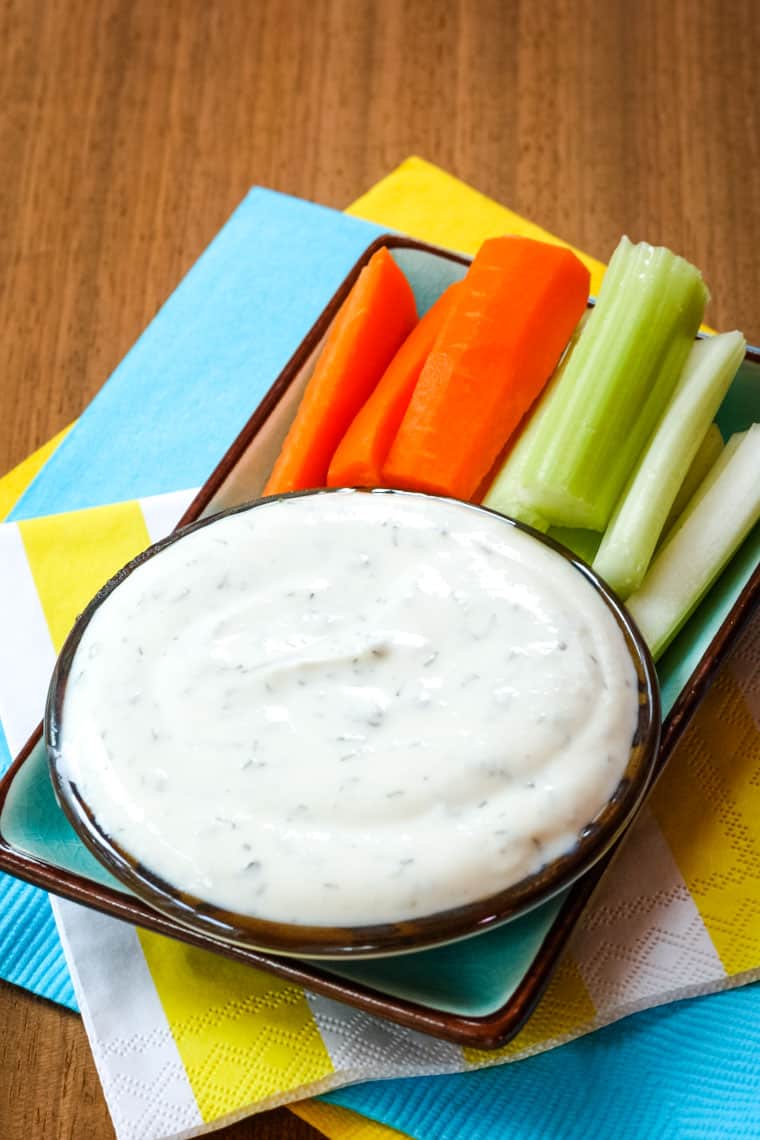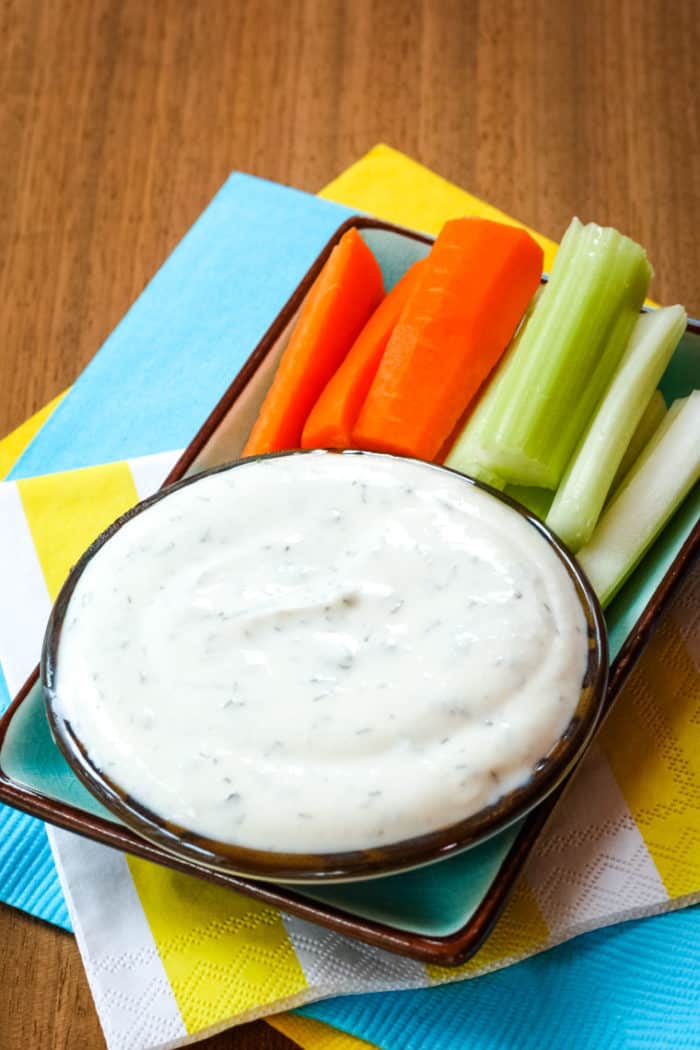 How do you make Healthy Ranch Dip?
Not surprisingly, my kids love to dip. So I need to be prepared to make lots of dips all the time. But I don't necessarily want to use a premade seasoning packet.
However, many Ranch dip recipes have lots of fresh herbs and lemon juice and buttermilk. These are not always things you have on hand at a moment's notice. So this is what I like to call "Pantry Ranch", which means that other than Greek yogurt, all the ingredients are things you probably have in your pantry or spice cabinet. This actually makes it even more budget-friendly than anything premade or the recipes that require a bunch of fresh herbs that you may not end up using up.
What is in this Ranch dip recipe?
Plain Greek yogurt
Apple cider vinegar
Olive oil
Dried parsley
Dried dill
Salt
Onion powder
Garlic powder
Pepper
Just stir everything together and keep it in the refrigerator until you need it. It will keep for several days. And while you can serve it right away, it is best to give it a couple of hours to let the flavors fully develop.
Is Ranch dressing and Ranch dip the same?
Ranch dips tend to be thicker than a salad dressing, and this one is also quite thick. If you want to use it as a salad dressing you could spoon it onto lettuce in a bowl and then toss it to coat the leaves before serving. You can also add a couple tablespoons more of the vinegar or oil to thin it out so you can drizzle it over your salad.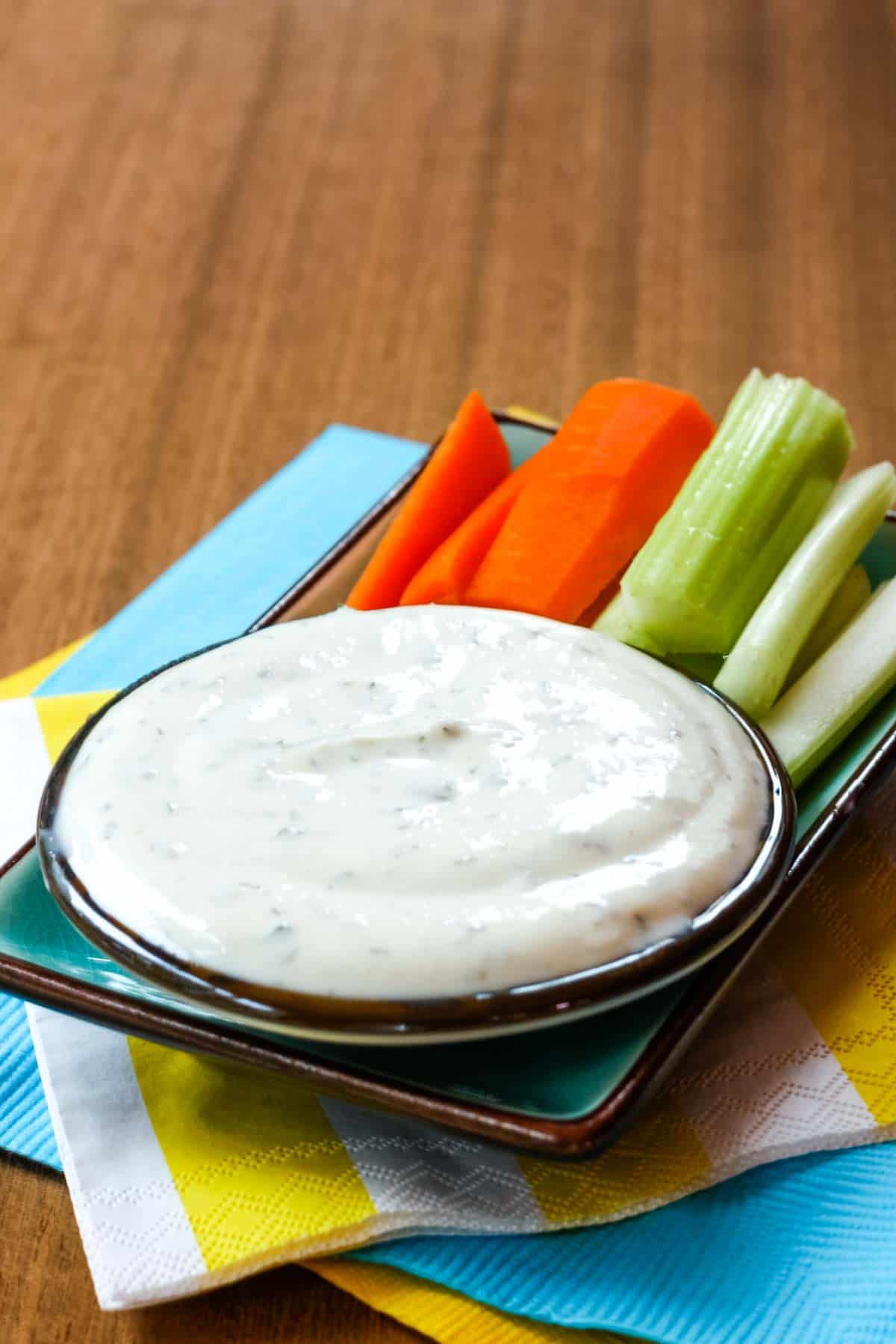 Is Ranch dip healthy?
Many storebought Ranch dips contain preservatives and unhealthy oils leading them to be high in saturated fats. And those seasoning packets also have preservatives and other fillers to prevent them from caking.
Since this recipe is made with just Greek yogurt, oil, vinegar, and dried herbs and spices, it does not contain any of those things. Therefore, this is a healthy veggie dip.
Plus, by using Greek yogurt instead of mayonnaise or sour cream, you are getting an extra dose of protein and probiotics too!
Is it gluten free? Low carb?
While this is not necessarily true of storebought Ranch, all of the ingredients in this Ranch recipe are gluten free and low carb. When it comes to the herbs and spices, by using individual dried seasonings, you are avoiding seasoning packets that could contain gluten. Just be sure your brand doe snot add any gluten-containing fillers.
If you want to keep the fat and calories low, you can use nonfat or lowfat Greek yogurt. For a keto Ranch dip, stick with whole milk Greek yogurt.
Besides veggies, what else do you dip in Ranch?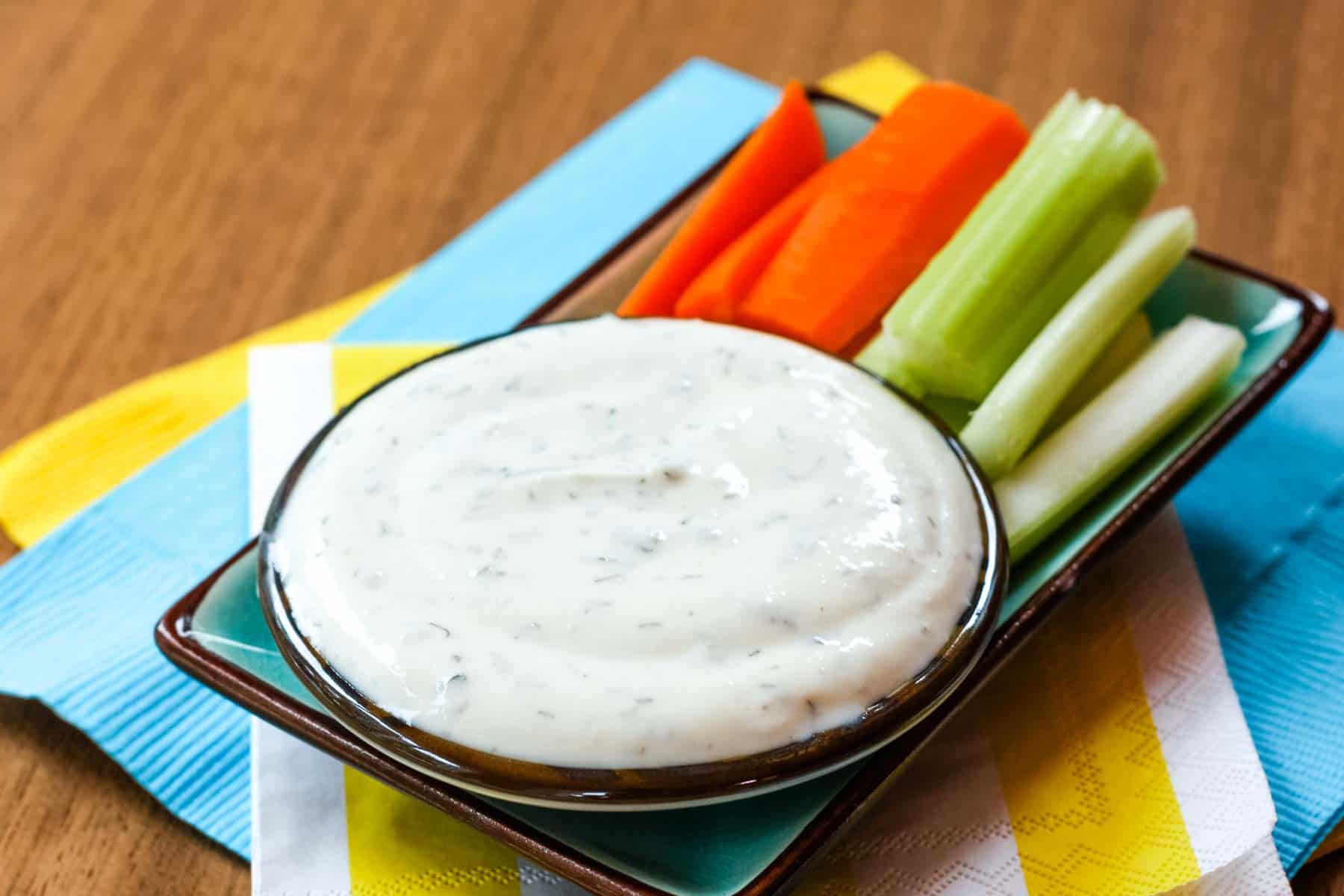 For more yumminess from me and my foodie friends, keep up with me on…
Or sign up to have Cupcakes & Kale Chips delivered straight to your Inbox!
If you love Ranch, try these recipes…
What are some more healthy veggie dips made with Greek yogurt?
Healthy Greek Yogurt Ranch Dip or Dressing
Just mix up some basic dried herbs and spices plus a couple of other ingredients from your pantry with Greek yogurt. Then serve it right away or let it sit in the fridge for the flavors to fully develop. This gives you that classic ranch flavor, but it's easy, budget-friendly, and packs in a whole lot more protein, with nothing weird or wacky. And if it gets kids munching on crunchy carrots or cucumbers, you know it is good!
I hope you'll leave a comment and give it a FIVE STAR rating or share a photo on Pinterest!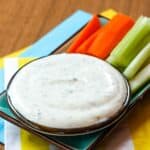 Print Recipe
Easy Homemade Greek Yogurt Ranch Dip
A simple, healthier version of a favorite that only requires basic ingredients you always have on-hand.
Instructions
Combine all of the ingredients in a bowl and mix until thoroughly combined.

If possible, let sit in the refrigerator for at least a couple hours to allow the flavors to develop.

Stir again before serving.
Nutrition
Serving:
2
Tablespoons (approximately)
|
Calories:
31
kcal
|
Carbohydrates:
1
g
|
Protein:
2
g
|
Fat:
2
g
|
Saturated Fat:
1
g
|
Cholesterol:
1
mg
|
Sodium:
126
mg
|
Sugar:
1
g
|
Vitamin A:
13
IU
|
Calcium:
26
mg
|
Iron:
1
mg
Enjoy!