This post may contain affiliate links. Read my disclosure policy.
Greek Yogurt Ranch Dip is an easy, healthy veggie dip recipe made with basic ingredients you always have on hand in your fridge or pantry. Stir it together in minutes, then serve it on a platter with vegetables, pack it for lunch, or you can even use it as a salad dressing.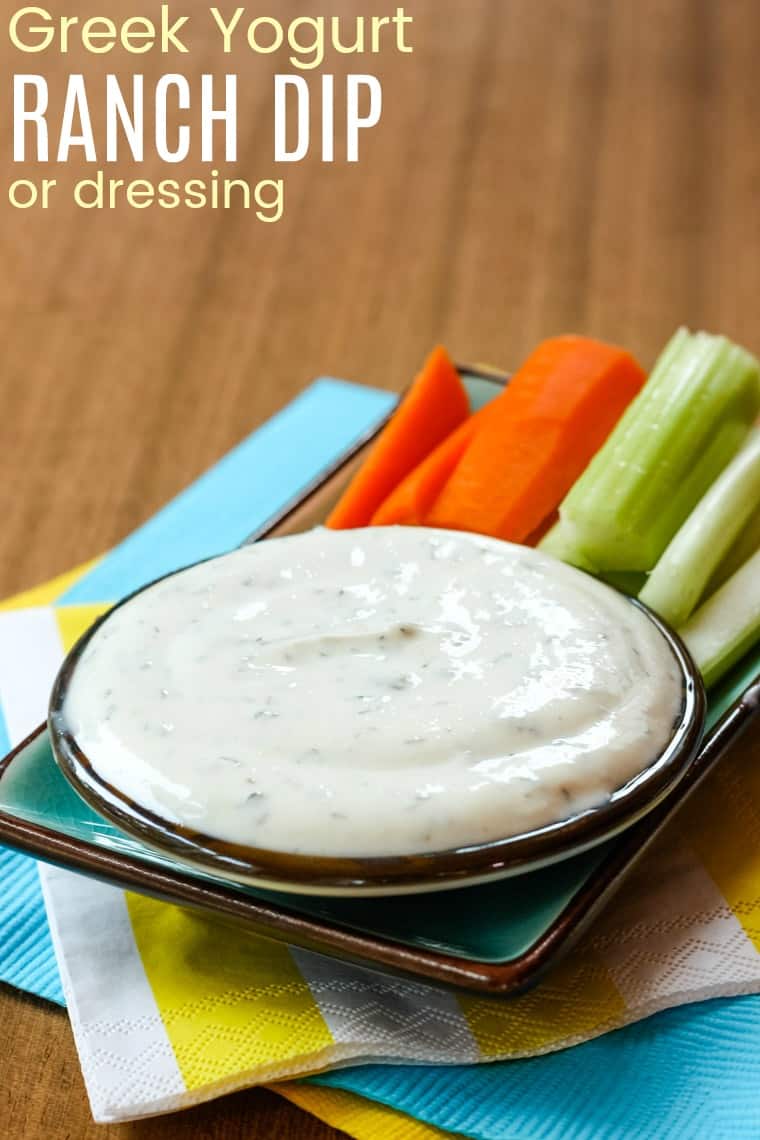 Healthy Ranch Dip
No matter the time of year, I need plenty of quick, easy, and preferably healthy snacks ready for my kids at all times.
During the school year life is crazy, and I'm usually rushing to pack their school lunches. And in the summer, with all the energy they burn biking and swimming and even running around inside when it is super hot, they are always looking for something to eat.
But since they are always eating, I want to make sure that what they grab for snacks is good for them. That way, you know, we can indulge in a sundae with hot fudge every now and then.
That's when being able to quickly whip up an easy healthy dip for veggies with ingredients I always keep on hand is perfect.
Not surprisingly, my kids love to dip. So I need to be prepared to make lots of dips all the time. But I don't necessarily want to use a premade seasoning packet.
However, many Ranch dip recipes have lots of fresh herbs and lemon juice and buttermilk. These are not always things you have on hand at a moment's notice. So this is what I like to call "Pantry Ranch Dip", which means that other than Greek yogurt, all the ingredients are things you probably have in your pantry or spice cabinet. This actually makes it even more budget-friendly than anything premade or the recipes that require a bunch of fresh herbs that you may not end up using up.
Just mix up some basic dried herbs and spices plus olive oil and vinegar with Greek yogurt. Then serve it right away or let it sit in the fridge for the flavors to fully develop. This gives you that classic ranch flavor, but it's easy and packs in a whole lot more protein, with nothing weird or wacky. And if it gets kids munching on crunchy carrots or cucumbers, you know it is good!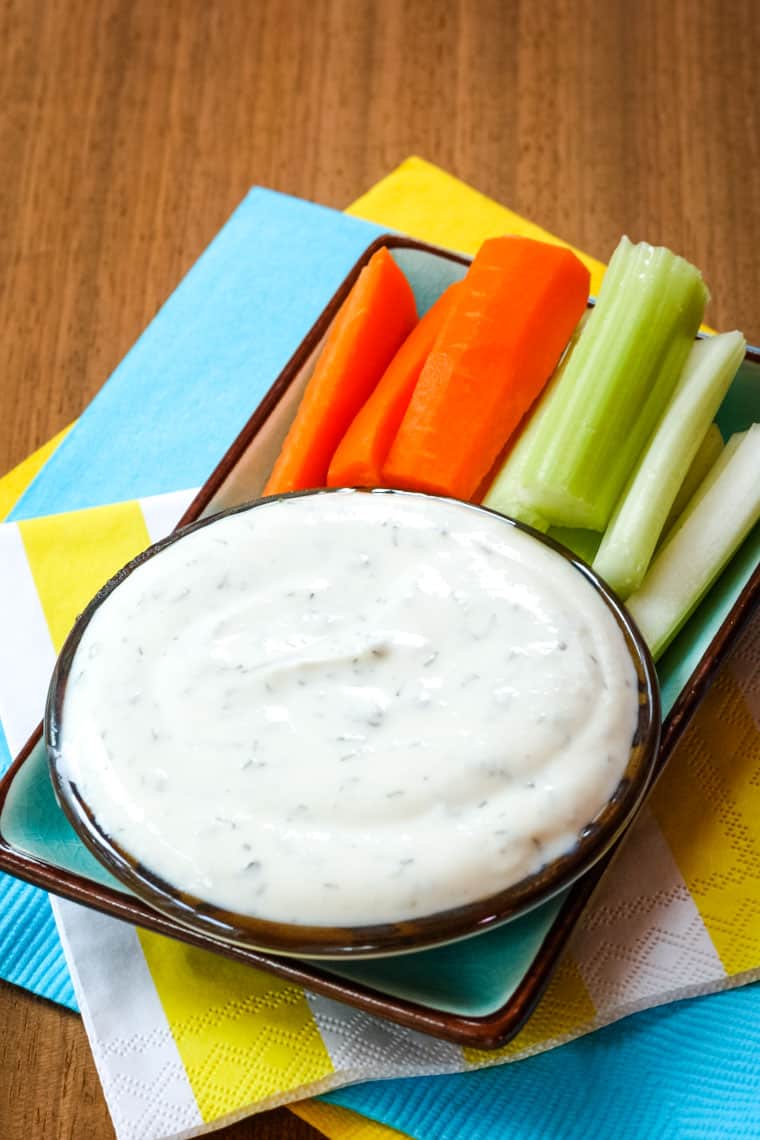 Ingredients
Directions
Just stir everything together and keep it in the refrigerator until you need it. It will keep for several days. And while you can serve it right away, it is best to give it a couple of hours to let the flavors fully develop.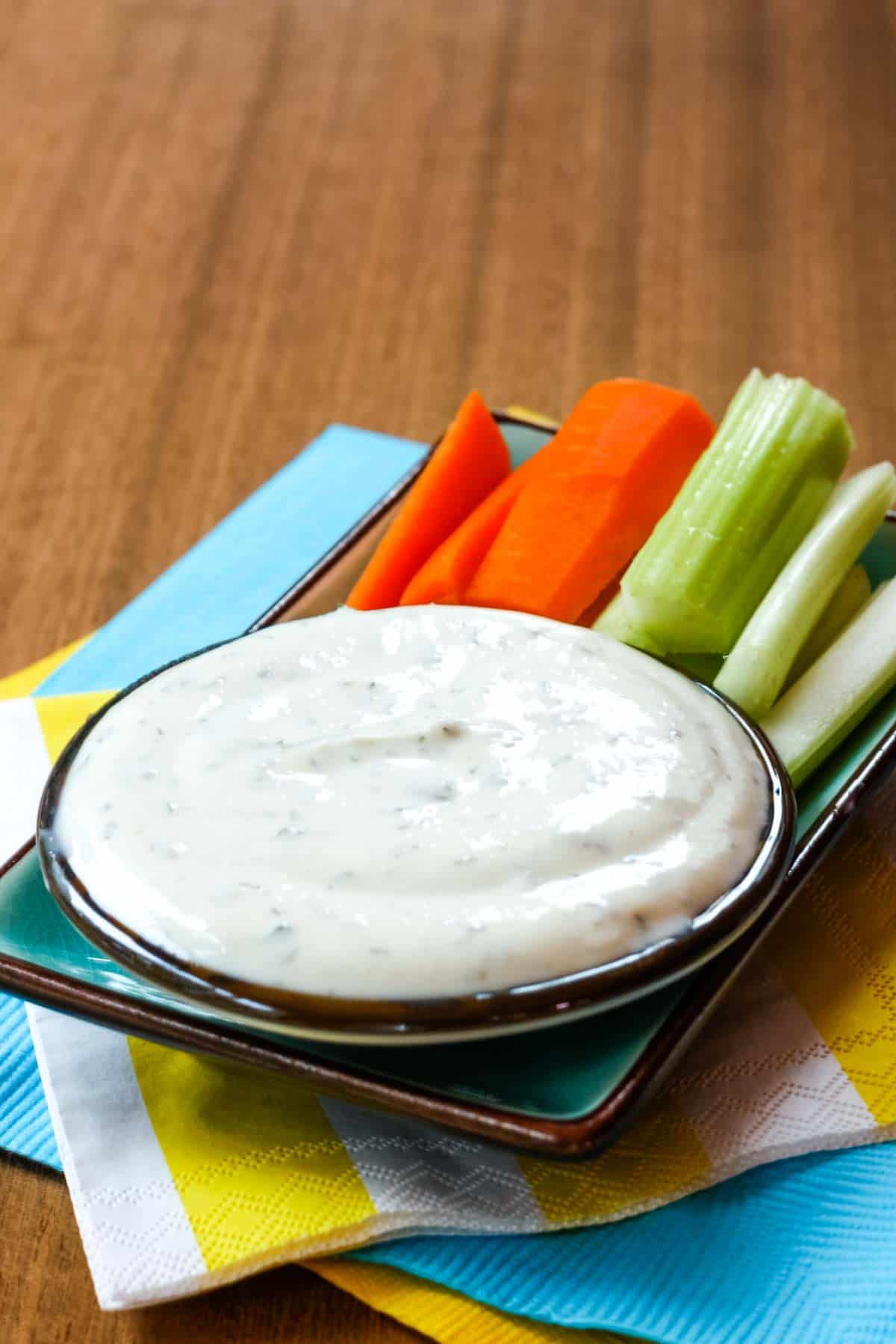 FAQs
Is Ranch dressing and Ranch dip the same?
Ranch dips tend to be thicker than a salad dressing, and this one is also quite thick. If you want to use it as a salad dressing you could spoon it onto lettuce in a bowl and then toss it to coat the leaves before serving. You can also add a couple tablespoons more of the vinegar or oil to thin it out so you can drizzle it over your salad.
Is Ranch dip healthy?
Many storebought Ranch dips contain preservatives and unhealthy oils leading them to be high in saturated fats. And those seasoning packets also have preservatives and other fillers to prevent them from caking.
Since this recipe is made with just Greek yogurt, oil, vinegar, and dried herbs and spices, it does not contain any of those things. Therefore, this is a healthy veggie dip.
Plus, by using Greek yogurt instead of mayonnaise or sour cream, you are getting an extra dose of protein and probiotics too!
Is it gluten free? Low carb?
Gluten Free Disclaimer: I am not a medical professional. This information is solely based on my research and personal experience, and I provide it as a courtesy to my readers. Please consult your doctor or medical professional for any questions as it relates to your needs, particularly if you have celiac disease or a severe gluten allergy or intolerance. Products, manufacturing facilities, and ingredients change frequently, so you should always contact the manufacturer for the latest information.
While this is not necessarily true of storebought Ranch, all of the ingredients in this Ranch recipe are gluten free and low carb. When it comes to the herbs and spices, by using individual dried seasonings, you are avoiding seasoning packets that could contain gluten. Just be sure your brand does not add any gluten-containing fillers.
If you want to keep the fat and calories low, you can use nonfat or lowfat Greek yogurt. For a keto Ranch dip, stick with whole milk Greek yogurt.
Besides veggies, what else do you dip in Ranch?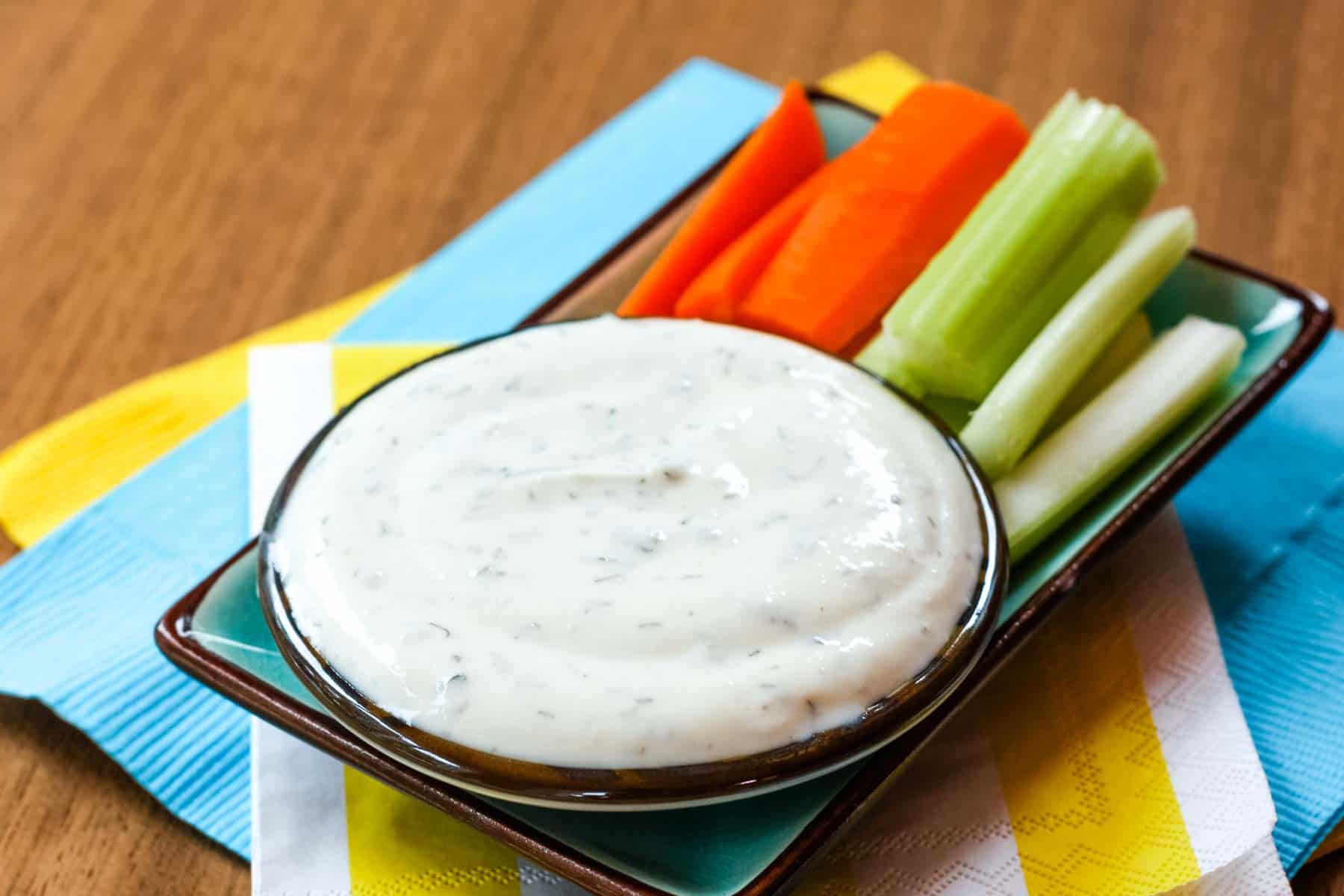 More Ranch recipes
More healthy veggie dips made with Greek yogurt
Easy Homemade Greek Yogurt Ranch Dip
A simple, healthier version of a favorite that only requires basic ingredients you always have on-hand.
Instructions
Combine all of the ingredients in a bowl and mix until thoroughly combined. If you want a thiner texture to use it as a salad dressing, just add additional apple cider veingar to schieve the desired consistency.

If possible, let sit in the refrigerator for at least a couple hours to allow the flavors to develop.

Stir again before serving.
Nutrition Facts
Easy Homemade Greek Yogurt Ranch Dip
Amount Per Serving (2 Tablespoons (approximately))
Calories 31
Calories from Fat 18
% Daily Value*
Fat 2g3%
Cholesterol 1mg0%
Sodium 126mg5%
Carbohydrates 1g0%
Protein 2g4%
Vitamin A 13IU0%
Calcium 26mg3%
Iron 1mg6%
* Percent Daily Values are based on a 2000 calorie diet.
Enjoy!
Originally published on Jul 27, 2014