This post may contain affiliate links. Read my disclosure policy.
Homemade Ketchup takes just minutes to stir together and is made with only a few basic pantry ingredients. You can tweak the seasonings and sweetness to suit your tastebuds. But when you see how to make ketchup with no added sugar or other funky ingredients, you'll forget all about the bottled stuff. Let your kids dip to their hearts' content or slather it all over your burgers because this DIY catsup recipe practically counts as a serving of veggies.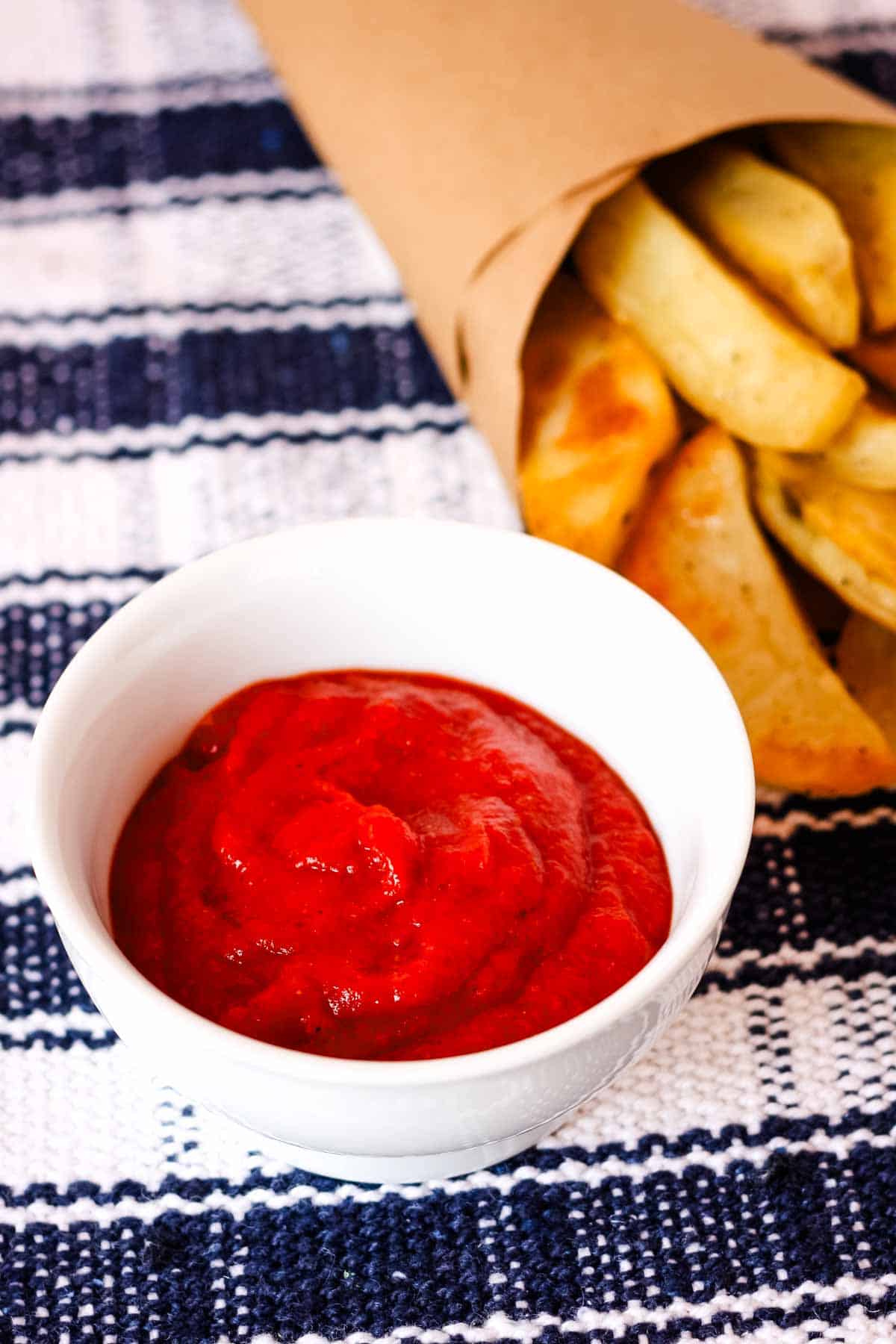 Originally published in 2013. Republished on May 24, 2016 with the addition of a video.
Easy Homemade Ketchup
Today I am bringing you a recipe for homemade ketchup. No fancy flavors, no unique twists. Just plain old ketchup.
Why?
Because if your kids are anything like mine, they'll eat anything when it is dunked in or covered with this all-time favorite condiment. But when you read the labels and see all the sugar and preservatives and other stuff in there, well, let's just say that I was starting to feel like I should just let them skip the veggies versus getting them to eat them covered with all that stuff.
So I set out to make my own ketchup.
But many recipes called for simmering and straining and spice packets. I just wanted a quick and easy dip I could stir up in no time. I finally found one on a blog called Fix Me a Snack which doesn't exist anymore, so I'm glad I saved that recipe.
Since it starts with tomato paste, which is essentially a can of simmered and reduced tomatoes, there really is no need to go through all of that extra work.
Just stir in all of the other ingredients that give it its characteristic tangy, smoky, savory flavor. Then eat it right away, let it sit in the fridge to all blend together for a bit, or make a double batch to keep in a bottle for weeks so you always have some on hand.
Now I'm sharing my version that includes the tweaks and adjustments I made to make it exactly how we like. I totally suggest you do that too! I'll give you tips below!
Then when I dip, you dip, we dip…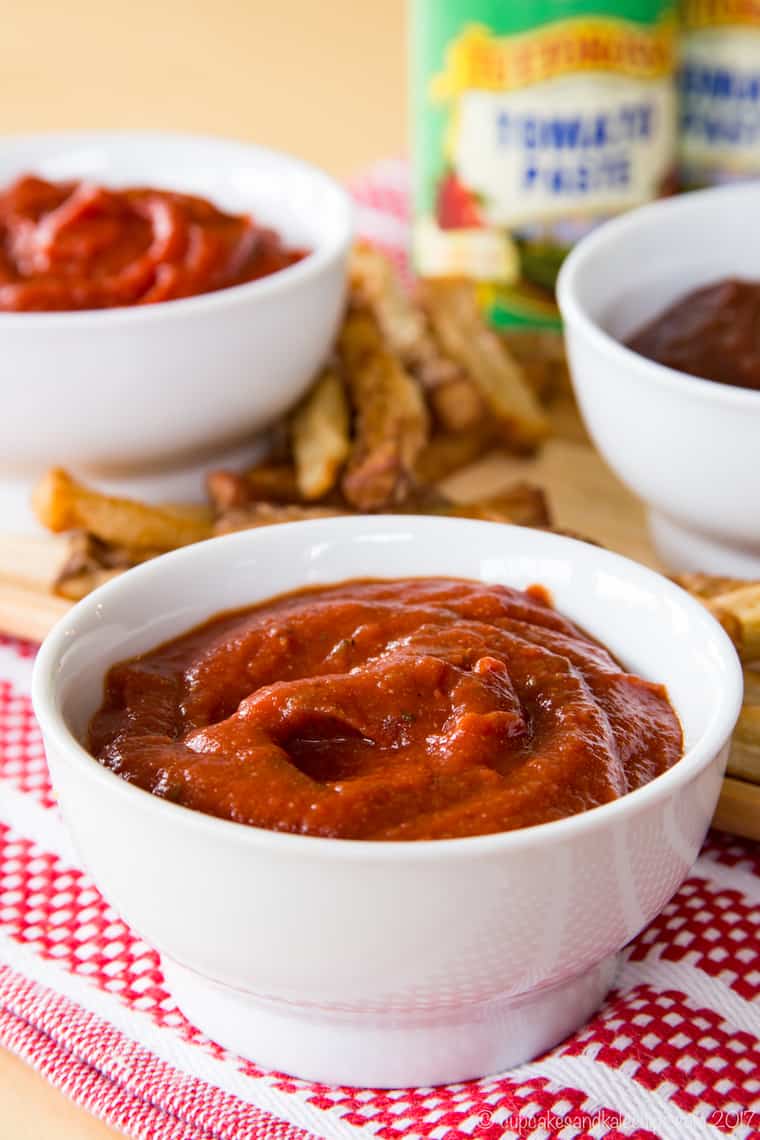 How to make ketchup
Yes, you can make your favorite condiment at home. No cooking, only basic pantry ingredients, and ready in minutes. And without added sugar (unless you want to sweeten it up a bit) or preservatives, it's a healthier option than that stuff in the bottle. Plus it packs a ton more flavor, which you can adjust exactly how you like it. Naturally gluten free and vegan too. So everyone will want to dip, dunk, and douse their food with DIY catsup.
On a serious note, what I said about it counting as a veggie is totally true. I mean, it's tomato paste with spices and some vinegar. Pure, concentrated tomato. And plenty of zing, which is totally essential for ketchup, from apple cider vinegar. It brings so much flavor to this simple recipe. And all you have to do is stir everything together.
Ingredients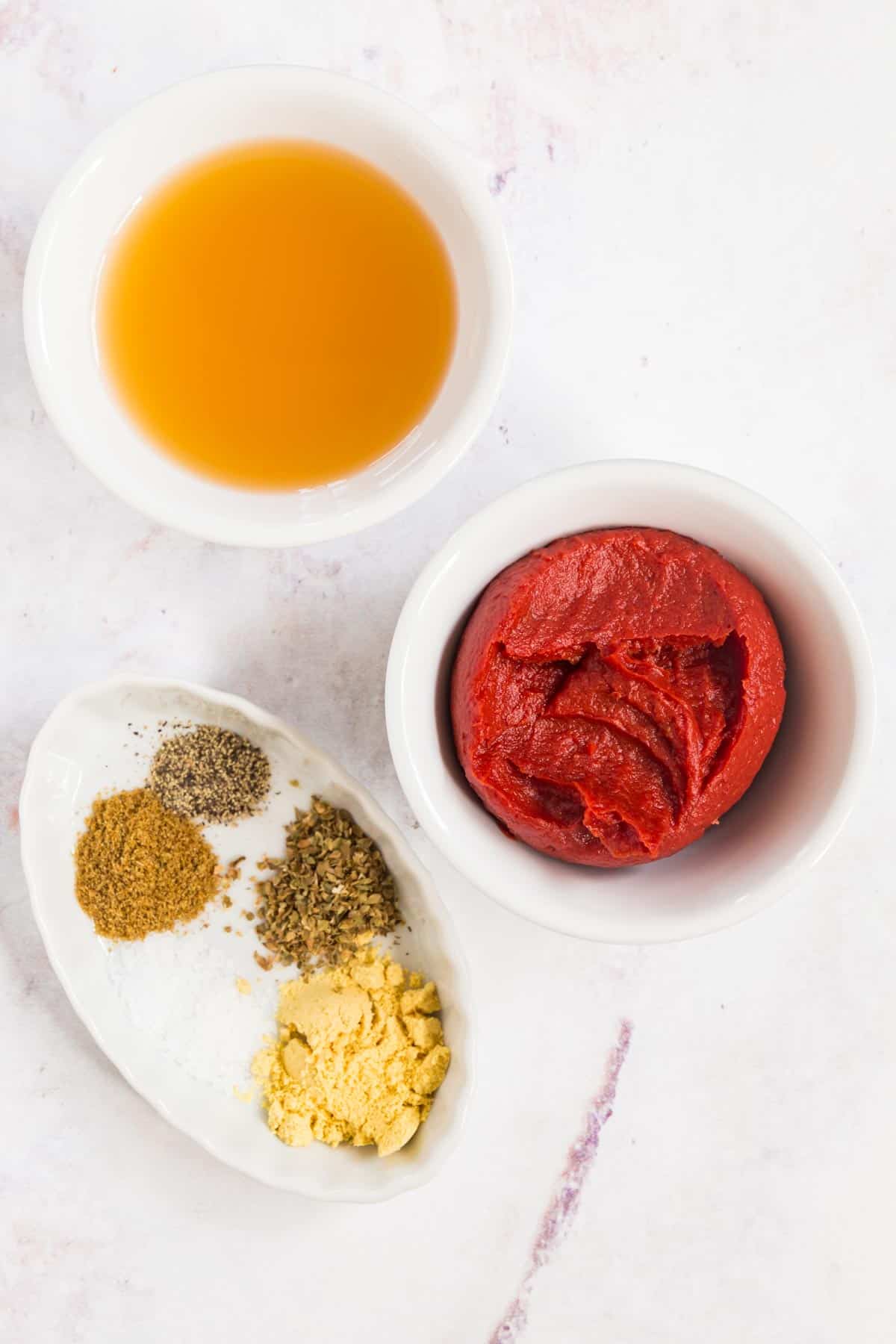 Directions
Combine all of the ingredients in a bowl and stir until smooth. Serve it right away or let it sit in the refrigerator for a couple of hours to let the flavors fully develop.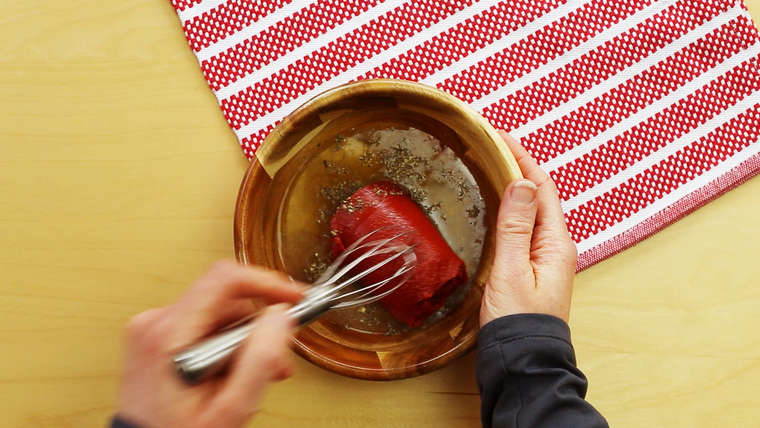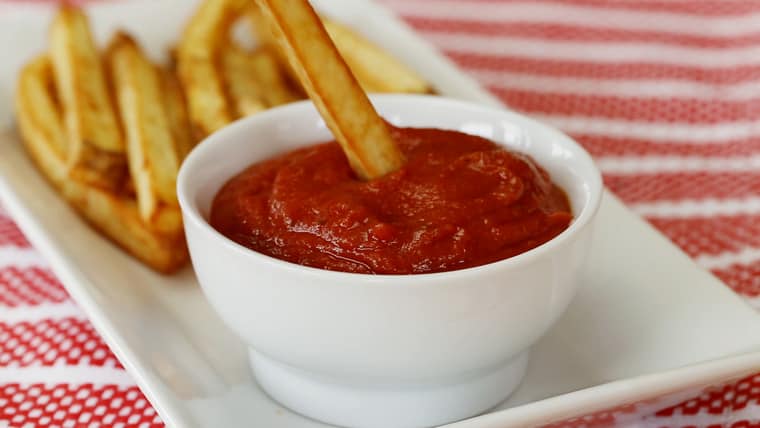 Tips for Success
Too vinegary
Some people have commented that they find this homemade ketchup recipe too sharp or vinegary. The instructions have always said, but I will mention it again here, that you may want to use half the amount of vinegar the first time, and then add water for the balance of the liquid.
Too thick
If you want it thinner or more pourable, you can also as more water, about a tablespoon at a time to reach your preferred consistency.
Too smoky
You can omit or lessen the amount of cumin. Cumin is a typical ingredient in ketchup to give it a bit of smokiness, but some people (typically those who also don't like cilantro) find it too strong. A few drops of liquid smoke is an alternative for that flavor.
Not sweet enough
I still prefer making this ketchup recipe with no sugar or other sweetener. If you want it sweeter, you can add a couple of tablespoons of sugar, molasses, brown sugar, honey, or some combination of those to suit your taste. To keep the carbs lower, you can even use Swerve Erythritol Sweetener or Swerve Brown Sugar Replacement.
Make ahead and storage
You can use it right away, but it is also good to let it sit in the refrigerator for a few hours to let the flavors fully blend. And if you put it in a jar, bottle, or another airtight container, you can keep it in the fridge for up to 2 weeks.
Variations
Once you've tried this traditional ketchup recipe, you can swap the liquids, herbs, and spices to make all kinds of gourmet variations of ketchup!
What to eat with ketchup
Homemade Ketchup
Homemade Ketchup is the perfect dip for your kids (or you) – no added sugar or funky ingredients, can be tweaked to your tastes, and it counts as a veggie!
Ingredients
6

oz.

tomato paste

1 small can or 3/4 cup

1/2

cup

apple cider vinegar

see Note 1

1

teaspoon

dry mustard powder

1/2

teaspoon

salt

1/2

teaspoon

dried oregano

1/2

teaspoon

cumin

1/8

teaspoon

black pepper

water

see Note 1

sugar, molasses, honey, brown sugar, or a combination

see Note 2
Instructions
Combine all ingredients in a small bowl and mix well.
Notes
Note 1 – Some people find the full amount of aple cider vinegaer too strong, especially if they use a raw apple cider vinegar. You can use less, but then add water to total a 1/2 cup of liquid. You can also add additional water if you want a thinner ketchup.
Note 2 – while this is a no sugar katchup recipe, if you prefer it a little sweeter, you can start by adding a tablespoon of

sugar, molasses, honey, brown sugar, or a combination of those, then adjust, adding more if needed.
Note 3 – Recipe keeps well in the fridge, so it can easily be doubled and stored for a few weeks.
Nutrition Facts
Homemade Ketchup
Amount Per Serving (1 Tablespoon)
Calories 10
% Daily Value*
Sodium 157mg7%
Potassium 113mg3%
Carbohydrates 2g1%
Vitamin A 160IU3%
Vitamin C 2.3mg3%
Calcium 5mg1%
Iron 0.4mg2%
* Percent Daily Values are based on a 2000 calorie diet.
More homemade condiments and sauces
Enjoy!