This post may contain affiliate links. Read my disclosure policy.
Light and crispy, buttery Gluten Free Vanilla Wafers are a homemade version of classic Nilla Wafers. These vanilla-flavored cookies melt in your mouth and are perfect as a treat on their own, or you can add them to your favorite desserts!
Crispy Gluten-Free Homemade Nilla Wafers
There's just something about making my own gluten-free versions of classic boxed cookies that's so satisfying. I remember Nilla wafers growing up, but since going gluten-free, I've yet to find a store-bought version that's gluten-free and still hits the spot.
This recipe for homemade gluten-free vanilla wafers doesn't just hit the mark, it nails it completely! These petite vanilla cookies are crisp and light, full of rich vanilla flavor with a melt-in-your-mouth, buttery texture. They're totally better than anything from a box, and they don't take much effort to make.
These gluten-free wafers are delicious on their own with a glass of milk or cup of coffee, or I'll add them to my favorite desserts. They keep fresh for days after they're baked, so you'll have plenty of time to dream up new ways to enjoy them!
What Are Vanilla Wafers?
Vanilla wafer cookies go by the brand name Nilla Wafers in the US. These are light and crispy cookies flavored with vanilla, perfect to enjoy on their own or to incorporate into more delicious desserts. This homemade gluten-free version is super simple to make!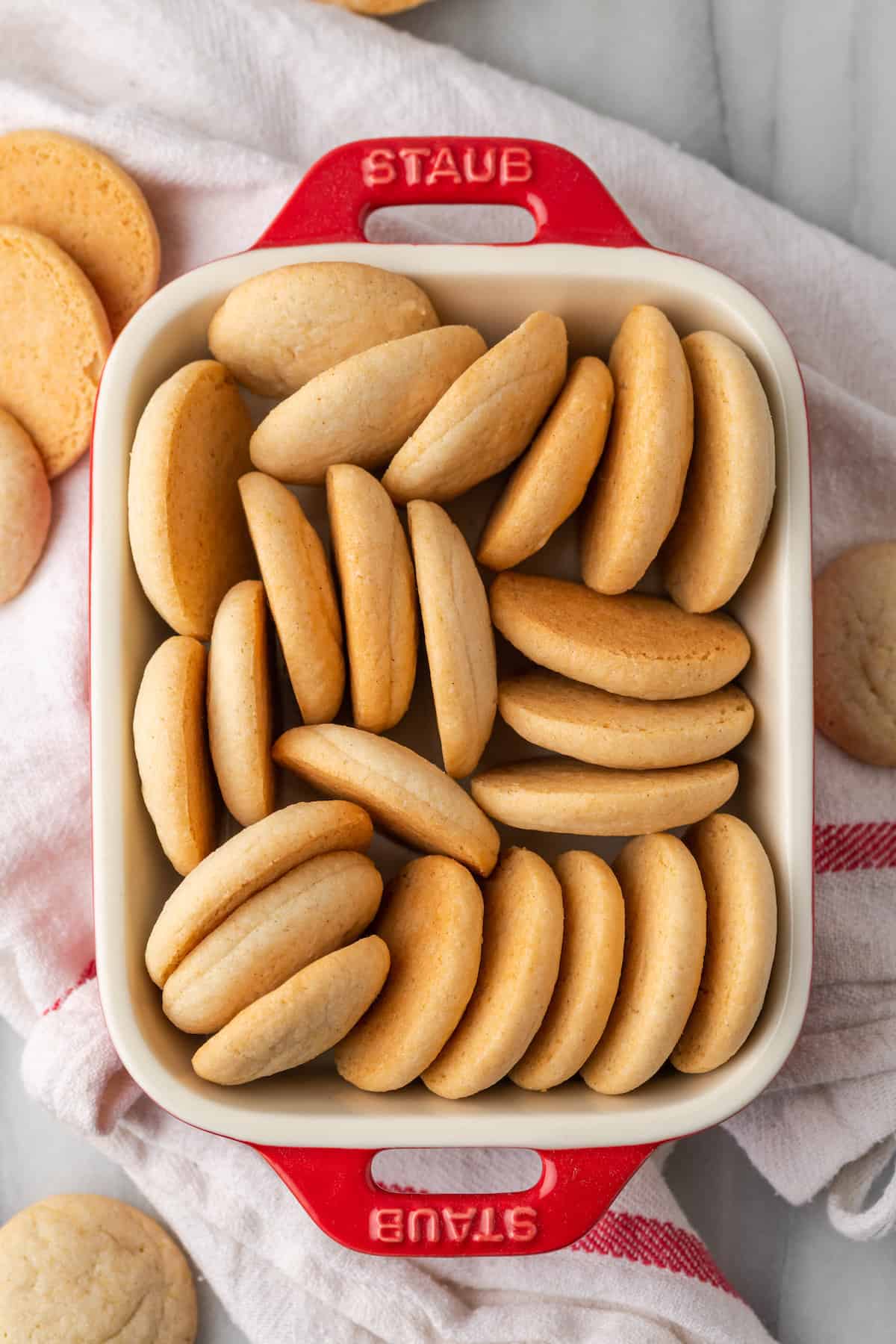 What You'll Need
Below is a short overview of the ingredients you'll need to make gluten-free vanilla wafers. Be sure to scroll to the recipe card for the full recipe details:
Gluten-Free Flour: I'm partial to King Arthur Flour's gluten-free flour blend.
Leavening and Salt: These vanilla cookies use a combination of baking powder and baking soda to get that crisp and airy texture. You'll need a pinch of salt to balance the flavors.
Sugar and Butter: Creaming together the sugar with room-temperature butter forms the base for the gluten-free wafer batter. I prefer to bake with unsalted butter, but if you use salted butter, consider leaving out any added salt so that your cookies don't come out tasting salty.
Egg Whites: Egg whites trap air and give these gluten-free copycat Nilla wafers their signature thick and puffy shape.
Vanilla: You can't have vanilla wafers without vanilla! For the best flavor, use pure vanilla extract.
Milk: You'll need a couple of spoonfuls of milk to thin out the batter. Use your choice of whole milk or 2%.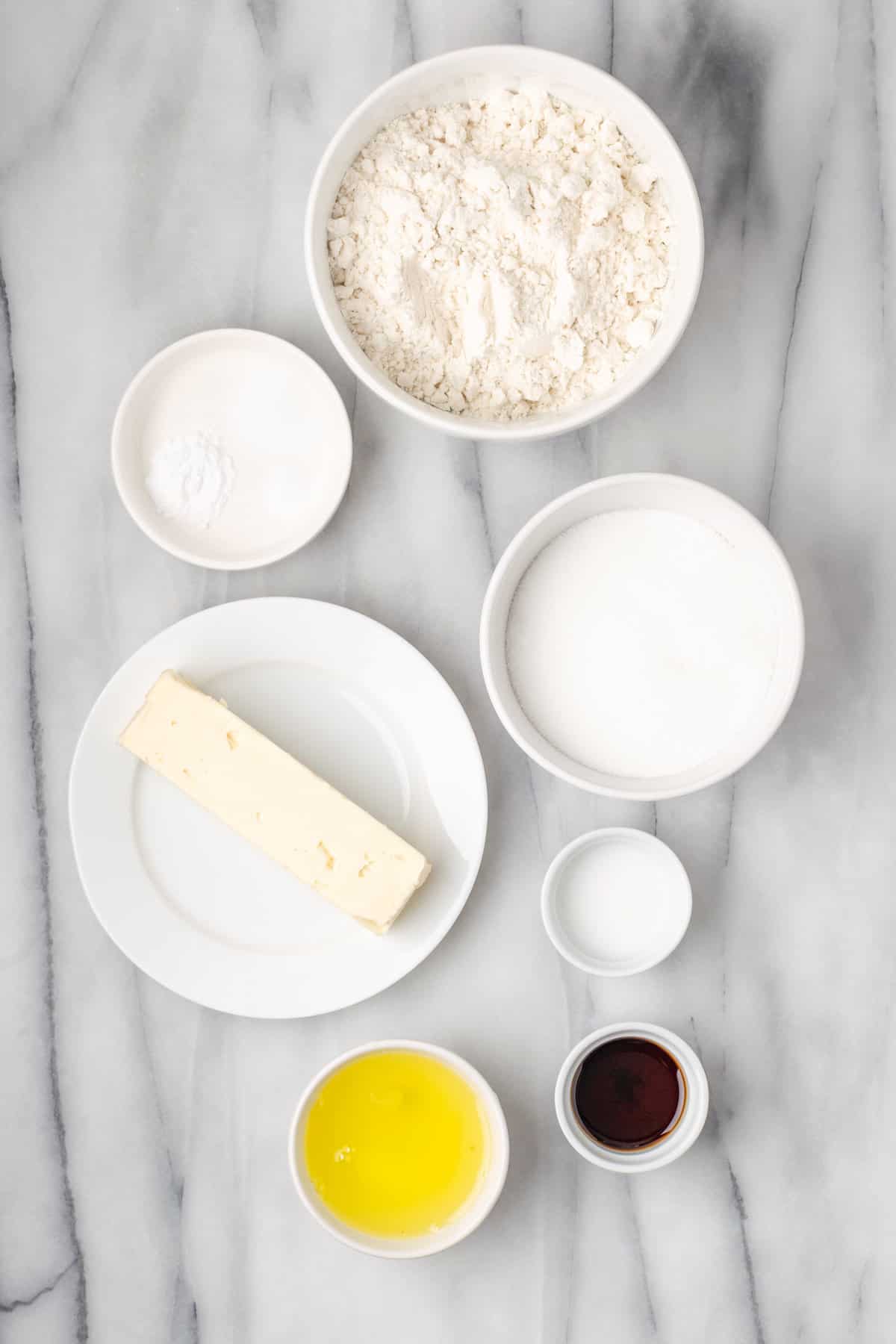 How to Make Gluten-Free Vanilla Wafers
There are only a few easy steps involved to make these better-than-the-box vanilla wafers:
Make the Wafer Batter: In a small bowl, first, whisk together the dry ingredients. In a separate bowl, cream the butter and sugar until fluffy, then add the egg whites and vanilla. Gradually add in the dry ingredients, followed by a spoonful or two of milk. The batter should be soft and a bit paste-like.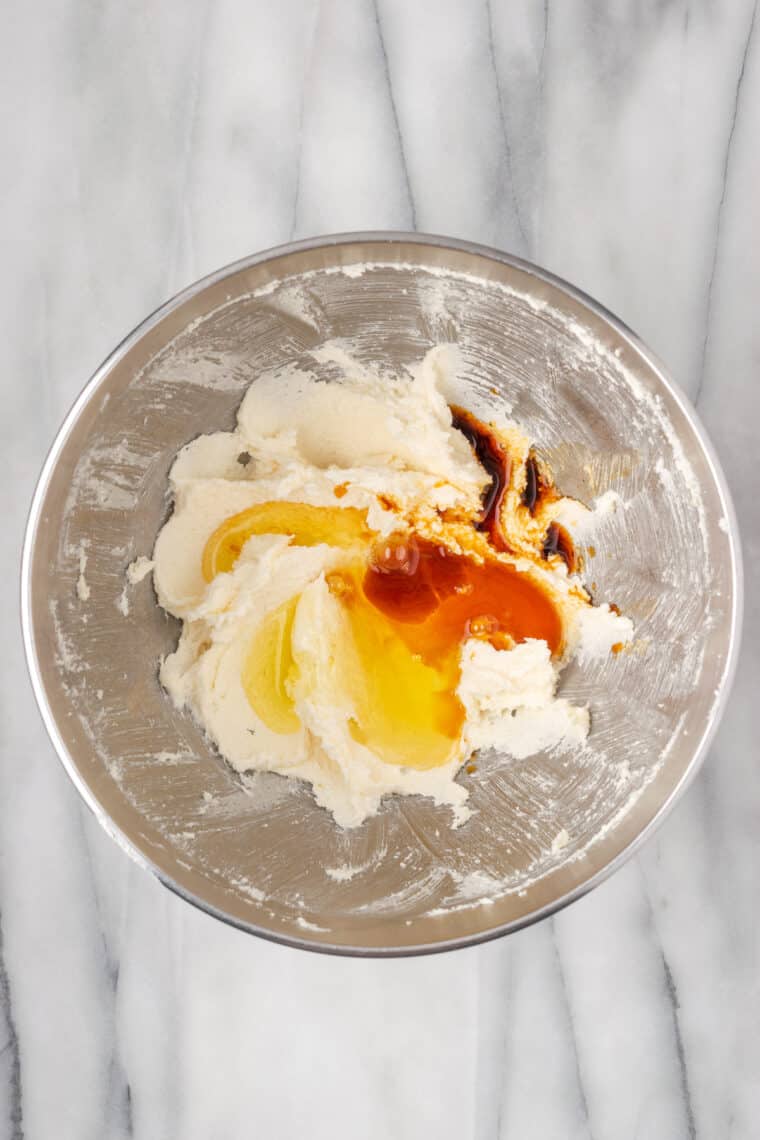 Pipe the Batter: Next, transfer the batter to a piping bag, and pipe quarter-sized circles onto a parchment-lined baking sheet, about 1 inch apart. I recommend using a knife or offset spatula to trim the batter from the end of the piping bag, so the cookie tops are level. You can use your finger to smooth out the tops of the cookies.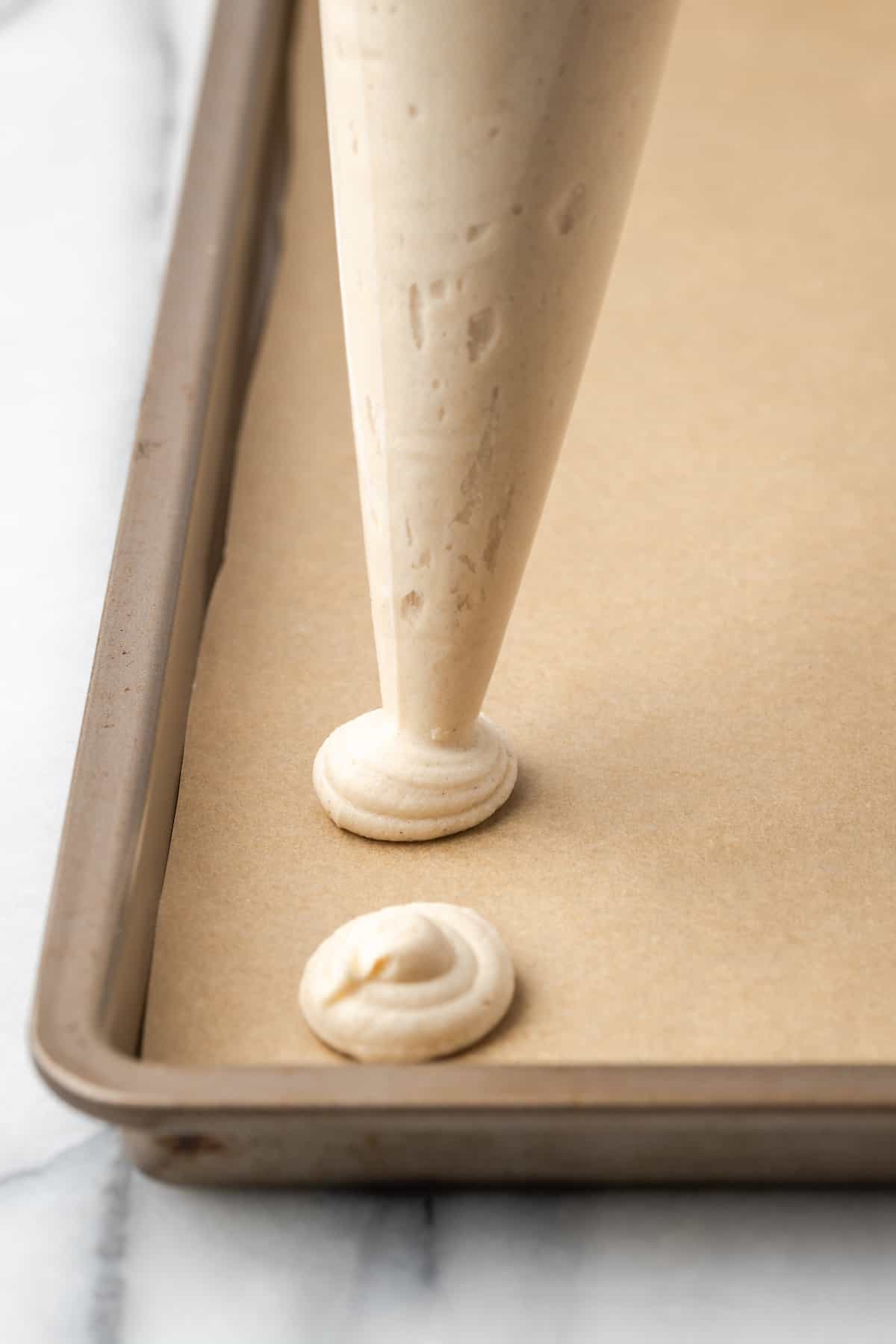 Bake: Pop the baking sheet with the wafers into a preheated oven for about 18 minutes at 325ºF.
Cool: Once your gluten-free vanilla wafers are out of the oven, leave them to cool completely on the cookie sheet before storing them. See below for storage tips, as well as easy ways to use these homemade Nilla wafers.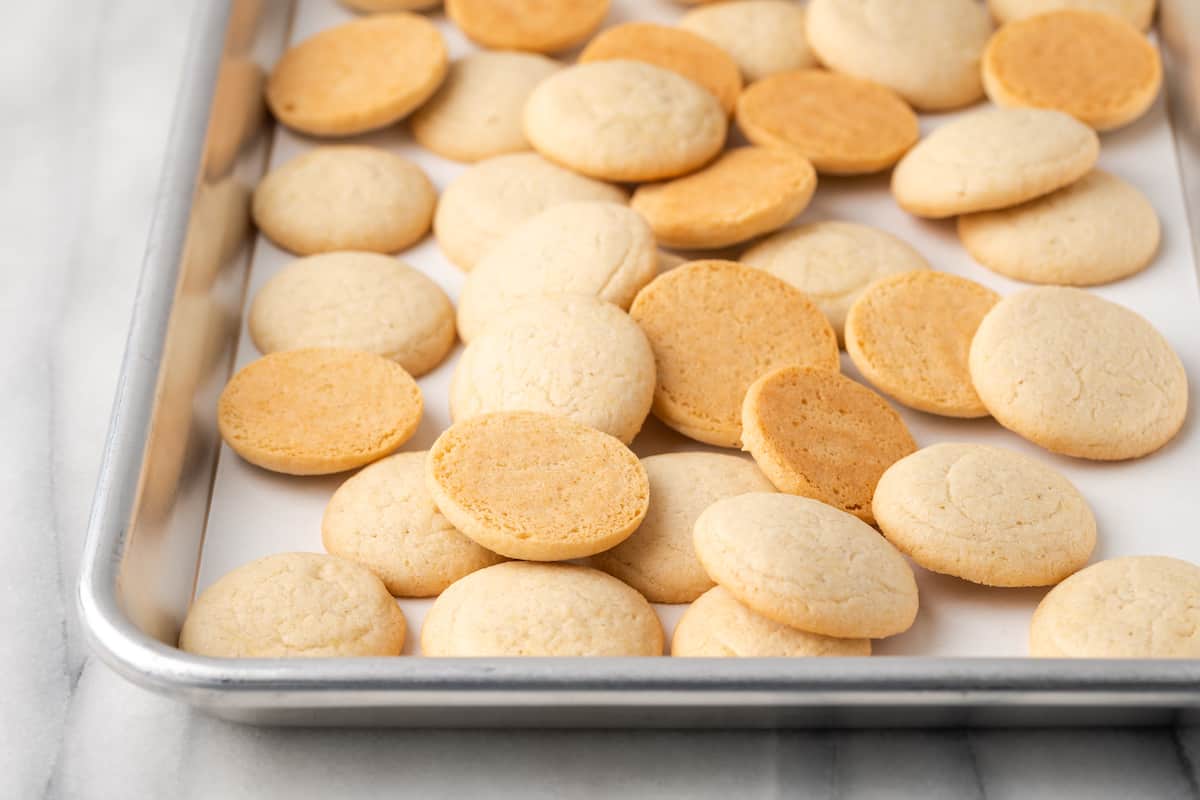 Tips for Success
Below are additional tips for the best homemade vanilla wafers:
Use room temperature ingredients. The butter and even the egg whites should come to room temperature before you start, as they'll combine more smoothly with the other ingredients.
Use real vanilla extract. Vanilla is the star here, and these gluten-free vanilla wafers come out the best when they're made with real vanilla extract over imitation.
Don't overmix. You want wafers that are light and crisp, not dense and chewy. Make sure that you measure your ingredients correctly, and avoid overmixing the dough.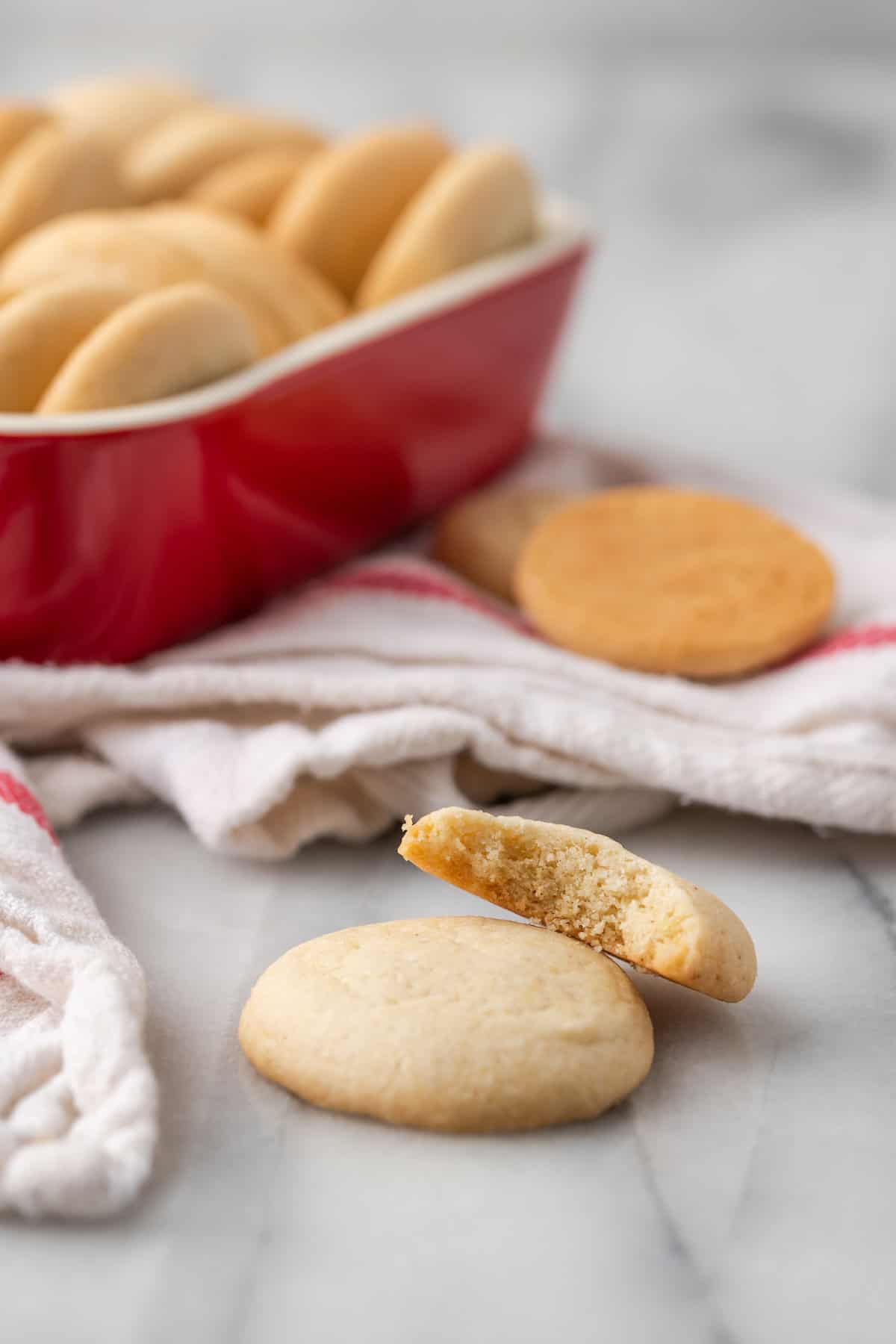 Absolutely. The batter for your gluten-free vanilla wafers can be made up to a day ahead and kept airtight in the fridge until you're ready to portion and bake it. I recommend letting the batter sit out at room temperature for about 15 minutes beforehand so that it softens up again.
The unbaked cookies can also be prepared ahead and frozen. After you've piped and smoothed out the wafer dough on the baking sheet, place the whole thing in the freezer to pre-freeze.
Once solid, transfer the frozen wafers to a ziptop bag to keep frozen for up to 2 months. Bake the vanilla wafer dough straight from frozen (this may call for an extra minute or two of baking time).
Once these gluten-free vanilla wafers have cooled, store them airtight on the counter for up to 5-7 days. You can also freeze these cookies for up to one month, see the next section for details.
Can I Freeze Vanilla Wafers?
Yes! The baked wafers can be stored airtight in the freezer for up to one month. Thaw the cookies at room temperature before serving.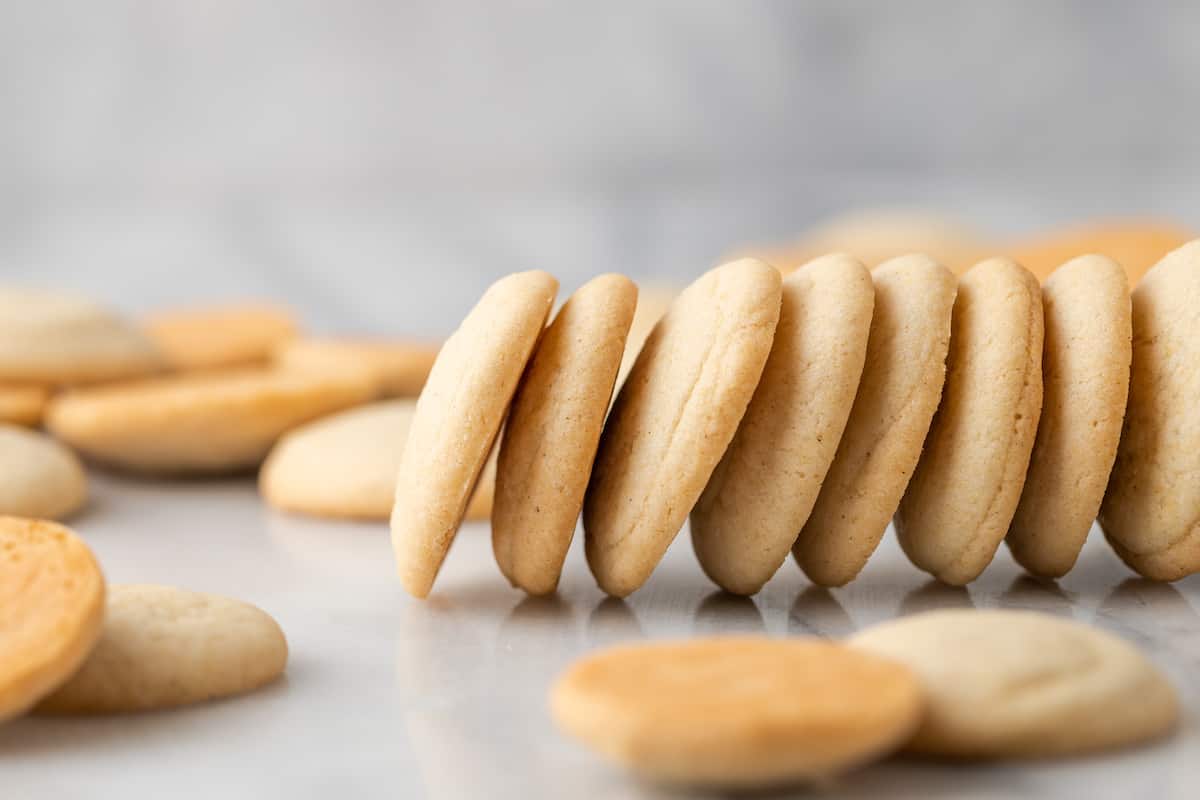 Ways to Use Gluten-Free Vanilla Wafers
Like my Gluten-Free Ladyfingers, which I'll use in recipes like Gluten-Free Tiramisu, these vanilla wafers are versatile. There are so many ways that you can use them, aside from just eating them! Here are just some ideas: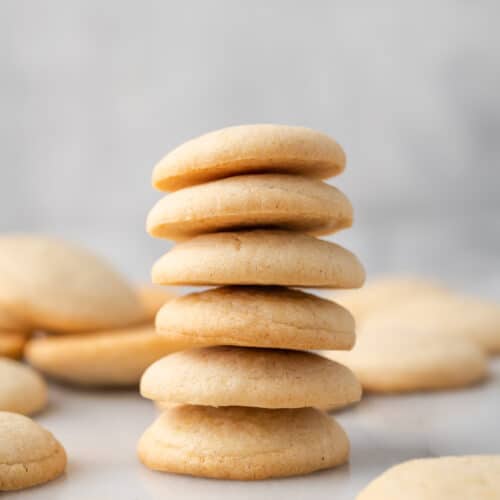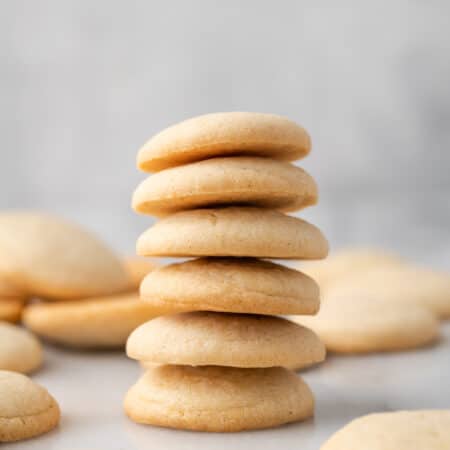 Gluten Free Vanilla Wafers
These Gluten Free Vanilla Wafers are a homemade version of classic Nilla Wafers. These crispy vanilla cookies are light and buttery, and melt in your mouth just like the original!
Ingredients
1

Cup

+ 6 tablespoons Gluten Free Flour Blend

(recommended: King Arthur Flour Measure for Measure)

1/2

teaspoon

Baking Powder

1/8

teaspoon

Baking Soda

1/2

teaspoon

Salt

3/4

Cup

Sugar

1/2

Cup

Unsalted Butter,

room temperature

2

Egg Whites

1

Tablespoon

Vanilla

1-2

Tablespoon

Milk
Instructions
Preheat the oven to 325 degrees. Line two baking sheets with parchment paper.

Combine flour, baking powder, baking soda and salt in a small bowl. Whisk together until well mixed. Set aside.

Add sugar and butter to the bowl of an electric mixer. Beat on medium speed for 3 minutes until fluffy and light in color. Scrape down the bowl.

Add the egg whites and vanilla. Beat another 60 seconds until smooth. Scrape down the bowl.

Turn the mixer to the lowest setting. Add the flour mixture and stir until just combined.

Add 1 tablespoon of milk. Stir until it is mixed in. The batter should be very soft (the consistency of creamy peanut butter). If it's not soft enough, add the second tablespoon of milk.

Fill a piping bag with cookie dough. Cut the tip of the bag so the opening is about 1⁄4" wide.

Holding your piping bag around 1⁄4' above the baking sheet, squeeze out the dough letting it form a circle about the size of a quarter. Use a knife to cut the dough where it is coming out of the bag.

Repeat with remaining dough, spacing the cookies 1 inch apart on the baking sheet.

Use a damp finger to smooth out the top of the cookies.

Bake in the preheated oven for 18-20 minutes until cookies are no longer soft to the touch. Remove from the oven and cool completely on the cookie sheet.

Store in an airtight container.
Nutrition Facts
Gluten Free Vanilla Wafers
Amount Per Serving
Calories 31
Calories from Fat 18
% Daily Value*
Fat 2g3%
Cholesterol 4mg1%
Sodium 36mg2%
Potassium 6mg0%
Carbohydrates 4g1%
Protein 0.3g1%
Vitamin A 48IU1%
Vitamin C 0.001mg0%
Calcium 4mg0%
Iron 0.1mg1%
* Percent Daily Values are based on a 2000 calorie diet.
Categories:
More Gluten-Free Cookie Recipes