This post may contain affiliate links. Read my disclosure policy.
Make crisp and crunchy gluten-free graham crackers for snacks, s'mores, or a sweet treat that's allergy-friendly and perfect for dunking in milk!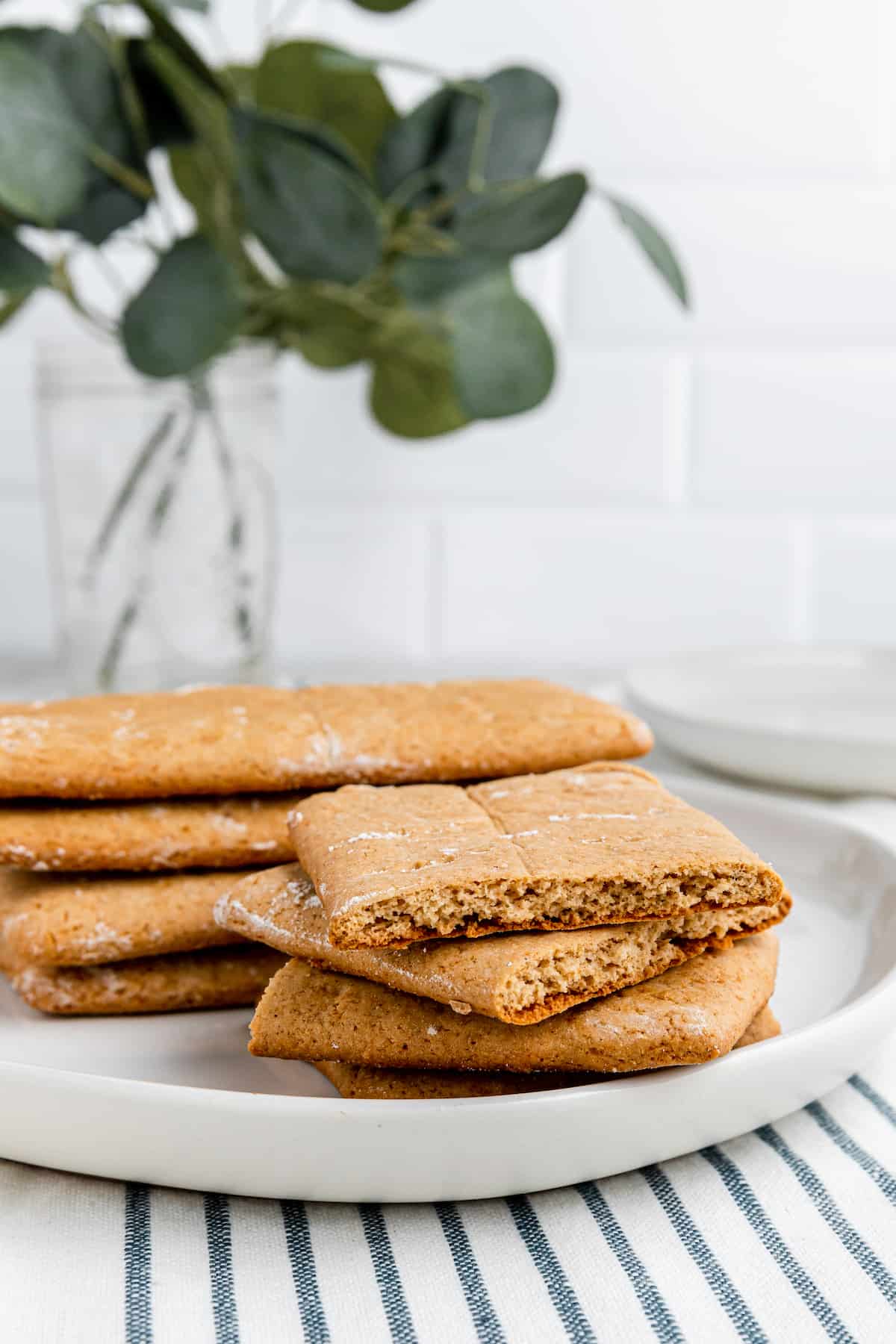 Homemade Graham Crackers
Do you love s'mores? There's something so comforting and nostalgic about sandwiching perfectly-toasted gooey marshmallows between softened milk chocolate squares and crisp graham crackers. But if you're gluten-free, it can be hard to find allergy-friendly graham crackers for s'mores.
This recipe takes care of that problem and produces perfectly sweet, buttery and tender crackers that non-gluten-free people will love way more than store-bought crackers. Use this gluten-free cookie recipe to bring your s'mores game to the next level!
And, of course, they are great for packing in a lunchbox, dunking in milk as an after-school snack, or dipping in something sweet like Cheesecake Dip.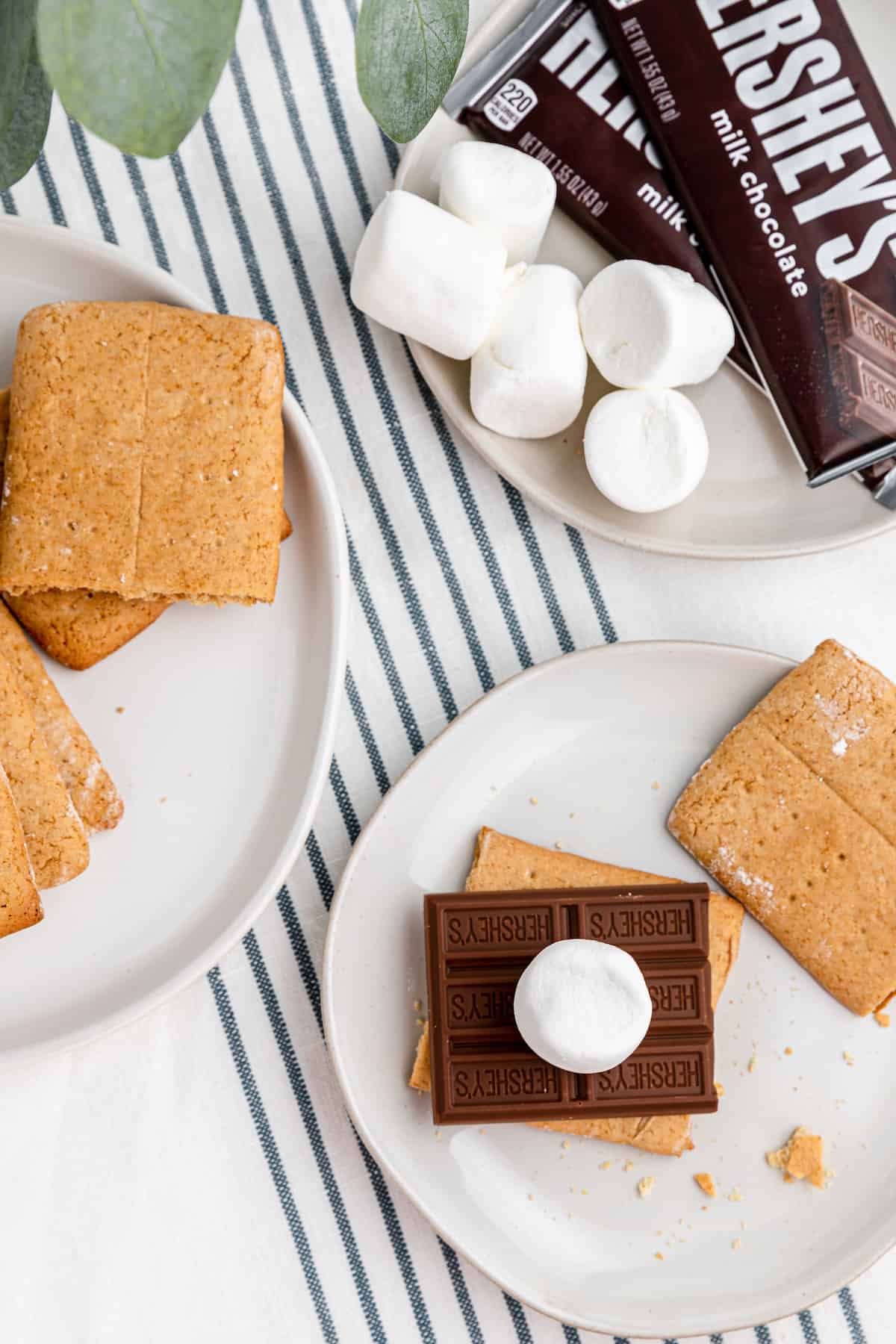 Why You'll Love This Recipe
Making your own graham crackers is a fun and easy project. This is a great way to get kids involved in the kitchen, especially if they love s'mores. Despite being impressive, this recipe is simple to make and the ingredients are basic and easy to find.
You can keep your crackers fresh for up to a week, so these also make a great homemade treat to pack in school lunch boxes.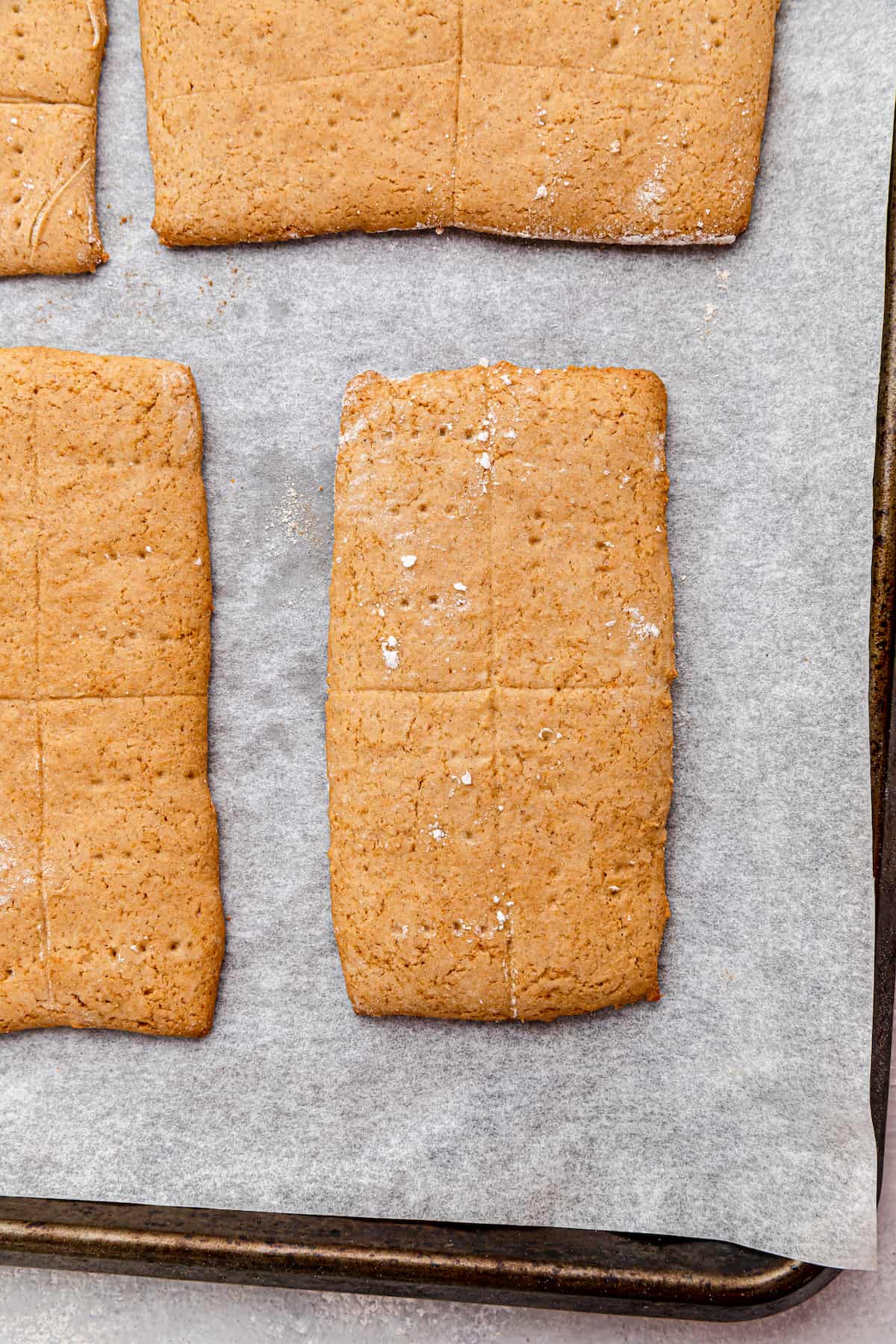 Ingredients
The ingredients for gluten-free graham crackers are all pantry staples. Here's what you need for the recipe:
Gluten–free all–purpose flour. I use Bob's Red Mill.
Brown sugar. For that signature graham cacker color and caramel flavor.
Granulated sugar. This adds a bit of extra sweetness to the cookies.
Cinnamon. For the traditional warming flavor in graham crackers.
Baking powder. Make sure you're using gluten-free baking powder.
Baking soda. This helps lighten the crackers as they bake.
Egg. To bind the cracker dough together and help them rise a bit.
Butter. Use softened butter for easier mixing.
Vanilla. Make sure you're using pure vanilla, not imitation, for the best flavor.
Honey. You can also use maple syrup or agave if you like.
Molasses. This helps add the golden-brown color to the crackers.
Milk. To help soften and tenderize the cookie dough.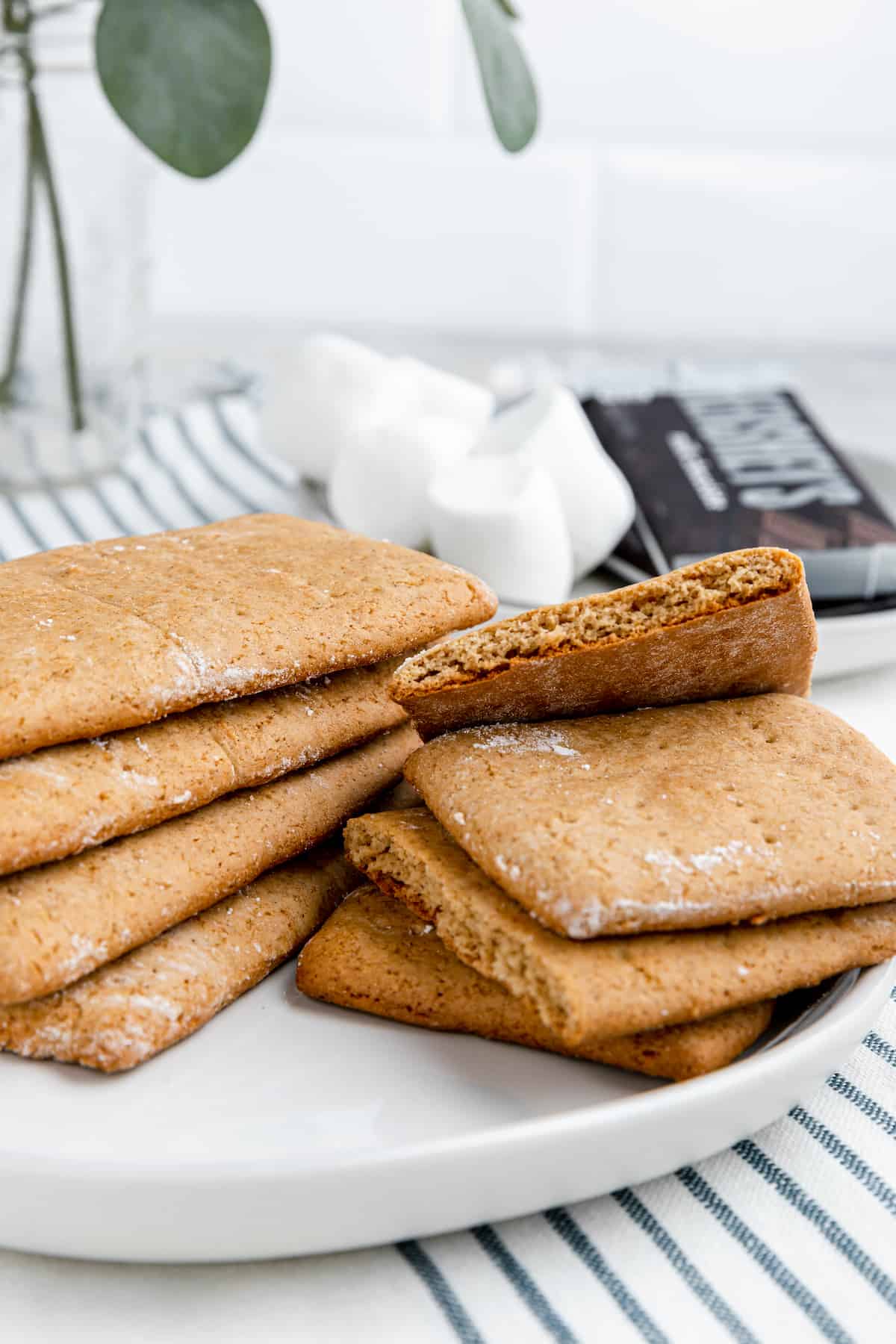 How to Make Gluten-Free Graham Crackers
It might sound complicated, but it's actually quite easy to make your own graham crackers. Simply follow these steps:
Prepare for baking: Preheat your oven to 350°F and line a large baking sheet with parchment paper to prevent sticking.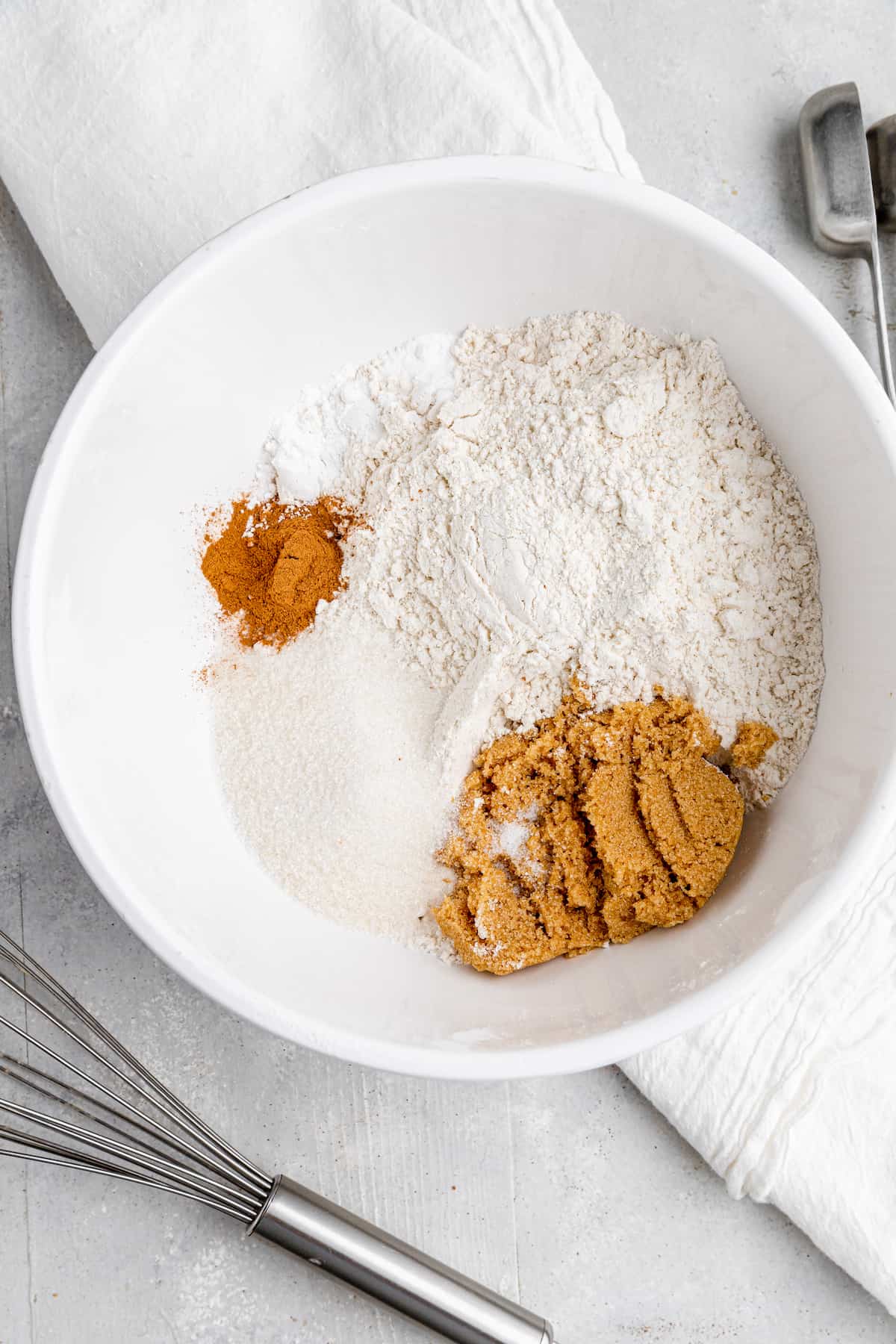 Mix the dry ingredients: In a mixing bowl, combine the flour, both sugars, salt, cinnamon, baking powder and baking soda.
Add the wet ingredients: Add the softened butter, vanilla, honey, molasses and milk to the dry ingredients. Use an electric mixer to blend until you have a uniform dough.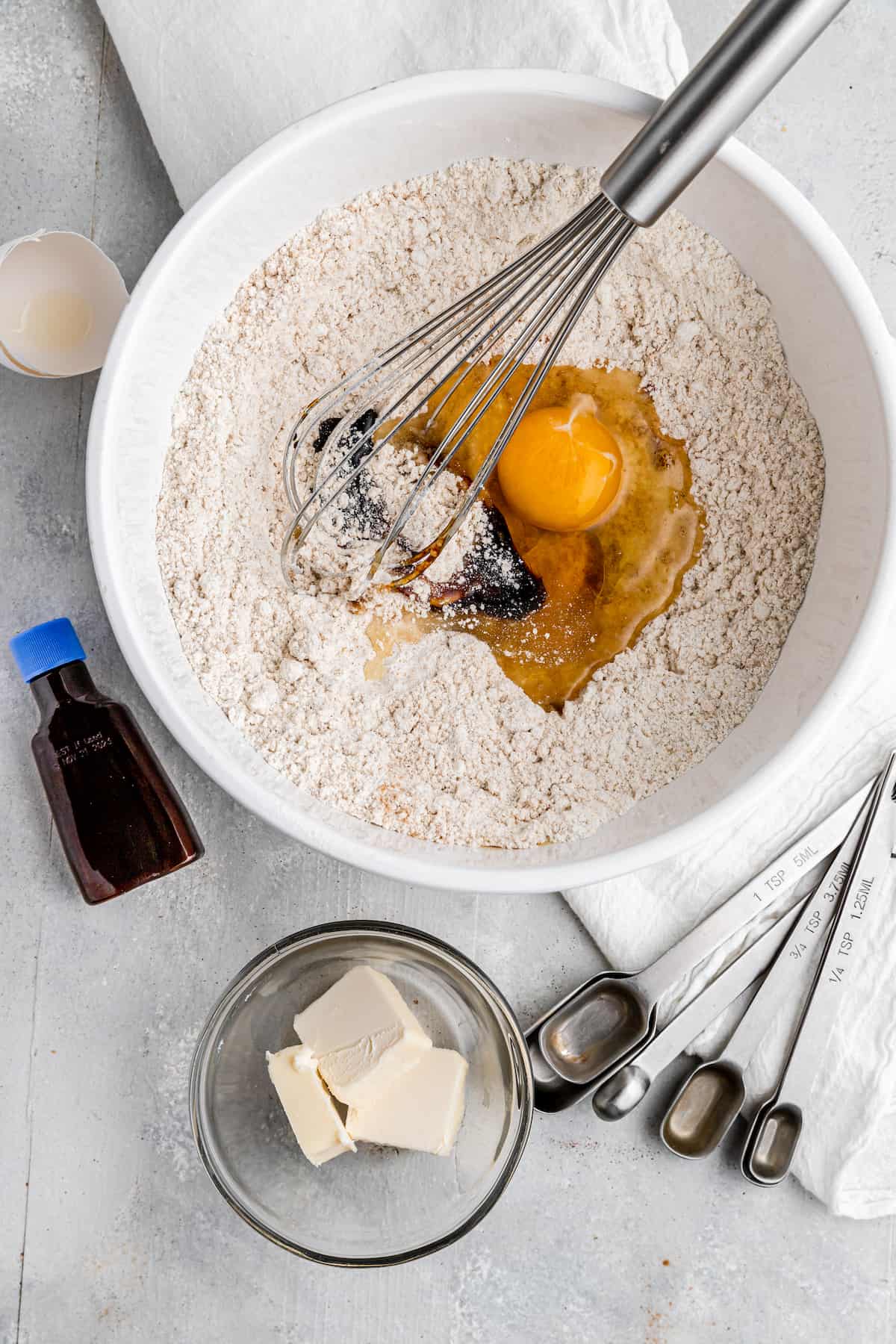 Chill: Divide the dough into thirds. Wrap each third in plastic wrap and chill in the freezer for an hour.
Roll and cut the crackers: Remove the chilled dough from the freezer and roll each piece on a lightly floured work surface into a 1/4-inch thick rectangle. Use a sharp knife or pizza cutter to divide the dough into 2×5-inch rectangles. Place the cookies on the prepared baking sheet.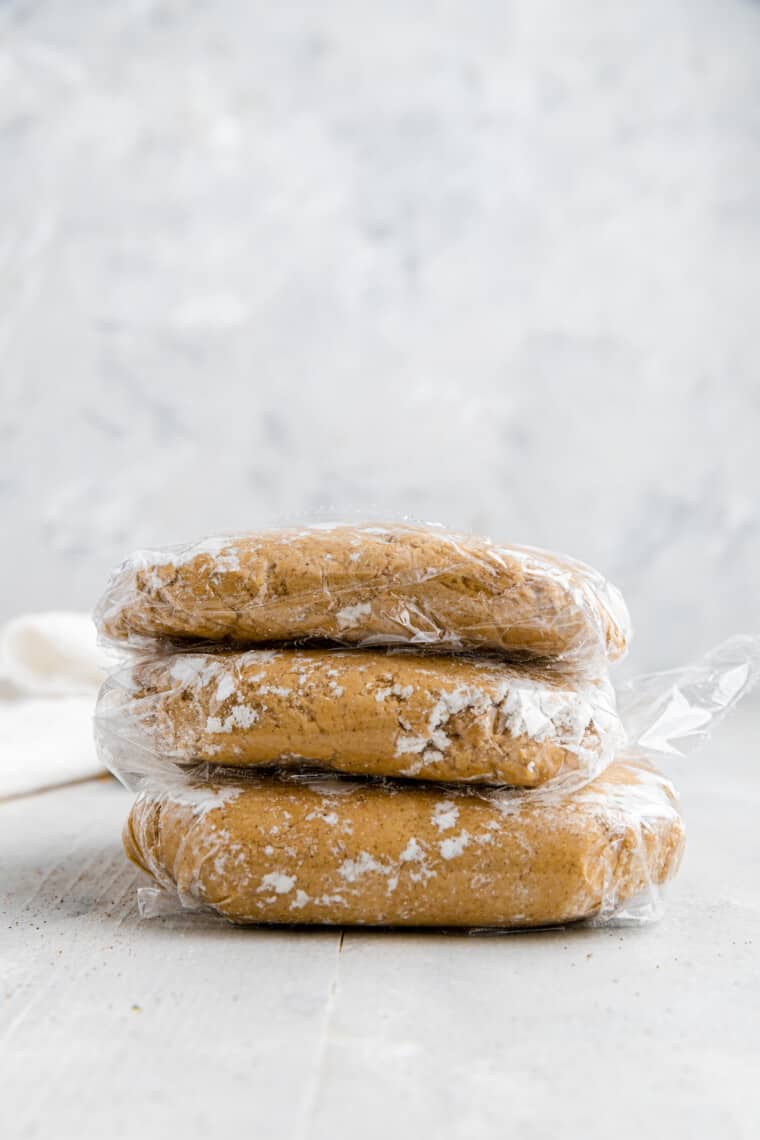 Bake: Bake the graham crackers for 13 to 14 minutes or until the edges turn light golden brown. Remove the pan from the oven and let the cookies cool for 15 minutes. They'll harden up as they cool.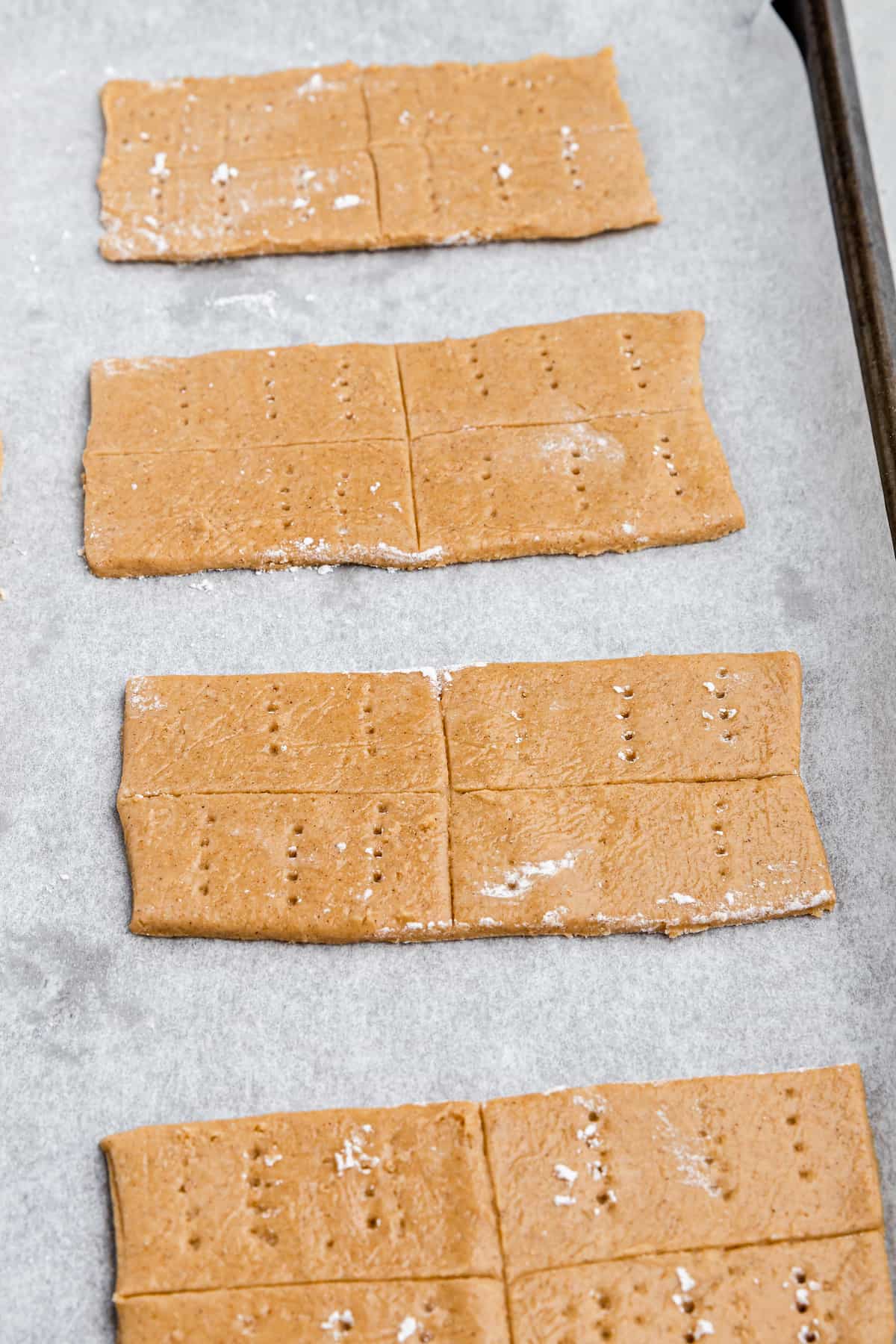 Storage
Keep your leftover graham crackers fresh in an airtight container for up to one week at room temperature.
Can I Freeze Graham Crackers?
You can freeze graham crackers for up to 6 months. Just make sure they're fully cooled and tightly wrapped in plastic and an airtight container or bag.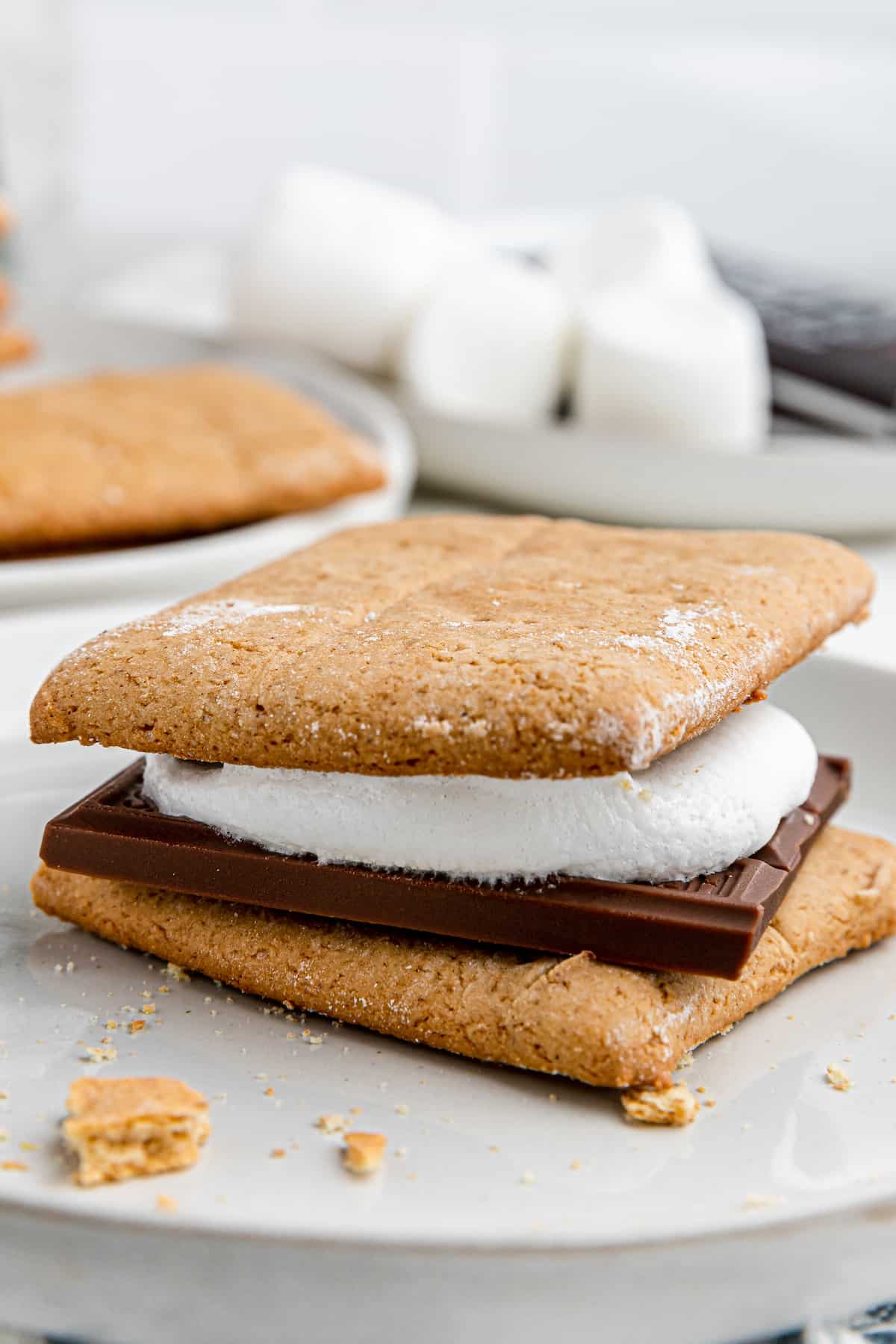 Serving Suggestions
Serve your crisp golden crackers all on their own, or maybe with a tall glass of chilled milk for dunking. Or go all-American and stack them with melted marshmallows and a square of milk chocolate for truly homemade s'mores.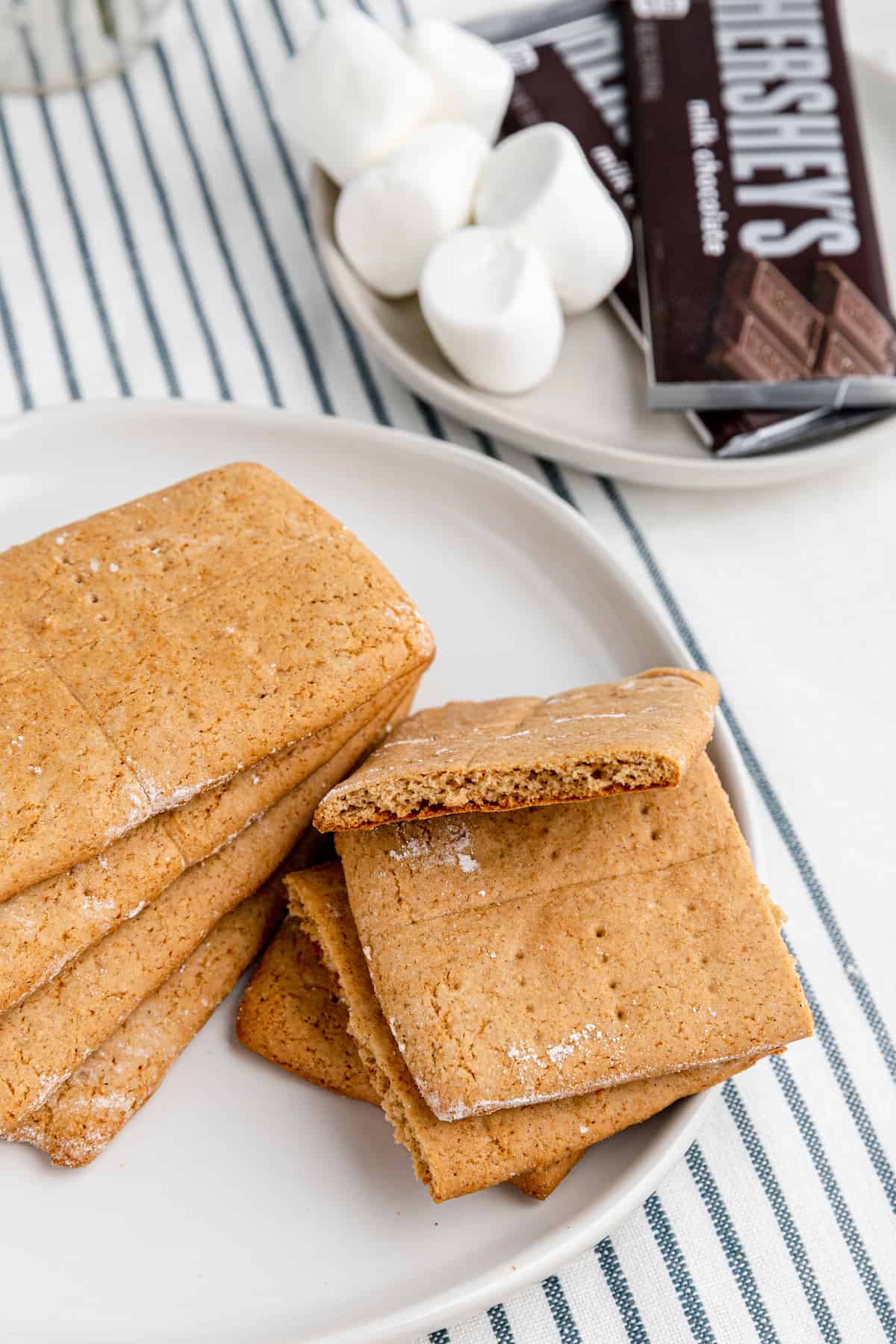 Tips for Success
Lining the baking sheet with parchment paper helps prevent the graham crackers from sticking.
The dough should be very cold before baking. Otherwise, the crackers may spread in the oven as the butter will melt quickly.
If the dough is too hard when you first remove it from the freezer, let it thaw at room temperature for 5 to 10 mintues.
An electric mixer is the easiest way to blend the dough. But if you don't have one, use a good wooden spoon and some elbow grease.
Make sure you let the cookies cool for at least 15 mintues before trying to make s'mores. Otherwise they'll be too soft.
Last updated on June 9, 2023 5:42 pm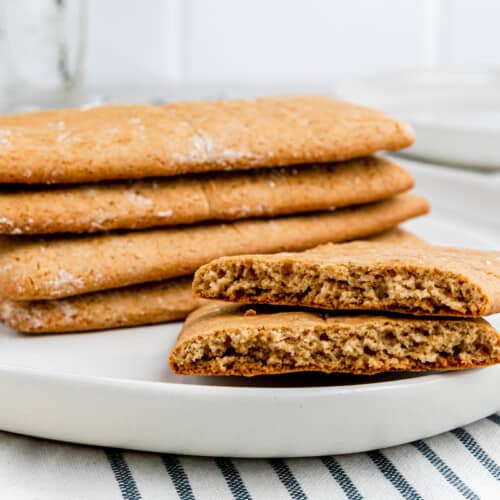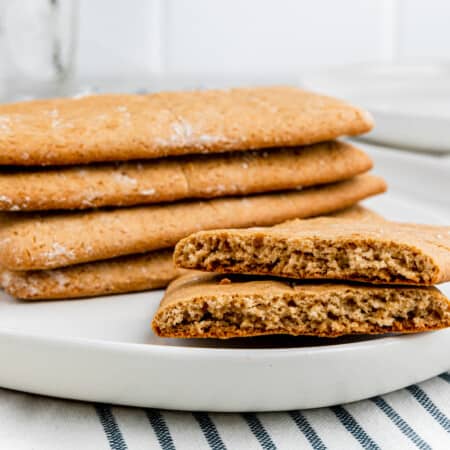 Gluten-Free Graham Crackers
Gluten-Free Graham Crackers are tender, crunchy and perfectly sweet. A kid- and adult-approved treat!
Equipment
Baking Sheet Pan

Parchment paper

Rolling Pin

Plastic wrap
Instructions
Preheat the oven to 350°F. Line a large baking sheet with parchment paper and set aside.

In a medium sized mixing bowl, combine the flour, brown sugar, granulated sugar, salt, cinnamon, baking powder and baking soda. Mix with a whisk until all ingredients areblended evenly together.

Add in the butter, vanilla extract, honey, molasses and milk. Mix with an electric mixer (or stand mixer) until ingredients are all incorporated and a dough forms.

Divide the dough into three parts and wrap each with a layer of plastic wrap. Place in the freezer and chill for 1 hour (the colder the better!).

After the dough is well chilled, remove and work with one section of dough at a time. Lay out a piece of parchment paper and dust lightly with flour. Place the dough in the middle, lightly dust the top and cover with another piece of parchment paper. Roll out the dough until it is roughly ¼-inch in thickness. Remove the top layer of parchment paper.

With a pizza cutter or knife, measure and cut 2 inches x 5 inches in size cutouts. Gently transfer the dough cut outs to the parchment lined baking sheet. Repeat the rolling and cutting process with the remaining two sections of chilled dough.

Bake the crackers in a preheated oven for 13-14 minutes, or until lightly golden on the edges. Remove the crackers from the oven and let them cool for 15 minutes to harden.
Notes
– Store the graham crackers in an airtight container for up to 1 week.
Nutrition Facts
Gluten-Free Graham Crackers
Amount Per Serving
Calories 97
Calories from Fat 18
% Daily Value*
Fat 2g3%
Cholesterol 13mg4%
Sodium 63mg3%
Potassium 36mg1%
Carbohydrates 19g6%
Protein 2g4%
Vitamin A 66IU1%
Vitamin C 1mg1%
Calcium 22mg2%
Iron 1mg6%
* Percent Daily Values are based on a 2000 calorie diet.
Categories:
More Gluten-Free Snacks