This post may contain affiliate links. Read my disclosure policy.
Peanut Butter Dessert Hummus is a sweet but healthy snack that tastes like cookie dough, but it is flourless and gluten free. This quick and easy dip recipe has only four ingredients, and the kids will love dipping fruit, veggies, graham crackers, and more. Perfect to pack in a lunch box or as an after school snack!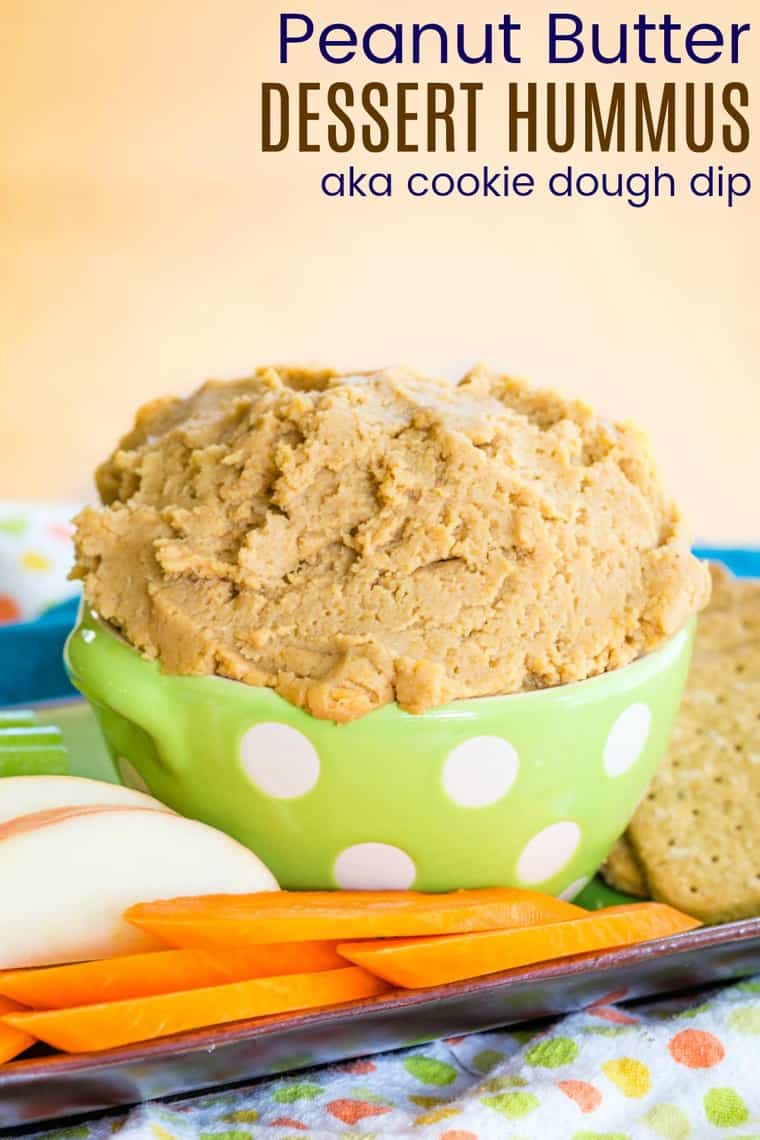 My kid has already perfected the art of schmoozing. Kissing-up. Brown-nosing. Charming the ladies. Using flattery to get him everywhere. Whatever you want to call it, he does it.
Let me remind you, he is 6.
He is a goofball who teeters on the order of pushing it too far and a drama queen. Clearly he knows that being utterly adorable makes everyone forget all about him driving them up the wall.
Exhibit A: It's the first day of school and he has a sheet of paper where he has to fill in the blanks for how he feels and why. What does the little bugger write?
"I am excited because I get to meet my awesome teacher."
I can almost see the smirk on his face and twinkle in his eye as he hands his paper to his new teacher.
She writes on his paper how sweet he is and how she is so happy to have him in her class. Day 1 and he has her wrapped around his wee little finger. I can't even. I am afraid for when he is a teenager.
Well, I suppose as long as I can still use yummy snacks as a motivator, then I will be ok…
Peanut Butter Cookie Dough Dip
Break out the fruit and veggies and graham crackers, because it's time to make a quick and easy snack that is secretly healthy. The kids absolutely love this one!
[adthrive-in-post-video-player video-id="3gwR8foQ" upload-date="Tue Sep 10 2019 00:00:00 GMT+0000 (Coordinated Universal Time)" name="Sweet Peanut Butter Dessert Hummus" description="Sweet Peanut Butter Dessert Hummus tastes like cookie dough, but it's a healthy dip for fruit, veggies, and more! An easy snack with only four ingredients!"]
What is dessert hummus?
"Hummus" is the Arabic word for chickpeas. However, when most of us use this word, we are typically referring to the dip or spread made from chickpeas, garlic, lemon juice, olive oil, and tahini, which is sesame seed paste. Sometimes they are flavored with things like roasted red peppers, sundried tomatoes, or you can even make roasted broccoli hummus.
A new trend of sweet hummus dips has become increasingly popular. The savory ingredients are replaced with flavors like cocoa powder or cinnamon, and it is sweetened with sugar, honey, or even maple syrup, like in Maple Walnut Sweet Potato Hummus. This gives it a taste and texture very similar to cookie dough, but without using flour or raw eggs.
You usually make sweet hummus without tahini. Instead, it is often replaced with nut butter, like the peanut butter used in this recipe.
What is peanut butter dessert hummus made of?
It doesn't take much more than pureeing all of the ingredients in a food processor or blender! But here are a few suggestions…
Peanut Butter Hummus Recipe Tips:
What do you eat sweet hummus with?
How else can you flavor sweet peanut butter hummus?

Is peanut butter hummus gluten free?
Yes, even though it tastes like cookie dough, this flourless dip is completely gluten free. All of the ingredients – chickpeas, peanut butter, honey, and milk – are gluten free and typically are not even a concern for cross-contamination.
When choosing items to dip, things like fruit and vegetables are just fine. But if using graham crackers or cookies, just be sure to choose gluten free ones.
Is sweet hummus good for you?
It might be called "dessert hummus", but it is truly a healthy snack. Chickpeas are full of protein and fiber. Peanut butter adds more protein as well as healthy unsaturated fats. Just be sure to choose a peanut butter that does not include added sugar or other ingredients – I prefer to use a natural peanut butter where the only ingredients are peanuts and salt. And it is sweetened with just a bit of honey (or maple syrup or agave for a vegan option), so there is not even much added sugar.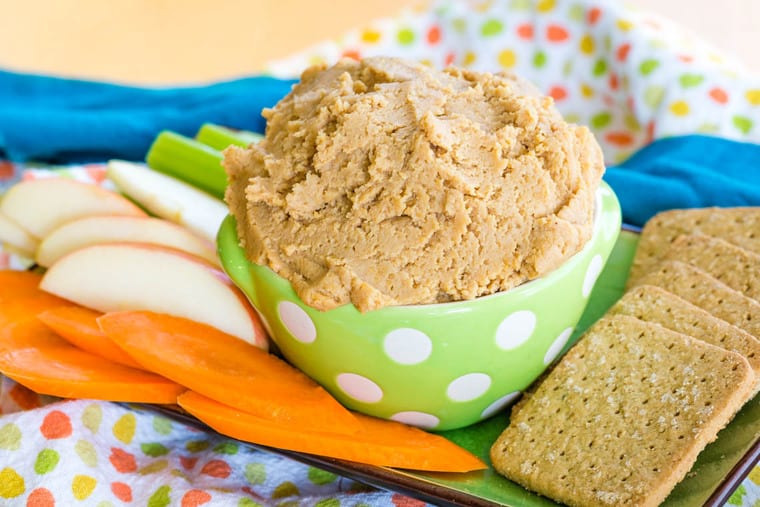 If you love peanut butter, try these recipes:
Sweet Peanut Butter Dessert Hummus Recipe
With only four ingredients, it is super quick and easy to make this healthy snack that tastes like cookie dough. The kids will love finding it with some carrots or celery in their lunch box. Or serve it with apples or bananas for dipping as an after school snack. And it even makes a yummy dessert dip for graham crackers and strawberries.
I hope you'll leave a comment and give it a FIVE STAR rating or share a photo on this pin on Pinterest!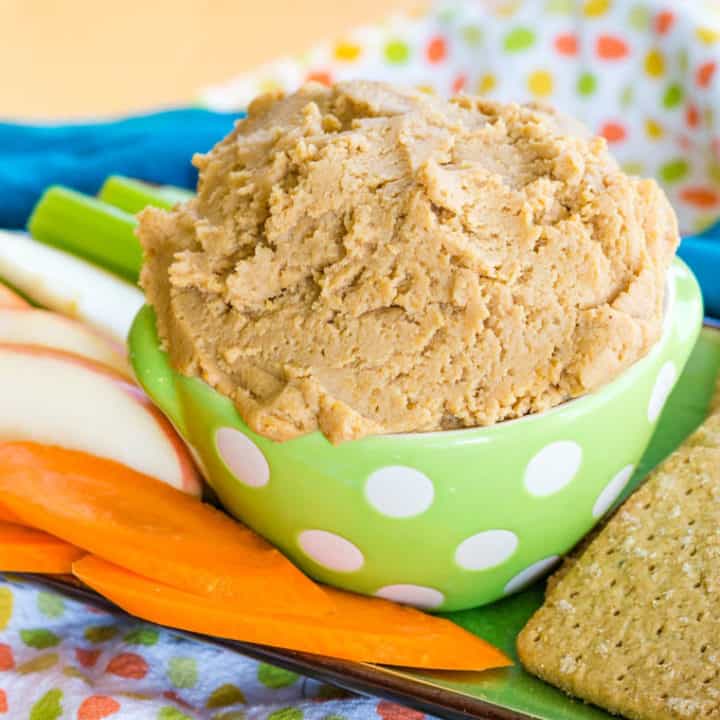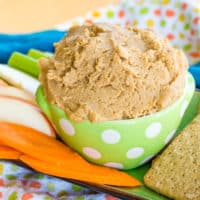 Sweet Peanut Butter Dessert Hummus Recipe
This quick and easy snack tastes like cookie dough, but it's a healthy dip for fruit, veggies, and more.
Servings:
16
servings (about 2 Tablespoons each)
Ingredients
15

oz.

can of chickpeas,

preferably low sodium, rinsed and drained.

1/2

cup

peanut butter

(regular or natural)

1

Tablespoon

honey

(agave nectar, maple syrup, or brown rice syrup for vegan)

2

Tablespoons

almond milk or regular milk

(may need an additional 1-2 Tablespoons to achieve desired consistency)
Instructions
If desired, remove the outer skin from the chickpeas. This will give you a smoother hummus.

Place the chickpeas, peanut butter, and honey in the bowl of a food processor or blender. Pulse a few times to start to blend the ingredients.

Add 2 Tablespoons of your desired milk, and continue to puree until smooth and blended, adding more milk, if necessary, to achieve your desired consistency.

Transfer to a bowl and dip or spread on desired fruits, vegetables, or cookies.

Store in an airtight container in the refrigerator for up to a week.
Nutrition Facts
Sweet Peanut Butter Dessert Hummus Recipe
Amount Per Serving (2 Tablespoons)
Calories 75
Calories from Fat 45
% Daily Value*
Fat 5g8%
Sodium 113mg5%
Potassium 91mg3%
Carbohydrates 6g2%
Protein 3g6%
Vitamin A 4IU0%
Calcium 15mg2%
Iron 1mg6%
* Percent Daily Values are based on a 2000 calorie diet.
Categories:
Enjoy!
For more yumminess from me and my foodie friends, keep up with me on…
Or sign up to have Cupcakes & Kale Chips delivered straight to your Inbox!