This post may contain affiliate links. Read my disclosure policy.
Flourless Almond Joy cookie dough is a delicious and easy gluten-free dessert dip recipe. Forming the flourless cookie dough into a ball makes it the perfect sweet dip for parties or as an after school snack.
It's a Beantastic #SundaySupper, and we are celebrating everything from your classic legumes, like black beans and kidney beans, to beans that show up in drinks and sweets, like coffee beans and vanilla beans. Yes, that's right, it's going to be incredi-bean from breakfast to dinner to dessert! I'm combining the two in a seriously indulgent, but secretly healthy dessert dip or fruit spread with the classic chocolate, coconut, and almond flavor combination in this Flourless Almond Joy Cookie Dough Ball.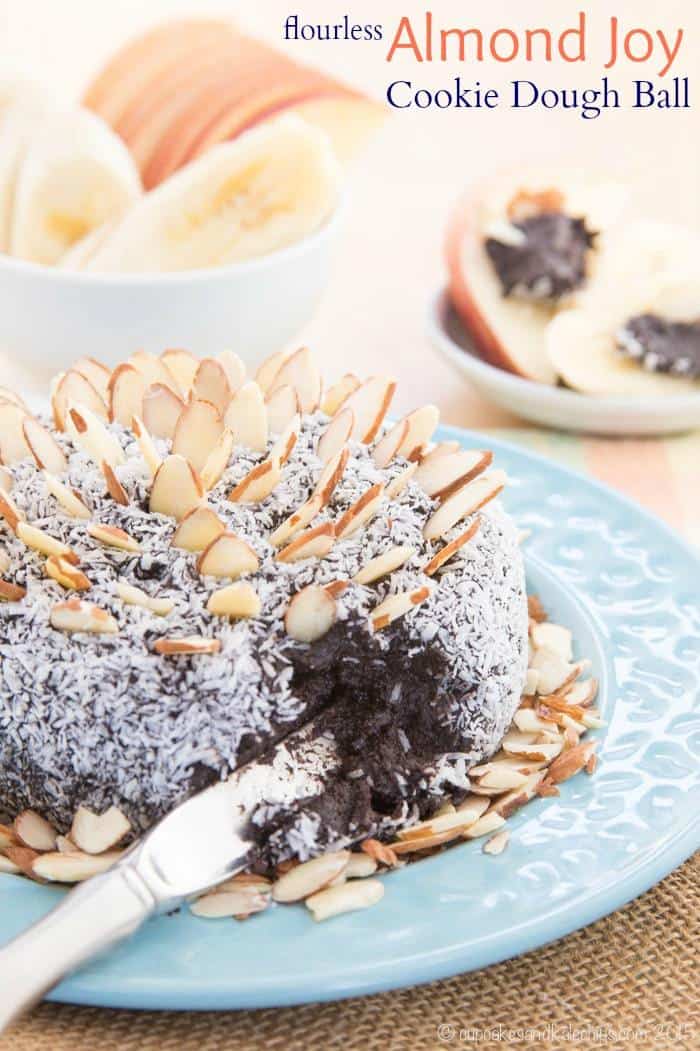 OK, so, we are entering the Terrible Twos in my house. Little dude hits the big 2 in about three weeks, and he has definitely reached this, a-hem, milestone. If you've been around a kid in this stage, you know exactly what I'm talking about.
We got inside the science museum where it was nice and warm, and I tried to take off his coat so he could go play – clearly the appropriate response is to throw himself on the floor in a fit of tears.
Last weekend he devoured a veggie and cheese omelet in the time it took me to refill his sippy cup – obviously if I try to feed him such horrible food again, the only thing to do is to spit it out and smash everything else that remains on his plate.
He has the coldest bedroom in the house, has a bit of a cold, and it's been negative wind chills and I insist he wear the fleece footie pajamas when he wants the light cotton ones just because they have dinosaurs on them – trying to pull the drawer out of the dresser and when not successful, ripping all the pajamas out of the drawer is clearly the best approach to get his way.
He has had enough to eat – the only way to communicate this is to violently tear off his bib, and chuck it, his plate, his fork, and his placemat on the floor.
I tried to put the grey and black hat on him instead of the blue and black hat – totally necessary throw both hats on the floor, wail, and stomp around.
No, little dude, you can't stand in the refrigerator/stick things in the electrical outlet/tear apart books/play in the pantry/play with knives – #worstmomever
Since this isn't my first rodeo, I know to just chill and let it pass because the meltdowns are impulsive, irrational, and, luckily, short lived. Walk away, and within a minute or two it's over. As a first time mom, you think it's the worst thing in the world. At home, it freaks you out to see them freak out. In public, OMG, you want to just crawl into a hole and die. But when it's your second kid, you know that three and/or four has the potential to be so much worse. At two, the triggers are so trivial that by the time you snap your fingers, they've forgotten what sent them over the deep end. At three and four, they know why they are mad, they can articulate why they are mad, and since they can, they do. Over and over and over. Louder and louder and louder.
I'll take the Terrible Twos. I'll also take this…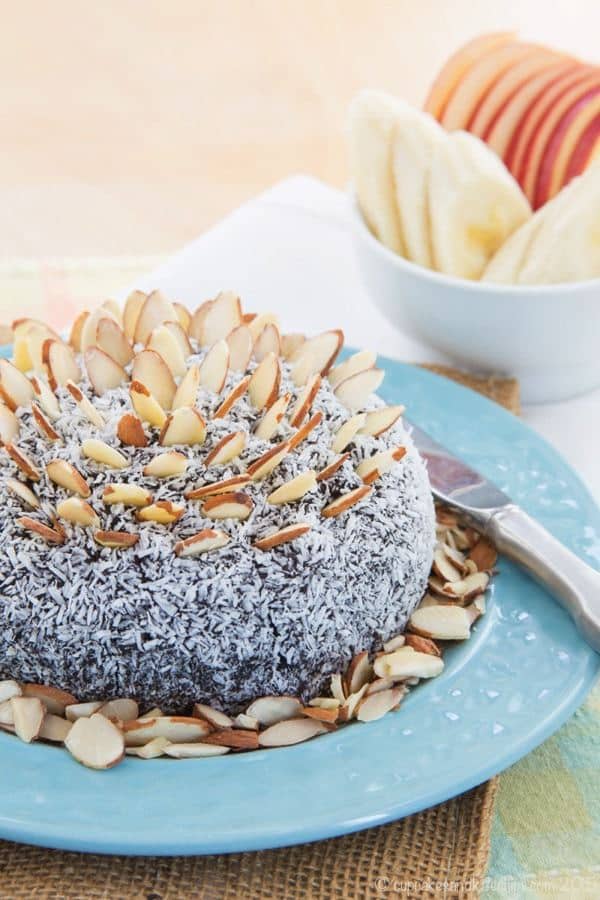 This Flourless Almond Joy Cookie Dough Ball is so rich and fudgy that you'll never believe it's actually healthy!
Really! Because it's made with chickpeas!! You see, this week's Sunday Supper is all about beans, and while I know I should make more bean recipes, they aren't always a huge hit in my family. Many people are trying to find ways to sneak in veggies, I try to sneak in beans. I really love using them in cookie-dough type dips, like my Monster Cookie Dough Dip. You totally get a doughy texture without any flour. And in this version, I love the classic combo of coconut, almonds and chocolate. My boys have been devouring this sweet, chocolaty goodness, and I'm totally okay with that.
And you know what – I even snuck this flourless Almond Joy cookie dough ball by The Hubby. He wants no part of green smoothies and cringes when I tell him I put black beans into cupcakes. But when I rolled some of the flourless Almond Joy cookie dough mixture into little truffles for the boys to snack on, he grabbed a few. Then, with his mouth full, he was telling me how good it is. The little dudes have been loving it spread on bananas and apples. And yes, I even packed some in their lunch boxes for school. I think I need to explain to their teachers that it's actually good for them, and not just a decadent dessert!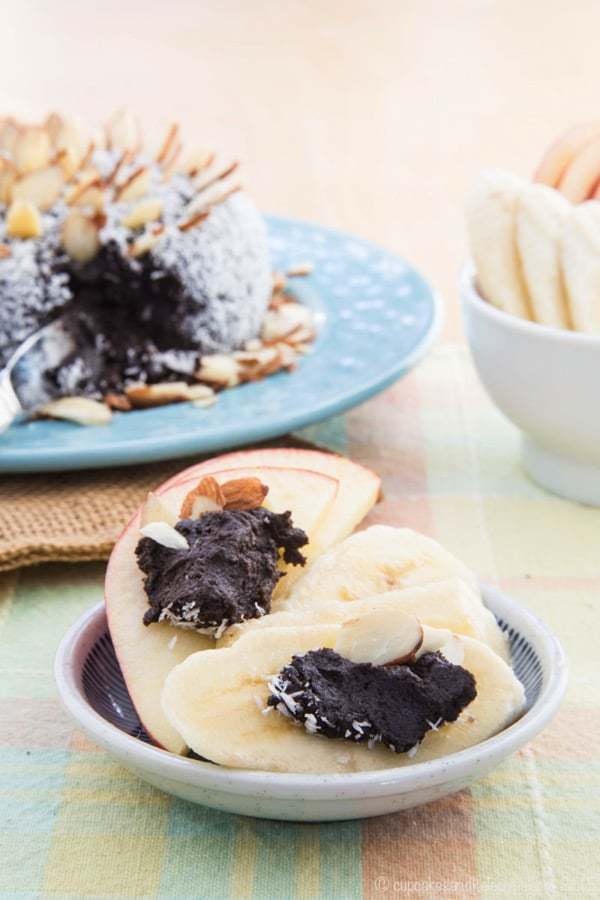 Now you don't have to get all fancy-like. You can just whip up all of the ingredients in a food processor and plop it into a bowl. If I were just making a batch for the kiddos, that's what I'd do. But if you are having a party, shape it into a ball, wrap in plastic wrap to firm up a bit, then roll it in some coconut to make it look all cute with some slices almonds. With just the coconut, it looks kind of like a snowball, but since I am totally over winter, I had to add the almonds to dress it up for a springtime party!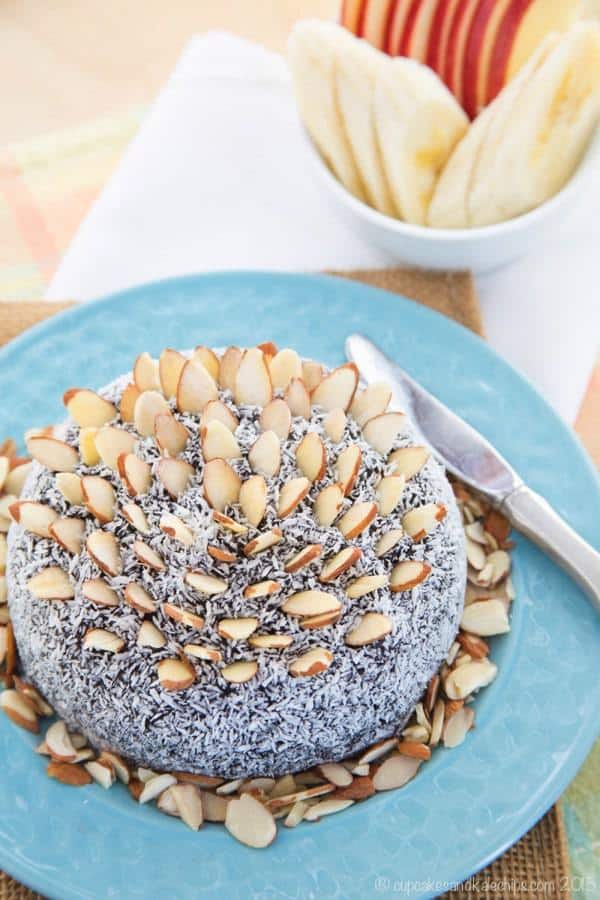 Join the #SundaySupper conversation on twitter on Sunday! We tweet throughout the day and share recipes from all over the world. Our weekly chat starts at 7:00 pm ET. Follow the #SundaySupper hashtag and remember to include it in your tweets to join in the chat. To get more great Sunday Supper Recipes, visit our website or check out our Pinterest board.
Would you like to join the Sunday Supper Movement? It's easy. You can sign up by clicking here: Sunday Supper Movement.
And get the rest of today's menu recipes, featuring beans of all sorts, at the bottom of this post! It's totally Amaze-beans!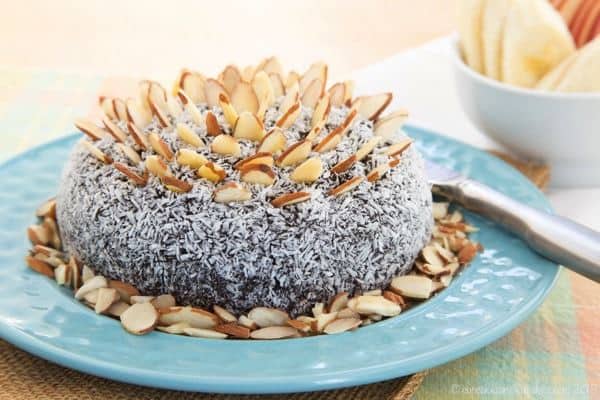 Which is worse – the Twos or the Threes?
Three bites of flourless Almond Joy cookie dough ball sound great to me right now!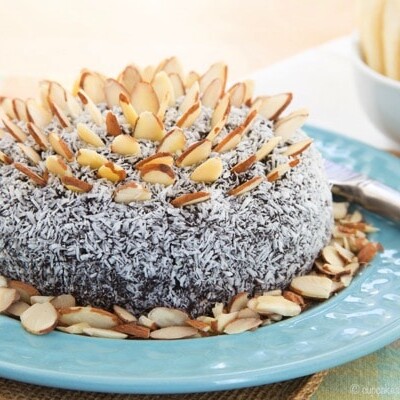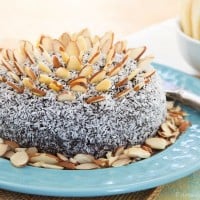 Flourless Almond Joy Cookie Dough Ball
The classic combination of chocolate, coconut, and almonds in a decadent dessert dip that's secretly healthy!
Ingredients
Optional Coatings:
shredded coconut

sweetened or unsweetened

almonds

slivered or sliced
For Serving:
Graham crackers

gluten free cookies, apple slices, etc.
Instructions
Combine the chickpeas, cocoa powder, honey or other sweetenr, almond butter, coocnut oil, and vanilla in a food processor.

Process until a dough consistency forms, stopping to scrape down the sides, as needed.

Gather the contents of the food processor together in a ball and wrap in plastic wrap.

Refrigerate at least an hour, or until firm.

Place your desired coating ingredients in a shallow pan and roll the ball in the coating, pressing firmly to adhere. Decorate with additional almonds, if desired.

Return the dough ball to the refrigerator until ready to serve. Serve with fruit, crackers, etc., as desired.

Alternatively, you can just transfer to a bowl as a dip, or roll the chilled "dough" into truffles.
Nutrition Facts
Flourless Almond Joy Cookie Dough Ball
Amount Per Serving (2 tbsp)
Calories 154
Calories from Fat 90
% Daily Value*
Fat 10g15%
Sodium 119mg5%
Potassium 145mg4%
Carbohydrates 15g5%
Protein 3g6%
Vitamin A 5IU0%
Calcium 39mg4%
Iron 1.1mg6%
* Percent Daily Values are based on a 2000 calorie diet.
Categories:
Here are a few more of my favorite sneaky bean recipes…
In addition to my flourless Almond Joy cookie dough ball, here are today's Bean-tastic #SundaySupper menu recipes…
Beantastic Beginners:
Bean-a-rific Soups and Stews:
Bean-a-licious Sides:
Incredi-bean Main Meals:
Amaze-beans Sweet Endings: