This post may contain affiliate links. Read my disclosure policy.
Healthy homemade Pumpkin Graham Crackers are an easy snack that you and your kids will absolutely love! Baked with whole wheat flour and sweetened naturally with the fall flavors of pure maple syrup and pumpkin, these hearty crackers can be made soft and chewy or slightly crispy.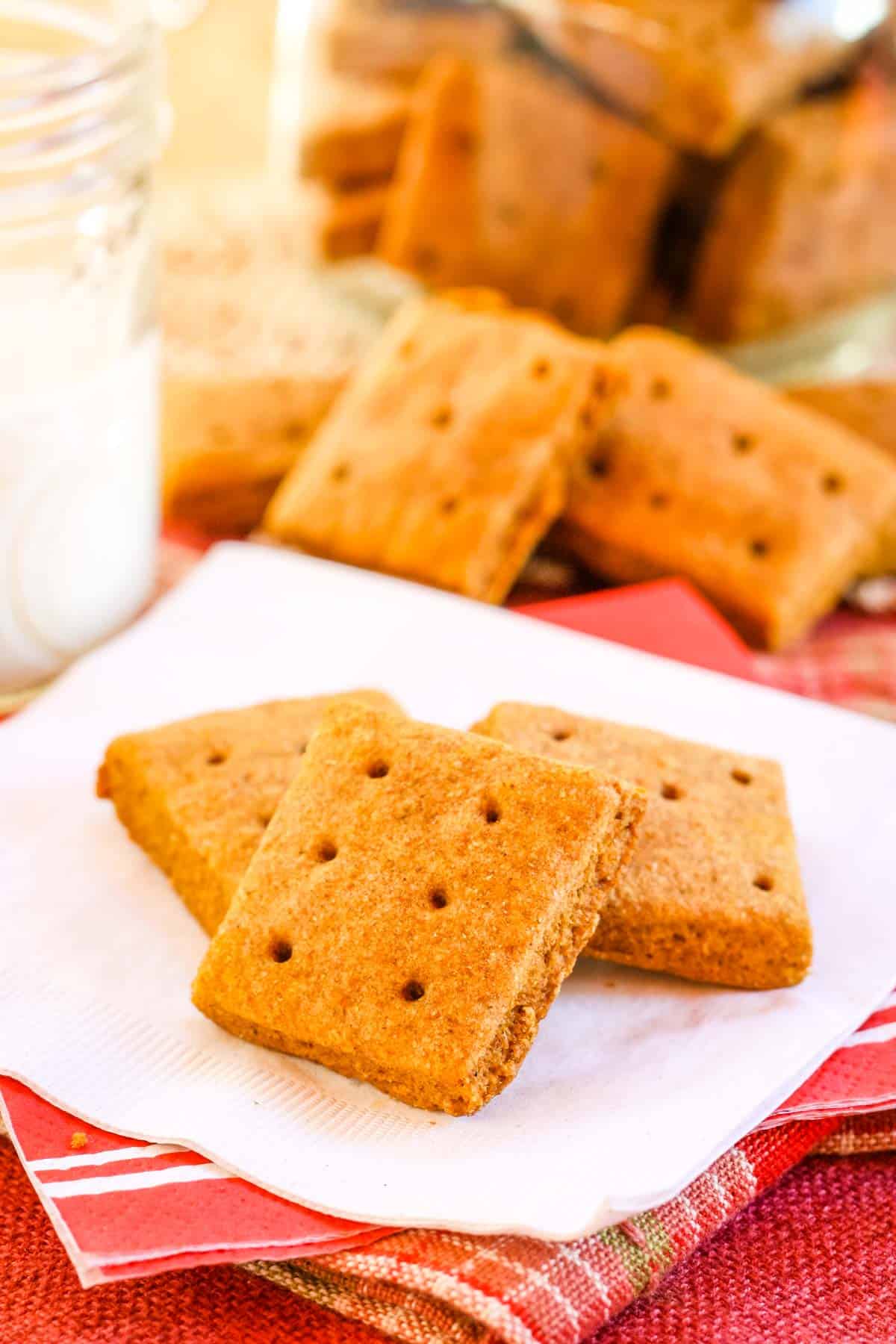 Easy Homemade Pumpkin Graham Crackers
Have you ever baked something that smelled so good, you just know the end result will be as delicious as it smells? That's the sensation I get whenever I make these Pumpkin Graham Crackers from scratch. Every time, heavenly aromas of pumpkin and spices filled the house and my kids came running!
These homemade Graham crackers can be baked soft and chewy or slightly crispier, and are a sure sign of fall in our house. I love to make this recipe when the family and I are craving something sweet, but aren't feeling a major baking spree. They are everything I love in a snack – hearty, flavorful, naturally sweetened and above all, healthy! Even better is that kids love them, too, and they're such a versatile snack!
Why Are They Called Graham Crackers?
Fun Fact: Graham crackers are the namesake of a 19th century American minister, Sylvester Graham. Along with a vegetarian diet, Graham believed homemade bread from whole grains to be what God and nature intended. As a result, "Graham" flour is a coarser ground whole grain wheat flour used in products that were part of the movement.
Eventually Graham crackers reached large-scale production to become the popular, honey-sweet snack we know and love. Graham crackers are now widely known and used in pie crusts, for s'mores, and as the inspiration for this delicious fall snack!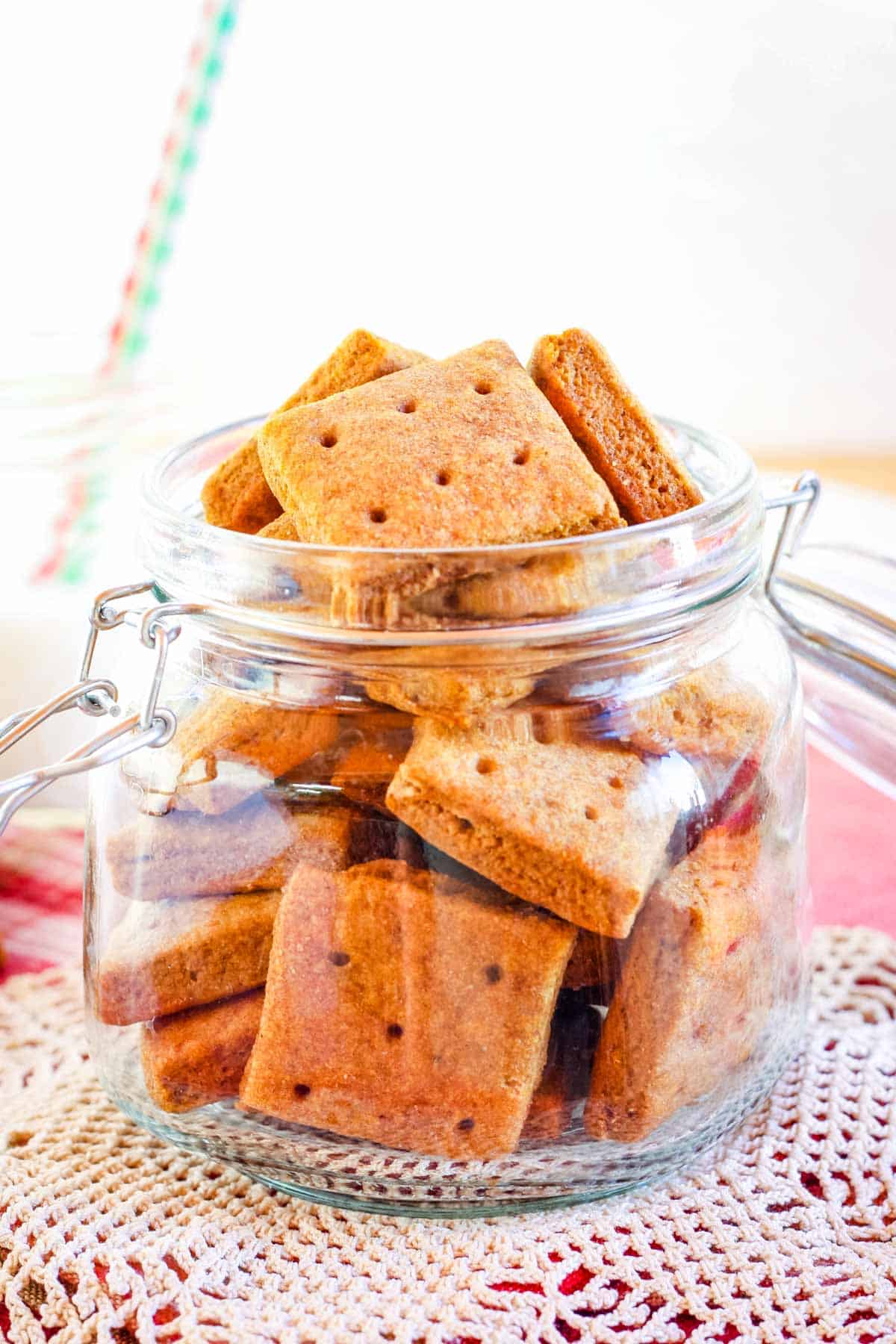 What You'll Need
In the spirit of traditional Graham crackers, the key ingredient in this recipe is whole wheat flour. The second is pumpkin puree and maple syrup, for that extra punch of fall flavor. The rest of the ingredients for these Pumpkin Graham Crackers are common pantry items that make this the perfect snack for easy baking. Here's the full list:
Whole Wheat Flour: Coarse ground or regular whole wheat are both good options.
Pumpkin Pie Spice: This blend of cinnamon, ginger, nutmeg, clove and allspice brings serious pumpkin pie vibes. You can buy a premix in the supermarket or blend your own.
Butter: A single stick of chilled unsalted butter works best, since it's easy to cut into small cubes!
Maple Syrup: Pure maple syrup gives these healthy crackers the best natural flavor. You really can't beat the real thing! If you're unable to use pure maple syrup, honey or brown sugar are the next best options.
Pumpkin Puree: Pure pumpkin puree, and not pumpkin pie filling.
Baking Soda
Salt: Helps balance the sweetness of the maple syrup.
Vanilla
Optional: Maple sugar, cinnamon sugar, or coarse sugar for sprinkling over the crackers before baking.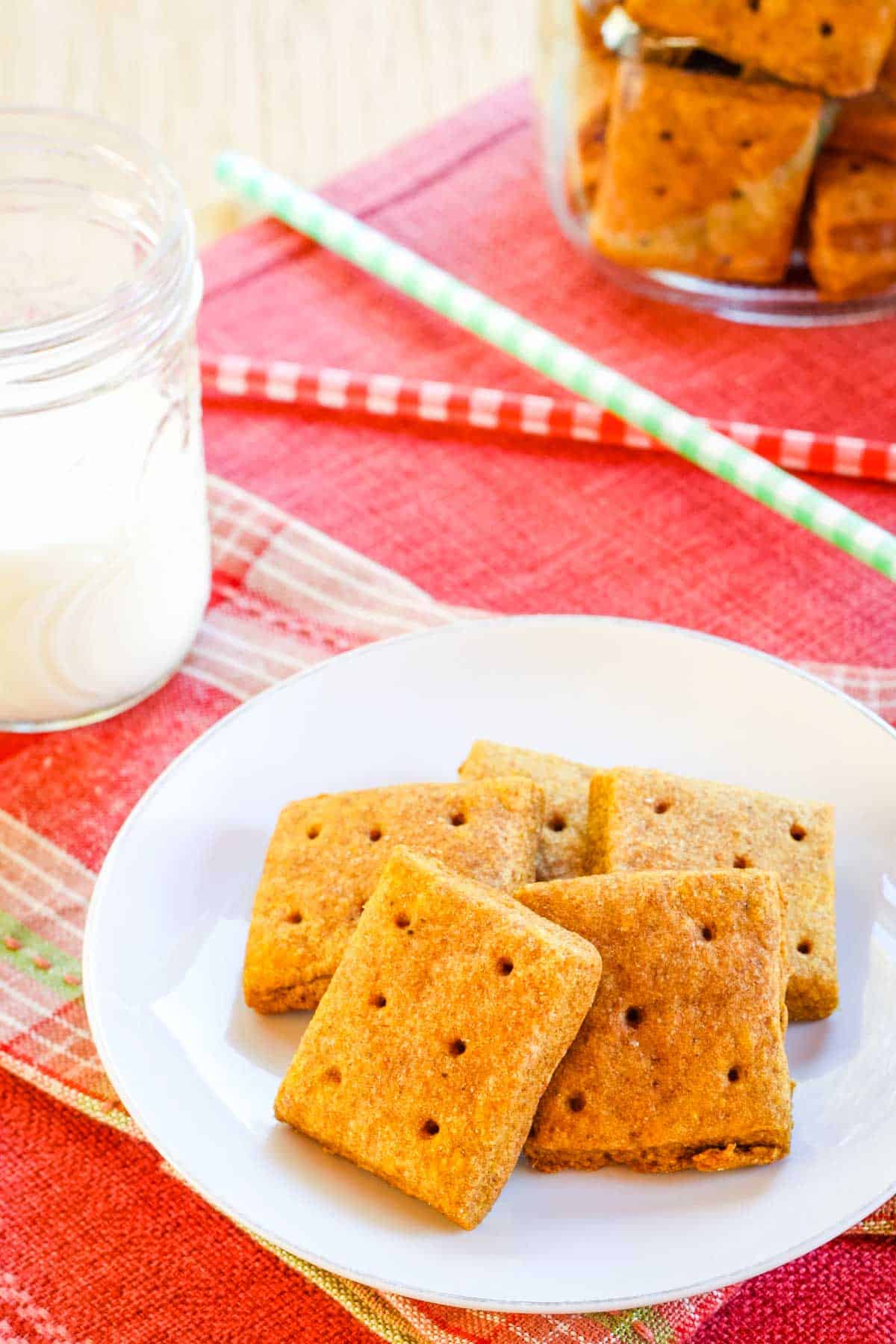 How to Make Pumpkin Graham Crackers
These Pumpkin Graham Crackers are so easy to pull together with a few ingredients, quick prep time, and little cleanup.
Sift the Dry Ingredients: First, I like to sift together the flour, baking soda, salt, and pumpkin pie spice. Sifting isn't absolutely necessary, but it does make it a bit easier to fold everything in later on.
Cut in the Butter: Cut in the butter until the dry mixture forms small crumbly bits. If you don't have a pastry cutter handy, use a fork instead!
Add the Wet Ingredients: Add the maple syrup, pumpkin, and vanilla into the mixture, kneading in extra flour if you notice the dough is too sticky.
Chill the Dough: Once the dough is smooth, cover it with plastic wrap, and let it chill in the fridge. I leave mine in for at least 30 minutes.
Prep the Pans for Baking: While the dough is chilling, preheat the oven to 350°F, and prepare the baking sheets by lining them with silicone baking mats or parchment paper.
Roll Out the Dough: Lightly dust flour over a countertop or another flat surface and remove your dough from the fridge. Placing your dough onto the surface, roll it to about 1/4-1/2 inch in thickness.
Cut the Squares: Using a knife, cut the dough into your preferred shape and size; I aim for about 1 1/2 inch squares or rectangles. Prick holes in the top for some added flair (I used a chopstick) and give them the optional sprinkle with cinnamon sugar.
Bake: Bake the crackers until they're set, about 16-18 minutes. For soft, chewy Graham crackers (great for little ones!), bake them until they're lightly browned, and slightly longer if you're going for more traditional crispy crackers.
Once your Graham crackers are out of the oven, allow them to cool on baking sheets for about two or three minutes. Transfer them to racks to cool completely and then serve or store them!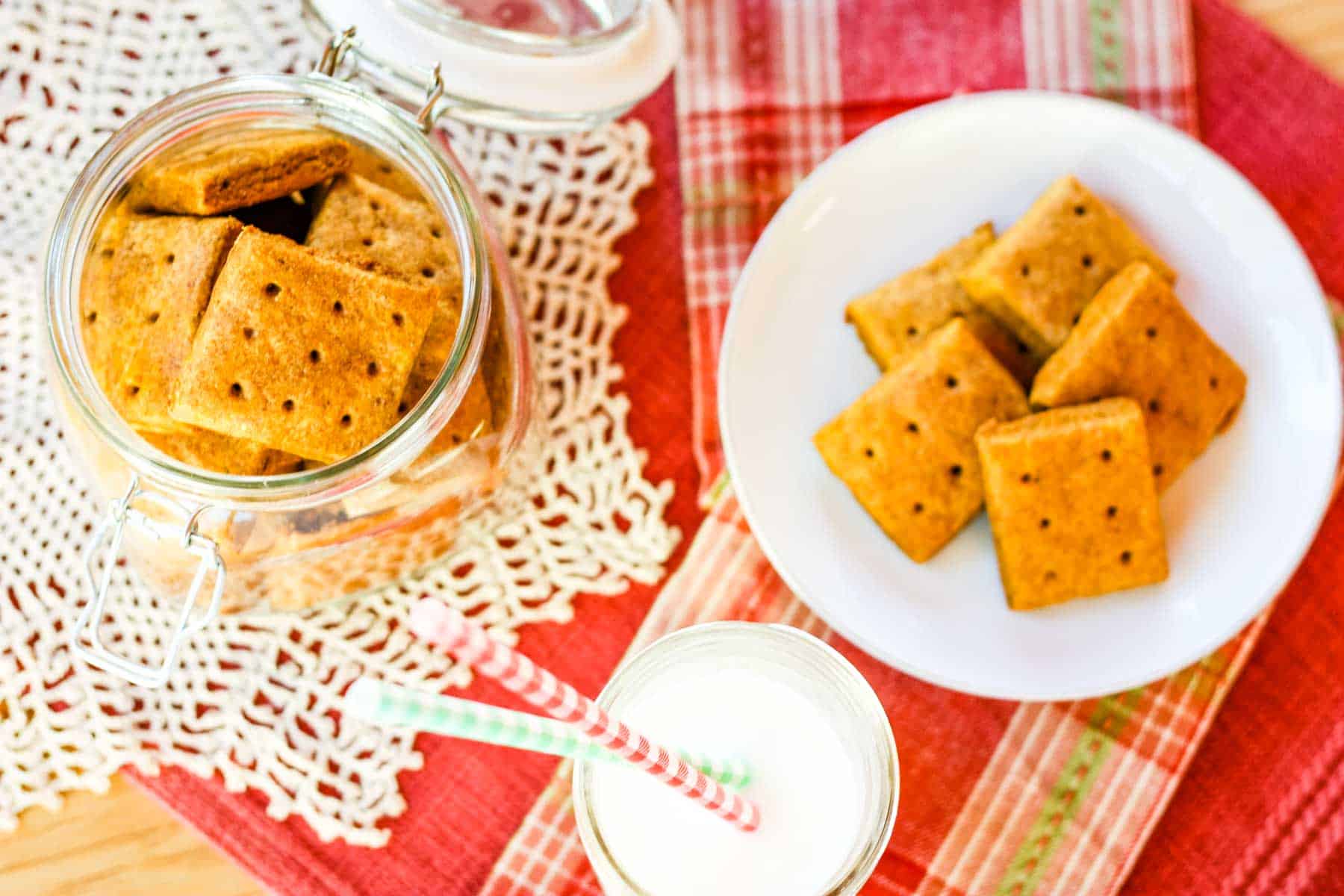 Tips for Success
Make Your Own Mixed Spice: Pumpkin Pie Spice, a.k.a. Mixed Spice is super simple to make at home! If you have cinnamon, ginger, nutmeg, ground cloves, and allspice already in your spice rack, mix 1 part each together to make your own mixed spice.
Adjust the Baking Time: For crispier crackers, bake your Graham crackers a little longer in the oven. Just keep an eye that they don't become overly brown at the edges!
Ways to Use Graham Crackers
I love using these homemade Pumpkin Graham crackers in other Graham cracker recipes, too! Here are some suggested uses apart from just snacking:
Graham Cracker Crust: Crush them into crumbs in a ziplock bag or in a blender to make a deliciously naturally sweetened Graham cracker base for cheesecake (or pie) crust. This way, you can bring an extra hint of pumpkin to a pumpkin cheesecake!
Ice Cream Topping: Crumble the crackers to sprinkle over top or to mix into ice cream. My favorites are vanilla or salted caramel; the flavor combination with the pumpkin and maple topping are out of this world! You can also use these Pumpkin Graham Crackers for my Graham Cracker Chocolate Chunk No-Churn Ice Cream.
S'mores: It's almost impossible to think of Graham crackers without s'mores coming to mind, too! It's such a great activity to do with kids, and believe me, pumpkin maple s'mores are everything you hope they'd be, and more. Build your s'mores by sandwiching a chocolate slab and marshmallow between two Pumpkin Graham Crackers. If a camp fire isn't in the cards anytime soon, bake them on a tray in the oven until the marshmallow and chocolate are gooey and melted.
How to Store
Store your Pumpkin Graham Crackers in an airtight container or cookie jar for up to 4-5 days, perfect to have on hand for snacking!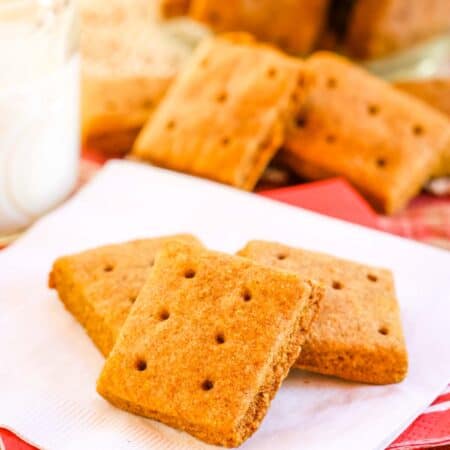 Soft & Chewy Pumpkin Maple Graham Crackers
Homemade graham crackers with the autumn flavors of maple syrup and pumpkin are a healthy snack your kids will love.
Ingredients
2 1/2

cups

whole wheat flour,

plus more if needed

1

teaspoon

baking soda

1/2

teaspoon

salt

1

teaspoon

pumpkin pie spice

1/2

cup

(one stick) unsalted butter,

chilled and cut into small cubes

1/2

cup

pure maple syrup

3/4

cup

canned pumpkin puree

not pumpkin pie filling

1

Tablespoon

pure vanilla extract

Optional maple sugar

cinnamon sugar, turbinado or coarse sugar
Instructions
Sift together the flour, baking soda, salt, and pumpkin pie spice.

Using a pastry cutter or fork, cut in the butter until you have small crumbly bits.

Add the maple syrup, pumpkin, and vanilla and mix well, kneading in extra flour if the dough is too sticky.

Roll dough into a ball, cover with plastic wrap, and chill in the fridge for at least 30 minutes.

Preheat the oven to 350°F and line baking sheets with silicone baking mats or parchment paper.

On a lightly floured surface, roll the dough to about 1/4-1/2 inch thickness.

Using a sharp knife, cut into about 1 1/2 inch squares or rectangles. Prick holes in the top (I used a chopstick). Sprinkle with your choice of sugar, if desired.

Bake for 16-18 minutes, or until set and lightly browned (longer if you would like the crispier).

Cool on baking sheets for about two or three minutes, then transfer to racks to cool completely. Store in an airtight container.
More Pumpkin Recipes
If you enjoy this recipe as much as I do, here are some more healthy pumpkin recipes: