Caramel Apple Cheesecake No-Churn Ice Cream
Caramel apple cheesecake no-churn ice cream is a delicious way to blend two desserts, caramel apples and cheesecake, into one easy no-churn ice cream recipe.
Apples and pumpkins and butternuts, OH MY! While the fruits and vegetables I crave may change with the season, one thing that is constant is my love of creamy frozen desserts. So after you've gone apple picking, save one or two and make this easy and indulgent Caramel Apple Cheesecake No-Churn Ice Cream.
I can't put this any other way – last autumn sucked. Literally, it was like the life was being sucked out of me. We were selling our house and looking for a house in Maryland. The Hubby was working in Maryland during the week, and I was alone, trying to keep up with two kids. Plus an endless merry-go-round of contractors, realtors, inspectors, appraisers, and buyers. On the weekends we were either working on the house or looking for a house, and on the rare occasion that we weren't busy, we were almost too physically and mentally and emotionally drained to do much of anything.
It was hard for me to see people posting pictures on Facebook of apple picking and pumpkin picking and fall festivals and hayrides, because we did none of the above. One of the weekends we brought the boys down to Maryland, we had some time on Sunday afternoon and we were going to go to a pumpkin festival. It rained. Not only was I going through a major life change, but I felt like I lost my absolute favorite season when I love being outside and doing fun things with my family.
It is quickly coming up on a year since we moved, and I finally had one single day that I feel like new life was breathed into me. It started with a nice long run in the cool, crisp air. Then we headed over to  the pumpkin festival at the local orchard – hayride, pumpkin patch, apple cider, caramel apple, the whole nine yards, and so much fun. While the boys napped, The Hubby watched college football and I made dinner. This is what fall should be. This is what I missed last year. This is what brings me joy.
Now I am already checking out local events calendars to find out how we will be spending our upcoming weekends while the weather is still perfect and I'm not ready to hide in my house all winter. And even when it does get cold, I'll just stay inside and crank up the heat to enjoy treats like this…
Caramel Apple Cheesecake No-Churn Ice Cream is basically my dream autumn dessert.
I mean, I'm going to choose ice cream over anything else any day of the year, even when it's chilly out. So what better than to add some fall flavors in the form of diced apples softened just enough with a soak in a super simple caramel sauce. This is then swirled through my super favorite cheesecake no-churn ice cream. It's a little ribbon of sweet caramelized goodness through the not too sweet and tangy cheesecake ice cream. I was worried the apples would get icy and hard, but even when frozen, they were soft and tender. Autumn ice cream awesomeness!
Caramel apple cheesecake no-churn ice cream is just the beginning of apple deliciousness! More apple sweets:
What is your favorite fall activity?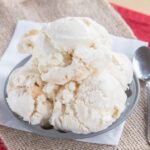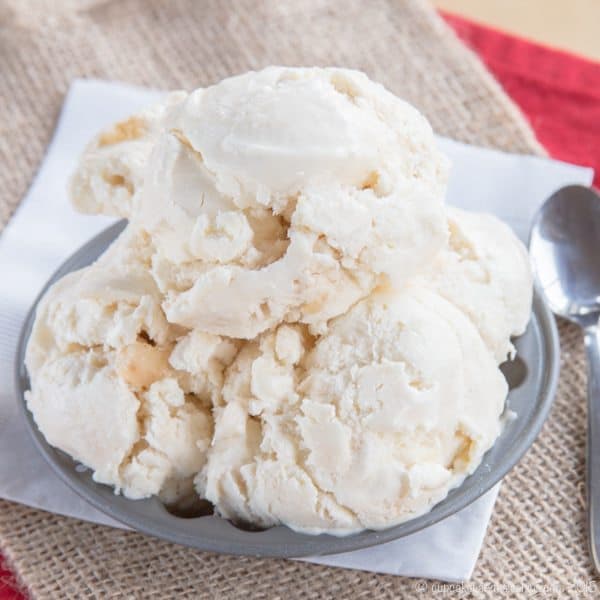 Caramel Apple Cheesecake No-Churn Ice Cream
If you still crave frozen desserts in the fall, then you have to make this easy ice cream recipe!
Ingredients
1/4

cup

half a stick unsalted butter

1/2

cup

brown sugar

One pint heavy cream

divided1/3 cup heavy cream

1

teaspoon

vanilla extract

1/8

teaspoon

kosher salt

1

cup

chopped peeled apple

One 8 oz. bar of cream cheese

light or regular, at room temperature

One 14.5 oz. can of sweetened condensed milk

regular or fat free

1

teaspoon

vanilla extract

Rest of pint heavy cream

well chilled
Instructions
In a medium saucepan, melt butter over medium low heat.

Add the brown sugar and stir for two minutes. Stir in 1/3 cup heavy cream, and continue to stir for two more minutes. Keep the remainder of the heavy cream in the refigerator until needed.

Add the salt and vanilla and stir, then add the apples and cook for another minute or two.

Remove from the heat, transfer the caramel apple mixture to a bowl and chill in the refrigerator.

set over medium-low to medium heat, melt butter. Mix in brown sugar and stir for 2 minutes. Mix in heavy cream and stir for 2 more minutes. Remove pan from heat and stir in vanilla and salt until well incorporated.

Place a large glass or metal bowl in the refrigerator or freezer for whipping the cream.

Using an electric mixer or whisk attachment, beat together the cream cheese, sweetened condensed milk, and vanilla until smooth. Set aside.

In the chilled bowl, using an electric mixer or whisk, beat the heavy cream to soft peaks.

Gently fold the cream cheese mixture into the whipped cream.

Pour about half of the mixture into a container that you can freeze and has an airtight lid. Top with about half the caramel mixture and swirl with a knife or spatula. Repeat with the remainder of the cream mixture and caramel mixture.

Cover, and place in the freezer until frozen.
Enjoy!

Check out all of the amazing #SundaySupper recipes filled with fall flavors…
Breakfast
Appetizers and Sides
Main Dishes
Desserts and Cocktails