This post may contain affiliate links. Read my disclosure policy.
Gluten-Free Dutch Apple Pie is a must-have mouthwatering dessert with a tart Granny Smith apple filling, homemade flaky pie crust, and a buttery and sweet crumb topping.
Want more gluten free apple desserts? You'll love No-Bake Apple Cheesecake Bars or Gluten Free Apple Turnovers.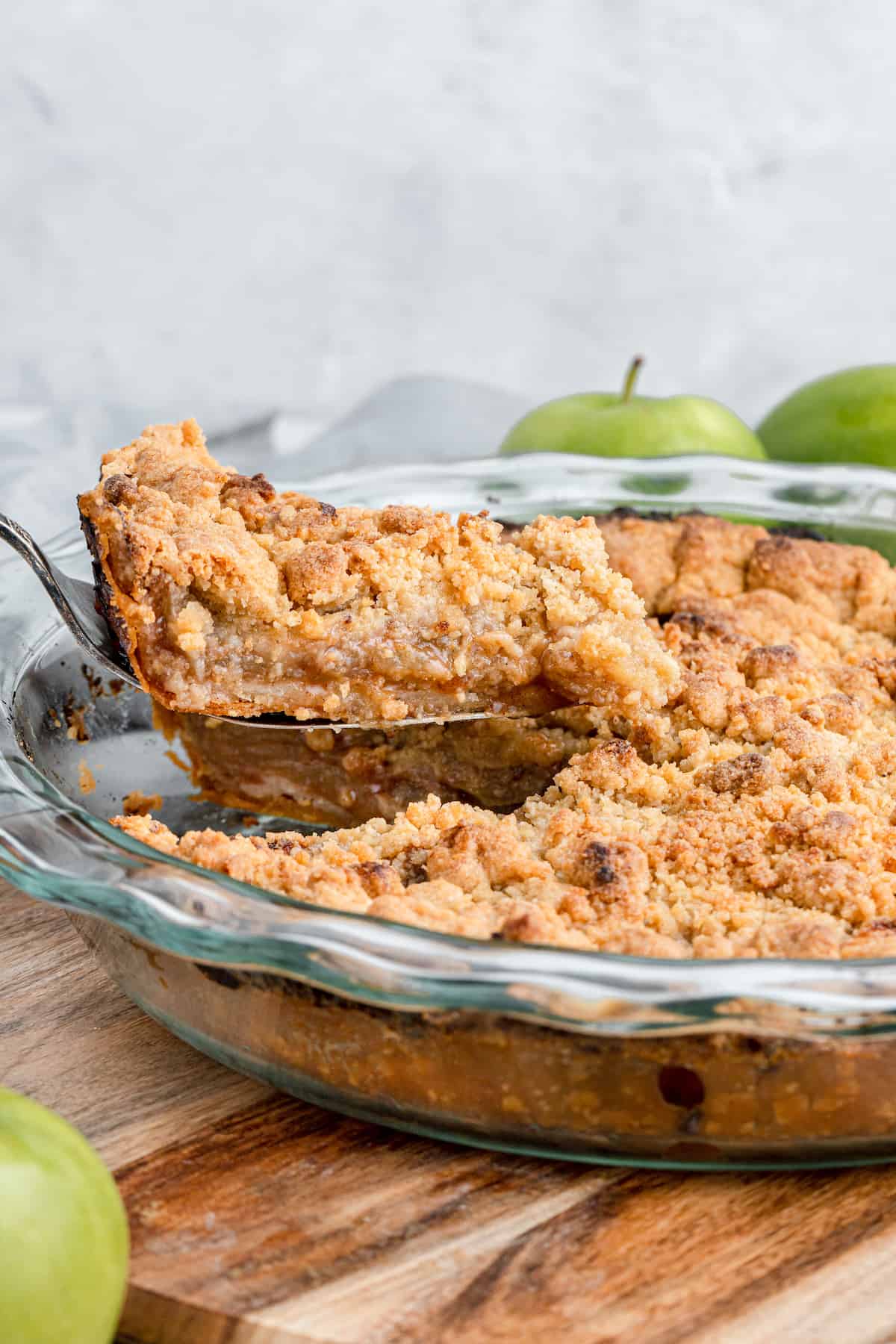 Homemade Dutch Apple Pie
You might know and love all-American apple pie, with its two flaky and buttery layers of crust and a filling jam-packed with cinnamon-sugar coated apples. But there's a different kind of apple pie that's every bit as decadent, delicious, and centerpiece-worthy for holiday celebrations.
Dutch apple pie has the same pie crust on the bottom but has a twist on top. Instead of a second crust, this version of apple pie has a crumbly, crispy streusel topping. It's like a cross between a pie and an apple crisp and it's a total winner in the dessert game. My version of apple crumb pie is gluten-free, so it's the perfect allergy-friendly dessert for fall gatherings when apples are in season.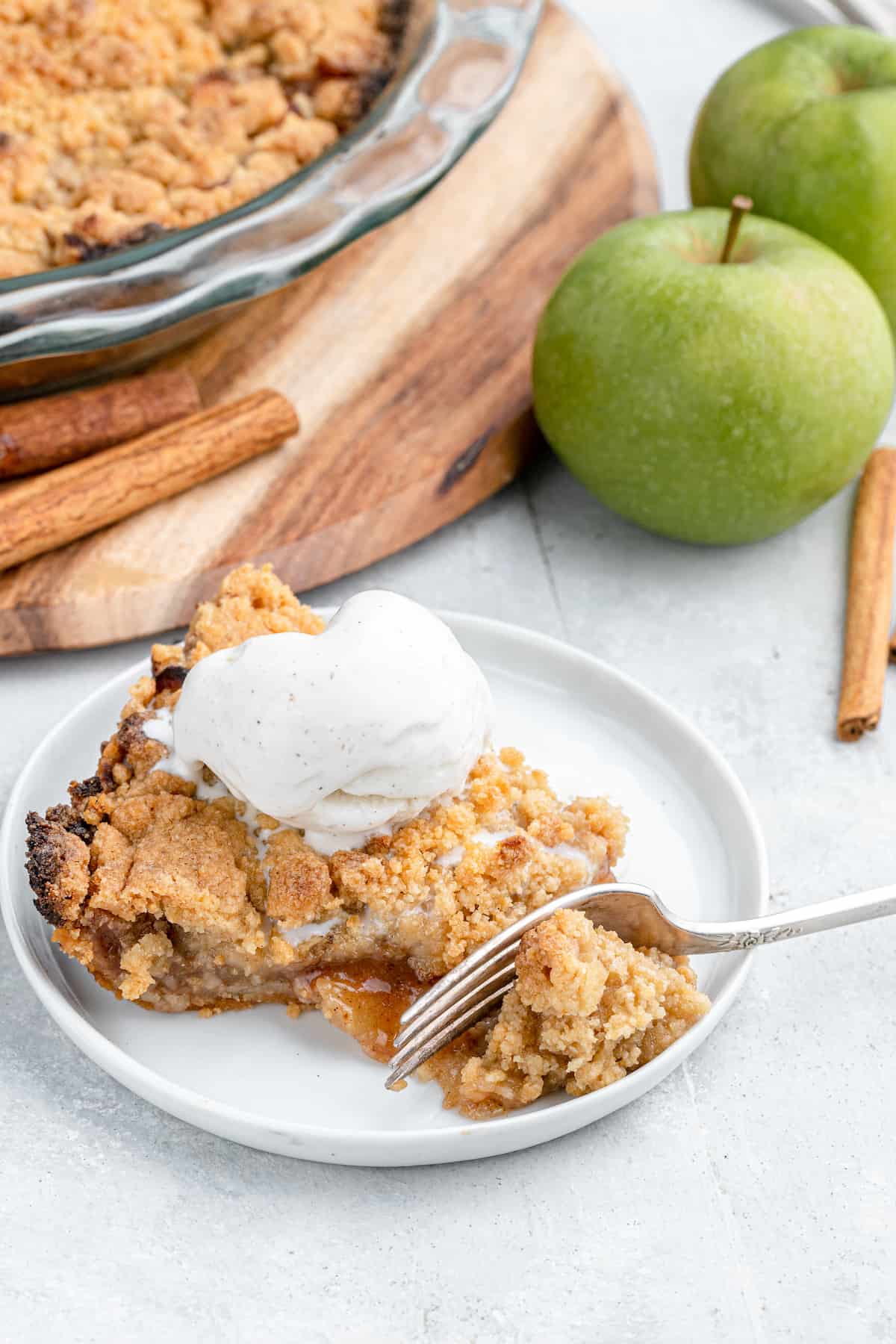 Why You'll Love This Recipe
This will become your favorite gluten free apple pie because it has the best of both worlds: a buttery gluten-free crust on the bottom and a crumbly and sweet streusel topping. Inside, the filling is full of tart Granny Smith apples coated in cinnamon sugar for a truly nostalgic fall dessert.
You can serve this cinnamon-spiced gluten-free pie for Thanksgiving, Christmas, or any occasion. I love how it lets seasonal apples shine in a unique way. And despite having no gluten, the pie crust is tender, flaky and holds all of that hearty apple filling like a champion. If you're a pie person, my gluten-free pie crust recipe is one you're going to want to keep on hand for all of your favorite desserts.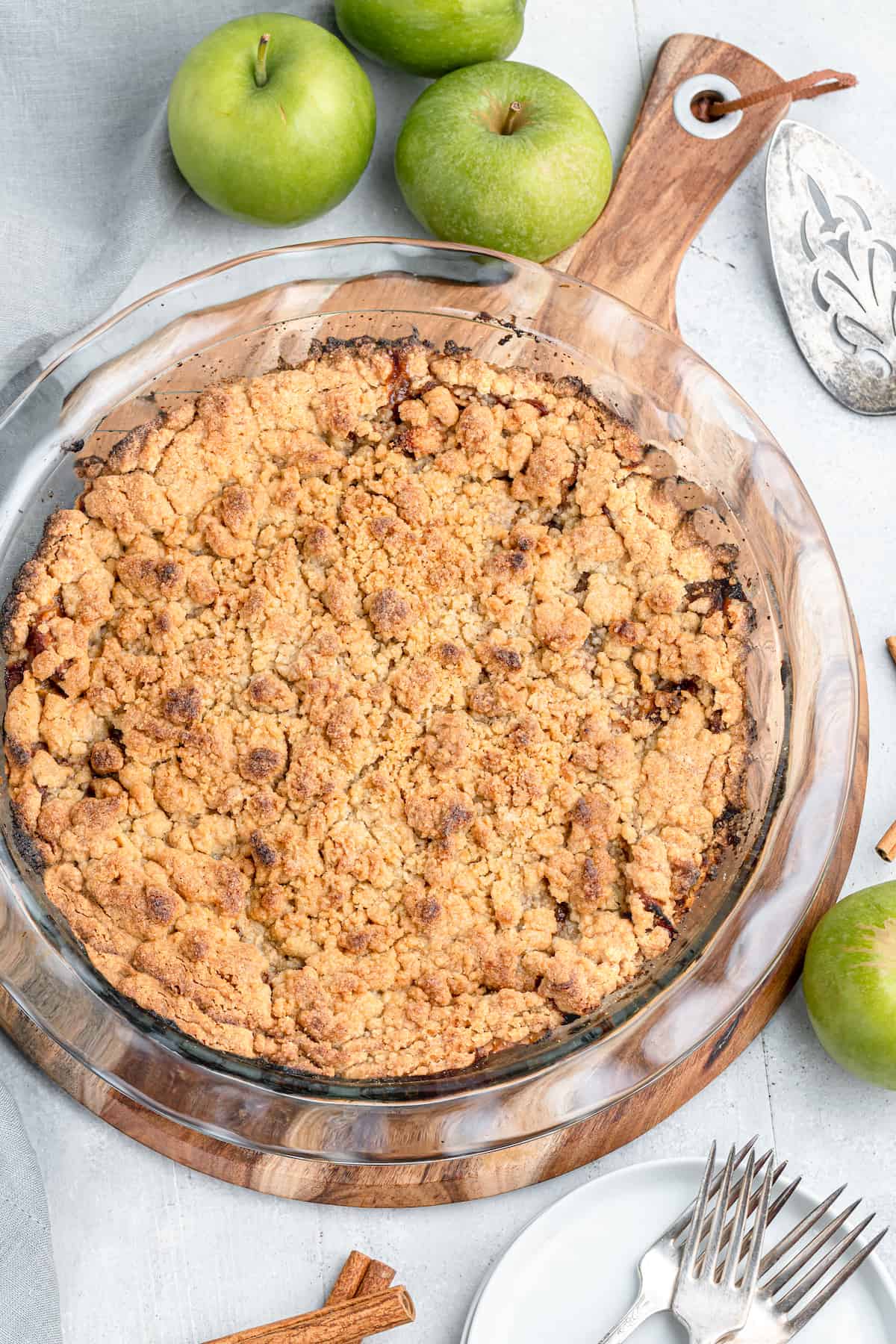 What You'll Need
If you're a regular gluten-free baker, chances are you have most, if not all, of the ingredients for this apple crumb pie on hand.
Here are the ingredients for gluten-free Dutch apple crumb pie:
Gluten-free pie crust. Here's the best recipe to make your own crust.
Apples. I like tart Granny Smith apples, which hold their shape well after baking.
Lemon juice. For a bit of brightness to cut through some of the sweetness in the filling. Lemon also helps prevent the apples from turning brown after slicing.
Granulated sugar.
Gluten–free all-purpose flour. I use Bob's Red Mill 1-to-1 blend.
Cinnamon.
Ground ginger.
Nutmeg. Just a dash adds tons of warming flavor to your pie filling.
Brown sugar. This gives a rich caramel flavor to the streusel topping.
Butter. Use unsalted butter and make sure it's nice and soft when making the streusel.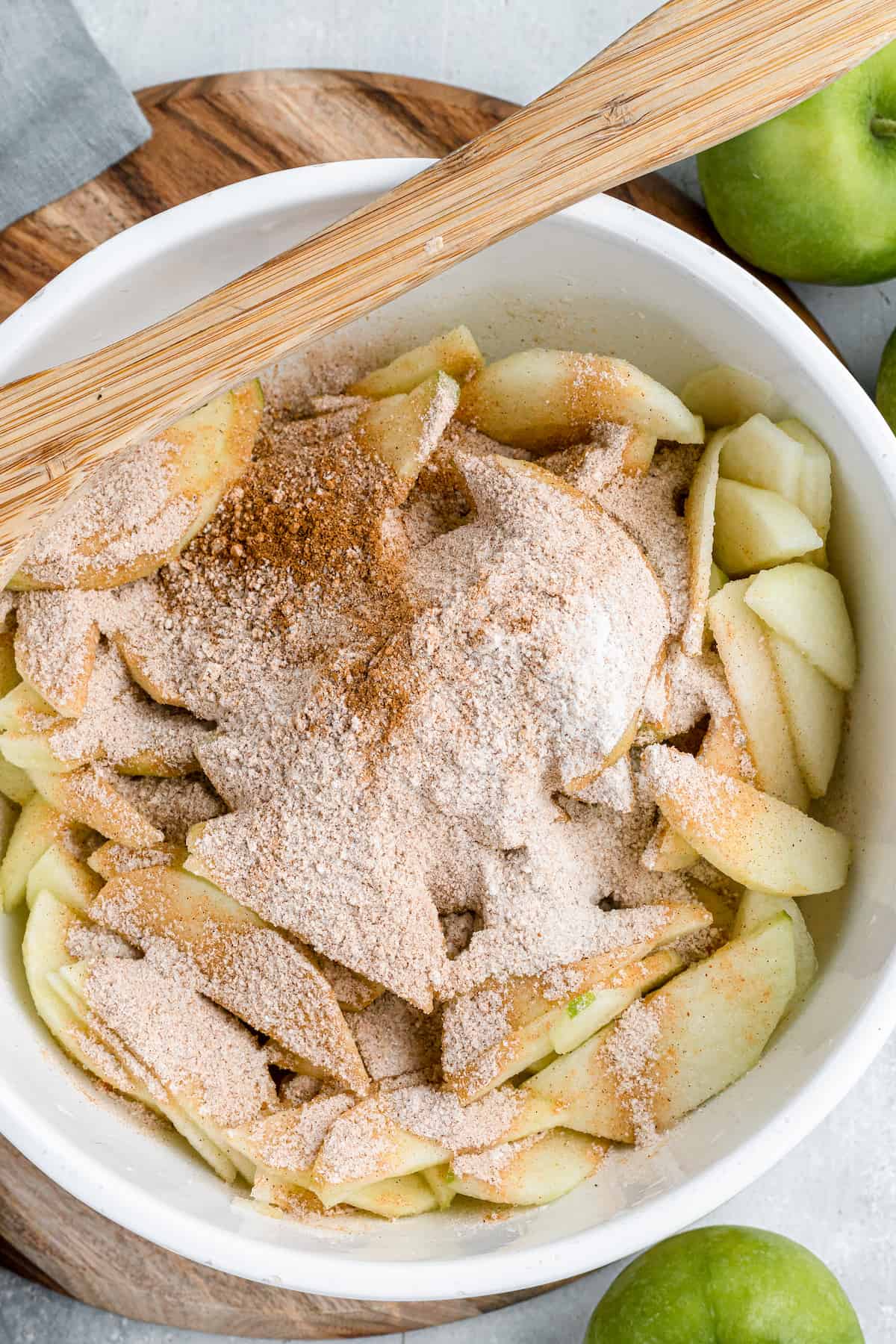 How to Make Gluten-Free Dutch Apple Pie
Start by making the gluten-free pie crust. Then whip up the filling and three-ingredient streusel topping with these simple steps:
Prepare the crust: Preheat the oven to 425°F. Meanwhile, make the gluten-free pie crust using this recipe.
Prepare the apples: Peel and thinly slice the apples into a medium mixing bowl. Add the lemon juice and stir to coat the apples in the juice.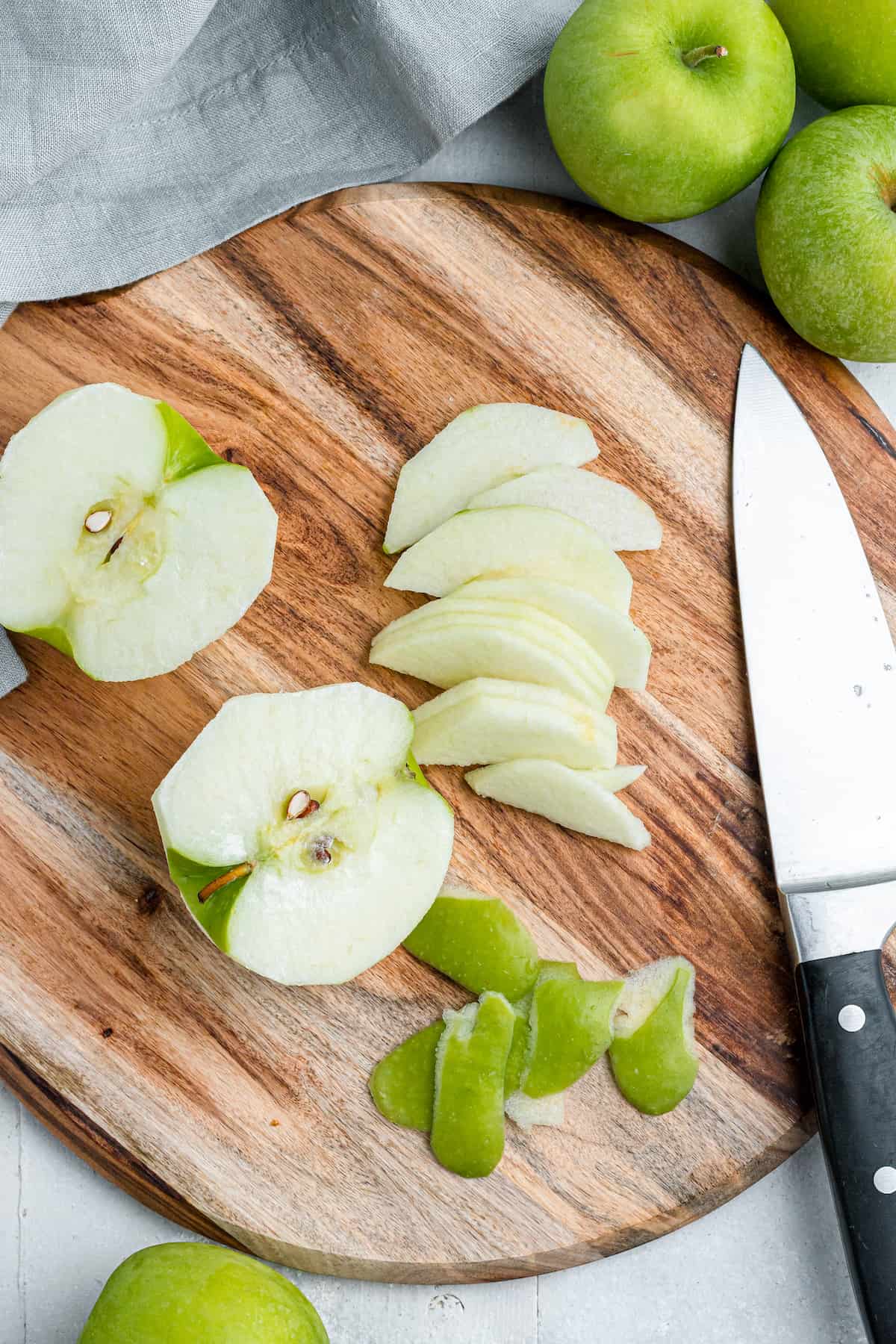 Make the filling: In a separate bowl, combine the sugar, flour, cinnamon, ginger, nutmeg, and salt. Add this mixture to the apples and stir to coat.
Make the streusel topping: In a new bowl, combine the softened butter with the flour and brown sugar. Use a fork or a pastry cutter to break the butter into a sandy texture. Leaving some larger and some smaller chunks add a nice texture to your pie.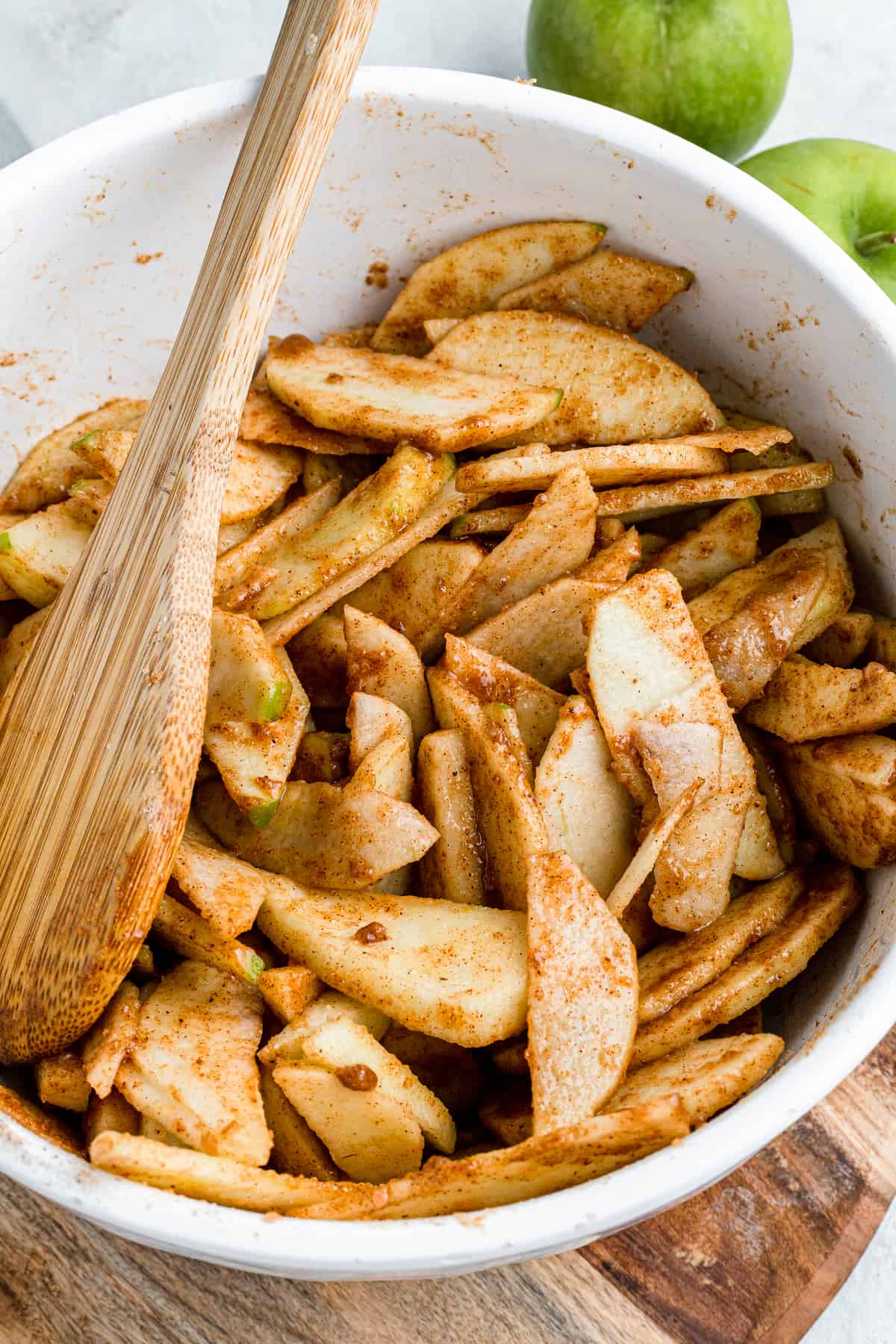 Fill the pie: Roll out and place the pie crust in a pie plate. Put the plate on a baking sheet to catch any drips during baking. Fill the crust with the apple slices. Top the apples with a generous layer of crumb topping.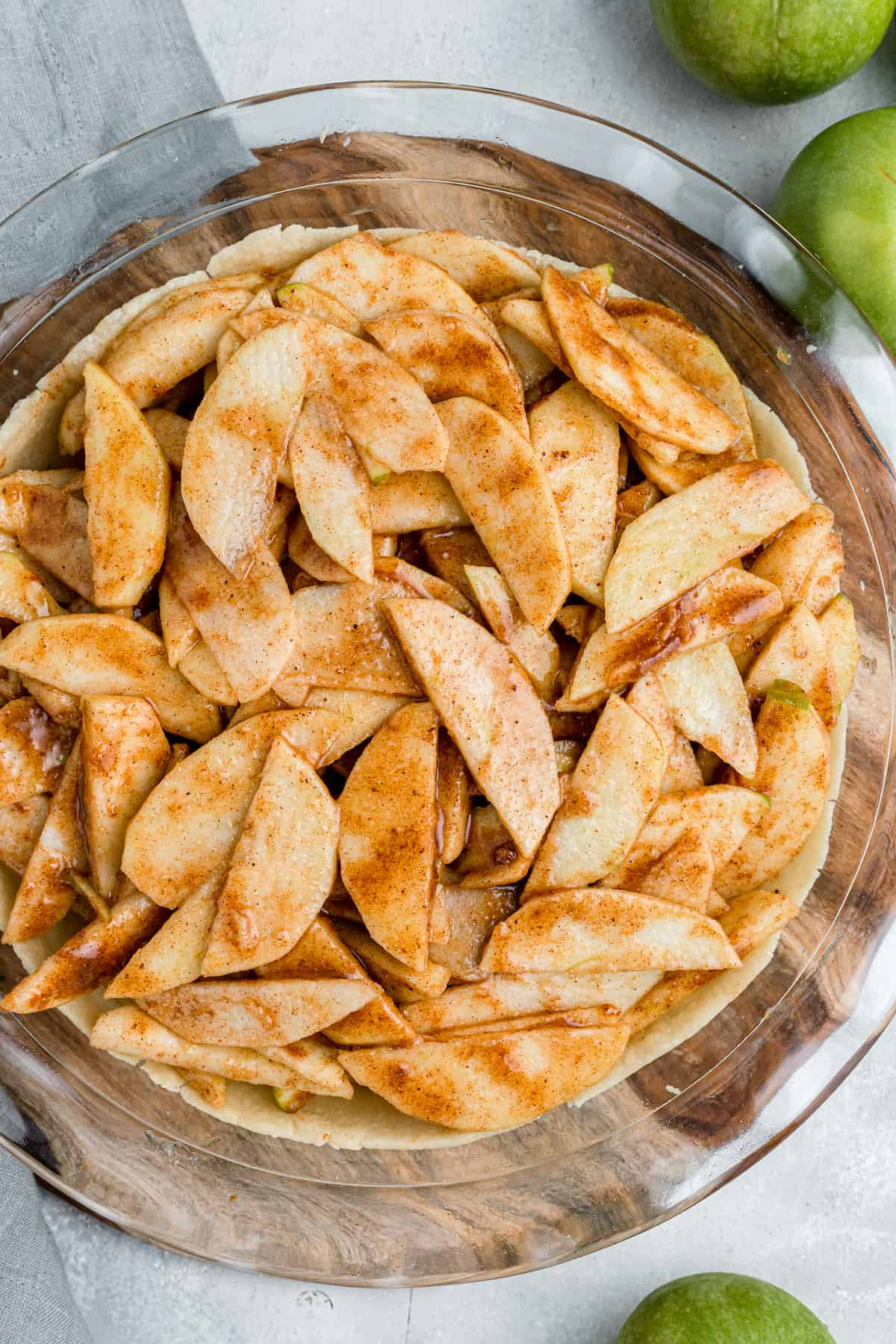 Bake: Bake the pie for 30 minutes. Then cover the pie with aluminum foil and bake for another 15 minutes. The pie is done when the topping is golden brown. Let the pie cool for 2 hours on a cooling rack before serving with ice cream or whipped cream.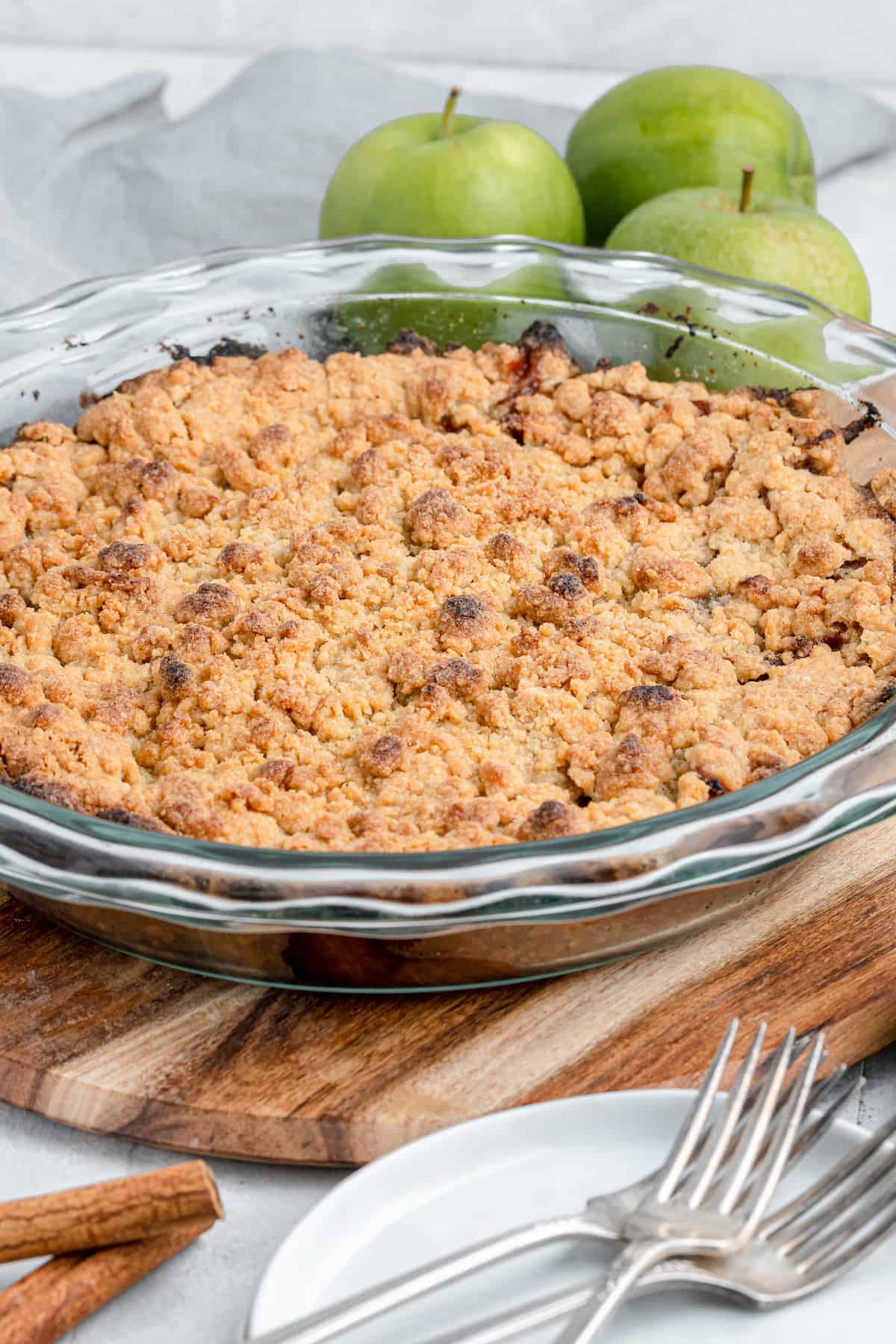 Tips for Success
Here are some simple tips to make sure your pie comes out perfectly:
Use the right apples. Firm and tart apples like Granny Smith are good for baking. Sweeter or softer apples may break down and turn to mush during baking.
Cut apples the same size. Make sure to cut the apples into evenly-sized pieces. Otherwise, the pie may not cook evenly.
Soften the butter for the streusel. A quick way to soften cold butter is to heat a plate and bowl under hot water. Place the unwrapped butter on the warm plate and cover with the warm bowl. Let it sit for about 10 minutes, remove the bowl, and your butter should be nice and soft!
Let it cool. Cooling the pie for 2 hours helps the filling settle and any hot liquid get reabsorbed into the apples.
Bake evenly. If your oven has hot and cold spots, turn the pie halfway through baking.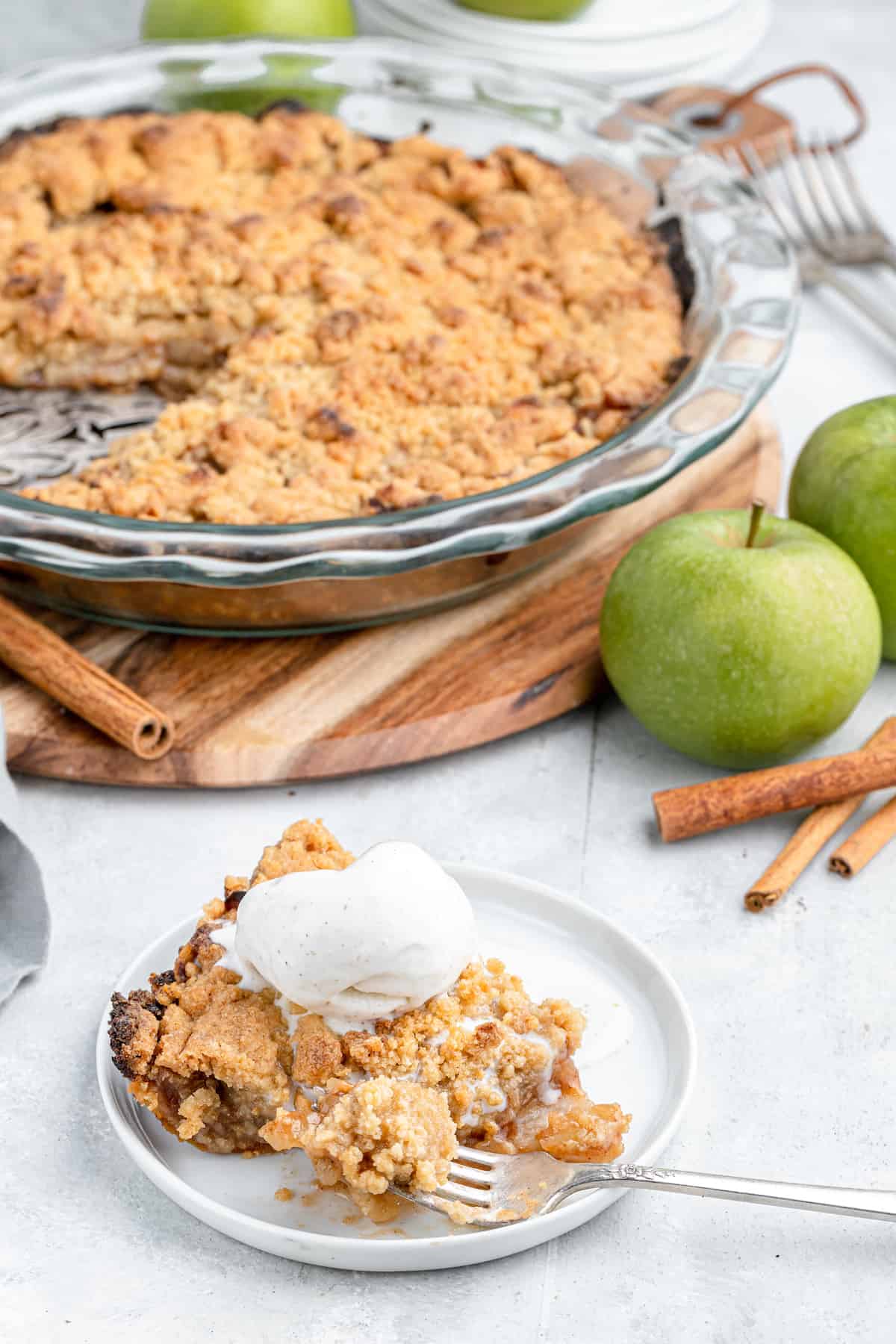 Serving Suggestions
Serve your warm crumb-topped Dutch apple pie with your favorite ice cream (why not double-down on apple flavor with my no-churn caramel apple ice cream or take vanilla to the next level with vanilla bean cheesecake ice cream?). A dollop of cold whipped cream is also a lovely addition! Some people love the sweet and savory combination of apple pie and cheddar cheese. So if that's your thing, go for it.
How to Store Leftover Apple Pie
Store leftovers in an airtight container for up to four days. It makes a delicious breakfast! You can enjoy your gluten-free Dutch apple pie cold or reheat it in the microwave or oven to serve.
Can I Freeze Dutch Apple Pie?
I do not recommend freezing leftover pie. Plus, it's so good, you'll want to eat it ASAP!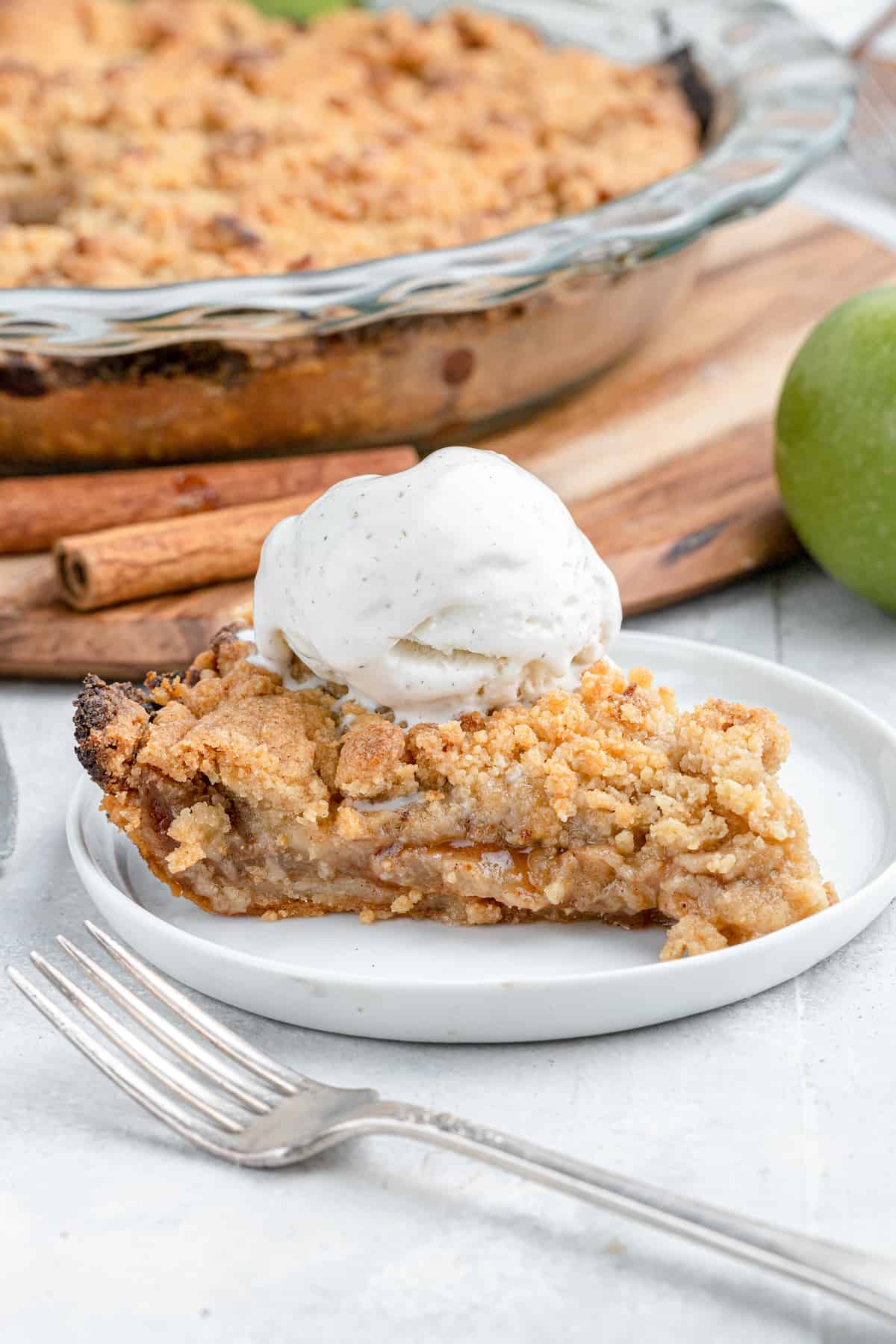 Things You'll Need
Brianne Recommends
GLUTEN FREE FLOUR: Don't forget your 1-to-1 baking mix. I used Bob's Red Mill.
PIE PLATE: I like to use glass pie plates.
APPLE SLICER: A peeler, corer, slicer actually makes that part of the process fun and easy to get the kids involved.
BAKING SHEETS: I always rave about NordicWare Baking Sheets, and just one more use is to have on under your pie to prevent it from bubbling over onto the bottom of your oven.
Last updated on March 25, 2023 6:02 am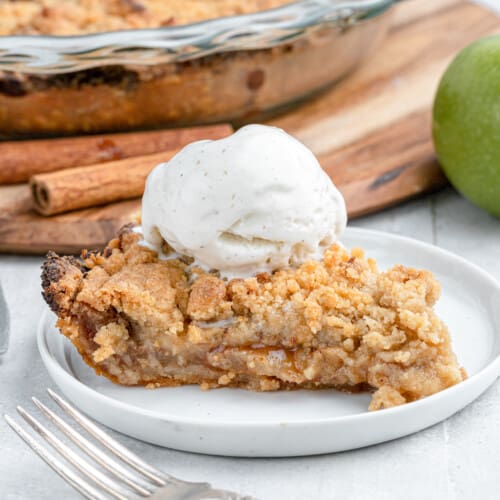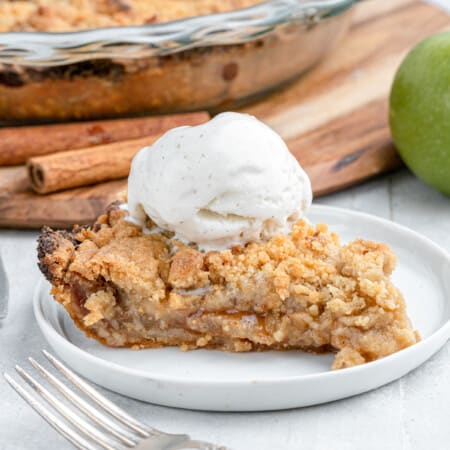 Gluten-Free Dutch Apple Pie
Make a mouthwatering homemade Gluten-free Dutch Apple Pie with a homemade crust and a buttery, crumbly crisp topping over tart Granny Smith apple filling.
Ingredients
Apple Pie Filling:
6

cups

peeled and thinly sliced apples

(I recommend Granny smith)

2

tablespoons

fresh lemon juice

⅓

cup

granulated sugar

¼

cup

gluten free 1-to-1 all-purpose flour blend

(I used Bob's Red Mill)

1

tablespoon

cinnamon

¼

teaspoon

ground ginger

1/8

teaspoon

ground nutmeg

⅛

teaspoon

salt
Crumb Topping:
1

cup

gluten free 1-to-1 all-purpose flour blend

(I used Bob's Red Mill)

½

cup

brown sugar

1/2

cup

(1 stick) unsalted butter,

softened
Instructions
Preheat the oven to 400°F. Prepare the pie dough, Press one of the two dough balls into a pie plate. Cover the crust with parchment paper and fill with pie weights or dried beans. Bake at 400°F for 15 minutes, then remove the pie weights. Prick the pie crust with a fork and bake for 5-10 more minutes. Set aside while you prepare the pie filling, and increase the oven temperature to 425°F.

Peel, de-core and thinly slice your apples and place in a medium sized bowl. Gently drizzle the fresh lemon juice over the apples. With a large spoon, gently toss to coat the apples.

In a small bowl, mix together the sugar, gluten-free flour blend, cinnamon, ginger, nutmeg and salt. Sprinkle evenly over apple slices and toss again to coat. Set aside.

In a small bowl, prepare the crumb topping by combining gluten-free flour blend, brown sugar and butter. Create a sandy texture by cutting the butter with a fork or pastry cutter.

Place your pie plate with your prepared crust on a baking sheet (this will help catch any spillage from baking). Pour the coated apple slices into the bottom of the pie crust and top with crumb topping mixture.

Place the baking sheet with the pie in the preheated oven. Bake for 30 minutes uncovered and then an additional 15 minutes covered loosely with foil. The topping should be a golden brown when finished. Remove from the oven and let cool on a cooling rack for 2 hours before slicing. Serve with your favorite vanilla ice cream or fresh whipped cream.
Notes
Refrigerate any leftovers for up to 4 days. I do not recommend freezing leftover pie.
Nutrition Facts
Gluten-Free Dutch Apple Pie
Amount Per Serving
Calories 415
Calories from Fat 171
% Daily Value*
Fat 19g29%
Cholesterol 30mg10%
Sodium 145mg6%
Potassium 156mg4%
Carbohydrates 62g21%
Protein 4g8%
Vitamin A 407IU8%
Vitamin C 6mg7%
Calcium 48mg5%
Iron 2mg11%
* Percent Daily Values are based on a 2000 calorie diet.
Categories:
More Gluten-Free Pie Recipes