Reese's Poke Cake
Disclosure: This post may contain affiliate links. Cupcakes & Kale Chips is a participant in the Amazon Services LLC Associates Program, an affiliate advertising program designed to provide a means for us to earn fees by linking to Amazon.com and affiliated sites.
Reese's Poke Cake is a super easy dessert recipe for the peanut butter cup lovers out there. The ultimate combination comes together in this chocolate peanut butter sheet cake that is perfect to bring to potlucks and parties. This is guaranteed to be one of the best poke cake recipes you've ever tried. I've even got some suggestions for how to make a gluten free poke cake.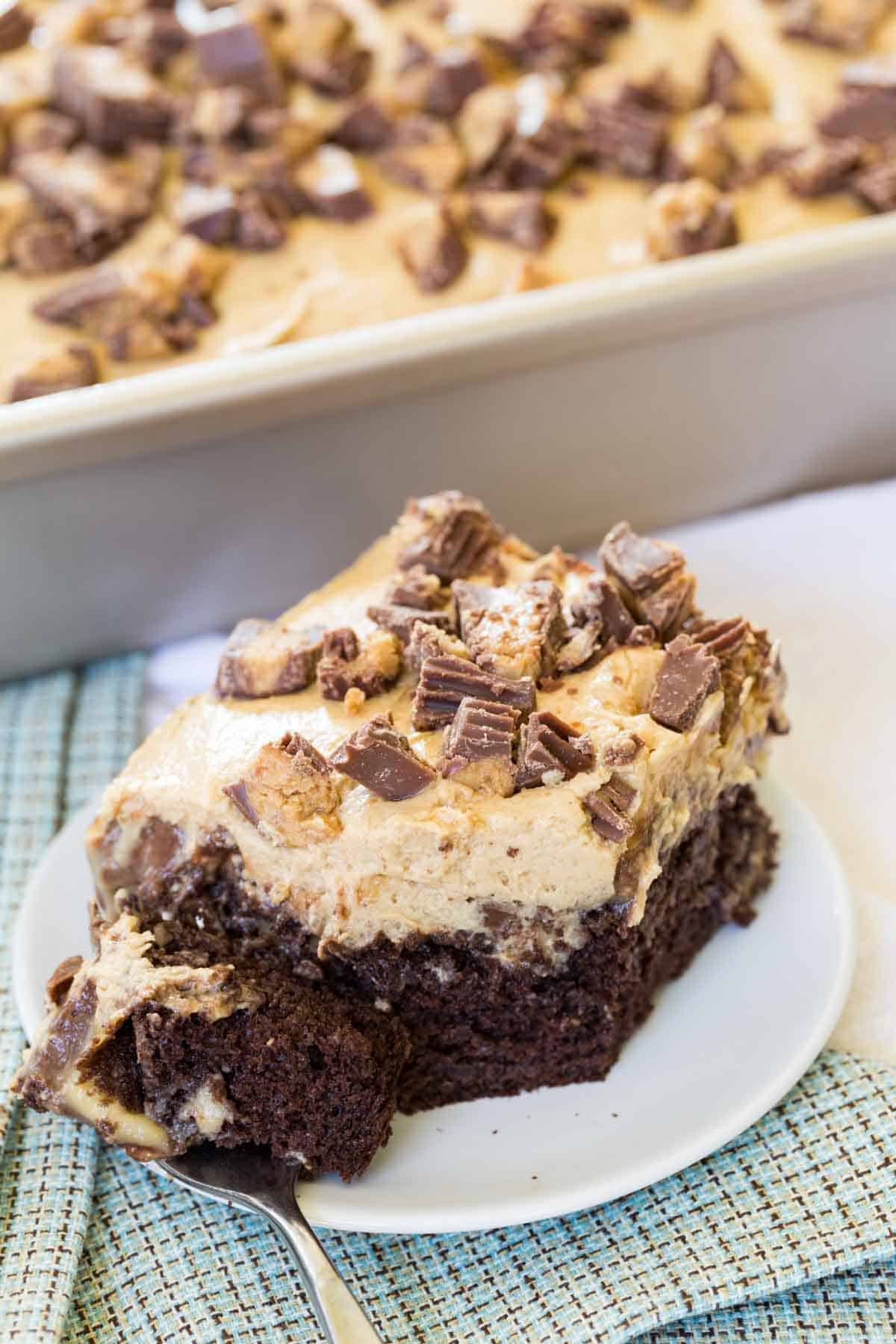 Originally published Nov 1, 2017
But I didn't grow up in a family with a long legacy of baking and I don't have a bunch of recipes that have been passed down through the generations. By the time I was old enough to pull up a chair to the kitchen counter, my grandma already had debilitating rheumatoid arthritis, so while she did make us our share of family dinners, she didn't really bake.
And my mom does make some pretty fabulous chocolate chip cookies, but she makes treats for holidays and if she has to bring something to a party, not because it's her passion.
So yes, while I do think there is something to be said for breaking out the flour, butter, and sugar, I am still truly a fan of a box of cake mix.
Why?
Because what started me on my path to learning how to bake from scratch is a little cookbook called The Cake Mix Doctor. All the recipes start with a cake mix, but ingredients are swapped and added to turn your basic box mix into a truly special creation. These recipes are perfect for novice bakers, or anyone who may be short on time, but still wants to bake a dessert to impress.
These are the same reasons I am a fan of The Poke Cake Cookbook by Jamie Sherman of the blog Love Bakes Good Cakes…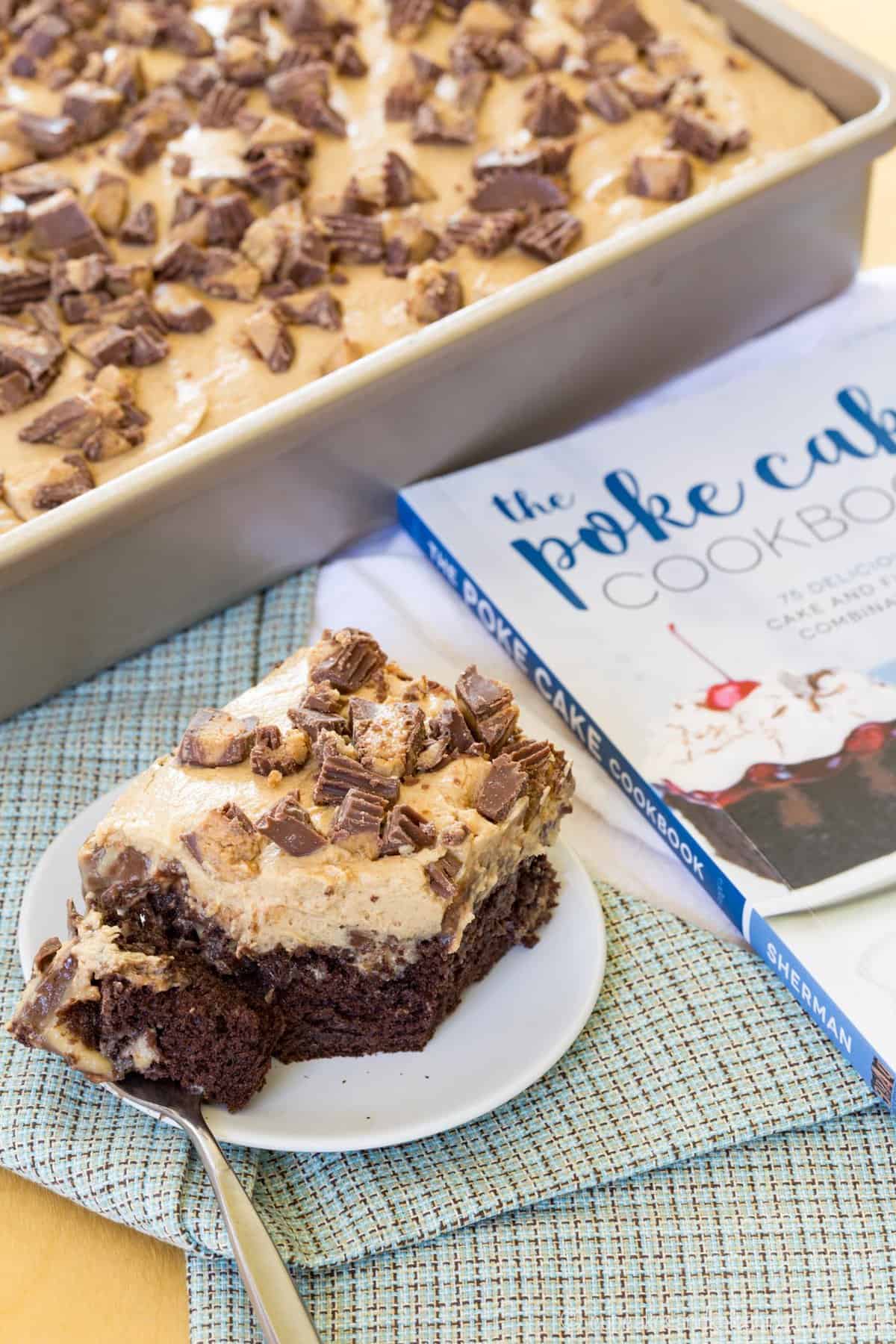 Why is it called Poke Cake?
If you've never had a poke cake before, you basically start with a cake mix and bake it in 9×13 inch pan. After it cools a bit, you poke holes in the cake with the handle of a wooden spoon and then top it with an assortment of fillings or frostings or toppings to soak into those holes, infusing moisture and flavor into every delicious bite. Or maybe all three!
And in The Poke Cake Cookbook, Jamie gives you 75 different combinations! You've got classics like Boston Cream Pie Poke Cake, chocolatey treats like Chocolate Mint Poke Cake, fruity flavors such as Lemon Lovers Poke Cake, all-time favorites like Banana Split Poke Cake, and even adults-only desserts such as the Mudslide Poke Cake. And, of course, my favorite combination of chocolate and peanut butter in this…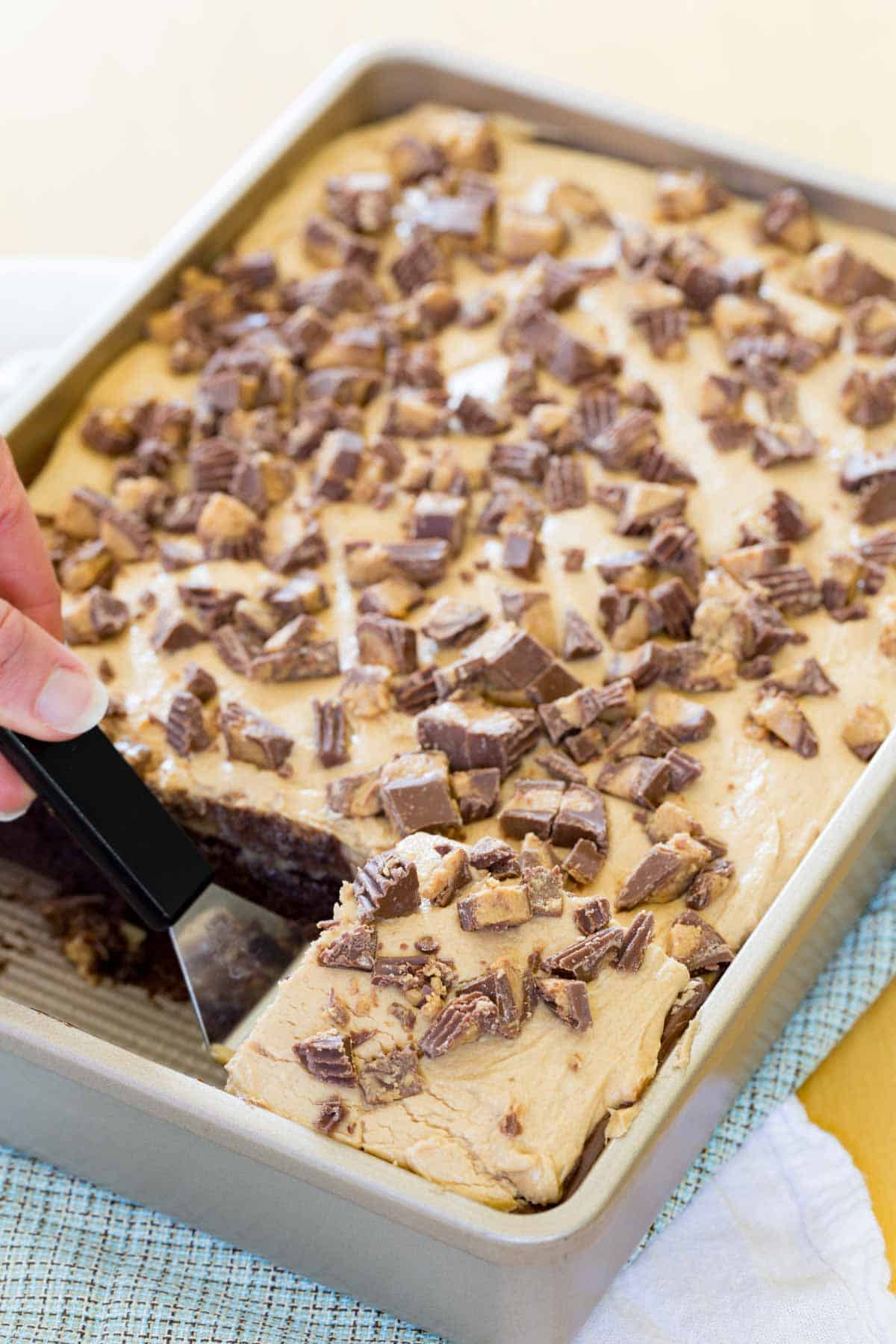 Reese's Poke Cake Recipe
It's pure heaven! I brought this chocolate peanut butter poke cake to a Halloween party, and it was a hit with the entire crowd!
How to make Reese's Poke Cake:
Start with a chocolate cake that you made by following the box cake mix instructions.
Let it cool.
Poke holes in the cake with the back end of a wooden spoon.
Prepare vanilla pudding and mix with peanut butter.
Slather this over the cake.
Pour melted chocolate frosting is poured over the top.
Blend whipped topping and more peanut butter.
Frost the cake with the whipped peanut butter topping
And of course, no Reese's Poke Cake is complete without a generous sprinkle of chopped peanut butter cups.
What do you use to poke holes in a cake?
The easiest thing is to use the back of a wooden spoon with a round handle. You can also use a straw or skewer.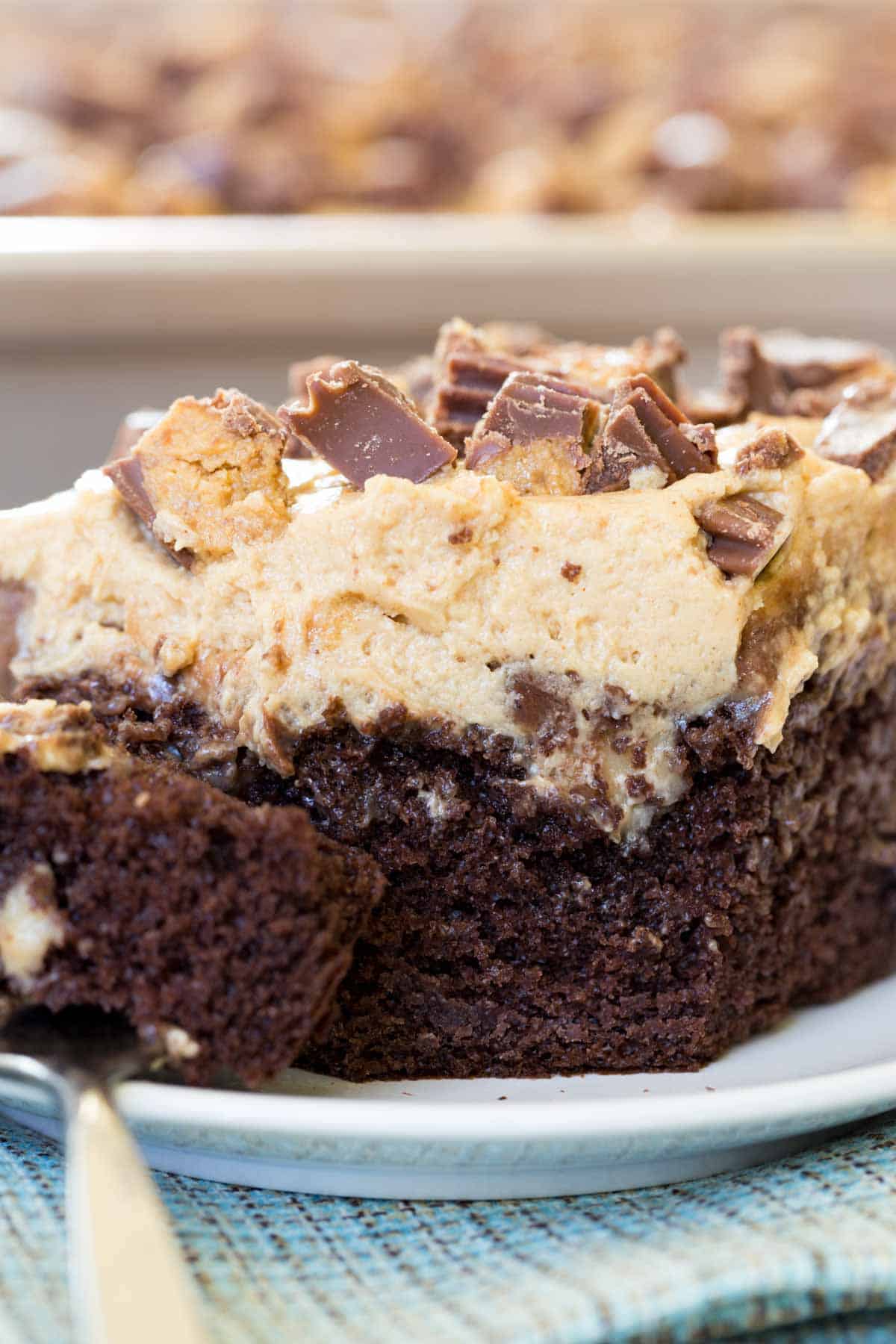 Tips to make a gluten free Reese's Chocolate Poke Cake:
My gluten free readers may be asking how they can enjoy this ultimate decadence.
I did try to make it with two gluten free cake mixes baked in a 9×13 inch pan. I've read that many people have had success with this, but mine did cave in a bit in the middle. I would like to try it again with a different brand than the store brand I used.
You can also make a gluten free chocolate cake from scratch, like this Gluten Free Chocolate Poke Cake I found on Gluten Free on a Shoestring.
All of the other ingredients in this recipe are gluten free, but do take caution that while most canned frosting is gluten free, not all of them are. So be sure to read your labels.
The other option is to make one or two square cakes. If you make one, I'm guessing it'll be too much of the toppings, but if you make two, I'd suggest doubling the whipped topping and peanut butter mixture to make sure you have enough to cover the cake.
And more Reese's certainly wouldn't hurt, because is it ever possible to have too much chocolate and peanut butter?!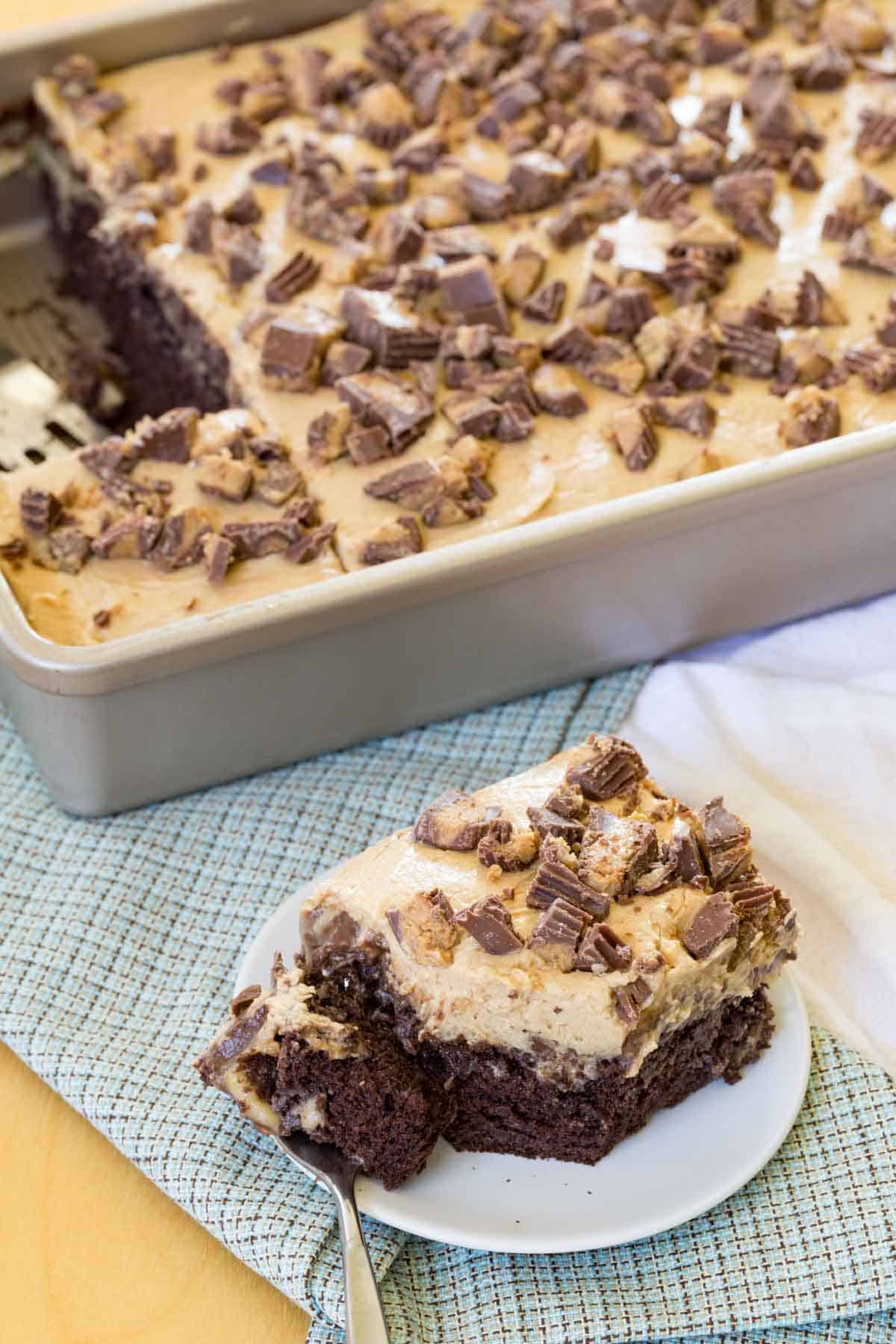 What do you need to make Poke Cake?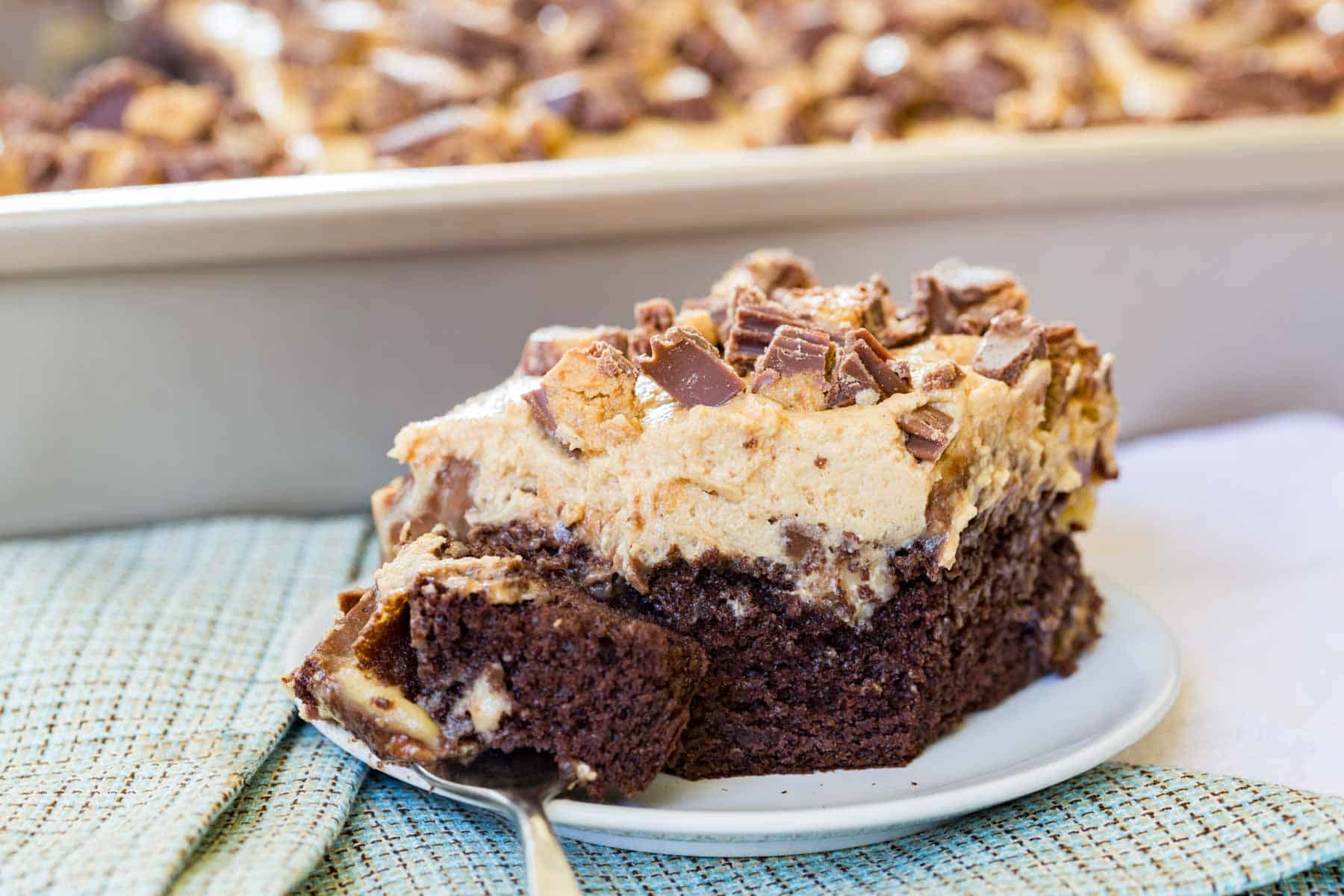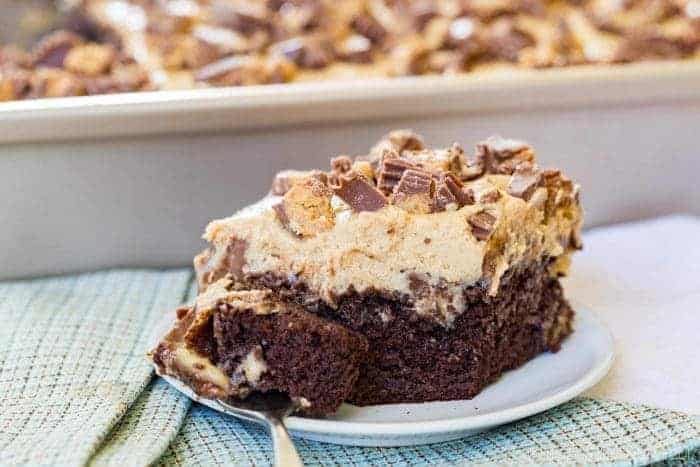 For more yumminess from me and my foodie friends, keep up with me on…
Or sign up to have Cupcakes & Kale Chips delivered straight to your Inbox!
More poke cake recipes:
What else can you make with Reese's Peanut Butter Cups
Reese's Poke Cake Recipe
A peanut butter cup poke cake is an easy dessert that can feed a crowd making it perfect to bring to a party or a potluck. Chocolate cake is slathered with peanut butter pudding, chocolate frosting, and peanut butter whipped topping, then sprinkled with Reese's Peanut Butter Cups. This chocolate peanut butter poke cake is the ultimate dessert for the serious chocolate and peanut butter lovers!
I hope you'll leave a comment and give it a FIVE STAR rating or share a photo on this pin on Pinterest!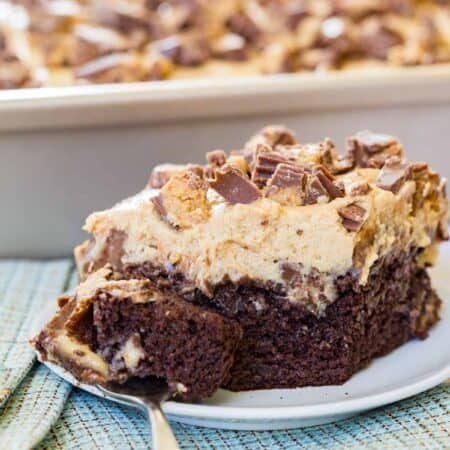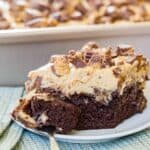 Print Recipe
Reese's Poke Cake
An easy dessert recipe loaded with chocolate, peanut butter, and peanut butter cups! Perfect for parties and potlucks!

Ingredients
15.25

oz

chocolate cake mix

plus ingredients to prepare the cake

3.4

oz

vanilla instant pudding mix

2

cups

cold milk

1 1/2

cups

creamy peanut butter,

divided

16

oz

chocolate frosting

8

oz

frozen whipped topping,

thawed

25

mini Peanut Butter Cups

unwrapped and roughly chopped
Instructions
Prepare and bake the cake according to the package instructions, baking in a 13 x 9-inch cake pan.

Let the cake cool 15-20 minutes, then poke holes in the cake every 1/2 to 1 inch with the round end of a wooden spoon.

Empty the pudding mix into a medium bowl, and add the milk.

Whisk briskly for 2 minutes or until the pudding mix is dissolved then whisk in 1/2 cup of the peanut butter until combined and smooth.

Pour the pudding mixture over the cake, filling the holes as much as possible.

In a microwave-safe bowl, microwave the chocolate frosting for 15-20 seconds, or until it can be poured easily. Drizzle it over the cake and spread evenly with the back of a spoon or an offset spatula.

Let the cake cool completely.

In a large bowl, whisk together the remaining 1 cup of peanut butter and the whipped topping. Spread over the cake and top with the peanut butter cups.

Refrigerate for at least 4 hours before serving. Store covered in the refrigerator.
Nutrition
Enjoy!