This post may contain affiliate links. Read my disclosure policy.
Flourless Peanut Butter Cup Chocolate Roll Cake is a decadent dessert recipe that is the ultimate treat Reese's lovers. A moist chocolate sponge cake is filled with peanut butter mousse and Reeses Peanut Butter Cups. Then it is rolled up, slathered with rich chocolate ganache, and topped with even more peanut butter cups. Undoubtedly this Reese's Chocolate Cake Roll is one of the best chocolate peanut butter desserts, plus it is naturally gluten free!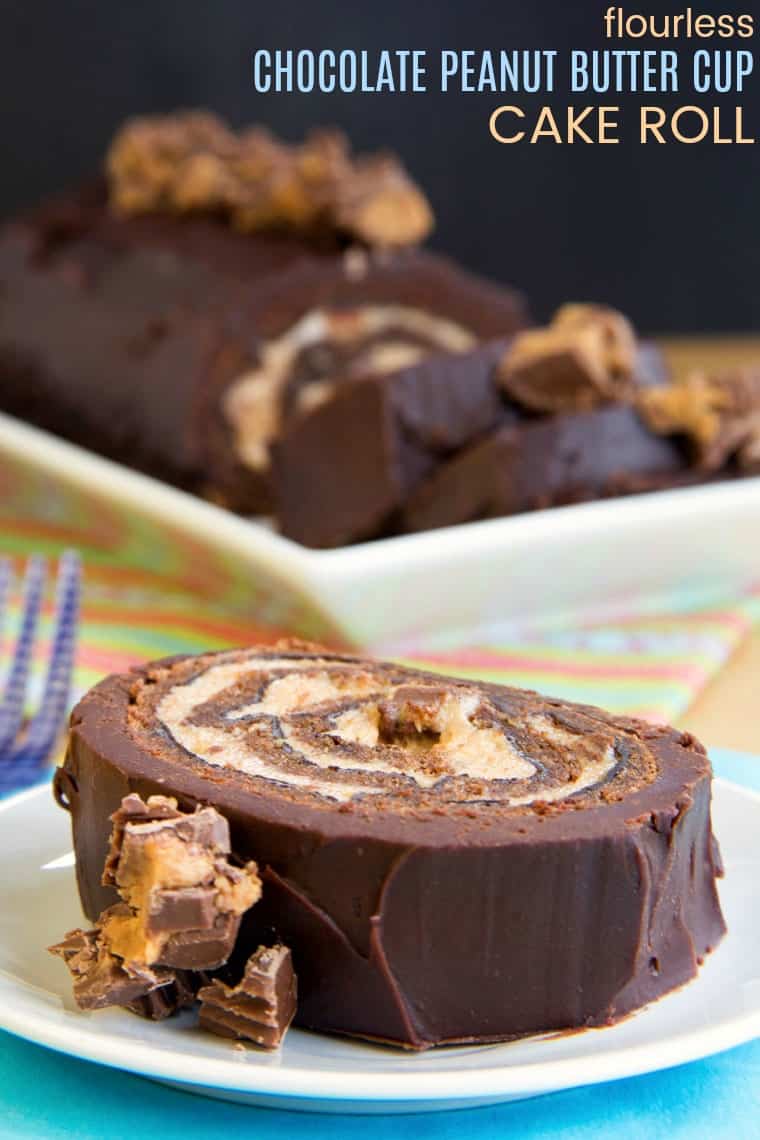 These days it seems parents are running their kids around like crazy every day after school. Oftentimes, it's a quick stop at the drive-through or picking up a pizza on the way home with everyone grabbing a slice as they scatter in different directions.
While I certainly think it's good to keep kids active and help them to be well-rounded, there is a price to be paid – sacrificing family dinners. And let's not forget about the joy of taking your time to cook a comforting meal or bake an incredible dessert.
Family dinnertime is about so much more than simply eating food. It's about talking and sharing and connecting. It's also where I teach them about both the importance of making good food choices to nourish their bodies and the joy and love that can be shared through enjoying a meal together.
And the family dinner table is also a place where, after we have shared a nourishing meal, sometimes we can also enjoy a special treat like this.
Peanut Butter Cup Flourless Chocolate Cake Roll recipe is way too easy to be this impressive and amazing.
Yes, it takes a little time and effort. But by following a few simple steps, you can make this incredible dessert.
If you are intimidated by making a roll cake, keep reading for all my tips and trust this review:
I made this for my husband's birthday. He cannot have gluten, but he still loves a good rich cake, especially a chocolate and peanut butter combination! This was a delight to make and a joy to share and devour! His family doesn't have a lot of understanding of his limitations (not because of lack of care, of course! they are amazing family) and almost bought a regular cake. This recipe saved his body and his birthday. Thank you for posting it!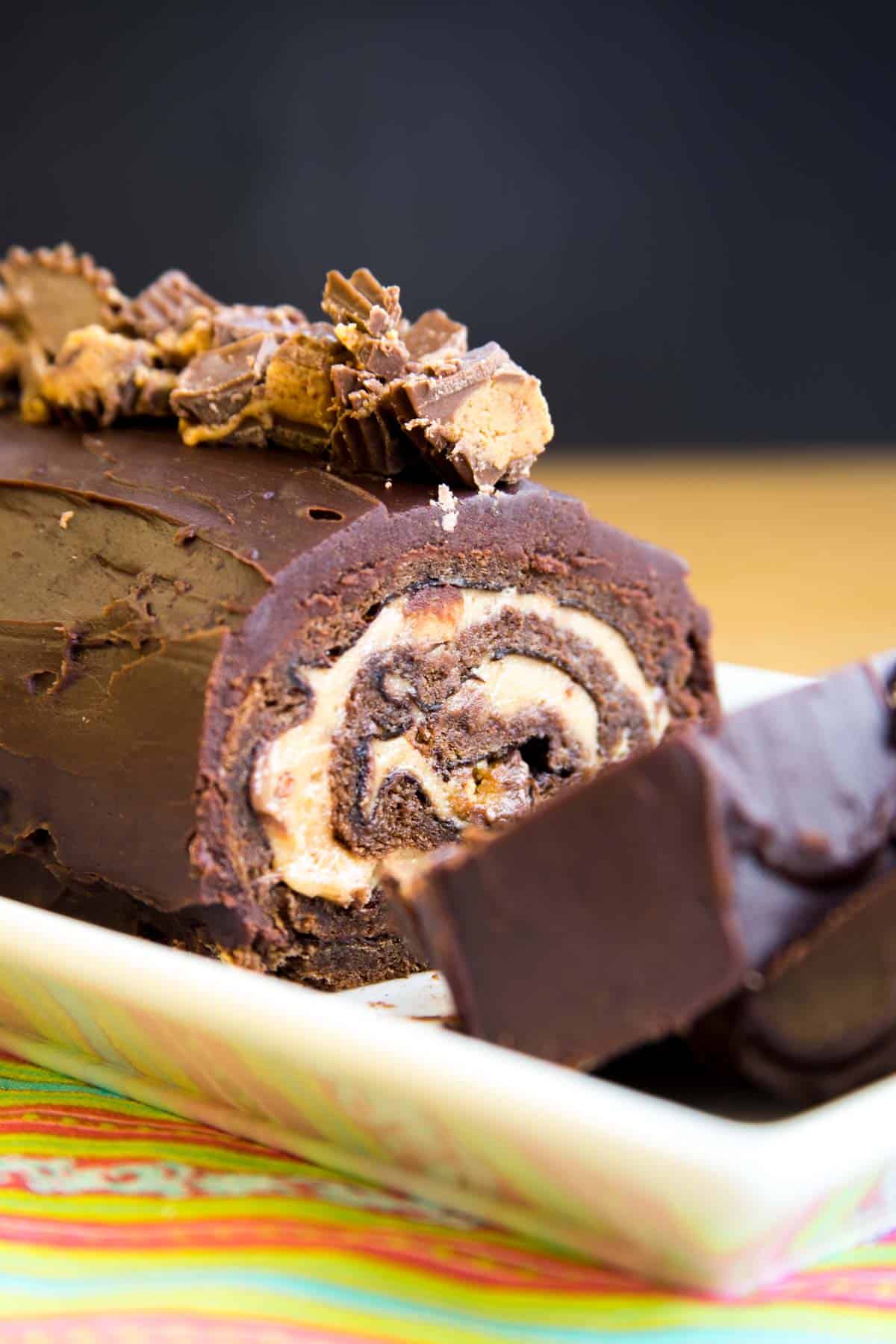 Reese's Flourless Chocolate Cake Roll Recipe
Chocolate and peanut butter is never a bad idea. Now triple the chocolate and triple the peanut butter, and you have a winning combination. When I saw this Peanut Butter Cup Cake Roll from Dorothy at Crazy for Crust, I knew I had to make it with my favorite flourless chocolate sponge cake. I'm so glad I did. Well, my waistline may not be happy I made this Flourless Chocolate Peanut Butter Cake Roll, but my tastebuds are. Yours will be too!
How do you make Flourless Peanut Butter Cup Chocolate Cake Roll?
Here is a brief overview to show you just how simple it is to make, but keep scrolling for some more tips and tricks to make the perfect cake roll, plus all the details in the recipe card at the bottom of the post.
To make the flourless chocolate sponge cake, start by separating your eggs.


PRO TIP: Carefully separate your egg yolks from the whites while they are still cold to help ensure you don't get any yolk in the whites, or they will not whip well.

Whip the whites to stiff peaks.


PRO TIP: A few tricks to ensure you get stiff peaks is to let your whites come to room temperature, and wipe your bowl and beaters or whisk attachment with a bit of white vinegar to remove any traces of fat which will inhibit the whites from getting stiff.

Next, whip the sugar and egg yolks until it is thick and pale yellow.


PRO TIP: This will take a few minutes. Do not rush this step.

Blend in cocoa powder, coffee, and vanilla.


PRO TIP: Leftover coffee is fine. You can also use instant coffee powder or espresso powder to make the coffee. If you prefer not to use coffee, you can just use water, but coffee does enhance the chocolate flavor.

Fold the egg whites into the egg yolk mixture in three additions.


PRO TIP: Do this gently to keep it light and fluffy.

Spread the batter in a parchment-lined baking sheet and bake.


PRO TIP: Lining your baking pan with parchment paper is critical. More on that later.

While it bakes prepare the mousse by blending cream cheese, peanut butter, and powdered sugar until smooth, and fold in chopped peanut butter cups.
During this time, you'll also make the ganache so it has time to cool. Heat the heavy cream and chocolate chips, and stir till smooth.
After the cake bakes and cools, fill it with the mousse, roll it up, and chill.


PRO TIP: Keep reading for more details on the rolling and filling process.

Finally, cover the cake the rich chocolate ganache and even more peanut butter cups and you have a swirly good roll of heaven.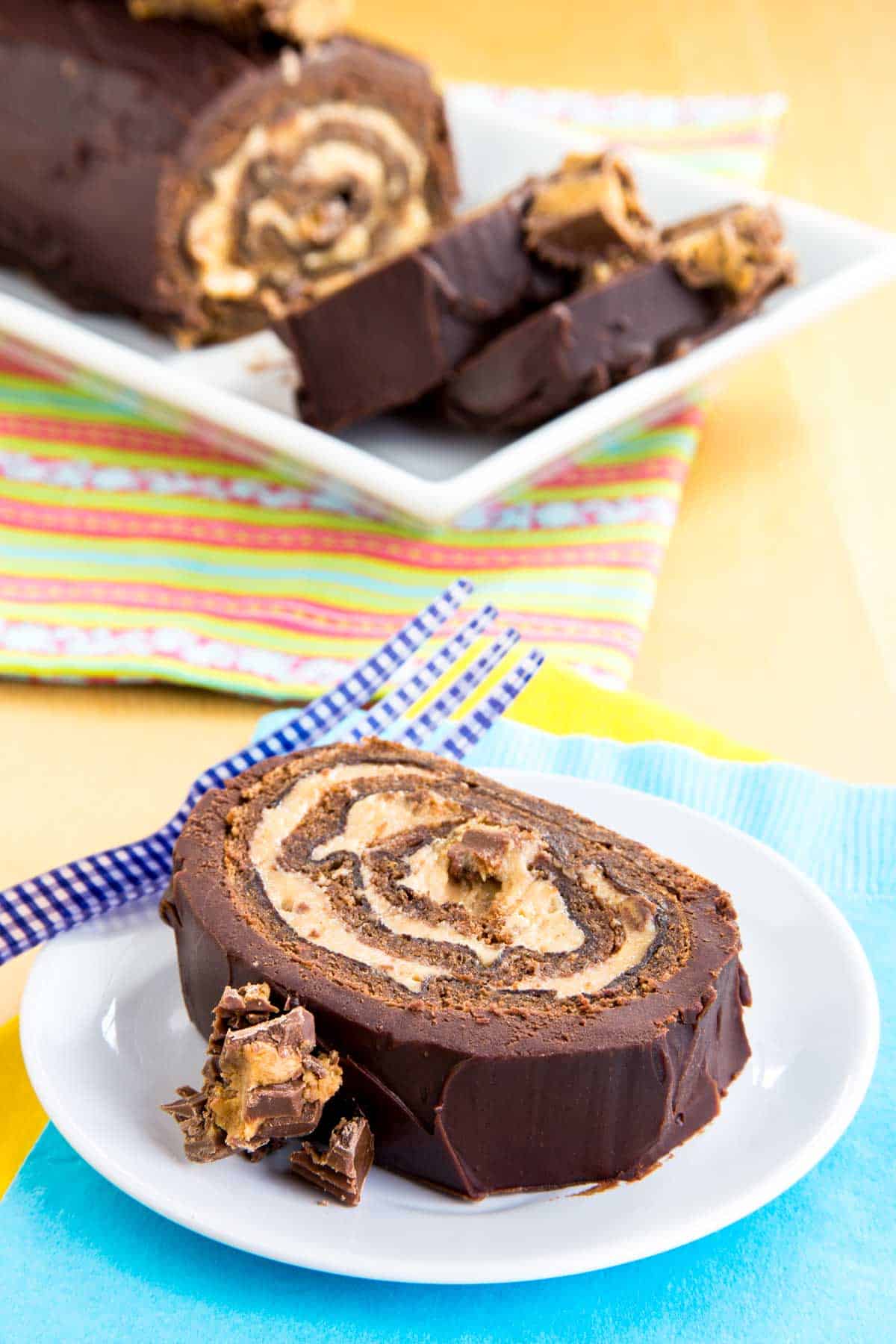 How do you keep a cake roll from cracking?
I find this flourless cake to be more, I suppose you can say, "flexible" than a traditional cake, so it is less likely to crack. However, I do take a few precautions.
Before baking the cake, line the baking pan with parchment, spray it with cooking spray, and using a small sifter, coat it completely with cocoa powder. This will ensure it comes out of the pan easily and in one piece.
While the cake is baking, lay out a kitchen towel. It will get quite dirty, so make sure it isn't one that you will want to keep pristine. Using a small sifter, cover the towel with a layer of cocoa powder. As soon as the cake comes out of the oven, flip it over onto the towel and peel off the parchment paper.
Then carefully roll it up in the towel and let it cool. Now all you have to do is unroll it, spread the filling inside, and roll it back up without the towel.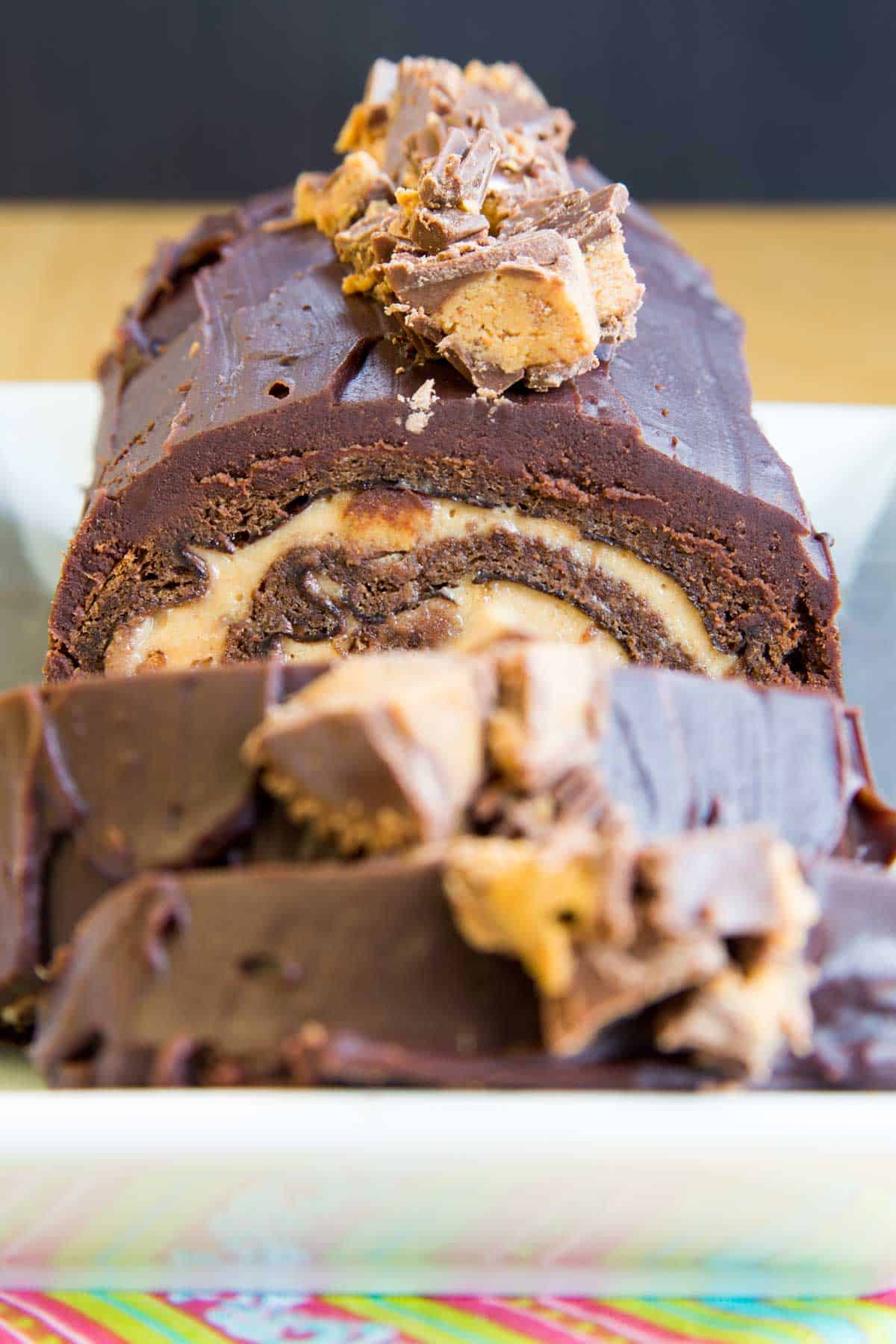 Is this Flourless Chocolate Cake Roll gluten free?
As I mentioned, this flourless chocolate sponge cake is naturally gluten free. It is my go-to for chocolate roll cake recipes, and I've also used it to make Flourless Pumpkin Cheesecake Chocolate Cake Roll.
You do always want to read labels on ingredients such as vanilla extract and cocoa powder to ensure that they do not have any sneaky gluten-containing ingredients or are produced in a facility where there could be cross-contamination. But in this recipe, you don't even have to worry about buying special gluten free flours.
The mousse and ganache contain fairly basic ingredients like cream cheese and heavy cream. One slight note of caution is to also check your chocolate chips. I always use the Costco-sized bag of Nestle Toll House Morsels.
So there's really only one area of concern when making this gluten free chocolate cake roll.
Are Peanut Butter Cups gluten free?
Hershey confirms on their website that all Reese's Peanut Butter Cups are gluten free except the seasonally shaped items, so skip the pumpkins and Christmas trees. Justin's Peanut Butter Cups are also gluten free. That means you have no problems making this recipe as a gluten free cake roll.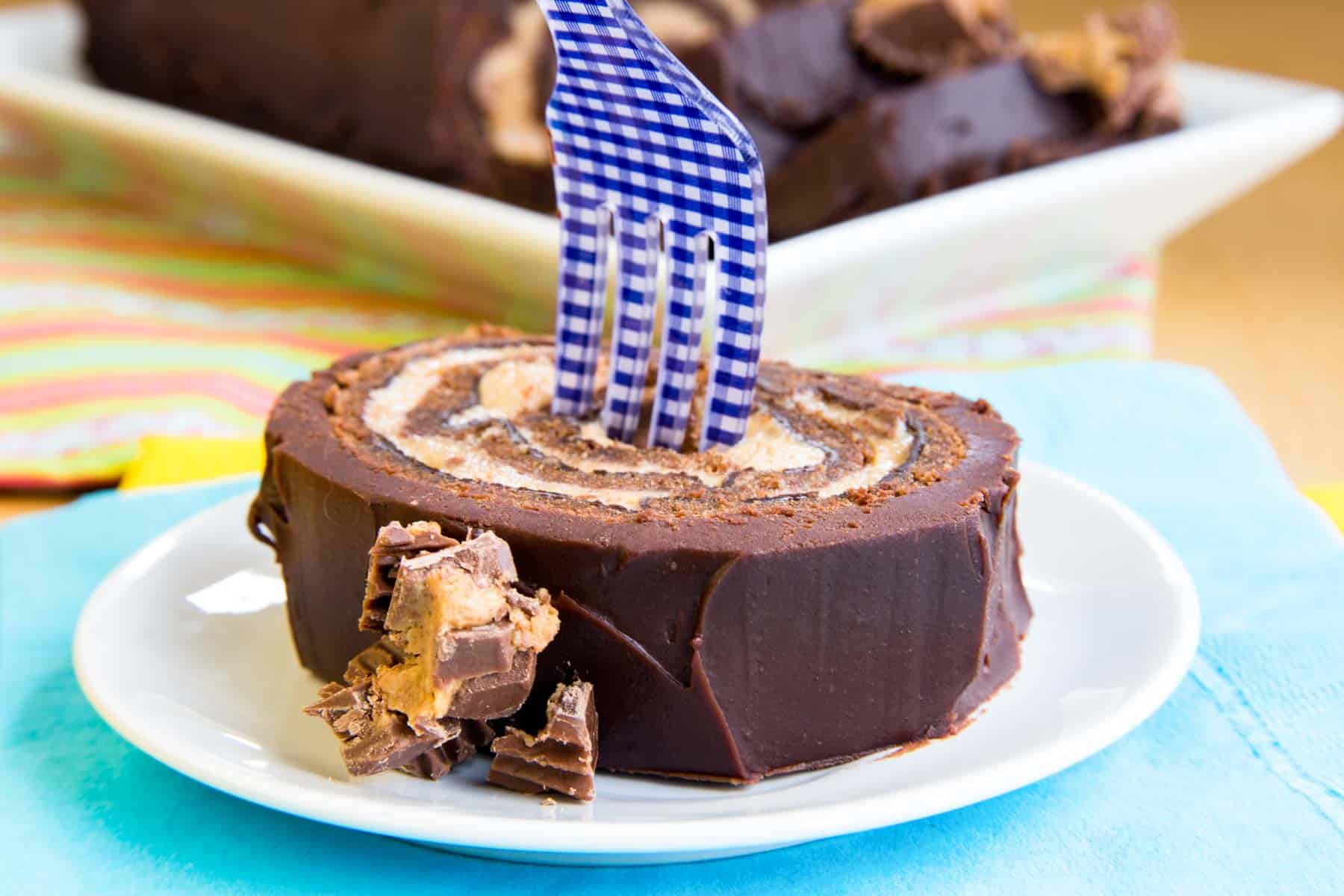 For more yumminess from me and my foodie friends, keep up with me on…
Or sign up to have Cupcakes & Kale Chips delivered straight to your Inbox!
After you've had dinner, perhaps a Gluten Free Lasagna, you need dessert.
Want more gluten free cake recipes?
What else can you make with Reese's Peanut Butter Cups in it?
Flourless Reese's Chocolate Peanut Butter Cake Roll Recipe
A moist, tender sponge cake is filled with a creamy peanut butter cup mousse, then enrobed in chocolate ganache. If you don't turn heads with this dessert, I'll be shocked. It's rich, indulgent, and worth every calorie. In addition, since it's a flourless chocolate cake roll, it's naturally gluten free, too!
If you love this recipe, I hope you'll leave a comment and give it a FIVE STAR rating or share a photo on this pin on Pinterest!

Flourless Reese's Peanut Butter Cup Chocolate Cake Roll
A moist, tender sponge cake filled with a creamy peanut butter cup mousse, enrobed in chocolate ganache.
Ingredients
For the chocolate sponge cake:
8

large eggs,

separated

⅔

cup

granulated sugar

1

Tablespoon

+ 2 Tablespoons + ¼ cup unsweetened cocoa powder,

divided

⅛

tsp

salt

2

Tablespoons

brewed cold coffee

(leftover is fine)

1

teaspoon

vanilla extract
Instructions
For the chocolate sponge cake:
Preheat oven to 350°F. Coat a rimmed baking sheet (jelly roll pan) with cooking spray and line with parchment paper. Spray the parchment with more cooking spray and dust with 1 Tablespoon cocoa powder.

Using an electric mixer, beat the egg yolks and granulated sugar on high speed until thick and pale yellow. Add 2 Tablespoons cocoa powder, salt, coffee and vanilla, and beat in.

With clean beaters and a large clean bowl beat the egg whites to form stiff peaks.

Gently fold in about a quarter of the egg whites into the egg yolk mixture.

In three additions, fold in the remaining egg whites.

Spread the batter into the prepared pan and bake for 20 minutes. It will slowly spring back when lightly touched.

While the cake is baking, sprinkle ¼ cup cocoa powder over a clean kitchen towel.

After removing the cake from the oven, cool for a few minutes,and run a knife around the edges of the cake. Invert the cake onto the prepared kitchen towel and remove the parchment paper that is now on top of the cake.

Carefully roll the cake in the kitchen towel and allow to cool completely.

While the cake is baking, make the filling and topping.
For the filling:
Beat cream cheese and peanut butter with a hand mixer until smooth, then beat in the powdered sugar.

Add vanilla and 2 Tablespoons heavy cream and beat until smooth, adding up to an additional 2 Tablespoons heavy cream is necessary to achieve desired consistency.

Stir in 1/2 cup chopped peanut butter cups.
For the topping:
Place chocolate chips and 2/3 cup heavy cream in a microwave safe bowl or measuring cup and microwave for 30-60 seconds. Stir until smooth.

Chill in the fridge until thick and spreadable.

May be stored, wrapped in plastic, in the refrigerator for 24 hours before serving.
Assembling the cake:
Carefully unroll the cake in the towel.

Gently spread the peanut butter mousse filling over the top of the cake, spreading to about a half inch from the sides.

Roll up the cake from short end to short end. Place seam side down.

Carefully frost the cake with the ganache and top with the remaining chopped peanut butter cups.

Refrigerate for at least 1-2 hours before slicing. Slice off the unfrosted ends, if desired.
Nutrition Facts
Flourless Reese's Peanut Butter Cup Chocolate Cake Roll
Amount Per Serving (0.0625 of the cake)
Calories 285
Calories from Fat 144
% Daily Value*
Fat 16g25%
Cholesterol 99mg33%
Sodium 136mg6%
Potassium 209mg6%
Carbohydrates 29g10%
Protein 6g12%
Vitamin A 300IU6%
Vitamin C 0.1mg0%
Calcium 51mg5%
Iron 1.6mg9%
* Percent Daily Values are based on a 2000 calorie diet.
Enjoy!
Originally published on Jan 3, 2016.