Peanut Butter Cup Flourless Chocolate Cake Roll
Disclosure: This post may contain affiliate links. Cupcakes & Kale Chips is a participant in the Amazon Services LLC Associates Program, an affiliate advertising program designed to provide a means for us to earn fees by linking to Amazon.com and affiliated sites.
As #SundaySupper celebrates its fourth birthday and kicks off a month dedicated to sharing its mission to bring families back to the table starting one day a week, we are here with some (over 5o!) of our favorite recipes. I say that you can't have a birthday party without cake, so I had to make one with my favorite flavors – chocolate and peanut butter – all rolled up into one decadently delicious package in this Peanut Butter Cup Flourless Chocolate Cake Roll recipe.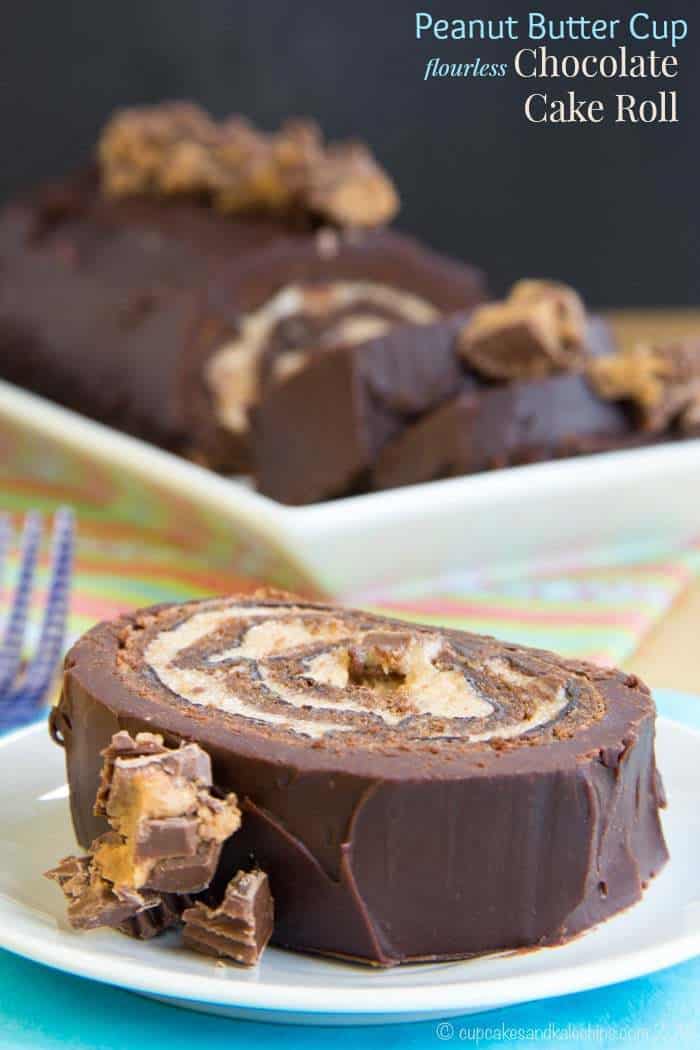 Baseball, cheerleading, soccer, piano, cub scouts, swimming, chess club – these days it seems parents are running their kids around like crazy every day after school. So many times, it's a quick stop at the drive-through or picking up a pizza on the way home with everyone grabbing a slice as they scatter in different directions to make sure homework is done and laundry is folded, and the garbage has been taken out. I certainly think it's good to keep kids active and help them to be well-rounded and learning new things that they won't learn in the classroom, but there is a price to be paid – sacrificing family dinners.
Family dinnertime is about so much more than simply eating food. It's about talking and sharing and connecting. And though my kids are still young, I truly feel that sitting at the table together as many nights a week as possible is what has helped my boys learn not only how to talk, but also how to engage in conversations. It's where I teach them about both the importance of making good food choices to nourish their bodies and the joy and love that can be shared through enjoying a meal together.

MY LATEST VIDEOS
Even with only one child in school, and with him only being in kindergarten, I see how it happens. Religious education once a week, karate twice a week, maybe another night or two The Hubby has to work late or has a work dinner to attend. This has come to reaffirm my position that even ad our children grow, we will make choices about activities and plans and schedules that ensure that family dinners do not fall by the wayside.
For me, though, sitting down to family dinners is a way of life. It is how I grew up and how I intend to raise my children. I want them to know that our dinner table is a welcoming, safe place. A place where they can share joys and sorrows, accomplishments and concerns, a place where they can tell us what they've learned and what they need help with, and where we can share our experiences and advice, or just lend a supportive ear or shoulder.
It's also a place where, after we have shared a nourishing meal (and some conversation), sometimes we can also enjoy a special treat…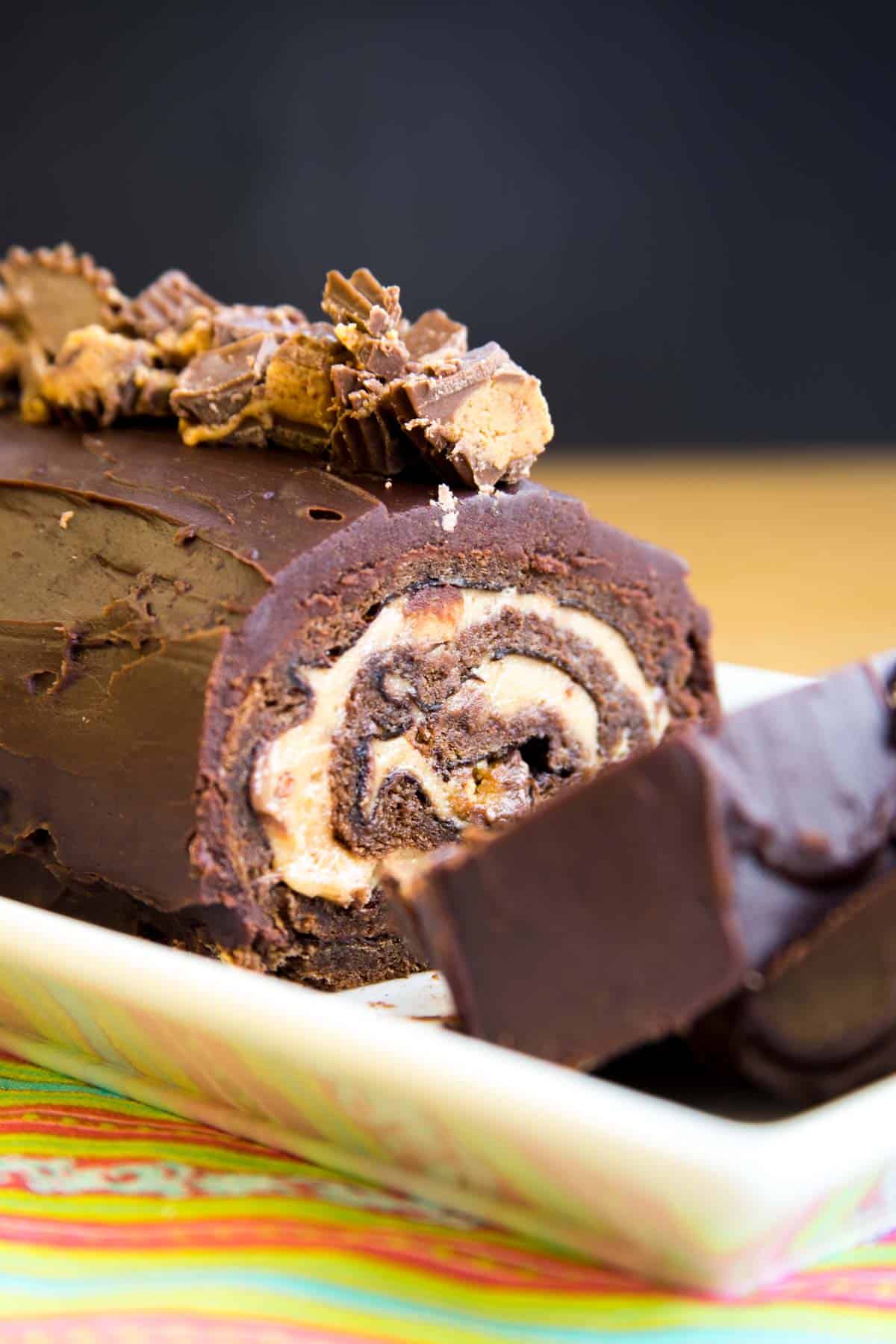 This Peanut Butter Cup Flourless Chocolate Cake Roll recipe is way too easy to be this impressive and amazing.
I mean, chocolate and peanut butter is never a bad idea. Now triple the chocolate and triple the peanut butter, and you have a winning combination. A super easy flourless (and naturally gluten free) chocolate sponge cake with rolled up with a creamy and dreamy peanut butter mousse that has ben studded with peanut butter cups. Top it with a rich chocolate ganache and even more peanut butter cups and you have a swirly good roll of heaven. When I saw this Peanut Butter Cup Cake Roll from Dorothy at Crazy for Crust, I knew I had to make it with my favorite flourless chocolate sponge cake. And I'm so glad I did. Well, my waistline may not be happy I made it, but my tastebuds are. Yours will be too!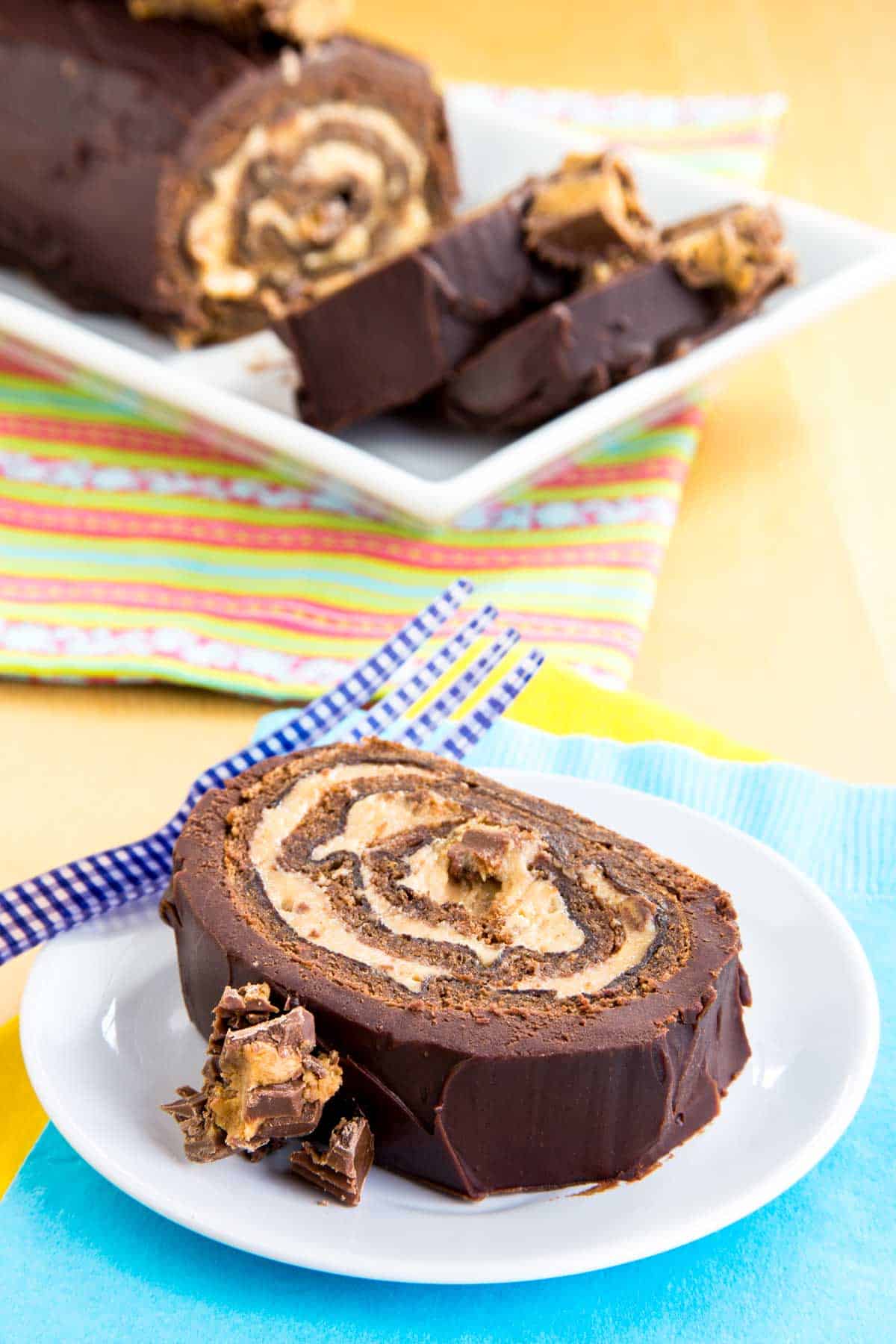 If you love peanut butter cups, I'm here to help…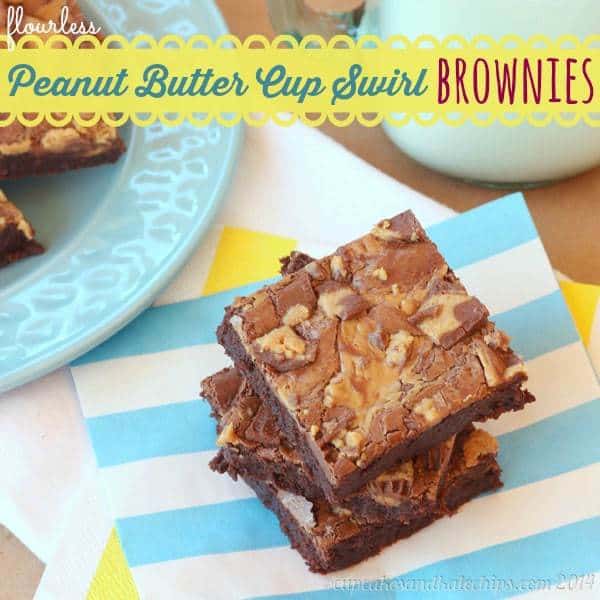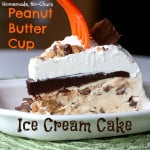 And so are my friends. These Chocolate Peanut Butter Cookies from Love From the Oven are fully loaded. Peanut Butter Cup Pie from Wine and Glue is the stuff chocolate and peanut butter dreams are made of. Peanut Butter Cup Rice Krispie Treats from Inside Bru Crew Life make the classic marshmallowy bar even better.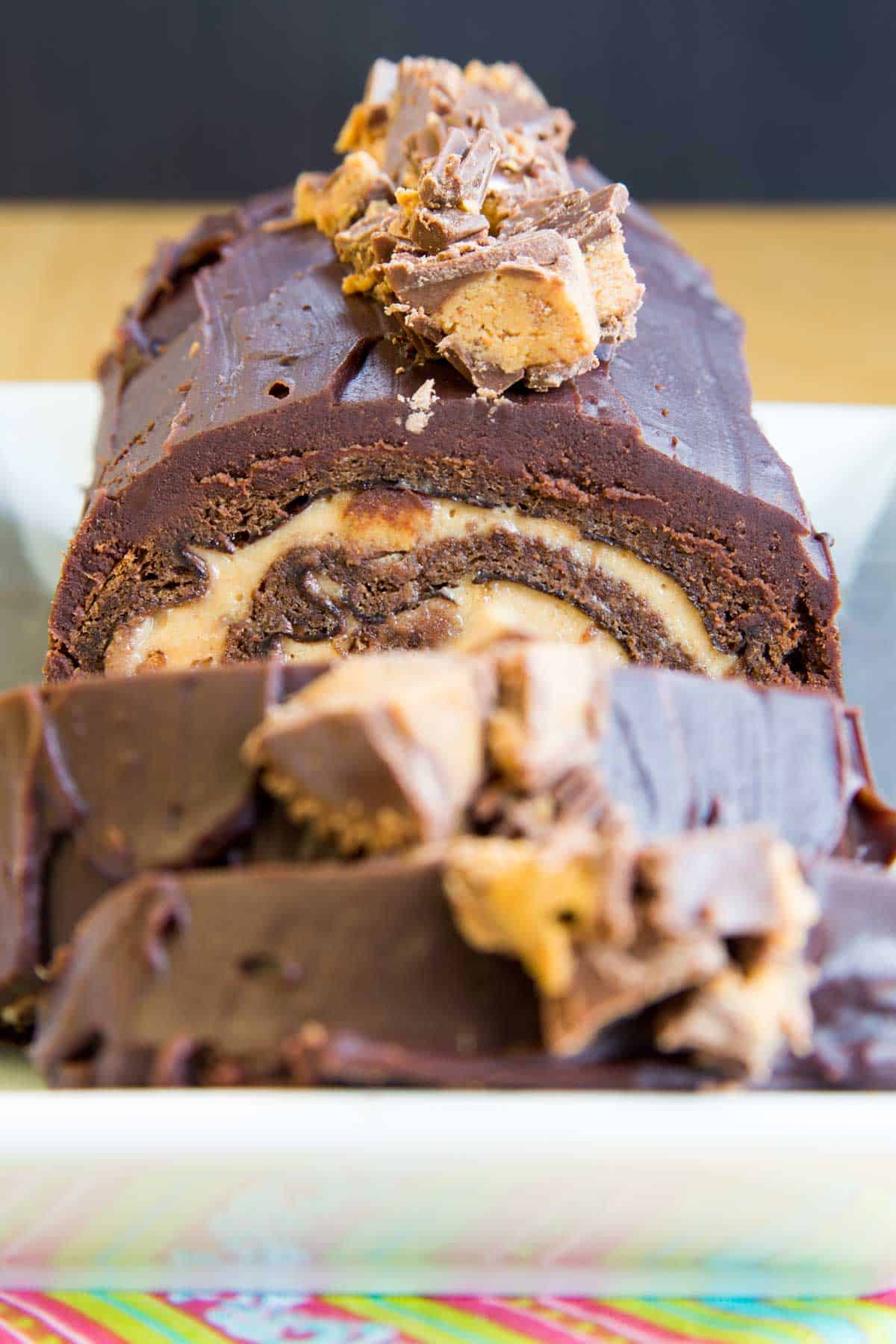 For more yumminess from me and my foodie friends, keep up with me on…
Or sign up to have Cupcakes & Kale Chips delivered straight to your Inbox!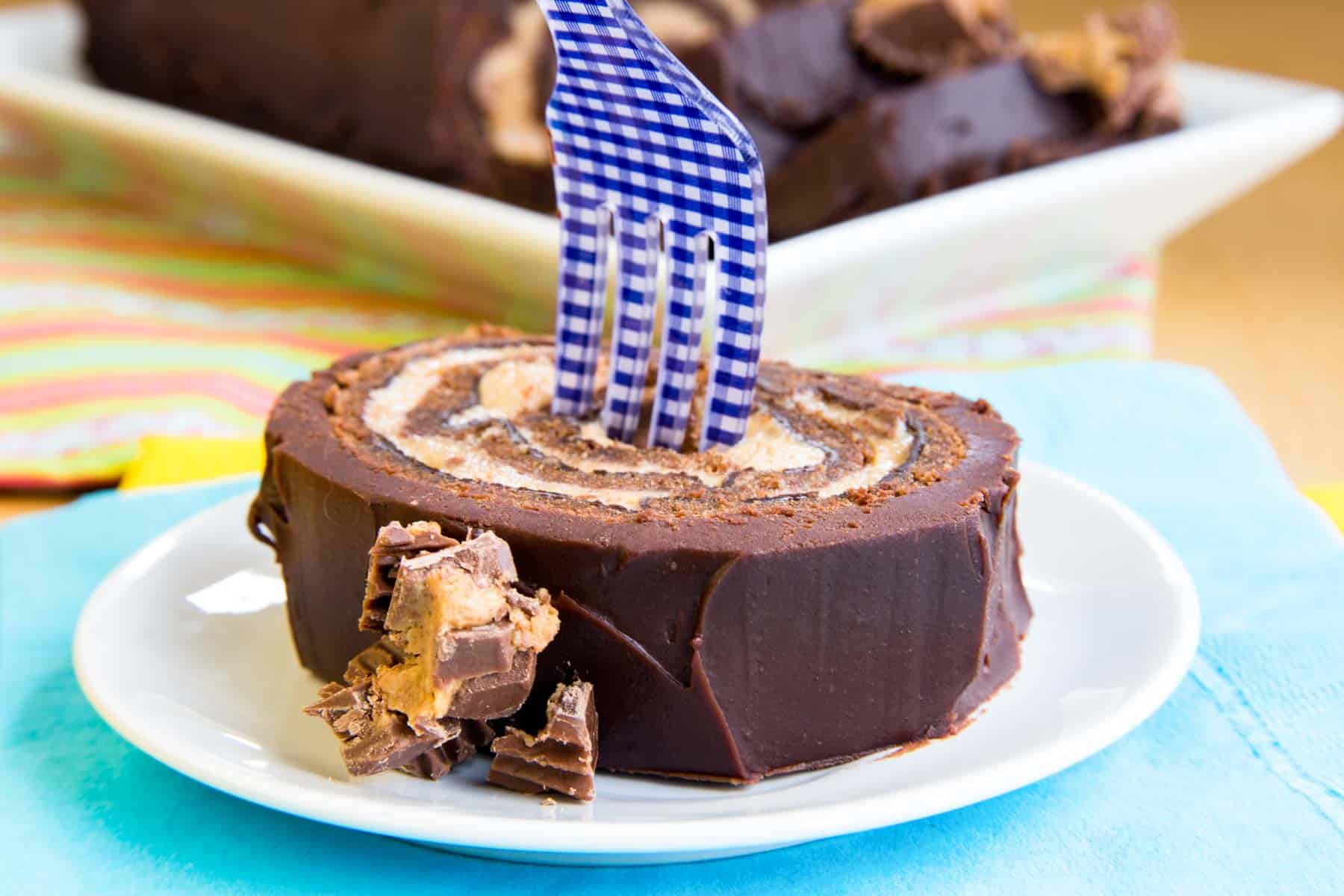 How often do you eat together as a family? Are you taking the pledge?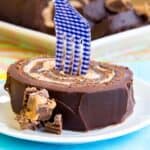 Peanut Butter Cup Flourless Chocolate Cake Roll
A moist, tender sponge cake filled with a creamy peanut butter cup mousse, enrobed in chocolate ganache.
Ingredients
For the chocolate sponge cake:
8

large eggs

separated

⅔

cup

granulated sugar

1

Tablespoon

+ 2 Tablespoons + ¼ cup unsweetened cocoa powder

divided

⅛

tsp

salt

2

Tablespoons

brewed cold coffee

leftover is fine

1

teaspoon

vanilla extract
For the filling:
2

ounces

cream cheese

softened

1/3

cup

peanut butter

1

cup

powdered sugar

1

teaspoon

vanilla extract

2-4

tablespoons

heavy cream

About 1/2 cup chopped peanut butter cups

about 9-10 miniature peanut butter cups
For the topping:
1

cup

semi-sweet chocolate chips

2/3

cup

heavy cream

About 1/2 cup chopped peanut butter cups

about 9-10 miniature peanut butter cups
Instructions
For the chocolate sponge cake:
Preheat oven to 350°F. Coat a rimmed baking sheet (jelly roll pan) with cooking spray and line with parchment paper. Spray the parchment with more cooking spray and dust with 1 Tablespoon cocoa powder.

Using an electric mixer, beat the egg yolks and granulated sugar on high speed until thick and pale yellow. Add 2 Tablespoons cocoa powder, salt, coffee and vanilla, and beat in.

With clean beaters and a large clean bowl beat the egg whites to form stiff peaks.

Gently fold about about a quarter of the egg whites into the egg yolk mixture.

In three additions, fold in the remaining egg whites.

Spread the batter into the prepared pan and bake for 20 minutes. It will slowly spring back when lightly touched.

While the cake is baking, sprinkle ¼ cup cocoa powder over a clean kitchen towel.

After removing the cake from the oven, cool for a few minutes,and run a knife around the edges of the cake. Invert the cake onto the prepared kitchen towel and remove the parchment paper that is now on top of the cake.

Carefully roll the cake in the kitchen towel and allow to cool completely.

While the cake is baking, make the filling and topping.
For the filling:
Beat cream cheese and peanut butter with a hand mixer until smooth, then beat in the powdered sugar.

Add vanilla and 2 Tablespoons heavy cream and beat until smooth, adding up to an additional 2 Tablespoons heavy cream is necessary to achieve desired consistency.

Stir in 1/2 cup chopped peanut butter cups.
For the topping:
Place chocolate chips and 2/3 cup heavy cream in a microwave safe bowl or measuring cup and microwave for 30-60 seconds. Stir until smooth.

Chill in the fridge until thick and spreadable.

May be stored, wrapped in plastic, in the refrigerator for 24 hours before serving.
Assembling the cake:
Carefully unroll the cake in the towel.

Gently spread the peanut butter mousse filling over the top of the cake, spreading to about a half inch from the sides.

Roll up the cake from short end to short end. Place seam side down.

Carefully frost the cake with the ganache and top with the remaining chopped peanut butter cups.

Refrigerate for at least 1-2 hours before slicing. Slice off the unfrosted ends, if desired.
When it's a party, you need cake…
And here is my Pinterest board filled with cakes for special celebrations!
Follow Brianne @ Cupcakes & Kale Chips's board Birthday Cakes for Family & Friends Inspiration on Pinterest.
Plus the entire #SundaySupper menu to kick off a month of celebrating!
Appetizers and Soups
Main courses
Side dishes
Desserts