This post may contain affiliate links. Read my disclosure policy.
Wondering what to do with all of that leftover candy? Why not transform it into even more decadent desserts?! You'll find so many indulgent ideas in this collection of 50+ Leftover Halloween Candy Recipes! This list includes gluten free treats too!
What To Do With Leftover Candy
Food bloggers have a certain superpower. We can take something already delicious, like our favorite candy, and turn it into something even more irresistible.
This is all so we can tempt out readers with amazing dessert recipes made from leftover candy bars. Because we know you raided your kids' Halloween stash and maybe there are still a few that haven't been eaten. Or it's possible you just want to take some items you have lying around and turn them into a dessert you can bring to a party or serve to your family and friends.
The desserts you can make with leftover candy bars and other chocolate and candies are endless. But let's break it down to the basics.
Use candy to decorate cakes or top cupcakes.
Stir chopped candy bars into homemade ice cream.
Stuff some into cookies
Sprinkle them in brownies
CLICK ON THE BUTTONS TO GET THE RECIPES
Key to finding gluten free recipes:
GF – gluten free recipe
GFO – recipe with gluten free option
---
50+ Leftover Halloween Candy Recipes
Just try to resist taking your favorite candies and turning them into something even more decadent. You'll never wonder what to do with leftover candy again.
Reese's Recipes
Reese's might be the first to disappear, but make sure to save some because these desserts will tempt any chocolate and peanut butter love
Leftover M&M's Recipes
They may melt in your mouth and not in your hand, but they are totally mouthwatering when added to cookies, bars, and so much more.
Leftover Heath Bars and Toffee Recipes
That buttery candy adds something salty-sweet to your treats. And there's just something so good about that crunch.
Leftover Hershey Bar, Mounds, and Almond Joy Recipes
From classic chocolate to coconutty treats, you can't go wrong with desserts made with these classic bars from Hershey's.
Combine the classic campfire treat and a chocolate cream pie into one amazing dessert made with Hershey Bar pudding. Don't forget to toasted marshmallow meringue.
GFO – use gluten free graham crackers or the almond flour crust alternative
Get The Recipe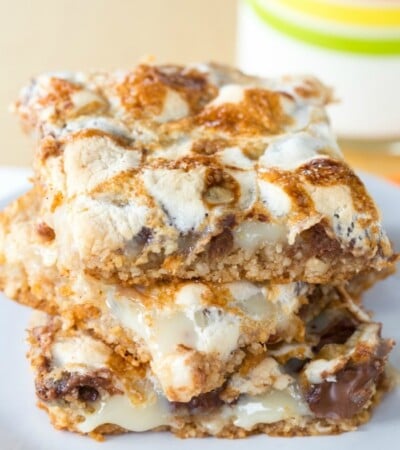 Combine two favorites into one gooey chocolate-and-marshmallow-filled treat with an easy flourless graham cracker crust. This twist on class magic bars is a guaranteed hit!
GF
Get The Recipe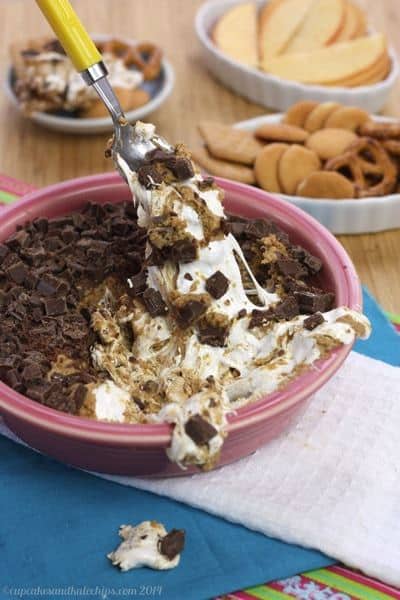 You don't need a campfire when you have this smooth and gooey dessert dip. It's swirled with marshmallow and topped with chopped milk chocolate, plus the cookie butter gives a hint of spiced cookie goodness.
Get The Recipe
More Hershey, Almond Joy, and Mounds Recipes
Leftover Snickers and Milky Way Recipes
These nutty, caramelly, and chocolaty candies make desserts extra gooey and delicious. They are finger-licking good.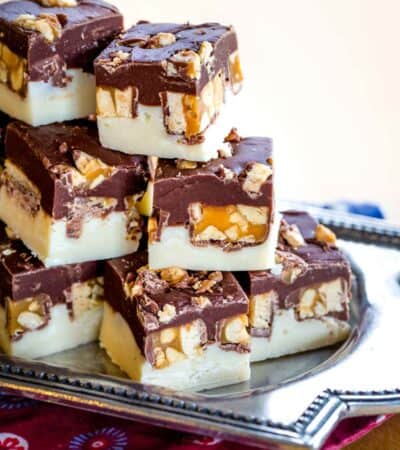 Stuffed with your favorite candy bar, this melt-in-your-mouth treat has both dark and white chocolate. To make it even better, it has only five ingredients and you can make it on the stove or in the microwave – no candy thermometer needed!
GF
Get The Recipe
Roll up a tender sponge cake with fluffy whipped cream is studded with Milky Way candy bars and drizzled with caramel for a rich and impressive desseert. Covered with a chocolate ganache frosting, and drizzled with more caramel, it's impossible to resist.
GF
Get The Recipe
More Snickers and Milky Way Recipes