This post may contain affiliate links. Read my disclosure policy.
This easy lasagna recipe is called the World's Best Lasagna for a reason! A classic pasta made with layers of lasagna noodles, hearty meat sauce, creamy ricotta, and mozzarella cheese baked to hot, gooey deliciousness. This no-fail homemade lasagna always wins rave reviews!
Looking for a gluten free option? Try this simple Gluten Free Lasagna recipe!
Easy Homemade Lasagna
I am not Italian. At all. But I love Italy, and Italian food. And I grew up in New Jersey, definitely an epicenter of Italian-American cooking with pizzerias and Italian restaurants on every corner.
So when I have to make a large amount of something, I often fall back on baked ziti, or stuffed shells, or this easy lasagna recipe created by John Chandler on Allrecipes (with my changes as I note below).
Is this the World's Best Lasagna?
It's called the World's Best Lasagna. While I can't verify that the research was actually done to make this claim, it is definitely the best homemade lasagna I've ever made. And I have made it many, many times.
I brought it to a woman in my former mom's group who had just had her third baby. I made it for my dad to eat while he was babysitting my big guy when he was just a toddler because they both love it. We have made two of them for big family parties.
And trust me, always make two. It's not much more work and it freezes and reheats beautifully!
If you read all of my tips, check out the process shots, and watch the short video, you'll see that it is truly an easy lasagna recipe. And once you taste it, you'll know that all the effort is worth it.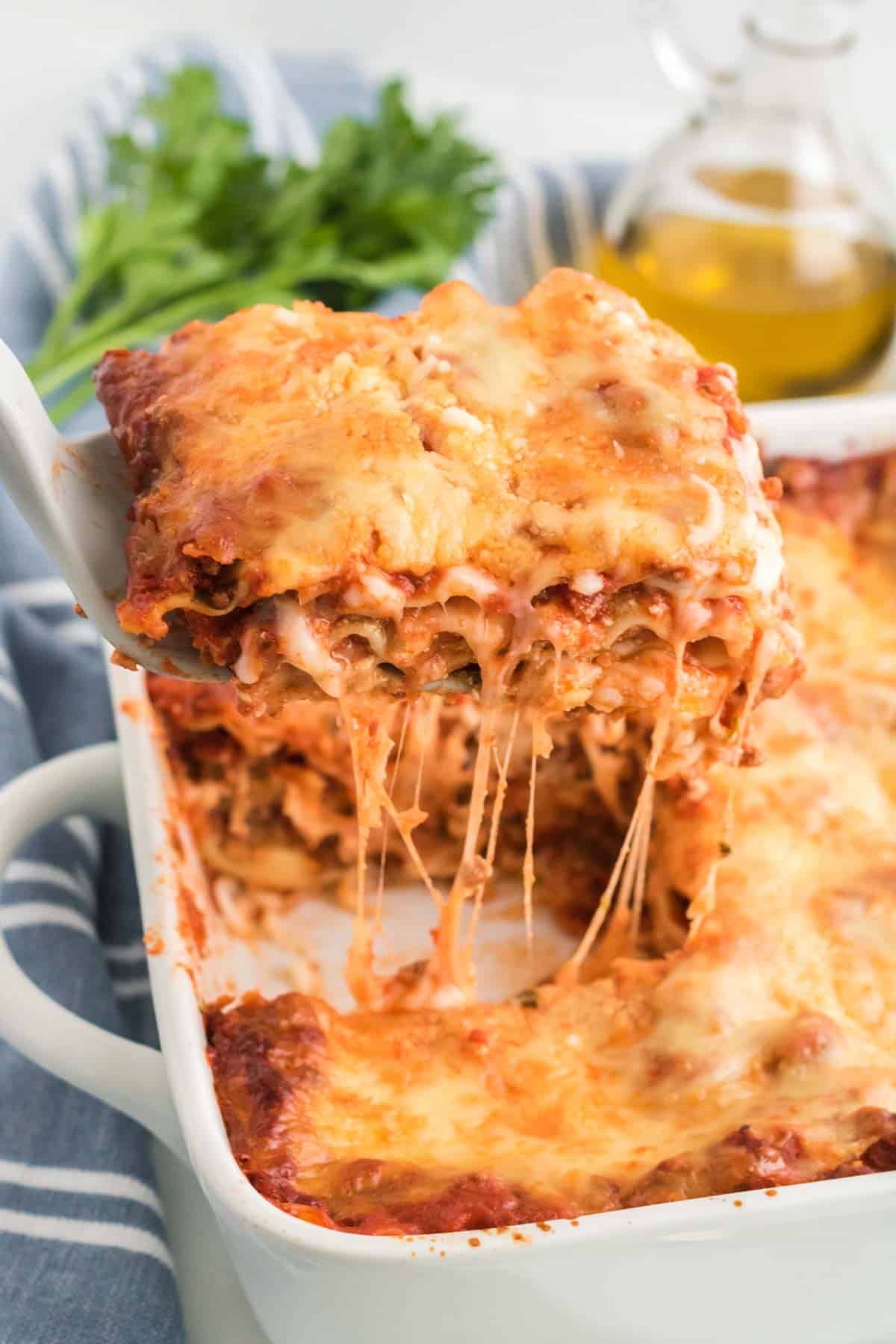 What Makes this Easy Lasagna Recipe So Good?
A slight adaptation of the All Recipes lasagna that is a tried and true all-time favorite. It's got the layers of pasta, meaty sauce, creamy ricotta, and gooey mozzarella cheese that you know and love. But there's just something about this sauce that makes this recipe so amazing.
Seriously, it's all about the sauce. There is nothing like it. It's hearty and meaty with tons of tomato flavor and the perfect amount of herbs. And it is so flavorful because it is made with both beef and sausage.
Then when it is layered with noodles and three kinds of cheese, it all comes together into the perfect bite of hot, cheesy, meaty, saucy deliciousness.
But don't just take my word for it. Truly, everyone who tries it absolutely loves it!
What people have said about this recipe
"I've made this many times and it really is the best lasagna recipe I've ever made. Its my son's favorite!"

"Delicious!! Meat sauce is the absolute BEST!!. I let it simmer for two hours. It turned out great. I will definitely add this to my dinner rotation. Thanks for the awesome recipe Brianne!"

"Outstanding recipe! The sauce alone is one of the best I've had. I use San Marzano tomatoes and simmer it for 3 hours. Thanks so much for sharing this great Italian classic!"

"I JUST made this, and it was actually the best lasagna ever. It was my first time making lasagna, and I am blown away by how well it turned out. I served it with fresh garlic bread. Thank you so much for this recipe!"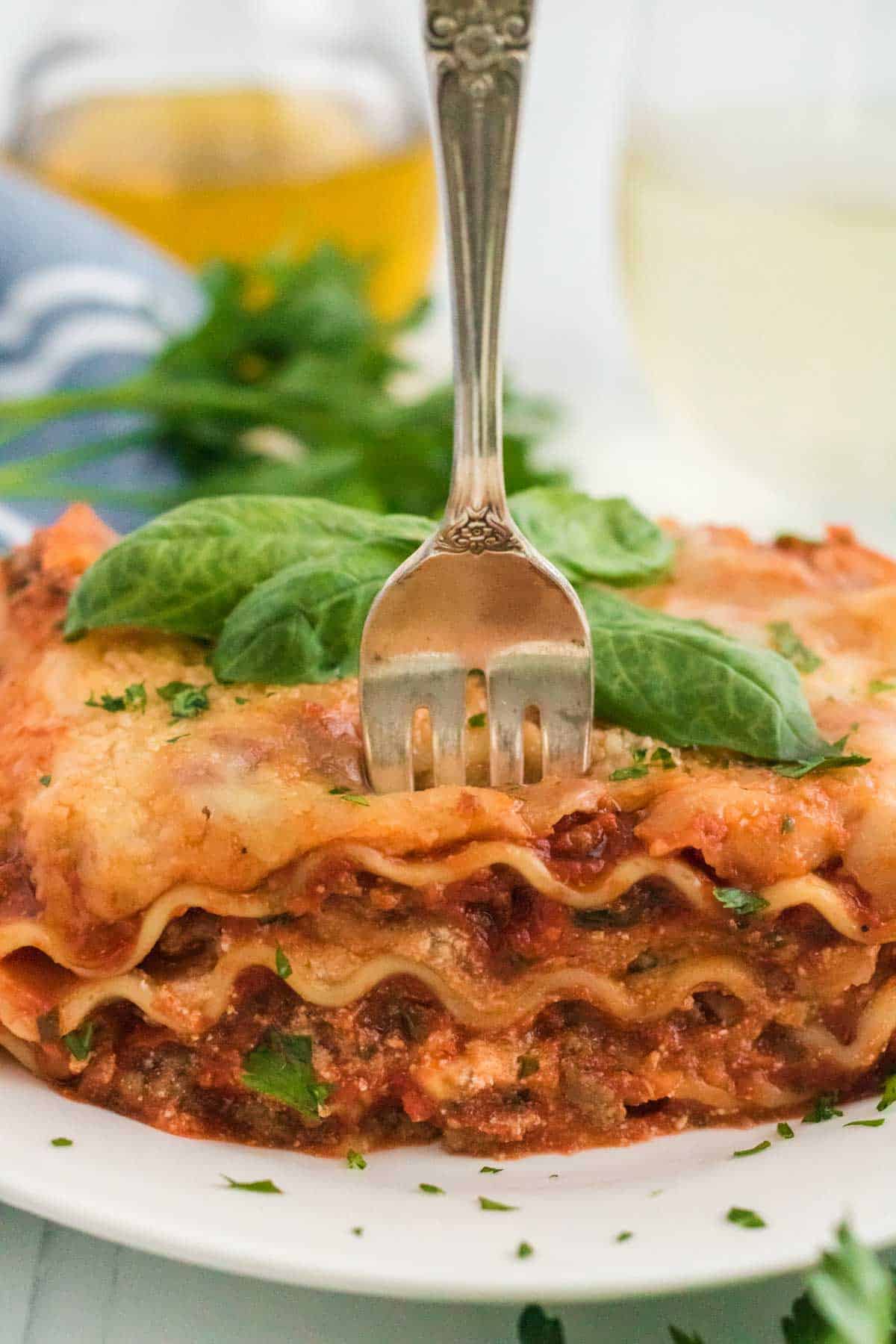 Ingredients
Since it is so good, I have no need to make any major changes to the original ingredients. But I do make a few tweaks.
For the sauce:
Sweet Italian turkey or pork sausage: I always use turkey sausage, but either is fine. If you like a little spice, try hot sausage.
Ground beef
Onion
Garlic
Canned crushed tomatoes
Tomato paste
Canned tomato sauce
Water
Sugar: Some people like a bit of sugar to balance out the acidity of the tomato sauce. This is optional and I usually leave it out.
Dried basil leaves
Fennel seeds: Some people think fennel is essential in meat sauce. I find that the sausage adds enough fennel flavor for my taste, so this is optional and I usually leave it out.
Italian seasoning
Salt & Pepper
Fresh parsley
For layering the lasagna:
Lasagna noodles: Regular or no cook are both fine. I usually use no cook noodles. If you need to make this gluten free, use Barilla No Boil Gluten Free Lasagna Sheets)
Ricotta cheese
Egg: The egg serves as a binder to make the ricotta firmer.
Fresh parsley: You'll need a little more here to add in with the ricotta mixture.
Mozzarella cheese
Grated Parmesan cheese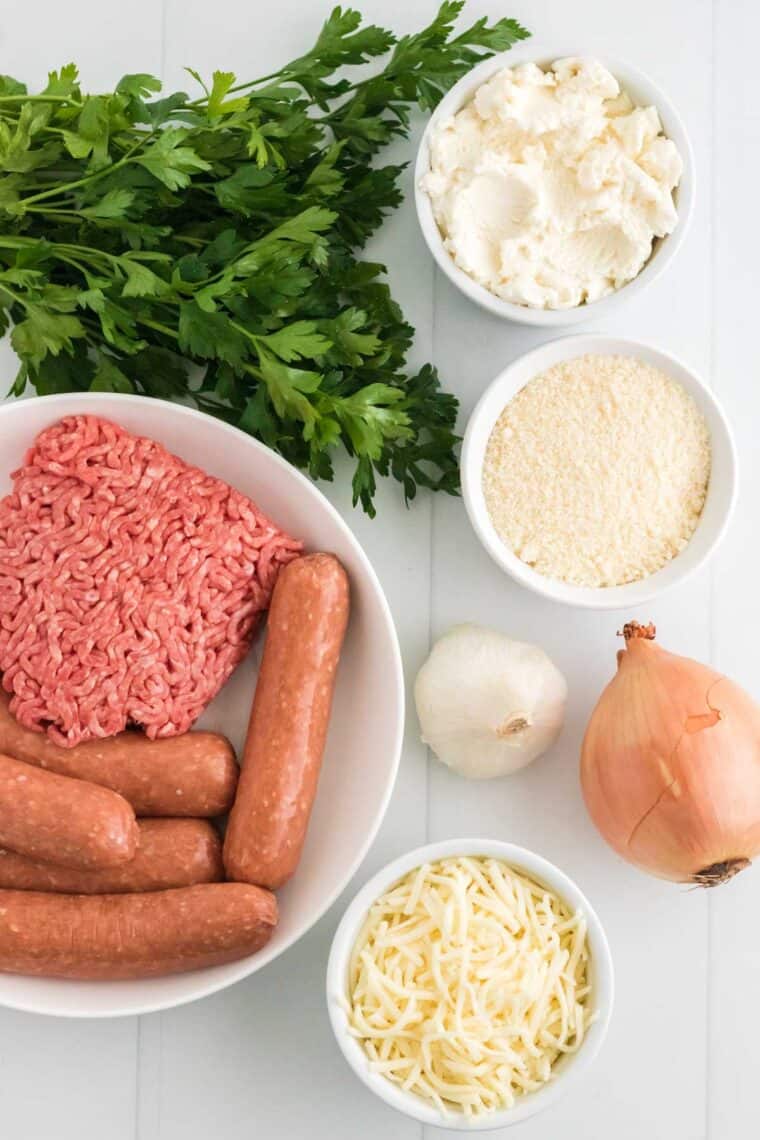 How to Make Lasagna
Though I mentioned that it does take a bit of time, most of that time is waiting for the sauce to simmer or the homemade lasagna to bake in the oven. There are really only a few simple steps I note here. You can find all the details in the recipe card at the bottom of the post.
Here is an overview with photos showing how to make this easy lasagna recipe:
Make the sauce
Combine sausage, ground beef, onion, and garlic in a large pot over medium heat. Stir and cook until cooked through and browned. Add the remaining sauce ingredients. Bring to a simmer, reduce heat, and let it cook for at least 1 1/2 hours.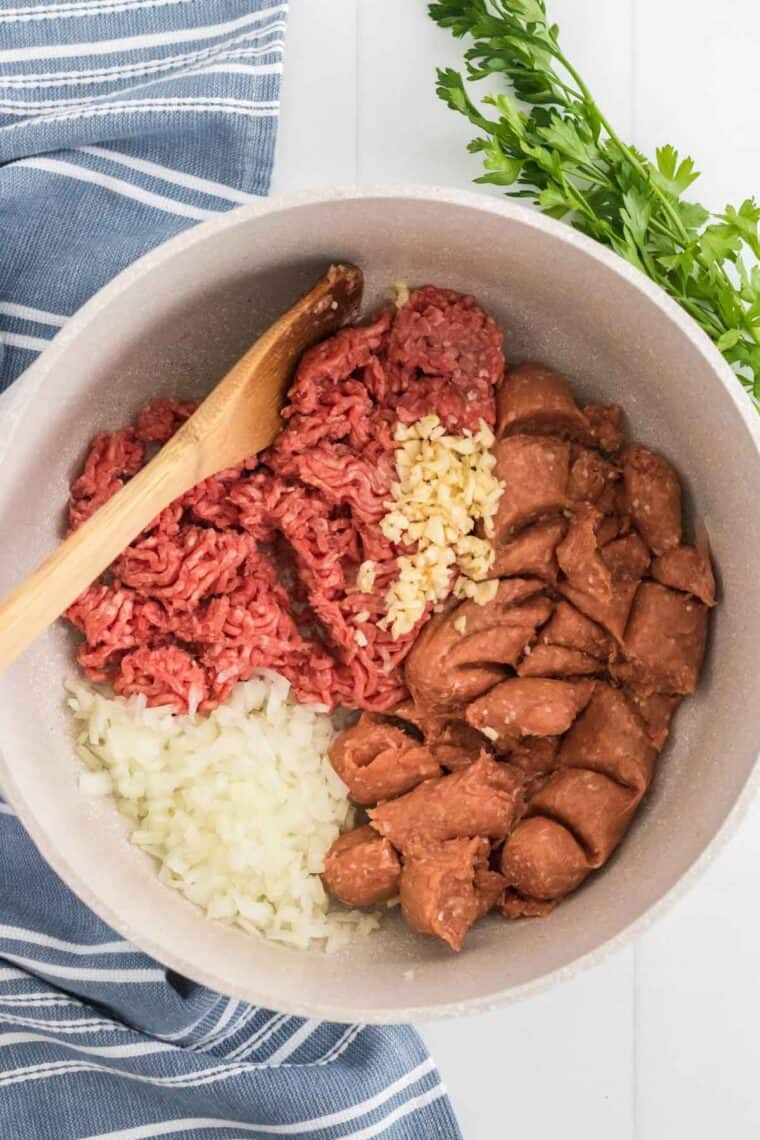 Prepare the noodles and cheeses
If you are using regular lasagna noodles, while it simmers cook pasta according to package directions until al dente. Shred the mozzarella cheese. Stir together the ricotta, egg, parsley, and salt.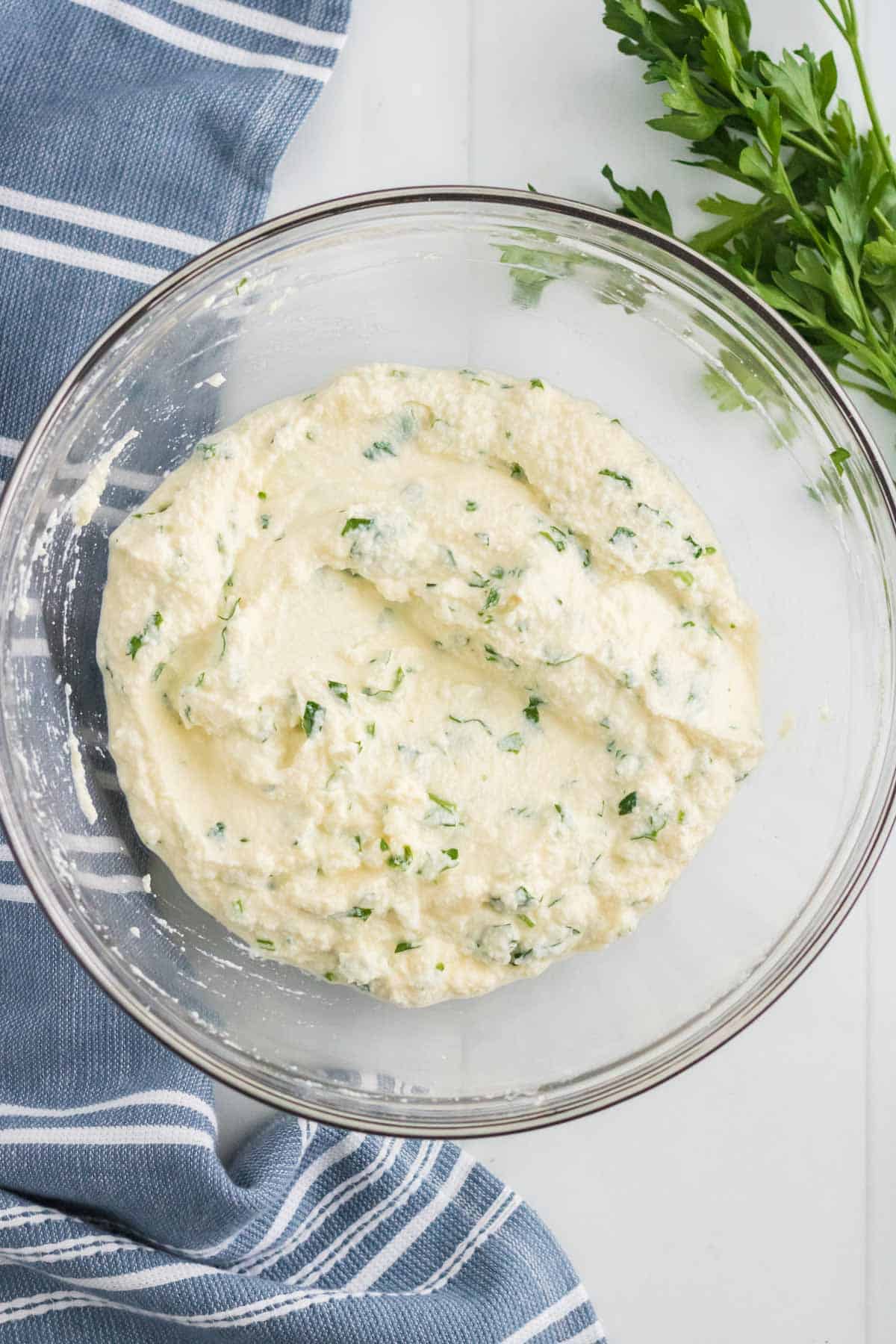 The correct order to layer lasagna:
Layer sauce, noodles, ricotta cheese mixture, mozzarella, and Parmesan cheese as described and shown here:
Layer sauce on the bottom of the pan.
Top with noodles.
Top with ricotta cheese mixture.
Sprinkle on mozzarella cheese.
Sprinkle on Parmesan cheese.
Add more sauce.
Repeat layers starting with another layer of noodles.
Spread on the rest of the ricotta.
Sprinkle on more mozzarella.
Add more Parmesan
Layer on more sauce.
A final top layer of noodles, sauce, and the rest of the Parmesan and Mozzarella cheese.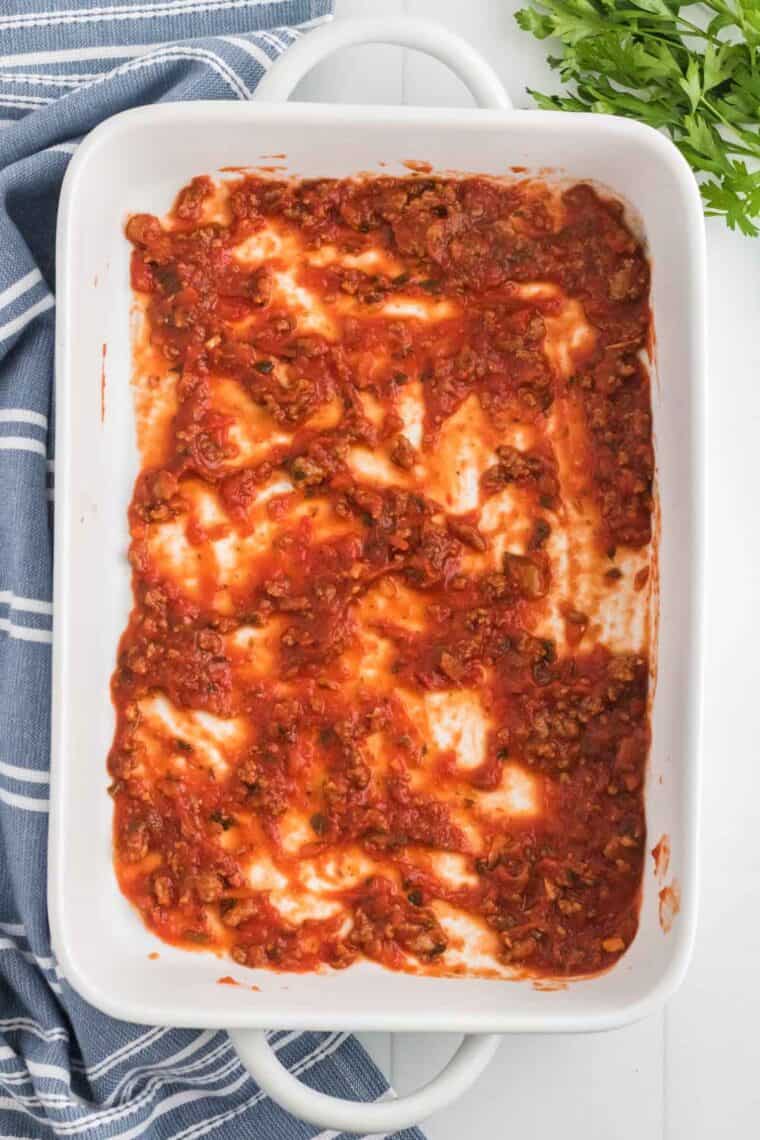 How Many Layers Should Lasagna Have?
You need at least 2 layers to make a proper homemade lasagna. You can certainly have more but 2 is the minimum.
In the World's Best Lasagna, I like to have three layers of pasta with two layers of the three kinds of cheese. Sauce covers the bottom of the pan and the top of the lasagna, and it is finished with a final sprinkle of mozzarella and Parmesan.
Bake the lasagna
Cover with foil and bake at 375°F. Let cool slightly before serving.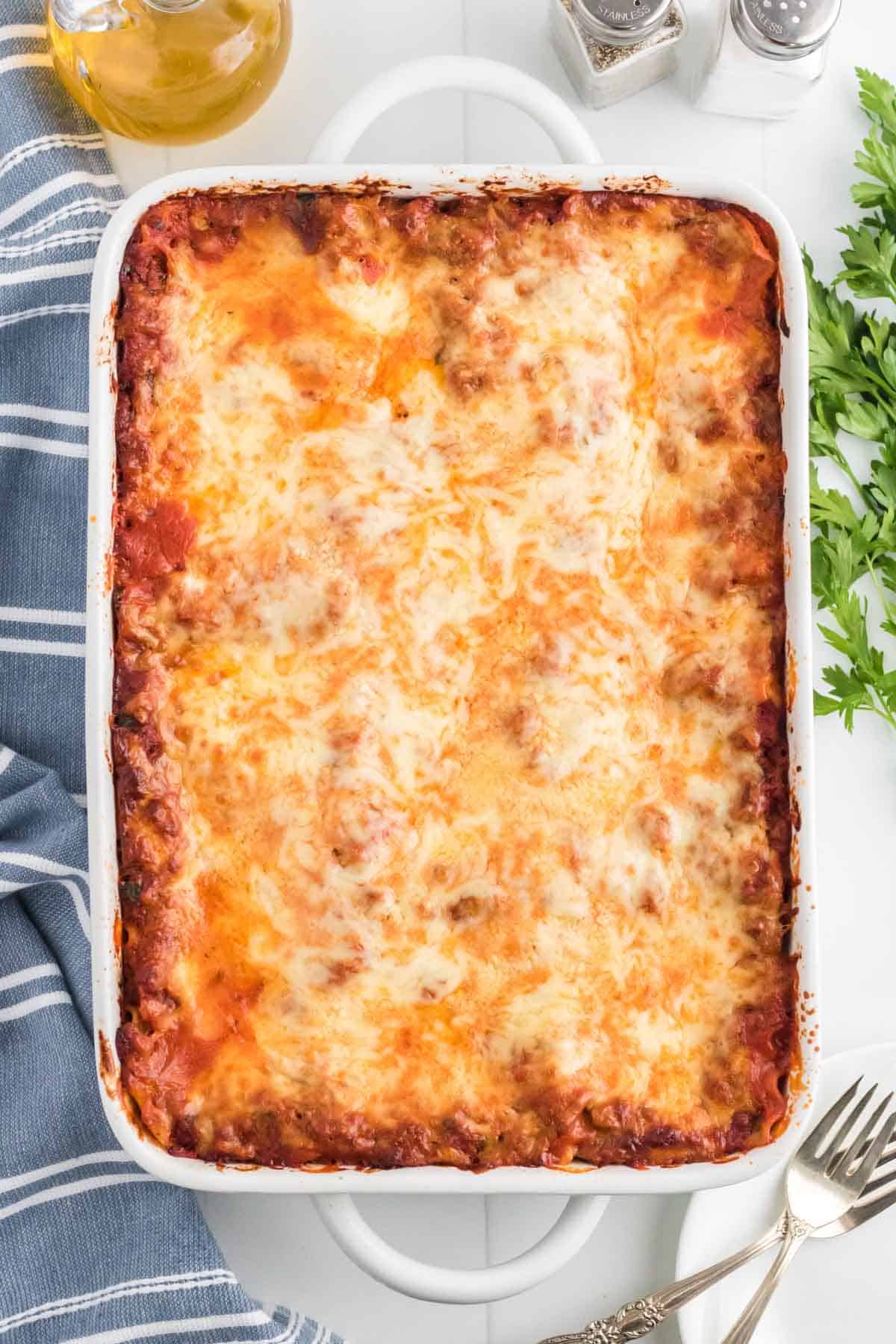 Tips for the Best Lasagna
Swap the meat. You can use turkey sausage instead of Italian sausage made with pork, which is actually my preference.
Sweeter isn't always better. While the recipe lists the addition of sugar, because some insist on it to balance the acidity of the tomatoes in the sauce, I always leave it out.
Skip the boiling. You can (and dare I say even should) use no-boil noodles. They make the layering easier, and absorb some excess moisture, creating nice slices.
Make the sauce a day or two before. This is especially good to do on a day when you have time to let it simmer for as long as possible. But even if you don't simmer it longer, you still allow the flavors to blend together and develop in the fridge overnight. This also saves time the day you plan to assemble, bake, and serve the lasagna.
Double it up. Trust me, it's worth it to make two. It doesn't take much more effort, and then you have one on standby. Keep reading for how to freeze it before or after you bake it.
And here is a reader tip – "One tip I learned years ago when using regular noodles is to boil some water, pour them over your noodles & let them sit in a pan for an hour or so. No more broken noodles."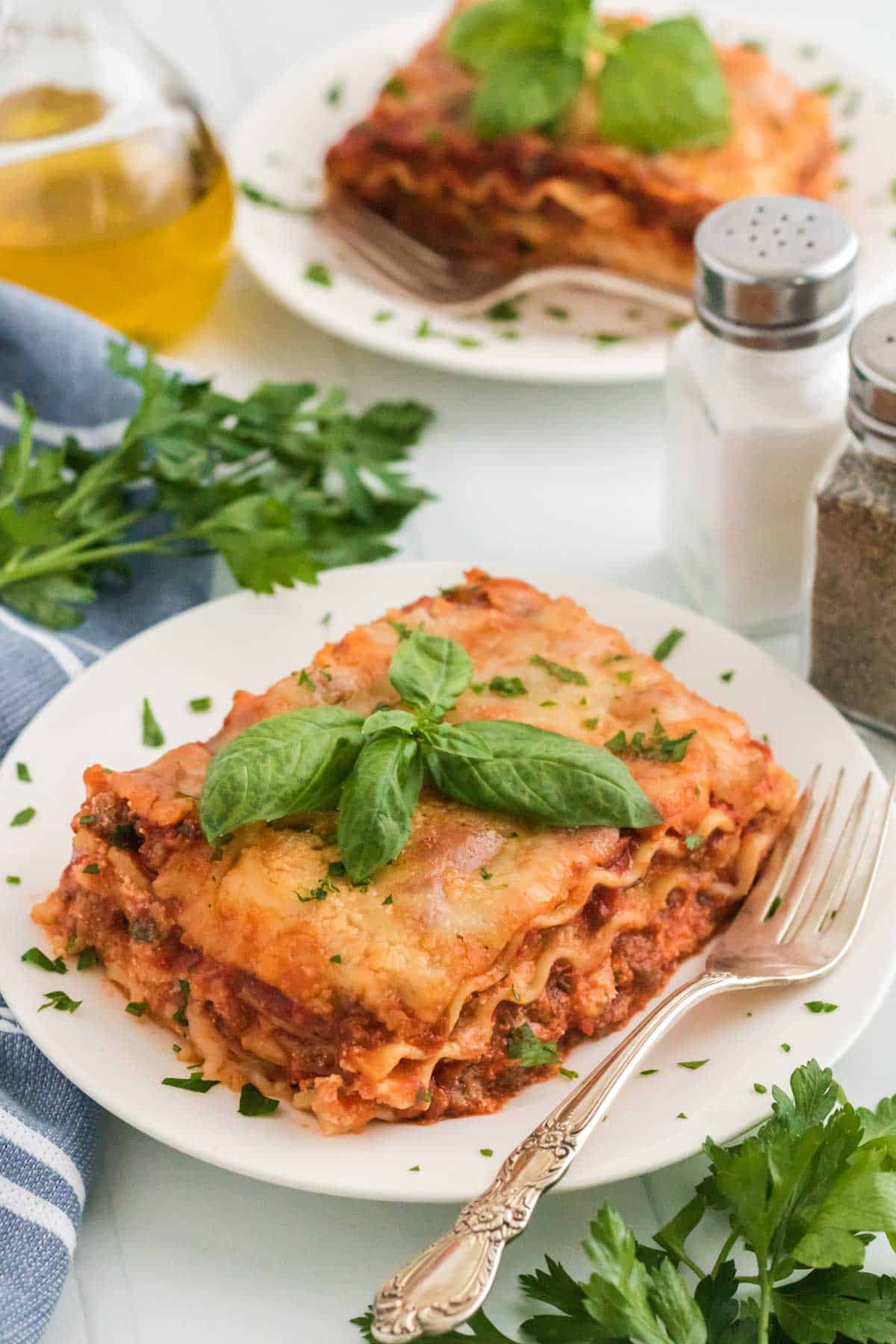 Can I Make Lasagna in Advance?
Yes, you have a few options to make this recipe ahead of time.
Prepare the sauce and keep it in the refrigerator or freezer until you are ready to layer and bake the lasagna. In fact, I think the sauce is even better when made at least a day in advance.
Prepare the entire lasagna but don't bake it. Then store it in the refrigerator or freezer. If frozen, thaw it in the refrigerator, then, in either case, bring it to room temperature before baking.
Prepare and bake it. If you do this, I'd suggest only baking for the first 25 minutes. You can then bring it to room temperature and complete the baking process uncovered for about 30-35 minutes.
How to Store and Reheat Leftovers
Let your homemade lasagna cool and then store it in the fridge. You can either cover the dish it baked in with aluminum foil and store it in the baking pan, or you can cut the lasagna into slices and transfer it to smaller air-tight containers. The lasagna will keep for 3-4 days in the fridge.
When you are ready to eat some leftovers, simply place the desired amount of lasagna on a plate and heat it in the microwave for a few minutes.
If I'm reheating a large slice I will usually cut it into smaller pieces so that the inside of the lasagna can warm through. Otherwise, you'll end up with a very hot outside of your slice and a cold inside. Cutting the slice into smaller pieces solves this problem!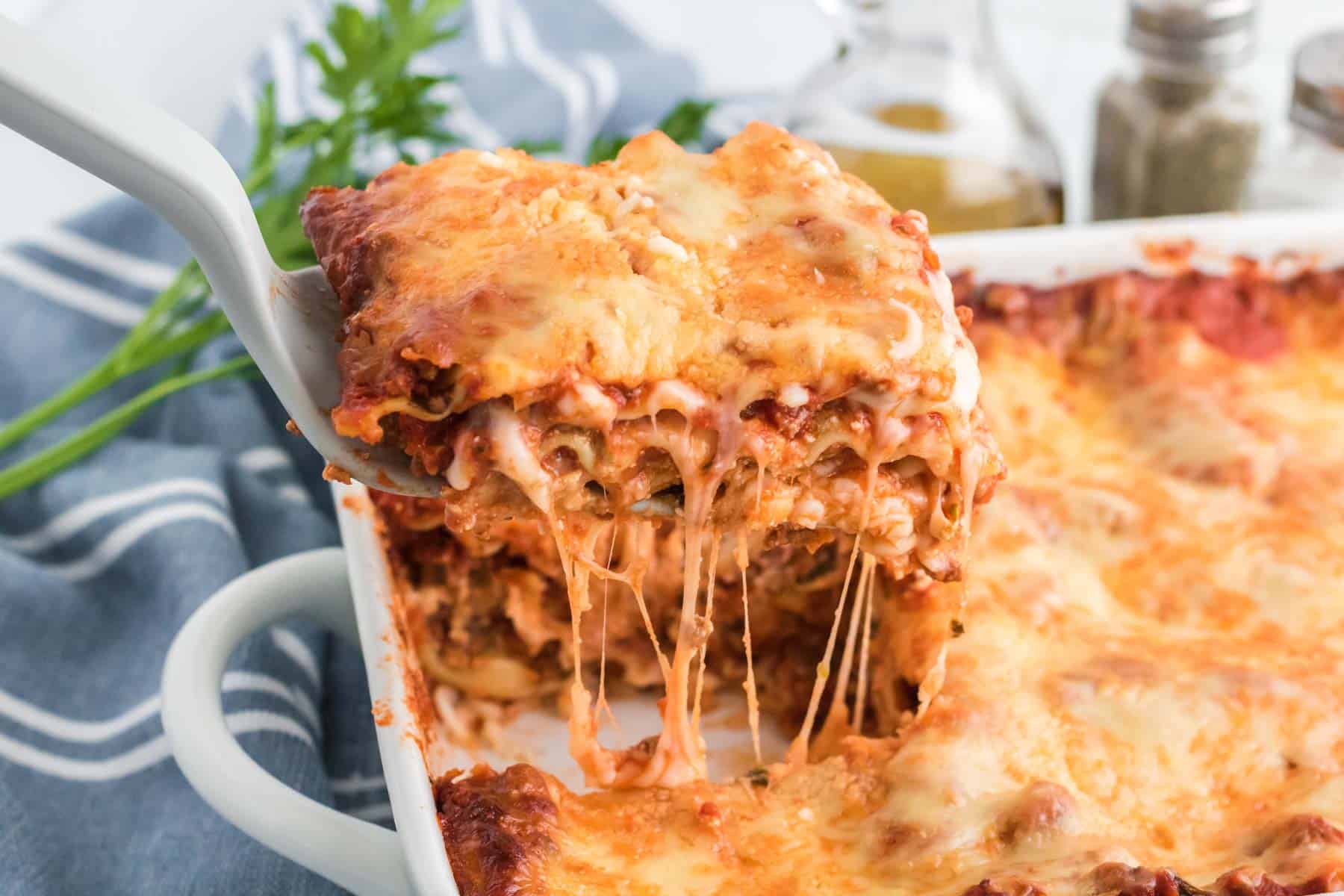 Serving Suggestions
Here are a few of my favorite sides to serve with homemade lasagna: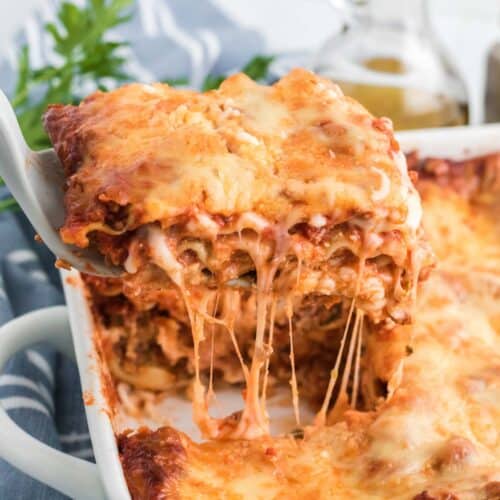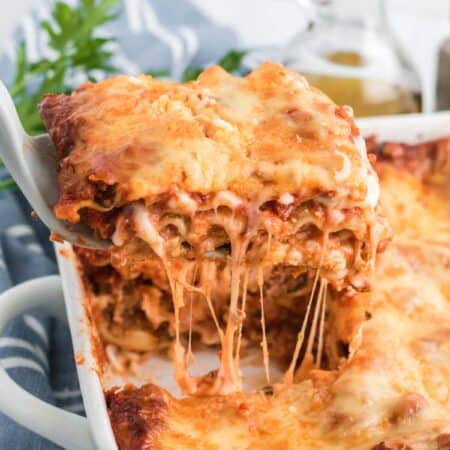 World's Best Lasagna Recipe
This is the World's Best Lasagna recipe! The ultimate Italian comfort food with layers of pasta, hearty meat cause, creamy ricotta cheese and gooey mozzarella.
Ingredients
1

pound

sweet Italian turkey sausage

3/4

pound

lean ground beef

1/2

cup

onion,

minced

2

cloves

garlic,

crushed

28

ounce

can crushed tomatoes

two 6

ounce

cans tomato paste

two 6.5

ounce

cans canned tomato sauce

(or one 15 oz. can)

1/2

cup

water

2

Tablespoons

sugar

(optional)

1 1/2

teaspoons

dried basil leaves

1/2

teaspoon

fennel seeds

(optional)

1

teaspoon

Italian seasoning

2

teaspoons

salt

1/4

teaspoon

ground black pepper

4

Tablespoons

chopped fresh parsley,

divided

12

lasagna noodles,

regular or no cook. I usually use no cook noodles.

16

ounces

ricotta cheese

1

egg

1/2

teaspoon

salt

3/4

pound

mozzarella cheese,

shredded

3/4

cups

grated Parmesan cheese
Instructions
Make the Meat Sauce
In a large Dutch oven, cook sausage, ground beef, onion, and garlic over medium heat until cooked through and browned.

Add the crushed tomatoes, tomato paste, tomato sauce, and water, and stir everything together.

Add sugar, basil, fennel seeds (if using), Italian seasoning, 2 teaspoons salt, pepper, and 2 Tablespoons parsley, and stir to combine.

Simmer, covered, for at least 1½ hours, stirring occasionally. I usually try to simmer for as long as possible.
Assemble Lasagna and Bake
If using regular lasagna noodles, cook according to package instructions and drain.

In a bowl, stir together ricotta cheese, egg, remaining parsley, and ½ teaspoon salt.

Preheat oven to 375°F.

To layer the lasagna, spread 1½ cups of the sauce in the bottom of a 9×13 inch baking dish. Arrange a single layer of noodles over meat sauce. Spread with one half of the ricotta cheese mixture. Top with a third of mozzarella cheese. Sprinkle with ¼ cup Parmesan cheese.

Spoon another 1½ cups meat sauce over the cheese.

Add another layer of noodles, the rest of the ricotta mixture, half of the remaining mozzarella, and another 1/4 cup Parmesan cheese.

Add another layer of 1 1/2 cups of sauce and a final layer of noodles.

Top with another 1 1/2 cups sauce and the remaining mozzarella and Parmesan cheese.

Cover with foil and bake in preheated oven for 25 minutes.

Remove foil, and bake an additional 25 minutes.

Cool for 15 minutes before serving.
Nutrition Facts
World's Best Lasagna Recipe
Amount Per Serving
Calories 449
Calories from Fat 162
% Daily Value*
Fat 18g28%
Cholesterol 98mg33%
Sodium 1639mg68%
Potassium 912mg26%
Carbohydrates 39g13%
Protein 31g62%
Vitamin A 1310IU26%
Vitamin C 28.4mg34%
Calcium 356mg36%
Iron 7.3mg41%
* Percent Daily Values are based on a 2000 calorie diet.
Categories:
More pasta dinner ideas
Everyone loves noodles, and there are endless dishes to satisfy that craving!
More ways to enjoy lasagna
You can't go wrong with hearty meat sauce and plenty of cheese, even if you want to devour it without noodles. Yes, these comfort food recipes are all inspired by lasagna!