This post may contain affiliate links. Read my disclosure policy.
Eggplant Parmesan Pasta Casserole has all the traditional flavors of the Italian comfort food classic without all the work of breading and frying. If you enjoy eggplant parm or are just looking for a simple meatless meal the entire family will enjoy, but don't want to spend all day in the kitchen, this baked noodle dish is the answer. You can even swap the ingredients to make it a gluten-free casserole recipe!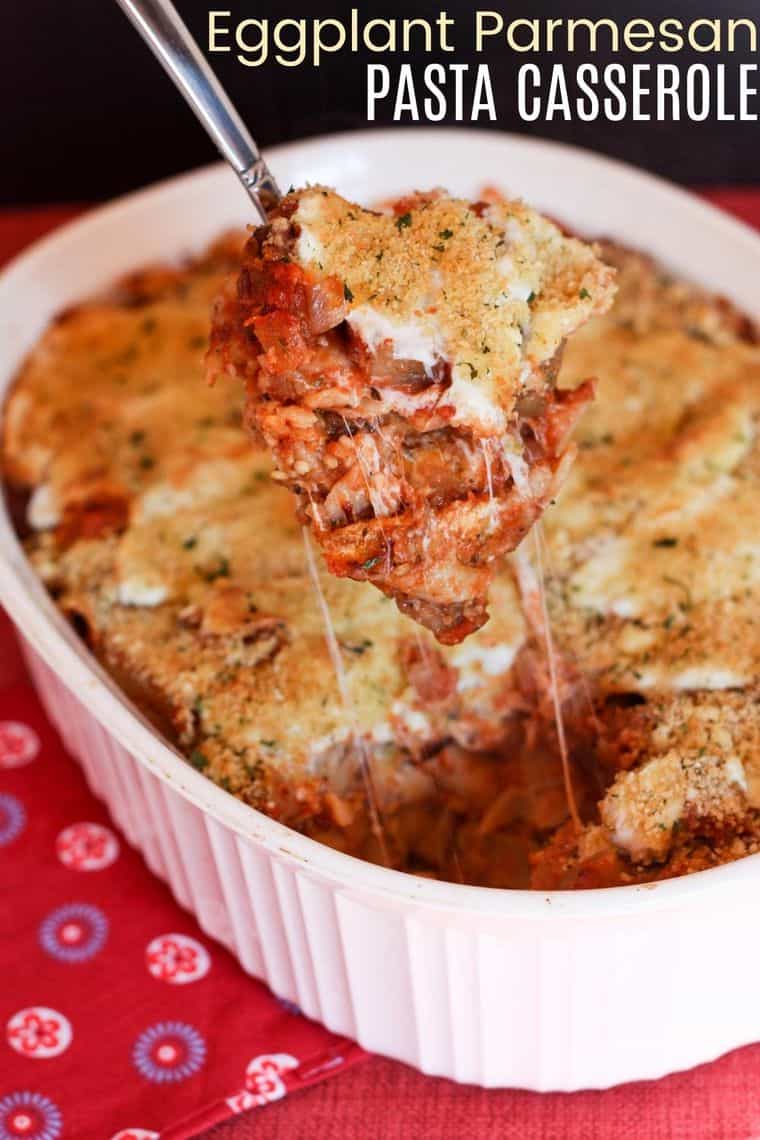 When I was getting close to my due date with my youngest, every time I whined complained casually mentioned that I was ready to have this baby, someone undoubtedly mentioned Eggplant Parmigiana. Have you heard about this? Apparently anytime a woman near her due date visits Scalini's in Georgia and eats the eggplant parm, they go into labor within a couple of days.
They also have the recipe online for those that don't live nearby, and I received many suggestions to make it. At this point, I could barely stand on my feet for ten minutes. Clearly making traditional eggplant parm wasn't happening.
Heck, even in tip top shape, I honestly have no desire to stand over a stove frying individual slices of eggplant and make this time- and labor-intensive dish. But that doesn't mean I don't think it tastes super-yummy. So I decided to make a simpler version that is just as saucy and cheesy and comforting. Plus it is simple enough for a weeknight meal, but special enough for a nice Sunday dinner. And if you are gluten free like me, it is easy enough to just sub in some gluten free ingredients and still be able to enjoy it.
I can't guarantee that it'll help induce labor, but I can guarantee that it'll induce smiles and "Mmmmmmmssssss" from your family.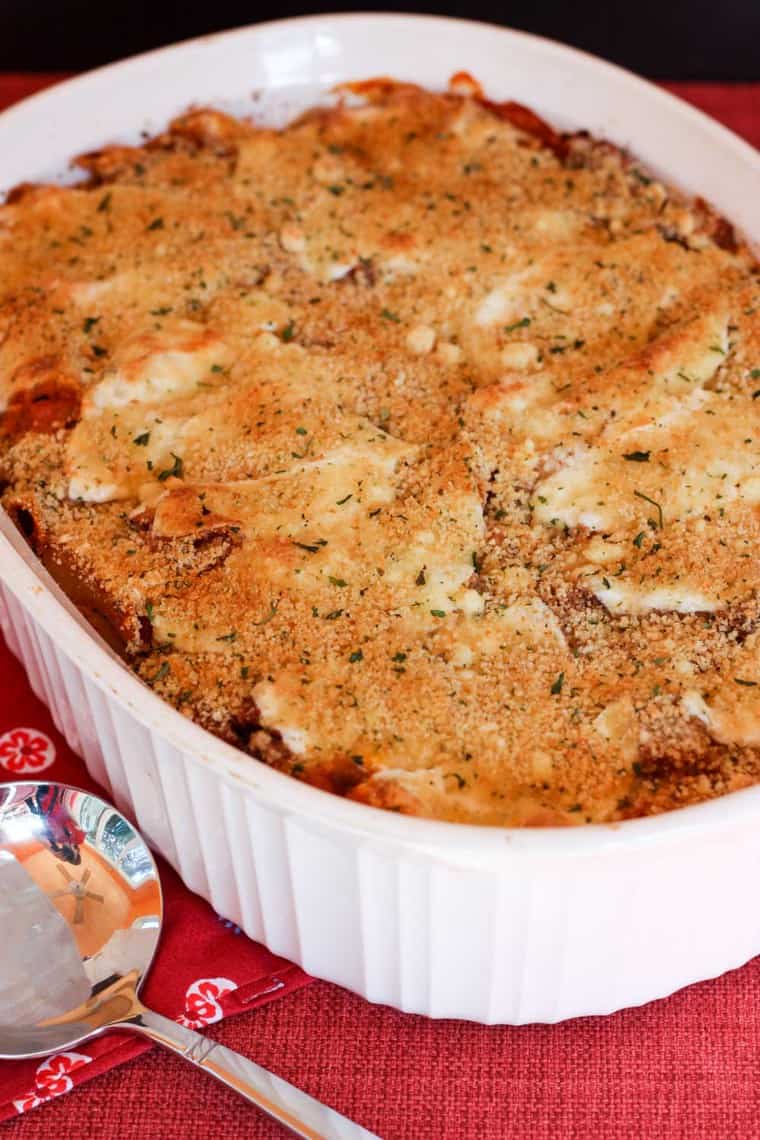 Pasta and Eggplant Parmesan Casserole Recipe
This eggplant and pasta recipe will fill your house with incredible aromas while it is baking. It is just like being in a fabulous Italian restaurant. And you get those amazing flavors without the era work and grease of fried eggplant. So now you can enjoy this comfort food classic anytime without spending hours in the kitchen or spending a lot of money on takeout.
Here is a brief overview so you can see just how easy it is to make. Scroll down to the printable recipe card for the full quantities and details.
But don't skip my PRO TIPS below!
What You'll Need
You'll need a 2.5 quart casserole dish or glass baking dish. I like the Corningware French White 2.5 quart oval baking dish because it is the right size and dept to be able to make the layers. If you choose to use a 9×13 glass baking dish, you'll probably just want to do one layer and put all of the cheese and bread crumbs on top.
Directions
Cook pasta slightly al dente according to package instructions.
Make the sauce by sauteing the onoin and garlic in olive oil until softened, then add the eggplant and seasonings. Stir in the red wine and tomates, then simmer till heated through. Stir in the pasta.
Layer the casserole by spreading hald of the pasta mixture in the bottom of the dish, top with half of the mozzarella, bread crumbs, and parmesan cheese. Repeat the layers.
Bake at 400°F for 25-35 minutes or until hot, bubbly, and golden brown.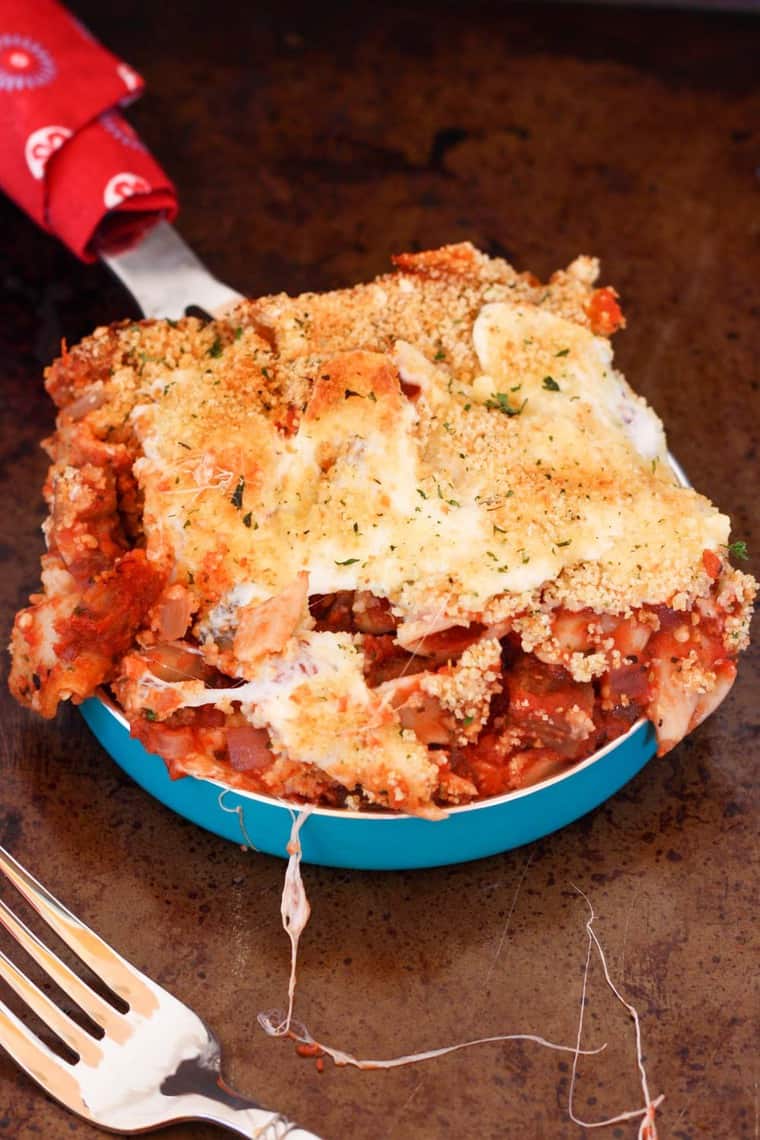 Make it gluten free
Have you missed eggplant parmigiana since you had to go gluten free? Then you have to make this eggplant parmesan casserole!
You'll just need to substitute your favorite gluten free penne pasta. I find quinoa pasta holds up well in baked pasta dishes. But Barilla gluten free penne is also a great choice. Just be sure to cook it slightly al dente.
The only other substitution is to use Gluten Free Seasoned Breadcrumbs.
One note is that you can prepare it in advance, but it will likely absorb a lot of the sauce. So you may want to serve with some additional sauc eon the side if you like your pasta especiually saucy. However, if you do make it a day or more in advance or try to freeze it, just note that gluten free noodles do tend to break up a bit when reheated. It is still deliciosu though.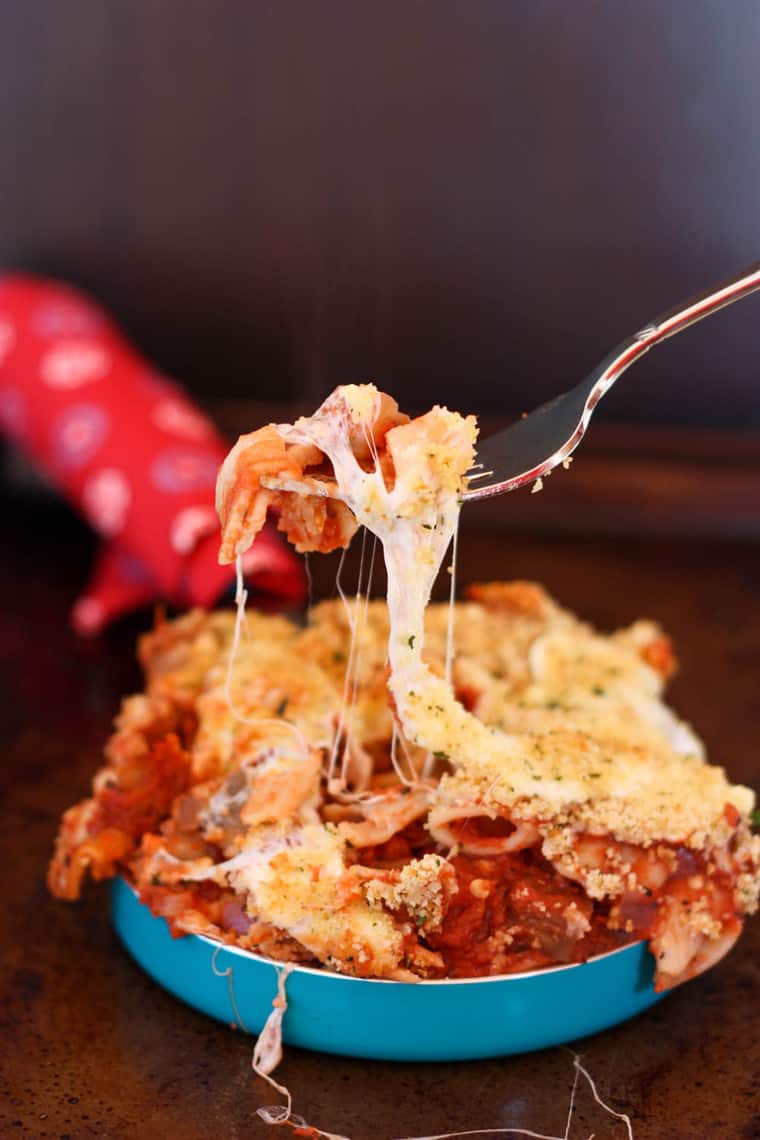 Make it a meal
Meatless weeknight meal
Sunday dinner
Serve it as a side
This eggplant parmesan casserole makes a great side dish for any of these dinner recipes, especially if you are feeding a large group of family or friends.
More pasta casserole recipes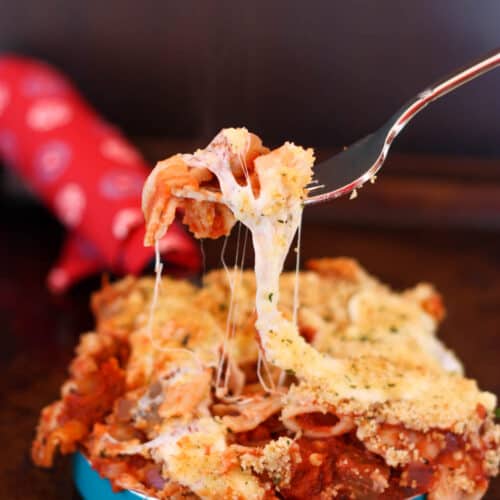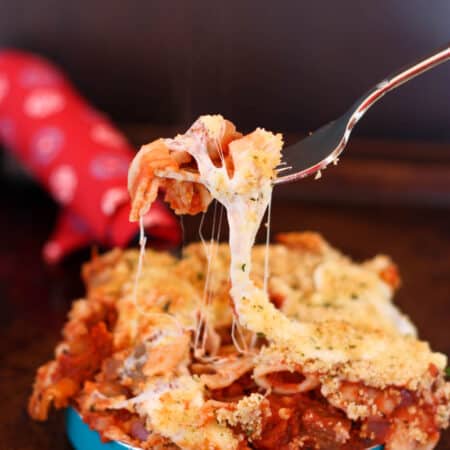 Eggplant Parmesan Pasta Casserole
All the flavor and cheesiness of classic eggplant parm in a simpler, comforting casserole.
Ingredients
4

cups

chopped eggplant

cut into about 1/2 inch cubes

1

teaspoon

kosher salt

1/2

Tablespoon

olive oil

one

medium

onion

or half of a large one, chopped

2

cloves

garlic,

minced

1/2

teaspoon

dried oregano

1

teaspoon

dried parsley

1

teaspoon

dried basil

1/8

teaspoon

crushed red pepper,

optional

1/2

cup

dry red wine

28

oz.

canned crushed tomatoes

salt and pepper

8

oz.

penne or ziti

cooked slightly al dente, according to package instructions (substitute gluten free if needed)

8

oz.

fresh mozzarella,

thinly sliced

1/2

cup

grated parmesan cheese

1/2

cup

Italian seasoned bread crumbs

(substitute gluten free if needed)

Optional: additional pasta sauce and/or parmesan cheese for serving.
Instructions
Place the eggplant in a bowl or colander, and sprinkle with salt. Let sit for abut 10 minutes, and squeeze out the moisture with a kitchen towel or paper towels.

Heat the olive oil in a large saucepan over medium heat.

Add the onion, season with salt and pepper, and cook for 5-7 minutes, or until softened and translucent.

Add the garlic and cook for another minute or two, until fragrant.

Add the eggplant and dried herbs, and saute for 5-6 minutes, until eggplant is starting to soften.

Add the red wine, reduce for a minute or two, then add the tomatoes, and simmer till heated through.

In the meantime, preheat the oven to 400°F, and prepare the pasta. Coat a casserole dish with olive oil or cooking spray.

Combine the pasta with the eggplant and sauce mixture, and layer about half in the casserole dish.

Layer about half of the mozzarella slices on top of the pasta mixture, sprinkle with 1/4 cup parmesan cheese and 1/4 cup breadcrumbs.

Layer the remaining pasta mixture in the casserole dish, and top with the remaining mozzarella, parmesan and bread crumbs.

Bake for 25-35 minutes, or until heated through and bubbly.
Nutrition Facts
Eggplant Parmesan Pasta Casserole
Amount Per Serving (1 serving)
Calories 375
Calories from Fat 117
% Daily Value*
Fat 13g20%
Cholesterol 37mg12%
Sodium 932mg39%
Potassium 636mg18%
Carbohydrates 43g14%
Protein 19g38%
Vitamin A 637IU13%
Vitamin C 14mg17%
Calcium 349mg35%
Iron 3mg17%
* Percent Daily Values are based on a 2000 calorie diet.
Categories:
Enjoy!