This post may contain affiliate links. Read my disclosure policy.
This creamy and delicious Butternut Squash Mac and Cheese puts a healthier spin on classic comfort food! A gluten free, baked macaroni and cheese that has all the tangy, cheesy flavors of everyone's favorite childhood recipe, with the added veggie power of butternut squash. Kids love it for the taste, and grown ups love it for the added nutrition!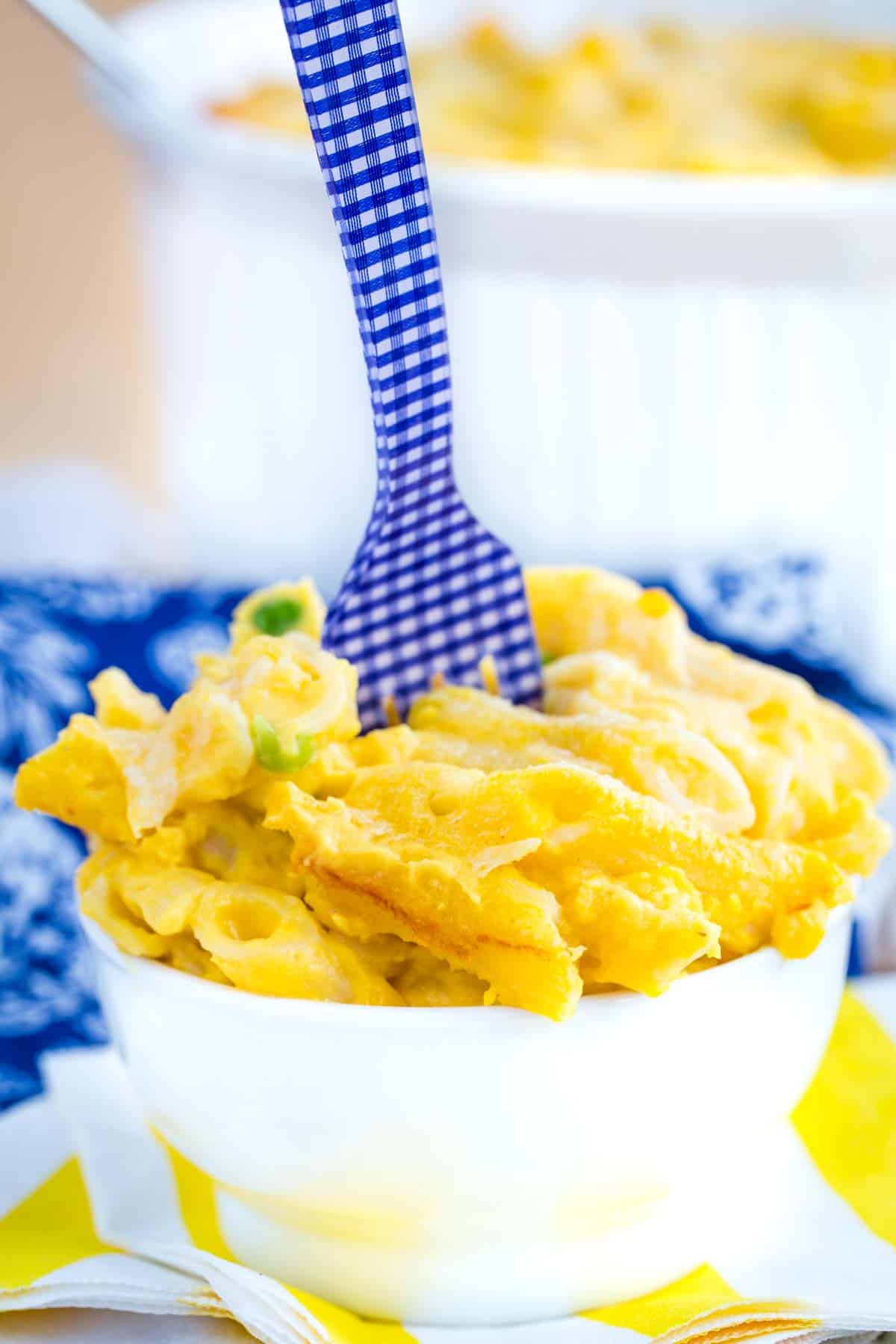 The Best Gluten Free Mac and Cheese
I began making this recipe when my son entered preschool. He's always eaten foods at school that I could never convince him to eat at home, like green beans! Let's face it, little ones can be picky eaters. And back then, I often had to get creative with sneaking vegetables into our family meals.
Enter this ultra creamy and easy recipe for macaroni and cheese with all its familiar tangy and cheesy flavor. However, the sauce is made with a secret ingredient: fresh butternut squash! Not only is this pasta recipe gluten free, but it's been a surefire way of getting my kids to enjoy a nutritious dose of veggies throughout the years.
Seeing as we love pasta casseroles in my family, this baked mac and cheese is right up there with both my best-ever lasagna recipe and its gluten free version as an unfailing favorite.
Is This Recipe Healthy?
I love this recipe for so many reasons. It's not quite as cheesy and gooey as your traditional macaroni and cheese, but it is still delicious and creamy, and also healthier! Extra sharp cheddar and parmesan cheese are sources of calcium, and nutritious butternut squash offers the creaminess that would usually come from butter, flour, and cream. Plus there's extra protein in gluten-free quinoa pasta.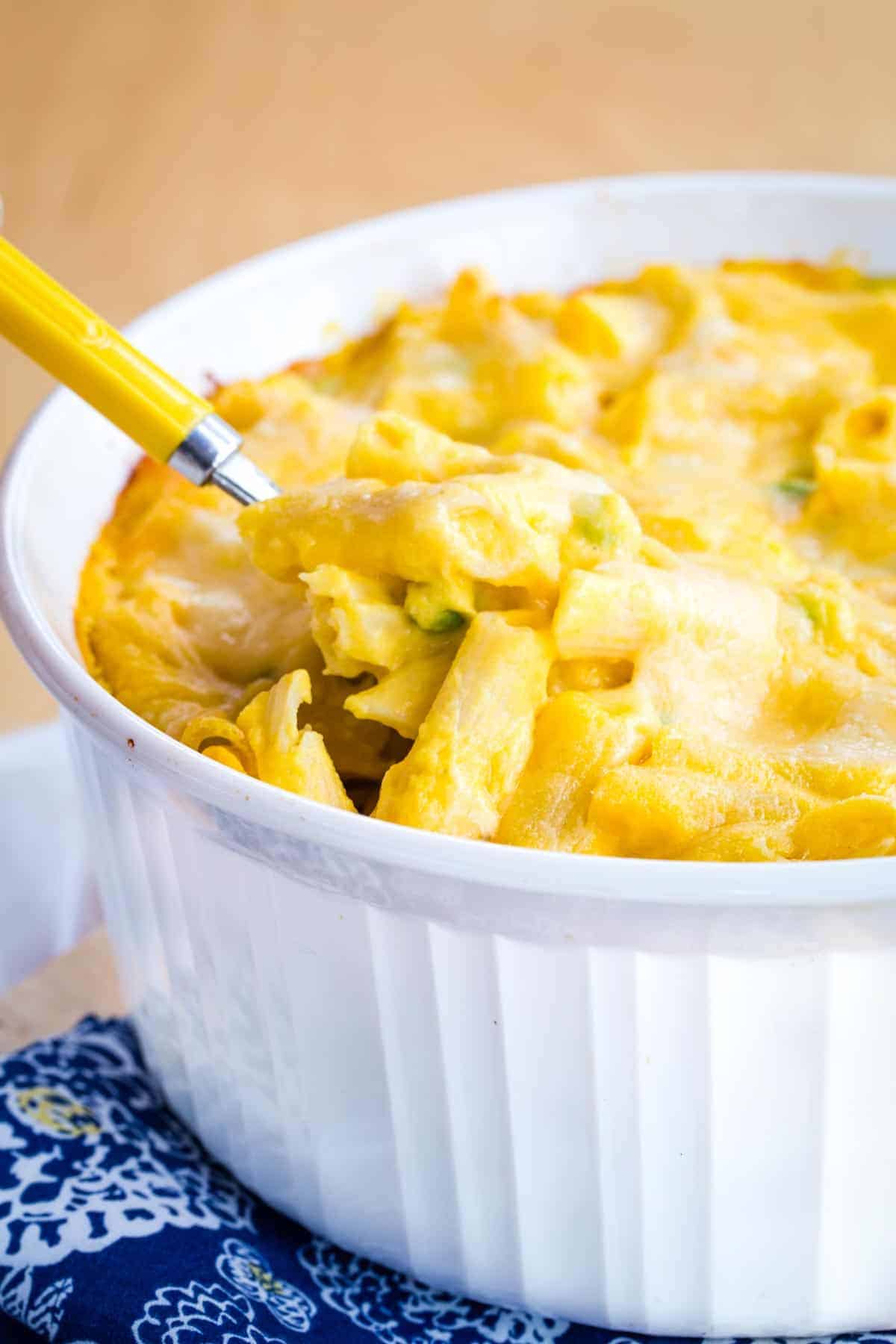 What You'll Need
This is truly one of the best recipes to sneak in extra nutrition for picky eaters – of all ages! Here's the short list of what you'll need to make this healthy and creamy veggie mac and cheese:
Dry Pasta: Dry quinoa pasta or another gluten free or regular pasta. You can use any type and shape of pasta you like in this butternut squash macaroni and cheese recipe; I just think mac and cheese is classic with elbow macaroni!
Butternut Squash: A good sized squash peeled and cut into large chunks. See my tips for safely cutting up butternut squash below!
Broth: Either chicken or vegetable.
Milk: I've used both 1% and 2% milk in this recipe, both with great results.
Dry Mustard Powder: Some say it's optional, but mustard is the secret to extra flavor in any mac and cheese recipe! It makes any dish taste extra cheesy.
Frozen Peas: Also optional, but my way of hiding even more vegetables in plain sight.
Sharp Cheddar Cheese & Parmesan Cheese: Both freshly grated if you can.
Butter
Salt & Pepper
How to Cut Butternut Squash
To cut up your butternut squash safely, first you'll need a sharp knife or peeler handy.
If you're using a peeler, chop off the top and bottom ends of the squash, and then use the peeler to remove the skin lengthwise.
If you're using a knife, it's better to halve the squash horizontally, then place the squash ends cut-side-down and use the knife to slice off the peel.
You can also soften the squash to make it easier to peel. To do so, poke holes in the skin using a fork and then microwave it for a couple of minutes before following the instructions above.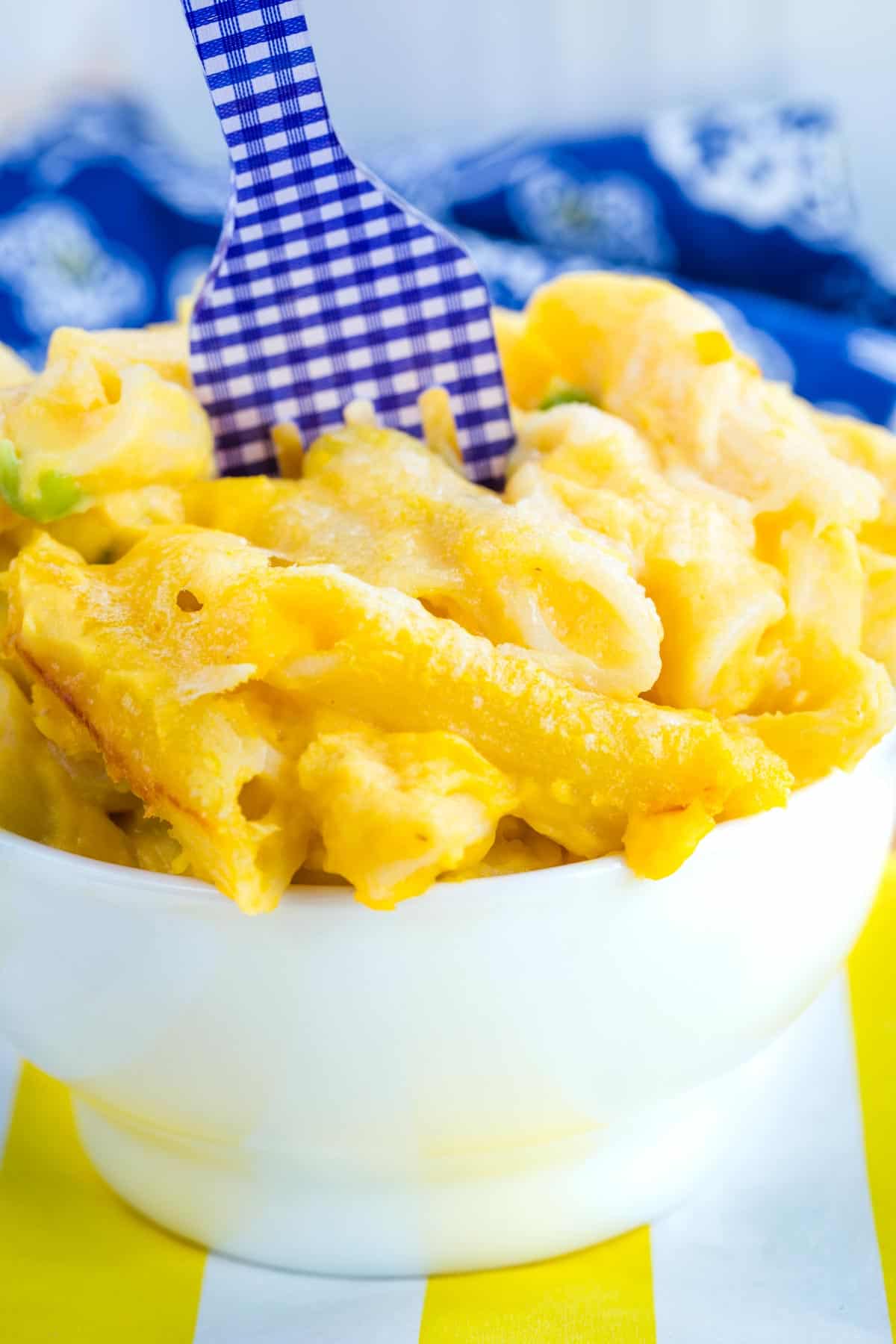 How to Make Butternut Squash Mac and Cheese
Cook the Pasta & Butternut: While your butternut squash is steaming, cook the pasta al dente according to the package directions.
Make the Cheese Sauce: Puree the steamed butternut along with the broth in a food processor. Transfer the puree to a large pan on the stovetop, add the milk and butter and then heat until the mixture is just at a boil. Next you'll add in the mustard powder, cheddar cheese, and 3/4 of the parmesan cheese, stirring to get the cheese fully incorporated as it melts.
Season & Combine the Sauce with Pasta: Toss in the frozen peas and season to taste before stirring the pasta into the cheese sauce. Pour the mac and cheese into an oven-safe baking dish and give the top a good sprinkle with what's left of the parmesan.
Bake: Bake the mac and cheese in a preheated oven until the cheese is hot and bubbly, and the top is a light and even golden brown color.
Let the dish rest a bit once it's out of the oven, and then serve!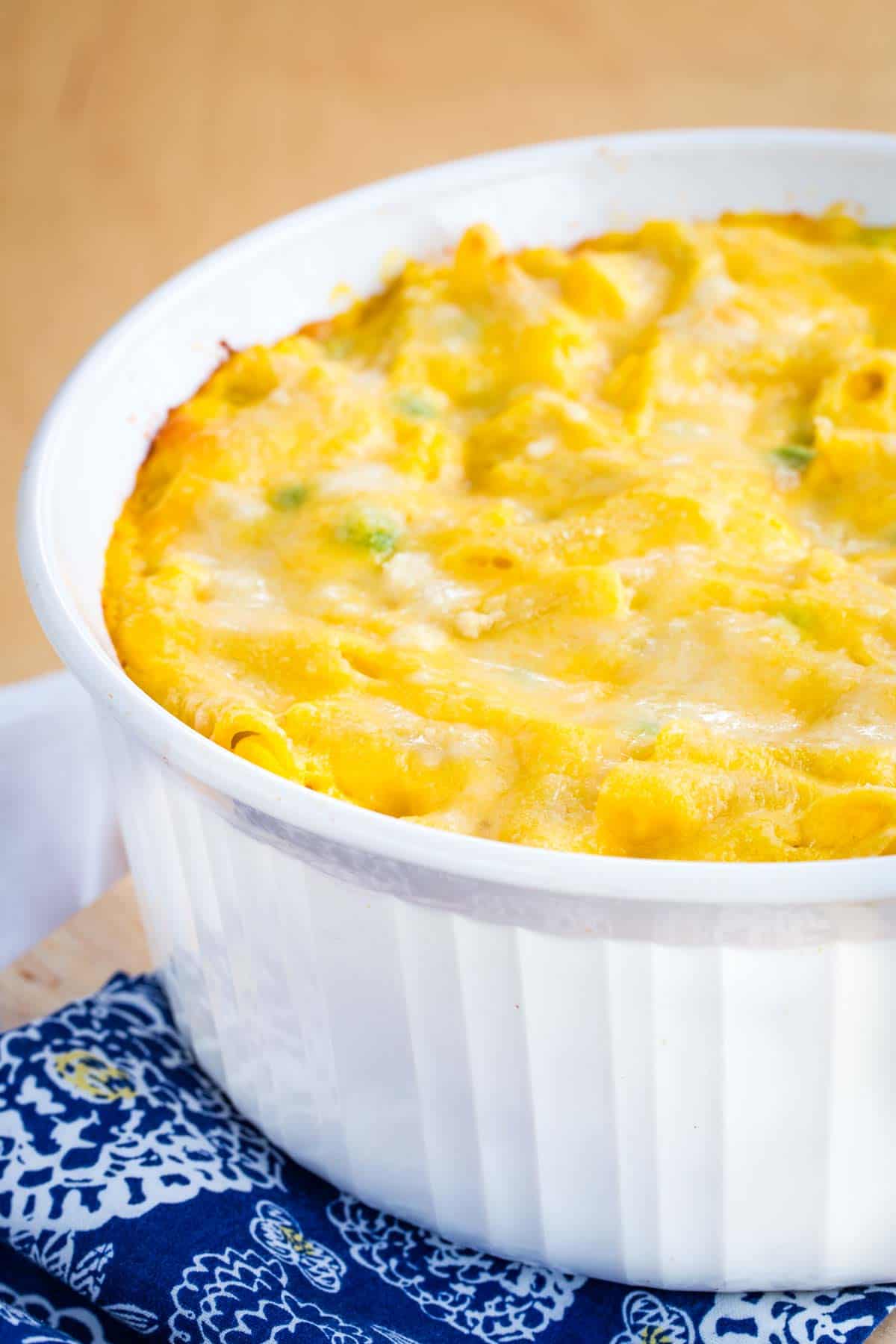 Tips for Success
Really Salt your Pasta Water: As a good rule of thumb for well seasoned pasta, the water you use to boil your noodles must taste "salty like the Mediterranean"! Adding enough salt means more flavor, and tastier pasta.
Add in Something Extra: Ask almost any home chef, and they'll have their own secret ingredient they swear by when making traditional macaroni and cheese! This version with butternut squash is no different. You can easily make this recipe more "adult" by swapping out the mustard powder for dijon mustard, adding in chili powder, or mixing in garlic for bolder flavors.
Add-In Ideas
Noodles are the ultimate blank canvas when it comes to add-ins for kids and adults alike! Try these suggestions to dress up a simple and delicious butternut squash mac and cheese:
Extra proteins like ground beef, sausage, or Bacon and Chicken
Finely chopped carrots or broccoli, or mixed frozen vegetables
Caramelized onions or sauteed mushrooms
Cherry tomatoes or sun dried tomatoes
Herbs like dill, basil, and oregano
For some kick, a sprinkle of crushed red pepper or chili powder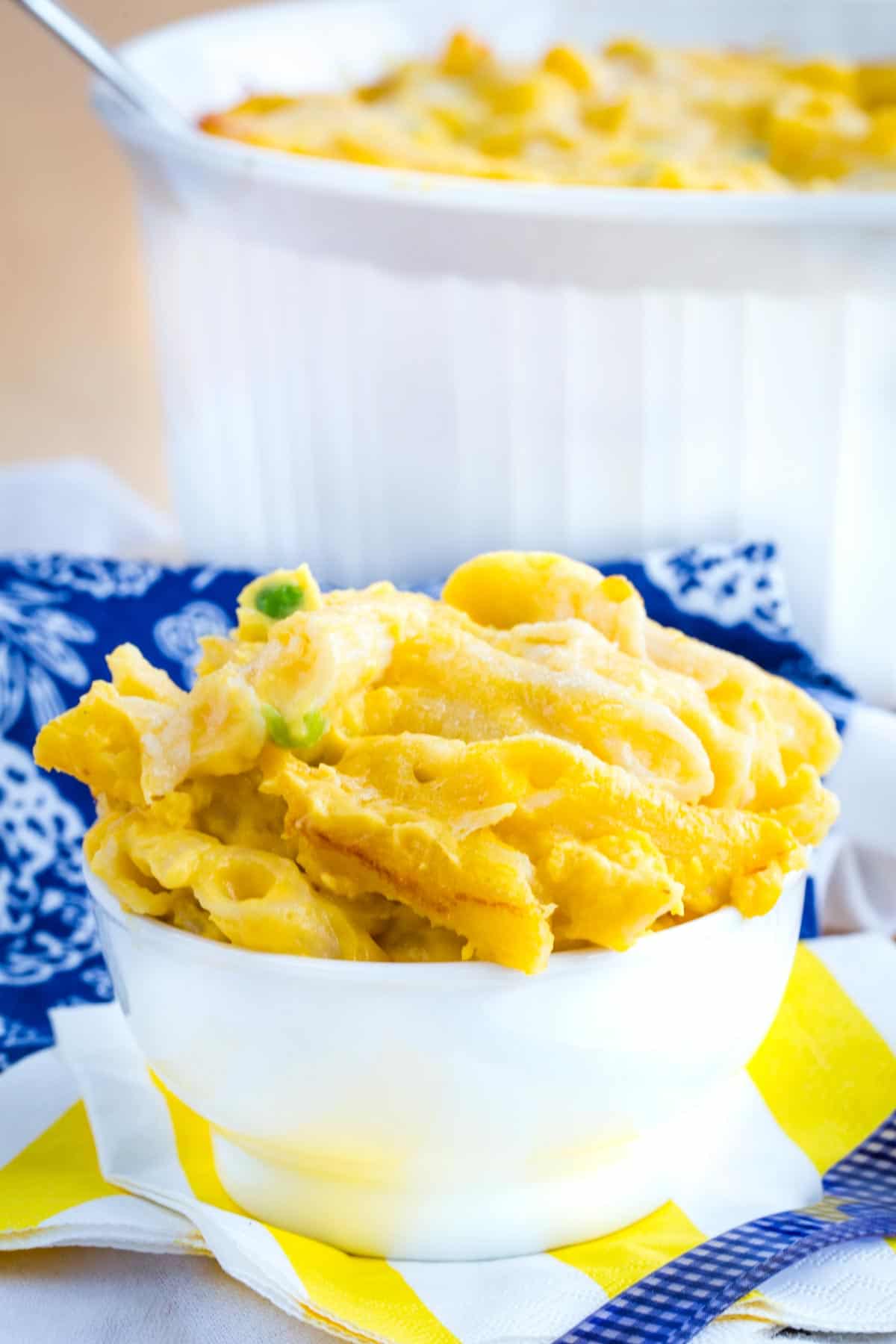 How to Store and Reheat Leftovers
You can keep and enjoy any leftover butternut squash mac and cheese for 3-5 days if stored airtight and in the fridge. Because baked macaroni and cheese has a tendency to dry out more easily than a stovetop version, I suggest reheating it in the oven or microwave as follows:
Oven: Place the mac and cheese serving in an oven safe dish with a spoonful of milk. Cover it in foil before reheating it in the oven.
Microwave: In a microwave safe dish, follow the same instructions as for the oven but be sure to cover with plastic wrap and not foil.
In both cases, the little bit of added milk will steam the mac and cheese as it heats and keep it from drying out too much.
Can I Freeze This?
Mac and cheese can be frozen either whole or divided into single-serving portions for easy reheating! To freeze, store the cooled macaroni and cheese wrapped in a double layer of plastic wrap, topped with a layer of aluminum foil to prevent freezer burn. You can keep mac and cheese in a freezer-safe bag or container for up to 3 months.
Admittedly, if you use gluten free pasta, it will get a bit mushy from freezing and thawing. That's just the nature of these types of noodles. But it will still taste delicious!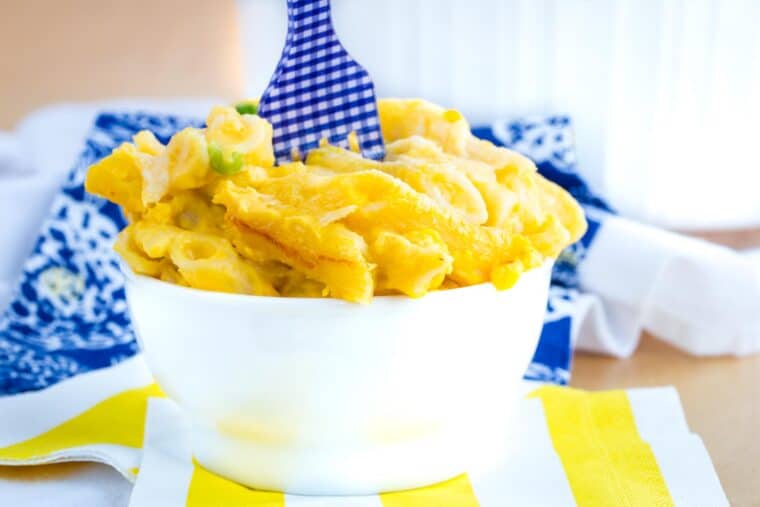 Serving Suggestions
This pasta is great as an entree or as a side. I serve this next to easy Roast Chicken or Air Fried Chicken for weeknight meals, or as a side with Honey Roasted Carrots and Lemon Parmesan Roasted Broccoli.
Macaroni and cheese also makes a great pairing with fresh salads like this Italian Wedge Salad, Easy Greek Salad, or these Chef's Salad Lettuce Wraps.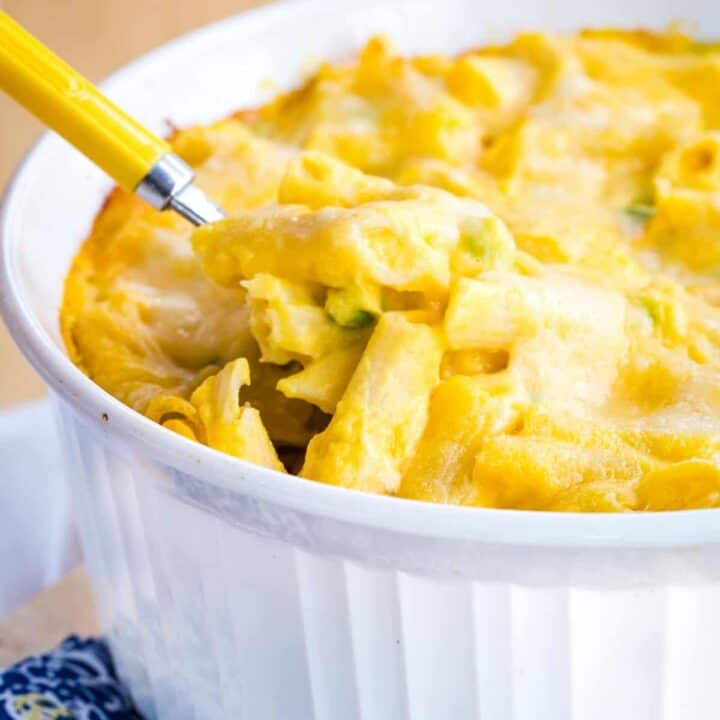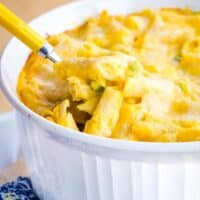 Butternut Squash Mac and Cheese
Butternut Squash Macaroni and Cheese is a healthier spin on classic comfort food! A kid-friendly, gluten free pasta recipe with added veggie power.
Ingredients
1

medium butternut squash

peeled and cut into large chunks

8

oz

dry quinoa pasta

or other gluten free-pasta, or half of a 1 lb. box of regular pasta

3

Tablespoons

chicken or vegetable broth

1

cup

milk

I've used 1% and 2%

1

Tablespoon

butter

1

teaspoon

dry mustard

1 1/2

cups

sharp cheddar cheese

1/2

cup

parmesan cheese

divided

1/2

cup

frozen peas

salt and pepper

to taste
Instructions
Steam or microwave the butternut squash until it is soft and can be mashed easily, about 15 minutes.

Meanwhile, preheat your oven to 350°F. and cook the pasta according to package directions, leaving it slightly under cooked, or al dente.

In a blender or food processor, puree the butternut squash with the broth, adding enough so that it becomes a smooth puree.

In a large saucepan, combine the squash puree, milk and butter, and heat over medium heat until it just barely comes to a boil.

Add the dry mustard, cheddar cheese, and 1/4 cup of the parmesan cheese, and stir until the cheese is fully melted and incorporated.

Add the frozen peas, and salt and pepper, to taste.

Add the pasta to the cheese sauce, and stir to combine.

Pour the mixture into a glass or ceramic baking dish, and sprinkle the top with the remaining 1/4 cup parmesan cheese.

Bake for 20-25 minutes, or until hot and bubbly, and the top is slightly browned.
Nutrition Facts
Butternut Squash Mac and Cheese
Amount Per Serving (0.5 cup)
Calories 384
Calories from Fat 126
% Daily Value*
Fat 14g22%
Cholesterol 43mg14%
Sodium 377mg16%
Potassium 565mg16%
Carbohydrates 49g16%
Protein 15g30%
Vitamin A 13825IU277%
Vitamin C 31.6mg38%
Calcium 413mg41%
Iron 1.3mg7%
* Percent Daily Values are based on a 2000 calorie diet.
Categories:
More Gluten Free Pasta Dishes to Try