This post may contain affiliate links. Read my disclosure policy.
Whether you are trying to use up Thanksgiving leftovers or the remains of Christmas dinner, or just want a lighter meal with your favorite flavors of the season, you're going to want to make this Harvest Cobb Salad with Cranberry Balsamic Vinaigrette.
Harvest Cobb Salad with Cranberry Balsamic Vinaigrette
Disclaimer: This post is sponsored by Cascadian Farm. As a brand ambassador, I am being compensated for writing this post. As always, all opinions are my own.
Naming a recipe is actually a big deal, believe it or not. In both print and online, you want a name that entices people, draws them in, one that they can connect with. For blogs and other internet publications, we need to appease the Google gods so that when somebody is searching for a recipe and one of ours may fit the bill, it will actually show up when they Google said recipe. That means it can't be too non-descript, but it also can't be, say, Mixed Greens Salad with Chicken (or Turkey), Apples, Sweet Potatoes, Cheddar Cheese, Dried Cranberries, Walnuts, and Bacon, with a Cranberry Balsamic Vinaigrette Salad Dressing. Lovely for a restaurant menu, not so much for a blog. Now that fact that I just typed out all of those words here in the post may help if someone is searching for some combination of those ingredients, but if they were all in the title, Google would basically say "Mixed Greens Salad with Chicken… and whatever else…" Let's not get into what would happen is I just called it "salad".
Then we have the general public, and yes, I mean all of you (and me). When we hear a word or words, we have preconceived notions based on our culture, nationality, or experiences. You guys, as much as I love cauliflower, making a crust out of cauliflower just doesn't yield something that I'd call "pizza". Tasty, sure, but pizza, well, no.
So when I name a recipe based on what inspired it or what it reminds me of or a memory that it evokes, there are times where it bothers people. I get it, I understand. Words are powerful. Food is powerful. Memories are powerful. Traditions are powerful. So when you jumble them all up, it can get people a bit emotional.
When I made my Individual Crustless Pumpkin Pies, I got all kinds of heck because "it's not a pie without a crust" or "so what you really mean is custard". Crustless quiche should be frittata or egg casserole (clearly I'm not a crust gal). My Dairy-Free Peach Mango Lassis were just smoothies. It's all good. Ignore the name of the recipe. Look at the photos, look at the ingredients. If it looks and sounds good, make it, eat it, and call it what you want. I'm OK with that.
Because if it's made out of cauliflower, it's not pizza.
And this, my friends, is totally not a Cobb salad, but I'm going to call it one anyway…
This Harvest Cobb Salad recipe is perfect for this time of year. Topped with Cranberry Balsamic Vinaigrette, it pulls together some of the best flavors of the season with elements of sweet, salty, crispy, crunchy, chewy, tangy, and fresh. And I know it's not really a Cobb salad at all, but when I layered on the ingredients in pretty little stripes, it reminded me of an autumn version of one of my favorite salads to order at a restaurant. You know, apples for avocado, cheddar for blue cheese, cranberries and nuts instead of eggs. Fine, totally different. But hey, there's still bacon!!
[Tweet "Harvest Cobb Salad – a perfect light meal in the midst of the holiday feasting!"]
It's also a great way to use up what's left of your Thanksgiving or Christmas dinner. First of all, it's a nice, light meal after all of the heavy feasting, and it's perfect for any bits and pieces left after you've had your repeat of the holiday meal or your big ol' turkey sandwich the day after. This time around I had some chicken, but it would be ideal for any leftover turkey. Hold back some walnuts and apples from any pies or crisps you may be baking. That last little scoop of cranberry sauce – blend it up in the dressing. And since you may have mashed all of your sweet potatoes, just keep a bag of these in the freezer…
I've already told you how much I love Cascadian Farm's new Premium Organic Fire Roasted Sweet Potatoes. They were a perfect way to add those sweet chunks to a spicy smooth soup without all of the chopping and peeling. Using them for a topping on a salad really let's the sweet potato flavor shine.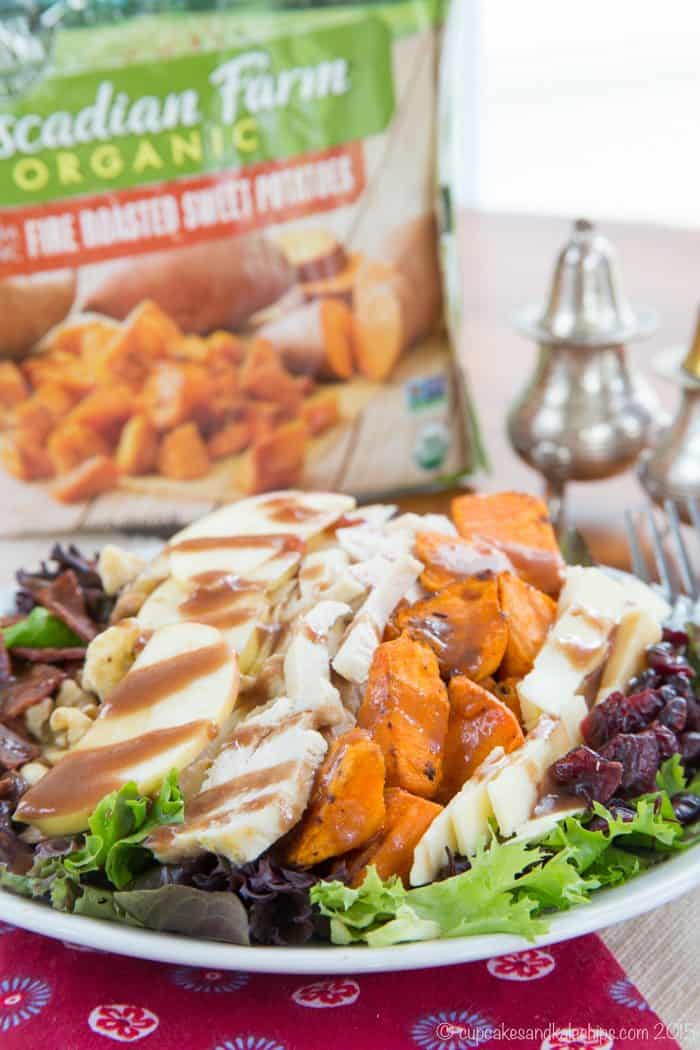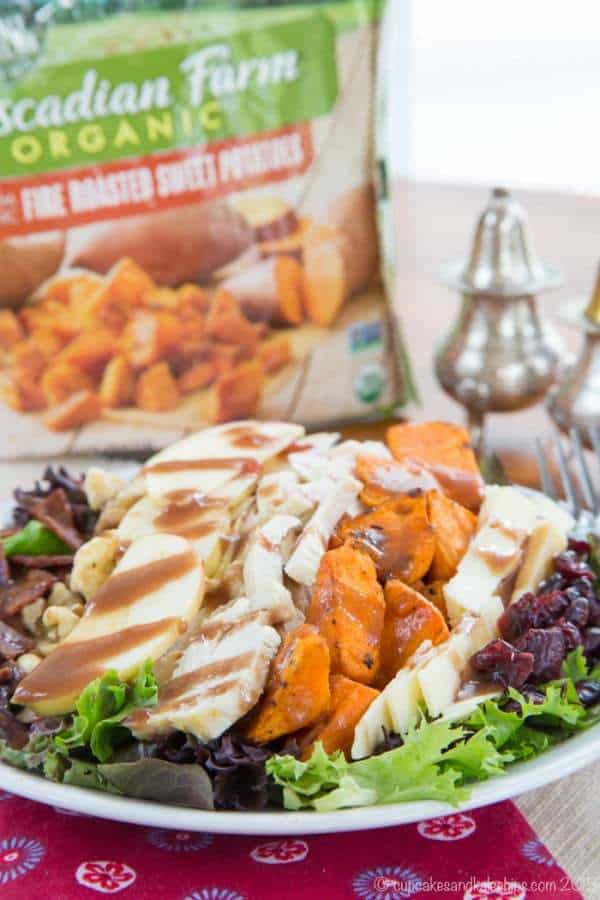 So whether you are adding them to a soup, salad, or another recipe, or just need a simple side dish, Cascadian Farm Premium Organic Fire Roasted Sweet Potatoes deserve a place on standby in your freezer. Make sure you look for them in the freezer section of your local grocery store!
What will you be making with your holiday leftovers?
Harvest Cobb Salad
This cobb salad is a great way to use up Christmas or Thanksgiving leftovers, or just make it because it's so good!
Ingredients
For each salad (multiply as needed):
2

cups

Salad greens

1/2

cup

Cascadian Farm Premium Organic Fire Roasted Sweet Potatoes

prepared according to package directions (you will need about half a cup)

1/2

cup

cooked chopped chicken

or turkey

1/4

medium

apple

thinly sliced

1/2

ounce

sharp cheddar cheese

thinly sliced or shredded

1

Tablespoon

chopped walnuts

lightly toasted in the oven or in a pan, if desired

1

Tablespoon

dried cranberries

1

slice

bacon

cooked and crumbled

2

Tablespoons

Cranberry Balsamic Vinaigrette
Instructions
Pile the salad greens on a plate.

Top with cooked sweet potatoes, chicken, apple, cheddar cheese, walnuts, dried cranberries, and bacon. Drizzle with about two tablespoons of the cranberry balsamic dressing.
Notes
Multiply the ingredients in this recipe as needed to serve more than one person.
Nutrition shown does not include dressing.
Nutrition Facts
Harvest Cobb Salad
Amount Per Serving (1 g)
Calories 469
Calories from Fat 198
% Daily Value*
Fat 22g34%
Cholesterol 88mg29%
Sodium 343mg14%
Potassium 677mg19%
Carbohydrates 36g12%
Protein 31g62%
Vitamin A 10485IU210%
Vitamin C 22.3mg27%
Calcium 143mg14%
Iron 1.9mg11%
* Percent Daily Values are based on a 2000 calorie diet.
Categories:
Here are a few more of my favorite seasonal salads…
And some from my friends…