Zoodles Greek Salad
Disclosure: This post may contain affiliate links. Cupcakes & Kale Chips is a participant in the Amazon Services LLC Associates Program, an affiliate advertising program designed to provide a means for us to earn fees by linking to Amazon.com and affiliated sites.
All the flavors of the Mediterranean shine in this light, healthy, and fresh salad.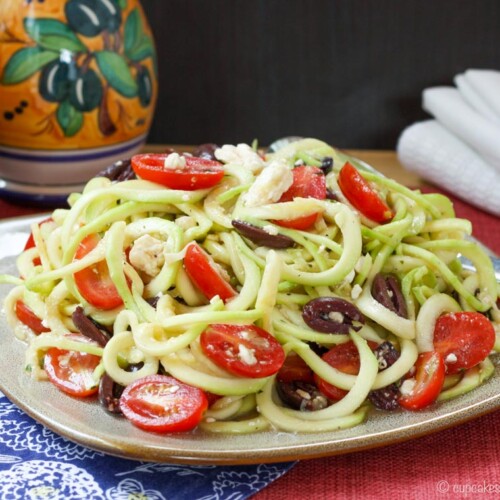 Zoodles Greek Salad is a fresh and healthy side dish or light meatless meal. With juicy tomatoes, briny olives, crumbly feta cheese, this Greek zoodles salad is all brought together with a bright and zesty lemon and oregano dressing. When you are trying to use up all of that summer zucchini, you definitely need to break out the spiralizer to make some zucchini noodle salads, and all the flavors of the Mediterranean shine in this Zucchini Noodles Greek Salad recipe.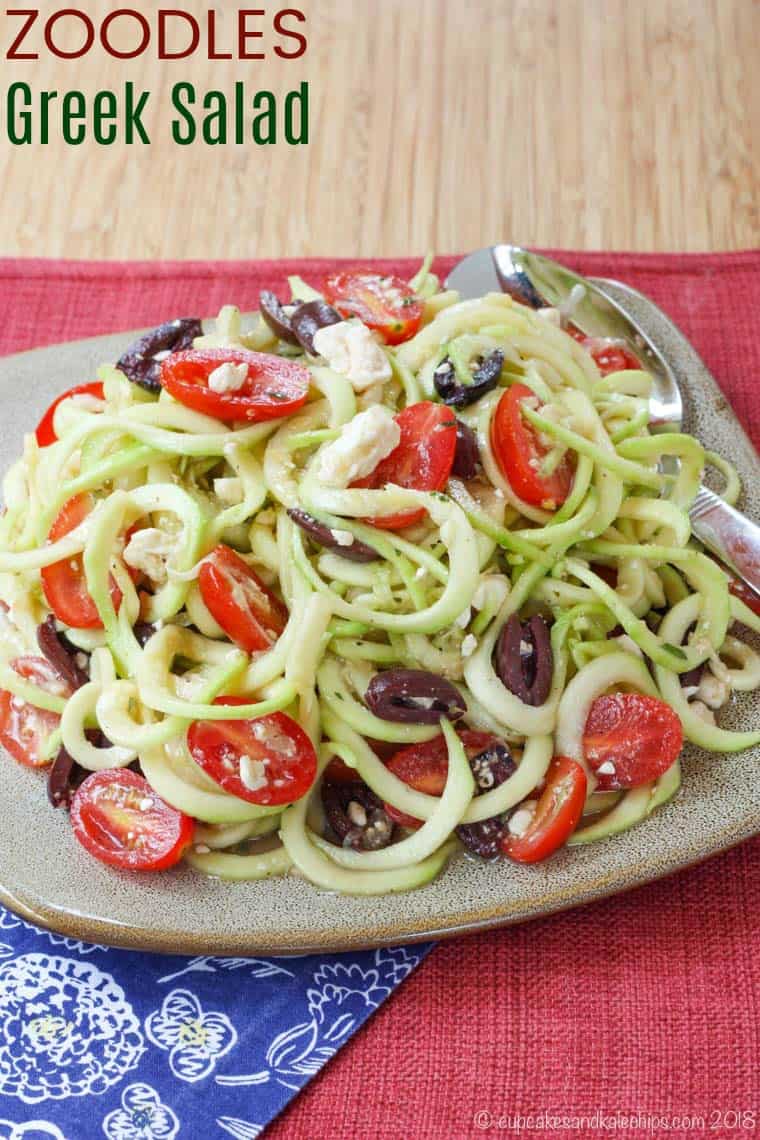 MY LATEST VIDEOS
How to Make Greek Zoodles Salad

Kids have the most bizarre concept of time and aging. I think this is especially true when they haven't lost someone close to them in their lifetime. The Hubby's dad and grandparents and three of my four grandparents all passed away before The Bug was born, and he has been blessed to know my 87-year old grandfather for all of his four years so far. So honestly I don't think he knows what happens as people get older and older. And honestly, I'm not really ready to explain it yet, since I don't have to.
So what does he think? Well, he pretty much thinks we're all Benjamin Button. He always talks about what is going to happen when he gets big and Mommy or Daddy or Grandma or Grandpa get small. Sounds totally adorable, right?
Yeah, it's not.
Because usually what comes out of his mouth are things like, "When I get older and you are small, I'm going to put you in timeout." Or, "When I get big and Grandma gets old and small, I'm going to be in charge and tell her what to do." Or my favorite, "When I grow up and Daddy gets little, I'm going to have to change his diapers."
Oh wait, that third one might actually be true someday.
Well, maybe we will all reverse the signs of aging if we eat healthy things like this…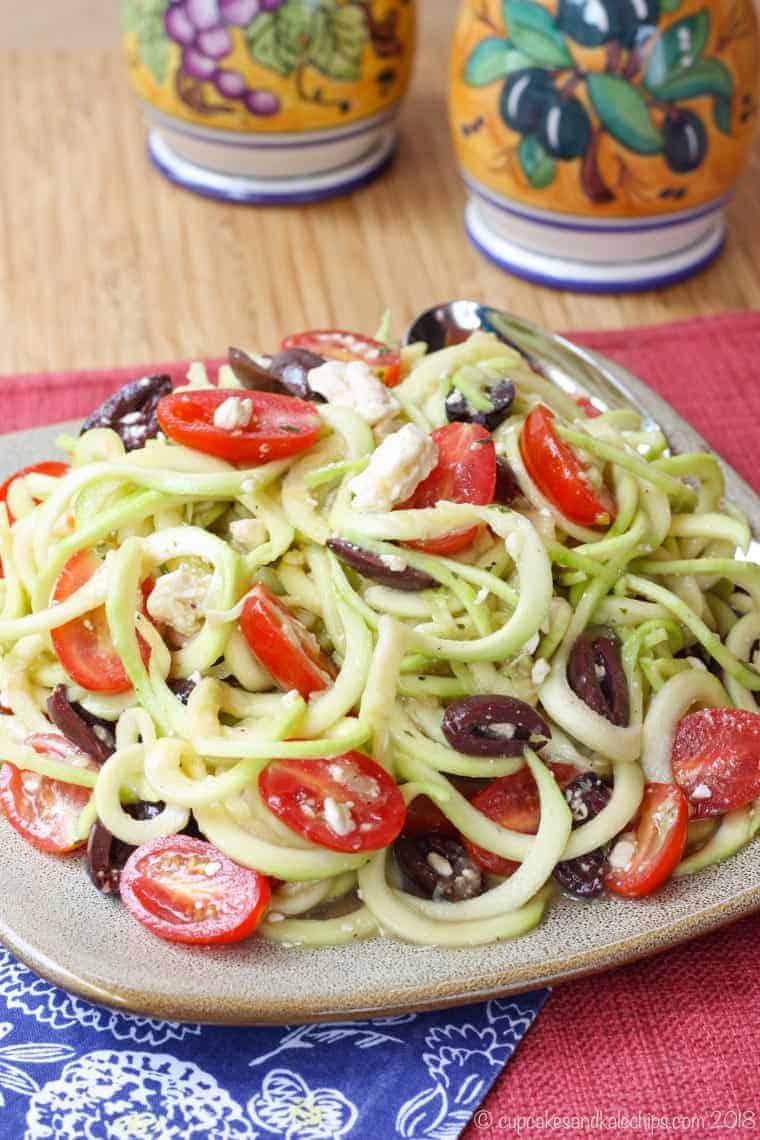 Have you all jumped on the "zoodle" bandwagon yet? I've made cooked zucchini noodles and eaten them in place of pasta with tomato sauce, and they are so yummy, but I wasn't so sure about in a raw salad. Actually, I was pretty sure I'd like them, but I was more concerned about The Hubby. I totally expected him to reluctantly eat a few bites, so I made an entire Mediterranean feast in order to ensure that there was plenty of other food, but he was totally into this Zoodles Greek Salad.
I saw a similar recipe using cucumbers on Skinnytaste, but his tummy and cucumbers do not get along, so I went the zucchini route. Now you could eat this right away, and I totally would, but I made it a few hours in advance, and I think marinating in the lemon herb Greek-style dressing helped to slightly tenderize the zucchini, while still keeping them, shall we say, al dente. They had a crispness and freshness that pared so well with this classic Greek salad combination of tomatoes, feta cheese, and Kalamata olives. I probably could have eaten the entire bowl of zoodles and even the kiddos devoured them!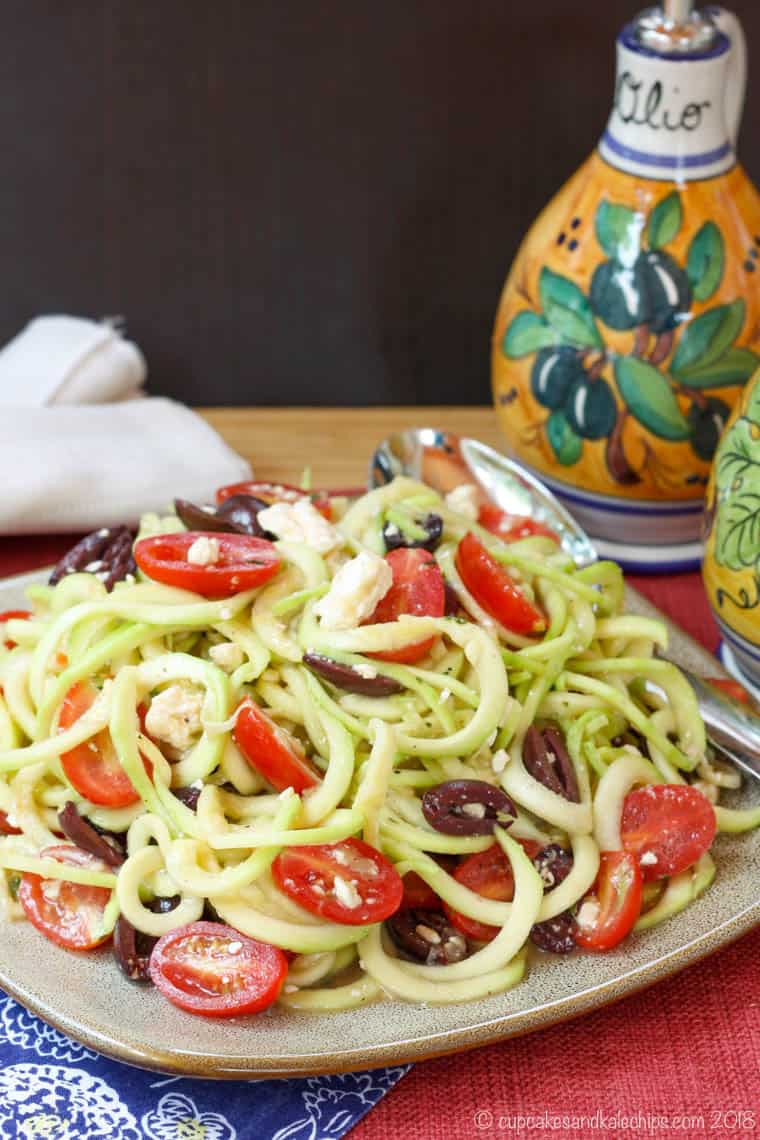 Zoodles Greek Salad Recipe Tips:
If you have kiddos that might be a little picky, try peeling the zucchini, like I did for these photos before you "zoodle" it with your spiralizer.
I recommend whisking the dressing ingredients together in a bowl before pouring it over the zoodles so that everything gets distributed evenly.
You'll definitely want to use fresh lemon juice as the bottled kind will be a bit too harsh.
This zoodles Greek salad has the best fresh flavor and crisp textiure if you serve it right away, but you can store it in the fridge for a day or so. You might find that it gives off some moisture which you may want to drain a bit.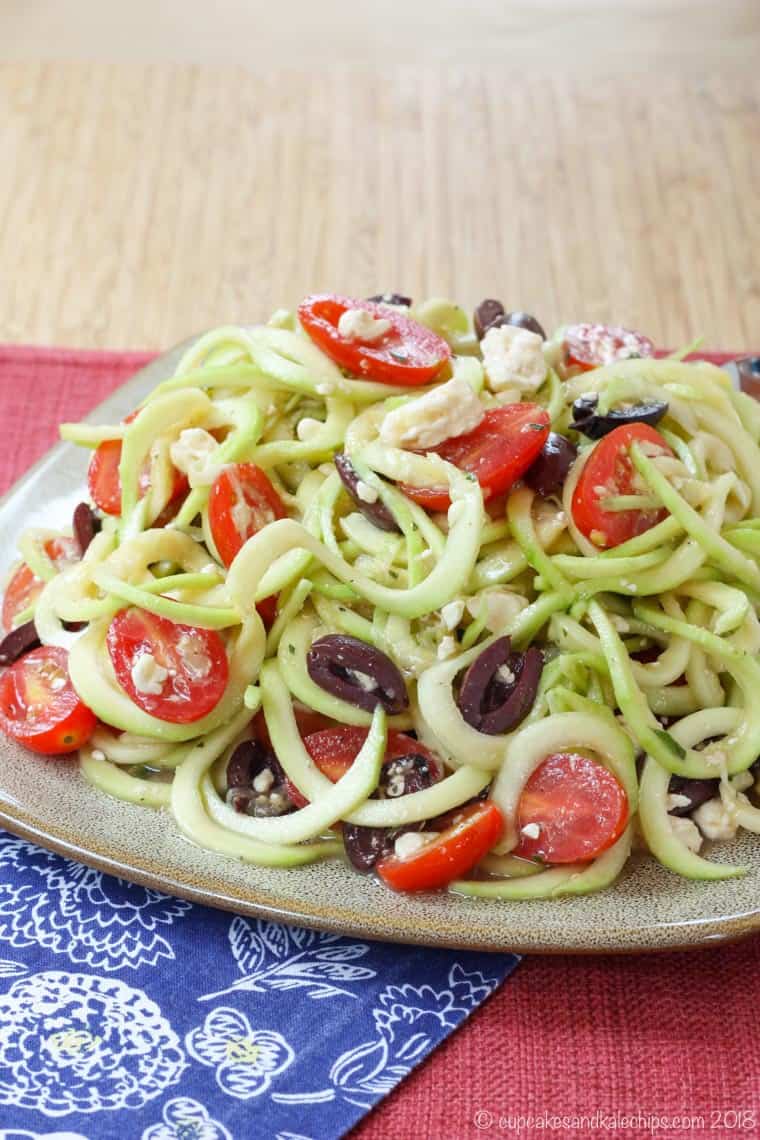 What do I serve with Zoodles Greek Salad?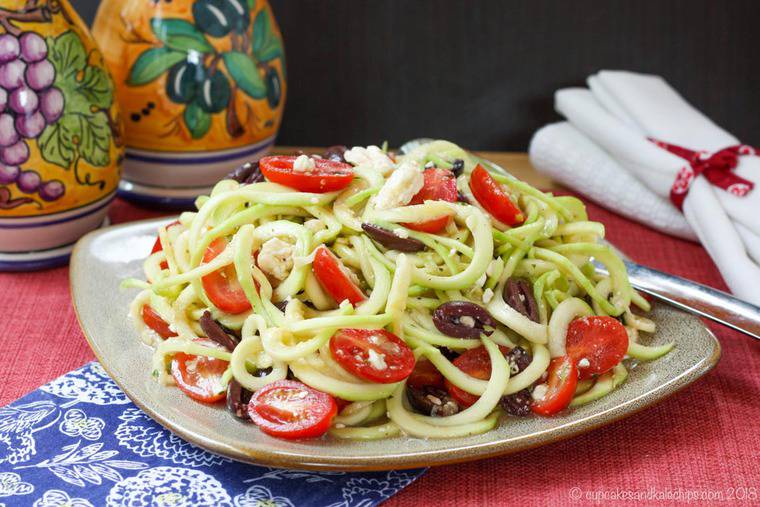 For more yumminess from me and my foodie friends, keep up with me on…
Or sign up to have Cupcakes & Kale Chips delivered straight to your Inbox!
Zoodles Greek Salad
Whether you serve this as a summer side dish with your favorite grilled meat or seafood or as a light vegetarian lunch, you are going to love all the fresh flavors and bright colors. It's the perfect recipe to highlight seasonal produce and make the Mediterranean flavors shine. This Greek zucchini noodles recipe is also naturally gluten free and low carb.
I hope you'll leave a comment and give it a FIVE STAR rating or share a photo on this pin on Pinterest!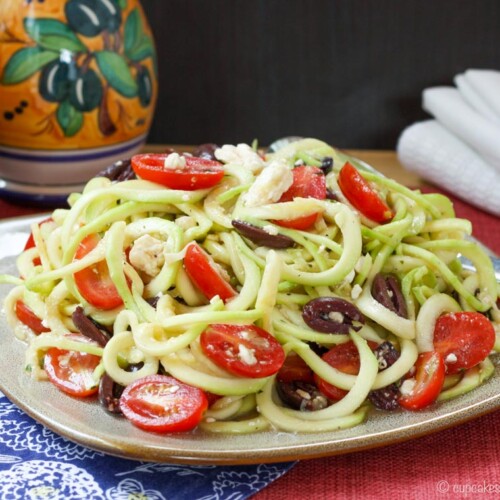 Print Recipe
Zoodles Greek Salad
All the flavors of the Mediterranean shine in this light, healthy, and fresh salad.
Ingredients
Juice of a lemon

(about 1/4 cup)

1

Tablespoon

balsamic vinegar

1

Tablespoon

olive oil

1

teaspoon

minced fresh oregano

kosher salt & pepper

2

medium zucchini

(peeled if desired)

1

cup

grape or cherry tomatoes,

halved

1/2

cup

pitted kalamata olives,

halved

2

oz.

crumbled feta cheese

(about 1/2 cup)
Instructions
In a small bowl, whisk together the lemon juice, balsamic vinegar, olive oil, oregano, and salt and pepper, to taste, and set the dressing aside.

Using a vegetable spiral cutter, cut the zucchini into zucchini noodles.

In a large bowl, gently toss together the zucchini noodles, tomatoes, olives, feta and the dressing until combined and evenly coated.
Nutrition
Calories:
121
kcal
|
Carbohydrates:
6
g
|
Protein:
3
g
|
Fat:
9
g
|
Saturated Fat:
3
g
|
Cholesterol:
12
mg
|
Sodium:
433
mg
|
Potassium:
336
mg
|
Fiber:
2
g
|
Sugar:
4
g
|
Vitamin A:
10.1
%
|
Vitamin C:
31.6
%
|
Calcium:
10.6
%
|
Iron:
5.4
%
Enjoy!
Need some more zucchini recipes?