This post may contain affiliate links. Read my disclosure policy.
Sesame Zoodles is a light and healthy veggie version of a favorite Asian-style salad recipe. Break out the spiralizer and toss your spiralized zucchini noodles in an easy, flavor-packed peanut sauce for a tasty side dish or light meatless meal. So good, you won't believe it is gluten free, low carb, and vegan.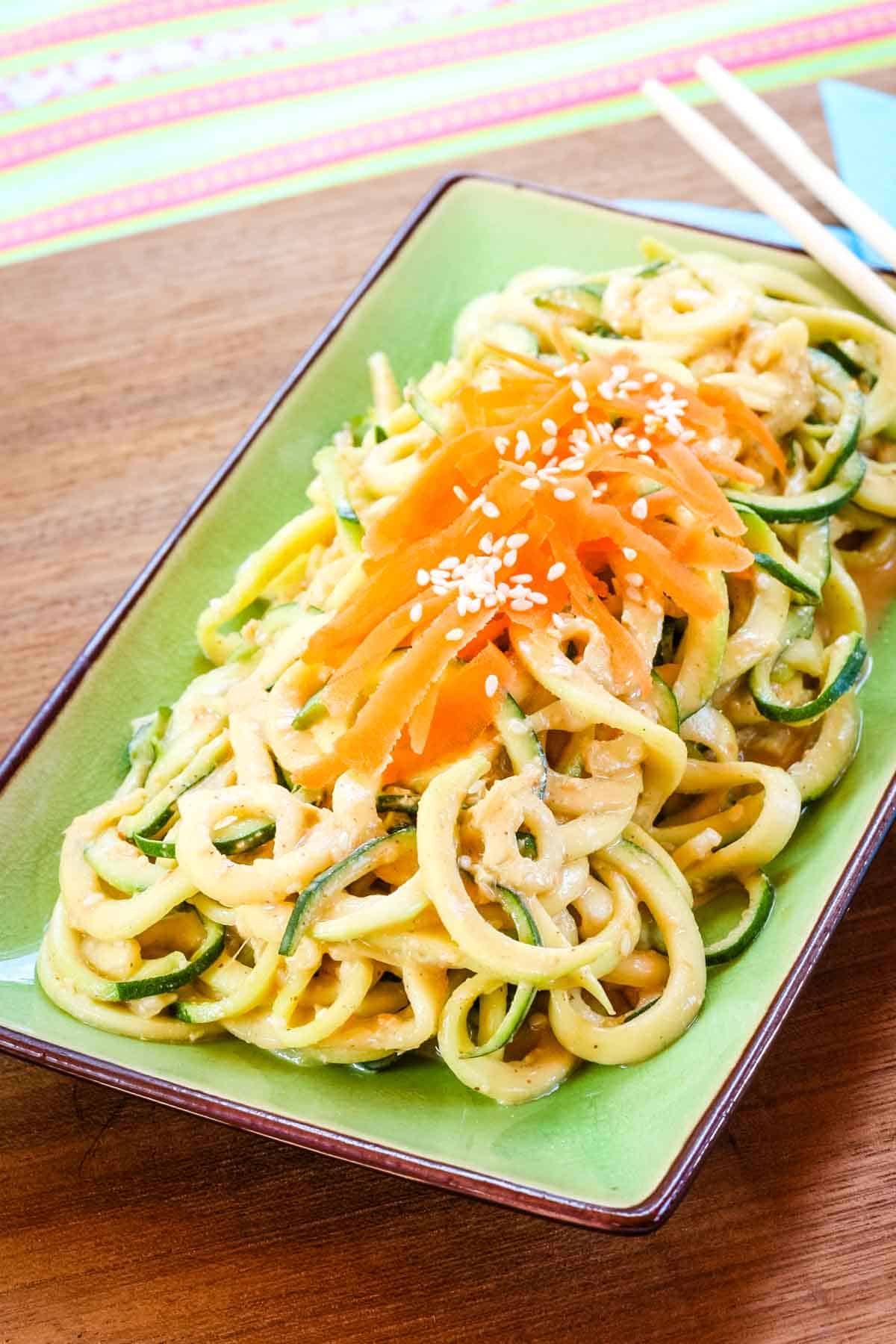 Originally published September 7, 2014.
The things we parents resort to in order to get kids to eat certain foods. Sometimes it's bribery. Other times it's putting spinach into Peanut Butter and Jelly Smoothies made with enough berries so that they don't actually look green. It might even be letting them slather everything in ketchup.
And then there are those two magical words that have come to the aid of many parents – Cauliflower Tots.
Now my kids are usually pretty good, even when it comes to veggies, but for the longest time there were two things my oldest wouldn't touch – tomatoes and zucchini.
Tomatoes are still taboo. And while now he will happily eat summery sauteed vegetables that include zucchini, for the longest time the only way I could get him to touch this green vegetable was by sneaking it into Carrot Zucchini Muffins.
But the kid has always loved noodles, so I figured, a-ha, ZOODLES.
Yeah, not so much. Topping them with Vodka Sauce didn't work. Greek Zoodles Salad didn't cut it.
So I figured I'd go with my next best option – why not slather peanut butter on zucchini?
Bear with me on this one. The trick is… Peanut Sauce!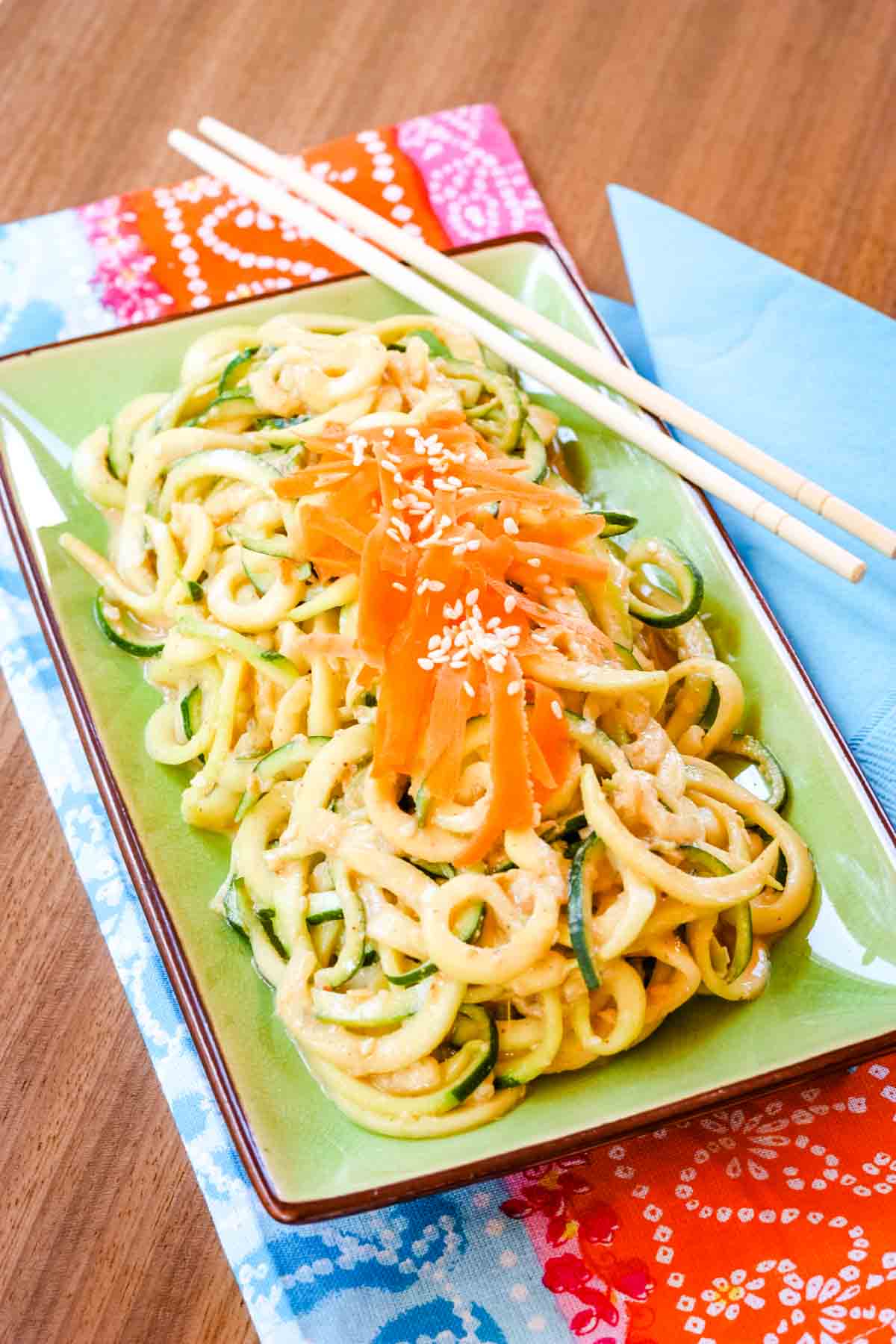 Sesame Zucchini Noodles Recipe
Take the classic Asian-inspired sauce of soy and peanut butter and toss some zoodles in it to make these easy Sesame Peanut Zucchini Noodles. This sesame peanut sauce really packs a huge punch and just requires tossing some ingredients in a blender and whizzing it up. Then pour it over your zoodles and toss. Not one iota of cooking time is required.
And if the amazing taste isn't enough to convince you, this recipe is also super healthy – ton of veggies, great protein, gluten free, low carb, vegan.
Here is a brief overview so you can see just how easy it is to make. Scroll down to the printable recipe card for the full quantities and details.
But don't skip my PRO TIPS below!
What You'll Need
Zucchini
Creamy peanut butter
Rice vinegar
Soy sauce or tamari – gluten free if needed
Sriracha or other hot sauce
Vegetable or coconut oil
Sesame oil
Fresh ginger
Garlic
Sesame seeds – toasted
Garnishes – chives, scallions, carrots, or additional sesame seeds, optional
Directions
Spiralize the zucchini (see tips below).
Blend the peanut butter, rice vinegar, soy sauce, sriracha sauce, oil, ginger, and garlic in a food processor or blender until smooth.
Pour the sauce over the noodles, add the sesame seed and toss until coated.
Garnish as desired.
Serve immediately or store covered in the refrigerator.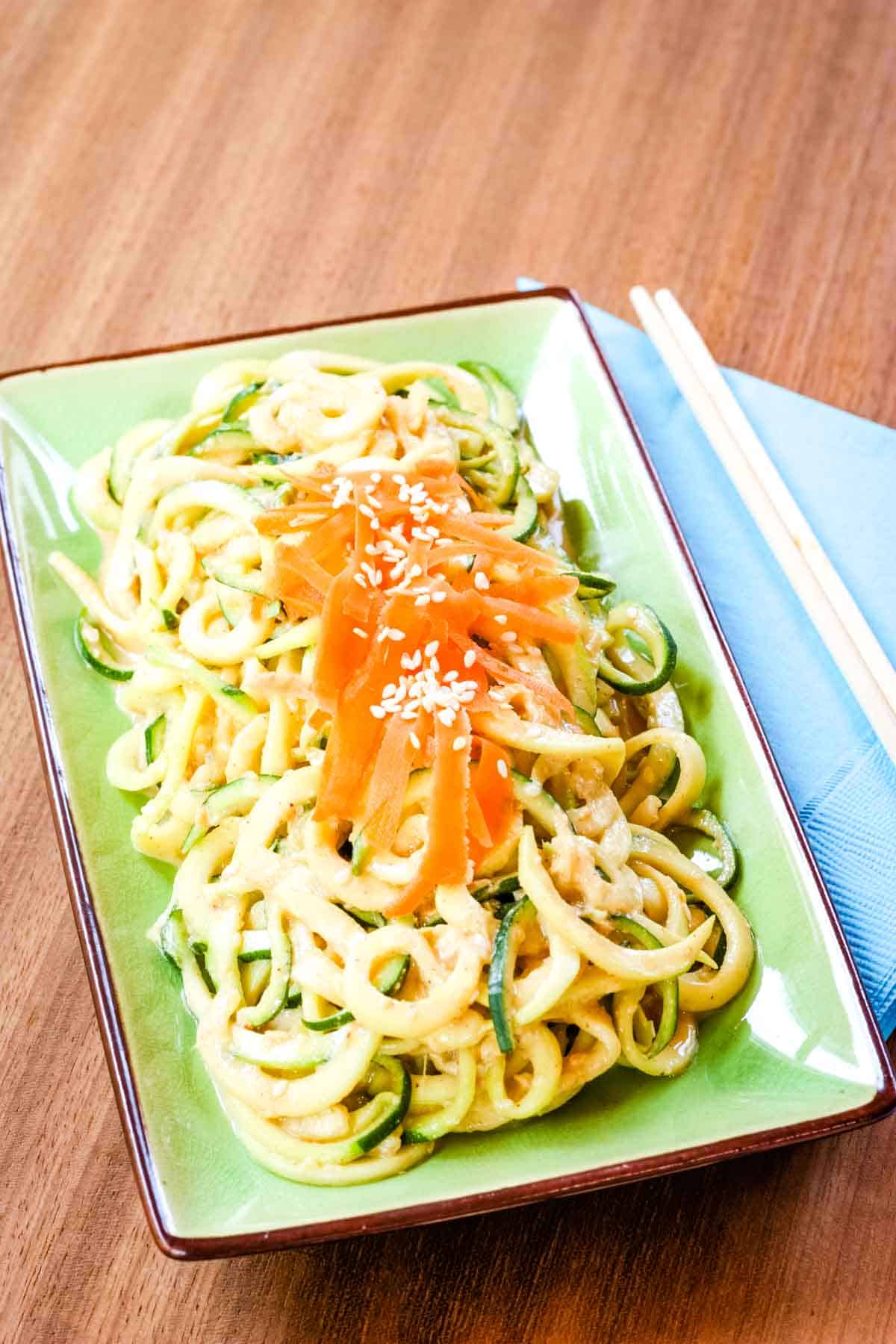 Brianne's recipe tips and FAQs
If your kids are a little picky, you can try peeling the zucchini before spiralizing it. Without the dark green skin, it looks more like regular noodles.
I recommend using a small food processor or blender to make the peanut sauce nice and smooth. But you can also finely grate the ginger and garlic, then whisk it together.
For the best flavor, toasting the sesame seeds is a good idea. Just place them in a small skillet over low heat, tossing every couple minutes until they turn lightly golden and release their nutty aroma. Don't burn them!
This zoodle salad has the best fresh flavor and crisp texture if you serve it right away. You can also enjoy it within a few hours so it has time to marinate and tenderize the zucchini a bit.
You can store it in the fridge for a day or so. It gives off some moisture which you may want to drain a bit.
How do you make zoodles?
Without buying any special gadgets, you can work very carefully with a knife to slice your zucchini lengthwise into thin slices, then cut those slices into thin strips.
As far as kitchen tools, the most economical option is a julienne peeler, which you can get for about $10. This looks like a basic potato peeler, but it has small blades that cut the zucchini into long, straight matchsticks. This is cheap and easy with little to clean, but you don't get those long spiral shapes.
For just a few dollars more, you can get a handheld spiralizer that gives you those twisty and twirly zoodles. These are compact and easy to use and clean but will take a little more work if you a spiralizing a lot of veggies.
The next step is a tabletop spiralizer. These make it easy to go through a ton of veggies in no time, and they often have multiple blades for different sizes and shapes. They are larger and there are more pieces to clean.
If you really want to go all out, you can get a spiralizer attachment for your KitchenAid Mixer. This is definitely heavy-duty but it's pricier, at over $100.
What to serve with Sesame Zoodles
This cold zoodle salad is one of my favorite vegetarian meals to enjoy for lunch or a simple no-cook dinner. But it's also a perfect side dish to go along with things like:
If you need some grains, just add in a side of brown rice or white rice.
More zucchini recipes
Cold Sesame Zoodles Recipe
I hope you'll leave a comment and give it a FIVE STAR rating or share a review on Pinterest or photo on Instagram!
Tag me @cupcakekalechip and use #cupcakesandkalechips!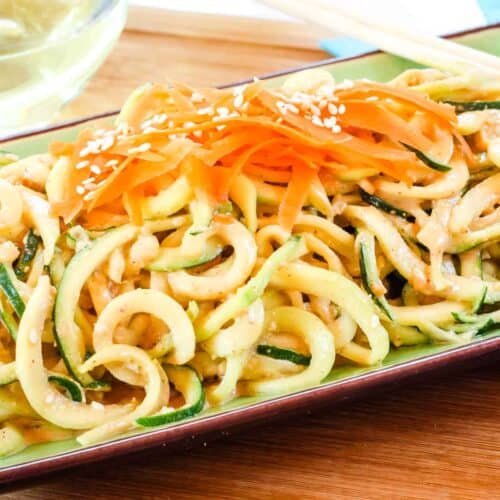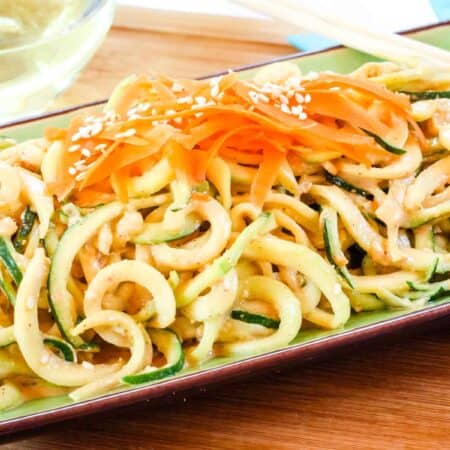 Sesame Zucchini Noodles (Zoodles)
A vegetable-filled, healthy, gluten free, vegan version of this Asian-inspired favorite.
Ingredients
Two medium to large zucchini,

spiralized

1/3

cup

creamy peanut butter

2

Tablespoons

rice vinegar

2

Tablespoons

soy sauce or tamari,

gluten free if needed

1-2

teaspoons

Sriracha or other hot sauce

2

Tablespoons

vegetable or coconut oil

1

Tablespoon

sesame oil

1

2-inch piece

fresh ginger,

peeled

1

clove

garlic

1

Tablespoon

sesame seeds,

toasted

Chives,

scallions, carrots, or additional sesame seeds for garnish, optional
Instructions
Make the zucchini noodles by using a spiralizer and place in a bowl.

Combine the peanut butter, vinegar, soy sauce, hot sauce, vegetable or coconut oil, sesame oil, ginger, and garlic, in a food processor or a blender and puree until smooth.

Pour the sauce over the zoodles and add the sesame seeds. Toss until the sauce is evenly distributed.

Serve immediately, or place in the refrigerator to allow the flavors to soak into and slightly tenderize the noodles.

Garnish with chives, scallions, shaved carrots, and/or sesame seeds, if desired.
Nutrition Facts
Sesame Zucchini Noodles (Zoodles)
Amount Per Serving
Calories 171
Calories from Fat 135
% Daily Value*
Fat 15g23%
Sodium 424mg18%
Potassium 292mg8%
Carbohydrates 6g2%
Protein 5g10%
Vitamin A 131IU3%
Vitamin C 12mg15%
Calcium 30mg3%
Iron 1mg6%
* Percent Daily Values are based on a 2000 calorie diet.
Categories:
Enjoy!