This post may contain affiliate links. Read my disclosure policy.
This mouthwatering and juicy Sriracha Lime Slow Cooker Turkey Tenderloin recipe is an easy way to infuse bold flavors into a lean and protein-packed meal, without heating up the kitchen. You won't believe how easy it is to add sweet heat to a healthy dinner when you see how to cook a turkey breast tenderloin in a crock pot. The entire family will love this dish so much that it's sure to be one of the best crockpot recipes in your collection!
Looking for more sweet and spicy dishes? Try Chili Lime Cube Steaks or Honey Lime Sriracha Cauliflower Bites.
Originally published on Jun 13, 2017
Isn't it funny how you only think to eat certain foods during specific times of the year? And I'm not talking just about produce when it is in season, because that totally makes sense.
I'm talking about, say, peppermint or gingerbread in December. Or I don't know about you, but summer is also when I tend to crave things like pineapple or seafood more often. And how often do you say that you just have to have something lemony when it's cold and snowy?
Another food that tends to only get its time in the spotlight during one time of year is turkey. Everyone starts thinking of roasting a bird for the holidays. Or football games and chilly days have you dreaming of a hot, steamy bowl of turkey chili.
Does turkey really have to be limited to November and December? Can't we eat it all year long?
Of course! With so many cuts available like drumsticks, ground turkey, and turkey sausage, there are so many opportunities to use this lean, healthy protein to enhance and highlight so many bold flavors.
But one cut you might not have thought about is the turkey tenderloin. This cut is readily available and a great alternative to the usual boneless, skinless chicken breasts.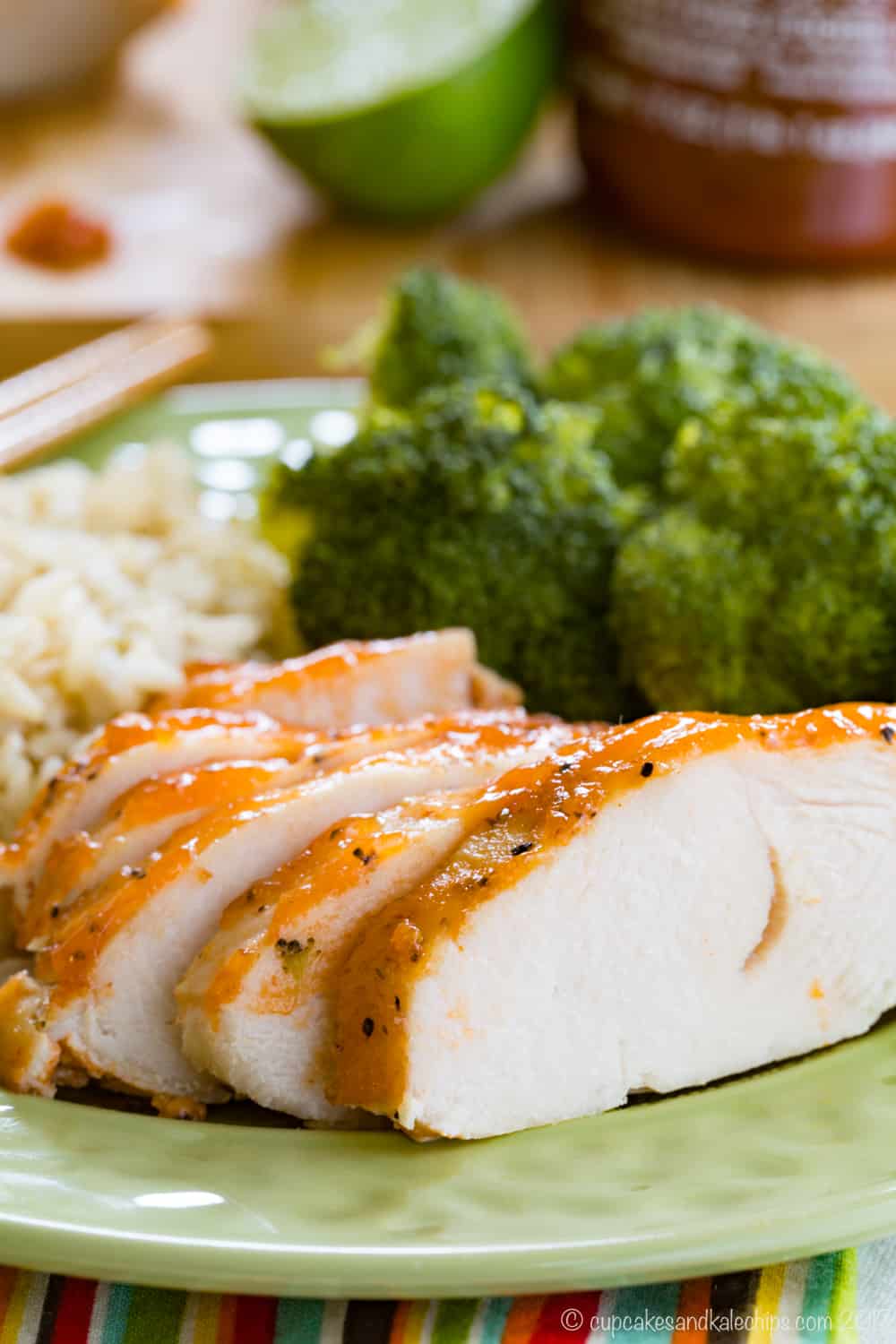 What is a Turkey Breast Tenderloin?
A turkey breast tenderloin, usually just called turkey tenderloin, is the ling, thick strip of meat underneath the turkey breasts. Because of their location, these muscles don't get worked much. So although it is lean, white meat and located right under the breast, they are actually very tender and oftentimes more moist than your traditional roast turkey breast.
They can weigh up to a pound each and are often found in packages of two, sold by brands such as Butterball, Jenni-O, and Foster Farms.
Because of their neutral flavor and similarity to chicken breast, turkey tenderloins pair well with a wide variety of flavors and can be used with many seasonings, marinades, and sauces. They can be baked or roasted, and even grilled. You can cook them whole, or slice them into chunks or medallions. And they also can be cooked in a crock pot or slow cooker.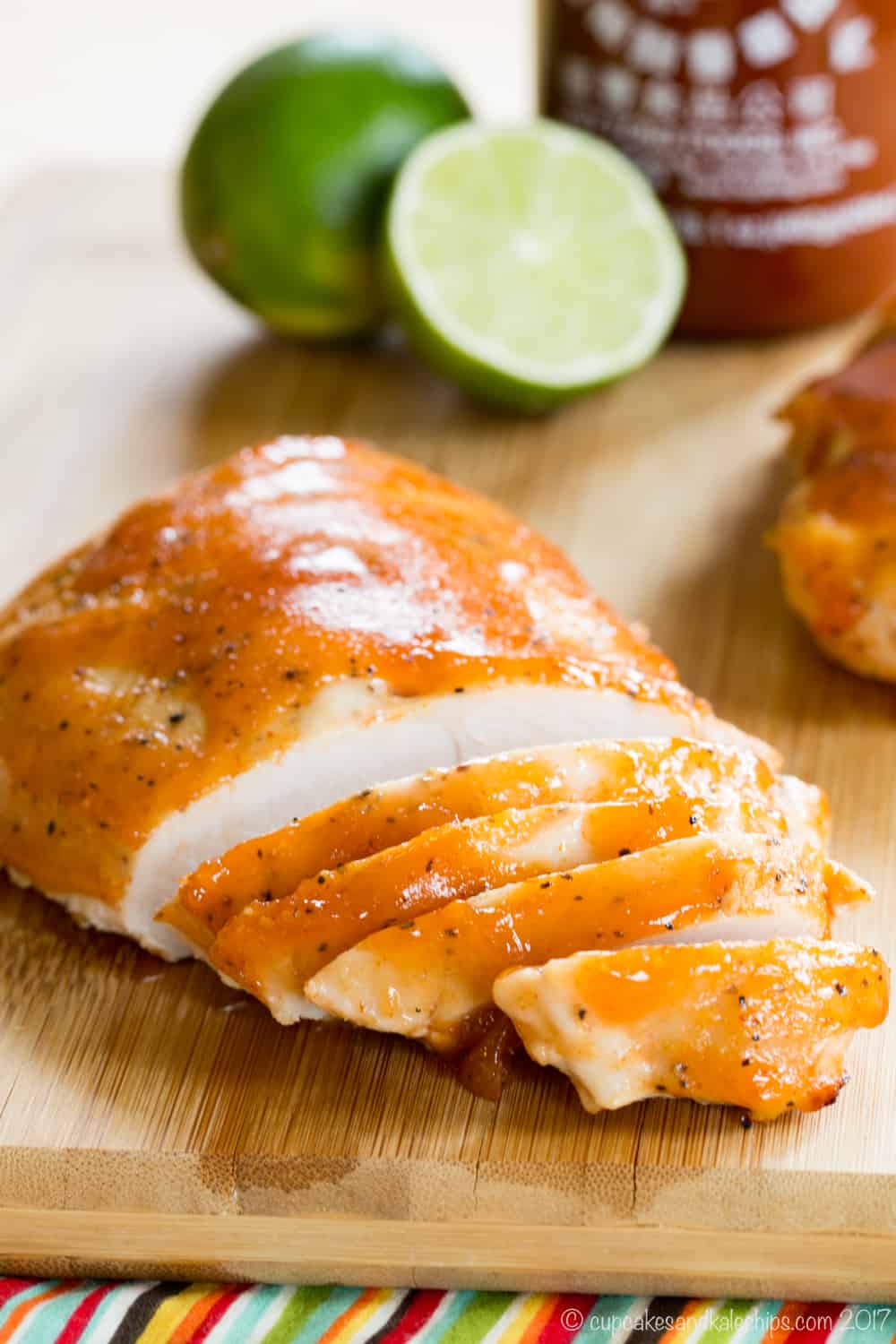 Is turkey tenderloin good for you?
Turkey tenderloin is very lean, with even fewer calories than a chicken breast, having about 130 calories and 0.5 grams of fat in a four-ounce serving. This goes along with over 20 grams of protein. And it is naturally gluten free.
What temperature should turkey tenderloin be cooked to?
A turkey tenderloin, like all types of white meat poultry, should be cooked to an internal temperature of 165°F. You can easily check this with an instant read thermometer.
For this recipe, I like to use my Hamilton Beach Slow Cooker that has a built-in temperature probe. While you can leave the meat in the slow cooker longer, by cooking it right to 165°F, the tenderloin holds together better. Sometimes when meats are allowed to cook longer, they can break apart and shred more easily. Sometimes that is what you want, but in this case, it is nice to be able to slice the turkey breast tenderloin for serving.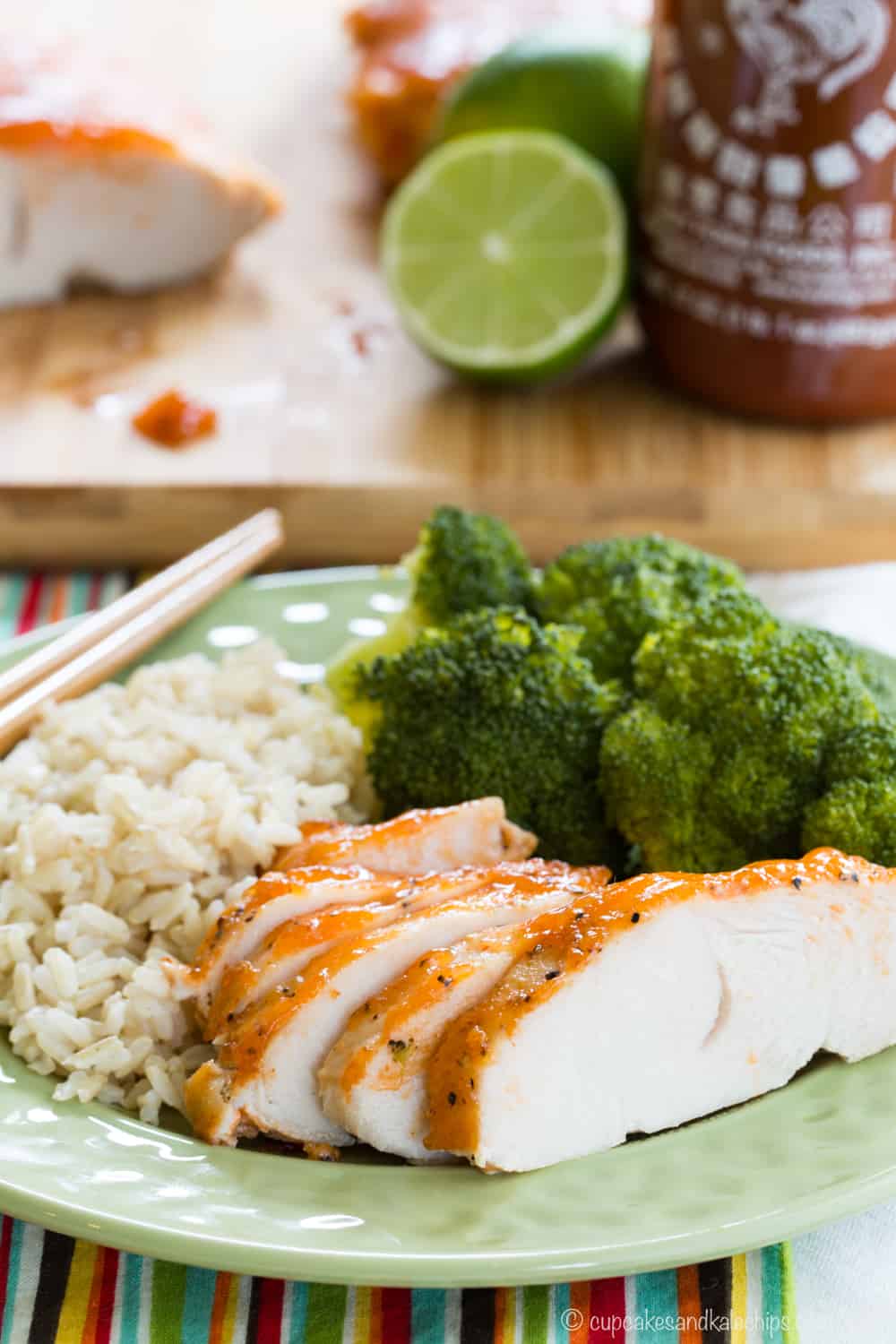 How do you cook Turkey Tenderloin in a crockpot?
This turkey tenderloin slow cooker recipe couldn't be easier. It's the perfect way to add sweet heat to dinner without heating up your kitchen. You'll love the bold flavors in a healthy meal that makes the turkey the star any time of the year.
There are only a few simple steps and just several minutes of hands-on work. Here is a brief overview, but keep scrolling for all the details in the recipe card at the bottom of the post.
Whisk together the sauce ingredients. Set some aside for later.
Add chicken broth to the remaining sauce mixture and pour over the turkey tenderloins in the slow cooker.
Cook on low for 3-4 hours.
While it cooks, whisk cornstarch into the reserved sauce mixture and boil until thickened.
Brush the sauce over the cooked turkey.
What do you need for the sriracha lime sauce?
Chicken stock or broth
Sriracha hot sauce
Lime juice
Honey (note: try a sugar free honey alternative for a keto-friendly option)
Ground ginger
Garlic powder
Salt
Pepper
Cornstarch
PRO TIP:
For a nice, thick glazed coating on your turkey tendrloin, brush the sauce over, then pop it in the broiler or on the grill for a few minutes to allow the glaze to caramelize.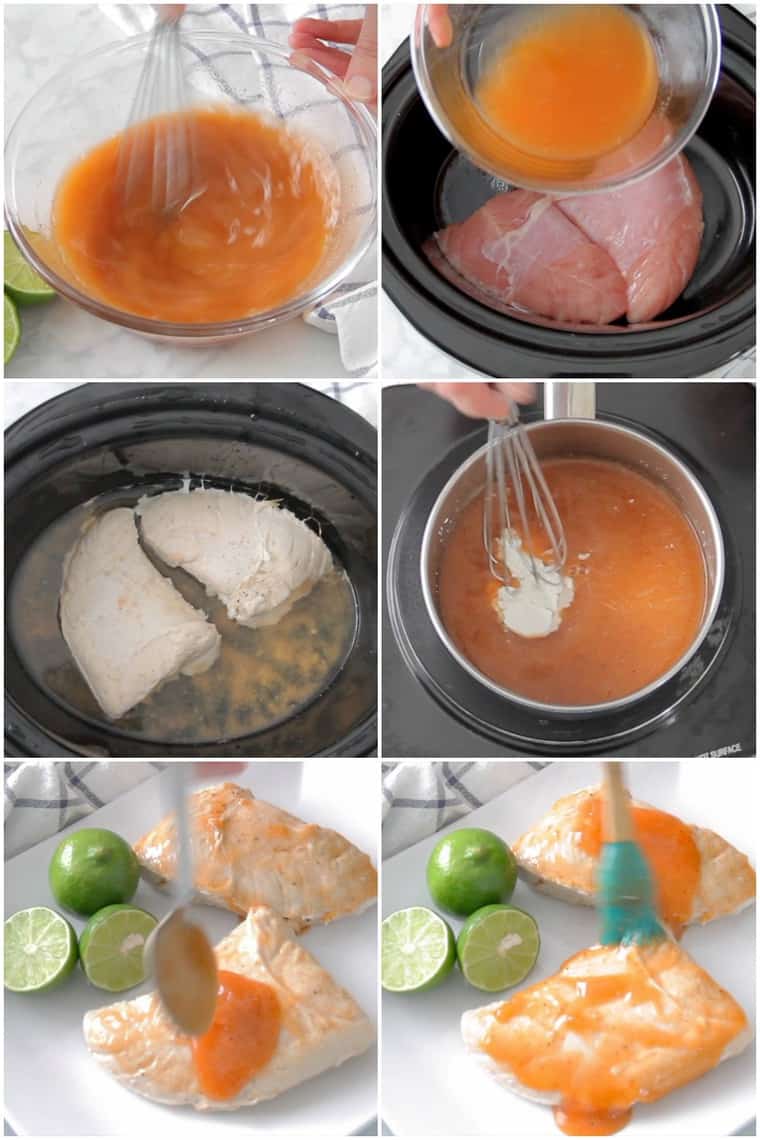 What do you serve with Sriracha Lime Turkey Tenderloin?
More slow cooker recipes you might like…
And a few other ways to spice up dinner…
Sriracha Lime Crock Pot Turkey Tenderloin Recipe
In a few seconds, you can stir up a simple mixture of super flavorful ingredients and toss it in the slow cooker with your turkey breast tenderloin. But don't forget to set some aside so you can make that thick, spicy glaze. When it's done, just slather the tenderloin with that honey lime sriracha glaze. If you want to really make it amazing, throw it under the broiler or on the grill for a few minutes to really caramelize the glaze and kick up the flavor. You'll have an easy and healthy dinner recipe that packs a delicious punch without a lot of work.
Sriracha Lime Slow Cooker Turkey Tenderloin
A sweet and spicy easy dinner recipe with healthy, protein-packed turkey made in your crock pot.

Ingredients
2

lb

turkey tenderloins

(typically two per package)

3/4

cup

chicken stock,

divided

2

Tablespoons

sriracha hot sauce

1/4

cup

fresh lime juice

1/4

cup

honey

1

teaspoon

ground ginger

1

teaspoon

garlic powder

2

teaspoons

salt

1/2

teaspoon

black pepper

1

Tablespoon

cornstarch
Instructions
Place turkey tenderloins in the bottom of your slow cooker.

In a bowl, combine 1/2 cup chicken stock, sriracha, lime juice, honey, ginger, garlic powder, salt, and pepper and whisk together. Set aside 3/4 cup of the mixture for making the glaze.

To the remaining mixture, add an additional 1/4 cup chicken stock and pour over the turkey in the slow cooker.

Cook on low for 3-4 hours, or until the internal temperature reaches 165°F.

While the turkey finishes cooking, transfer the reserved sriracha mixture to a small saucepan and whisk in 1 Tablespoon cornstarch.

Bring to a boil and boil for a minute or two until thickened.

If desired, preheat broiler or grill. If placing in the broiler, line a baking sheet with parchment paper. Carefully remove the turkey tenderloins from the slow cooker and coat with the glaze (you may have extra that can be used for serving), and place under the broiler or on the grill for 3-4 minutes to allow glaze to caramelize.

Serve with additional glaze, if desired.
Nutrition Facts
Sriracha Lime Slow Cooker Turkey Tenderloin
Amount Per Serving (5 oz)
Calories 227
Calories from Fat 18
% Daily Value*
Fat 2g3%
Cholesterol 68mg23%
Sodium 1035mg43%
Potassium 62mg2%
Carbohydrates 15g5%
Protein 36g72%
Vitamin C 6.3mg8%
Iron 0.2mg1%
* Percent Daily Values are based on a 2000 calorie diet.
Enjoy!