Browned Butter Cauliflower Rice
Disclosure: This post may contain affiliate links. Cupcakes & Kale Chips is a participant in the Amazon Services LLC Associates Program, an affiliate advertising program designed to provide a means for us to earn fees by linking to Amazon.com and affiliated sites.
Browned Butter Cauliflower Rice is a family favorite side dish recipe (and a favorite way to get the kids to eat more vegetables) because just a bit of brown butter packs a ton of flavor. This easy cauliflower recipe is naturally gluten free, low carb, and paleo-friendly and Whole 30 friendly if you just substitute the butter with ghee.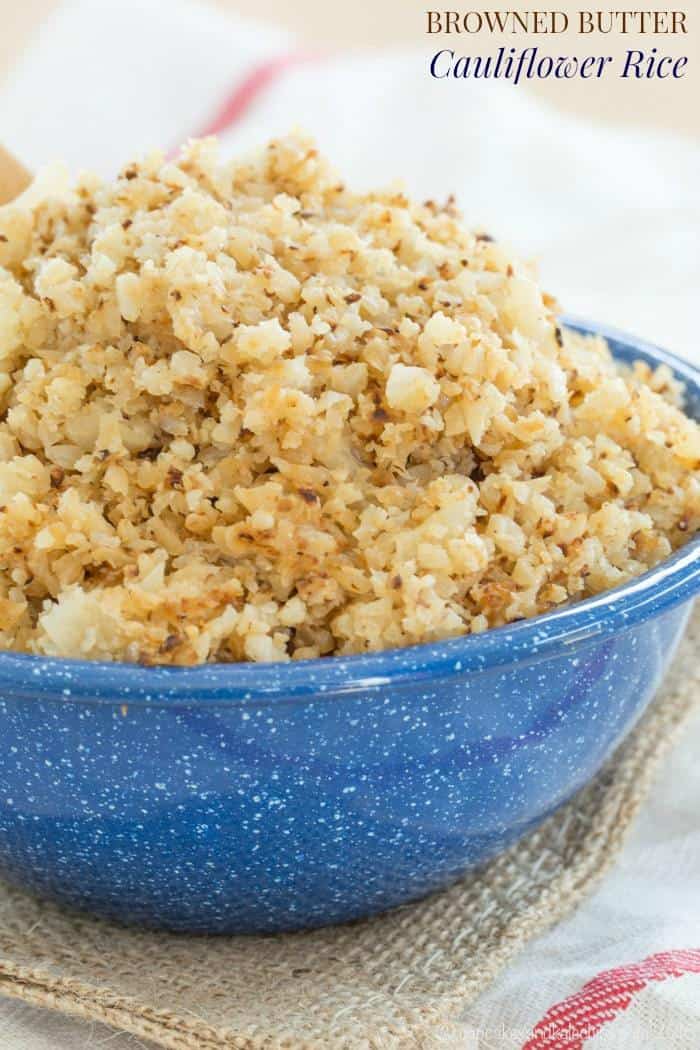 MY LATEST VIDEOS
Brown Butter Cauliflower Rice Recipe
I'm now officially a two-kids-playing-sports mom. For a couple weeks now The Hubby and I have been juggling the two kids on different teams with practice at the same time at two different fields. But Saturday was the true kickoff to the season with two sets of pictures, two games, and the Opening Day ceremonies. And with a few quick stops home for potty breaks, it also meant two little boys running through my house without taking off their dirt-covered sneakers and cleats.
Typical boys.
Let's not forget about mealtimes, where a good fraction of food ends up on the floor. Then there are those days they want to take out the play dough or glue, or they want to help me cook or bake. I do a pretty good job myself spilling food, especially when I'm making and photographing multiple recipes in one day, so add two little boys to the mix, and you can imagine what happens. Heck, even on a normal day I tend to be a little messy, like the time I was making cauliflower rice, and had a bit of a blender explosion that Little Dude never lets me forget.
But I swear they get more cauliflower rice on the floor when they are eating than I got on the floor when my blender exploded…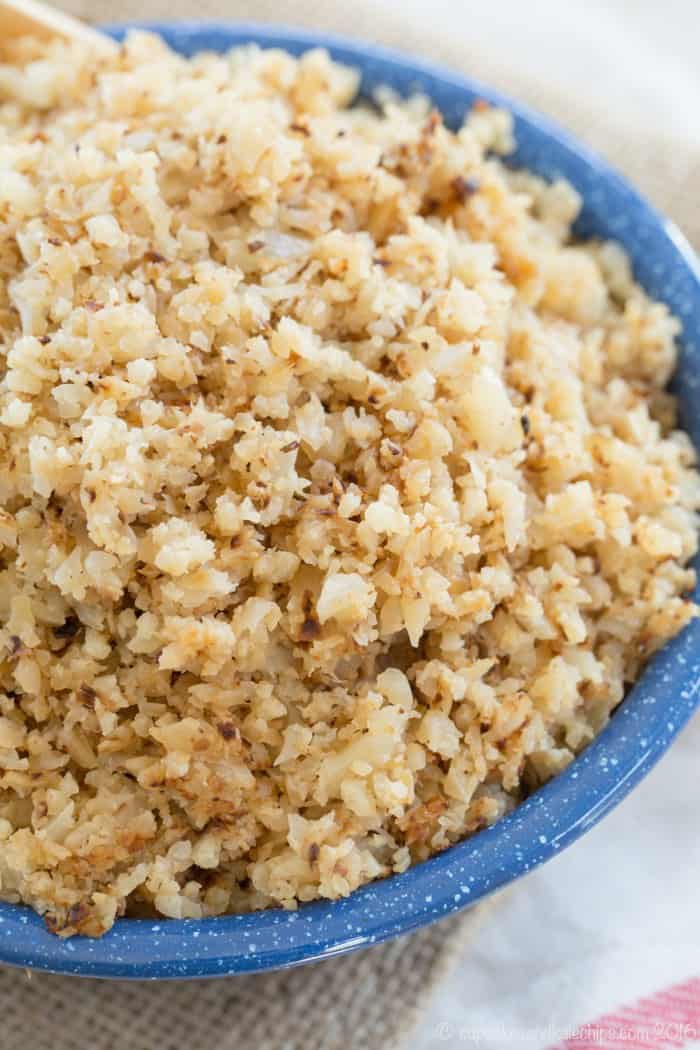 This Browned Butter Cauliflower Rice recipe (if you can even call it a recipe) is pretty much a staple in our house.
Yes, like I said, my kiddos don't love rice. The Hubby, though he does like cauli-tots, is not a big fan of when I vegetable-ify everything. This is a compromise that everyone actually enjoys. And again, not sure if this truly qualifies as a recipe. It's more like a technique, and it's a technique that gets my family to eat more cauliflower. You've probably heard of cauliflower rice, where you basically chop up cauliflower in your food processor or blender to a rice-like consistency. There's a couple ways to do this. With the food processor, I usually cut the cauliflower into florets, then pulse till I achieve a rice-like consistency. Another way is to put the florets into a high-powered blender, like a Blendtec or Vitamix, then pulse till it's riced and drain well. Or you could use some elbow grease and a box grater! Burn calories while you make riced cauliflower.
I didn't invent these techniques, but my way of cooking it, by browning butter in a pan, then letting the "rice" cook till it too gets nicely browned and nutty, and slightly dried out. This is how my hubby really likes it, and when I've put it in bowls loaded with things like stir fried beef, Slow Cooker Tomato Basil Pulled Chicken  or salsa chicken, he has had to take a few bites to realize it's not really rice. It's also really good if you take my recipe for Buffalo Chicken Sloppy Joes and pile it on top of the browned butter cauliflower rice instead of on buns – perfect for a low carb dinner! And my kids would rather have cauli-rice than real rice any day! #MomWin!
Obviously cauliflower rice is a low carb staple, so if you are on a keto diet this is the perfect addition to your cauliflower rice repertoire. If you use ghee instead of butter, it's also a yummy and easy paleo side dish or something to enjoy while you taking on the Whole 30. But I just love it and will eat it 365 days of the year!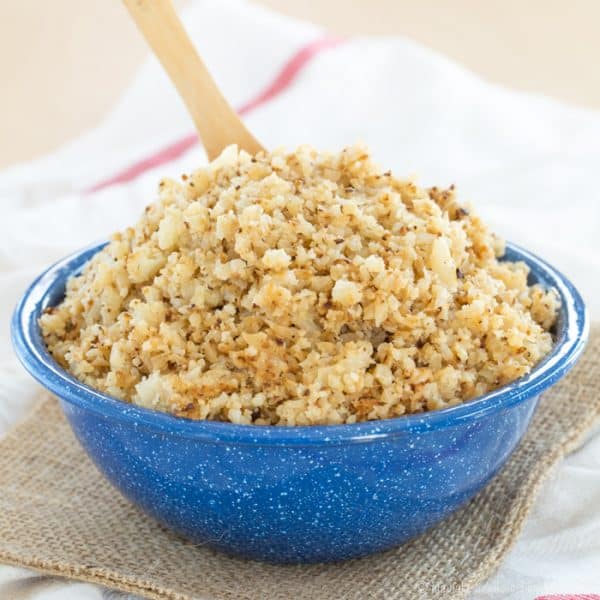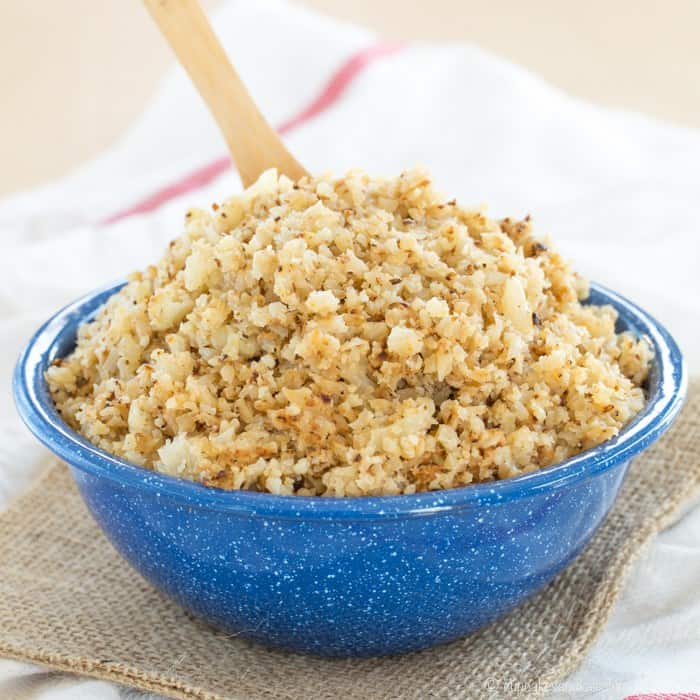 Here are some more of our favorite simple side dishes…
You could also change up your cauliflower rice by making what Kalyn's Kitchen calls The Best Cauliflower Rice with Garlic and Green Onion. Turn it into a meal with Low Carb Mexican Cauliflower Rice Skillet Dinner from All Day I Dream About Food. Or try this Cauliflower Bacon Fried Rice from the Reluctant Entertainer.
And don't forget, you can transform cauliflower into almost everything!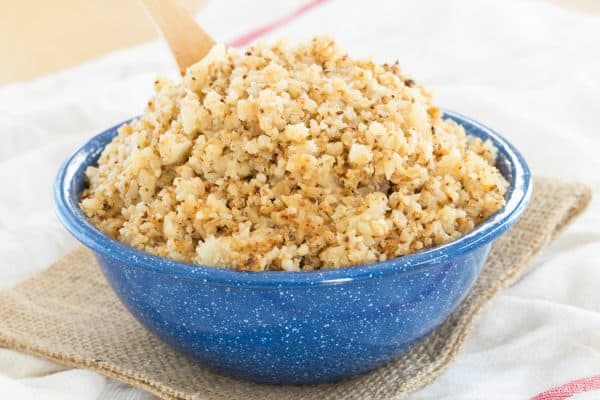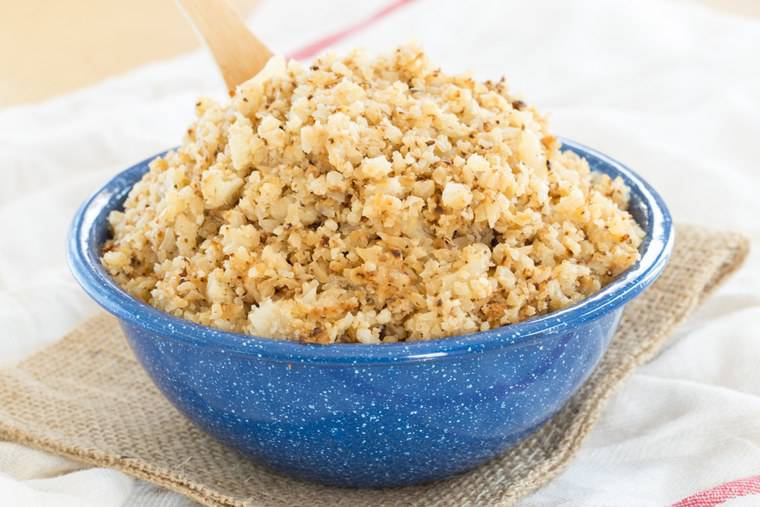 For more yumminess from me and my foodie friends, keep up with me on…
Or sign up to have Cupcakes & Kale Chips delivered straight to your Inbox!
You can use one of these items to make riced cauliflower…
Products from Amazon.com
‹
›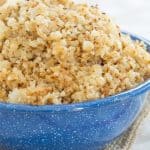 Browned Butter Cauliflower Rice
A family favorite side dish that it super easy, naturally gluten free, low carb, and paleo-friendly.
Ingredients
1

head cauliflower

1

Tablespoon

butter

1

teaspoon

kosher salt
Instructions
Cut cauliflower into florets. In batches, pace cauliflower in a food processor or high-powered blender and pulse until it achieves a rice-like consistency.

In a large pan, over medium heat melt butter and allow to sizzle until it gets lightly browned in color.

Add the cauliflower and salt, then stir to coat completely, and smooth to a single layer.

Stir every 4-6 minutes. After about ten minutes the rice will start to brown on the bottom, so you may have to stir more frequently.

Cook for a total of about 20-30 minutes, until tender, browned, and slightly dried out.
Enjoy!
Originally published Apr 19, 2016.