This post may contain affiliate links. Read my disclosure policy.
This quick and easy Brown Butter Cauliflower Rice recipe is a tasty way to get kids to eat more vegetables. Only 3 ingredients and you can use fresh or frozen riced cauliflower for this healthy veggie side dish. And of course, cauli rice is naturally gluten free and keto. But it can also be paleo and Whole 30 friendly if you just substitute the butter with ghee.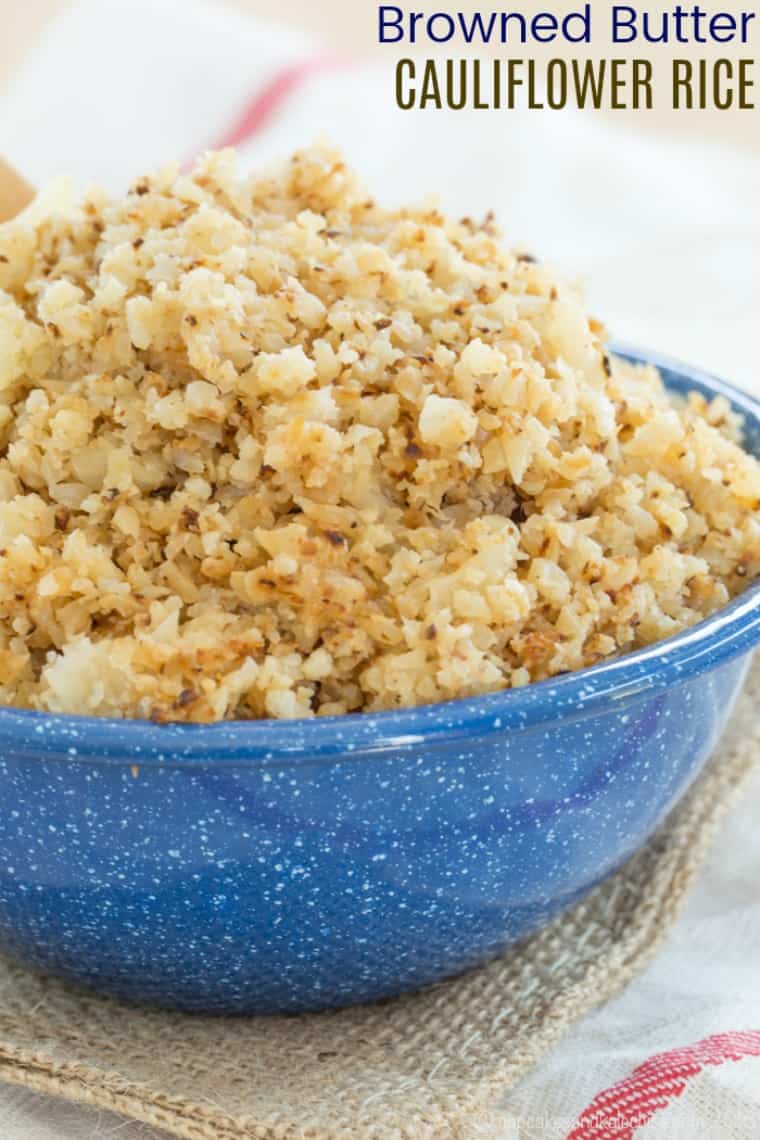 As a mom of two active boys, I thought them running through my house without taking off their dirt-covered sneakers and cleats would be my biggest mess problem.
Despite hanging up their baseball gloves for karate belts, the messiness hasn't ended. Because they still eat. You might think since they are well out of the toddler years, this wouldn't be such an issue.
However, you'd be thinking wrong.
I know I do a pretty good job myself spilling food, especially when I'm making and photographing multiple recipes in one day. But the Hubby and I attempt to model good table manners. Yet somehow the food ends up everywhere.
I swear they get more cauliflower rice on the floor when they are eating than I got on the floor that time my blender exploded while I was making cauliflower rice.
But if I can manage to get them happily eating more veggies by serving it, I'm not going to stop. So this Brown Butter Cauliflower Rice recipe is pretty much a staple in our house.
They love it so much that I don't even have to be sneaky like when I make cauli-tots.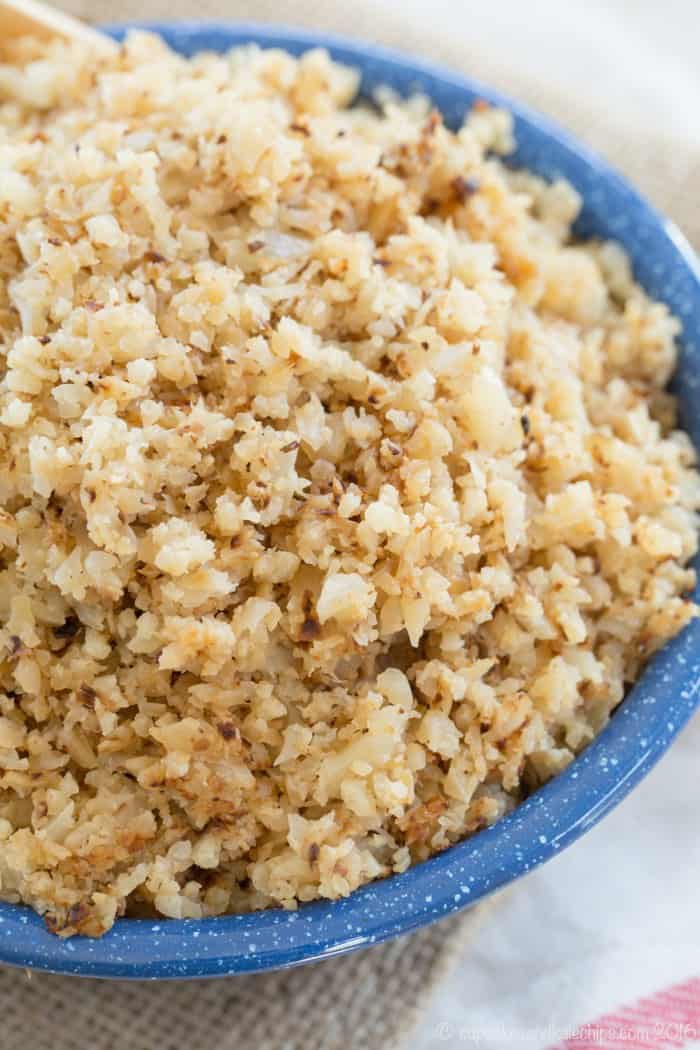 What's cauliflower rice?
With the rice in popularity of low carb and keto diets, by now you've probably heard of cauliflower rice. It has become a stand-in for regular rice as an easy side dish or incorporated into dishes like cauliflower fried rice.
Since it is made strictly from cauliflower, it has almost no carbs, and all the health benefits of cauliflower, including plenty of fiber, vitamins, and antioxidants. Therefore it has been shown to help towards goals of weight loss, heart health, and protecting against cancer.
And, of course, it is also naturally gluten free.
In order to make cauli rice, you basically chop up cauliflower in your food processor or blender to a rice-like consistency.
There are a few ways to make riced cauliflower:
FOOD PROCESSOR – Cut your head of cauliflower into florets. You can include the stems, but I usually leave out the core. Place the florets in a food processor, then pulse till I achieve a rice-like consistency. You'll need to do this in batches to avoid overloading your food processor.
BLENDER – Another way is to put the florets into a high-powered blender, like a Blendtec or Vitamix, then cover with cool water. Pulse till it's riced and drain well.
BOX GRATER – This technique uses some elbow grease but you can shred or rice your cauliflower using the large holes of a box grater. Heck, you can burn calories while you make riced cauliflower.
But since it has become so popular, you can now find it packaged in the grocery store, both fresh in the produce section and frozen in the freezer case.
You can use either to make this recipe.
Of course, I'm not sure if this truly qualifies as a recipe. It's more like a technique, but it's a technique that gets my family to eat more cauliflower.
Browned Butter Cauliflower Rice
We just love this easy cauliflower rice side dish recipe and will happily eat it 365 days of the year!
Ingredients
Riced cauliflower
This recipe calls for one head of cauliflower that's has been riced. One medium head of cauliflower is roughly 2 pounds and will yield 3 to 4 cups of riced cauliflower.
If you are buying packaged fresh cauliflower rice, you'll rant about 3 to 4 cups. It does not have to be exact.
If you want to use frozen, you'll need about two 12 oz. packages. It may take a little longer to cook in order to thaw it and evaporate the excess moisture.
Butter
I usually use unsalted butter so that I can control the amount of salt, but you can use salted if that is all you have. Ghee or clarified butter is an option if you want to make this paleo or Whole 30 friendly. But I do NOT recommend margarine or a vegetable oil spread as it will not brown the same way and give that toasty flavor.
To brown the butter, you'll want to melt it in a skillet over medium-low heat and let it start to foam and sizzle. Keep a close eye on it as it can go from nicely browned to burned in a matter of seconds.
For this recipe, you don't need to brown it all the way since it will brown more as it cooks with the cauliflower.
Salt
I recommend a teaspoon of Kosher salt, but you can adjust to taste. If you use a fine table salt or sea salt, or if you've used salted butter, you may want to start with less.
Directions
Place the butter in a skillet over low heat, melt and allow it to sizzle until browned slightly. DO NOT BURN!
Add the rice and salt, and stir to coat completely.
Smooth into a single layer and cook for about 20-30 minutes total, stirring every 5 minutes or so. After ten minutes it will start to get browned, so you may need to stir it more often.
Let it cook till it gets nicely brown and nutty, and slightly dried out.
I like to serve it with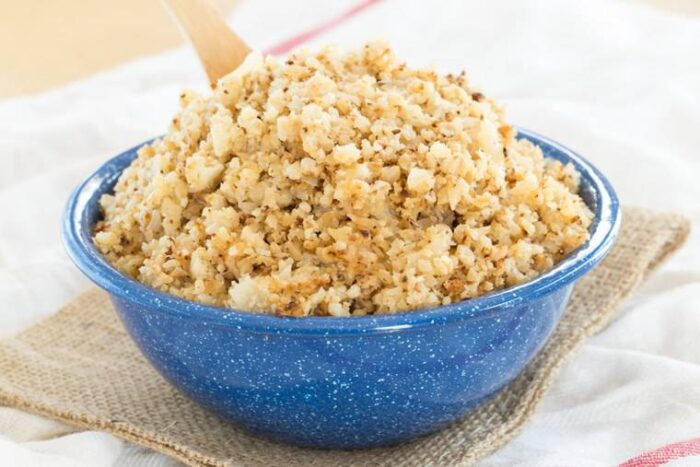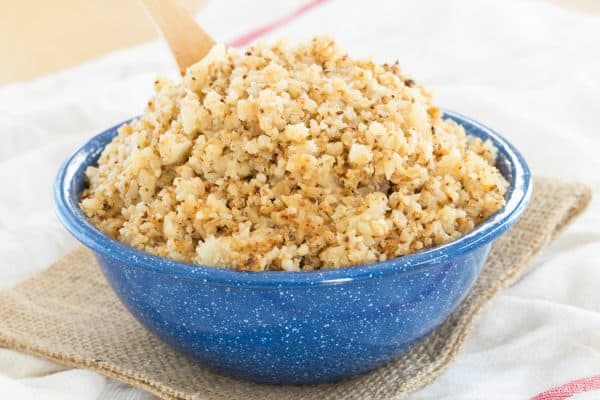 More low carb cauliflower side dish recipes
And don't forget, you can transform cauliflower into almost everything!
Brown Butter Cauliflower Rice Recipe
Cauli rice is delicious on its own. But when the flavor is amped up with brown butter, the riced cauliflower takes on a nutty taste that is absolutely delicious! This is a healthy side dish and a great way to get kids to eat veggies!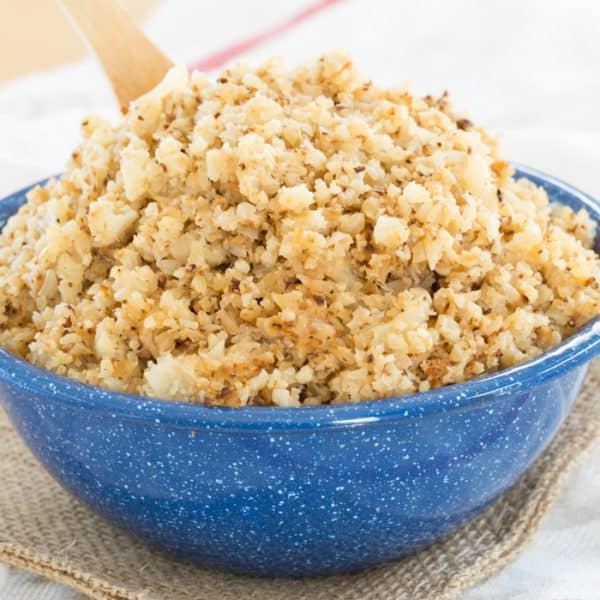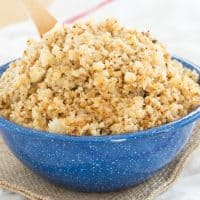 Brown Butter Cauliflower Rice
This easy Brown Butter Cauliflower recipe is naturally gluten free and low carb. Also paleo-friendly and Whole 30 friendly if you substitute the butter with ghee.
Ingredients
1

large

head cauliflower

or 3-4 cups packaged fresh cauliflower rice or two 12 oz. packages frozen cauliflower rice

1

Tablespoon

unsalted butter

or ghee

1

teaspoon

kosher salt
Instructions
If using a fresh head of cauliflower, cut it into florets. In batches, place cauliflower in a food processor and pulse until it achieves a rice-like consistency. Or put it in a high-powered blender, cover with cool water, pulse until riced, then drain thoroughly.

In a large pan over medium-low heat, melt butter and allow it to sizzle until it gets lightly browned in color.

Add the cauliflower and salt, then stir to coat completely, and smooth to a single layer.

Stir every 4-6 minutes. After about ten minutes the rice will start to brown on the bottom, so you may have to stir more frequently.

Cook for a total of 20-30 minutes, until tender, browned and slightly dried out.
Nutrition Facts
Brown Butter Cauliflower Rice
Amount Per Serving (1 serving (one-fourth of the recipe))
Calories 77
Calories from Fat 27
% Daily Value*
Fat 3g5%
Cholesterol 7mg2%
Sodium 669mg28%
Potassium 627mg18%
Carbohydrates 10g3%
Protein 4g8%
Vitamin A 90IU2%
Vitamin C 101.2mg123%
Calcium 46mg5%
Iron 0.9mg5%
* Percent Daily Values are based on a 2000 calorie diet.
Categories:
Enjoy!
Originally published Apr 19, 2016.