This post may contain affiliate links. Read my disclosure policy.
Buffalo Chicken Sloppy Joes are an easy and versatile family favorite weeknight dinner with a hot sauce kick. Made with lean ground chicken, it's a healthy way to enjoy the spicy wing flavor you love. Serve it on regular or gluten free buns, or check out other ideas for this sassy and saucy recipe!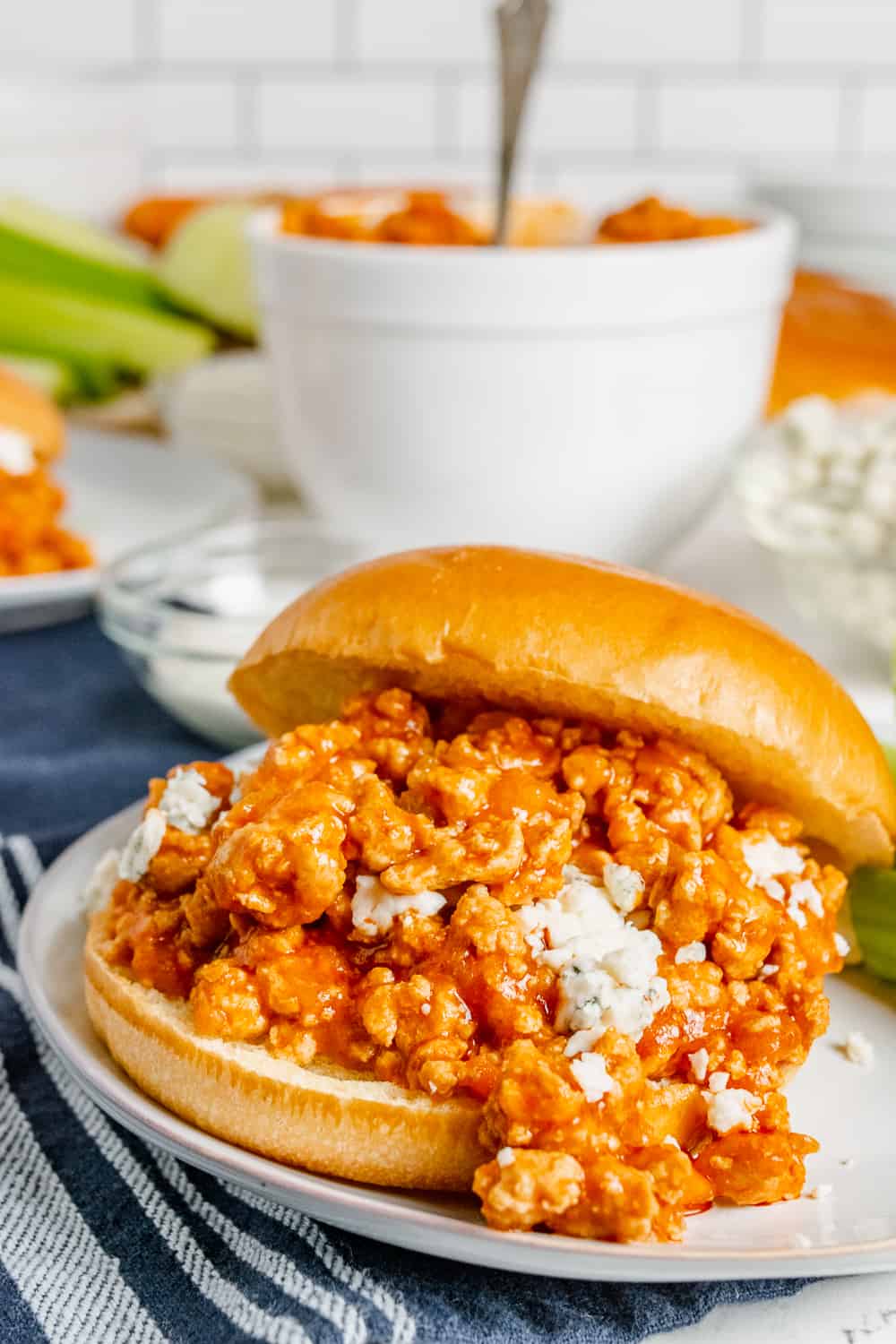 Originally published on August 11, 2013. Updated on March 15, 2021 with new photos and more useful information.
Buffalo Chicken Sloppy Joes – a healthy ground chicken recipe!
If there is one recipe from my blog that I make for dinner more than any other, it's a neck-and-neck race between this and my Egg Roll Bowls. Both are part of our regular dinner rotation and definitely staple Back Pocket Meals that help me pull dinner together in a snap.
So when someone asks me for one of my favorite easy dinner ideas, this is usually one of the first I recommend. In fact, I've even shared it with my mom. And we all know moms can sometimes be your most honest critic. Well this has since become part of her regular dinner rotation too.
In fact, she is such a fan, she even shared the recipe on Facebook. If your mom has as much of a thing for Facebook, then you know that's the highest compliment.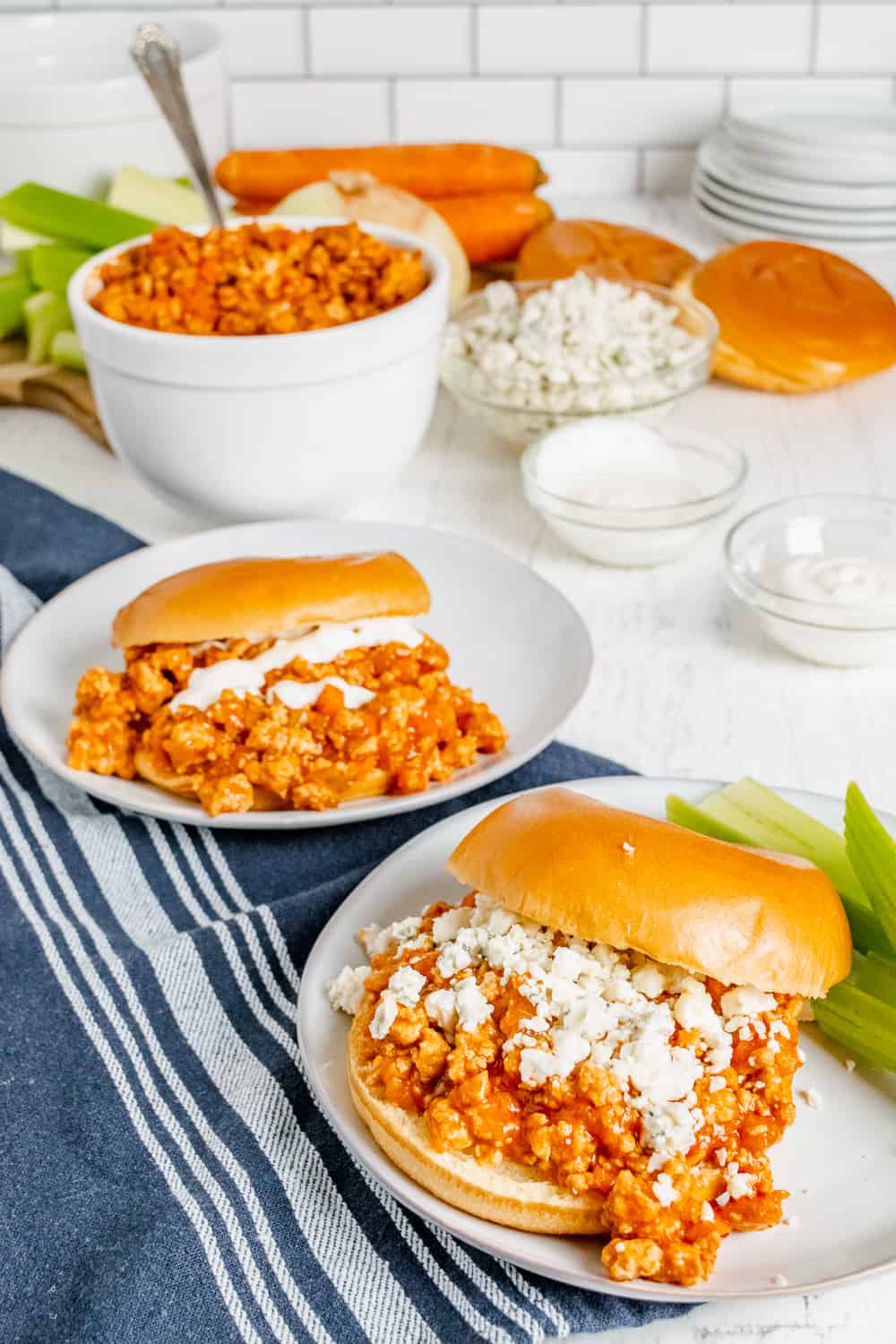 Why we Love this Recipe
If you love hot wings, this is a great way to get that spicy flavor you love. But it is an easy, family-friendly weeknight dinner. Even if you aren't typically a fan of the wings themselves yet still enjoy that kick, this is the perfect way to get your fix. And it's way easier and healthier.
If you are worried about all that spice with kids (or adults) who may not be able to handle the heat, you can adjust as needed. Unlike wings which are covered in straight up hot sauce, here it is mixed with tomato sauce so it's not as intense. And you can always use more or less. For those that love a mouth on fire, they have the option to open up the bottle and shake more onto their own serving.
But what I love most is that this is a flexible family meal. You can serve it in different ways to keep it feeling new and interesting. There are options to meet the different needs and preferences of the entire family as well.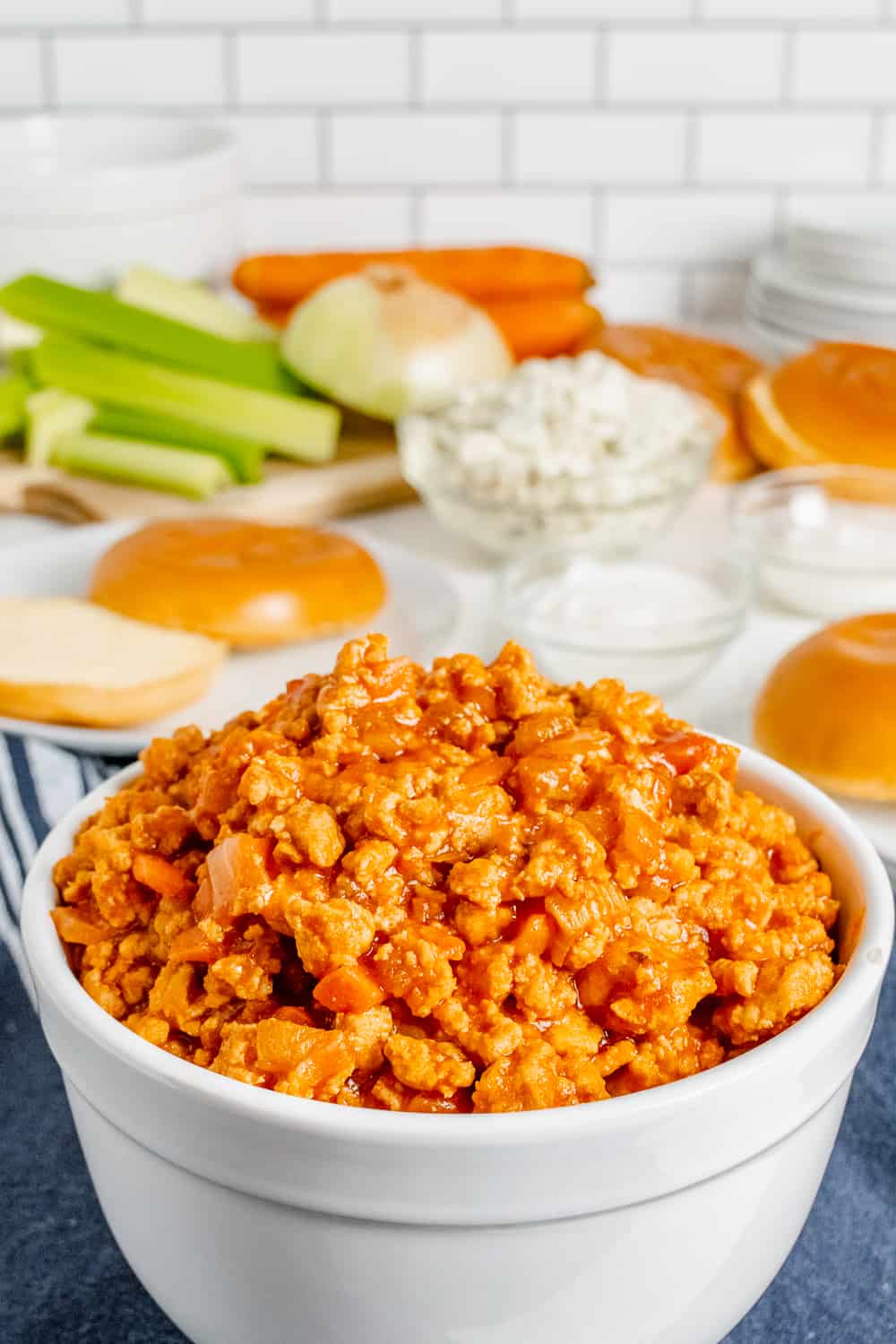 What Makes this a Healthy Ground Chicken Recipe?
Let's talk Buffalo wings. You start with those little dark meat wings and drop them straight into hot oil to be deep fried with the skin and everything. Then they are doused with a mixture of hot sauce and butter. Then most people finish them off by dunking them in heavy Ranch or Blue Cheese Dressing that is usually straight out of a bottle. Delicious to many people, but not necessarily the healthy dish you want to have as part of your regular dinner menu.
But with this Buffalo Chicken Sloppy Joes recipe, you can enjoy it regularly. You only need a bit of oil to keep everything from sticking and it's made with healthy ground chicken. This is already low in calories and fat, but you can make it even leaner by using ground chicken breast since you get plenty of flavor and moisture from the sauce.
Now let's not forget the vegetables! Since you can't have wings without carrots and celery, adding them into the sloppy joe mixture completes the trinity of aromatics (carrots, celery, and onions) to round out the flavors. The subtle sweetness of the carrots and hint of bitterness in the celery helps balance and cool the spiciness. But it's also a great way to both stretch out the recipe and add more vitamins and minerals.
And about that Ranch and Blue Cheese dressing. Keep reading, because I have options there for you too!
Plus the sloppy joe mixture itself is gluten free, low carb, and paleo-friendly. You just need to choose how you serve it and what you serve it with!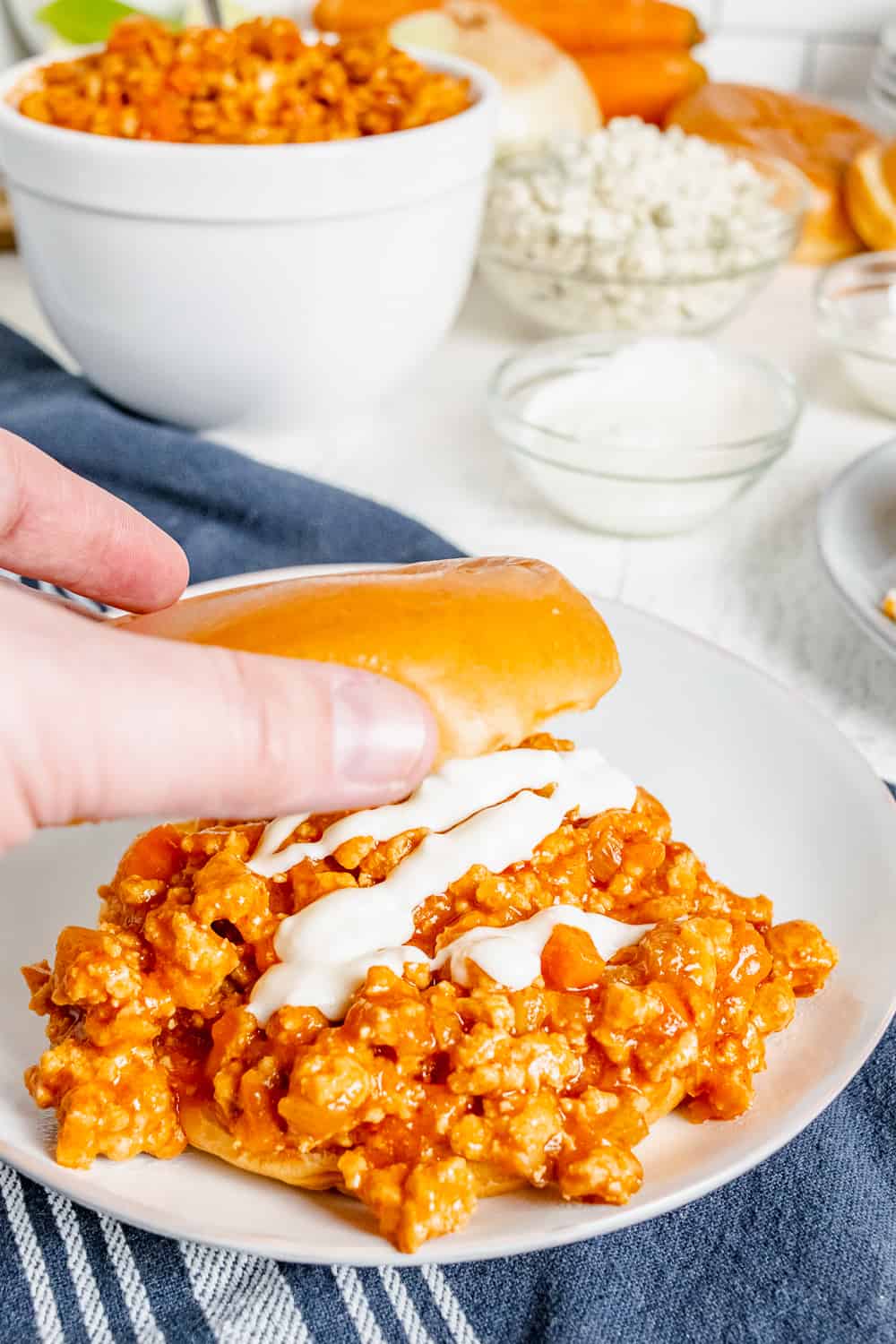 Ingredients
Olive oil: You can also use avocado oil or another vegetable oil. You just need a bit in the pan.
Onion: Let's get those aromatics working.
Carrots and celery: The classic pairing with buffalo wings, it's also a great way to add veggies and stretch the recipe a bit while making it extra flavorful. I usually opt for half and half, but if you don't like celery, you can use all carrots. Or if the amount of carbs in carrots is a concern, then reduce the carrots and use more of the celery.
Salt and pepper: Always have to add your basic seasonings.
Ground chicken: Depending on your preference, you can use lean ground chicken or ground chicken breast. Both work equally well, but the ground chicken usually has a bit of dark meat whereas the ground chicken breast is all white meat so it is lower in fat and calories. In a saucy recipe like this, you don't have to worry about it getting too dry.
Tomato sauce: You'll need one of those small 8 oz. cans.
Hot sauce: I love the classic Frank's Red Hot, but feel free to use your favorite.
Worcestershire sauce: This adds a little depth of flavor, so if it doesn't fit in with your dietary needs or allergies, you can omit it. In the United States, Lea & Perrins is gluten free, if that is a concern for you. There are also options to make paleo-friendly homemade Worcestershire sauce.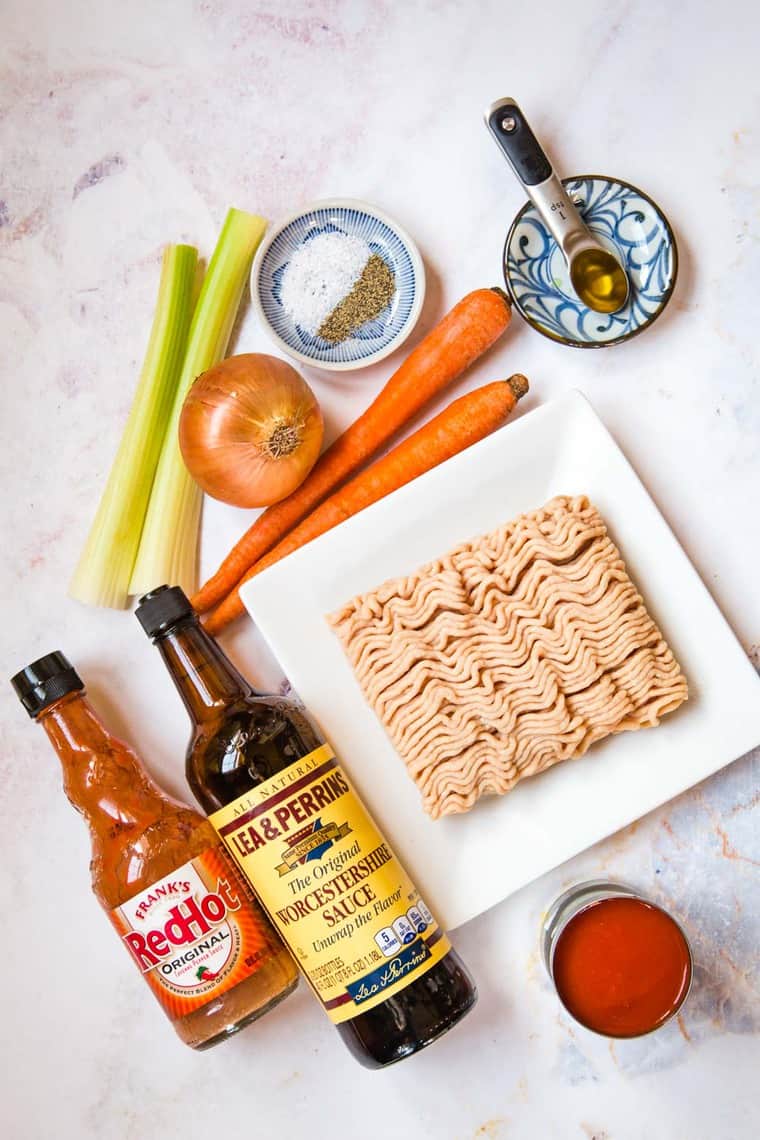 How to Make Buffalo Chicken Sloppy Joes
Here is a brief overview so you can see just how easy it is to make. Scroll down to the printable recipe card for the full quantities and details. But don't skip my PRO TIPS below!
Saute the vegetables: Heat oil in a skillet over medium heat, then saute onions, carrots, and celery with a pinch of salt and pepper until starting to soften.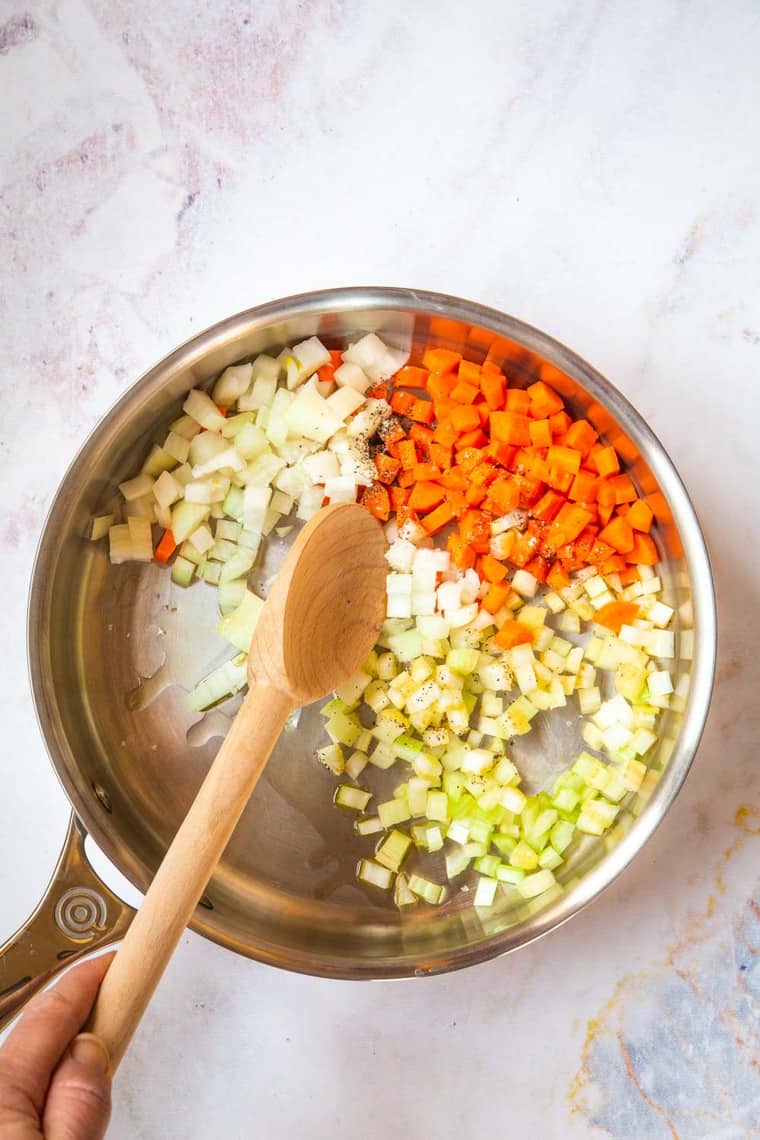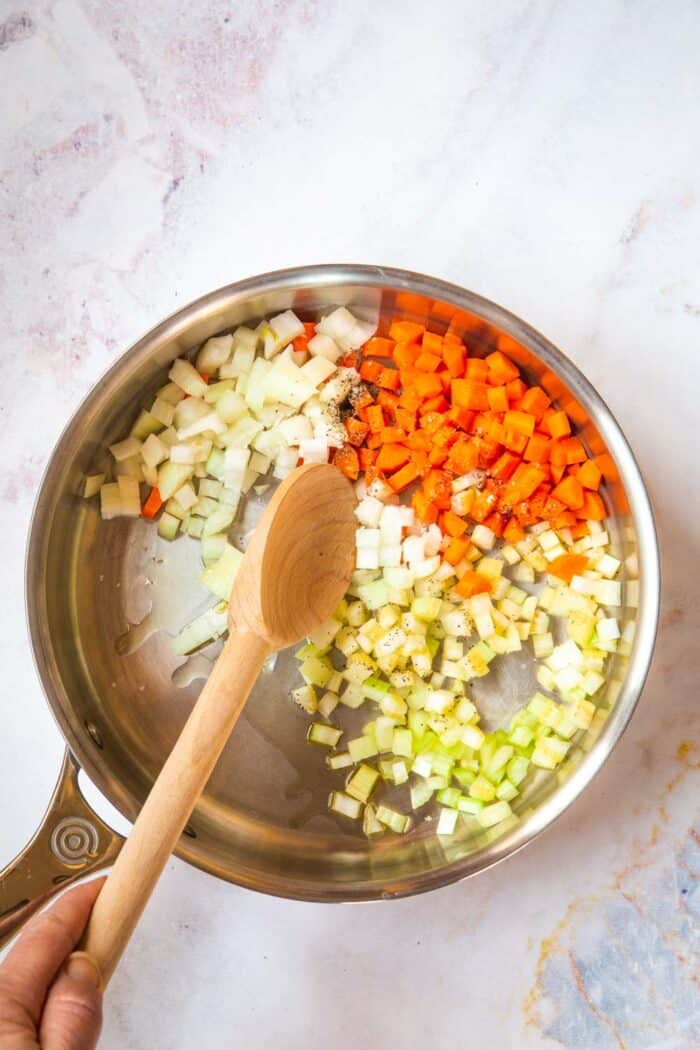 Cook the chicken: Add the ground chicken, and cook until done, breaking up the meat as it cooks.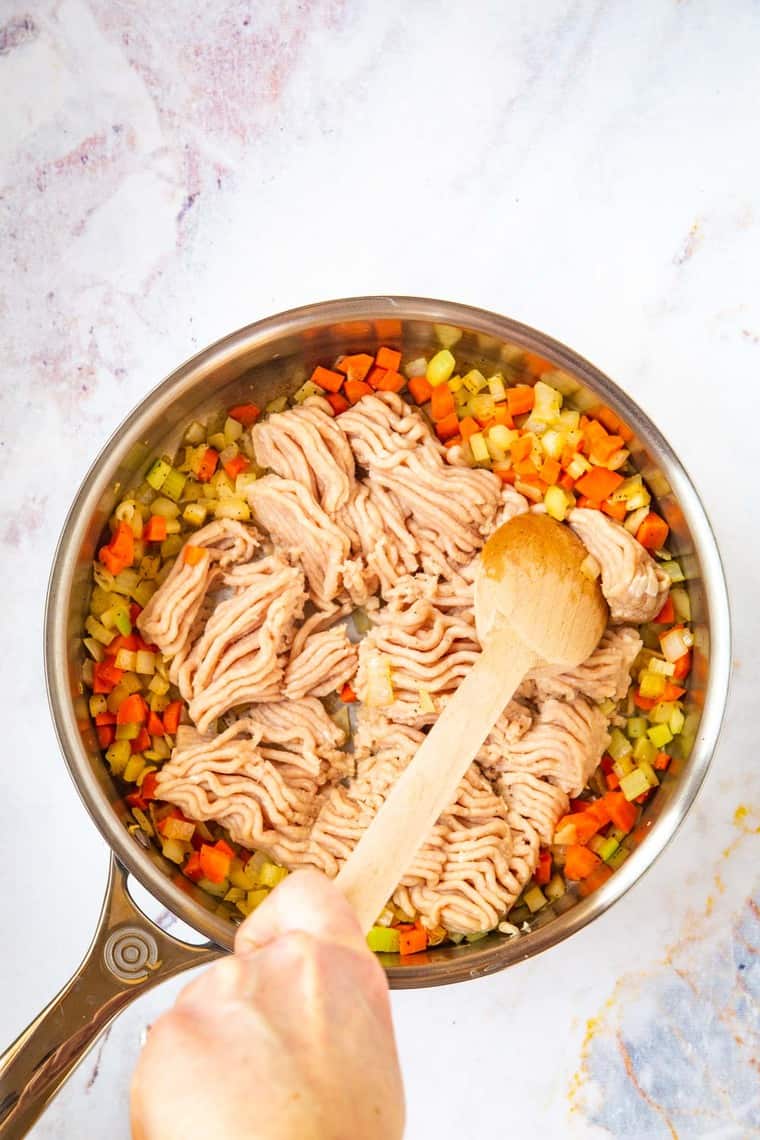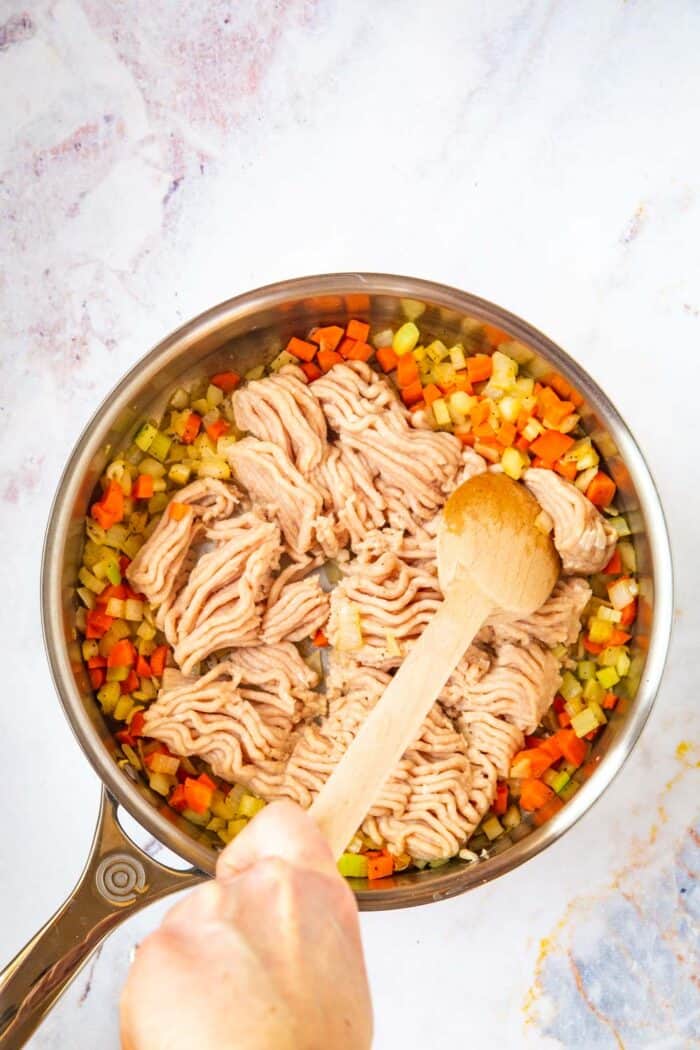 Make the sauce: Stir in the tomato sauce, hot sauce, and Worcestershire, and simmer for several minutes, until heated through.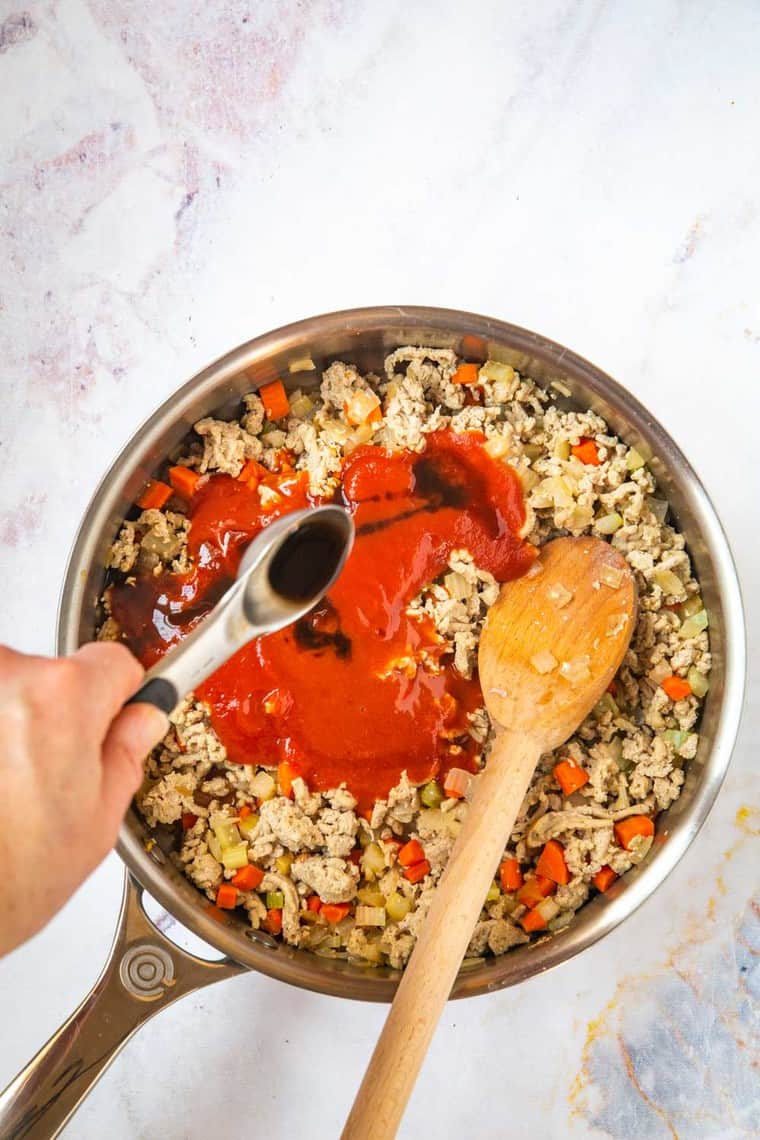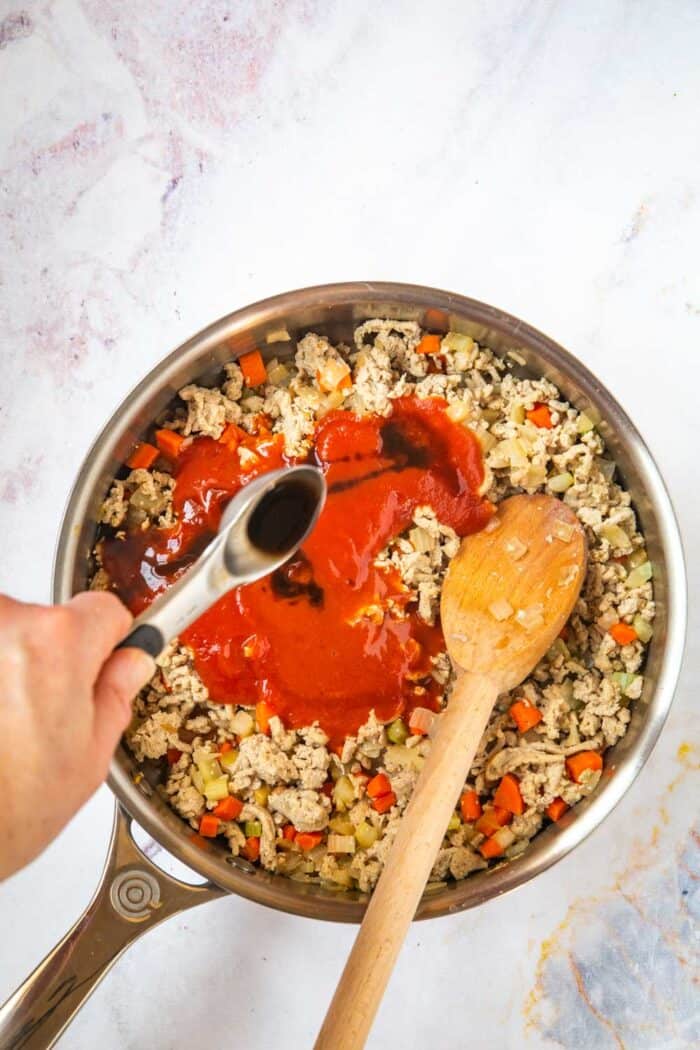 How to Serve Buffalo Chicken Sloppy Joes
Yes, you can make the classic sloppy joe sandwich. But there are other ideas if you want to change it up or need a gluten free, low carb, or paleo-friendly option.
Sandwiches: The classic way to serve sloppy joes is on your favorite rolls, such as a basic burger bun or brioche rolls. But you can also use gluten free buns.
Wraps: Roll everything up in a tortilla, or make it keto-friendly by enjoying it in lettuce wraps.
Stuffed Potatoes: Whether you use the oven, microwave, air fryer, slow cooker, or Instant Pot, make yourself some baked potatoes or baked sweet potatoes and spoon some of the mixture inside.
Loaded Fries: The sweet and spice combo of Buffalo Chicken Loaded Sweet Potato Fries is amazing, but you can also pile it on some frozen French fries that you popped in the oven.
Salads: Yes, you can totally just add it to a big bowl of salad greens, maybe with some chopped cucumbers, carrots, celery, or red onion. This is a great way to use up leftovers for lunch the next day.
Rice Bowls: Move over burrito bowls, topping your white rice, brown rice, or cauliflower rice with Buffalo chicken is a fun new twist.
Toppings
Ranch dressing: use your favorite bottled dressing or a recipe you love. For a healthier option, I prefer to make Greek Yogurt Ranch Dressing.
Blue cheese dressing: Just as with the Ranch, you can buy or make your own, or try this Greek Yogurt Blue Cheese Dressing.
Cheese: In addition to or instead of the dressing, you can add some crumbled blue cheese on top. Shredded cheddar or Monterey Jack is also a tasty option, especially if you want that gooey factor when you many the loaded baked potatoes.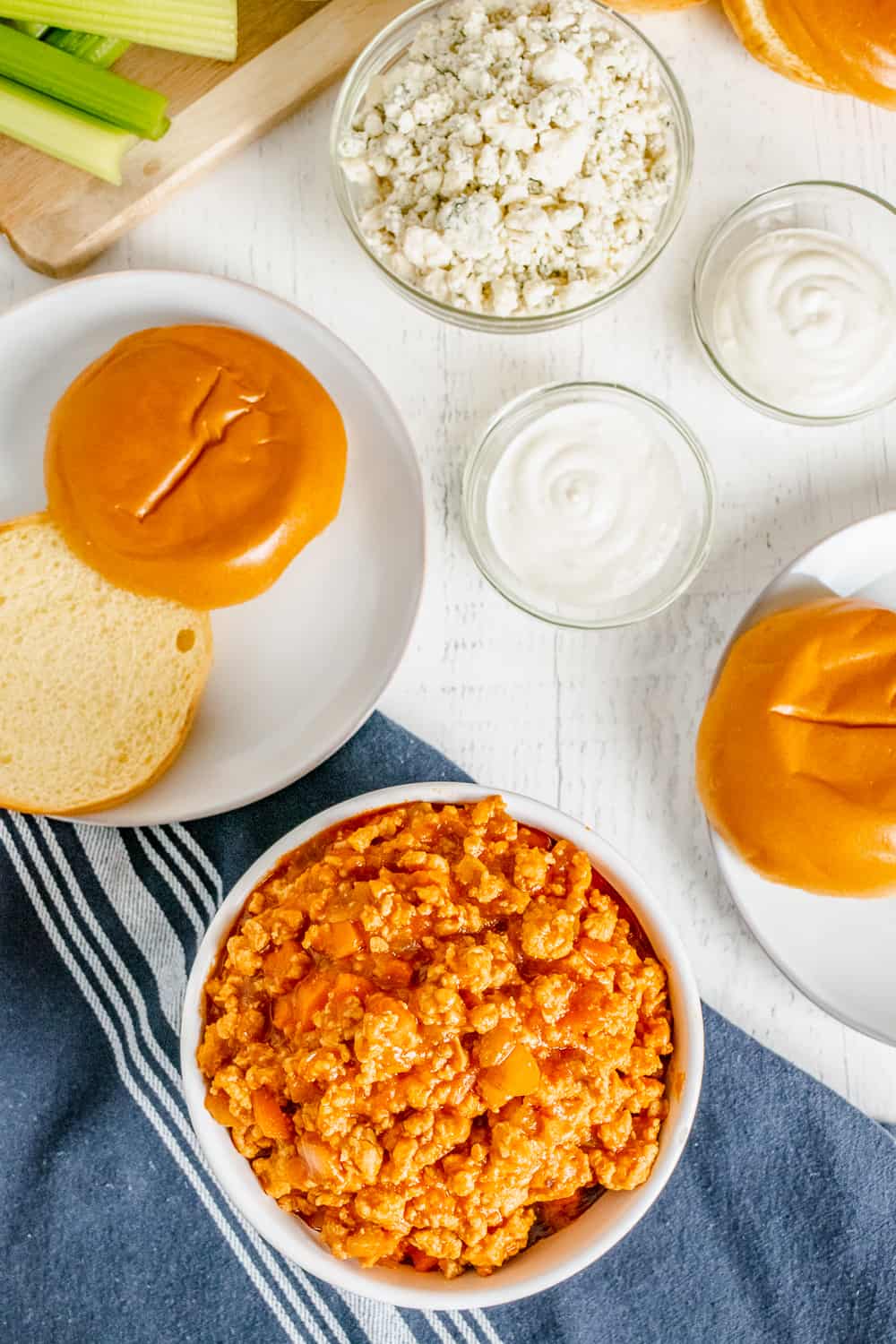 Make it a Meal – What to Serve with Buffalo Chicken Sloppy Joes
You can always just serve a simple side salad or add some carrots and celery sticks along with that Ranch or Blue Cheese. But here are some other easy and kid-friendly side dish ideas: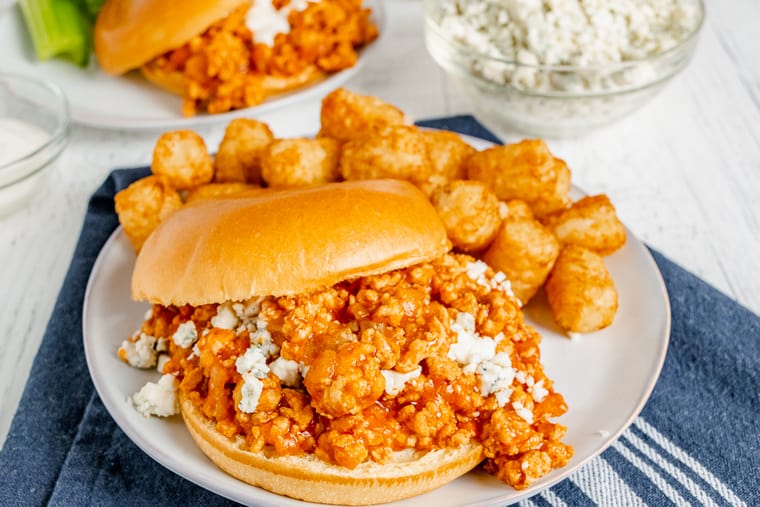 More Buffalo Chicken recipes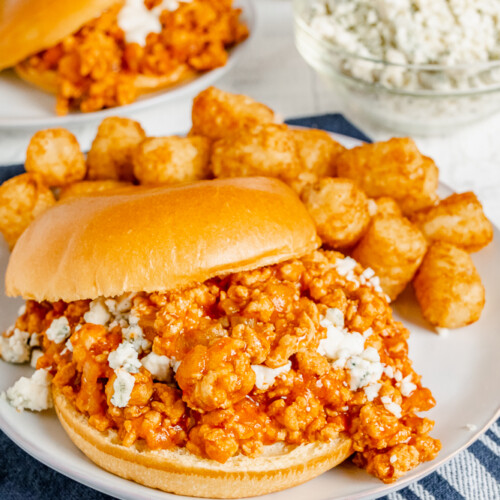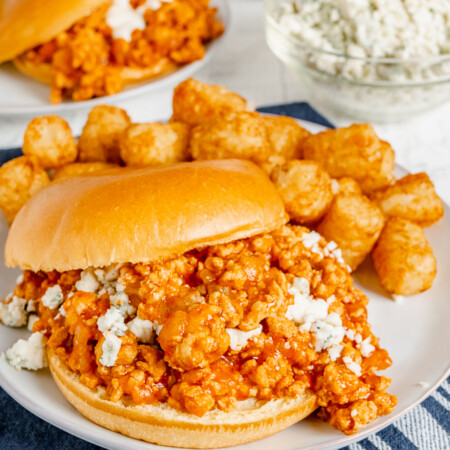 Buffalo Chicken Sloppy Joes
Get your spicy Buffalo kick in a healthier and fun way that even the kids will love with Buffalo Chicken Sloppy Joes.
Ingredients
1

teaspoon

olive oil

1/2

medium

onion,

chopped (about 1/2 cup)

1/2

cup

diced carrots

1/2

cup

diced celery

salt & pepper

1

pound

lean ground chicken

8

oz.

can of tomato sauce

1/4

cup

hot sauce

(I used Frank's Red Hot. Use more or less, depending on how spicy you like it.)

1

Tablespoon

Worcestershire Sauce
Greek Yogurt Blue Cheese Dressing

or your favorite blue cheese dressing, or crumbled blue cheese

Greek Yogurt Ranch Dip

or your favorite Ranch dressing

4

Rolls

for serving (see Note for other serving suggestions)
Instructions
Heat oil in a saute pan over medium heat.

Add onions, carrots, and celery, and a pinch of salt and pepper.

Cook for 5-6 minutes, or until onions are becoming translucent and vegetables are softening.

Add the ground chicken, and cook until the chicken is browned and coked through with no pink remaining, breaking up the meat as it cooks.

Stir in the tomato sauce, hot sauce, and Worcestershire, and simmer for several minutes, until heated through.

Spoon onto rolls or any of the other ideas for serving and top with blue cheese dressing or Ranch dressing or crumbled blue cheese for serving.
Notes
You can also serve it on gluten free buns, lettuce wraps, or in baked potatoes or sweet potatoes, on top of a salad, in rice or cauliflower rice bowls, etc.
Nutrition Facts
Buffalo Chicken Sloppy Joes
Amount Per Serving (1 g)
Calories 381
Calories from Fat 108
% Daily Value*
Fat 12g18%
Cholesterol 97mg32%
Sodium 1118mg47%
Potassium 957mg27%
Carbohydrates 41g14%
Protein 26g52%
Vitamin A 5615IU112%
Vitamin C 18.6mg23%
Calcium 39mg4%
Iron 12.5mg69%
* Percent Daily Values are based on a 2000 calorie diet.