This post may contain affiliate links. Read my disclosure policy.
Smoky Glazed Buffalo Chicken Tenders are an easy chicken dinner recipe or game day appetizer with only four ingredients and ready in a few short minutes. You'll soon be licking your fingers and your lips with these easy spicy chicken tenders.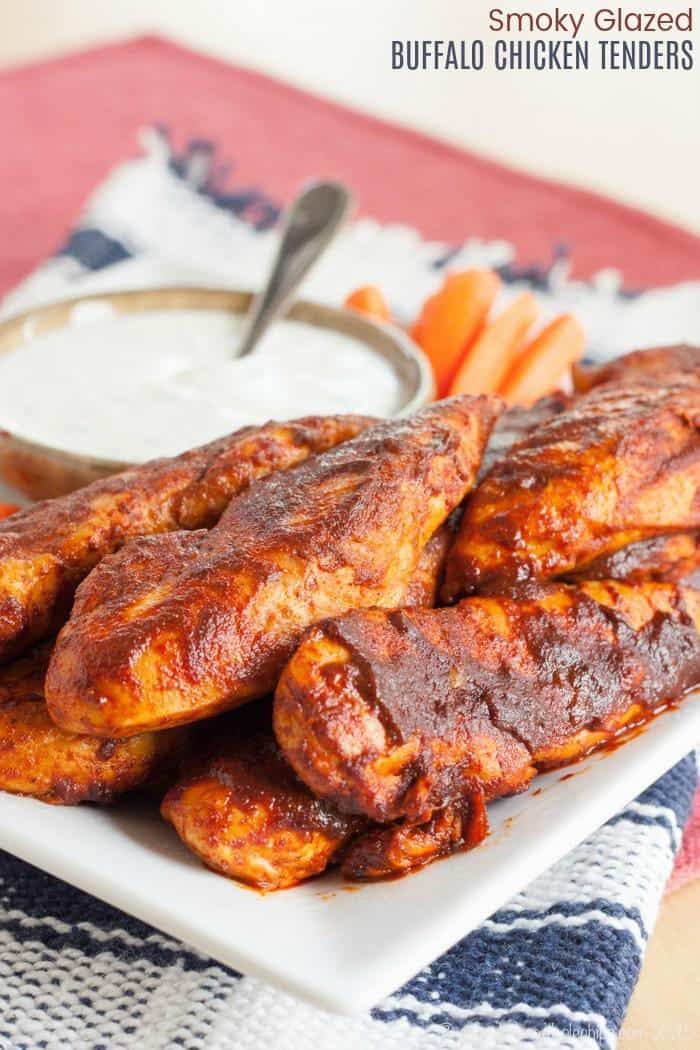 Easy Buffalo Chicken Tenders
Disclaimer: This is a sponsored conversation written by me on behalf of MELT® Organic. The opinions and text are all mine.
The Hubby and his culinary expertise rarely make an appearance here on the blog. The man loves to eat and appreciates good food, and he does actually know how to cook. Early in our dating days, he broke out a cookbook and made me a lasagna, but now he let's me make the World's Best Lasagna. But I couldn't get through making dozens and dozens of pierogies every Christmas without his stuffing, sealing, and boiling expertise. Plus he is the resident grillmaster, cooking a flank steak to perfection, and he enjoys making skewers of beef or chicken and veggies. But it isn't often that you'll find him in the kitchen. This is mainly due to a lack of time and, well, the fact that I pretty much take over and really prefer to work alone. That is, until it's time to clean up. Then I'll take all the help I can get.
While he does have skill, he doesn't have a lot of creativity, preferring to follow a basic recipe or simply season his meats. But he does have one recipe that he breaks out for tailgating or watching some football games at home and it's buffalo chicken tenders. I've asked him about quantities and cooking times, and he basically says he doesn't know, he just kind of throws together. But what he does always tell me is that it has lots of butter – definitely not like the meals I try to make on an everyday basis. But boy, are they good.
So it was time to put them on the blog…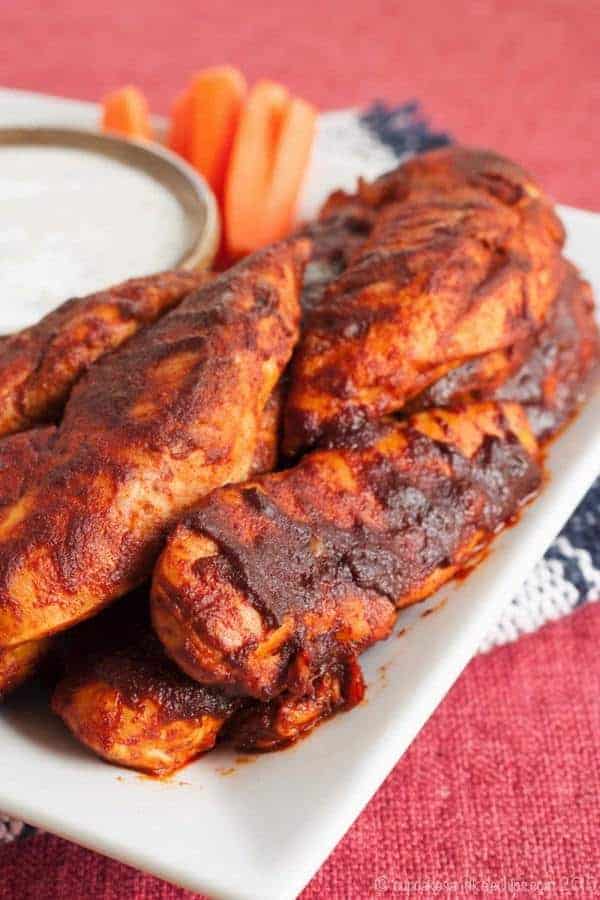 My version of Smoky Glazed Buffalo Chicken Tenders might be a little less buttery than his, but they still pack a punch.
These buffalo chicken tenders are sticky, smoky, and most definitely spicy, but with a buttery richness that balances that sharp kick in the pants. There are only a few basic ingredients and quick, easy preparation, because what else would you expect from a man who spends as little time at a stove as possible? Melt some butter, throw in some chicken and hot sauce, sprinkle with paprika for a smoky element that you don't always expect with your typical buffalo-ed recipes. Normally it's all about the spice, but this really adds another dimension of flavor. Then let them cook and caramelize. The butter browns, adding even more smoky, nutty flavor, really making them more complex in flavor than your standard buffalo wings.
Make a huge batch and set them out as a game day snack along with plenty of Greek Yogurt Ranch Dip or Greek Yogurt Blue Cheese Dip for dunking or drizzling. But they also make a great quick weeknight dinner. I like them over a salad, but you could even turn them into a sandwich!
If you are following a paleo diet, these buffalo chicken tenders can be made with ghee. Serve them with sweet potatoes and a veggie for a yummy dinner. As a low carb meal, they would be perfect over Browned Butter Cauliflower Rice..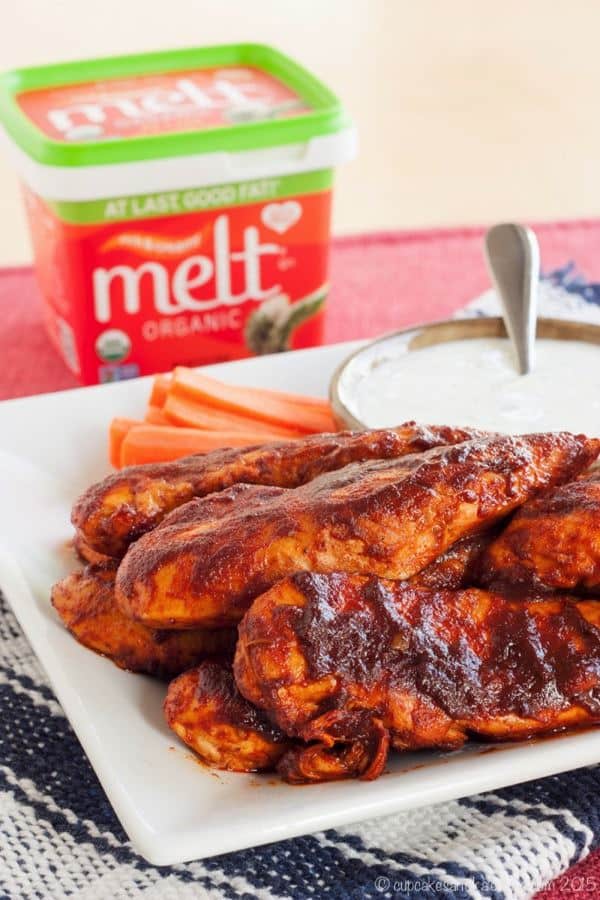 If you like these Buffalo Chicken Tenders, you'll love more spicy chicken recipes like these…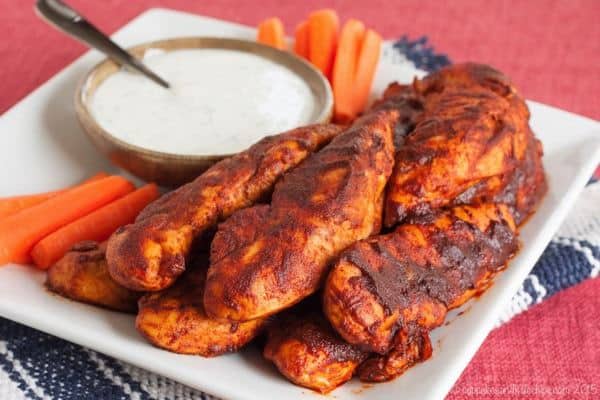 I can't wait for you to try these Smoky Glazed Buffalo Chicken Tenders…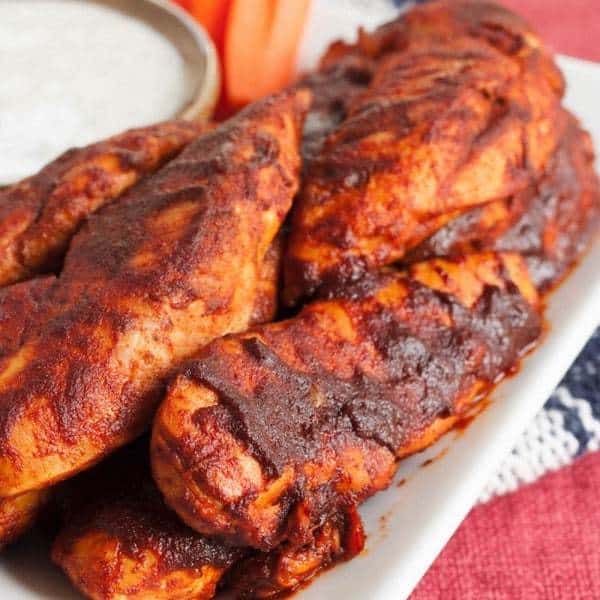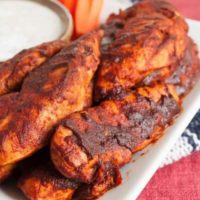 Smoky Glazed Buffalo Chicken Tenders
With only four ingredients and a few short minutes, you'll soon be licking your fingers and your lips for this game day appetizer or easy weeknight dinner.
Ingredients
Instructions
Season the chicken with salt and pepper.

Place a large pan over medium heat, add butter, and melt till sizzling.

Add chicken and cook 3-5 minutes per side, or until golden brown.

Reduce heat, add the hot sauce and sprinkle with 1 Tablespoon paprika. Flip and sprinkle with another tablespoon of paprika.

Toss the chicken to coat evenly with the sauce and cook on medium-low for 8-10 minutes, flipping occasionally, until chicken is cooked through and sauce has thickened and is glazing the chicken

Serve with Greek Yogurt Pantry Ranch Dip or Greek Yogurt Blue Cheese Dip for dunking or drizzling
Categories:
Enjoy!