Sundried Tomato Rosemary Balsamic Marinated Flank Steak
Disclosure: This post may contain affiliate links. Cupcakes & Kale Chips is a participant in the Amazon Services LLC Associates Program, an affiliate advertising program designed to provide a means for us to earn fees by linking to Amazon.com and affiliated sites.
I mentioned yesterday that I would share the marinade I had used for the steak that I put on this wonderful salad.  So I am following through on my promise.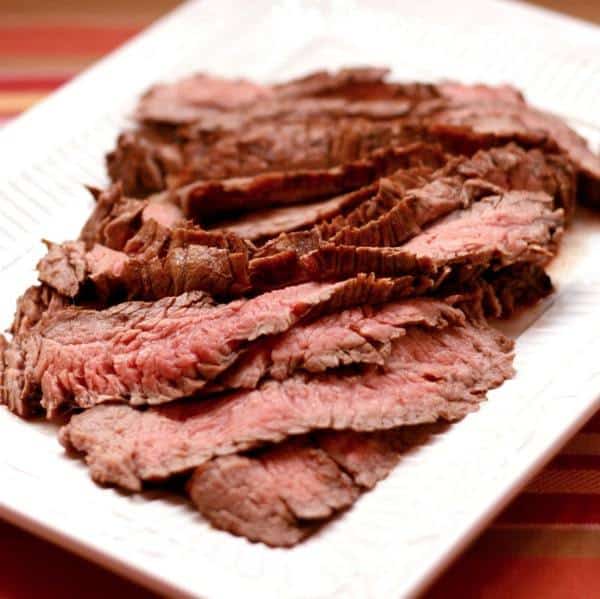 Back when The Hubby and I started dating, he had been doing the Atkins diet.  I pretty much destroyed that, with my love for ice cream, and his love for doing anything to make me happy.  He knew I loved to cook, so one night he wanted to make dinner for me.  He chose a lasagna recipe that he had made before – the heck with Atkins, he wanted to impress me.  And I was impressed…  several hours later.  You see, the flame in his old oven had a tendency to blow out if you shut the door for too fast (we have since remodeled the kitchen – I couldn't wait for that oven to go).  But we didn't realize this until 45 minutes into the 1 hour cooking time.  As far as I can remember, it was delicious, but maybe just because I was STARVING.
Honestly, though, I was more impressed with his grilling skills.  The Hubby knows how to grill a steak.  So since I was often sabotaging his low carb lifestyle, when we made dinner together, it was quite often a grilled flank steak and salad.  And usually a bottle of red wine.  We used to be able to split a bottle easily.  Now I get woozy after a glass and a half.  Flank steak remains one of our favorites, and usually we season it simply with coarse sea salt, pepper, and maybe some grill seasoning.  The key really is the coarse, large grains of sea salt.  But every once in awhile we like to mix it up a little, which I did with this marinade.  And then, after providing the flavor, I turned it over to the Grill Master to work his magic.

MY LATEST VIDEOS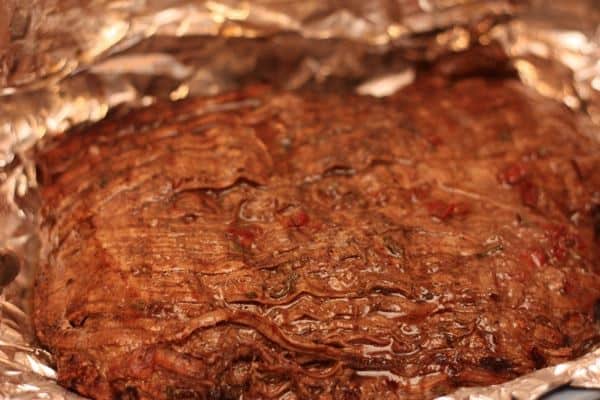 Look at that – cooked to perfection!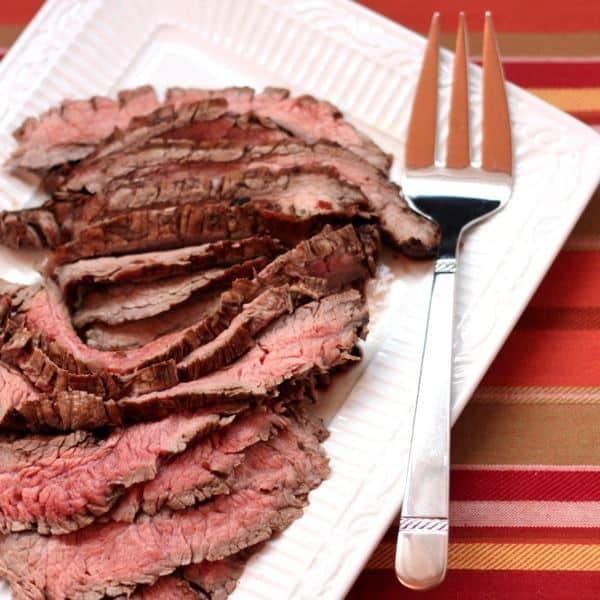 I wrote this recipe for flank steak, but it would make a great marinade for London broil and other cuts of steak, and I bet even chicken or veggies.  So if you are looking for something different to add flavor to what you are grilling this summer, give this a try.
Did you ever make any special meals for your significant other back in the early days of your relationship?  Do you have a go-to meal when you want to impress someone?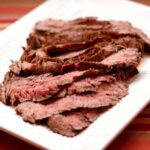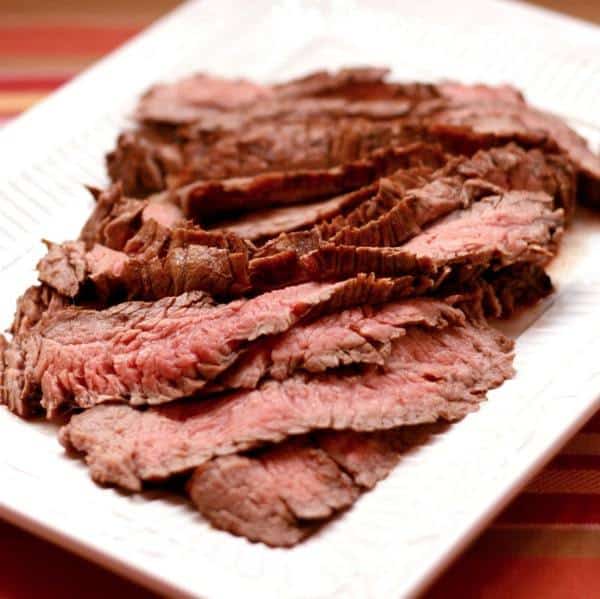 Print Recipe
Sundried Tomato, Rosemary, and Balsamic Marinated Flank Steak
Ingredients
1

flank steak

1.5-2.5 lbs

1/4

c

balsamic vinegar

3

sun dried tomatoes

preferably packed in oil, finely chopped

2

T

of the oil from the sun dried tomatoes

or 2 T olive oil

1

t

chopped fresh rosemary

or 1/2 t dried rosemary

1

garlic clove

minced or crushed

coarse sea salt

freshly ground pepper
Instructions
Combine balsamic vinegar, tomatoes, oil, rosemary, and garlic in a large plastic bag or shallow dish.

Add the steak and marinate for at least an hour (the longer, the better)

Preheat your grill to high heat.

Remove the steak from the marinade and season both sides liberally with coarse sea salt and freshly ground pepper.

Grill the flank steak on direct, high heat for 4-7 minutes a side, depending on thickness and desired doneness. For a 2 lb flank steak, about 5-6 minutes a side produce a nice, medium-rare steak.

Slice thinly against the grain and serve.
Enjoy!