This post may contain affiliate links. Read my disclosure policy.
If you're wondering how to grill filet mignon, look no further! Caprese Grilled Filet Mignon is a simple and creative way to dress up some amazing grilled steaks. After cooking your steak on the grill, top it with juicy tomatoes, fresh mozzarella, basil, and balsamic for a quick dinner! This easy recipe is also naturally gluten free and keto.
Disclosure: This​ ​post​ ​was originally​ ​sponsored​ ​by​ ​the​ ​Certified​ ​Angus​ ​Beef​ ​®​ ​brand​ ​in​ ​conjunction with​ ​a​ ​social​ ​media​ ​campaign​ ​through​ ​Sunday​ ​Supper​ ​LLC.​ ​All​ ​opinions​ ​are my​ ​own.
Easy Caprese Grilled Filet Mignon
This Caprese Filet Mignon takes your steak from every day to extra special when you want to make an amazing dinner on the grill.
We would have been happy to simply take these gorgeous steaks, season them with salt and pepper, and toss them on the grill. Then we could just enjoy the amazing flavor and juiciness that comes from the perfect marbling.
But I thought I'd add a little summer flair by simply topping those filets with some tomatoes, fresh mozzarella, and basil. After finishing it off with a drizzle of reduced balsamic vinegar, everyone's favorite summertime salad becomes a fabulous main course in this Steak Caprese recipe.
The fresh ingredients perfectly balance the rich flavor of the grilled filets, making it the perfect pairing. My littlest and biggest carnivores love this recipe. And me, well I savored every last tender morsel!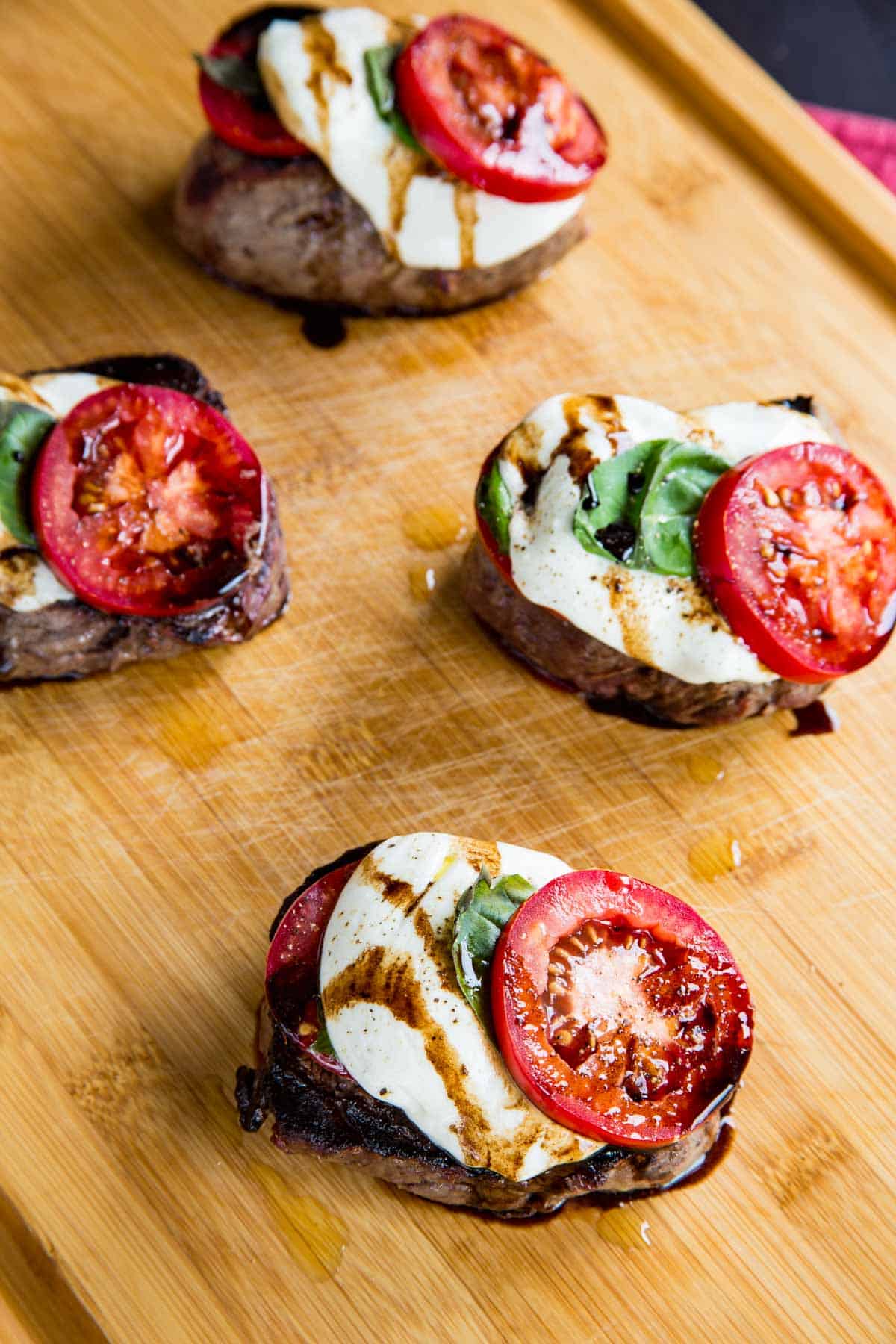 What You'll Need
One of the best things about this easy filet mignon recipe? No complicated ingredients! In fact, you will only need 5 things:
Filet mignon steaks, each about six to eight ounces, and grilled to medium-rare or your desired temperature
Roma tomatoes, sliced one-quarter inch thick
Fresh mozzarella, cut into slices
Fresh basil leaves, removed from the stems
Balsamic reduction, bought at the store or you can see how to make balsamic glaze yourself
How to Grill Filet Mignon
Grilling filet mignon definitely sounds fancy. And I guess it is! But it's also super simple. Here's how to do it:
Let the meat come to room temperature. Take your steaks out of the refrigerator and let them come to room temperature four about 20-30 minutes.
Preheat your grill to High.
Season your filet mignon with salt and pepper and brush with olive oil.
Place the steaks in the grill, cover, and reduce heat to Medium-High.
Cook for 5 minutes, then flip and cook for another 3-5 minutes or to desired doneness. This would be an internal temperature of 135°F for medium-rare, because by the time you let it rest it will hit the perfect final temperature of 145°F. If you prefer a medium steak, you can cook it to 140°F. For a lean cut like beef tenderloin or filet mignon, I would not go higher than this or your steak will be tough.
Let the steaks rest for five minutes before serving.
Topping Options
After you've grilled your steaks, you have two options depending on your preference:
Melt the cheese on top. You can place the tomatoes, basil, and mozzarella on top of the steaks and give them a couple more minutes on the grill to melt the cheese a bit.
Cool the steak. Or you can take the steaks off and add the Caprese salad toppings for a cooler, crisper contrast to the steak. Either way is delicious, so it's your call. After the steaks rest, give them a drizzle of balsamic before serving.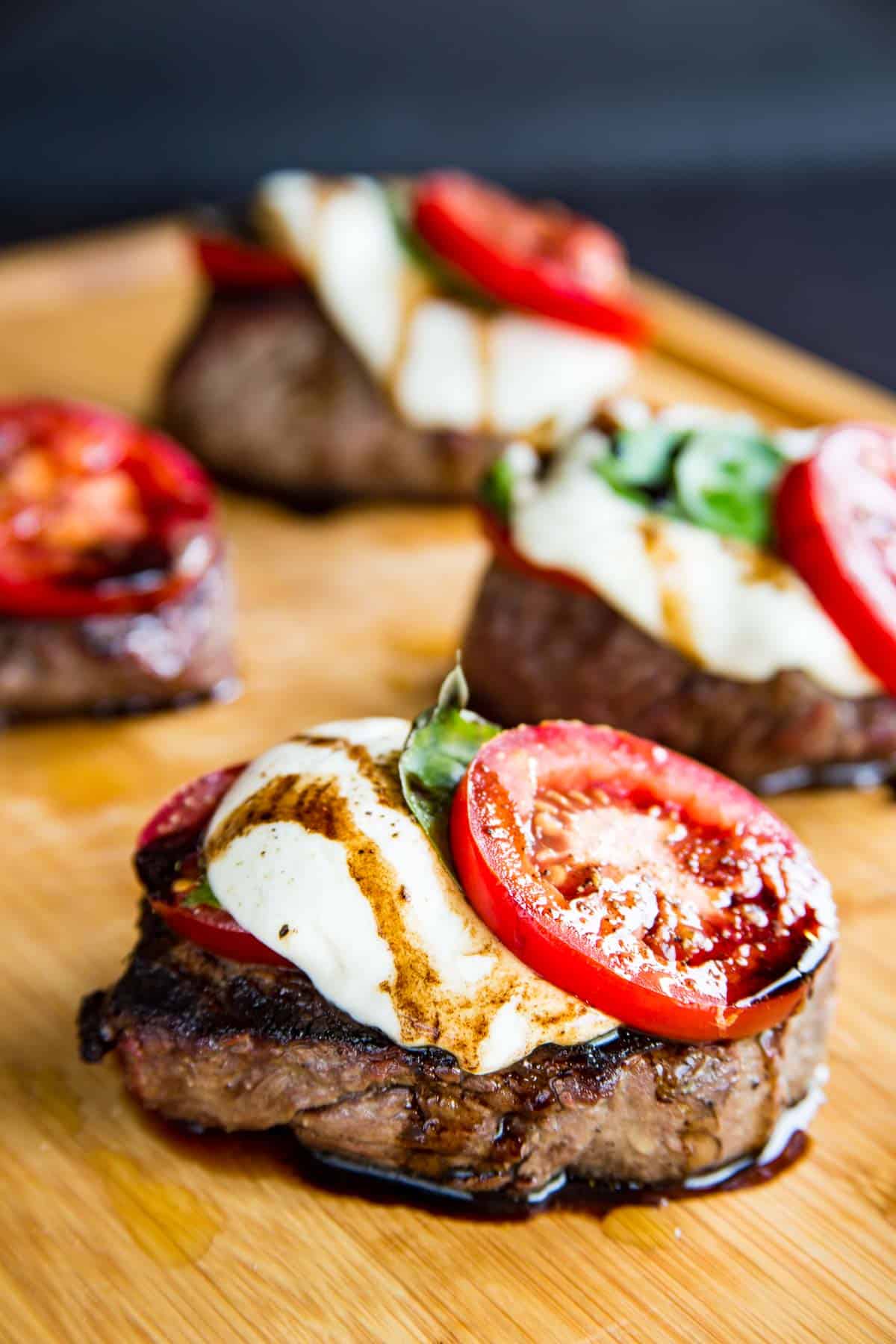 How to Store and Reheat Leftovers
If you have extras and want to store them for later, I recommend storing the filet mignon, cheese, tomatoes and reduction separately. Let the steaks come to room temperature, then place them in an air tight container and store them in the fridge. They will keep for 2-3 days.
Store the tomatoes, cheese and reduction each in their own air tight containers. They will keep in the fridge for 2-3 days as well.
When you are ready to reheat, I recommend warming the steaks on the stove in a skillet over medium heat. You can add a drizzle of olive oil to prevent them from drying out. You can also use the microwave, though I recommend covering the steak with a bowl to prevent splattering.
Serving Suggestions
You can easily make a gluten free or low carb dinner, or indulge in a special occasion meal depending on what you serve with your grilled filet mignon recipe.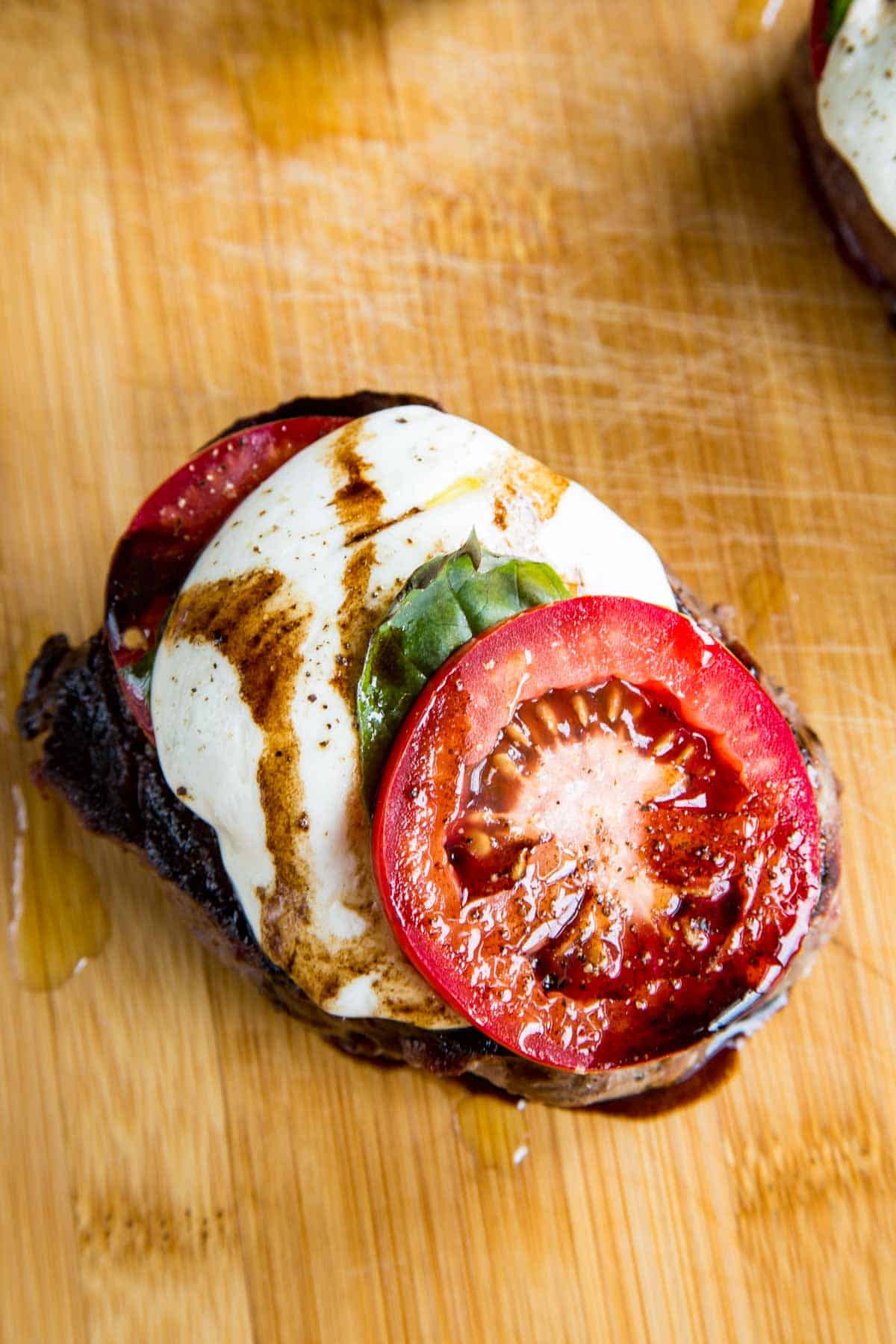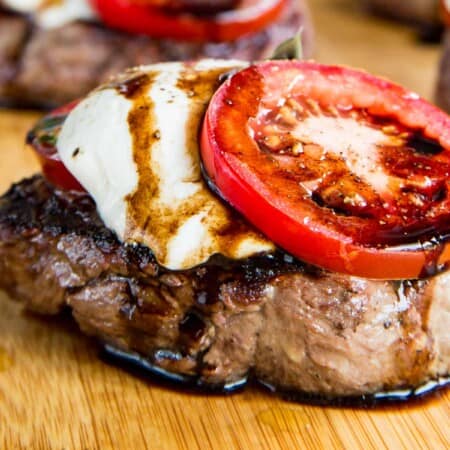 Caprese Grilled Filet Mignon
Add summer flair to grilled steak by topping those filets with the classic salad of tomatoes, fresh mozzarella, and basil.
Ingredients
four

6-8 oz.

Certified Angus Beef brand filets

or tenderloin steaks

kosher salt and freshly ground pepper

a few

Tablespoons

olive oil

1-2

roma tomatoes

sliced about 1/4 inch thick (you'll need eight slices)

4

ounces

fresh mozzarella

cut into four slices

8

fresh basil leaves

Reduced balsamic vinegar

(store bought or make your own)
Instructions
Season filets with salt and pepper and lightly brush with olive oil

Heat grill to high. Place steaks on grill, reduce heat to medium. Cover and cook for 5 minutes.

Flip and cook for an additional 5 minutes.

At this point you have two options. Remove steaks from the grill and top with one tomato slice, one basil leaf, one slice mozzarella, another basil leaf, and another slice of tomato and serve as is.

Or you can reduce heat to low, top with one tomato slice, one basil leaf, one slice mozzarella, another basil leaf, and another slice of tomato. Then c

lose the cover and grill for another 3-5 minutes or to desired doneness.

Remove to a platter, let rest for at least 5 minutes, drizzle with reduced balsamic vinegar before serving.
Nutrition Facts
Caprese Grilled Filet Mignon
Amount Per Serving
Calories 641
Calories from Fat 450
% Daily Value*
Fat 50g77%
Cholesterol 141mg47%
Sodium 262mg11%
Potassium 575mg16%
Carbohydrates 8g3%
Protein 37g74%
Vitamin A 365IU7%
Vitamin C 2.1mg3%
Calcium 155mg16%
Iron 4.1mg23%
* Percent Daily Values are based on a 2000 calorie diet.
More Steaks on the Grill