Caprese Grilled Filet Mignon
Disclosure: This post may contain affiliate links. Cupcakes & Kale Chips is a participant in the Amazon Services LLC Associates Program, an affiliate advertising program designed to provide a means for us to earn fees by linking to Amazon.com and affiliated sites.
Add summer flair to grilled steak by topping those filets with the classic salad of tomatoes, fresh mozzarella, and basil.
Caprese Grilled Filet Mignon is a simple way to dress up some amazing Certified Angus Beef® brand filets with some of the freshest ingredients of summer. After simply seasoned with salt and pepper and grilling filet mignon, it is then topped with juicy tomatoes, fresh mozzarella, basil, and a balsamic reduction for an easy dinner recipe that is also a little extra special. This filet mignon recipe is not only delicious, it is also naturally gluten free and low carb.
Disclosure: This​ ​post​ ​is​ ​sponsored​ ​by​ ​the​ ​Certified​ ​Angus​ ​Beef​ ​®​ ​brand​ ​in​ ​conjunction with​ ​a​ ​social​ ​media​ ​campaign​ ​through​ ​Sunday​ ​Supper​ ​LLC.​ ​All​ ​opinions​ ​are my​ ​own.


MY LATEST VIDEOS
How to Grill Filet Mignon Topped with Caprese
We would have been happy to simply take these gorgeous steaks, season them with salt and pepper, toss them on the grill, and enjoy the amazing flavor and juiciness that comes from the perfect marbling. But I thought I'd add a little summer flair by simply topping those filets with some tomatoes, fresh mozzarella and basil, then finishing it off with a drizzle of reduced balsamic vinegar. Yes, by putting it atop the best beef in the business, everyone's favorite summertime salad becomes a fabulous main course in this Caprese Grilled Filet Mignon recipe.

I still can't believe we have been living in Maryland for a few years now, and I am looking back on this post I wrote when we lived here only about six or seven months. I still tell people we just moved to the area.
So, this was about three years ago…
I guess when you live somewhere for 35 years, seven months pretty much feels likes just a small moment in time. I'm still learning my way around, and have a sense of pride that warrants an immediate text message to The Hubby whenever I drive to or from somewhere successfully without turning on my GPS. I still don't love the grocery stores, and feel like I need to go to a few different ones just to get the same selection from my favorite one back in New Jersey. But the kids are all set up with schools, a doctor, and a dentist, and The Hubby and I are working on that as well, we found some fabulous parks, met a few neighbors, and we only have a couple of small piles of not-yet-unpacked boxes.
I have to say, though, the thing that I am still having the hardest time with is the local restaurant selection, or lack thereof. There are plenty of good places if you are willing to drive at least a half hour to an hour away, but with the traffic in and out of DC, venturing that far with two hungry little dudes at that time of day in Montgomery County is not always the most brilliant idea, and right around us the options are limited. But we have found a couple of places that we have actually returned to several times for both good food and a great atmosphere for families – not a combination you find often. Not Your Average Joe's is near The Hubby's office, so if he is going to be a little late on a Friday night and we want to go out, I can pack up the boys and meet him there. The menu is so creative, and they have new specials every month which keeps it interesting to keep going back. We also celebrated both Easter and Mother's Day there. And GrillMarx is the steakhouse right around the corner from us where The Hubby and I can order a fabulous meal and glass of wine, and the kids menu actually makes both kids and mama happy – homemade mac and cheese, freshly made burgers, and options for veggies and salads on the side. This is another special occasion place for us, as we enjoyed their Sunday Brunch for Palm Sunday, and dinner after The Bug's pre-school graduation. While I love trying new places, it's nice to have a couple of tried and true restaurants to fall back on.
But as I was preparing for this week's event, I realized another reason why I love these two places – they are two of the closest restaurants to me that serve Certified Angus Beef® brand, which I have actually enjoyed at both places on a couple of occasions. Not Your Average Joe's has an amazing wedge salad with sliced steak and a horseradish dressing that is to-die-for, and I ordered a perfectly grilled Petite Tender steak at GrillMarx a couple of weeks ago. While the accompaniments were delicious, it's truly the beef that made the meals.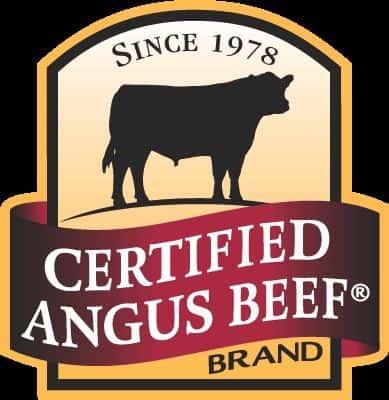 You see, Certified Angus Beef® brand is truly a cut above even Choice and Prime steaks – it's the best Angus beef available! With ten demanding quality standards to meet, Certified Angus Beef® brand is truly the best Angus beef available, since not only must these standards be met, expectations are usually exceeded. This is a brand that people have come to rely on for consistently flavorful, tender, and juicy cuts of meat since 1978. I mean, you wouldn't find it in nearly 15,0000 of the most elite restaurants and retailers around the world if it wasn't such high quality. And I'm lucky enough to be able to enjoy it at some of my favorite local dining establishments.
And when we just want to grill in our own backyard, I have used the product locator to find some stores where I can pick up Certified Angus Beef® brand to make fabulous main courses like this…
Caprese Grilled Filet Mignon makes a Certified Angus Beef® brand steak even better!
The fresh ingredients balancing the rich flavor of the Certified Angus Beef® brand was just a perfect pairing. My littlest and biggest carnivores were thrilled with this dinner. And me, well I savored every last morsel!
Here's how to make grilled filet mignon with Caprese topping:
Season your filet mignon with salt and pepper and brush with olive oil.
Prepare your steak topping by slicing tomatoes and mozzarella and pulling the basil leaves off of the stems.
You can buy a bottle of balsamic reduction or you can check out these instructions for how to make balsamic glaze.
Grill the steaks about five minutes per side to medium rare perfection.
At this point you have two options depending on your preference. You can place the tomatoes, basil, and mozzarella on top of the steaks and give them a couple more minutes on the grill to melt the cheese a bit. Or you can take the steaks off and add the Caprese salad toppings for a cooler, crisper contrast to the steak. Either way is delicious, so it's your call.
Fire up the grill with these beef recipes…
For more yumminess from me and my foodie friends, keep up with me on…
Or sign up to have Cupcakes & Kale Chips delivered straight to your Inbox!
Caprese Grilled Filet Mignon
Perfectly grilled steaks are simply seasoned and topped with the ultimate summer combination of tomatoes, fresh mozzarella, and basil, then finished with a drizzle of balsamic reduction. Inspired by the classic Caprese salad, this simple addition to your filets take them from everyday to extra special when you want to make an amazing dinner on the grill.
I hope you'll leave a comment and give it a FIVE STAR rating or share a photo on this pin on Pinterest!

Print Recipe
Caprese Grilled Filet Mignon
Add summer flair to grilled steak by topping those filets with the classic salad of tomatoes, fresh mozzarella, and basil.
Ingredients
four

6-8 oz.

Certified Angus Beef brand filets

or tenderloin steaks

kosher salt and freshly ground pepper

a few

Tablespoons

olive oil

1-2

roma tomatoes

sliced about 1/4 inch thick (you'll need eight slices)

4

ounces

fresh mozzarella

cut into four slices

8

fresh basil leaves

Reduced balsamic vinegar

(store bought or make your own)
Instructions
Season filets with salt and pepper and lightly brush with olive oil

Heat grill to high. Place steaks on grill, reduce heat to medium. Cover and cook for 5 minutes.

Flip and cook for an additional 5 minutes.

At this point you have two options. Remove steaks from the grill and top with one tomato slice, one basil leaf, one slice mozzarella, another basil leaf, and another slice of tomato and serve as is.

Or you can reduce heat to low, top with one tomato slice, one basil leaf, one slice mozzarella, another basil leaf, and another slice of tomato. Then c

lose the cover and grill for another 3-5 minutes or to desired doneness.

Remove to a platter, let rest for at least 5 minutes, drizzle with reduced balsamic vinegar before serving.
Video
Nutrition
Calories:
641
kcal
|
Carbohydrates:
8
g
|
Protein:
37
g
|
Fat:
50
g
|
Saturated Fat:
19
g
|
Cholesterol:
141
mg
|
Sodium:
262
mg
|
Potassium:
575
mg
|
Sugar:
3
g
|
Vitamin A:
7.3
%
|
Vitamin C:
2.6
%
|
Calcium:
15.5
%
|
Iron:
22.9
%
Is your mouth watering yet? If you are craving some amazing beef, make sure you get more information about Certified Angus Beef® brand on their website, find out where to buy their beef, plus get tons of information and recipes ideas by following them on Facebook, Twitter, Pinterest, Instagram, and YouTube.

To get more great Sunday Supper Recipes, visit our website or check out our Pinterest board.
Would you like to join the Sunday Supper Movement? It's easy. You can sign up by clicking here: Sunday Supper Movement.
Then check out all of these amazing grilling recipes featuring Certified Angus Beef® brand…
Appealing Appetizers:
Marvelous Main Dishes:
Handy Information: