This post may contain affiliate links. Read my disclosure policy.
Grilled Asparagus is a delicious and healthy summer vegetable side dish. But the addition of a sprinkle of Manchego cheese (or Parmesan) and lemon zest is a simple way to take this basic gluten free and low carb recipe to a next-level flavor experience. Follow these tips to see how to grill asparagus with perfect tender results every time.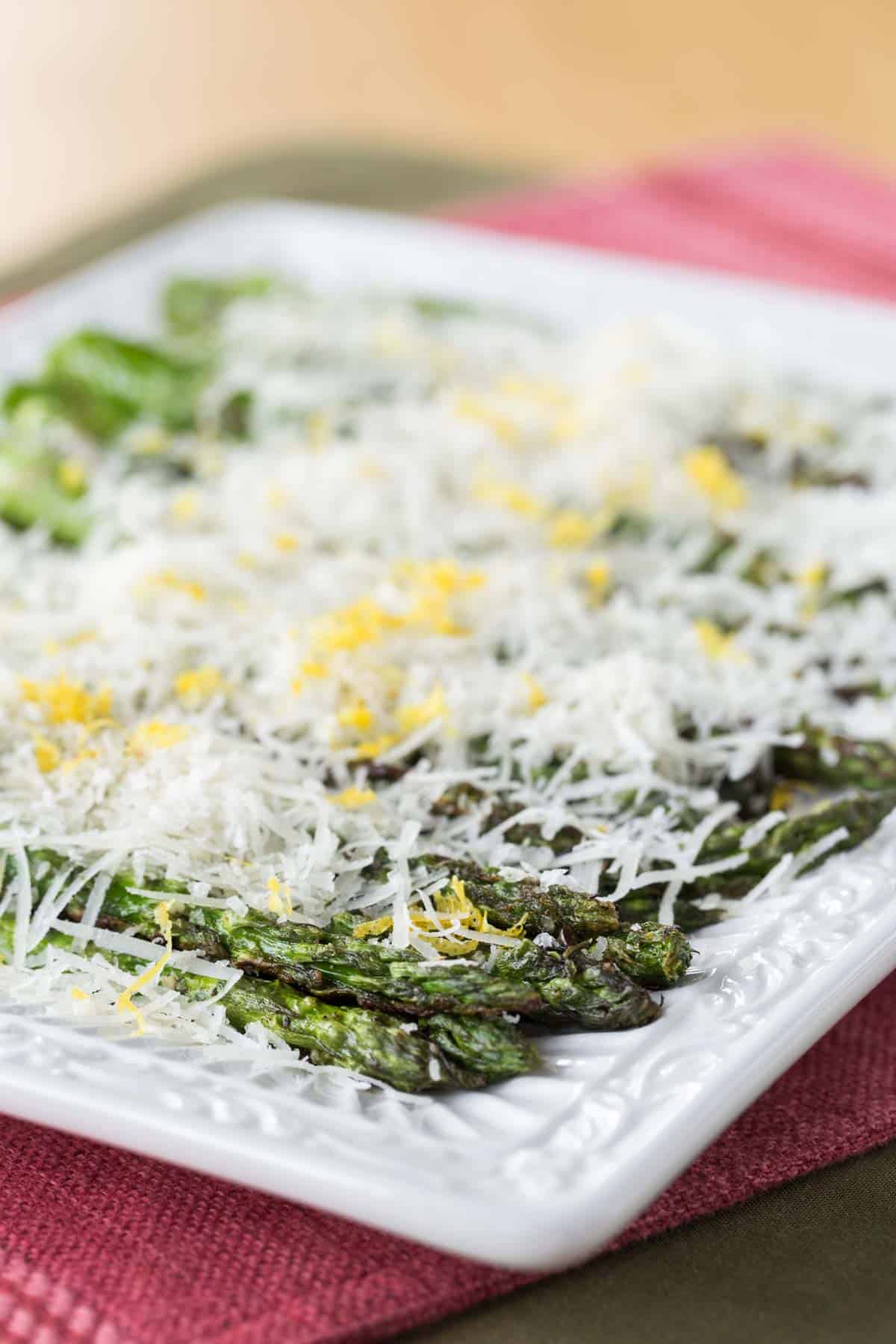 Perfect Grilled Asparagus with Lemon
I'll be honest, even as a food blogger I get a little nervous when my husband invites people over for dinner. It is actually kind of because I am a food blogger. I feel like I have to impress, even though I know it's all in my head. They are happy to just come over for a fun afternoon or evening and they are even happy to bring along a dish or two.
Yes, burgers and hot dogs and baked beans are perfectly fine when you are enjoying time with friends and family. But sometimes we do want to make something a little extra special. And I'm here to tell you that this doesn't necessarily require a major effort. This grilled asparagus recipe is the perfect example of that.
To cook beautifully tender and lightly charred asparagus, all you need is olive oil, salt, and pepper. But if you want to impress without much effort, all you need to add is a little lemon zest and Manchego cheese!
So fire up the grill, and grab your tongs, and make sure you have a zester or fine grater to zest the lemon and finely grate the cheese.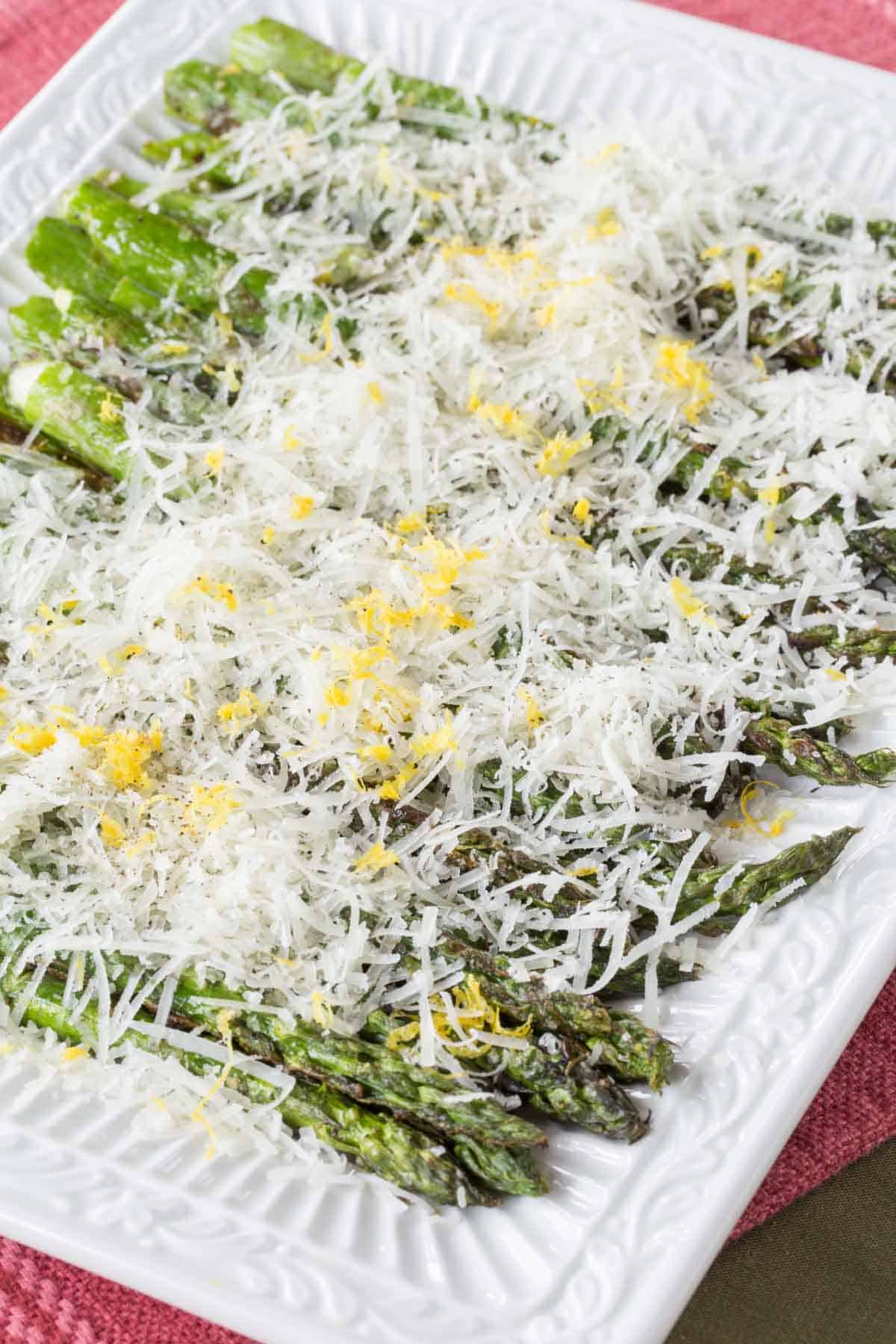 Why this recipe works
Simple ingredients, the right preparation, and a basic technique are all you need. With just a short time on the grill, you get the lovely earthy char on the asparagus. The cheese melts ever-so-slightly and brings a sharp, salty bite. And the heat from the asparagus releases all of the flavor and aroma from just a little bit of lemon zest, giving a light, fresh flavor to balance the richness of the Manchego cheese. Easy peasy lemon squeezy.
What is Manchego cheese?
Manchego cheese is a pasteurized sheep's milk cheese from the LaMancha region of Spain. It is firm with small air pockets, but actually has a creamy texture. The flavor is distinctively nutty and tangy, often described as piquant.
It is recognizable form the herringbone pattern on the rind from bring aged in grass molds. It is naturally gluten free, though may not be acceptable to vegetarians due to the use of animal rennet.
What can I substitute for Manchego cheese?
For this recipe, you can use almost any cheese that you can finely shred. While many recommend mozzarella and Monterey Jack as a Manchego substitute because of their creamy texture, they are more difficult to grate finely.
So in this case, I would recommend something like Parmesan, Romano, or Asiago, which are known to pair well with asparagus because of their salty flavor. And a sharp cheddar is another delicious option because it is hard enough to shred into fine strips, it will melt just from the warmth of the asparagus releasing that sharp bite.
But if you have gone ahead and bought a block to make this asparagus recipe, you might wonder what else to do with it.
Other recipes with Manchego cheese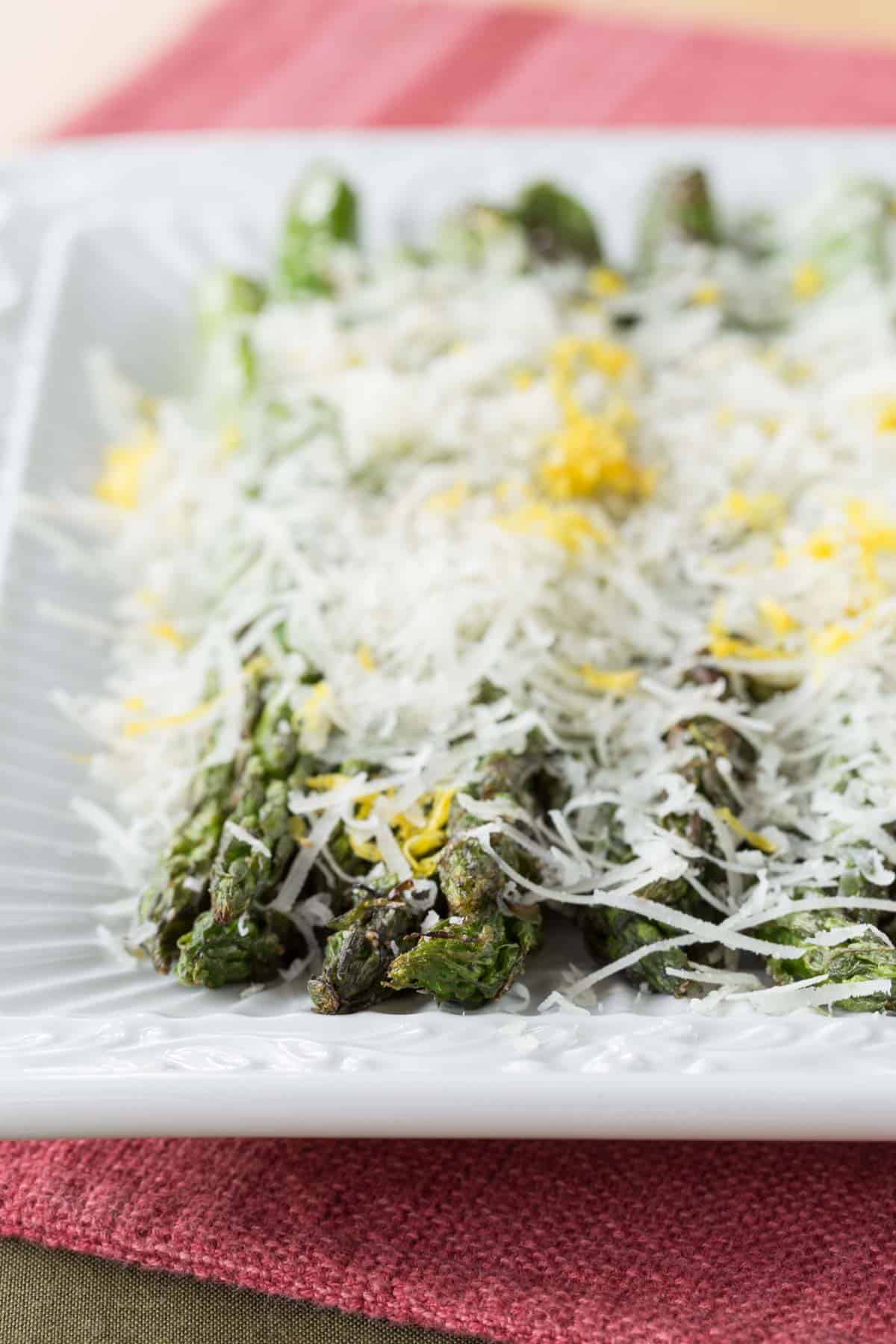 Ingredients
Asparagus: Read more below about picking and preparing your lovely green spears.
Olive oil: Just a couple of tablespoons to coat the asparagus.
Salt and pepper: Gotta season it.
Manchego cheese: Can substitute Parmesan, Romano, or sharp white cheddar.
Lemon: Just need the zest.
Chopped fresh parsley: Optional for garnish.
Choosing the right asparagus
You'll want to choose asparagus that isn't too thin, or it will burn too quickly and slip through the grates of the grill. But get it too thick, and it will be stringy. Spears that are about one-quarter to one-half inch thick is perfect.
Make sure your asparagus is a nice bright green color and that the tips are tight to the stalk. If they are starting to get dark or mushy, they are past their peak and starting to go bad.
Preparing the asparagus
Rinse your asparagus under cool water then lay out on a kitchen towel and gently dry. Then snap off the woody ends. If you grasp the cut end of the asparagus stalk and towards the middle, then snap, it'll break where it needs to in order to leave the tender part.
How to Grill Asparagus
Preheat your grill to medium heat. If you have it too high, it'll burn the asparagus before it gets tender.
Toss the asparagus in olive oil, salt, and pepper, and place on the grill.
Grill for 8-10 minutes, flipping once with tongs until tender and slightly charred.
Remove the asparagus from the grill to a serving platter.
Grilled Asparagus Toppings
Then to make Grilled Asparagus with Lemon and Manchego Cheese, simply top the asparagus with finely grated Manchego cheese and fresh lemon zest. The key is using a super fine grater or zester, like a classic Microplane.
This ensures that you get just the aromatic zest and none of the bitter rind. Plus the cheese will be grated into super fine shreds. Once the asparagus is removed form the grill and placed on a serving platter, you can add the toppings and the heat will slightly melt the cheese and release the oils and fresh citrus flavor from the lemon zest. No need to make a mess on your grill!
Other ideas
No Manchego? No problem. Grilled asparagus with lemon also tastes amazing with Parmesan, Romano. or Asiago cheese. You could even use an extra sharp white cheddar. Or try these toppings:
Crumbled bacon
Crispy prosciutto
Red wine vinaigrette
Balsamic reduction
Toasted pine nuts
Browned butter
You can even use it in place of the roasted asparagus in this Quinoa Pilaf or Roasted Asparagus Salad.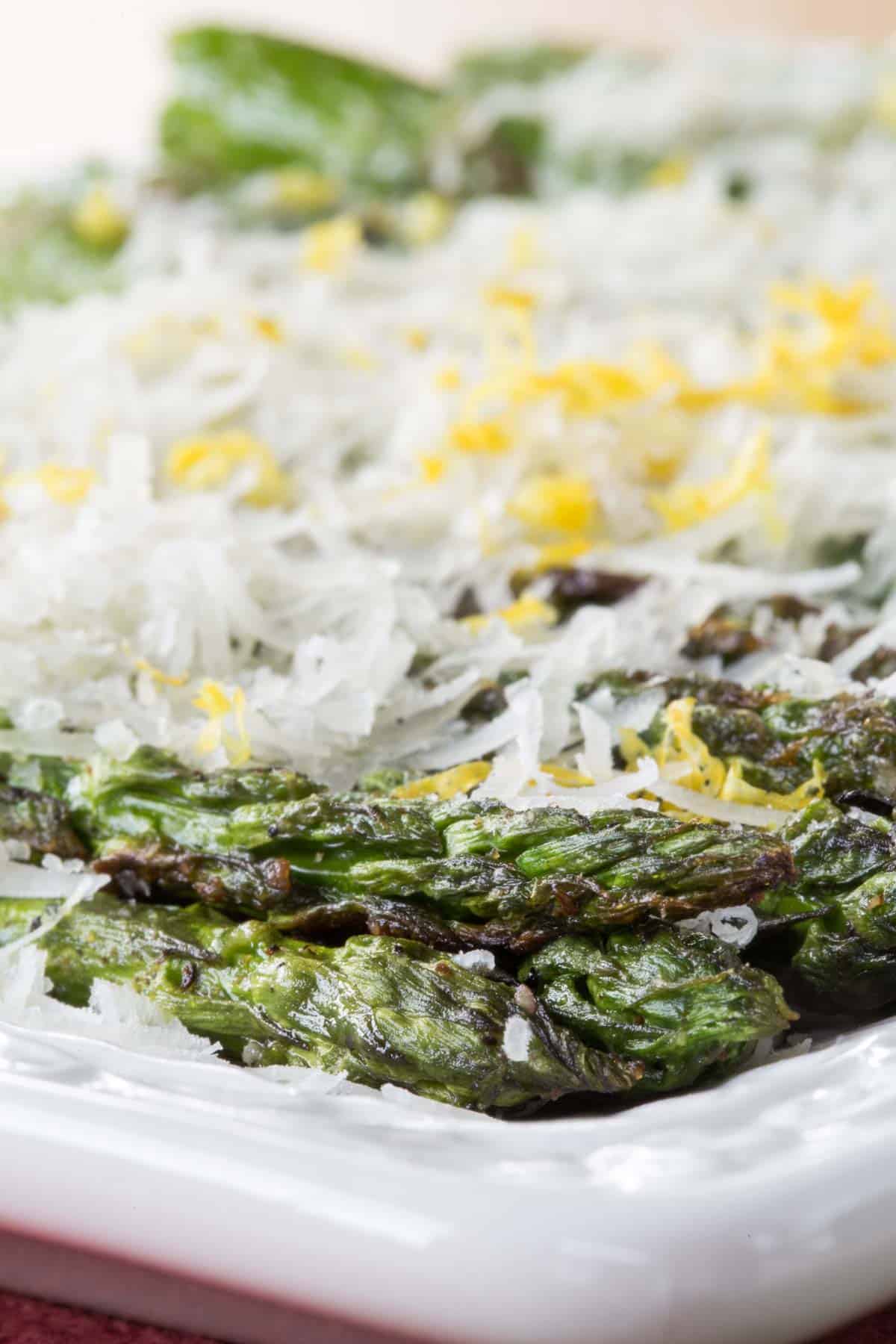 What to Serve with Grilled Asparagus
While you are grilling asparagus, you can have your main course cooking too.
Make it a Meal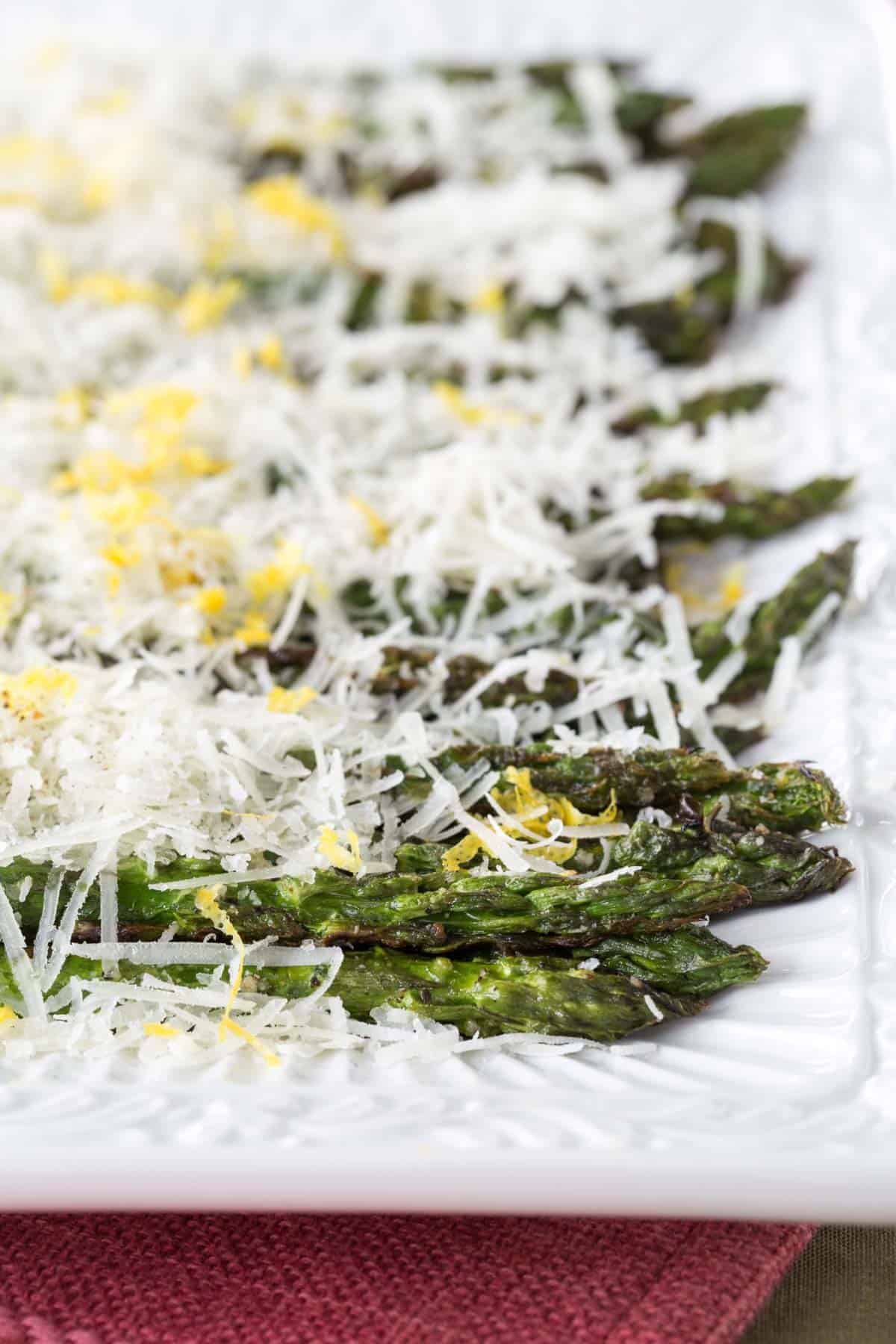 A few things you'll need
Brianne Recommends
A good pair of tongs is an essential kitchen tool, especially when you are grilling.
As I said, a Microplane grater is perfect for zesting the lemon and finely shredding the cheese.
Last updated on September 29, 2023 1:57 pm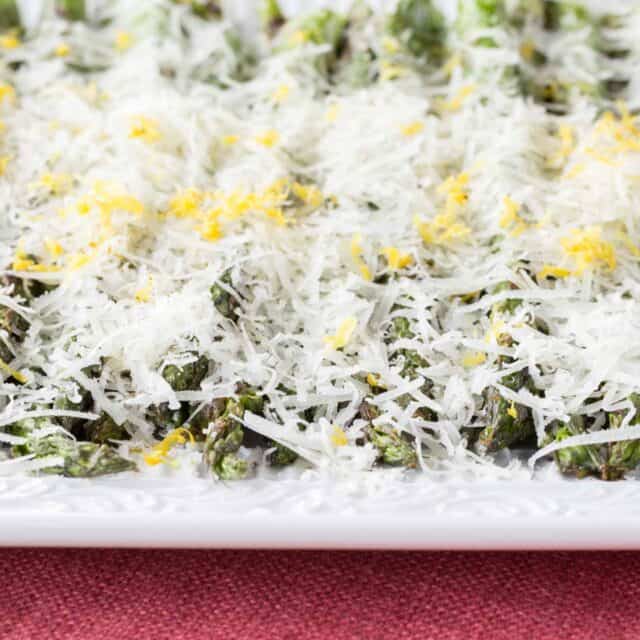 Grilled Asparagus with Lemon and Manchego Cheese
You only need a few simple ingredients for an easy summer vegetable side dish recipe that explodes with flavor. Fall in love with Grilled Asparagus with Lemon and Manchego Cheese!
Ingredients
2

pounds

asparagus

2

Tablespoons

olive oil

1

teaspoon

kosher salt

1/2

teaspoon

coarsely ground black pepper

1/2

cup

finely shredded Manchego cheese

(can substitute Parmesan, Romano, or sharp white cheddar)

zest of one lemon

1

Tablespoon

chopped parsley
Instructions
Preheat your grill to medium. Wash and dry asparagus, and snap the tough ends off of each stalk.

Toss the asparagus in the olive oil, salt, and pepper, then grill over medium heat for 8-10 minutes, or until tender and slight charred, flipping over once or twice while cooking.

Remove asparagus from the grill to a serving plate and immediately top with shredded cheese and lemon zest so that the heat of the asparagus slight melts the cheese and releases the flavors and aromas form the zest. Sprinkle with a bit more freshly ground black pepper.
Nutrition Facts
Grilled Asparagus with Lemon and Manchego Cheese
Amount Per Serving (1 serving)
Calories 84
Calories from Fat 54
% Daily Value*
Fat 6g9%
Cholesterol 7mg2%
Sodium 336mg14%
Potassium 229mg7%
Carbohydrates 4g1%
Protein 4g8%
Vitamin A 940IU19%
Vitamin C 7mg8%
Calcium 103mg10%
Iron 2.5mg14%
* Percent Daily Values are based on a 2000 calorie diet.
Categories:
Originally published on May 22, 2016
More summer vegetable side dishes