This post may contain affiliate links. Read my disclosure policy.
These Gluten Free Eclairs are light-as-air, made from gluten-free choux pastry, and filled with rich, velvety homemade pastry cream. If you've been longing for a soft chocolate eclair ever since going gluten-free, this is the dessert recipe you need in your life!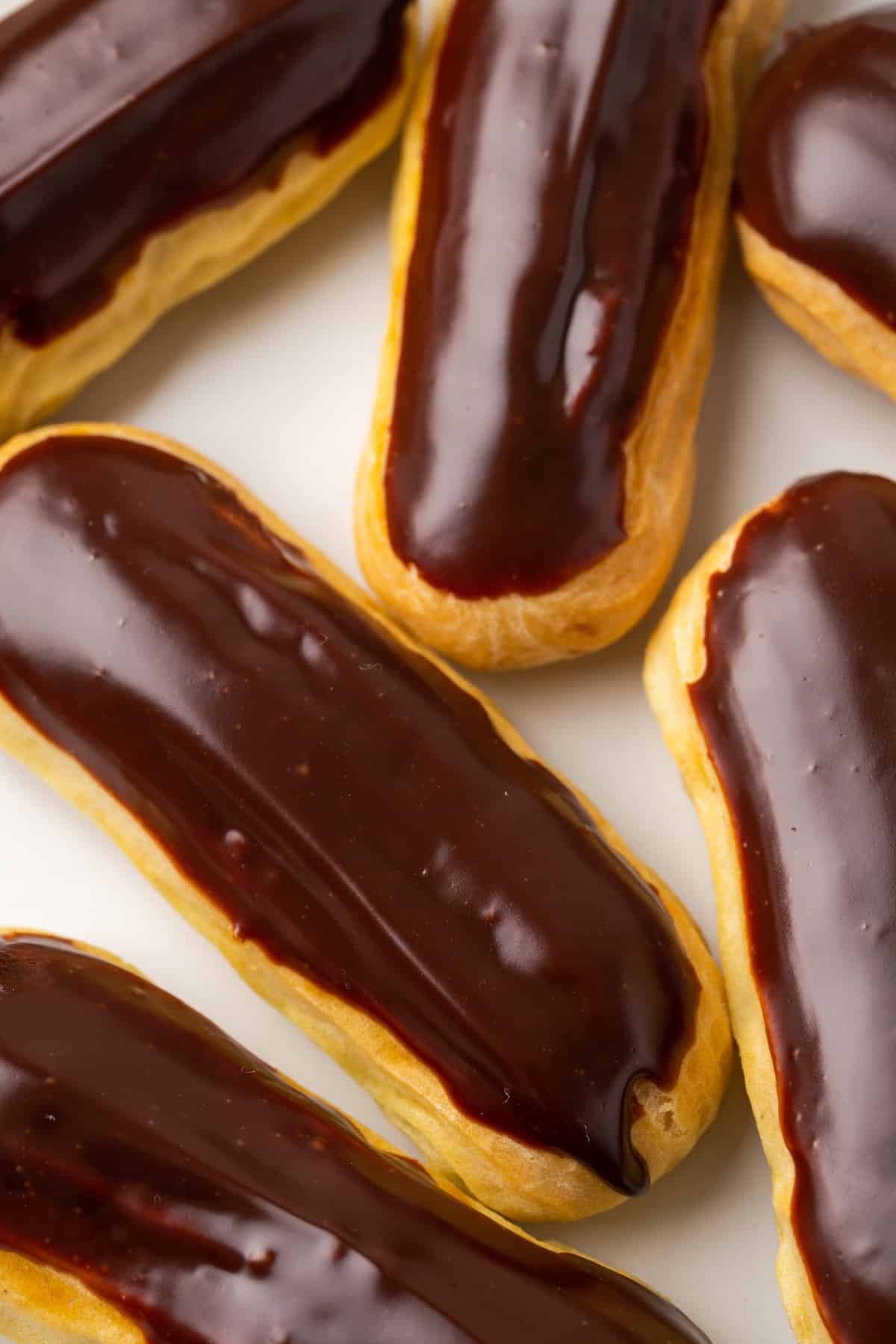 Classic Gluten Free Chocolate Eclairs
It's funny what you find yourself missing once you receive a gluten-intolerant diagnosis. All those indulgent treats in bakery windows are suddenly off-limits (which somehow makes me want them even more?!). Let's just say, I was mourning the loss of eclairs for quite some time.
So when I perfected my Gluten-Free Pate a Choux recipe, can you guess what I decided to make first?
These gluten-free eclairs came out just like what I remember from my local bakery. Soft and airy, filled with rich homemade vanilla pastry cream, and topped with creamy chocolate glaze. The first bite literally melted in my mouth, and by the second I was in gluten-free pastry heaven. With a few gluten-free substitutes, they're surprisingly easy to make, too.
If you've been craving a fluffy chocolate eclair, make these. You won't be disappointed!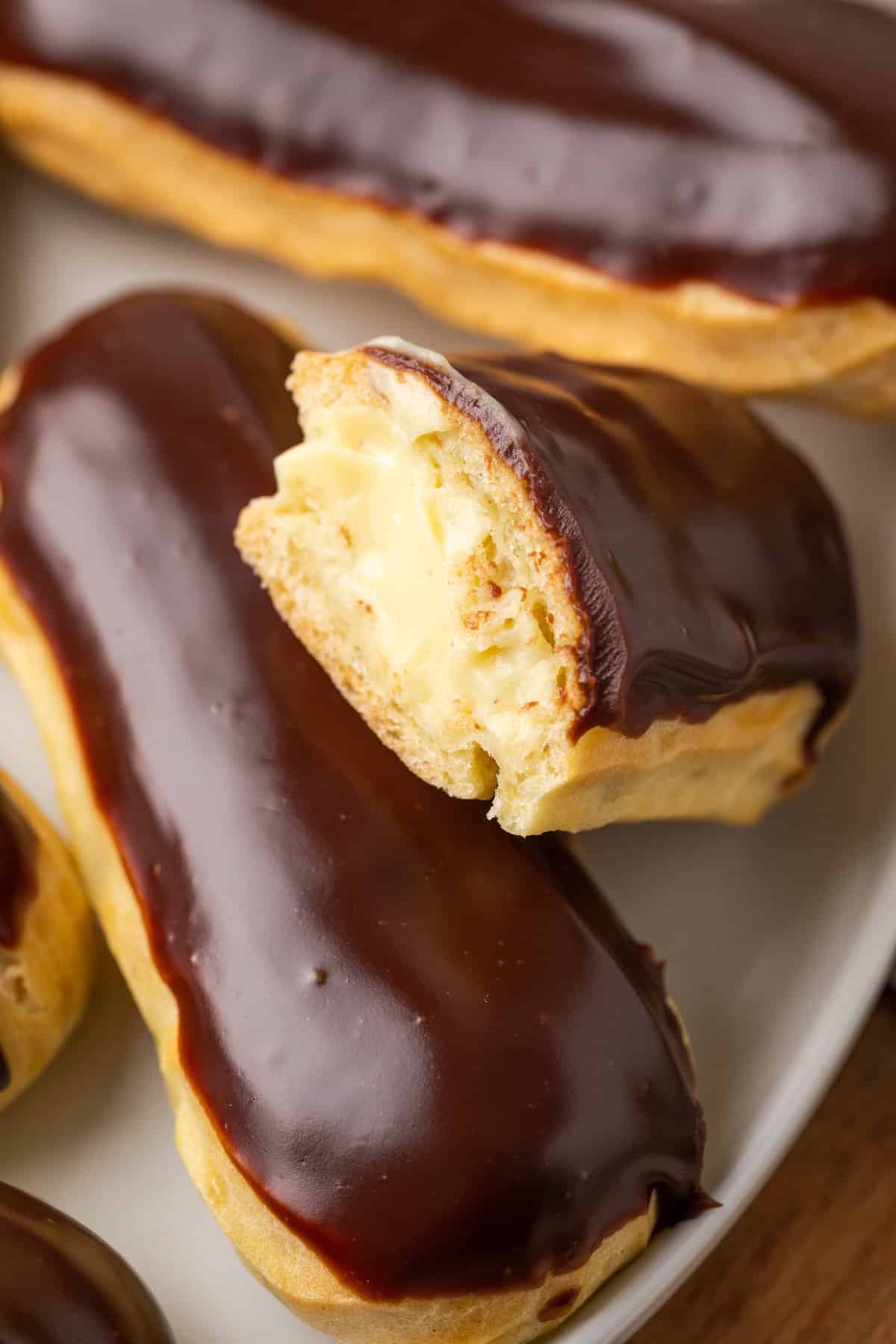 What's the Difference Between an Eclair and a Cream Puff?
Both eclairs and cream puffs are made from the same type of pastry dough. The main difference is the shape and the filling. Eclairs are long logs of pastry filled with pastry cream and dipped in chocolate. On the other hand, cream puffs are shaped like little round balls, usually filled with whipped cream. You can also fill cream puffs with vanilla pastry cream as I do in my homemade Gluten-Free Cream Puffs.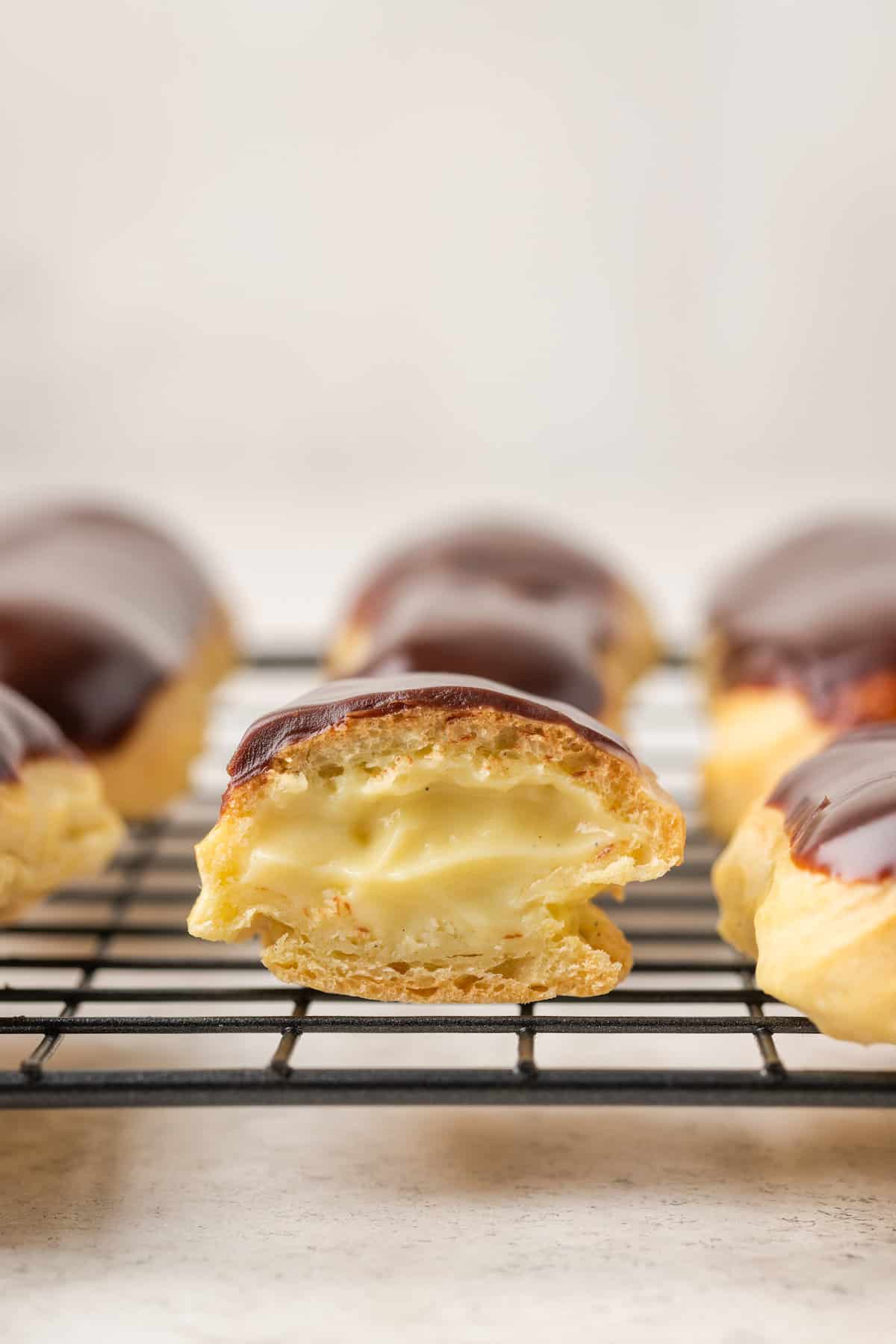 What You'll Need
Gluten-free eclairs come together in three parts: the eclair shells, the pastry filling, and the chocolate glaze. Below is an overview of what you'll need, and remember to refer to the recipe card and individual recipes for the full details:
Pate a Choux: You'll need one full recipe of my homemade Gluten Free Pate a Choux. This is the pastry dough used to make eclairs (see below).
Pastry Cream: You'll also need one recipe of my Vanilla Pastry Cream for filling the eclairs.
Chocolate Chips: I recommend using semisweet chocolate chips, or good quality chopped chocolate to make the chocolate glaze.
Heavy Cream: Full-fat heavy whipping cream makes this glaze smooth and creamy.
Butter: For richness.
Corn Syrup: Corn syrup is the secret to an extra pourable, glossy glaze. You can use light or dark corn syrup, whichever you have on land.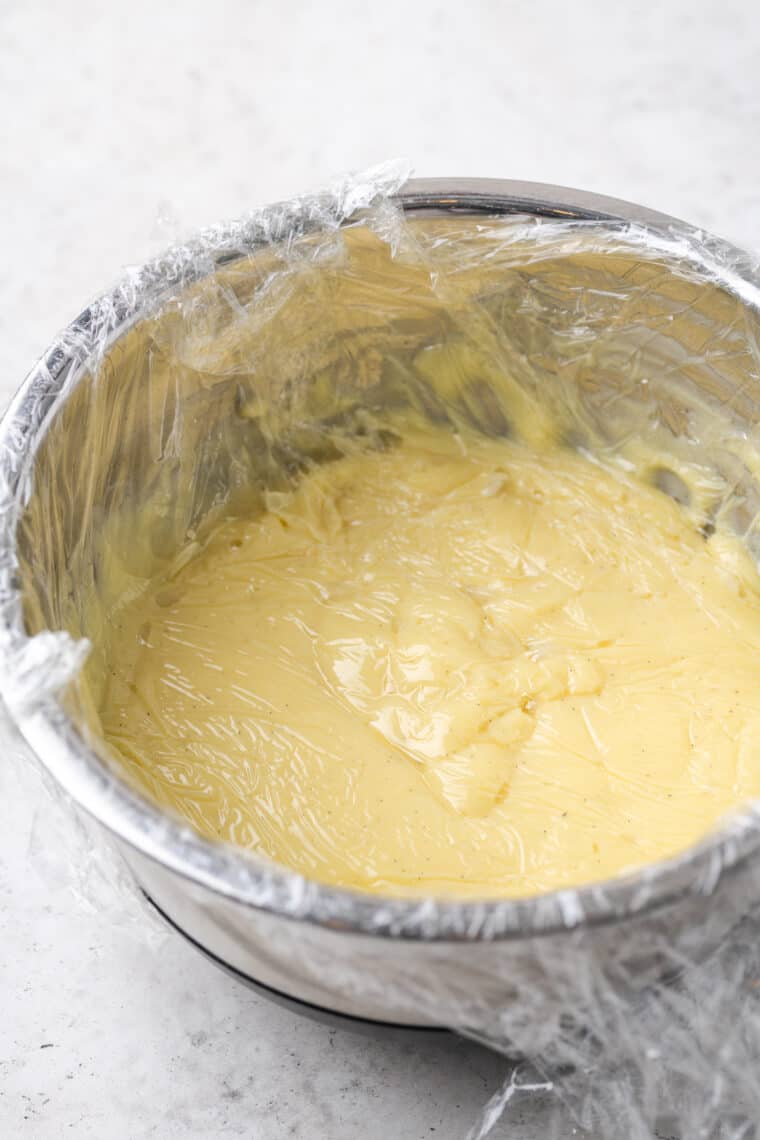 What Is Pate a Choux?
Pâte à choux is a type of basic French pastry used in eclair recipes (as well as Cream Puffs, profiteroles, and other pastry desserts). Choux pastry is light and airy, and the dough is a pipable consistency that relies on steam to rise into beautiful, puffed-up pastries.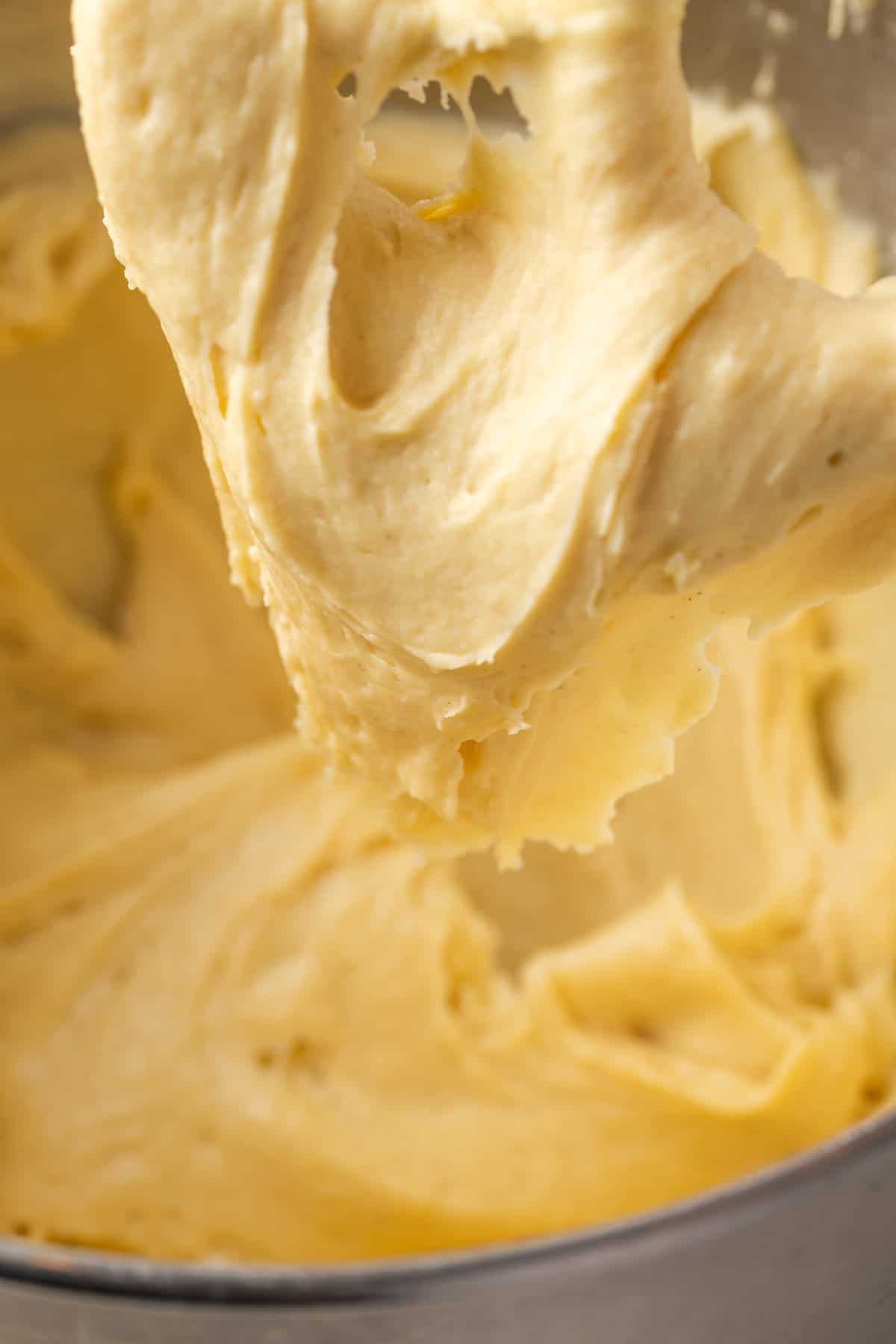 How to Make Gluten Free Eclairs
While your oven preheats to 425ºF, line your baking sheet with parchment paper. I recommend marking out "guides" or lines where you'll pipe the pate a choux for the eclairs. The lines should be about 4 inches long and spaced evenly apart. Just remember to flip the parchment paper over afterward, so that the ink is on the underside.
Prepare the Pate a Choux: Follow the directions for making Gluten-Free Pate a Choux. Once your choux pastry is ready, transfer it to a piping bag with a 3/4-inch opening. You'll have the best results with an open-star piping tip, as the ridges help the pastry to puff up without cracking. If you don't have one, you can use a plain opening and use a toothpick to carefully drag lines down the logs instead.
Pipe the Eclairs: Using the guides you marked out earlier, pipe logs of choux pastry onto your parchment-lined baking sheet. After, gently brush the tops with an egg wash so that they bake up golden and glossy.
Bake: Bake the eclair shells first at 425ºF for 10 minutes, and then at 350ºF for another 25 minutes. Now, take the shells out and turn them upside down on the baking sheet. Poke small holes in the bottoms to vent the steam, and return them to the oven, holes facing up, for another 5 minutes. When you take them out of the oven again, leave the pastries upside down and let them cool completely before you fill them.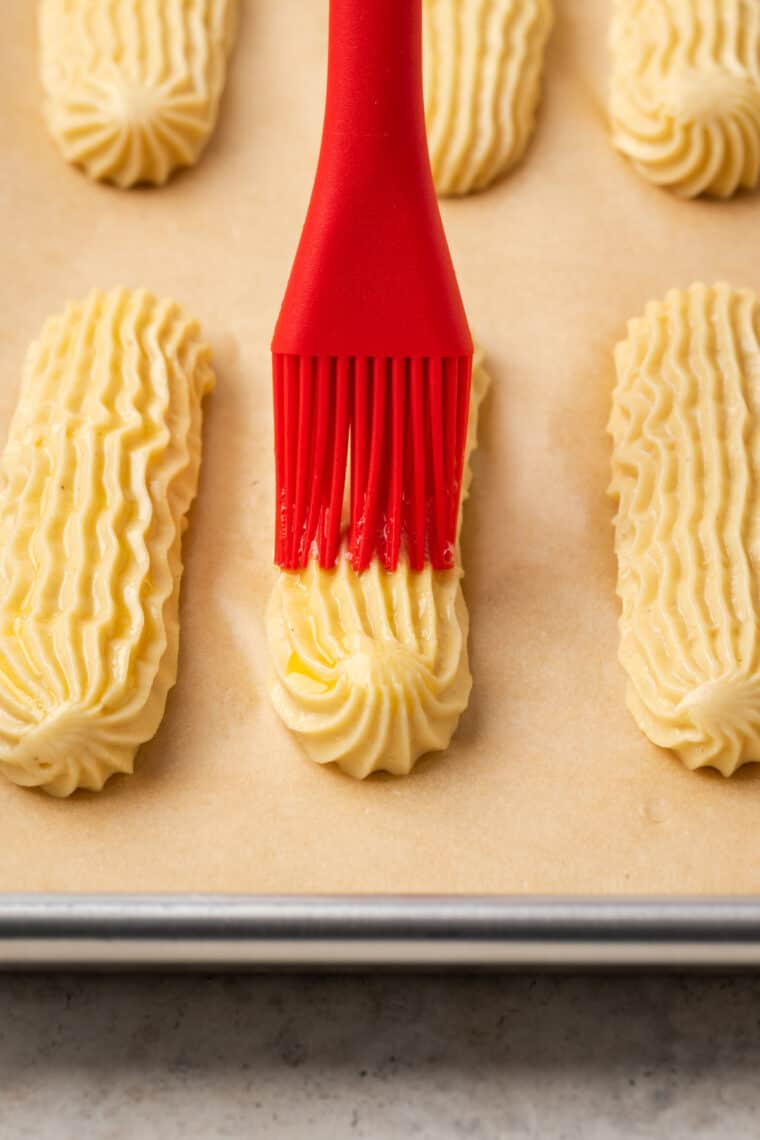 Filling the Eclairs
Once your gluten-free eclair shells have cooled to room temperature, it's time to fill them with pastry cream. Here's how to fill your eclairs:
Prepare the Pastry Cream: Have one recipe of Vanilla Pastry Cream chilled and ready, and transfer it to a piping bag.
Fill: Starting with the first eclair shell, use the holes you made to vent the steam. Place the tip of the piping bag into each hole, and squeeze. Repeat with the other eclairs until all the pastries are full.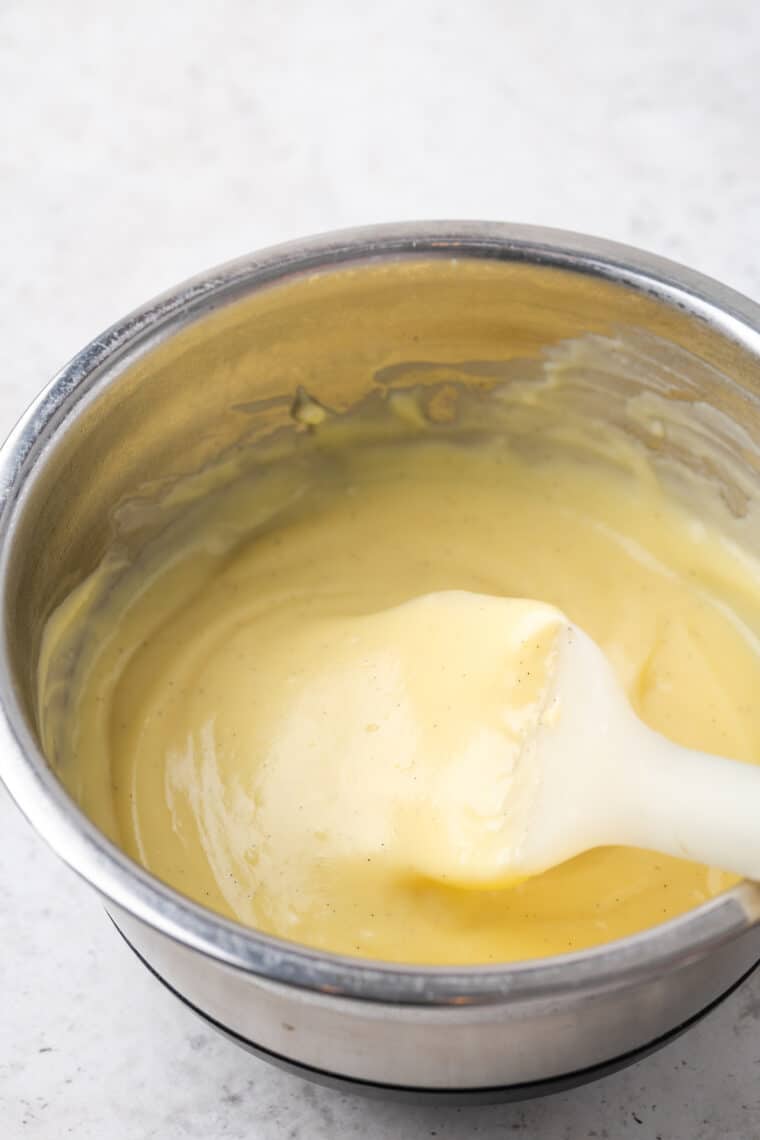 Dipping the Eclairs
When all your eclairs are filled with cream, the final step is to glaze them. Here's how to do it:
Prepare the Glaze: First, add the chocolate chips to a heat-proof bowl. Then, microwave the heavy cream for one minute, and pour it over the chocolate. Let it sit for a few minutes before whisking in corn syrup and butter.
Dip: One at a time, dip the tops of the eclairs into the chocolate glaze. Place the glazed eclairs onto a wire rack to dry down. There you have it, your very own homemade eclairs!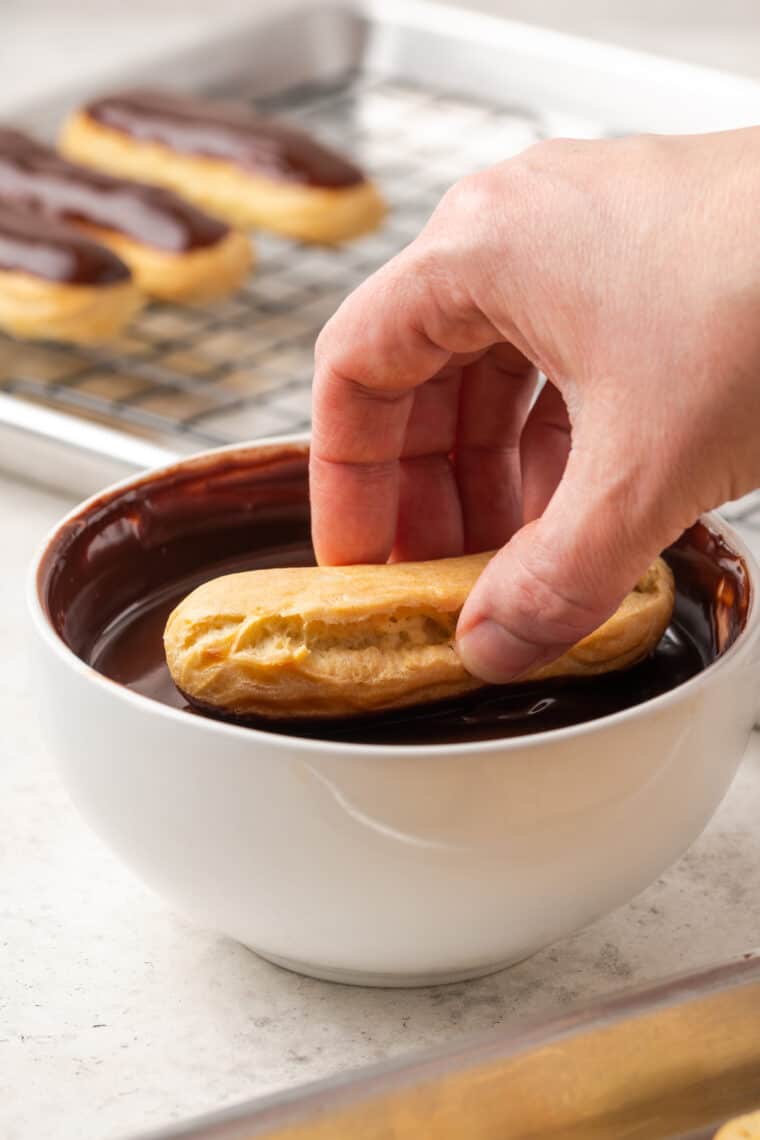 Tips for Success
The idea of making your own gluten-free eclairs may seem a little intimidating at first, especially if you're new to gluten-free baking. But I promise, with a bit of practice, you'll soon have gorgeous puffed-up homemade eclairs every time. Here are some final tips:
Follow the recipes closely. Make sure to follow the dough recipe step-by-step, and measure out the ingredients correctly. If your pastry dough is too thick your eclairs will come out dense, and if it's too thin they won't rise properly. So follow the recipe as directed and pay close attention when measuring, and you'll be smooth sailing!
Don't open the oven. Once your eclairs are baking in the oven, it's important that you leave the oven door closed until the recipe says otherwise. Since eclairs rely on steam to rise, opening the oven too soon can cause the pastries to deflate.
How to tell when eclairs are done baking: Your eclair shells are done when the tops are golden. If you pick one up and tap the underside, it should sound hollow.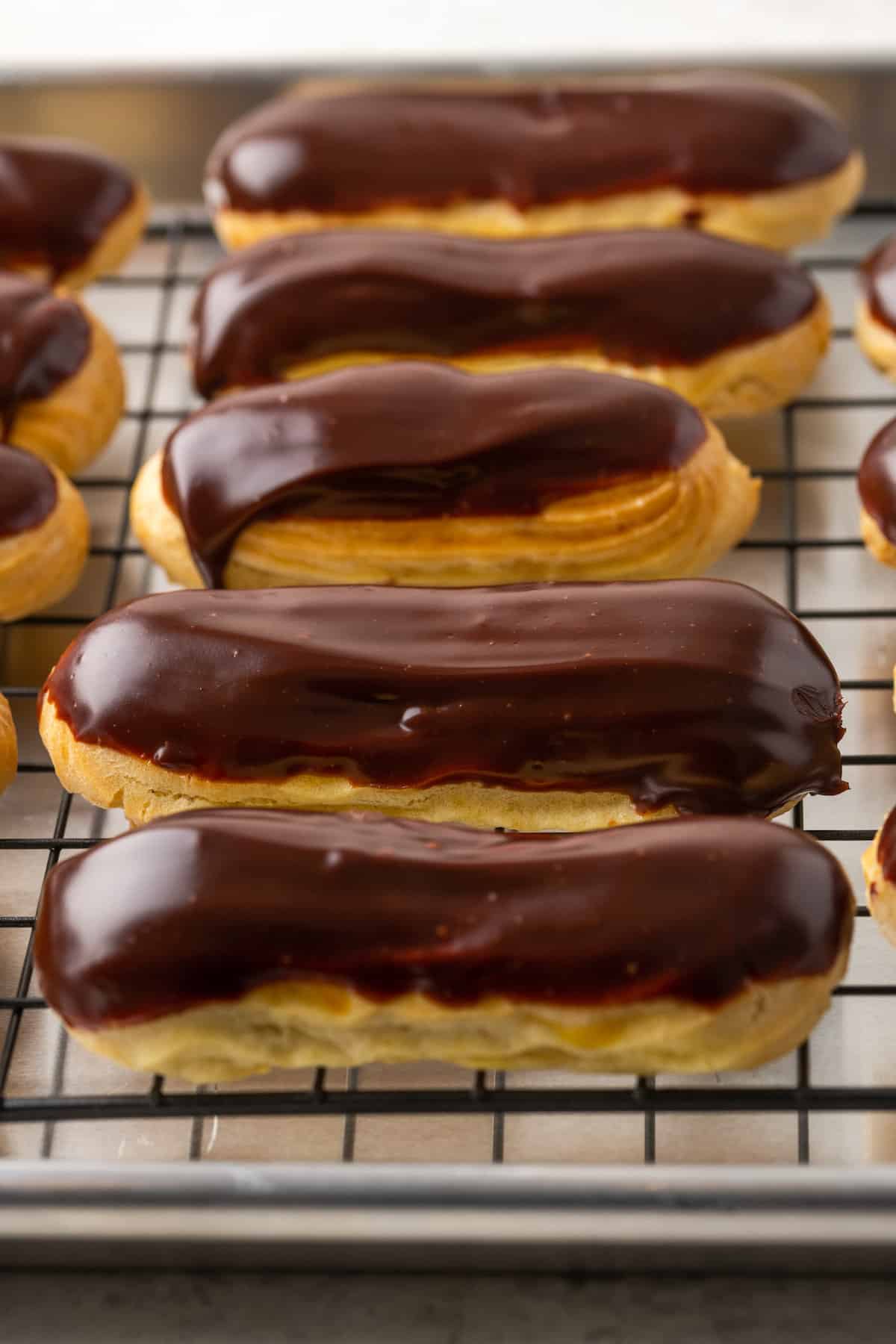 Variation Ideas
Soft and fluffy chocolate eclairs are a real classic, but there are so many ways to turn this recipe into something new. Here are some variation ideas:
Double Chocolate Eclairs: Fill your eclairs with chocolate pastry cream instead of vanilla.
Whipped Cream: If vanilla custard isn't your thing, fill these gluten-free eclairs with whipped cream instead. I have an easy recipe for homemade whipped cream from my Gluten Free Strawberries and Cream Cake that you can borrow.
Sprinkles: While the chocolate tops are still a little wet, dip your eclairs into rainbow sprinkles for a colorful treat.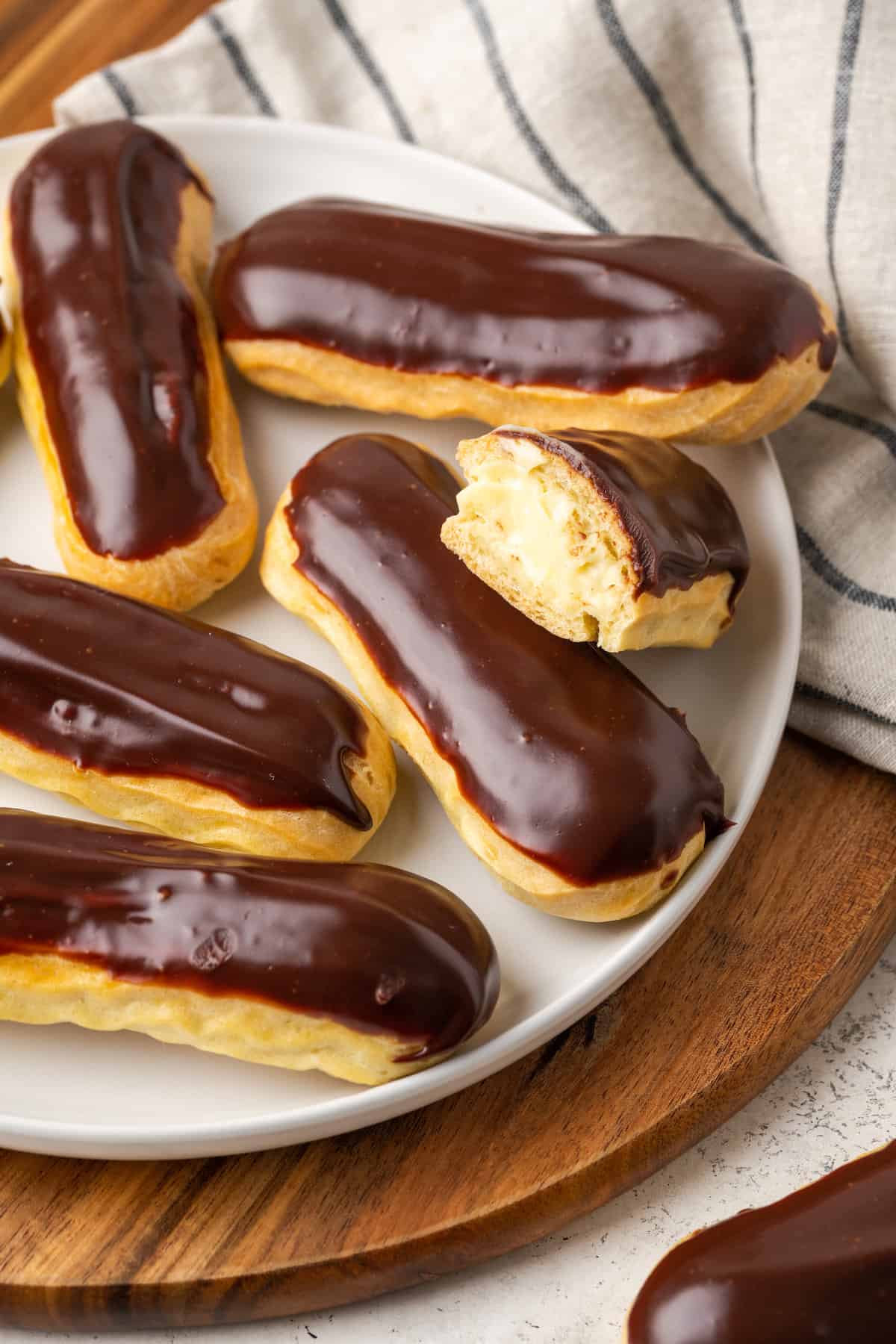 How to Store Gluten-Free Eclairs
These gluten-free eclairs are best served within 12 hours, however, they can be refrigerated airtight up to one day ahead. Just know that they will soften a bit once they're filled.
Can I Freeze Eclairs?
I don't recommend freezing eclairs once they've been filled, as the pastry cream will separate when it thaws. However, you can freeze the baked and cooled choux pastry shells for up to 1 month. Store the eclair shells airtight and defrost them at room temperature before filling them.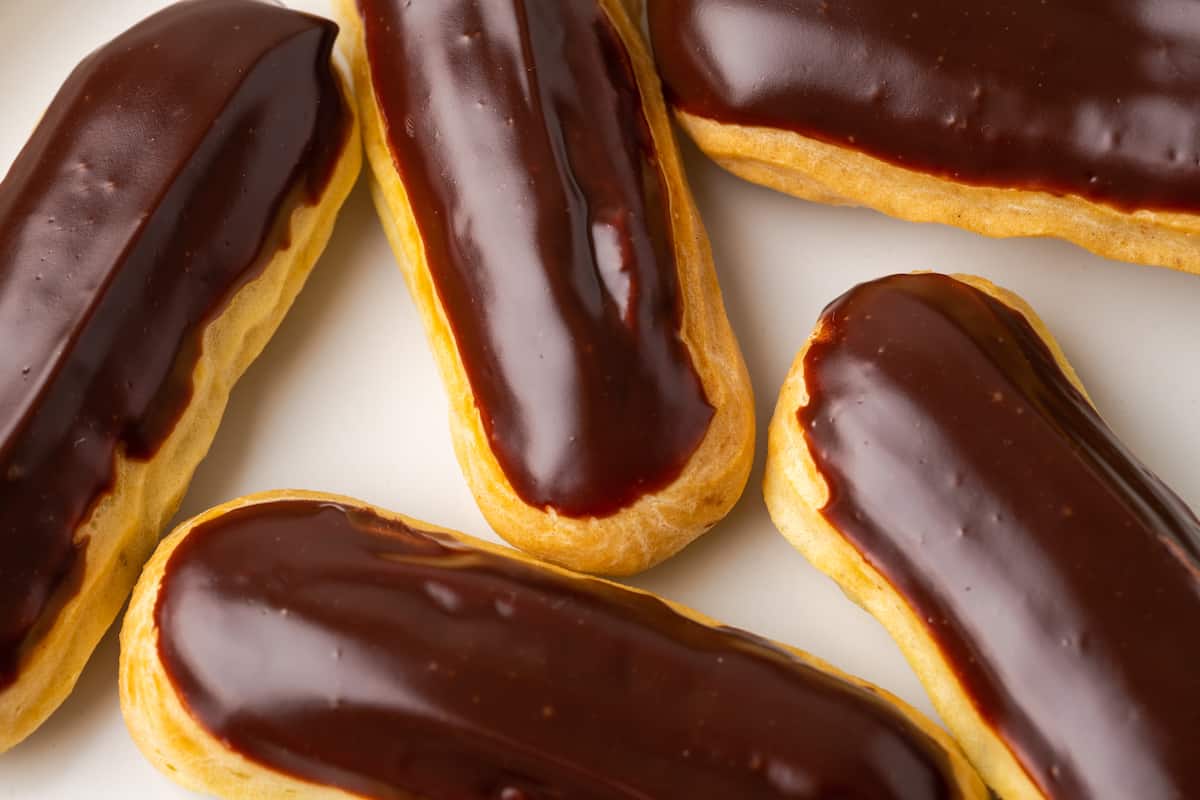 Things You'll Need
Disposable piping bags are essential for making eclairs. You'll want to use a French star tip to pipe the pate a choux dough to form the eclairs. A small round tip fitted in place on the piping bag with a plastic coupler will help you fill the chocolate eclairs with the pastry cream.
Last updated on June 10, 2023 1:46 am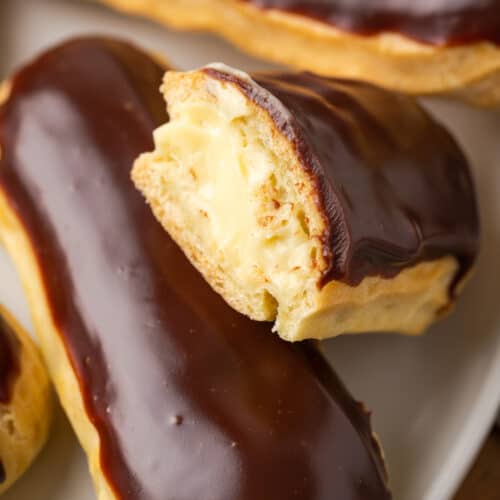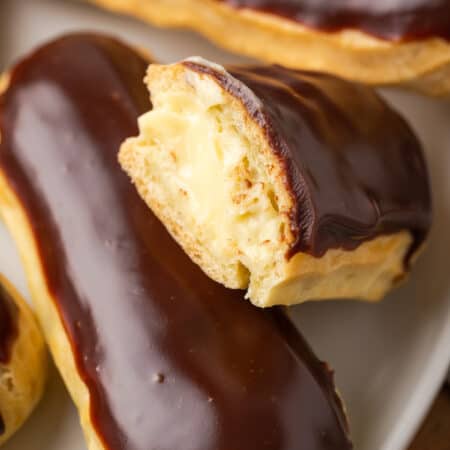 Gluten Free Eclairs
This Gluten Free Eclairs recipe makes light-as-air chocolate eclairs, just like you'd find in your favorite bakery! Made from gluten-free choux pastry filled with homemade pastry cream.
Servings:
18
4-inch eclairs
Instructions
Preheat the oven to 425°F. Line a large baking sheet with parchment paper. Mark the parchment paper with lines 4 inches long, spaced 2 inches apart. Turn the paper over so the ink doesn't transfer to your pastry.

Prepare the pate a choux dough as indicated.

Use a piping bag with a 3⁄4" opening to pipe 4 inch long logs of dough. For best results, use a french open star tip. If you don't have a french star, then use a plain 3⁄4" opening and gently drag lines down the sides and top of each log to create the same design. The line helps guide the pastry to puff without cracking.

Brush the tops gently with egg wash.

Bake on the prepared baking sheet at 425°F for 10 minutes, then reduce the temperature to 350°F for 25 minutes. Bake until the tops are golden brown and the bottoms make a hollow sound when tapped.

Remove the baked pastries from the oven and turn them over on the baking sheet. Poke two small holes in the bottom of each pastry to allow the steam to escape. Return to the oven, with the hole side facing up and bake for 5 minutes more to dry them out.

Allow the pastries to cool completely with the hole side up before filling.
To Fill:
Prepare the pastry cream as indicated. Transfer to a piping bag with a small tip.

Insert the tip of the piping bag into each hole you created for venting steam. Squeeze the filling in until the pastry feels heavy and full.

Once you've filled all of the pastries, prepare the chocolate glaze.
To Glaze:
Place the chocolate chips in a heat-proof bowl that is wide enough to dip the eclairs.

Heat the cream in the microwave on high for 1 minute.

Pour the hot cream over the chocolate chips and allow to sit for 5 minutes.

Add the butter and corn syrup to the chocolate chips and whisk everything together until smooth.

Dip the tops of the eclairs in chocolate and gently shake them to get off any excess. Place them on a cooling rack to allow the chocolate to dry.

Serve within 12 hours or chill for up to 24 hours. The eclairs will soften a bit after they have been filled.
Notes
Chilling time in this recipe is for the vanilla pastry cream, which can be made ahead of time.
Nutrition Facts
Gluten Free Eclairs
Amount Per Serving
Calories 203
Calories from Fat 117
% Daily Value*
Fat 13g20%
Cholesterol 104mg35%
Sodium 160mg7%
Potassium 92mg3%
Carbohydrates 19g6%
Protein 4g8%
Vitamin A 400IU8%
Vitamin C 0.02mg0%
Calcium 56mg6%
Iron 1mg6%
* Percent Daily Values are based on a 2000 calorie diet.
Categories:
More Bakery-Worthy Gluten-Free Recipes