This post may contain affiliate links. Read my disclosure policy.
Making perfect Vanilla Pastry Cream is easier than you think! This homemade crème pâtissière recipe comes together in just 20 minutes. Once it's chilled, use it to fill all your best pastries and gluten-free desserts, from donuts to cream puffs, to gluten-free eclairs.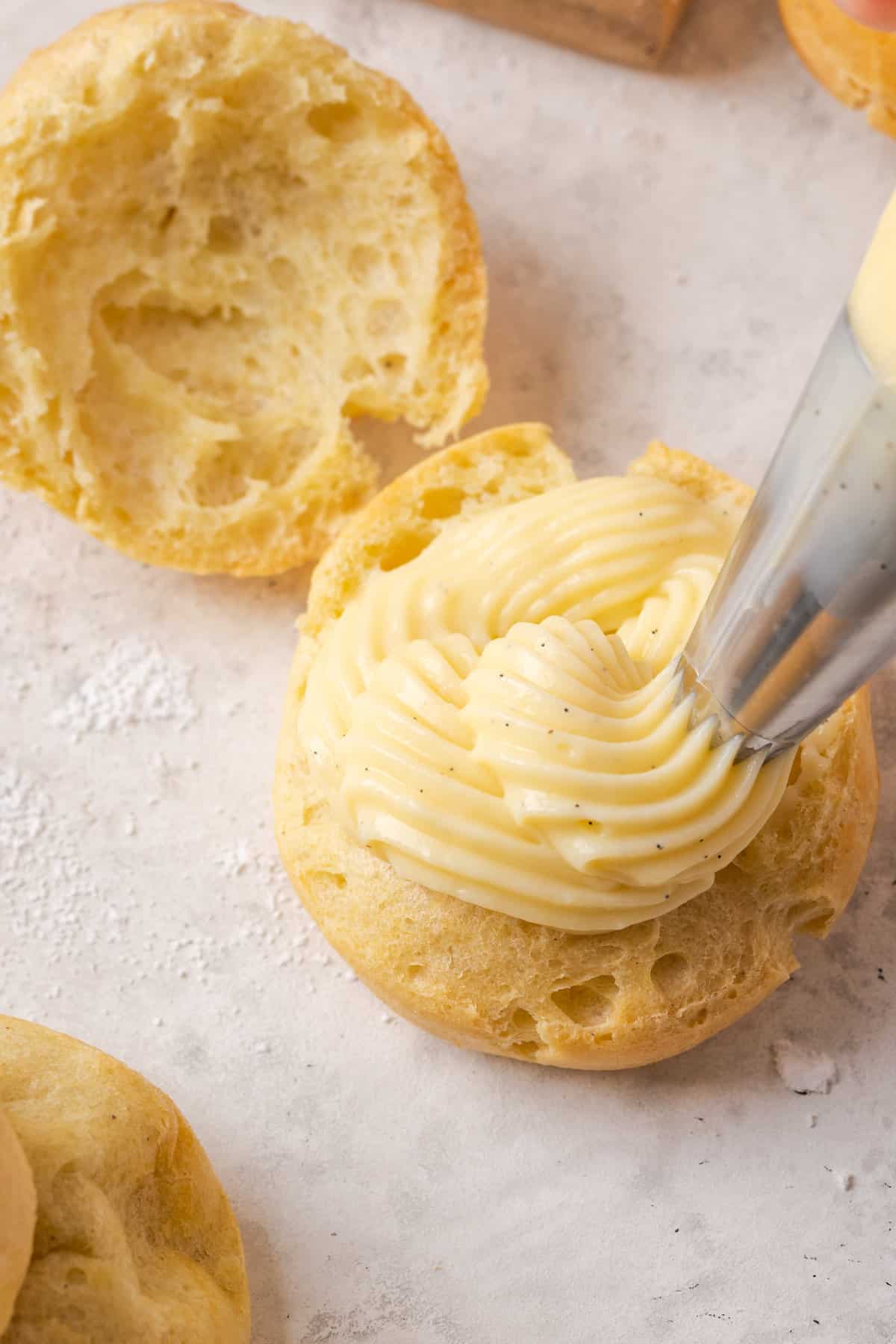 Easy Vanilla Pastry Filling (Crème Pâtissière)
Recently, I set out to make Gluten-Free Eclairs. And you can't have eclairs without crème pâtissière! I'm sharing my favorite homemade vanilla pastry cream recipe that's naturally gluten-free and melt-in-your-mouth delicious.
This recipe calls for just six ingredients and 20 minutes of prep. You don't need to be an expert baker, just be ready to stir!
There are so many classic desserts that you can make with pastry cream filling. Eclairs and Gluten-Free Cream Puffs, for starters, and I've included even more ideas below. This recipe makes rich vanilla pastry cream with the velvety texture of custard and the consistency of pipeable buttercream. It's really something special!
What Is Crème Pâtissière?
If you've ever bit into a fluffy eclair or Boston creme donut from your favorite bakery, that rich, smooth filling inside is crème pâtissière! Pastry cream is vanilla custard with a thick, pipeable consistency thanks to eggs and starch. It's piped as a filling into pastries like Eclairs, Cream Puffs, donuts, and tarts, and it's also used as a base for some pudding recipes.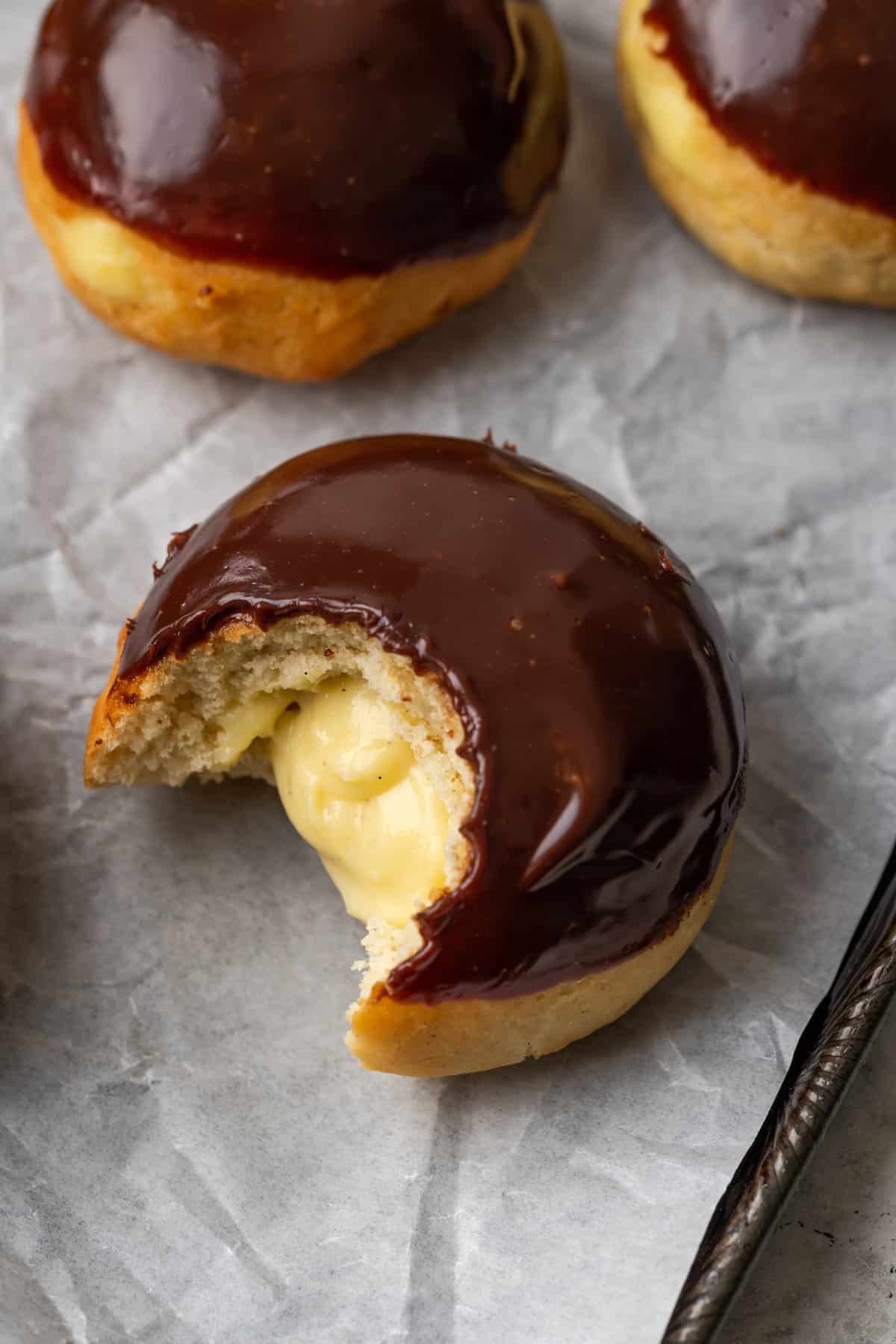 What You'll Need
You don't need a lot of ingredients to make homemade pastry cream, but each one plays an important role in how the custard comes together. Below is a quick overview of each ingredient, with the full details available in the recipe card below the post.
Milk: You'll want to use milk with high-fat content, like whole milk, when making pastry cream.
Vanilla Bean Paste: Use vanilla bean paste, or real vanilla extract to flavor your cream.
Sugar and Salt: Regular granulated sugar sweetens the pastry cream, and also makes the egg yolks less likely to scramble.
Egg Yolks: Vanilla pastry cream is essentially a thickened vanilla custard, and calls for egg yolks.
Cornstarch: Starch thickens the custard and gives the cream a light texture and flavor.
Butter: For extra richness, you'll stir in unsalted butter at the end.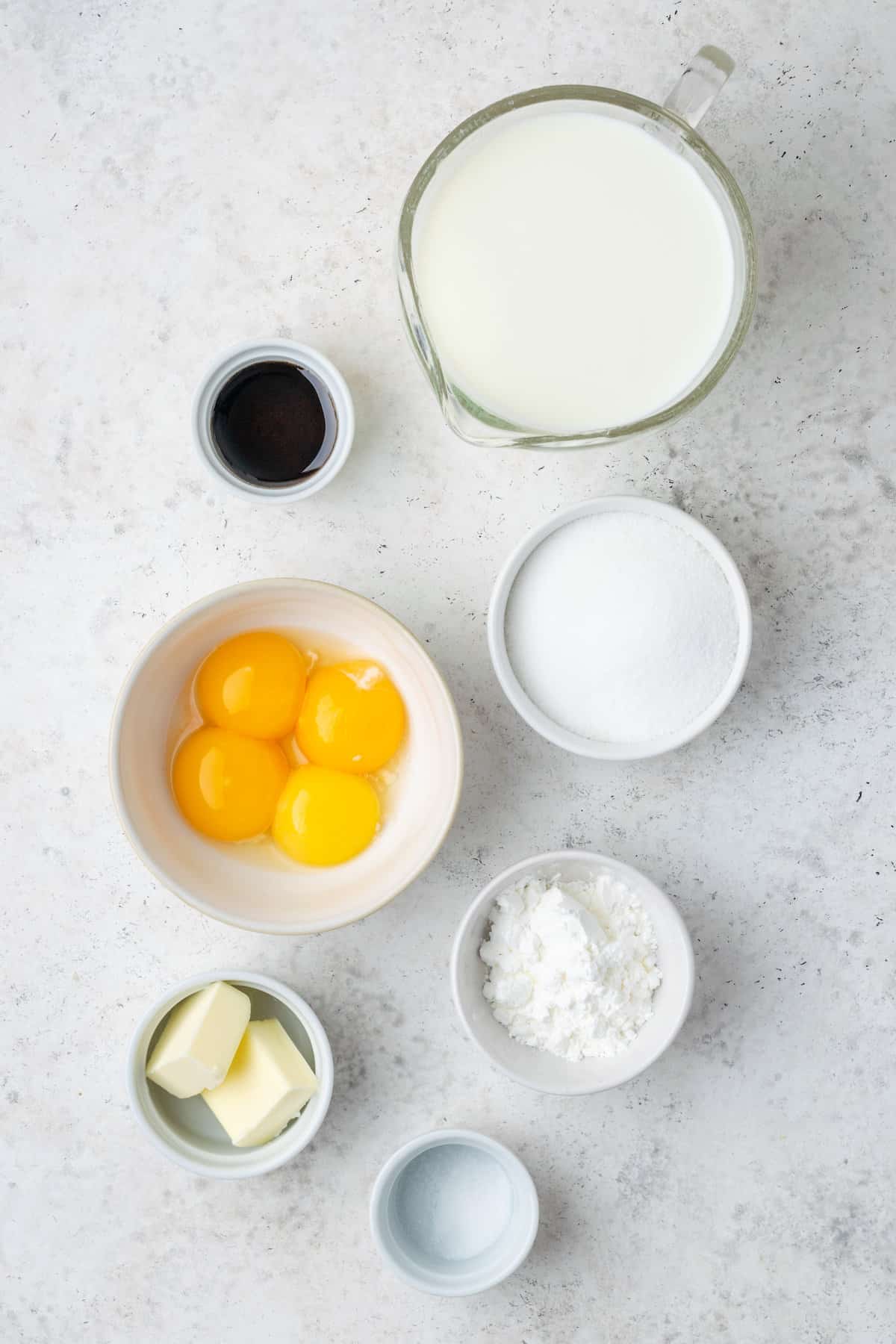 How to Make Vanilla Pastry Cream
Ready to make pastry cream from scratch? The whole process takes about 20 minutes. Afterward, it's just a matter of chilling your crème pâtissière for a couple of hours while it sets. Let's get started:
Heat the Milk and Vanilla: Begin by slowly heating milk and vanilla in a saucepan.
Prepare a Custard Base: Meanwhile, whisk together the egg yolks, sugar, and a pinch of salt, followed by the cornstarch to form a paste.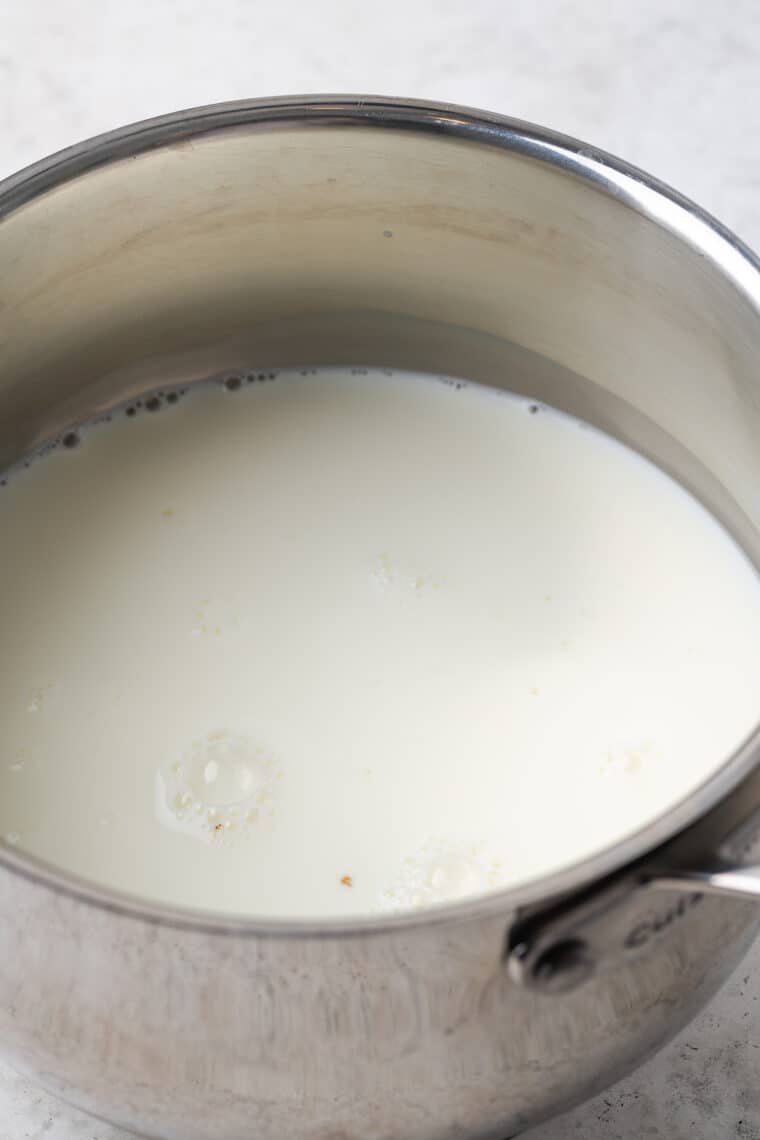 Temper the Eggs: When your milk is barely at a simmer, you'll need to temper the egg yolks. A little at a time, stream the hot milk into the eggs, whisking constantly.
Cook: Place the saucepan onto the heat once more and continue to whisk as the custard thickens. This usually takes about 3 minutes or so, after which you'll cook it for 2 minutes longer so that the starch in the mixture sets. Keep stirring as you go. Finally, take the pan off the heat and stir in the butter.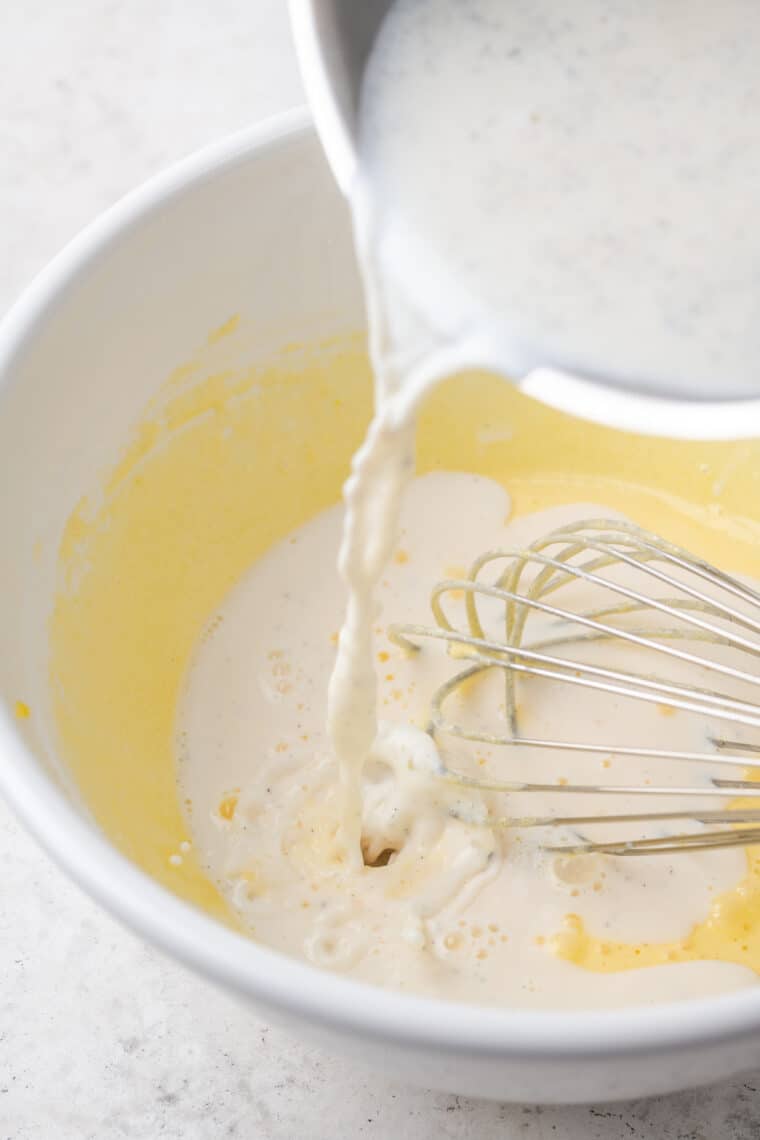 Chill: Next, you'll scoop the pastry cream into a clean bowl and gently press a layer of plastic wrap over the surface of the cream. Place this bowl into an ice bath, and leave it to cool for a half hour before placing your pastry cream into the fridge. The cream will need to chill for a good 2 or 3 hours before it's ready to use.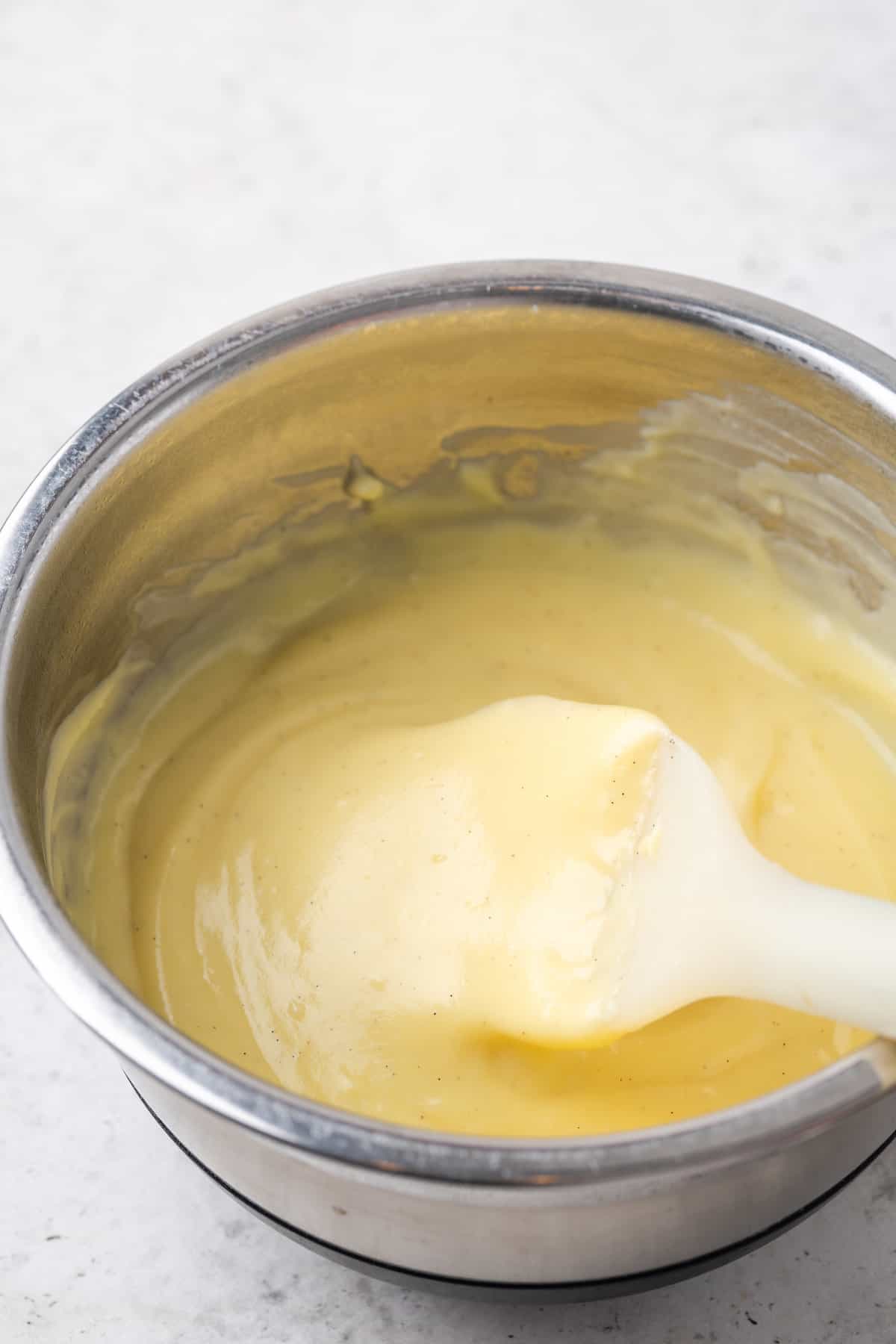 Tips for Success
It takes a bit of effort, but you'll have perfect vanilla pastry cream before you know it. Below are some additional helpful tips when making crème pâtissière from scratch:
Stir frequently. The process of making pastry cream is short but hands-on. The custard needs frequent stirring, so it's a good idea to have all your equipment and ingredients ready before you start.
Cook the custard for long enough. Make sure to give the vanilla custard enough time to cook and set, so that your pastry cream doesn't weep once it's cooled.
Whisk the pastry cream before you use it. It's normal for crème pâtissière to coagulate and become a bit rubbery once it's stored in the fridge. Make sure to give it a good whisk every time you go to use it, to smooth it out again.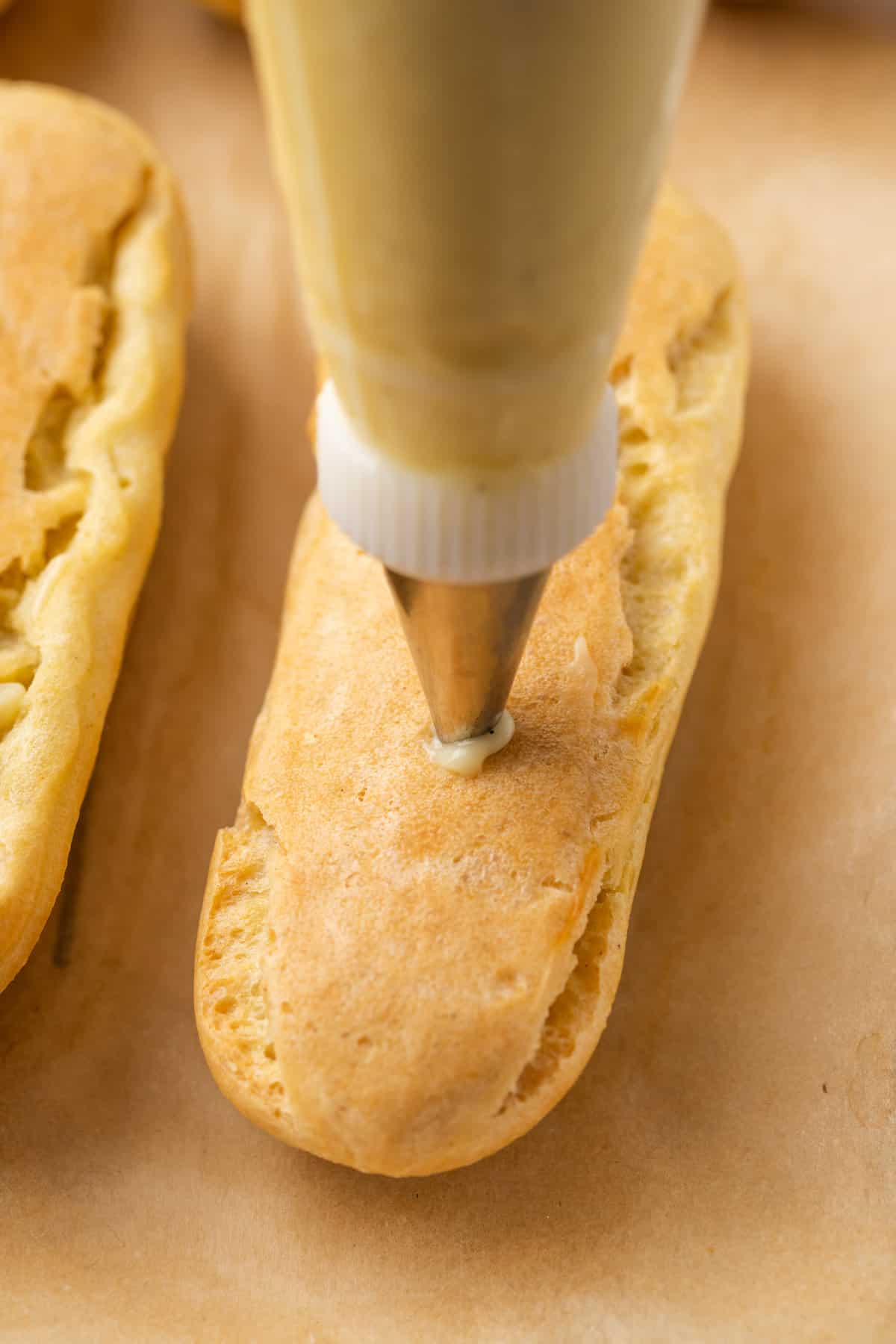 Variation Ideas
Mastering this basic vanilla pastry cream is just the start. Once you're comfortable with this recipe, there are loads of variation possibilities. Here are just a few ideas:
Crème Légère: This is a lighter version of pastry cream, made by folding whipped cream into crème pâtissière.
Chocolate Pastry Cream: Stir finely chopped chocolate into the cream while it's still hot.
Lemon Zest: Whisk in citrus zest, like lemon or orange.
Flavor Infusions: In place of vanilla bean, try steeping tea leaves, herbs like mint, cinnamon sticks, or even coffee grinds in the hot milk for different flavored pastry creams.
Ways to Use Crème Pâtissière
After your pastry cream has chilled, give it a good whisk and it's ready to use! Transfer the cream to a piping bag to pipe into all sorts of delicious desserts and pastries:
Gluten-Free Eclairs: Make your own Homemade Eclairs from Gluten-Free Choux Pastry filled with vanilla pastry cream and dipped in chocolate.
Gluten-Free Cream Puffs: Traditionally, cream puffs are filled with chantilly cream. But no one's stopping you from filling these Gluten-Free Cream Puffs with fresh pastry cream instead.
Donuts: Use this recipe as a filling for homemade donuts.
Cakes and Cupcakes: Pastry cream makes a delicious creamy filling between cake layers in custard cakes, or piped into cupcakes a hole you've cut out of Gluten Free Vanilla Cupcakes.
How to Store Pastry Cream
When wrapping your pastry cream for storage, make sure that the plastic wrap comes into direct contact with the surface of the cream. This prevents any skin from forming. Afterward, store your pastry cream in the fridge for up to 4 days. Give it a fresh whisk before each use.
Can I Freeze Pastry Cream?
Unfortunately, no. Pastry cream is not a good candidate for freezing as it separates upon thawing.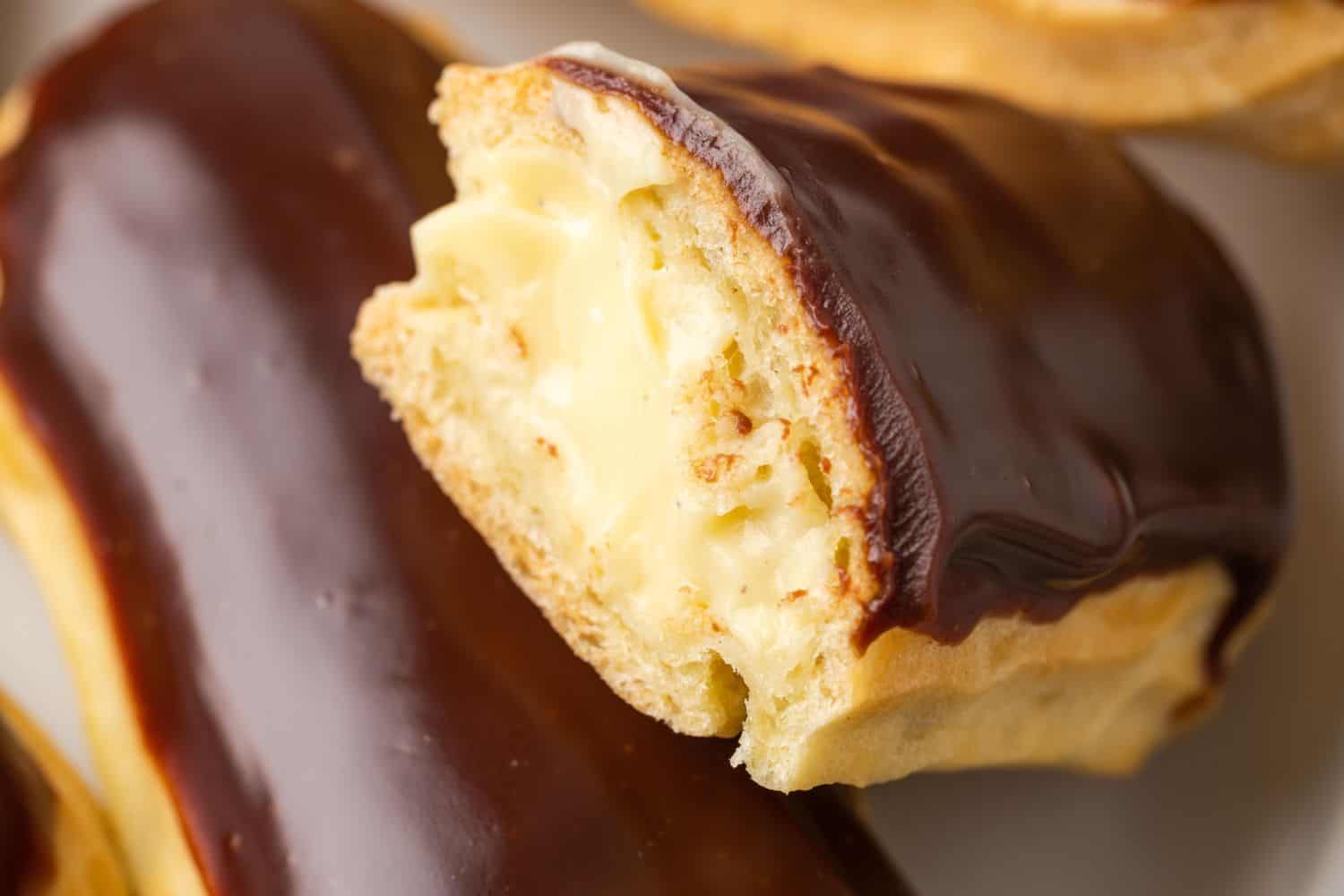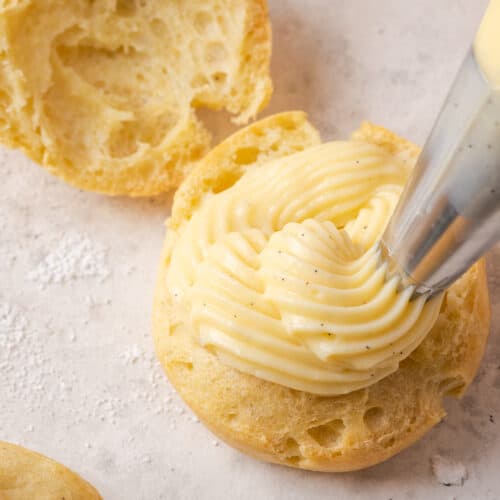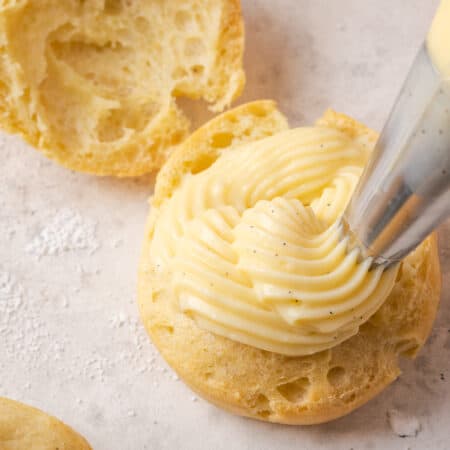 Vanilla Pastry Cream
Classic Vanilla Pastry Cream (crème pâtissière) is perfect for filling all your best gluten-free desserts and homemade pastries, from donuts to eclairs.
Servings:
8
servings (approx. 1/2 cup each)
Ingredients
2

Cups

Whole Milk

2

teaspoons

Vanilla Bean Paste

(or vanilla extract)

1/2

Cup

Sugar

1/8

teaspoon

Salt

4

Egg Yolks

3

Tablespoons

Cornstarch

2

Tablespoons

Butter
Instructions
Combine milk and vanilla in a saucepan over medium heat. Cook until just simmering, about 10 minutes.

While the milk is cooking, add egg yolks, sugar and salt to a large mixing bowl. Whisk together until smooth.

Add the cornstarch to the egg mixture and whisk again until it is all incorporated. The mixture will be light yellow and thick like paste.

Once the milk has cooked, pour a small amount of hot milk into the egg mixture while whisking to avoid cooking the eggs.

Continue to add the milk a little at a time, mixing well between each addition, until all of the milk has been added.

Return the egg + milk mixture to the saucepan.

Cook over medium heat, whisking constantly, until the mixture thickens to a pudding like texture, about 3 minutes. Continue to cook the cream mixture for another 2 minutes to set the starch. Stir constantly to prevent burning.

Remove from heat and stir in the butter until melted.

Transfer the pastry cream to a clean bowl. Cover it with plastic wrap, taking care to place the plastic directly on the surface of the cream so no skin can form.

Prepare a second large bowl with ice and cold water.

Transfer the pastry cream bowl into the water bath to cool for 30 minutes prior to refrigerating.

Refrigerate the pastry cream for 2-3 hours before using.

After refrigeration, remove the plastic wrap and whisk the cream until the consistency is smooth again. Transfer into a piping bag to use in pastry.
Nutrition Facts
Vanilla Pastry Cream
Amount Per Serving (1 serving (approx. 1/2 cup))
Calories 155
Calories from Fat 63
% Daily Value*
Fat 7g11%
Cholesterol 112mg37%
Sodium 87mg4%
Potassium 102mg3%
Carbohydrates 19g6%
Protein 3g6%
Vitamin A 316IU6%
Calcium 88mg9%
Iron 0.3mg2%
* Percent Daily Values are based on a 2000 calorie diet.
Categories:
More Easy Gluten-Free Custards and Puddings