This post may contain affiliate links. Read my disclosure policy.
It doesn't matter whether you are a master biscuit-maker or not when you take those (hopefully) light and fluffy biscuits, layer them with homemade whipped cream, fresh strawberries, and a sweet berry compote to make this simple but impressive Strawberry Shortcake Trifle.
Disclaimer: Driscoll's provided me with coupons for berries and a $20 gift card to purchase ingredients. No additional compensation was received and, as always, all opinions are my own.
Strawberry Shortcake Trifle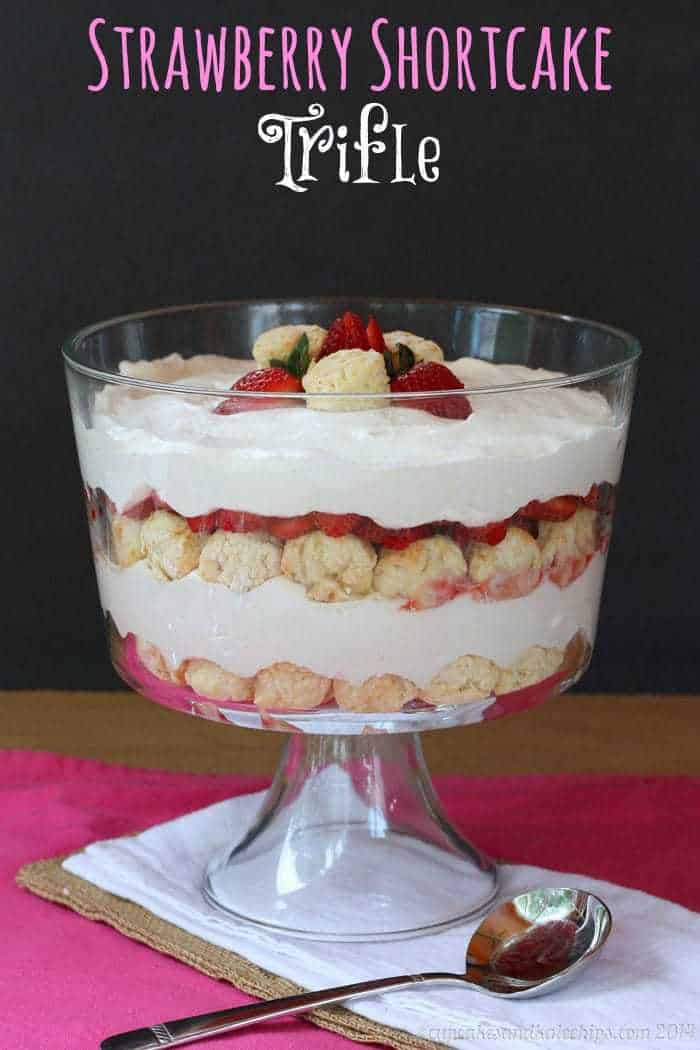 I consider myself a pretty good home cook and baker. Definitely not a  professional or an expert, but I can whip up a tasty sweet treat or two. But given the opportunity to learn directly from someone who is an expert, I'm going to jump at the chance. And that chance came when the folks from Driscoll's rounded up a group of food bloggers to have a virtual chit chat with James Beard award-winning cookbook author extraordinaire Dorie Greenspan on all things berries and biscuits, I was so there.
Dorie was so sweet and funny and interesting, and totally forthcoming with all of her favorite strawberry shortcake tips and tricks. For example:
She prefers a lighter buttermilk biscuit base, versus one made with cream so that the berries and whipped cream are the shining stars, versus the rich biscuit.
The flavor of lemon to the biscuits for a little pop, and to bring out the flavor, her trick is to rub the lemon zest and the sugar together with your fingers to release the oils.
When cutting the biscuits use a metal cutter and don't twist it in order to ensure the maximum rise.
Use your fingers to work the butter and flour together, leaving some pieces of butter the size of peas, and some like oatmeal flakes, and everything in between. The heat then causes water in the butter to make steam and rise.
Dorie likes to add rose extract to enhance the strawberry flavor. I didn't do this, but I am curious to try it.
You can prepare compote a few days before, but don't cut the fresh berries more than an hour before preparing (if you are making the individual shortcakes, versus my recipe).
When preparing whipped cream in advance, line a strainer with cheesecloth, put whipped cream in strainer and set over a bowl, cover and store it in the fridge. You can do this a day ahead, and whisk before using.
You can get Dorie's complete recipe
HERE
, on Driscoll's website.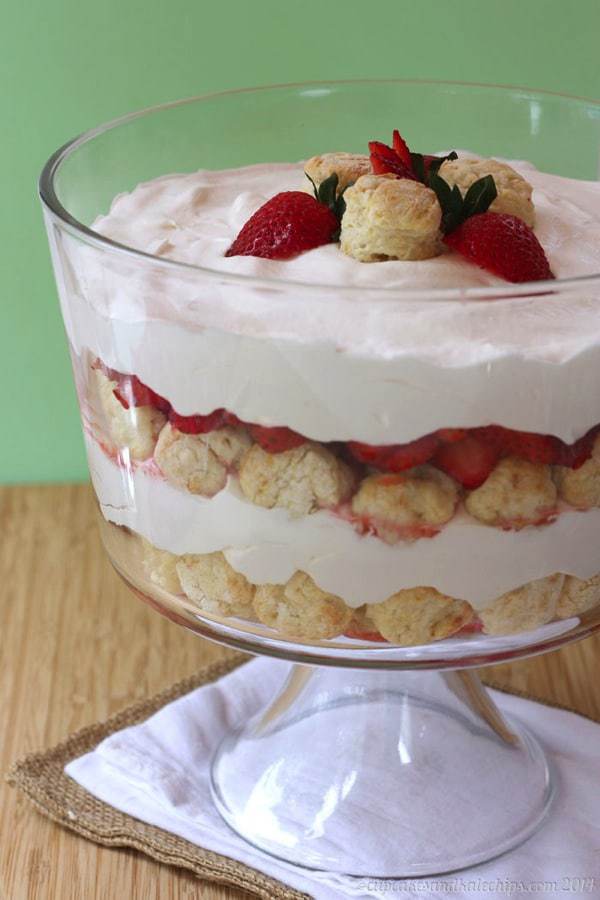 Then we did some idea-sharing and brainstorming – what to do with the biscuit scraps, how we could reinvent Dorie's recipe – and I latched on to the idea of a trifle. OK, maybe it's not the most novel reinterpretation, but most versions I've seen have pound cake or some other type of cake, and just sliced berries. Here, I wanted to integrate the biscuits, and keep the different textures from the use of a berry compote and fresh strawberries, as Dorie did. Plus, if my biscuits turned out terrible, this would totally cover that up.
Not that I needed to. I think most of them turned out pretty good…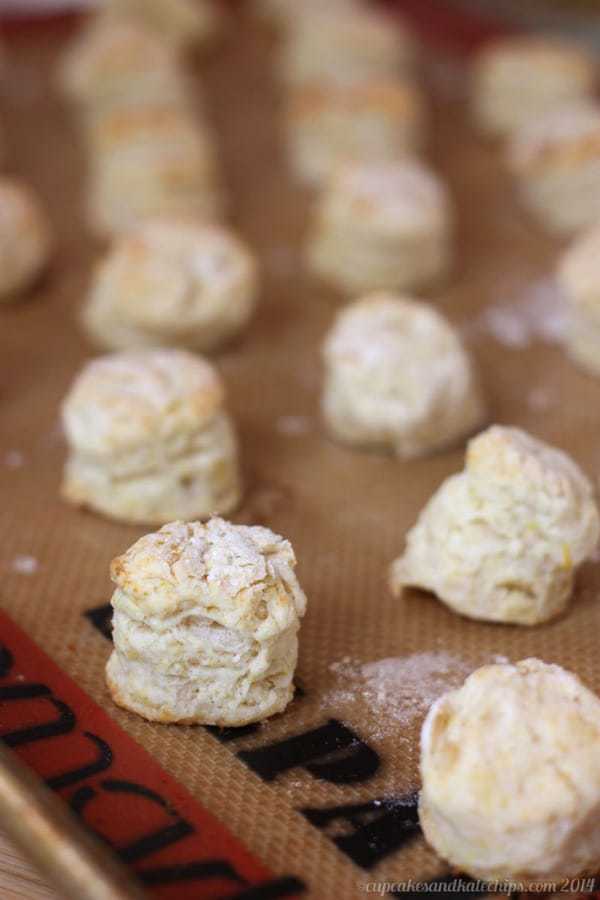 But maybe not as good as this…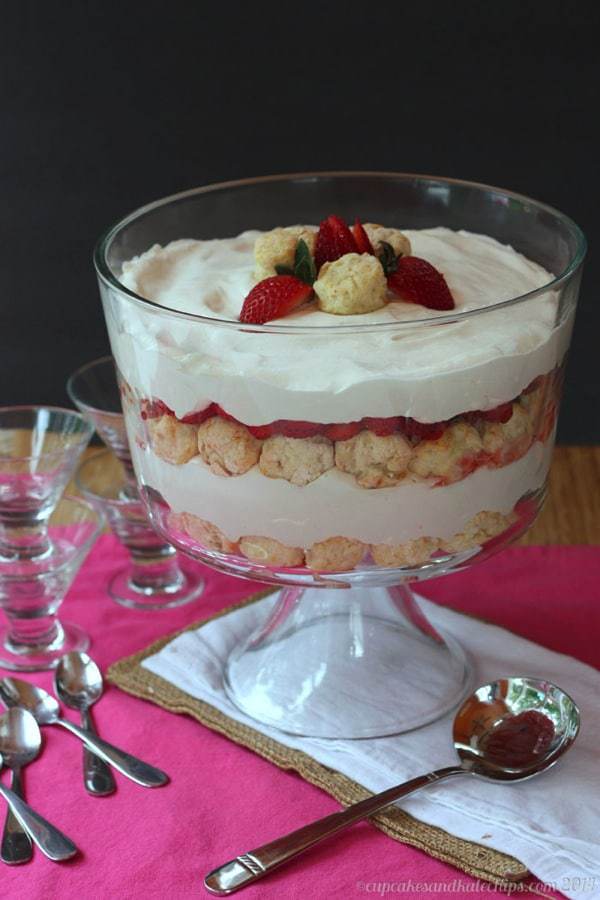 A couple of years ago I told you about the lovely "grandmas" who take care of the kids while the mom's chit-cat at the Mom's Group meetings at my church, and that we have a brunch for them every year. I brought this Strawberry Shortcake Trifle this year, and while I didn't have any, half of it was gone by the time I left, and I had to leave early. I haven't seen my friend to get my trifle bowl back, so I don't know how much of it was finished, but everyone seemed to love it.
I mean, I know you can't really go wrong when you have Dorie Greenspan's recipe, and you layer it all up with even more strawberries and whipped cream than the recipe calls for. I mean, it is a trifle – that totally calls for voluptuous pillows of whipped cream and tons of sweet, juicy berries. Other than that change, I made the biscuit recipe as written, just cut them smaller and reduced the baking time, and left out the rose extract that the compote recipe calls for – I didn't have a chance to track any down, and I wanted to keep it a bit more everyday, without specialty ingredients.
I may not have a good evaluation of my biscuit making skills, since they soaked up all of the trifle-y goodness, but I know I make a mean trifle!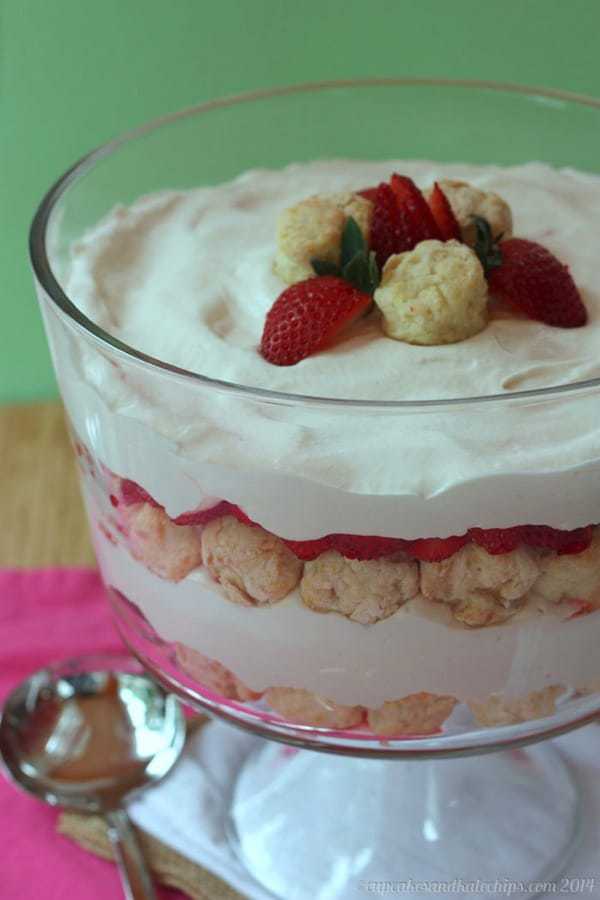 What is your favorite version of strawberry shortcake?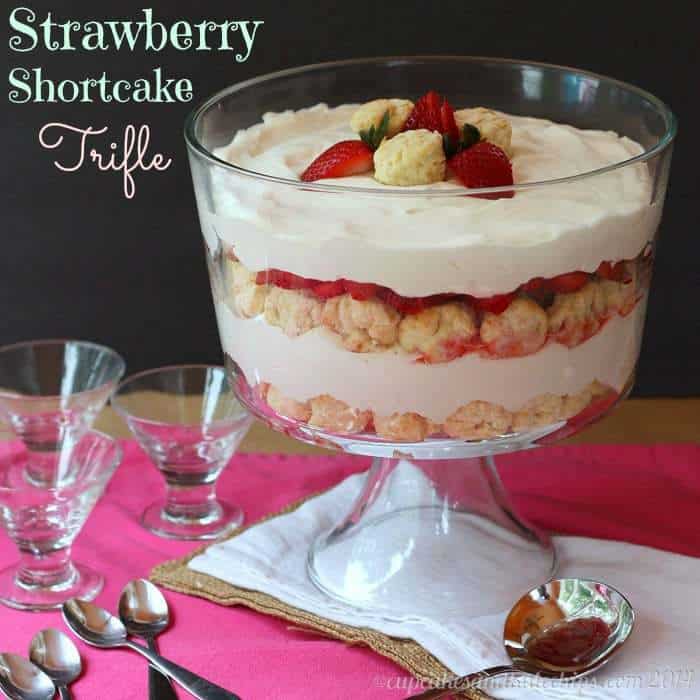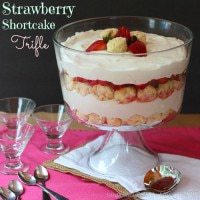 Strawberry Shortcake Trifle
Ingredients
For the Strawberry Compote:
3/4

pound

about 3 cups Driscoll's Strawberries, hulled and coarsely chopped

1 1/2

Tablespoons

granulated sugar

1/2

teaspoon

vanilla extract
For the Lemon-Buttermilk Biscuits:
1 1/2

Tablespoons

granulated sugar

freshly grated zest of 1 lemon

2

cups

all-purpose flour

plus more for dusting

1

Tablespoon

baking powder

1/2

teaspoon

salt

1/4

teaspoon

baking soda

6

tablespoons

3/4 stick cold unsalted butter, cut into small cubes

3/4

cup

cold buttermilk
For the Whipped Cream:
2

cups

very cold heavy cream

1/4

cup

confectioners' sugar

sifted

2

teaspoons

pure vanilla extract
For assembling the Trifle:
1

lb.

about 4 cups Driscoll's Strawberries, hulled and sliced, reserving one or two whole strawberries for decorating the top, if desired
Instructions
For the Strawberry Compote:
Combine the coarsely chopped strawberries and sugar in a small saucepan over medium heat.

Bring to a simmer and cook, stirring occasionally, for 5-8 minutes, or until slightly thickened and syrupy.

Remove from the heat, transfer to a bowl, and stir in the vanilla extract.

Cool to room temperature. (You can make the compote up to 3 days ahead and keep it covered in the refrigerator.)
For the Lemon-Buttermilk Biscuits:
Preheat your oven to 425°F. Line a baking sheet with parchment paper or a silicone baking mat.

Combine the sugar and lemon zest in a large bowl and use your fingertips to rub the sugar and zest together until it is moist and fragrant.

Add the flour, baking powder, salt and baking soda, and whisk together.

Add in the cubes of butter and, using your fingertips, rub and blend in the butter until you have various sizes, from small flakes to pea-sized.

Pour the cold buttermilk over the mixture, and use a fork to quickly and gently toss the ingredients together until just moistened. It may look slightly curdled.

Knead the dough gently, folding it over on itself about six to ten times.

Lightly dust your work surface with flour, turn out the dough and pat it to about 1/2-inch thick.

Using a high-sided 1-inch diameter cutter, cut out biscuits and place them on the baking sheet.

Repeat one more time, patting the scraps together to 1/2-inch thick and cutting out more biscuits.

Bake for 9 to 11 minutes, or until the biscuits have risen and tops and bottoms are golden brown.

Transfer the baking sheet to a cooling rack and cool the biscuits to room temperature.
For the Whipped Cream:
Combine the ingredients in a chilled bowl and whip with a hand mixer or whisk attachment on a hand or stand mixer until soft peaks are formed.
For assembling the Trifle:
Gently cut each of the biscuits in half. Line the bottom of a trifle bowl with about half of the biscuits, decoratively placing the golden brown tops facing out, if desired.

Top with about half of the compote and half of the fresh sliced berries.

Spread about half of the whipped cream evenly over the berries.

Repeat the layers, start with the biscuits, and topping with the compote and fresh berries, finishing with the remainder of the whipped cream.

If desired, garnish with one or two whole berries and/or a few biscuits.
Categories:
If you like this recipe, you'll love these…
Plus here are some more great Driscoll's Strawberry Shortcake inspirations from my friends…
Enjoy!