Easy Hot Fudge Sauce Recipe
Disclosure: This post may contain affiliate links. Cupcakes & Kale Chips is a participant in the Amazon Services LLC Associates Program, an affiliate advertising program designed to provide a means for us to earn fees by linking to Amazon.com and affiliated sites.
Easy Hot Fudge Sauce recipe has only four ingredients and it's ready in about five minutes. With rich chocolate flavor and a velvety smooth texture, it's dangerously simple to whip up this homemade hot fudge to pour over your favorite ice cream, dip berries or apple slices, or just eat with a spoon.
And if there is any leftover chocolate sauce, you can store it in a jar in the refrigerator, then just warm the easy fudge sauce in the microwave or on the stove the next time you are craving a hot fudge sundae. Bonus is that it is also gluten free!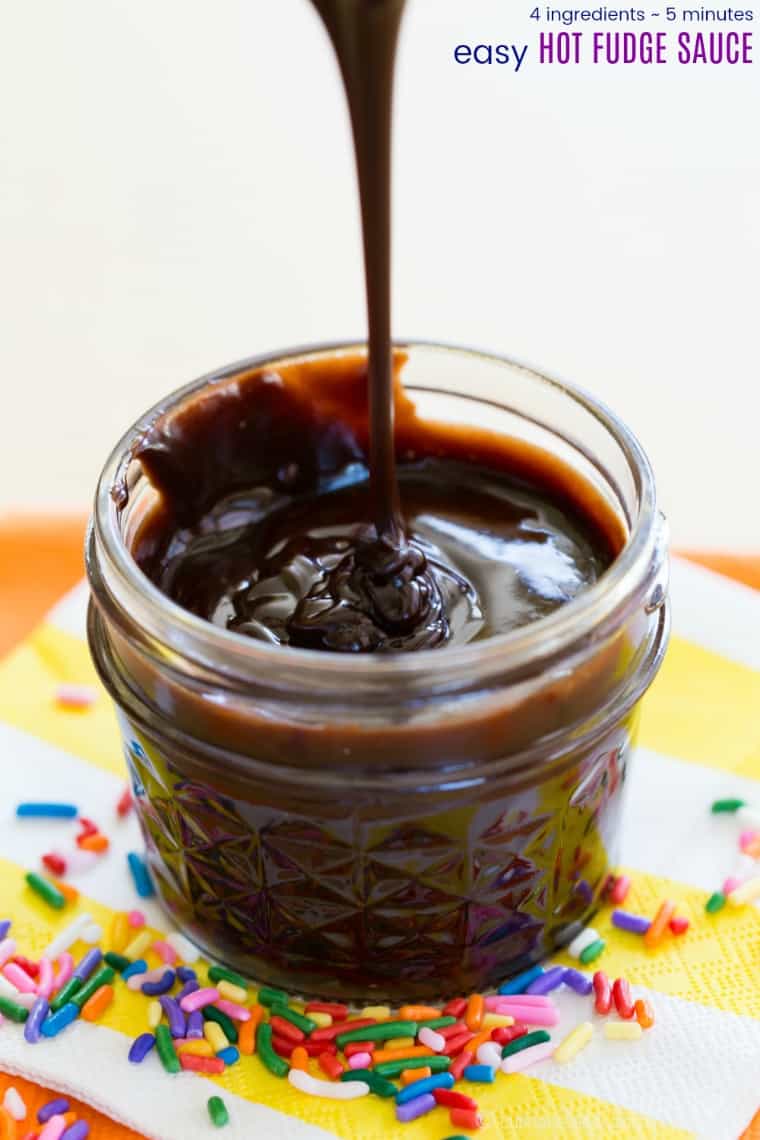 You guys, my baby is graduating preschool. He has been practicing his songs (three each in English, Spanish, and Chinese, no less) for weeks, walking around the house singing "Hola Amigos" and "From Me To You" and some other song in Chinese that I can't really understand
All the while he is telling me he doesn't know any of the words when I ask him to sing for me. They had rehearsal last week, and he knows he is getting a fake diploma during the ceremony, and Mr. Toby will have the real ones. He told me they will be waving when they walk in and when they walk out.
He is ready for graduation.
I think he is actually ready for Kindergarten, too. He knows his letter and numbers, he is starting to read a little, he knows some basic addition facts, and, thanks to his older brother, he can tell time on a digital clock.
I am typically one who celebrates and gets excited about my kids achieving new milestones and learning new things. I am decidedly not in the "stop growing" or "make time stop" or "they grow too fast" camp.
Well, until now. I'm actually a bit teary.
I was definitely thrilled to get out of the newborn stage, which was really hard for me. Getting beyond potty training was like a dream come true. Being able to get through the day without scheduling everything around naps or risk an epic meltdown at 5 pm makes life so much better.
But the thought of them both being in elementary school is almost unreal.
And I'm actually sad mostly because after spending the last three years with this group of kids and making some great friends, they will be splitting up to different elementary schools.
But his preschool has been amazing, and not only has he learned everything he needs to be ready for "reading, writing, and 'rithmetic," but my little social butterfly also has learned how to make friends and be a good friend.
So while he will miss his buddies, I know he will be fine.
And I'll be fine.
And if I'm not fine, well there's always hot fudge sauce…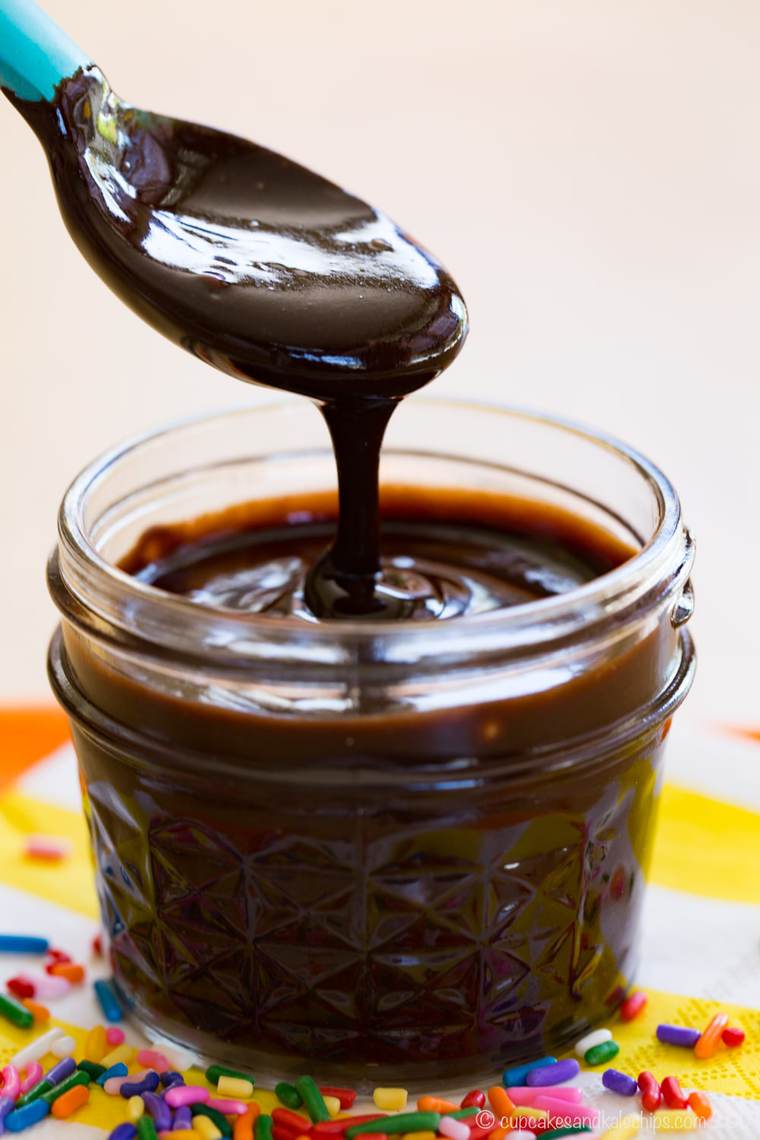 Homemade Hot Fudge Sauce
In no time at all, a batch of this homemade hot fudge sauce can be ready for drowning your sorrows or celebrating with an Ice Cream Cake Sundae Party. Or let it cool a bit and use it as the middle layer of a homemade ice cream cake.
All you need is a stove, a whisk, a pot, and a few ingredients:
Heavy cream
Cocoa powder
Corn syrup or brown rice syrup
Chocolate chips or chopped chocolate
How to make hot fudge sauce:
Whisk the cream, cocoa, and syrup together
Bring it to a boil, and let it bubble for several minutes till it gets thick.
Remove it from the heat.
Stir in the chocolate chips till everything is melty, smooth, and velvety chocolate goodness.
Hot Fudge Recipe Tips:
Since this doesn't make a huge amount of fudge sauce, I like to use a small saucepan so that is doesn't boil and burn too quickly.
I'm a classic Hershey's Cocoa Powder kinda gal but use your favorite.
If you prefer not to use corn syrup, brown rice syrup works just fine in this recipe.
Make sure you whisk your heavy cream, cocoa powder, and corn or brown rice syrup together before you put it on the heat so that everything gets evenly incorporated before it starts to bubble.
Once it is boiling, you'll only need to let it boil for 3-5 minutes or so until it starts to thicken. You'll want the consistency just a bit thinner than how you want your fudge sauce to be at the end because it will thicken when you add the chocolate.
I usually use chocolate chips because I typically always have a big bag on hand and don't want to chop up a bar if I want to make this quick. But either works fine.
Serve your hot fudge sauce right away, or store it in the refrigerator in a jar for up to a week. Just warm it up in the microwave or on the stove just till it is pourable.
You can swap the heavy cream for Irish cream (or Irish cream coffee creamer) and make Five Minute Bailey's Fudge Sauce. Just sayin'.
[amazon_link asins='B00NAU8VYY,B00B1HZAFQ,B00061EYDW,B00008WVBJ,B00WRPOXEA,B00B80TJUI' template='ProductCarousel' store='cupkalchi-20′ marketplace='US' link_id='9c9f03f9-6de7-11e8-9dd0-0bfb27d6d7c5′]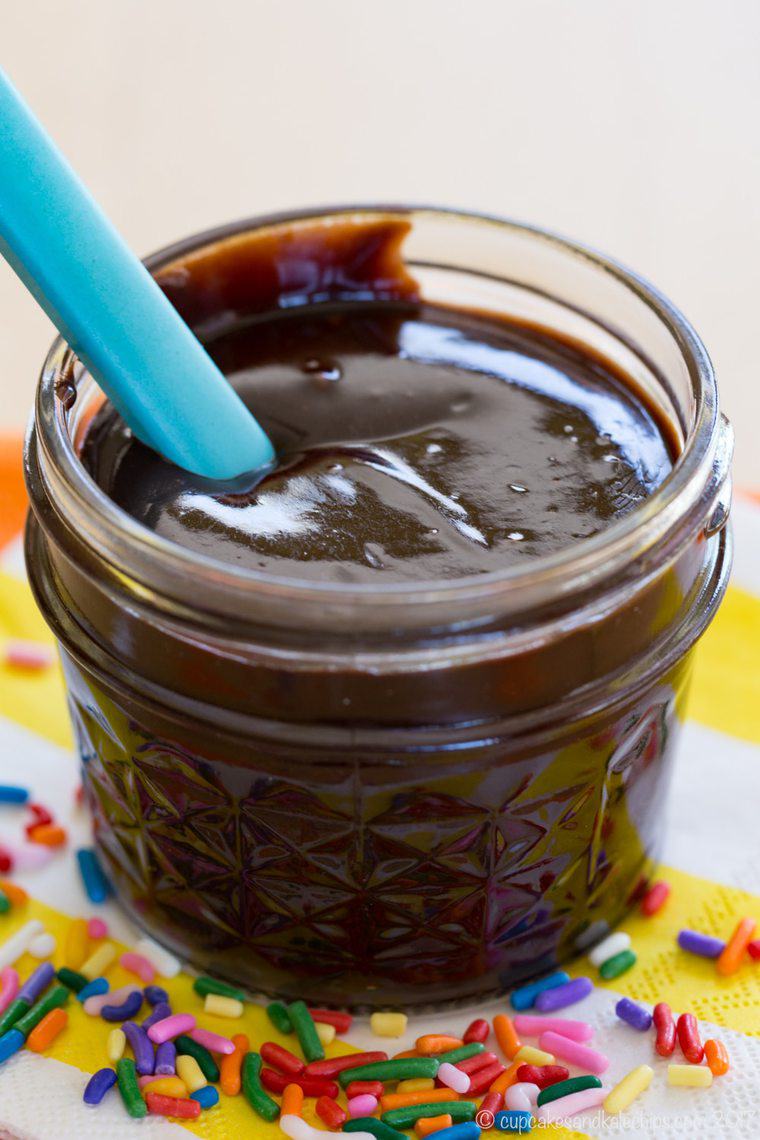 For more yumminess from me and my foodie friends, keep up with me on…
Or sign up to have Cupcakes & Kale Chips delivered straight to your Inbox!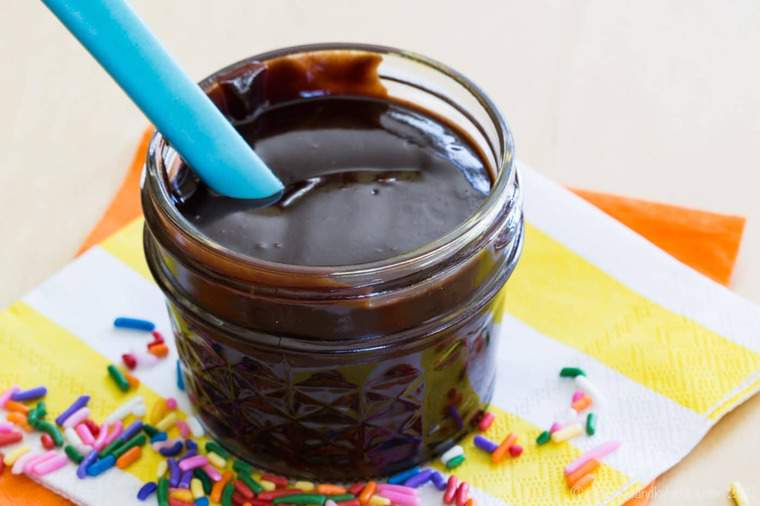 What ice cream can you use for a sundae?
Easy Hot Fudge Sauce Recipe
Thick, rich, velvety, and oh so chocolaty, this homemade fudge sauce will satisfy the most intense chocolate cravings. Whether you pour it over ice cream, use it as a luscious dip for fruit, or drizzle it on another favorite dessert, you'll never go back to the stuff from a jar. Not when you can whip this up in just about five minutes with only four ingredients. Your sundaes never had it so good.
If you make and love it, I hope you'll leave a comment and give it a FIVE STAR rating and share a photo on this pin on Pinterest!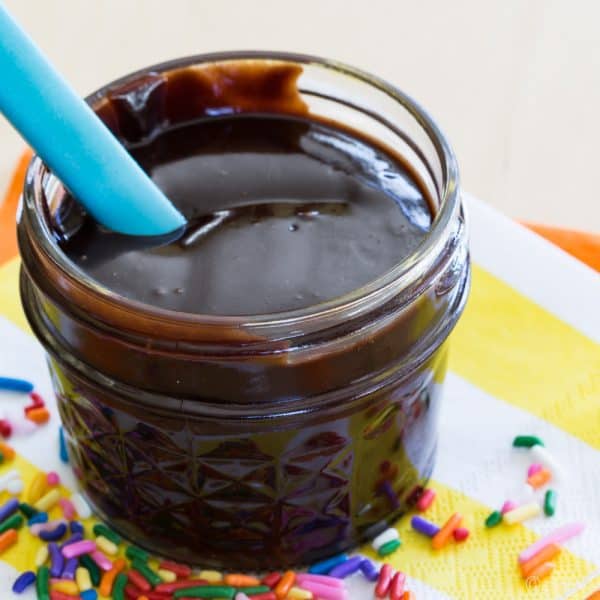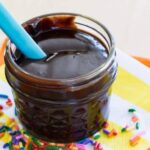 Print Recipe
Easy Hot Fudge Sauce Recipe
This easy Hot Fudge Sauce recipe is made with only four ingredients in about five minutes. With its rich chocolate flavor, you'll want to pour this homemade hot fudge over ice cream, strawberries, and more.
Ingredients
1/2

cup

heavy cream

1/4

cup

cocoa powder

1/4

cup

corn syrup

or brown rice syrup

2

oz.

semisweet chocolate,

chopped, or about 1/3 cup semisweet chocolate chips
Instructions
Whisk together the heavy cream, cocoa powder, and brown rice or corn syrup in a small pot until smooth.

Bring to a boil, stirring frequently, then reduce heat to low and simmer for about 3-5 minutes, until thickened slightly.

Remove from the heat and add the chocolate. Stir until smooth.

Cool slightly and use immediately, or store in the refrigerator. It will be thick once chilled, so you'l need to warm it in the microwave or on the stove.
Nutrition
Serving:
2
Tablespoons
|
Calories:
64
kcal
|
Carbohydrates:
6
g
|
Fat:
4
g
|
Saturated Fat:
2
g
|
Cholesterol:
10
mg
|
Sodium:
6
mg
|
Potassium:
46
mg
|
Sugar:
5
g
|
Vitamin A:
110
IU
|
Calcium:
9
mg
|
Iron:
0.4
mg
Enjoy!