Five Minute Bailey's Fudge Sauce
Disclosure: This post may contain affiliate links. Cupcakes & Kale Chips is a participant in the Amazon Services LLC Associates Program, an affiliate advertising program designed to provide a means for us to earn fees by linking to Amazon.com and affiliated sites.
Thick, luscious Irish Cream and chocolate dessert sauce that you can make in 5 minutes with only 4 ingredients!
Bailey's Fudge Sauce only needs four ingredients and a few minutes before you are ready to pour it over ice cream, drizzle on some cake, blend into a milkshake, or just eat it by the spoonful. If you have a bottle of Irish Cream liqueur or coffee creamer in your fridge, you are ready to make velvety, luscious Five Minute Bailey's Fudge Sauce.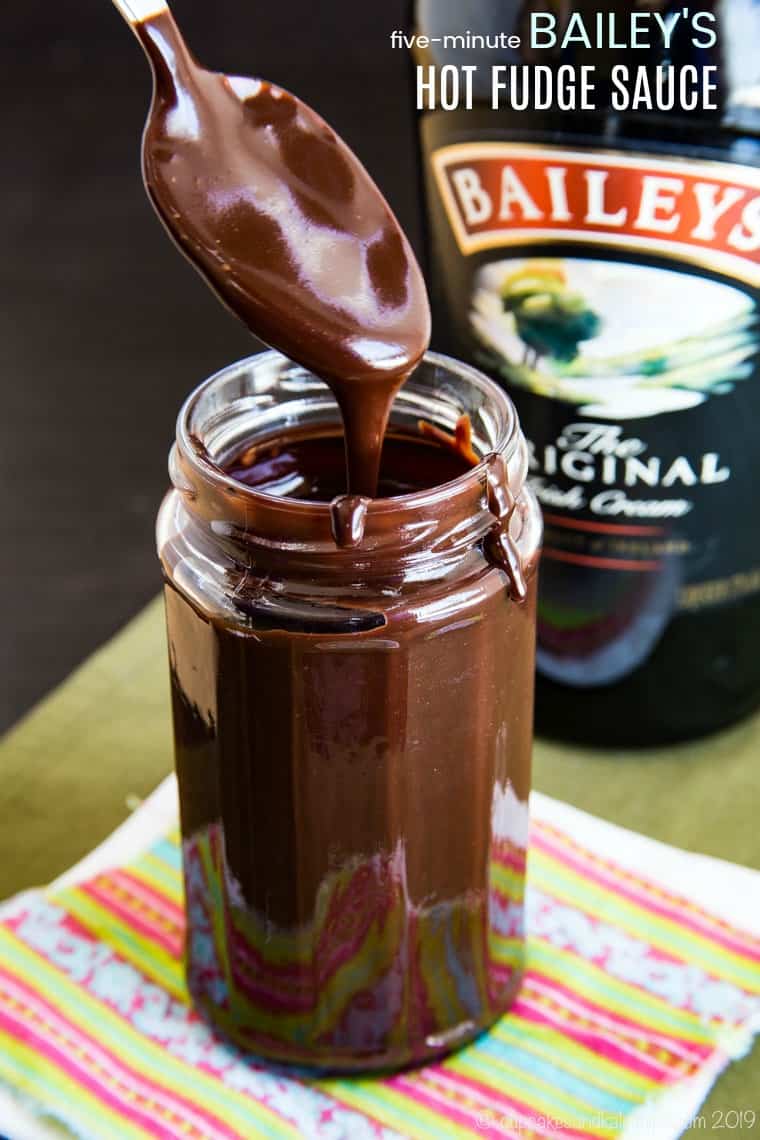 I am the world's worst typer. Case in point, as I was just attempting to type "world's", I think I hit the backspace more there are number of letters in the word. Anyone who isn't watching me and just hears the key going thinks I am a speed demon. Little to they know it's because I am pecking at the keys with my two pointer fingers, and hitting backspace every other key, meaning that my progress on completing what I'm typing is only half of what they expect based on the sound coming from my keyboard. It doesn't help that whether it's a blog post, an email, or a Facebook status, I'm unnecessarily wordy.
Really, it's pretty lame.
And seriously inefficient when you do a ton of typing for your job. Some days I seriously think I should limit my blog posts to, "Here, make this, it's yummy!", and just put a ton of photos. This actually might save me time because I also have a habit of taking eleventy billion photos and spend an inordinate amount of time obsessing over subtle differences that probably none of you would detect and deciding which ones to delete and which ones to include in the post.
Who needs photos though, when you can have a video…
OK, OK, here's a photo…
Tee hee! I also have a mental block with typing certain words, like, you know, "certain". I always flip the "a" and the "i". "Favorite" is always "favortie". My name is Brianne, so heaven forbid I have to write an email to someone named Brian. Adding the "ne" is just instinct. Well, except when I spell my own name wrong because I'm pecking at the keys so quickly that I forget the second "n". Yup, call me Briane, whoever or whatever that is.
And this stuff, well, it's chocolatey, it's rich, it's creamy and delicious, but, regardless of the fact that I spell it wrong each and every time I type the word, this, my friends, is most definitely NOT "fidge"…
But oh my, holy wow, Five Minute Bailey's Fudge Sauce is pure awesomeness.
It's so awesome, in fact, that I was tempted to make it Small Batch Five Minute Bailey's Fudge Sauce. You see, the first couple times I made it, I was just playing around a little, and didn't want to waste a ton of Bailey's if it didn't work out. But he Hubby and I loved it when we were making New Year's Eve sundaes!  When I was making the batch for the photos, I felt I should make a full jar, except I almost didn't because I felt like having a full jar around would be super dangerous. It's just that good. I could literally sit with the jar and a spoon, and if you've been around here at all, you know the ice cream addict I am.
I used Bailey's Irish Cream because it doesn't affect me with my gluten sensitivity. However, some people do react to it, so if you are gluten-sensitive, you may want to look into Carolan's Irish Cream, which I've read may be a better choice, or as an alternative you can try a rum cream liqueur Bailey's Coffee Creamer.
You could always just pour this Five-Minute Bailey's Fudge Sauce over some Vanilla Bean Cheesecake No-Churn Ice Cream, but it also can be used to make  Flourless Bailey's Fudge Swirl Brownies. It's also a fun fudgy surprise at the bottom of these Mini Irish Cream Chocolate Mousse Pies. And if you still have some Irish Cream left in the bottle, how about A Dozen Decadent Irish Cream Desserts (and they are all gluten free!).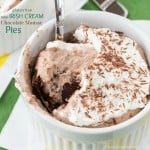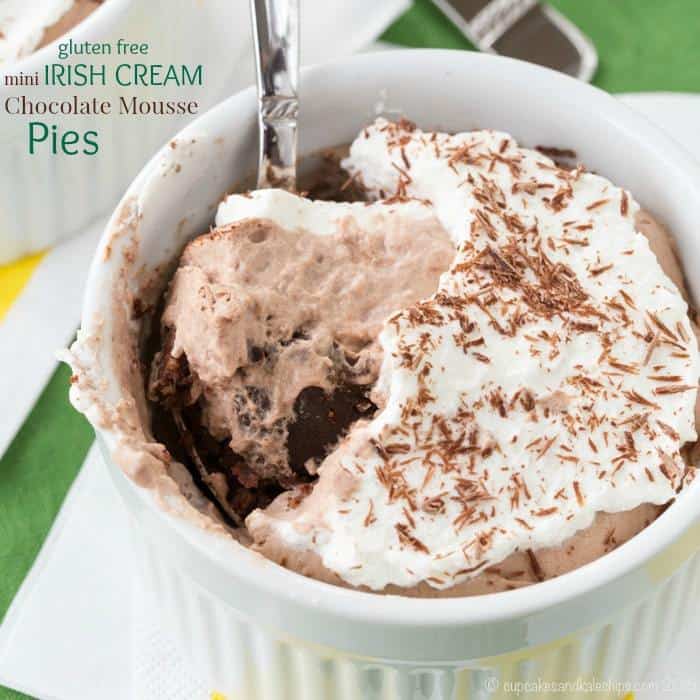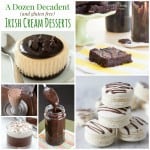 My friend Erin from Texanerin Baking also used this sauce to top her Mini Irish Cream Cheesecakes. Drizzle some in your glass before you pour in this Bailey's Chocolate Martini from Amanda's Cookin'. Or use it instead of chocolate syrup in an amazingly decadent Mudslide Dip from Inside BruCrew Life.
And if you don't want to make any of those recipes, you can just lick the spoon…
Want to chat with fellow foodies? Join my No-Fuss Food and Fun group on Facebook. Everyday we have fun topics, share recipes and ideas, ask and answer questions, and see all of my new Cupcakes & Kale Chips creations! If you'd like to check it out, you can request to join HERE.
For more yumminess from me and my foodie friends, keep up with me on…
Or sign up to have Cupcakes & Kale Chips delivered straight to your Inbox!
Do you have everything you need?
Chocolate Bars or Chocolate Chips | Cocoa Powder | Brown Rice Syrup or Corn Syrup
Here's the Five Minute Bailey's Fudge Sauce recipe…
Print Recipe
Five Minute Bailey's Fudge Sauce
Thick, luscious Irish Cream and chocolate dessert sauce that you can make in 5 minutes with only 4 ingredients!
Ingredients
1/2

cup

Bailey's

or other Irish Cream Liqueur or Irish Cream-flavored coffee creamer

1/4

cup

unsweetened cocoa powder

1/4

cup

brown rice syrup

or corn syrup

2

oz.

semisweet chocolate

chopped, or about 1/3 cup semisweet chocolate chips
Instructions
Whisk together the Bailey's, cocoa powder, and brown rice or corn syrup in a small pot until smooth.

Bring to a boil, stirring frequently, then reduce heat to low and simmer for about 3-5 minutes, until thickened slightly.

Remove from the heat and add the chocolate. Stir until smooth.

Cool slightly and use immediately, or store in the refrigerator. It will be thick once chilled, so if you want it pourable, you may need to warm it slightly.
Notes
Recipe yields about 1 cup of fudge sauce.
Nutrition
Serving:
2
tbsp
|
Calories:
123
kcal
|
Carbohydrates:
16
g
|
Protein:
1
g
|
Fat:
5
g
|
Saturated Fat:
2
g
|
Sodium:
8
mg
|
Potassium:
81
mg
|
Fiber:
1
g
|
Sugar:
11
g
|
Calcium:
1.5
%
|
Iron:
4.6
%
Want some more St. Patrick's Day desserts?