Mint Chocolate Chip Popcorn
Disclosure: This post may contain affiliate links. Cupcakes & Kale Chips is a participant in the Amazon Services LLC Associates Program, an affiliate advertising program designed to provide a means for us to earn fees by linking to Amazon.com and affiliated sites.
Mint Chocolate Chip Popcorn is an easy snack recipe that will remind you of sunny day ice cream treats. It's super fun to make and eat with your kids (or for yourself), and it's actually a healthy snack. Popcorn is a whole grain and naturally gluten free. And the glaze is made with just a bit of honey. Also, a few simple swaps even make it vegan. So get ready to "churn" out some Mint Chocolate Chip Glazed Popcorn for your gluten free St. Patrick's Day!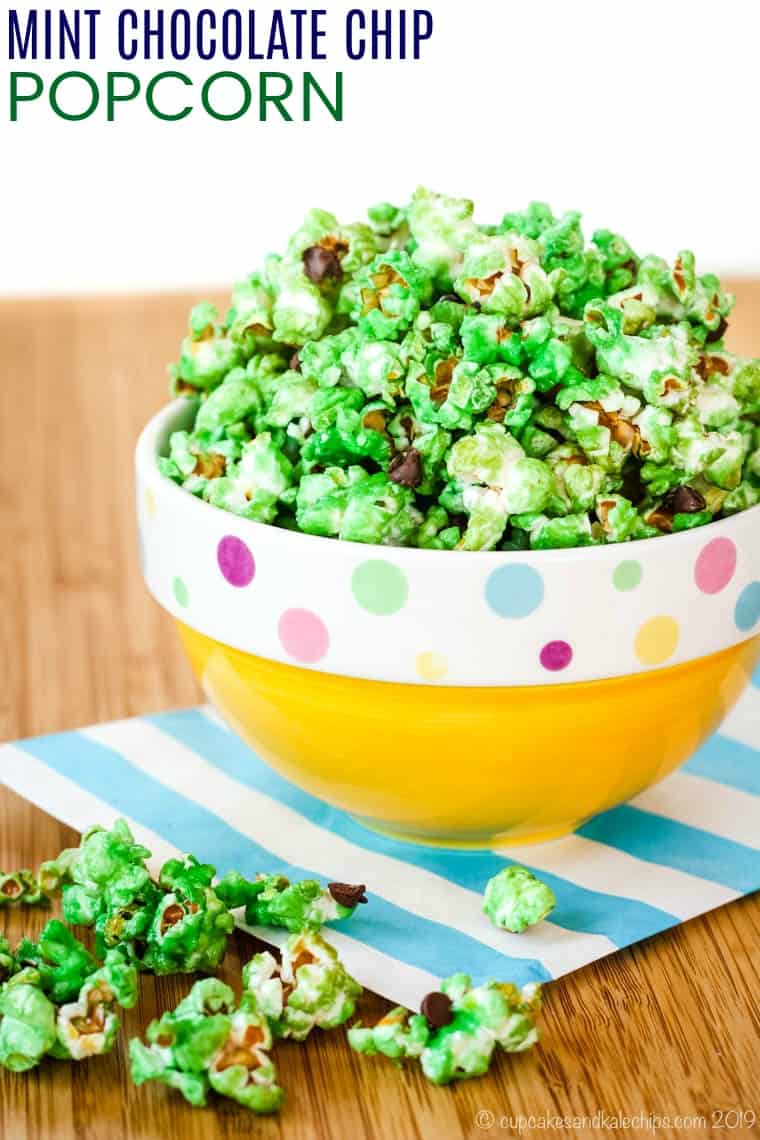 Actually, I'm trying to fool myself. You see, I have a serious ice cream addiction. Physical, psychological – I NEED the stuff! Summer, winter, hot and steamy, cold and snowy – it doesn't matter. How many servings does it say you should get out of a carton? Eight or ten or twelve or something – not even close. I try to get through most of the week with smoothies or yogurt, but by Friday or Saturday (or both), I'm either making a late night run to the grocery store or Carvel. Or sending The Hubby. And I'm not talking about a small dish of vanilla. Bring on the Sundae Dasher!! If I get a little cup, I'm looking for more.
And yeah, I gave it up for Lent.
I'm dyyyyying here, people. People accuse me of cheating because I'm making banana "ice cream" or parfaits and stuff. But while that helps me get by, it's soooo not the same. I am practically getting the shakes as I write this because I am craving it so badly. Forget ham and kielbasa and Syrnyk Sweet Ukrainian Easter Cheese and Ukrainian Easter Bread (our usual Easter fare). For me, I'll be celebrating Easter Sundae!
So, you know, Mint Chocolate Chip…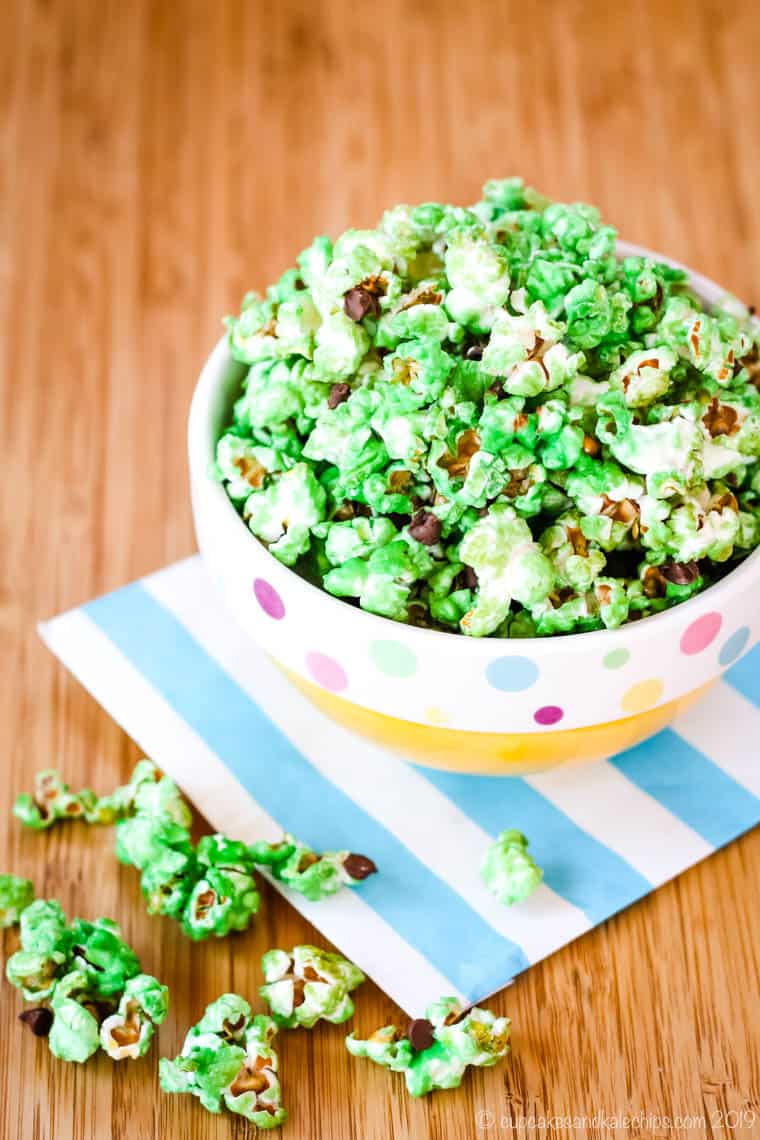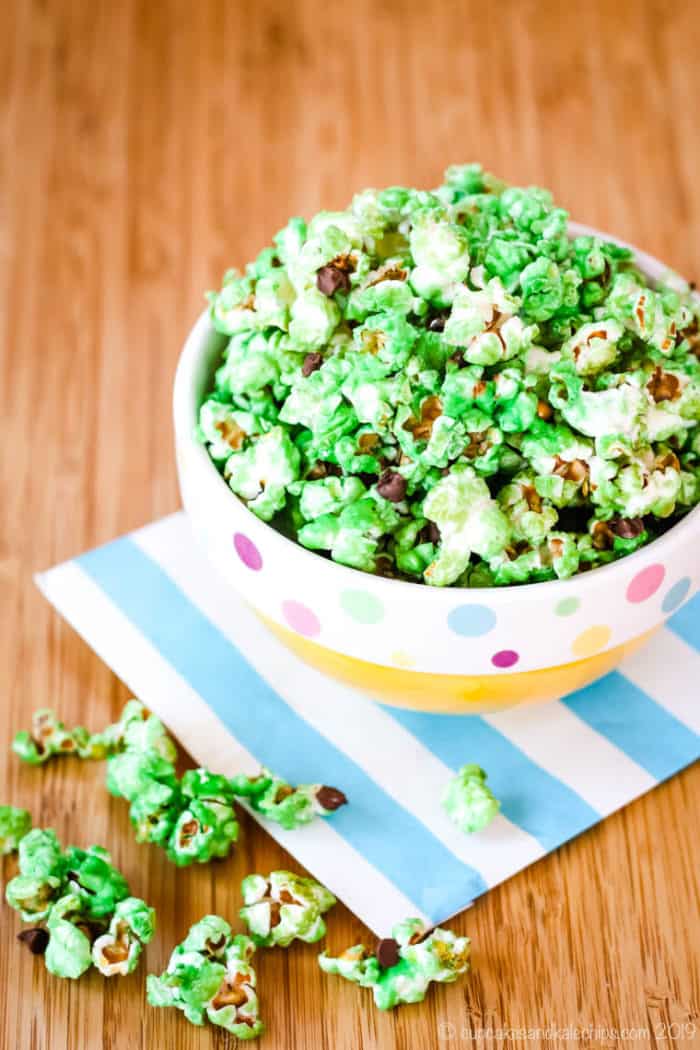 Mint Chocolate Chip Glazed Popcorn
This mint chocolate chip popcorn is so much fun. Plus it is super simple to make. Plus, green popcorn is a fun St. Patrick's Day treat. If you double the batch, you'll have plenty to fill little bags or leprechaun gold pots for your kids' class parties.
How do you make green popcorn?
I don't know about you, but when I think mint chocolate chip, it really just has to be green. So when making the glaze, you just need to add a drop or two of food coloring in order to get a fun and whimsical green color.
Pop your popcorn. You can use kernels that you pop in an air popper or in the microwave. I place a quarter cup in a glass bowl, cover with a plate, and microwave until almost all the kernels are popped. This takes about 4 to 6 minutes. You can also use a bag of microwave popcorn, but be sure to use a natural variety without butter and salt.

In a small pot, melt together the honey and butter, then stir in vanilla, mint extract. and food coloring.

Drizzle mixture over popped popcorn and gently stir until evenly coated.

Spread popcorn into a single layer on a baking sheet and bake at 325°F in 3- to 5-minute intervals until the popcorn is nearly dry and glazed.

Let cool partially, sprinkle with chocolate chips, then let cool completely.
Is food coloring safe?
Food coloring is FDA approved as safe for consumption, and this entire recipe only requires a tiny bit. However, many people are concerned about consuming any amount of food dyes. Luckily there are many natural food coloring options now available.
[amazon_link asins='B01E6OLE64,B074B2DW1Q,B07778VWVR' template='ProductCarousel' store='cupkalchi-20′ marketplace='US' link_id='84d5a705-5589-4ca0-95da-bcafb0a6b095′]
Is popcorn healthy?
Popcorn is, in fact, a whole grain. So in an of itself, it is actually a healthy food to eat. When popped with air or just a touch of oil, it's actually quite low in calories, with only about 30 calories per cup. Popcorn only becomes unhealthy when you drown it in a lot of butter and salt, like in the movie theater, or add a ton of sugar like more caramel popcorn you can buy or make.
This lightly glazed popcorn is made with just a bit of butter and honey to sweeten it up. And I also used mini chocolate chips. These scatter around so much that you only need a little bit to really get lots chocolaty bits throughout.
Is Mint Chocolate Chip Popcorn gluten free? Is this a vegan popcorn recipe?
Popcorn is gluten free and vegan. The glaze ingredients are gluten free, just be sure to verify that your green food coloring, vanilla and mint extracts, and mini chocolate chips are gluten free. Nestle Toll House Mini Chocolate Morsels are gluten free, as are the food colorings and extracts from McCormick.
For vegan popcorn, you can use vegan butter or coconut oil and agave in place of the butter and honey. Then just be sure to pick up some dairy free mini chocolate chips, like the ones from Enjoy Life.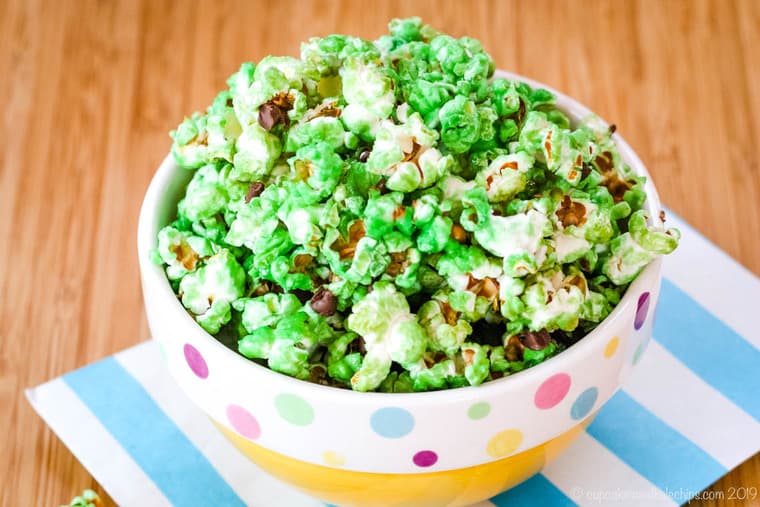 For more yumminess from me and my foodie friends, keep up with me on…
Or sign up to have Cupcakes & Kale Chips delivered straight to your Inbox!
Mint Chocolate Chip Popcorn Recipe
This glazed popcorn is perfectly reminiscent of mint chocolate chip ice cream. It has a light, minty flavor with the little pops of chocolate from the mini chips scattered throughout. Make up a batch for an after-school snack and dream of sunny days. Or double the batch to share with friends or serve at a St. Patrick's Day party. Whatever you do, just try this easy, fun, and yummy green popcorn recipe!
I hope you'll leave a comment and give it a FIVE STAR rating or share a photo on this pin on Pinterest!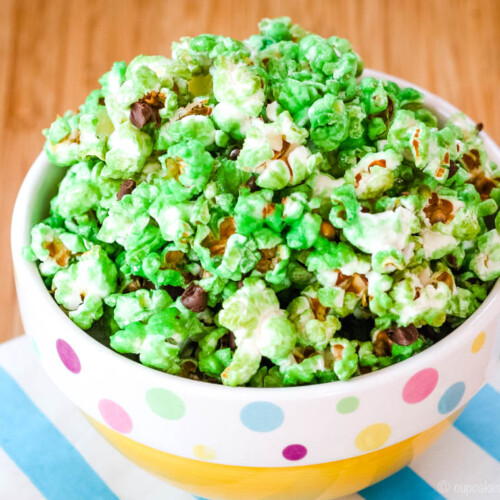 Print Recipe
Mint Chocolate Chip Popcorn
This healthy snack recipe reminds you of your favorite ice cream flavor, but it's actually whole grain and gluten free! An easy recipe that's as fun to make as it is to eat.
Ingredients
Instructions
Preheat oven to 325°F and line a baking sheet with a silicone mat or parchment paper. Place popcorn in a large bowl.

In a small pot, combine honey and butter or coconut oil over low heat, and stir until melted and smooth.

Remove from heat and stir in vanilla, mint extract and food coloring (if using).

Drizzle mixture over popped popcorn and gently stir until evenly coated. This may take a couple of minutes to ensure the glaze is evenly distributed.

Spread popcorn into a single layer on prepared baking sheet.

Bake for 5 minutes, remove from the oven and stir, then spread back out into a single layer.

Return to the oven and bake in 3 minute intervals, stirring each time until the popcorn is nearly dry. You will probably need two or three more 3 minute intervals. Be careful to avoid burning the popcorn.

Remove from the oven, let cool for a couple minutes, then use a spatula to push the popcorn pieces close together. Carefully sprinkle the chocolate chips over the popcorn, trying to keep most of it on the popcorn and not falling through and landing on the baking sheet (some will, which is okay). The chips will slightly melt and adhere to the popcorn.

Allow to cool completely, until the chocolate chips have resolidified. Popcorn will continue to harden as it cools. Store in an airtight container, if it lasts that long.
Notes
You can pop your own in the microwave or air popper without any oil or butter, or if you use microwave popcorn, use the plainest kind you can find, usually labeled "Natural". I like this technique.
Nutrition
Serving:
0.5
cup
|
Calories:
81
kcal
|
Carbohydrates:
12
g
|
Fat:
3
g
|
Saturated Fat:
2
g
|
Cholesterol:
7
mg
|
Sodium:
2
mg
|
Potassium:
18
mg
|
Sugar:
7
g
|
Vitamin A:
100
IU
|
Calcium:
2
mg
|
Iron:
0.2
mg
Enjoy! Originally published on Apr 1, 2014.