Chunky Monkey Energy Balls
Disclosure: This post may contain affiliate links. Cupcakes & Kale Chips is a participant in the Amazon Services LLC Associates Program, an affiliate advertising program designed to provide a means for us to earn fees by linking to Amazon.com and affiliated sites.
Chunky monkey energy balls are loaded with chunks of dark chocolate and walnuts, sweet bananas, and a few superfoods, too! We all love quick and easy snacks that are still healthy and super yummy, so how about healthy no-bake snacks inspired by a famous ice cream flavor? Everyone will go ape over Chunky Monkey Energy Balls.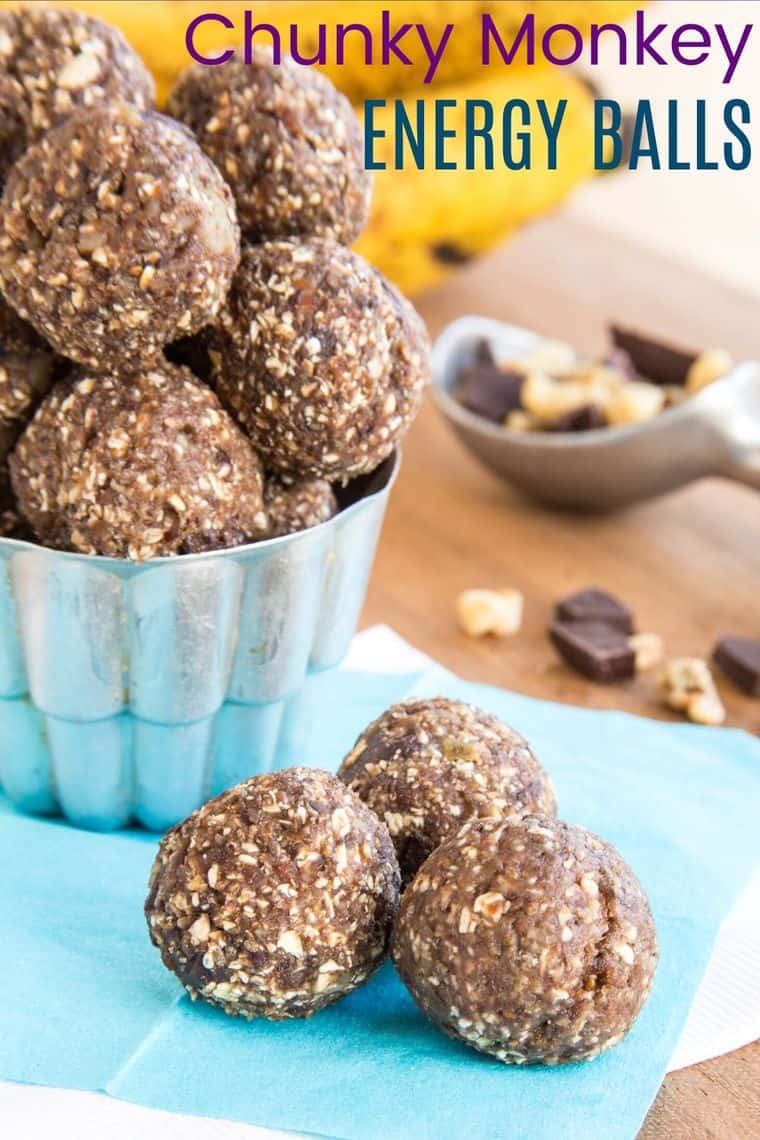 Sorry to do this to you guys, but silly name for a recipe, serious topic. And a long post.
If you want the chunky monkey energy balls recipe and not the nitty gritty, scroll on down.
But April 19-25th, 2015 is National Infertility Awareness Week. Every year I intend to share my story, hoping that maybe, just maybe I can in some small way help bring a little comfort to someone going through this challenging process. And every year I don't realize it's NIAW until, like, Thursday, and then it's too late. Luckily Sunday night I saw Dorothy share her post (and some decadent dessert-for-breakfast deliciousness that you must check out), and I hadn't written up today's post yet, so I knew it was time.
Many of you know that I have two little boys. Well, there was a time when I didn't think that was going to happen. Then there was a time where I was pretty much convinced that The Bug was going to be an only child. And I felt completely alone. Sure, I had friends and family, and of course my husband, but I still felt alone. None of the women in my family ever had any trouble getting pregnant. My mom had a few miscarriages, so really that was always my fear. Most of my friends had one, if not two kids by the time I was ready to start trying for my first. The Hubby was my rock, but as much as we were a team, he didn't know what it felt like to feel broken (he wasn't broken – we checked), to be a woman who just didn't work right.
You see, when we decided were ready for children, I stopped taking the Pill, and that monthly visitor who came like clockwork stopped coming. And I'm not talking irregular, like before I started taking the Pill. I'm talking never. Ever. For six months. My OB/GYN ran a bunch of blood tests, and while some numbers were not exactly optimal, they weren't in any range for a clear diagnosis. Then when he did an ultrasound, there was what looked like a small sac in my uterus. So at this point he was convinced I actually was pregnant, and immediately ordered a blood pregnancy test.
Yeah, not so much. And that little sac, a few days later – gone. What it was, we will never know, but I strangely felt like I lost a baby I never even had. What he also saw on that ultrasound, though, were little cysts on my ovaries, so even though I didn't have all of the markers, I was labeled as PCOS – polycystic ovarian syndrome.
And so began the fertility drugs – Clomid to be exact. Oh my gosh, does that stuff cause some mood swings. It was not pleasant. For a few months, it was also not working. I would develop all of these little follicles, but none would be large enough to release an egg. So the dose went up and up and up, and my moods and emotions and anxiety ran rampant. I remember clearly one night I absolutely lost it on The Hubby for probably the dumbest little thing ever. Then I broke down crying and he just hugged me.
Finally, after several months, I had a follicle that was large enough to release an egg, so I was injected with a hormone to help release the egg and we were off to the races. Which sounds all fun and stuff, but not to get to detailed, being on-the-clock, if you know what I mean, is not really all it's cracked up to be.
But after the emotional and hormonal roller coaster, a week later I found out I was pregnant! And in May, The Bug entered the world!
But that was only Part 1 of infertility. My period – nope, still never came back. I was with a new OB group, and they didn't help with infertility support like my old one, so I had to go to infertility specialists. More consultations, more poking and prodding, morning after morning of blood tests and ultrasounds, three more rounds of Clomid and no luck. We decided to take a break. I had some cysts that did not want to shrink back down right away, so pumping more drugs into my system was not recommended. It was summer and I just wanted to relax, drink wine, have fun with The Bug. We would come back in the fall, and at that time would likely be looking at making a decision to try IUI or, even though I was not comfortable with it, IVF. I really just had to shut down my brain for awhile, because I was just not ready to handle it and make those decisions.
Late in the summer, we spent a week at Virginia Beach. I was cranky as anything, and when we got home, my stomach felt horrible. I attributed it to bad vacation eating habits. Looming a week out was our appointment to start back up with the treatment cycles. I met with the doctor, talked about our strategy, had some blood drawn, and went for the baseline ultrasound. And guess what they saw. Nope, not a mystery sac this time – it was a real one. Blood tests confirmed a few days later that I was pregnant. I was closely monitored for several weeks, but everything was progressing nicely, as evidenced by my increasing nausea. It definitely wasn't an upset stomach after vacation.
The following March, my miracle baby, aka Baby Smiles, aka King Stuff, aka Little Dude was born!
To this day, I have no idea what happened. I cut gluten out of my diet for that month or so, since I had been diagnosed with the wheat allergy after The Bug was born. I thought perhaps the inflammation in my body was causing problems. I let go of the stress for a while. I guess I still had some of the residual Clomid in my system, maybe prompting my hormones to cycle the way they were supposed to.
But really, what does it matter? Our family is complete. No, we are not going to try for a girl. I love my boys. I truly feel that, even though I always dreamed of having a girl, I'm meant to be the mom of boys.
Though our story has a happy ending, my exact situation still made me feel alone. First, I couldn't get pregnant, so I wasn't like my friends and all of those millions of "normal" women out there. I also didn't have to endure as much as those strong and brave women who go through IUI or IVF, so I almost felt like I didn't rank high enough in the infertility world. My journey was not as hard as those women, so who was I to deserve sympathy, empathy, all of that. It's not like I went through years of doctors and shots and pills and procedures. Just months. Come on, even couples who get to do everything the natural way still take months. But that's not easy, either. So as a friend of mine said to me once, just because someone else is going through something harder, that doesn't mean that what you are dealing with doesn't suck. And though I try not to use that kinda crass language, there is no sugar-coating it – infertility sucks.
So what I want to tell you is that wherever you fall on the infertility spectrum, yes, it does suck, and no, you are not alone. Someone has been there. Whether it's just taking a longer time to conceive than you expected, you need a few rounds of Clomid, have to take the route of IVF, or even that has not been successful and you decided to adopt or make the decision to be a happy family of two, someone out there is ready to hug you and tell you that they understand. If you ever want to reach out to me for a virtual hug, I'm here. I know how hard it is.
It wasn't an easy road, and I'll be honest, it still isn't. Two crazy active preschoolers who have the combined stubbornness and independent nature of both of their parents makes for some challenging days. There are those times where I throw my hands up in the air and wonder why I went through all that I did. But to hear The Bug utter his new favorite phrase, "Mommy, I will never stop loving you," or to see the look of sheer glee and excitement when I show up to pick the Little Dude up at school and he runs over with his arms outstretched, or to delight in watching them learn new skills like how to hit a ball or count to ten in Korean while practicing karate or put words together to form sentences of ever-increasing length remind me that every early morning blood draw, every pill I had to swallow, every bit of disappointing news were all just little bumps in the road that led me to exactly where I am supposed to be – I am the mom to these two amazing little boys!
And if I didn't have them, I wouldn't have wanted to simultaneously bust out laughing and crawl under the table when I opened a container of chunky monkey energy balls at the park, and the boys proceeded to shout, at the top of their lungs, "MONKEY BALLS, MONKEY BALLS, MONKEY BALLS!!"…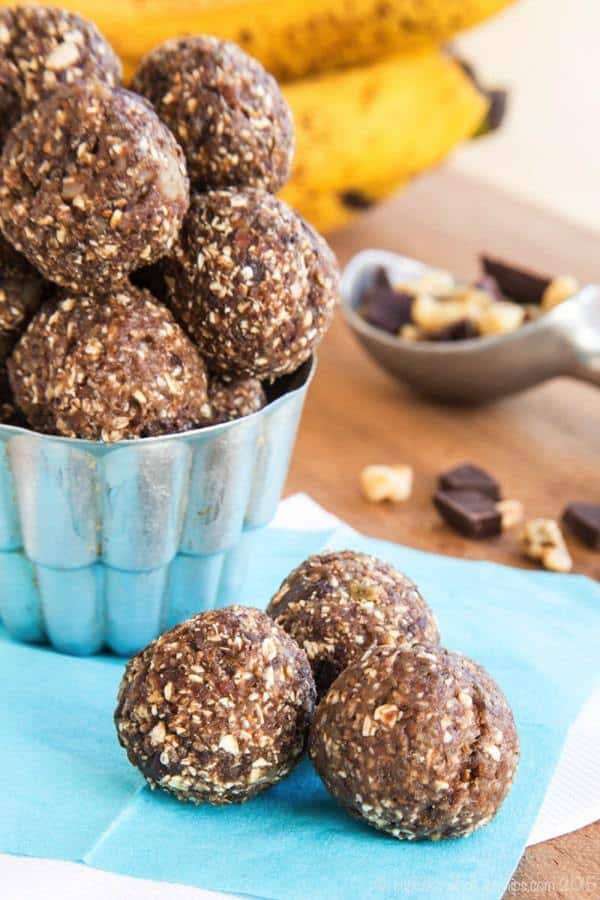 But not just any monkey balls. These Chunky Monkey Energy Balls are inspired by that amazing ice cream flavor of the same name.
They are made with bananas and vanilla extract to mimic the ice cream base, then filled with chunks of chocolate and walnuts. And of course there are plenty of superfoods in there, like oats, flax seed, and chia seeds, in addition to the antioxidants and omega 3's you get from the dark chocolate and walnuts. Plus they are gluten free, dairy free, and vegan. And they taste amazing! What's not to love?!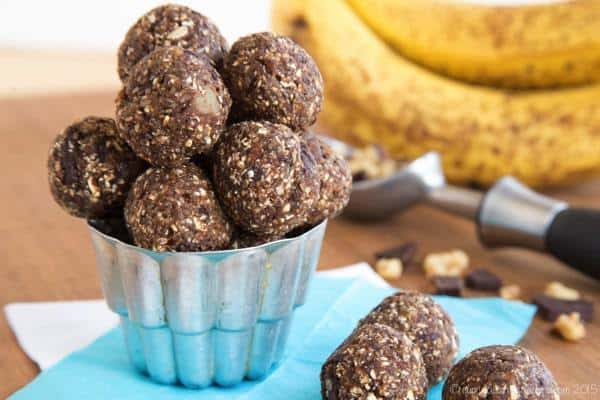 Print Recipe
Chunky Monkey Energy Balls
Inspired by an indulgent ice cream flavor, these healthy bites will be everyone's new favorite snack.
Servings:
24
energy balls
Ingredients
1

cup

pitted dates

1

very ripe banana

1

teaspoon

vanilla

pinch

salt

¾

cup

uncooked oats

gluten free, if needed

2

Tablespoons

ground flax seed

or flax meal

2

Tablespoons

chia seeds

¼

cup

chopped walnuts

2

oz

dark chocolate

broken into pieces (vegan, if needed)
Instructions
Combine all of the ingredients except the walnuts and chocolate in a food processor and process until it forms a paste, adding more oats if the mixture is too soft.

Add the walnuts and chocolate and pulse a few times to incorporate and slightly break up the chocolate and walnuts without chopping them too fine.

Using about a tablespoon of the mixture at a time, roll into balls.

Store in the refrigerator until ready to eat.
Nutrition
Serving:
1
piece
|
Calories:
61
kcal
|
Carbohydrates:
9
g
|
Protein:
1
g
|
Fat:
2
g
|
Sodium:
1
mg
|
Potassium:
98
mg
|
Fiber:
1
g
|
Sugar:
5
g
|
Vitamin A:
5
IU
|
Vitamin C:
0.4
mg
|
Calcium:
14
mg
|
Iron:
0.6
mg
Here are a few more snacks I love to make for my boys…
Plus some healthy snacks from my friends…