Pumpkin Spice Chocolate Chip Energy Balls
Disclosure: This post may contain affiliate links. Cupcakes & Kale Chips is a participant in the Amazon Services LLC Associates Program, an affiliate advertising program designed to provide a means for us to earn fees by linking to Amazon.com and affiliated sites.
Pumpkin spice chocolate chip energy balls have your favorite fall flavors with little bursts of chocolate, all in healthy no-bake snacks. These bite sized energy balls pack in healthy goodness, are gluten-free, nut-free, and can be made vegan. These treats are one of the best gluten-free pumpkin recipes to make this Fall!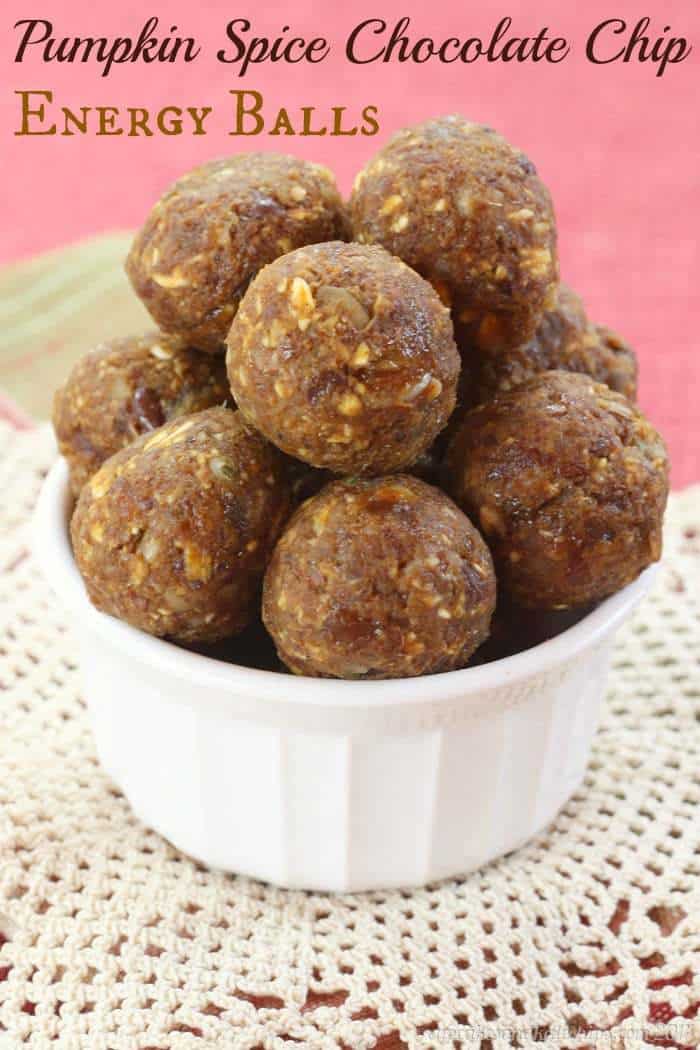 Fall is my favorite season. Watching the leaves slowly change color and begin to drop off the trees as I take leisurely walks through the neighborhood. The little guy going back to school so that I have a couple hours a day to run some errands, do some chores, sit around and procrastinate on Facebook. Weekends spent roaming through apple orchards, tromping through pumpkin patches, or curled up on the couch with a bowl of chili, a bottle of hard cider, and a lineup of college football games on TV all day. Brainstorming ideas and gathering supplies for Halloween costumes. Pumpkin recipes coming out of my kitchen left and right.
Yeah, not this year. Why, you ask? Well, I'll tell you…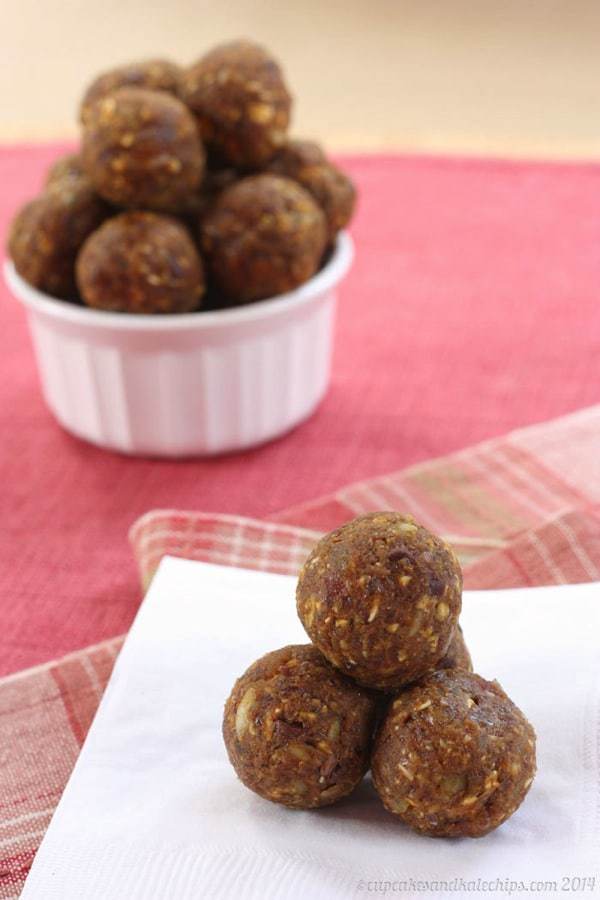 First of all, it's been so dry that it is barely mid-September and the leaves have gone from green to brown to on the ground in the span of a week. And leisurely walks? HAH! If I do make it out onto the sidewalk, it is usually with The Bug on his bike, and that goes something like this – pedal, pedal, swerve, slow down, get stick on huge bump on side walk, ooooh leaves, pedal, stop , pedal, STICKS!!!!, pedal, pedal, turn around, get stuck on grass, pedal, TREEEES!!, stop, stuck again, MORE LEAVES! MOMMY, CAN I PLEASE TAKE THIS LEAF HOME, pedal, stop, pedal pedal, stop.
And we've made it about half a block. I don't envision the Tour de France i this kid's future.
Both boys are in school or daycare at least a few days a week, so I basically drive around in circles doing drop-offs and pick-ups, and during the time I am home, I am frantically packing and cleaning and staging since we are T-minus one week from our house going on the market, and less than that before we have to have photos taken that don't reflect the fact that two little boys and food blogger trash the place on a daily basis.
And then I have to keep it looking that way.
 I'll be spending my weekends roaming through new neighborhoods in a new state, tromping through house after house after house because this one has a yard the size of a postage stamp or that one isn't in a good school district, or this one doesn't have a gas stove or that one doesn't have good natural light in a room adjacent to or fairly near the kitchen.
#foodbloggerproblems
The kid wants to be Spy Mouse. Spy what?! Spy Mouse. A game on his Kindle that he plays all of 20 minutes a day, and yet it has overtaken his life. He talks about it all the time, creates tag-type games based on it, wants to make Spy Mouse a cheesecake for his birthday. A KINDLE GAME! Not a movie, not a show, not a book, not a character that exists anywhere other than a KINDLE GAME! Gray sweatsuit + mouse ears = Halloween costume. King Stuff is going to get dressed up as cheese. Kind of ironic since the kid hates cheese. Whatever.
Done and done!
In the midst of all of this, I'm lucky I have had time to open a can of pumpkin. Forget baking. Guess what?!
You get pumpkin spice chocolate chip energy balls…
#sorrynotsorry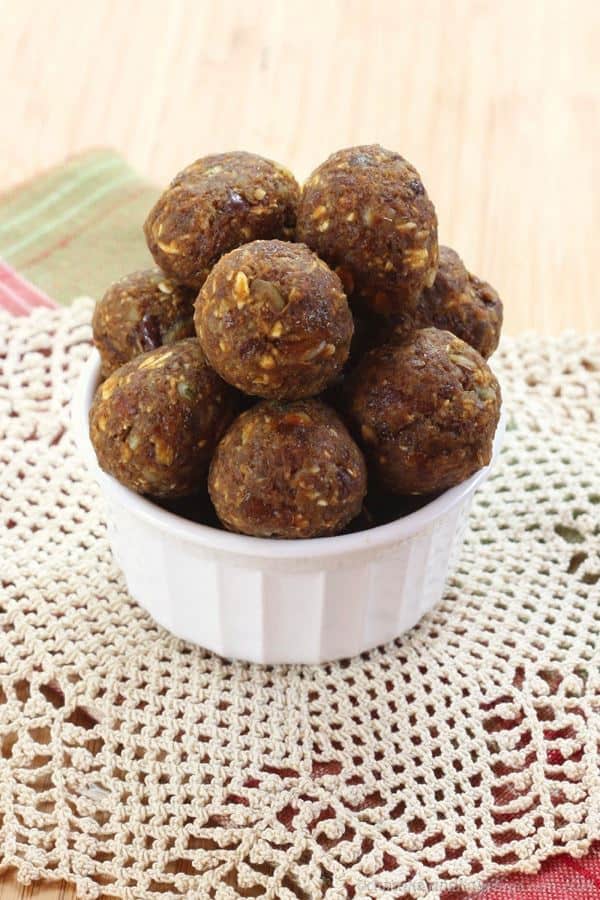 So my little guys have been obsessed with energy bars and energy balls, and these Pumpkin Spice Chocolate Chip Energy Balls are no exception. With the natural sweetness from dates, a bit of warmth from pumpkin pie spices like cinnamon and nutmeg, and of course the pumpkininny goodness and just teensy little bursts of chocolate, which remarkably pairs so well with pumpkin, these are a big hit.
Because of all the craziness going on, I've made a bunch of snacks I can easily grab and hand to them if they need a little more of something in their bellies after their morning yogurt with fruit. Or, if we are on our way out the door right when they are starting to get hungry for an afternoon snack. I've also been making more nut-free munchies to send to school with The Bug. You'll be seeing all of the recipes coming up soon, since they have been staples in our house the past couple weeks. Even King Stuff has added "bar" and "ball" and "snack" to his ever-growing vocabulary, and will stand outside the fridge and use his new favorite words.
Repeatedly…
Speaking of the fridge, you're probably going to want to keep the pumpkin spice chocolate chip energy balls in the refrigerator. Since these have pumpkin puree, whereas my other versions were made exclusively with dried fruit, these are a bit softer.  But I didn't want to add more of the dry stuff, because I wanted to keep that pumpkin flavor in the forefront, not muddled by other ingredients. Not that they aren't chock full of all kinds of healthy goodness.
There are pumpkin seeds for protein, but still keeping them nut-free, oats for whole grains, flax seeds for omega 3's, and chocolate, because well, chocolate. Use gluten free oats if needed, vegan chips (or omit entirely or use cacao nibs) for vegan, and you have a snack anybody and everybody will happily devour!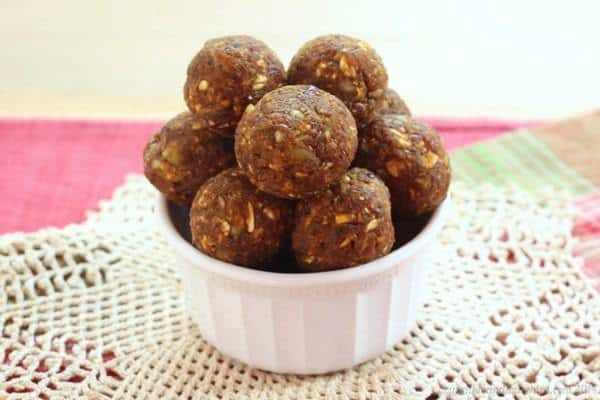 Here are a couple of items you'll need to make Pumpkin Spice Chocolate Chip Energy Balls:
These are affiliate links, meaning that the cost to you is the same, but if you click and make a purchase, I will receive a few pennies. I use the money to help maintain this website and to bring you new recipes!
[amazon_link asins='B008J8MJIQ,B012CWGDIQ' template='ProductCarousel' store='cupkalchi-20′ marketplace='US' link_id='ec6cb41a-8c18-11e7-966a-b17958dfa866′]
What is your favorite thing about fall?
Never miss one of my Yummy Eats or Tasty Sweets! Sign up HERE to have Cupcakes & Kale Chips delivered to your Inbox!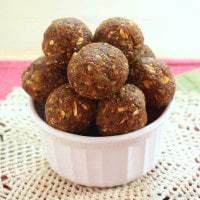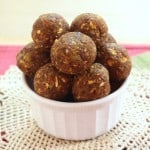 Print Recipe
Pumpkin Spice Chocolate Chip Energy Balls
Your favorite autumn flavors of pumpkin spice with little bursts of chocolate packed into quick, easy, and bite-sized healthy snacks.
Ingredients
1

cup

pitted dates

1/2

cup

pumpkin puree

not pumpkin pie filling

1/2

cup

uncooked oats

gluten free, if needed

1/4

cup

ground flax seed or flax meal

1

teaspoon

pumpkin pie spice

1/4

cup

raw pumpkin seeds/pepita

2

Tablespoons

mini chocolate chips

vegan, if needed
Instructions
Combine all of the ingredients except the chocolate chips in a food processor and process until it forms a paste.

Stir in the chips.

Using about a tablespoon of the mixture at a time, roll into balls.

Store in the refrigerator until ready to eat.
Enjoy this Pumpkin Spice Chocolate Chip Energy Balls recipe!
Want some more pumpkininniness? (Is that a word?)
And here are some from my friends…