This post may contain affiliate links. Read my disclosure policy.
Pineapple coconut energy balls are the perfect lunchbox snack. These healthy no-bake snacks are gluten free, dairy free, nut free, and vegan. It only takes minutes to make this sweet and yummy Pineapple Coconut Energy Balls recipe.
Disclaimer: This recipe was developed through a sponsored partnership with Dole. As always, all opinions are my own.
When I post pictures of The Bug's Lunchbox on Instagram, people seem to assume I have some master strategy for school lunch preparation. They think that I am organized I how I plan out the weekly lunch menu, and maybe even prepare the week's lunches in advance, giving me time to snap photos that I leisurely post during the week.
False!
Truth is, either right before I get The Bug from the bus stop or while I am making dinner, I pull out the [amazon_textlink asin='B071R97Y8Z' text='lunch containers' template='ProductLink' store='cupkalchi-20′ marketplace='US' link_id='6cd1c73c-8440-11e7-a871-aff2fcdccbfe'], open the fridge and pantry, and scramble like a maniac to attempt to pull together a lunch that has a reasonable balance of fruits and veggies, protein, and whole grains. But it also has to keep my little human garbage disposals satisfied, which means it also has to be stuff they like to eat. And I think it's important to have variety, mainly so that as they get older, they don't get into a rut of wanting PB&J everyday. I figure since I really have no idea what I'm doing, the best way to make sure they are getting all of the vitamins and minerals and nutrients their growing bodies need is to make sure I'm always switching things up.
But my chaotic approach is exactly why I continue to share these lunches with all of you, not only on Instagram, but on Facebook as well. To show that anyone can put together healthy, fun, and varied lunches for your kids. And they don't have to be cut and assembled to look like dinosaur landscape or a butterfly garden or a van Gogh reproduction.
That's not to say I don't have a few strategies. When I go to the grocery store, I make sure I have certain staples on hand. For veggies, my fridge is stocked with carrot sticks (which I usually steam for Little Dude since he isn't into crunch ones yet), cucumbers, grape tomatoes, and lettuce, and I have sugar snap peas in the freezer. I'll make sure I have either whole grain or [amazon_textlink asin='B00CY1B3R2′ text='gluten free crackers ' template='ProductLink' store='cupkalchi-20′ marketplace='US' link_id='aa85d42d-8440-11e7-ac1d-7d1643519fb8′]and sometimes tortilla chips or popcorn in the pantry, and whole wheat bread, flatbreads, bagels, or pitas in the bread basket.
The fridge always has turkey, a variety of cheeses, yogurt and cottage cheese, and eggs, which I hard boil about once a week, plus peanut butter for The Bug and sunflower seed butter for Little Dude since his classroom is peanut-free. Sometimes there's leftover chicken from dinner. Then there's always a good supply of nuts, cereals, and dried fruits to make different snack mixes.
Then there's fruit. My boys can eat fruit like there's no tomorrow, so I always stock up on fresh bananas, clementines, oranges, apples, grapes, berries, pineapple, or whatever is on sale and/or in season. The freezer always has plenty of frozen berries and cherries and mango and more for smoothies or to stir into yogurt. I also always keep a stock of Dole Fruit Bowls in my pantry. This ensures I always have nice sweet peaches, even in the middle of winter, and even if the boys devour everything else, I know I always have fruit to pack in their lunchboxes. In fact, Little Dude loves the fruit bowls so much that on days I pick him up before The Bug gets home from school, he goes into the pantry and pulls out two containers of Mandarin Oranges or Pineapple Tidbits for them to have for snack.
And besides my "raw materials", I also try to keep making batches of granola bars, muffins, and no-bake healthy snacks like these pineapple coconut energy balls.
Pineapple Coconut Energy Balls are the newest addition to my energy balls repertoire.
My boys love all of my energy bites recipes, and these are no exception. The Bug was standing in eager anticipation as I was rolling the mixture, waiting for me to give him a sample. And he gave instant approval! The the tropical flavor is sweet and delicious, and just makes you think of summertime. Because of the juicy pineapple, the mixture is a little soft after you mix it all up in the food processor, but once you pop the balls in the fridge for a bit and let the oats absorb some of the moisture, they are perfect.
And the best part is that I can whip them up with some pantry staples, including California Whole Pitted Dates and Pineapple Tidbits from Dole…
I've already told you that my kiddos love Dole Packaged Foods, but why does this mama? Besides the fact that it's easy to keep fruit on hand at all times of the year, the Fruit Bowls are also convenient for packing into lunches, or, like I said, for my little guys to grab right out of the pantry. And when they do, I know they are eating high quality, non-GMO fruits and no funky ingredients. Whether it's winter, spring, summer, or fall, with Dole, I can #SharetheSunshine and ensure that my family is getting plenty of healthy and delicious fruits and veggies. For more ideas on how you can Share the Sunshine, make sure you are following Dole on Facebook, Twitter, and Pinterest, and check out all of their products. Also make sure you check out their Instagram account this week where I am taking over to share lunchbox inspiration and recipe hacks.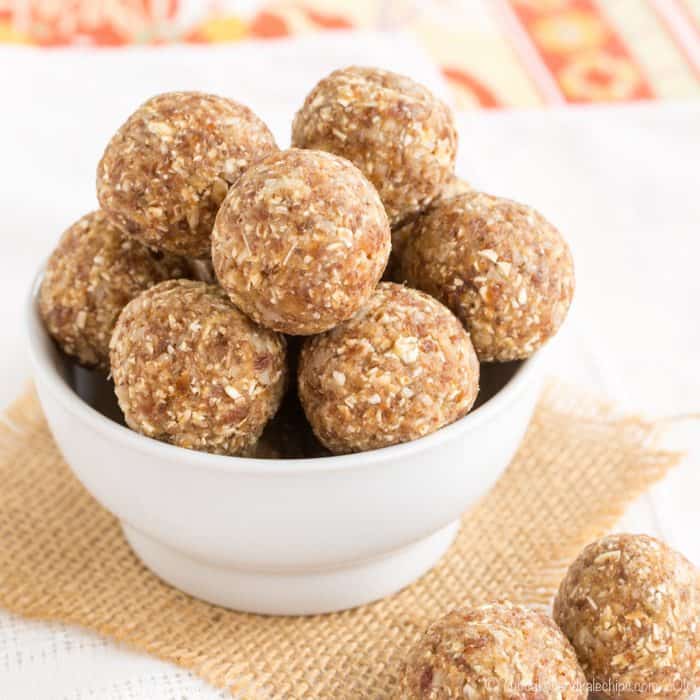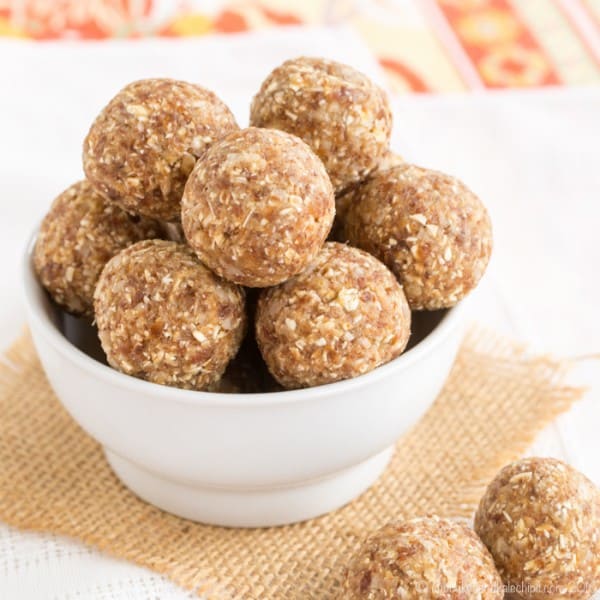 Besides the pineapple coconut energy balls, here are some more no-bake snack recipes that you can make with Dole California Pitted Dates…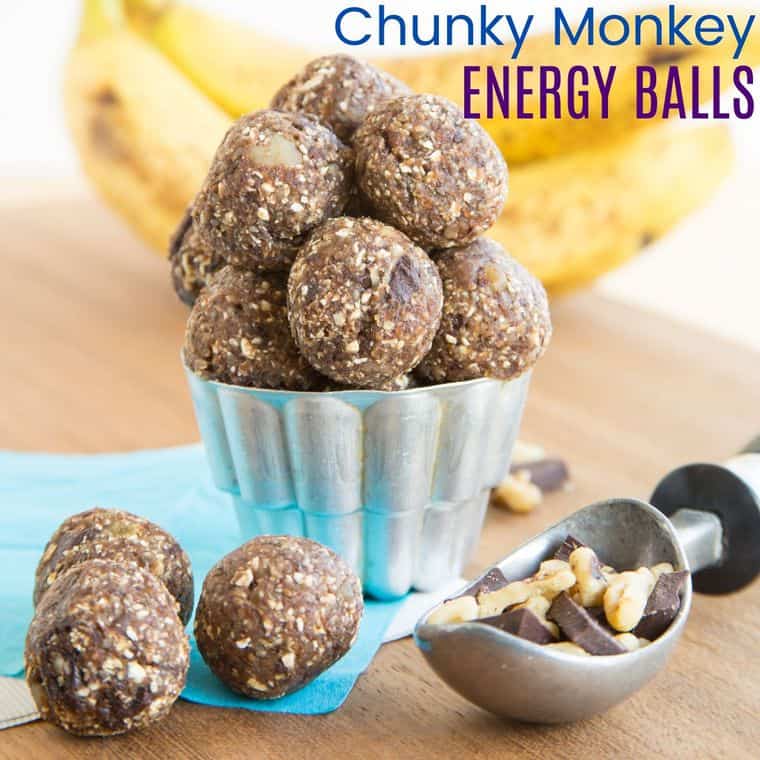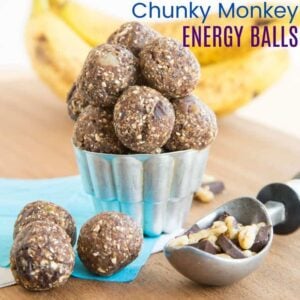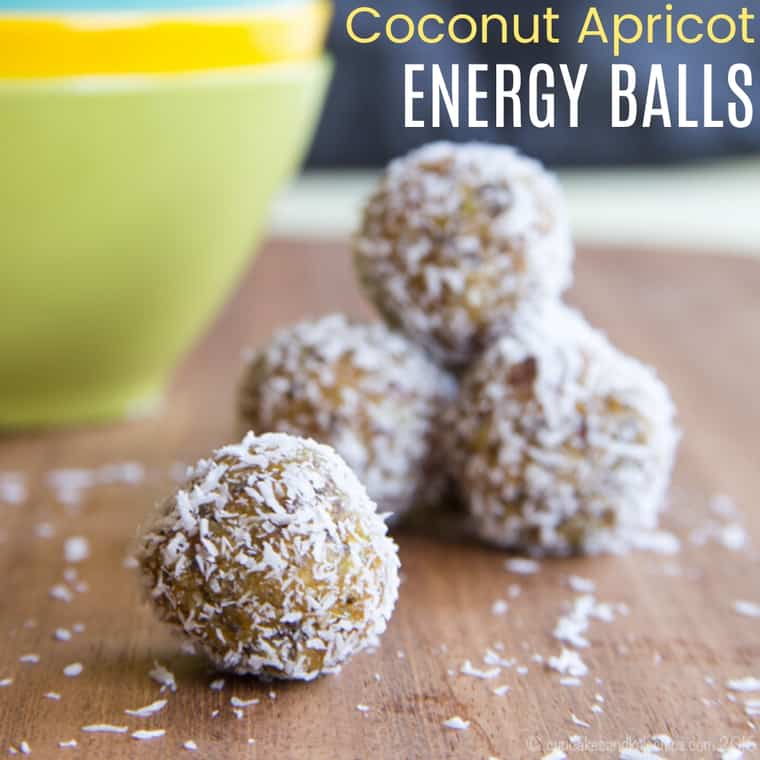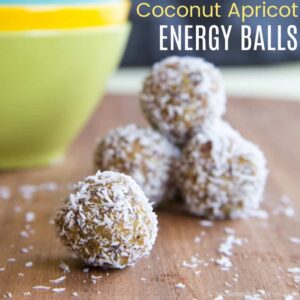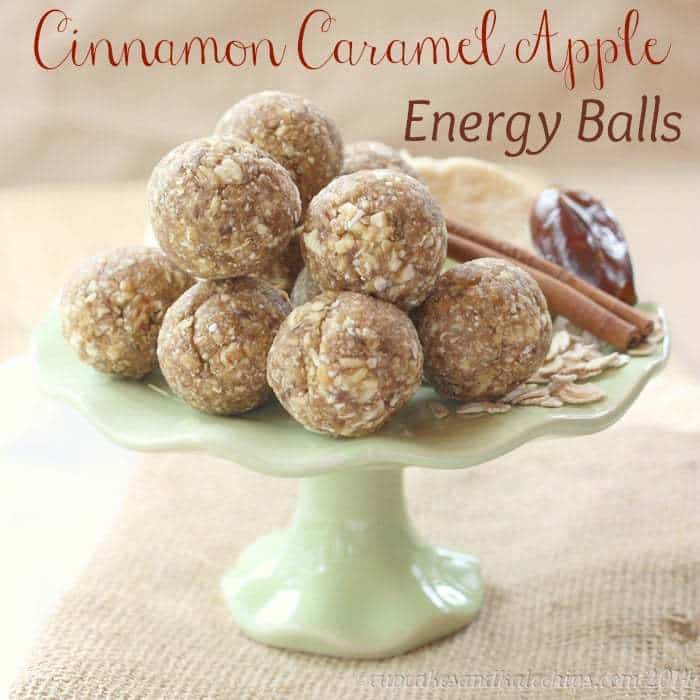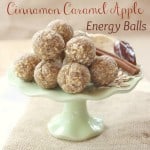 Plus a few from my friends…
For more yumminess from me and my foodie friends, keep up with me on…
Or sign up to have Cupcakes & Kale Chips delivered straight to your Inbox!
Tell me what you think of this Pineapple Coconut Energy Balls recipe…
Pineapple Coconut Energy Balls
Mix up a batch these easy energy bites for a healthy snack that's also gluten free, dairy free, nut free, and vegan. Perfect to pack in a lunchbox!
Ingredients
1

cup

Dole California Whole Pitted Dates

1

cup

quick cooking rolled oats

1/2

cup

Dole Pineapple Tidbits

drained

1/4

cup

ground flax seeds

or flaxseed meal

1/2

cup

unsweetened coconut flakes
Instructions
Combine all of the ingredients in a food processor and process until it forms a thick paste. You may have to scrape it down with a spatula a couple of times.

Using about a tablespoon of the mixture, roll into balls.

These are a little soft, so store in an airtight container in the refrigerator.
Nutrition Facts
Pineapple Coconut Energy Balls
Amount Per Serving (1 ball)
Calories 68
Calories from Fat 18
% Daily Value*
Fat 2g3%
Sodium 1mg0%
Potassium 111mg3%
Carbohydrates 11g4%
Protein 1g2%
Vitamin A 20IU0%
Vitamin C 1.3mg2%
Calcium 15mg2%
Iron 0.5mg3%
* Percent Daily Values are based on a 2000 calorie diet.
Enjoy!