This post may contain affiliate links. Read my disclosure policy.
Healthy carrot zucchini muffins are a favorite recipe of many readers and their kids. Sweet, moist, and bite-sized, these mini muffins are a yummy and healthy kid snack. They are also freezer-friendly and the perfect nut-free lunchbox snack!
Are you celiac or have a wheat allergy? I also have a recipe for Gluten Free Carrot Zucchini Mini Muffins.
Healthy Veggie Muffins for Toddlers and Kids
[adthrive-in-post-video-player video-id="uM9SH5PJ" upload-date="Mon Jun 18 2018 00:00:00 GMT+0000 (Coordinated Universal Time)" name="Carrot Zucchini Mini Muffins" description="With whole wheat and gluten free versions, these Carrot Zucchini Mini Muffins are a healthy breakfast or snack that are a kid-favorite and mom-approved."]
I've told you before that while I like to sneak in extra veggies to cram in as much nutrition as possible, there aren't many veggies I have to "hide" from my kids.
The Bug knows that I put spinach in his Peanut Butter and Jelly Smoothie, and both kids will happily devour simply steamed or roasted cauliflower, broccoli, peas and carrots, and more.
The little guy eats tomatoes and sugar snap peas like they are candy. The big one loves cucumbers and carrots dipped in Greek Yogurt Ranch Dip and both devour salads.
But zucchini – not so much. This is unfortunate because The Hubby and I love it in a sauteed vegetable medley, simply grilled, or baked with some Parmesan cheese.
Yes, believe it or not, even a nice, toasty crust of Parmesan won't get my cheese-loving kiddo to eat it. So I have to sneak it into things like Vegetable Tomato Sauce with Chickpeas, Zucchini Tater Tots, annnnd…
Zucchini Muffins!!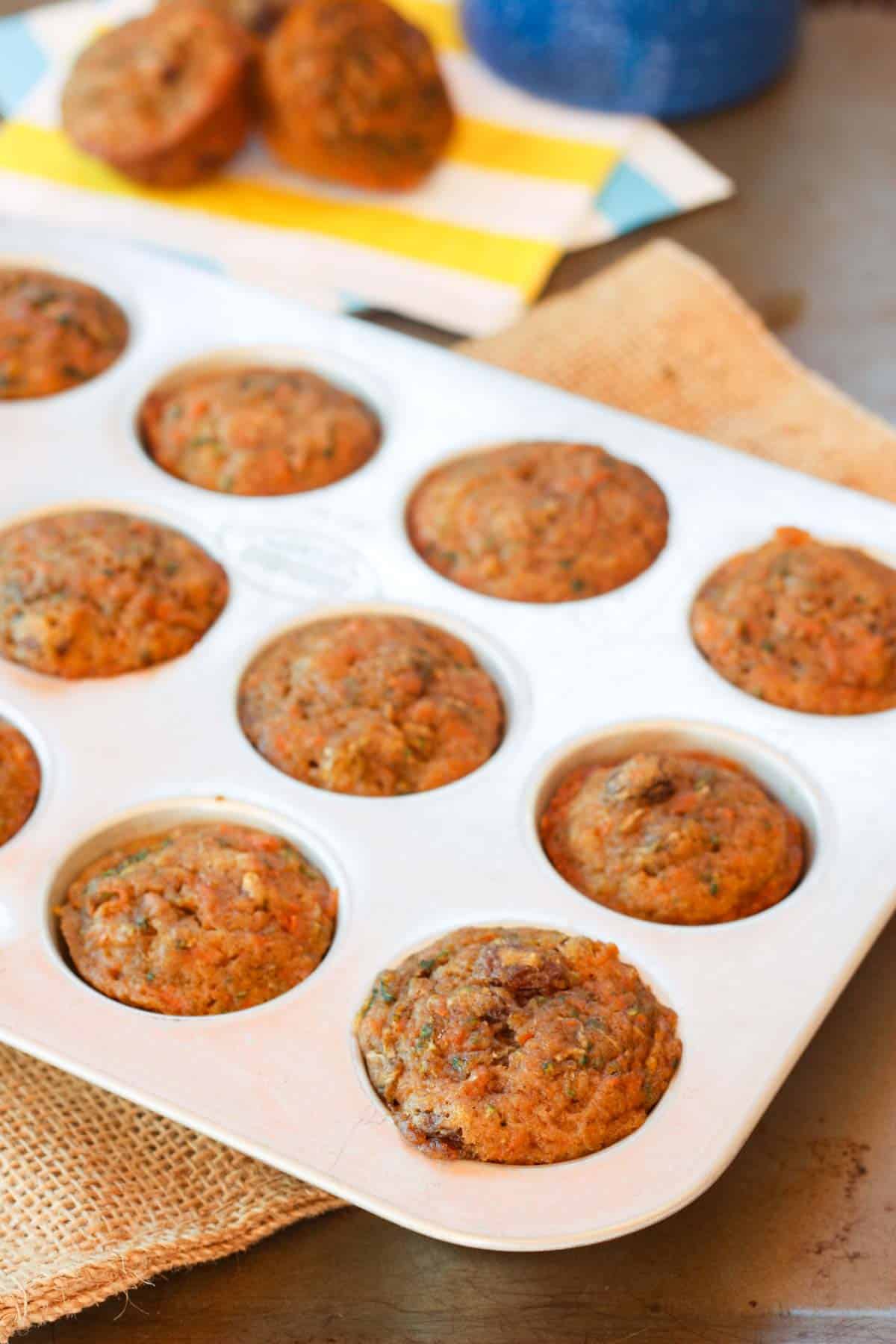 What Makes this Healthy Carrot Zucchini Muffin Recipe So Great?
Filled with whole-grains and vegetables and naturally sweetened with just a bit of maple syrup or honey, these are the perfect healthy muffins for kids to grab for breakfast or grab as a snack. These healthy zucchini muffins with carrots and raisins are a great way to use up all that summer zucchini, so make a few batches to keep extra in the freezer.
The kids love these mini muffins. I've made them many, many times and they seriously could polish off a half dozen at a time if I let them. I do tell him they have zucchini in them, and yet somehow, in muffin form, zucchini is totally acceptable.
These muffins are really packed with veggies, truly making them a healthy snack. They are filled with carrots and zucchini and just enough batter to hold it all together.
It might seem like a lot of vegetables, but they bake up perfectly. That also makes them super moist and tender, even though they are whole wheat, low in fat, and low in added sugar.
More Zucchini Recipes Kids Love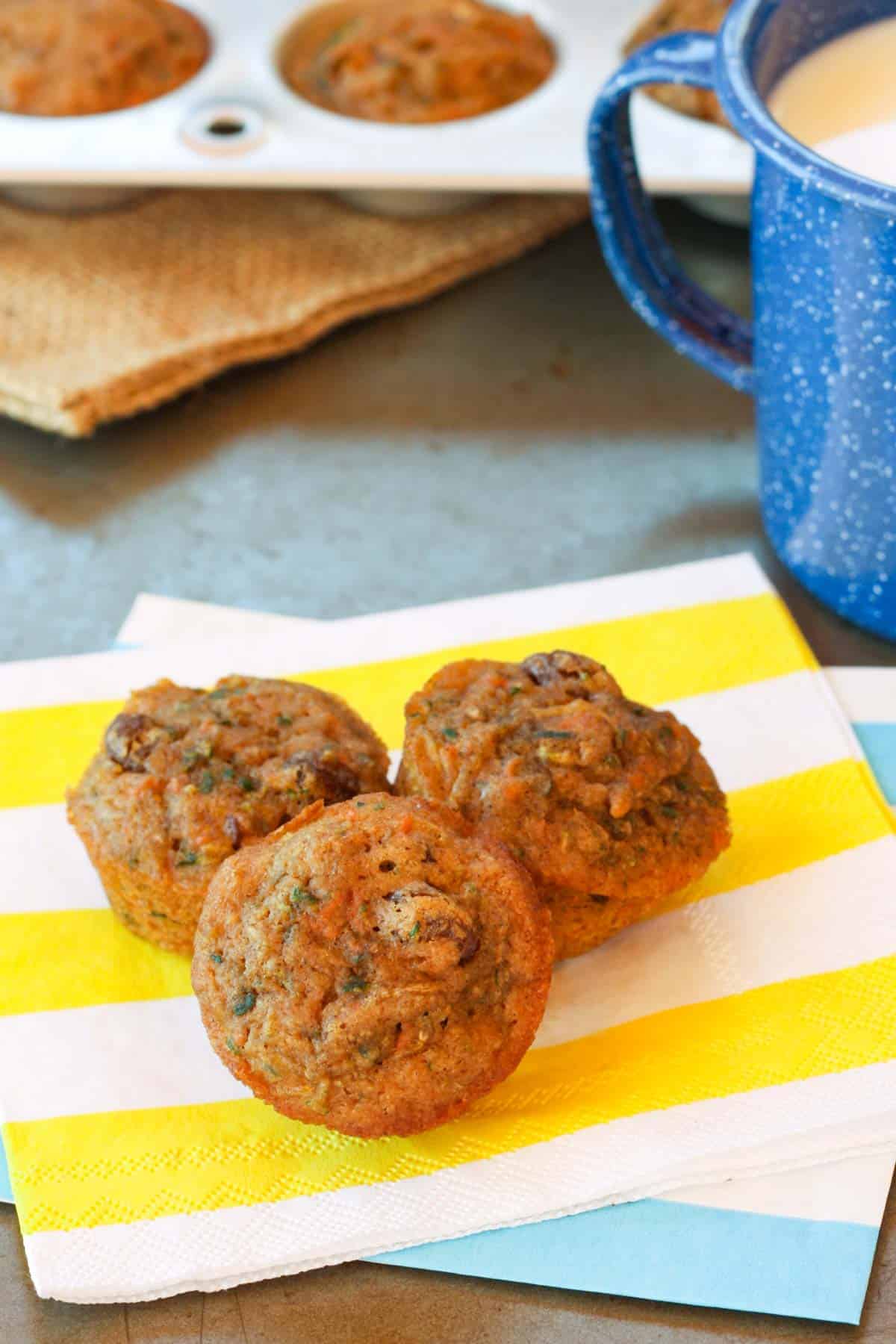 Ingredients
Let's gather everything you'll need to make these carrot zucchini muffins.
White whole wheat flour: This is made with a special kinfd of wheat that makes it lighter in color and texture than regular whole wheat flour, but you get the benefit of whole grains.
Cinnamon
Baking soda
Salt
Melted butter
Maple syrup: I love the maple flavor, but you can also use honey.
Egg
Vanilla extract
Zucchini: Shred this finely, but don't squeeze out the liquid.
Carrots: Peel the carrots, then shred them as well.
Raisins: You can leave these out, but they add nice little sweet, chewy pockets.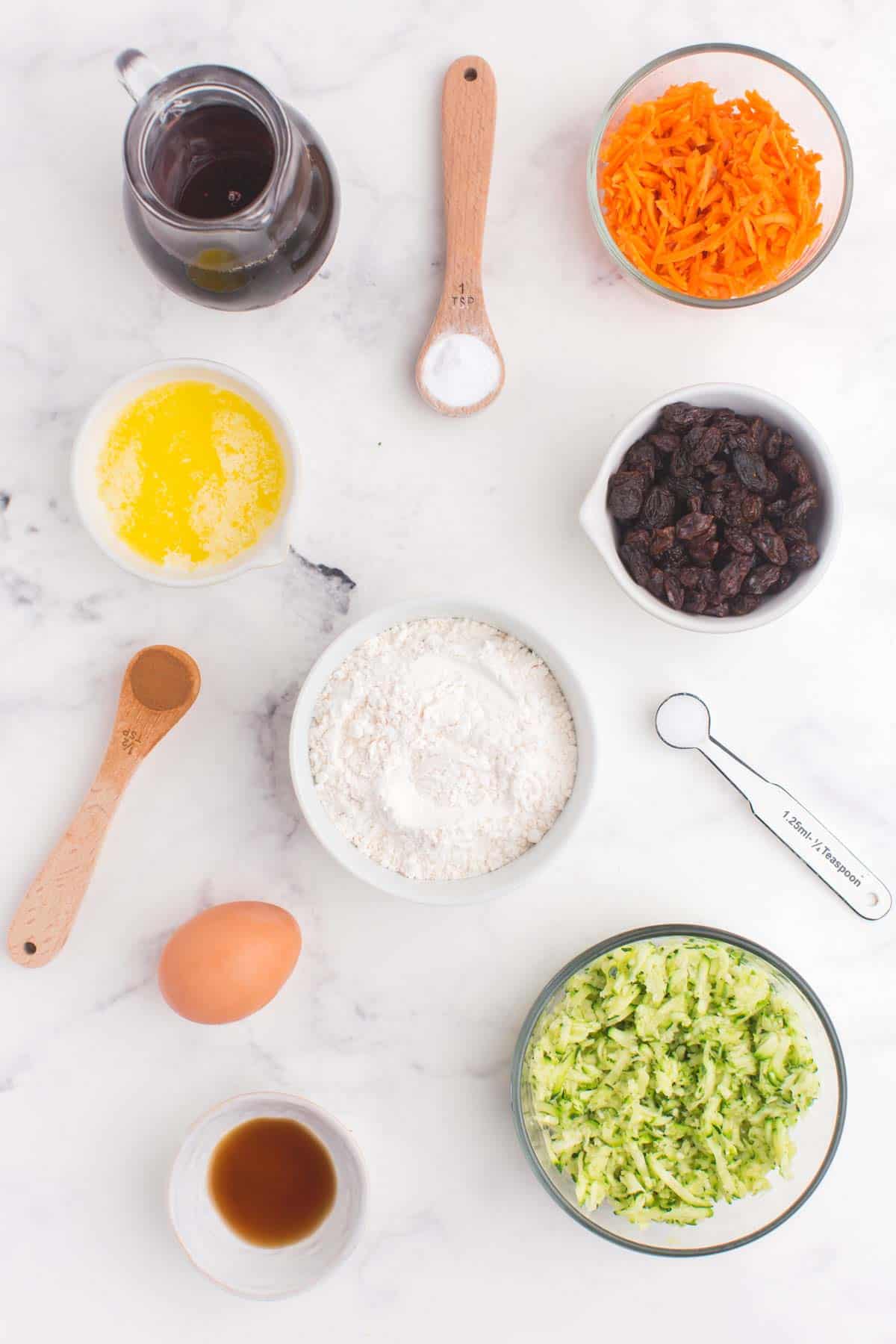 How to Make Them
Preparations
Preheat the oven to 350°F and spray a mini muffin pan with nonstick cooking spray. Shred your carrots and zucchini. DO NOT squeeze out the excess liquid. Set aside.
Make the Batter
In a bowl, whisk together the dry ingredients and set them aside. Now in a separate bowl, stir together the butter, maple syrup or honey, egg, and vanilla extract. Add the dry ingredients to the wet ingredients and stir until barely combined. Fold the carrots, zucchini, and raisins into the batter.
Fill, Bake, and Cool
Fill each cup of the mini muffin tin. Bake for 15-20 minutes, or until a toothpick inserted in the center comes out clean. Cool slightly before removing from the pan to a rack to cool completely.
Can you freeze muffins?
Yes, these are definitely freezer-friendly muffins. I love to make a big batch and throw them in plastic storage bags and freeze them. It is perfect for the summertime when you are trying to use up the overabundance of zucchini.
Then just take out a few the night before or heat them for a few seconds in the microwave. I've kept them frozen for several months.
Tips for Perfect Muffins
Many people are concerned with how many veggies there are and how little batter is holding it together. Just go with it. They always bake up perfectly.
The carrots and zucchini are shredded with a fine grater. There is no need to squeeze out the excess liquid.
These healthy mini muffins are made with white whole wheat flour. If you can't get your kids into stuff made with regular whole wheat flour, try this. It is just as good for you as "regular" whole wheat flour but provides a texture closer to white all-purpose flour, so it is easy to substitute into most recipes.
This recipe uses real maple syrup for a nice flavor and sweetness while adding flavor and moisture to this healthier muffin. Honey works too.
I have never used paper liners. I just scoop the batter into a mini muffin tin sprayed with nonstick cooking spray, then after they bake let them cool on a rack for a few minutes before popping them out with a butter knife.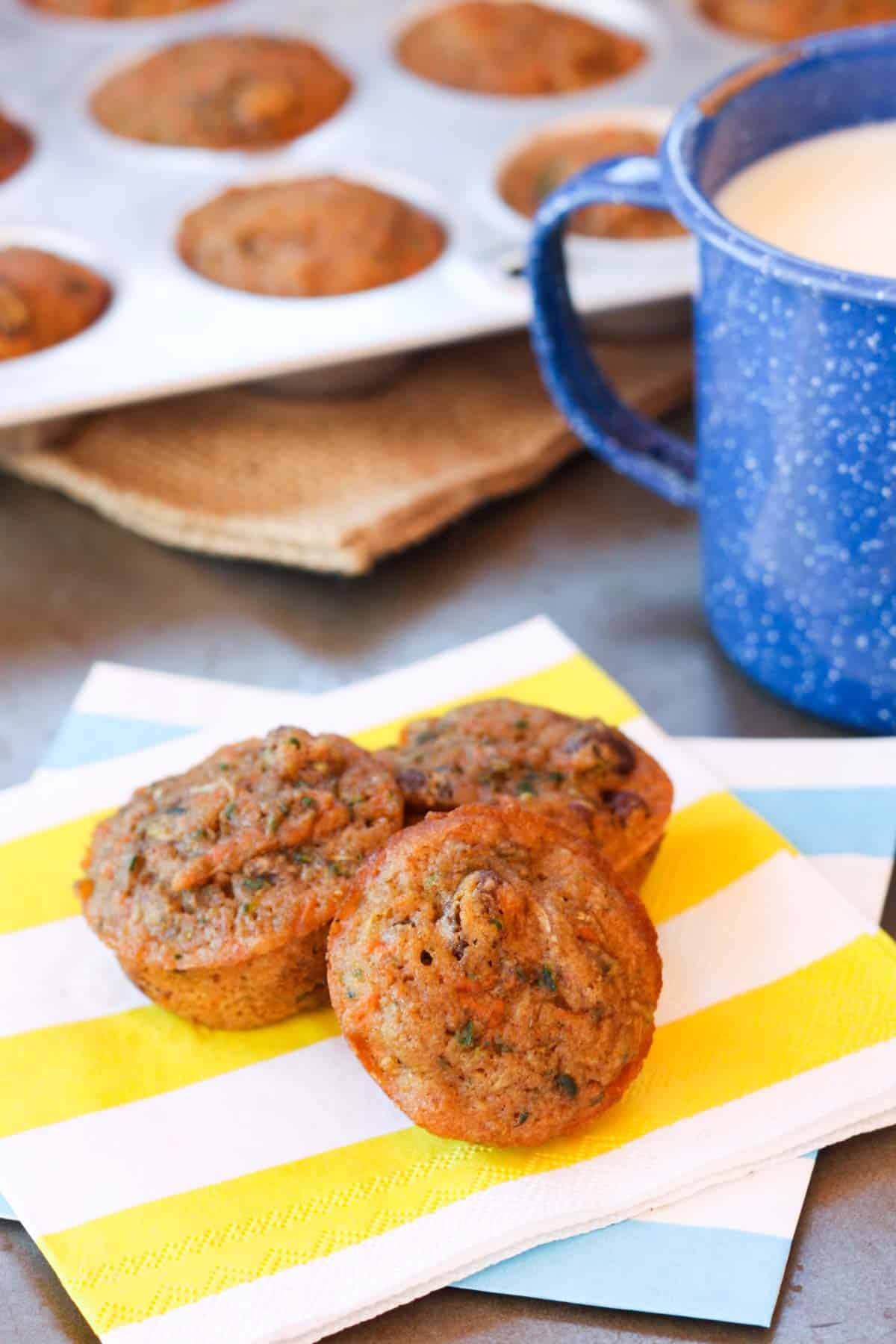 What do readers say about these healthy veggie muffins?
These are truly veggie muffins for toddlers and kids because they will happily gobble down their veggies without even knowing it. All the reader comments can't be wrong!
Laine says:
Wow, these are so delicious! Struggling to get my toddler to eat veggies and this is a great way to get some in! I'm having a hard time saving any for her though, they are so good!
Kitty says:
I make these muffins weekly because what started out being for my grandson now has become a family favorite and staple! I freeze zucchini and carrot portions pre-shredded and measured so it's extra easy!
Chrissi says:
I just want to say THANK. YOU. My daughter (now 13 mo) has always been a fussy eater. These muffins saved us. Literally. She never wanted to be spoon fed and never wanted veggies, so from 9/10 months on these muffins have been a staple in our house and one of the few things we can always rely on her eating (fingers crossed). I make a double batch and freeze them to prevent my husband from eating them all when they're fresh out of the oven (and bc they're easier for her to grab/they're less crumbly soft when they're a little cold). Thank you!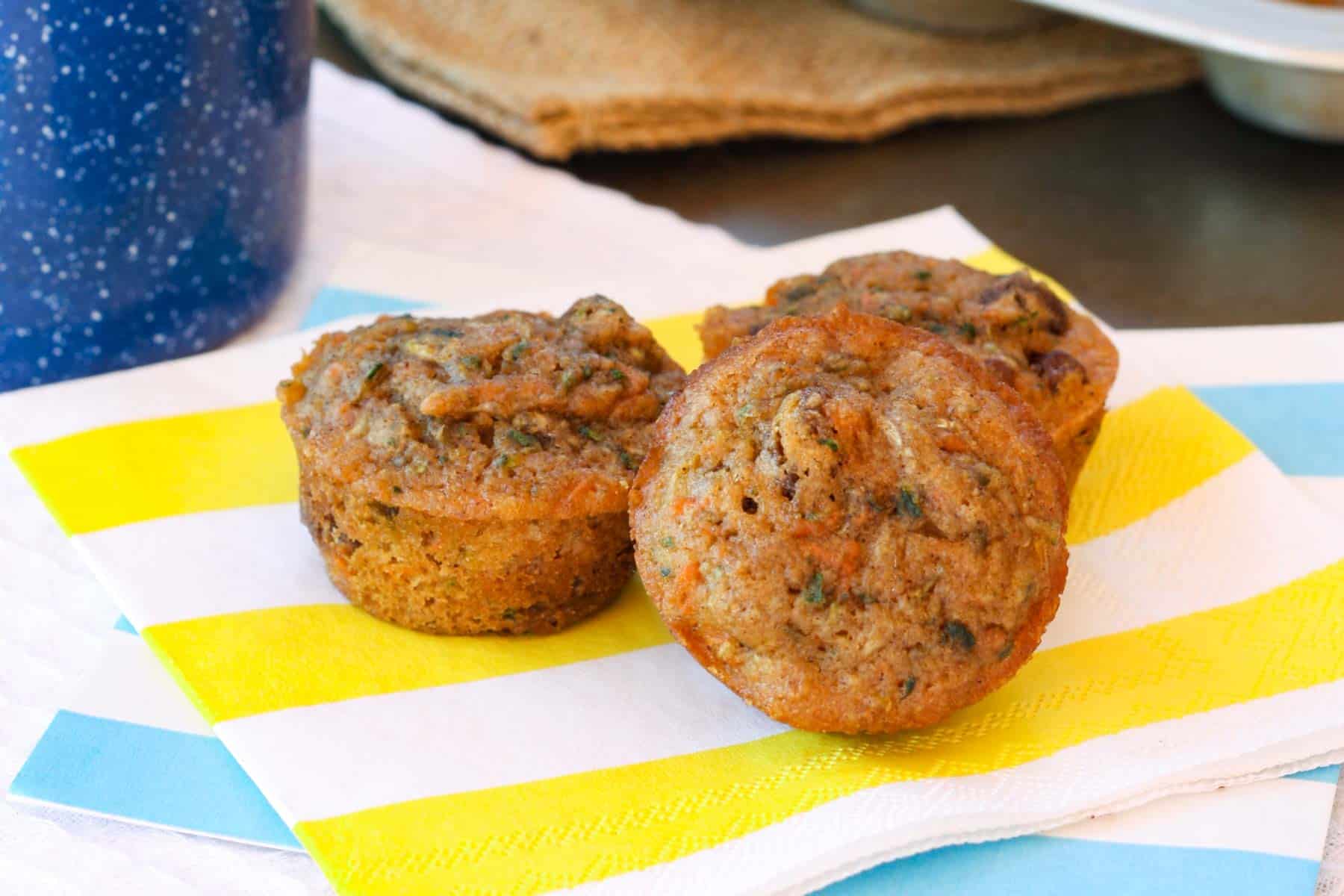 Shop the Recipe
Brianne Recommends
Grater: I used a fine grater or the small holes on a box grater to get small shreds of veggies.
Bowls: I love having a set of stainless steel mixing bowls of various sizes. You'll need a small bowl to hold your veggies, a medium bowl for the dry ingredients, and a larger bowl to mix the wet ingredients and then to combine everything together.
Spatula: No need for a stand mixer or hand mixer. This batter is easily stirred together by hand.
Nonstick mini muffin tin: I've actually never used paper liners and have not had a problem with sticking as long as I grease or coat it with cooking spray.
Last updated on Dec 8, 2023 12:52 pm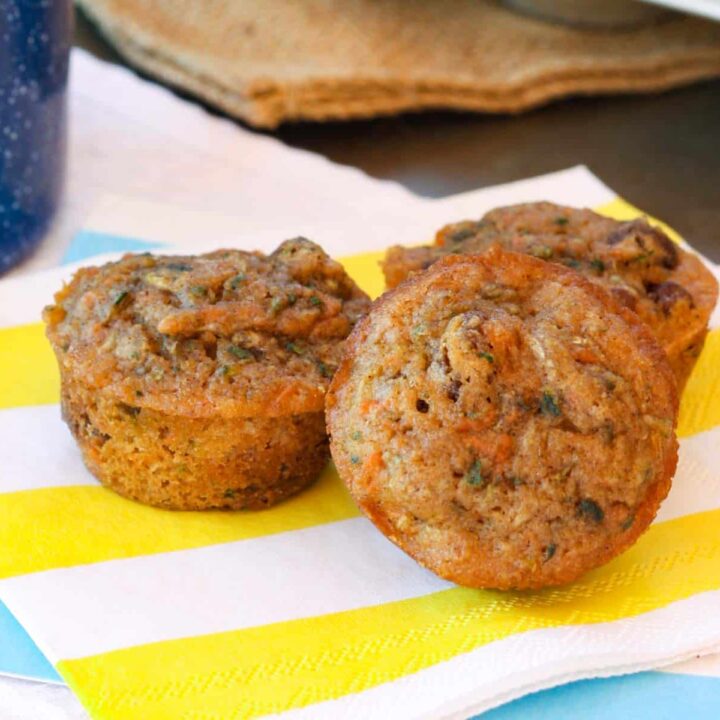 Healthy MiniCarrot Zucchini Muffins
Sweet, moist, and bite-sized little muffins filled with whole-grains and vegetables, but not a lot of added sugar. The perfect healthy snack for kids.
Instructions
Preheat oven to 350°F and place rack in the center of the oven, and coat a mini muffin pan with nonstick cooking spray.

Combine the flour, cinnamon, salt, and baking soda in a mixing bowl and whisk until thoroughly combined. Set aside.

In a large mixing bowl, stir together the butter, maple syrup (or honey), egg, and vanilla extract.

Add the flour mixture to the wet ingredients and stir together until just barely combined.

Add the zucchini, carrot and raisins and stir gently until just distributed.

Fill each cup in the mini muffin pan approximately 3/4 full (I use a small cookie scoop slightly overfilled).

Bake for 15-20 minutes or until a toothpick inserted in the center of a muffin comes out clean.

Let cool in pan for a few minutes before removing to a cooling rack to cool completely.

Store in an airtight container at room temperature for several days. Keeps for up to a week in the refrigerator or several months in the freezer.
Nutrition Facts
Healthy MiniCarrot Zucchini Muffins
Amount Per Serving (1 muffin)
Calories 62
Calories from Fat 9
% Daily Value*
Fat 1g2%
Cholesterol 10mg3%
Sodium 89mg4%
Potassium 82mg2%
Carbohydrates 11g4%
Protein 1g2%
Vitamin A 520IU10%
Vitamin C 2.1mg3%
Calcium 15mg2%
Iron 0.3mg2%
* Percent Daily Values are based on a 2000 calorie diet.
Categories:
More healthy muffins for kids
Originally published on May 18, 2014