Healthy Carrot Zucchini Mini Muffins
Healthy carrot zucchini muffins are one of my kids' favorite snacks. They're a perfect kid-friendly snack, being sweet, moist, and bite-sized. And it is also one of my favorite snacks to give them because they are filled with whole-grains and vegetables, but not a lot of added sugar.
So as you are hitting you farmers markets this spring and summer, or checking out what you get from your CSA, make sure you have everything to make a few batches (so that you have extra to freeze) of these Healthy Carrot Zucchini Mini Muffins.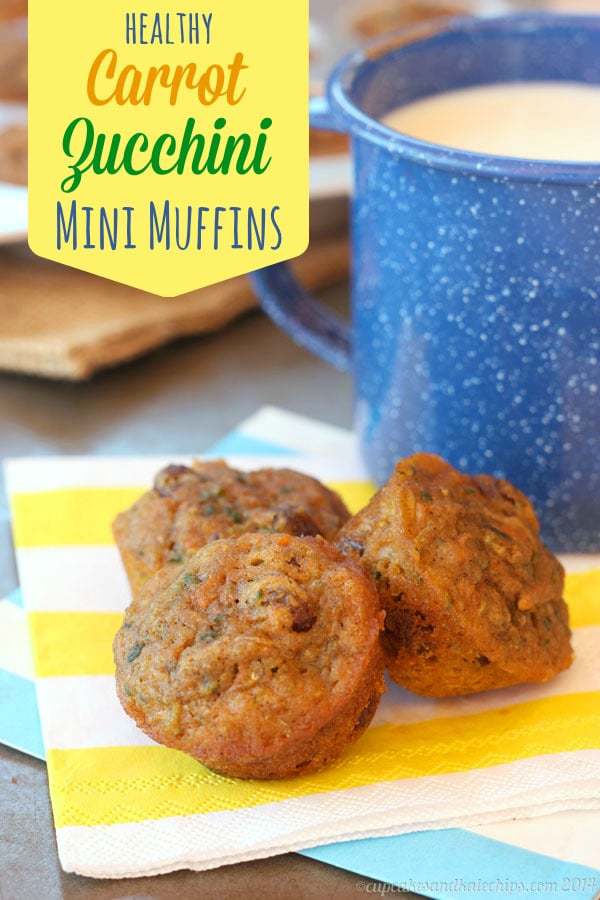 I've told you before that while I like to sneak in extra veggies to cram in as much nutrition as possible, there aren't many veggies I have to "hide" from my kids. The Bug knows that I put spinach in his smoothies, and both kids will happily devour simply steamed or roasted broccoli, carrots, and cauliflower.
Baby Smiles eats tomatoes like they are candy and The Bug will now even eat salads. But zucchini – not so much. Which is unfortunate, because The Hubby and I love it sauteed or grilled or baked with some Parmesan cheese. Yes, believe it or not, even a nice, toasty crust of Parmesan won't get my cheese-loving Bug to eat it. So I have to sneak it… into sauce… tots….
Muffins…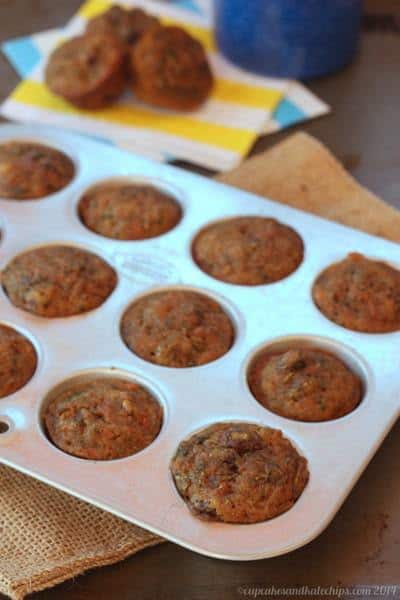 The Bug LOVES these mini muffins. I've made them many, many times and he seriously could polish off a half dozen at a time if I let him. And to be honest, I do tell him they have zucchini in them, and yet somehow, in muffin form, zucchini is totally acceptable.
These muffins are really packed with veggies, truly making them a healthy snack. They are filled with carrots and zucchini and just enough batter to hold it all together. That also makes them super moist and tender, even though they are whole wheat, low in fat and low in added sugar.
[Tweet "Healthy Carrot Zucchini Mini Muffins are sweet, moist, and bite-sized – perfect for breakfast or a healthy snack."]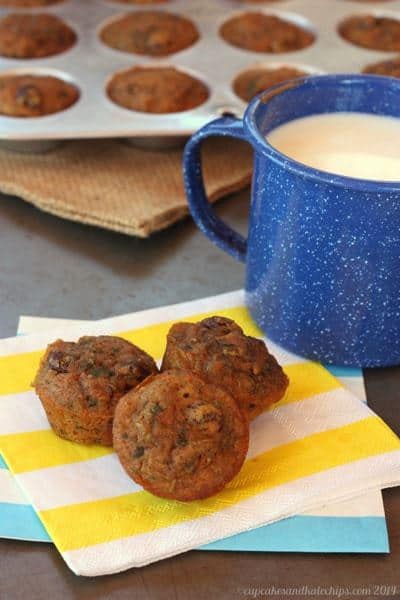 If you can't get your kids into stuff made with whole wheat flour, try white whole wheat flour, like I used in these Healthy Carrot Zucchini Mini Muffins.
It is just as good for you as "regular" whole wheat flour, but provides a texture closer to white all-purpose flour, so it is easy to substitute into most recipes. I also went with real maple syrup for a nice flavor and sweetness, while adding flavor and moisture to this healthier muffin.
I love to make a big batch and throw them in the freezer, popping them out for breakfast or a snack. I've kept them frozen for months. Perfect for the summer time, when you are trying to use up the overabundance of zucchini.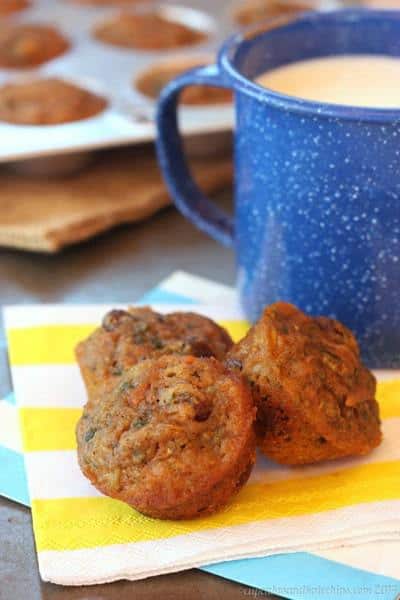 What is your kid's least favorite veggie?
I hope you and your kids enjoy these healthy carrot zucchini mini muffins!
Healthy Carrot Zucchini Mini Muffins
Recipe Type
:
Breakfast, Snack
Author:
Sweet, moist, and bite-sized little muffins filled with whole-grains and vegetables, but not a lot of added sugar.
Ingredients
1 cup white whole wheat flour
1/2 teaspoon ground cinnamon
1/4 teaspoon salt
1 teaspoon baking soda
3 tablespoons butter, melted and cooled
1/2 cup pure maple syrup (or honey)
1 large egg, beaten
1 teaspoon vanilla extract
1 cup finely grated zucchini
1/2 cup finely grated carrot
1/2 cup raisins
Instructions
Preheat oven to 350°F and place rack in the center of the oven, and coat a mini muffin pan with nonstick cooking spray.
Combine the flour, cinnamon, salt, and baking soda in a mixing bowl and whisk until thoroughly combined. Set aside.
In a large mixing bowl, stir together the butter, maple syrup (or honey), egg, and vanilla extract.
Add the flour mixture to the wet ingredients and stir together until just barely combined.
Add the zucchini, carrot and raisins and stir gently until just distributed.
Fill each cup in the mini muffin pan approximately 3/4 full (I use a small cookie scoop slightly overfilled).
Bake for 15-20 minutes or until a toothpick inserted in the center of a muffin comes out clean.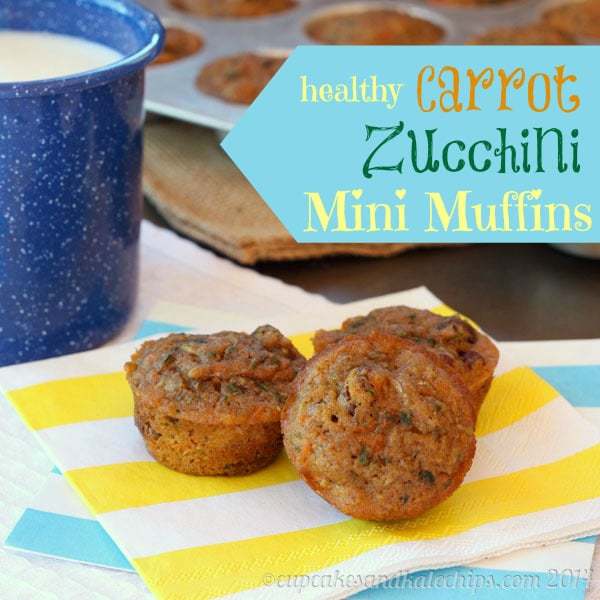 Need more ways to get your kids to eat use up zucchini?
Plus here are a few from my friends…