This post may contain affiliate links. Read my disclosure policy.
Gluten Free Carrot Zucchini Muffins are a tasty and surefire way to get the kids devouring their veggies. Sweetened only with a bit of maple syrup, loaded with vegetables, and made with a simple blend of gluten free flours, these gluten free mini muffins are a bite-sized breakfast or snack you can feel good about feeding the kiddos.
While you are likely to devour them right away, they do freeze well. So get ready to stock the freezer and fill the lunchboxes (since they are also nut-free) with super yummy gluten free vegetable muffins that are actually picky kid-approved!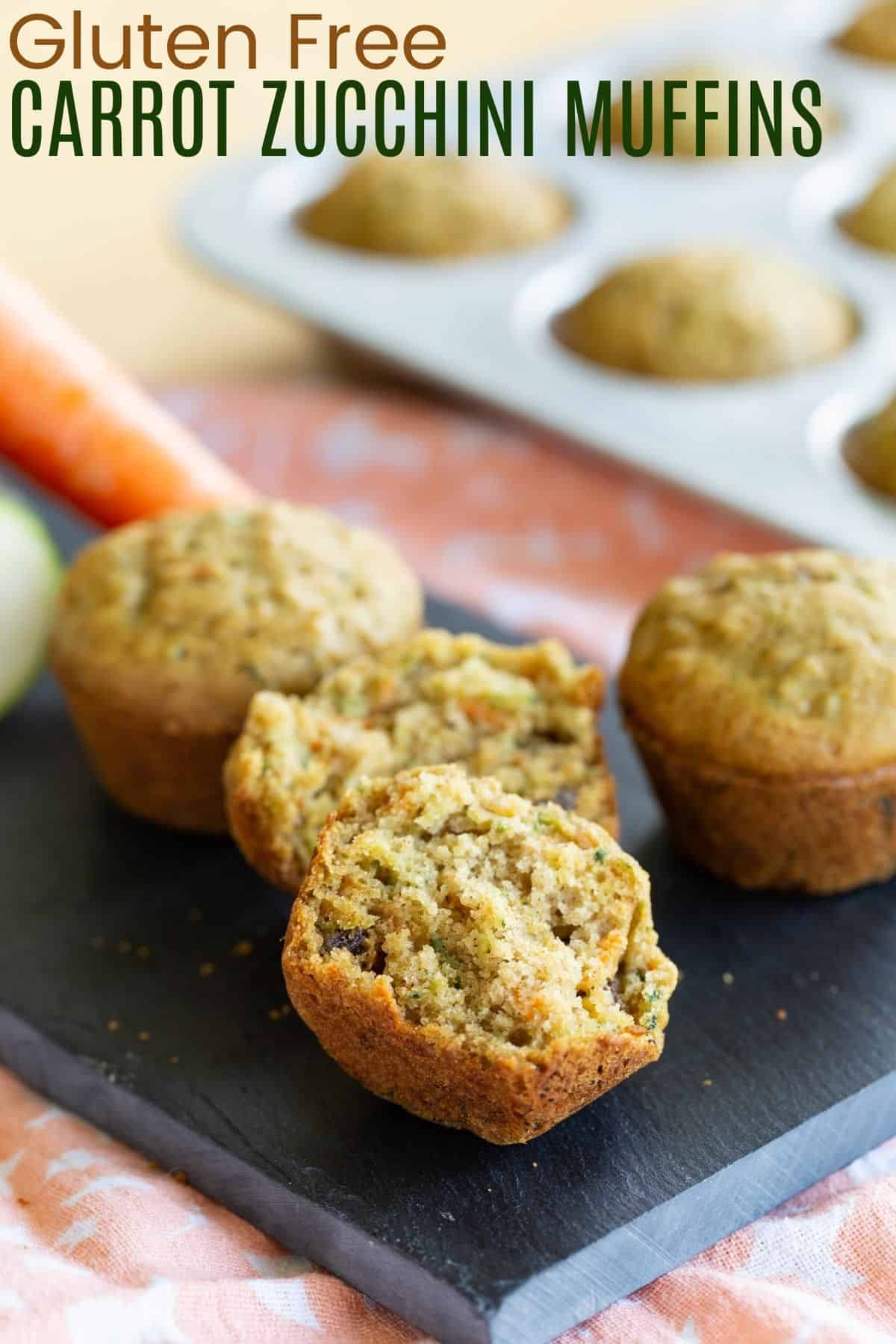 Even though I work from home for myself, my boys spend at least several weeks of summer going to camp. It's only from 9 to 3 and after I picked them up we would swim or go to the library or go to the park or just relax. They are both kids who like routine, so it worked for us. Yet we still had time to go on vacation, spend time at my mom's going to the beach, and get in other appointments and errands.
One day I had a thought.
After my boys played nicely on Saturday morning while Daddy went fishing and I finished shooting a video for Gluten Free Strawberries and Cream Cake, I took them to the pool. We came home and they were so cooperative and content.
So for a brief, fleeting moment, I thought that maybe they don't need to be at camp so much. Maybe we will finally be able to spend some glorious weeks of the summer just rolling out of bed, hanging around the house in the morning with them playing while I work, spending our afternoons by the pool, and then in the evening doing summer reading or riding bikes or just watching Jeopardy.
My dreams were dashed forty minutes after they were both at home together on the first weekday of summer vacation. After letting them watch a half-hour of TV, chaos instantly erupted with fighting that lasted the entire day.
Somehow in the middle of refereeing, I was able to make a batch of gluten free mini muffins. And thank goodness I did because the only way to get them to chill out is food. Then I had a stack of nut-free snacks I could pack in their lunchboxes when I sent them off to camp!
Gluten Free Carrot Zucchini Muffins
So many people have left comments about whole wheat Healthy Carrot Zucchini Mini Muffins being the only way they get their picky kids to eat vegetables that it was time to make a gluten-free version of these tasty muffins. I've been making the whole wheat version for years. And if you check out that post, you can see all the comments from people who have made them and gotten kids who wouldn't touch a green vegetable to devour them. It's no wonder they have been one of my most popular recipes of all time.
It was only these muffins, Air Fryer Gluten Free Zucchini Fritters, and Zucchini Tater Tots that got them to eat zucchini when they were little. Now love the gluten free muffins as much as the original ones, and two batches disappeared in no time.
They make a great little breakfast or after school snack. But you can also pack them as an easy kids lunch idea when everyone is tired of sandwiches because they are also nut-free, so they are perfect if your school or camp has a no nut policy!
How to make them
Just as in the original recipe, you sift together the dry ingredients, only in this case you'll use a mixture of brown rice flour, tapioca starch, and potato starch instead of white whole wheat flour. Then mix together the butter, maple syrup, and egg. Fold the flour mixture into the wet ingredients. Stir in a heap of shredded zucchini and carrots, plus some raisins, and nope, you don't even have to take the time to squeeze the excess moisture out of the vegetables. You might think it's an awful lot of carrots and zucchini being held together by just a little batter but just fill a 24-cup mini muffin tin and they will bake up perfectly. These mini muffins will be fully loaded with veggie goodness, but you don't have to tell the kiddos.
Here is a brief overview so you can see just how easy it is to make. Scroll down to the printable recipe card for the full quantities and details.
But don't skip my PRO TIPS below!
Ingredients
Gluten free flour – the gluten free flour mixture is a simple blend of brown rice flour, tapioca starch, and potato starch
Cinnamon
Salt
Baking soda
Butter – melted and cooled
Maple syrup – you can also use honey to sweeten these mini muffins, but I prefer maple syrup, and I only use maple syrup from Vermont
Egg
Vanilla extract
Zucchini – finely grated, but you fo NOT need to squeeze out the excess moisture
Carrots – finely grated, but you fo NOT need to squeeze out the excess moisture
Raisins
Equipment
Directions
Preheat your oven to 350°F and coat a mini muffin pan with nonstick cooking spray.
Sift or whisk the dry ingredients together in a bowl and set aside.
In a large bowl, whisk together the butter, maple syrup, egg, and vanilla extract.
Gently stir the dry ingredients into the wet ingredients until just barely combined.
Fold in the zucchini, carrots, and raisins.
Scoop into the prepared pan and bake for 15-20 minutes or a toothpick comes out clean.
Cool for a few minutes and remove from the pan.
Brianne's pro recipe tips
I simply coat my muffin pan with nonstick spray. I've never use cupcake liners and I've never had a problem with sticking.
As with all gluten free baking recipes, be sure to lightly spoon the flours and starches into the measure cups and level off with a knife. Then you can either sift or whisk all the dry ingredients together.
I like maple syrup, but you can also use honey in this recipe.
The carrots and zucchini should be finely shredded, but there is no need to squeeze out the excess moisture.
It might seem like a lot of veggies with just a little batter, but trust me. Divide it evenly between a 24-cup mini muffin tin and you'll be just fine.
Freezing mini muffins
These vegetable muffins freeze well. That makes them a perfect way to use up all the summertime bumper crops of zucchini when everyone is looking for more zucchini recipes. In an airtight container, they will last up to 2 to 3 months. In fact, they are safe to eat for much longer, but after time they can start to get dry or have their flavor impacted.
That being said, if you are only going to take out a couple at a time, I do recommend wrapping them individually or several together. Then place them in a zip top plastic freezer storage bag or another airtight container. You can toss them all in one bag or container, but each time you open it, you'll introduce moisture, which could lead to moisture condensing and freezing in the bag, or freezer burn.
I usually place four to six muffins in a plastic sandwich bag, then put all of the sandwich bags in one big freezer storage bag. Then I can pull out one small bag at a time with affecting the rest of the muffins.
More gluten free muffin recipes
Gluten Free Carrot Zucchini Mini Muffins
This healthy muffin recipe makes a bite-sized snack perfect for little fingers, but people of all ages still love them. With plenty of shredded carrots and zucchini it's a sneaky way to get the kids to eat their vegetables. Since they are also nut-free, they are perfect to pack in a lunchbox and send to school or for a quick breakfast to grab in the morning. These gluten free mini vegetable muffins freeze well, so stock the freezer when you have an overabundance of zucchini in the summer to have on hand for snacks all year round.
I hope you'll leave a comment and give it a FIVE STAR rating or share a review on Pinterest or photo on Instagram!
Tag me @cupcakekalechip and use #cupcakesandkalechips!

Healthy Carrot Zucchini Mini Muffins
Kid-favorite and mom-approved gluten free mini muffins are sweet, moist, and packed with veggies, naturally sweetened with only a bit of maple syrup or honey. These freezer-friendly muffins make a yummy and healthy breakfast or snack.
Instructions
Preheat oven to 350°F and place rack in the center of the oven, and coat a mini muffin pan with nonstick cooking spray.

Sift or whisk together the brown rice flour, tapioca starch, potato starch, cinnamon, salt, and baking soda in a mixing bowl and whisk until thoroughly combined. Set aside.

In a large mixing bowl, stir together the butter, maple syrup (or honey), egg, and vanilla extract.

Add the flour mixture to the wet ingredients and stir together until just barely combined.

Add the zucchini, carrot and raisins and stir gently until just distributed.

Fill each cup in the mini muffin pan approximately ¾ full (I use a small cookie scoop slightly overfilled).

Bake for 15-20 minutes or until a toothpick inserted in the center of a muffin comes out clean.

Let cool slightly before running a butter knife around the edge and removing the muffins from the pan.
Nutrition Facts
Healthy Carrot Zucchini Mini Muffins
Amount Per Serving (1 muffin)
Calories 70
Calories from Fat 9
% Daily Value*
Fat 1g2%
Cholesterol 10mg3%
Sodium 89mg4%
Potassium 97mg3%
Carbohydrates 12g4%
Vitamin A 520IU10%
Vitamin C 2.1mg3%
Calcium 13mg1%
Iron 0.3mg2%
* Percent Daily Values are based on a 2000 calorie diet.
Enjoy!