This post may contain affiliate links. Read my disclosure policy.
For a simple snack or bite-sized breakfast treat that's naturally gluten-free and packed with healthy ingredients, make a batch of Flourless Almond Blueberry Mini Muffins.
Flourless Almond Blueberry Mini Muffins

Since I had so much fun with the Tomato Sauce last month, I am participating in the Crazy Cooking Challenge from Moms Crazy Cooking again this month, and am excited to share this recipe with you. You see, this recipe was kind of a long time in the making. I found a recipe for Blueberry Raspberry Oatmeal Muffins, but not being one to leave well-enough alone, I thought I would switch it up a bit – strawberries for the raspberries, since the strawberries are so gorgeous right now, mashed banana for the eggs to try to make it vegan. Well, they tasted good, but they were a little bit dense, likely because of the banana. And since this month's challenge was Blueberry Muffins, not banana bread, which these muffins more resembled, I didn't want to use that recipe. I thought about remaking them with applesauce instead of the banana, but time got away from me. I will probably post the recipe eventually, maybe after I try a different variation, but not for this Challenge.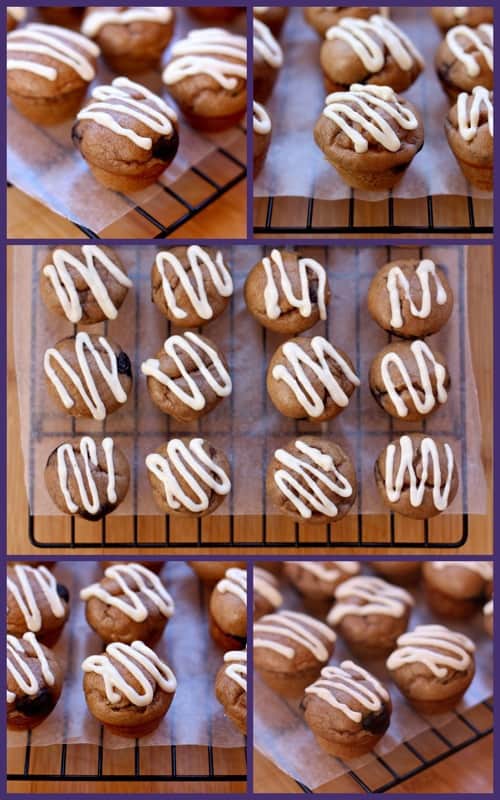 Then I got the email fro Tina reminding us of the posting day – April 5th. For some reason, I thought it was April 15th. Aaack, no time! But the same day, I happened to stumble upon these Gluten Free Cashew Butter Mini-Muffins from The Sweet Spot. Those of you who have been reading my blog know that I have a little bit of a wheat intolerance. But I am a bit hesitant to delve into the world of gluten-free baking, with all of the flours and starches and gums that need to be combined to get the right flavor and texture. Well, this recipe required none of that. Only regular ingredients that I already had in my kitchen.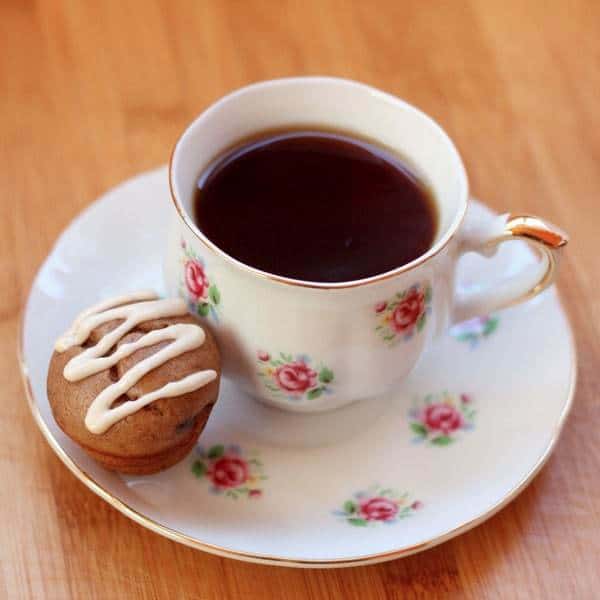 These were yummy little bites. The texture was light and a bit spongy, with just a hint of almond and banana, and bursts of blueberry. They aren't too sweet, and the maple cream cheese glaze balance it nicely. I actually would use a little more glaze that when I originally put, so I scaled up the amounts in the recipe. And I might try bananas that are a bit more ripe, and, therefore, more sweet. I actually had used up all of my ripe bananas for smoothies, so had to use the ripest ones I could find at the grocery store. But this recipe is a keeper, and I think there a lot of variations you could do.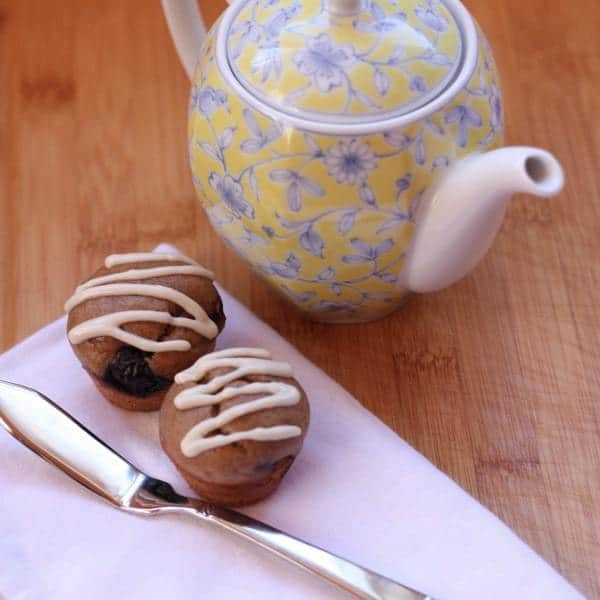 And I had to share with you my little, adorable, alien muffin. Isn't it cute?!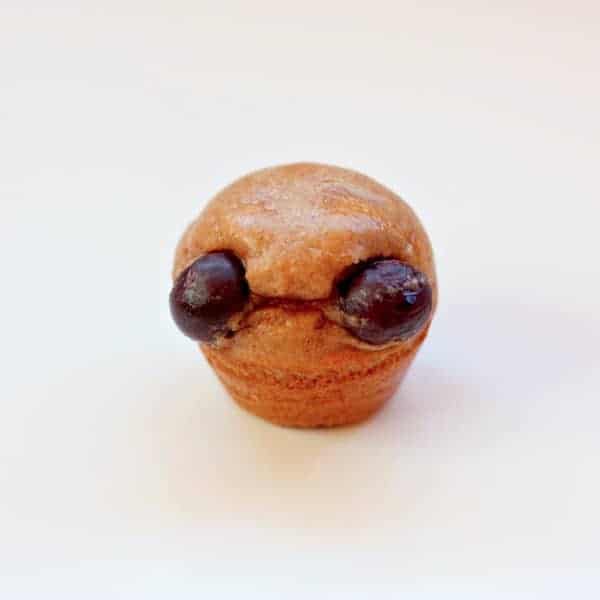 I hope you'll give these a try, especially if you are looking for an uncomplicated gluten-free recipe, or even if you just want to try something different. Let me know what you think.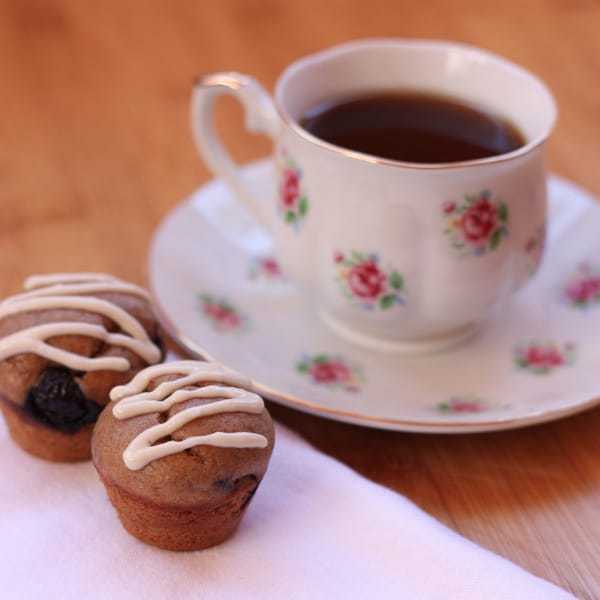 What is your favorite kind of muffin? Do you tend to make recipes as written, or do you mix it up a bit?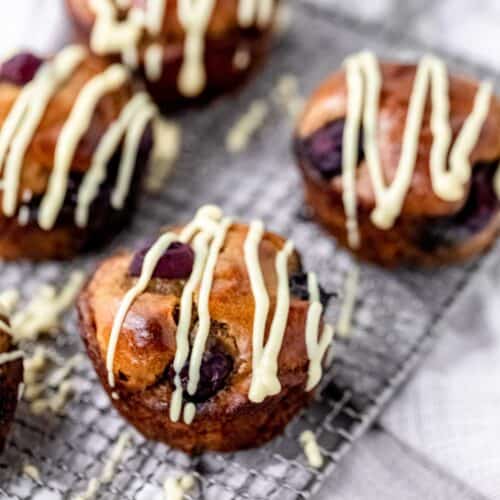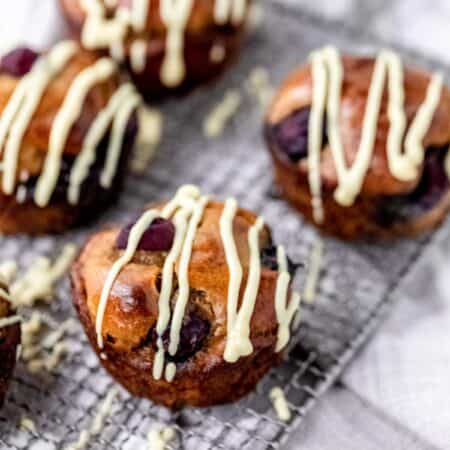 Flourless Blueberry Mini Muffins
Flourless Blueberry Mini Muffins are a bite-sized breakfast treat! Topped with a maple cream cheese drizzle, these are naturally gluten-free and packed with healthy ingredients.
Servings:
24
mini muffins
Ingredients
1

cup

almond butter

2

small bananas

2

eggs

1

teaspoon

vanilla

1/2

teaspoon

baking soda

1

teaspoon

apple cider vinegar

1

cup

blueberries

(about)
For the Maple Cream Cheese:
2

tbsp

cream cheese

2

tbsp

maple syrup
Instructions
Preheat your oven to 400°F. Spray with cooking spray or grease mini muffin pan.

Mix almond butter and bananas in a blender until pureed and smooth.

Add the eggs, baking soda, and vinegar, and blend well.

Place about 1 T of batter in each muffin cup. Top each one with about three blueberries. Divide the remaining batter between the muffin cups, about 1 T more on each.

Bake for 8-10 minutes.

Let cool for a few minutes in the pan, then remove from the pan to cool on a rack.
Cream Cheese Drizzle:
Combine 2 tablespoons softened cream cheese (regular or light) and 2 tablespoons real maple syrup and stir until smooth.

Transfer the cream cheese glaze to a sandwich bag with the corner snipped off, and drizzle over the tops of the muffins.
Notes
This recipe was adapted from The Sweet Spot's Gluten Free Cashew Butter Mini-Muffins.
Nutrition Facts
Flourless Blueberry Mini Muffins
Amount Per Serving
Calories 82
Calories from Fat 54
% Daily Value*
Fat 6g9%
Cholesterol 14mg5%
Sodium 29mg1%
Potassium 123mg4%
Carbohydrates 5g2%
Protein 3g6%
Vitamin A 30IU1%
Vitamin C 1mg1%
Calcium 39mg4%
Iron 0.5mg3%
* Percent Daily Values are based on a 2000 calorie diet.
This recipe was adapted from The Sweet Spot's Gluten Free Cashew Butter Mini-Muffins.
Enjoy this Flourless Almond Blueberry Mini Muffins recipe!