This post may contain affiliate links. Read my disclosure policy.
This easy, healthy Strawberry Banana Smoothie is a sweet and satisfying recipe that you can enjoy for breakfast, as a snack, or even as dessert! You only need 3 ingredients to blend up this dairy-free but ultra-creamy coconut milk smoothie.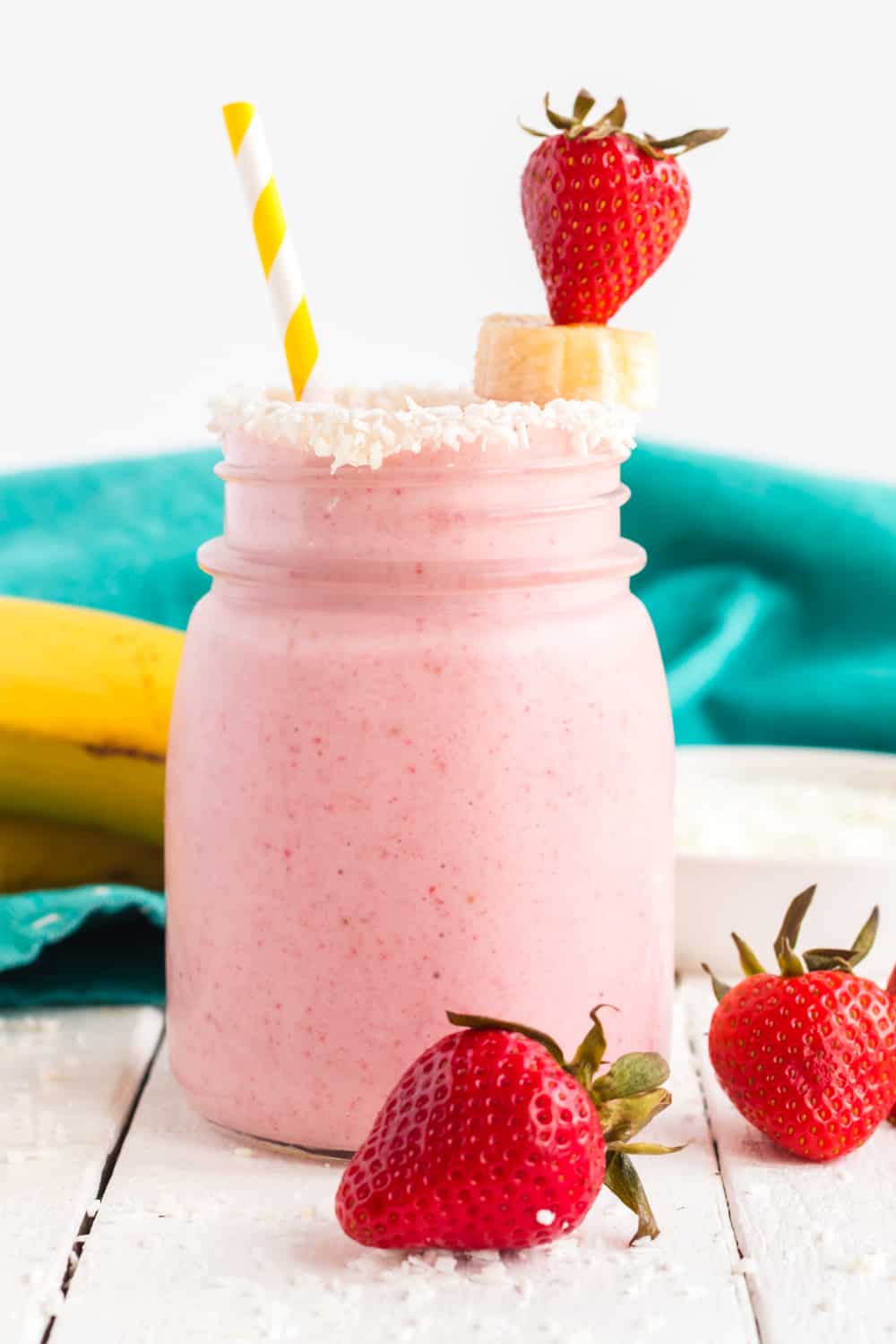 Strawberry Banana Smoothie – Made with Coconut Milk!
I love smoothies. I pretty much have one a day to compensate for the fact that really I'd prefer a daily dose of ice cream. But blending up frozen fruit is definitely a healthier option.
I go through distinct phases where I make the same one every day for months at a time. Sometimes it's a Chocolate Peanut Butter Banana Smoothie or a Cheesecake Cherry Smoothie, which really hits those dessert cravings. And other times I can't get enough Blueberry Smoothies.
But after a trip strawberry picking, I had more berries than we could eat, so I popped some in the freezer to make strawberry smoothies!
This one is a coconut milk smoothie, which makes it both healthy and satisfying, plus both ultra creamy yet still vegan. And with a few simple additions, you can customize it to exactly how you love it, adding in superfoods for extra health benefits or garnishes to make it fun and fancy.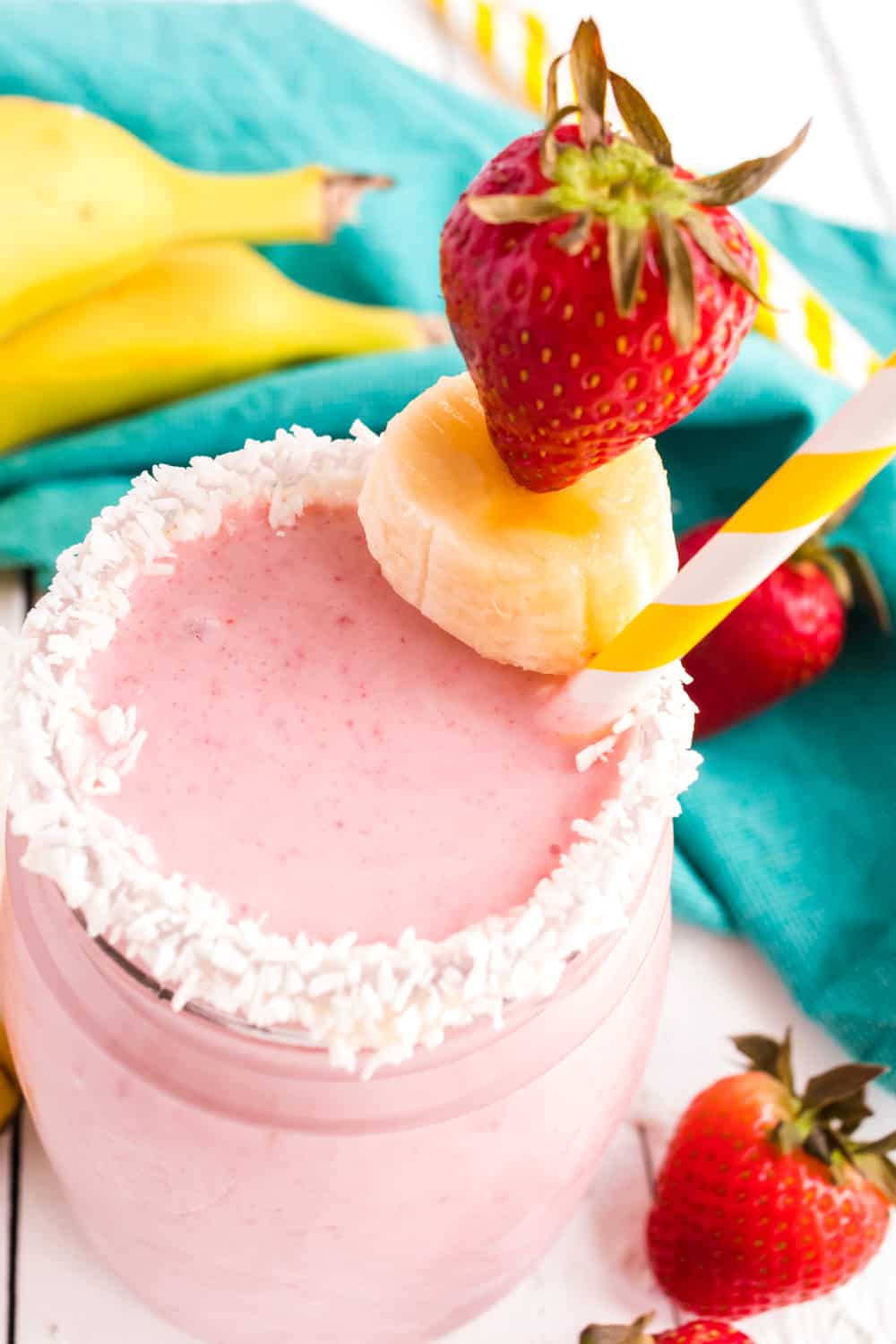 Smoothie Ingredients
There are only three essential ingredients to this strawberry banana smoothie smoothie, though you can feel free to add more to customize it and sneak in some extra nutrition. More on that in a minute, but don't forget to scroll to the recipe card for the full amounts.
Frozen strawberries. You can buy a bag at the grocery store or freeze your own. The best way to freeze strawberries is to remove the stems, wash and dry them thoroughly, then put them on a sheet pan in a single layer. Freeze solid, then transfer to a plastic freezer storage bag. You can also just add fresh strawberries, but frozen ones give you a thicker smoothie.
Frozen bananas. Overripe bananas work great in smoothies because they add a lot of natural sweetness, so you won't need additional sweetener. Frozen bananas also give it an ultra-creamy consistency. I always make sure to freeze bananas when they start to turn brown.
Coconut milk. You can use coconut milk from a can or a carton, depending on the thickness you want, as well as your preference regarding how many calories and how filling your smoothie is.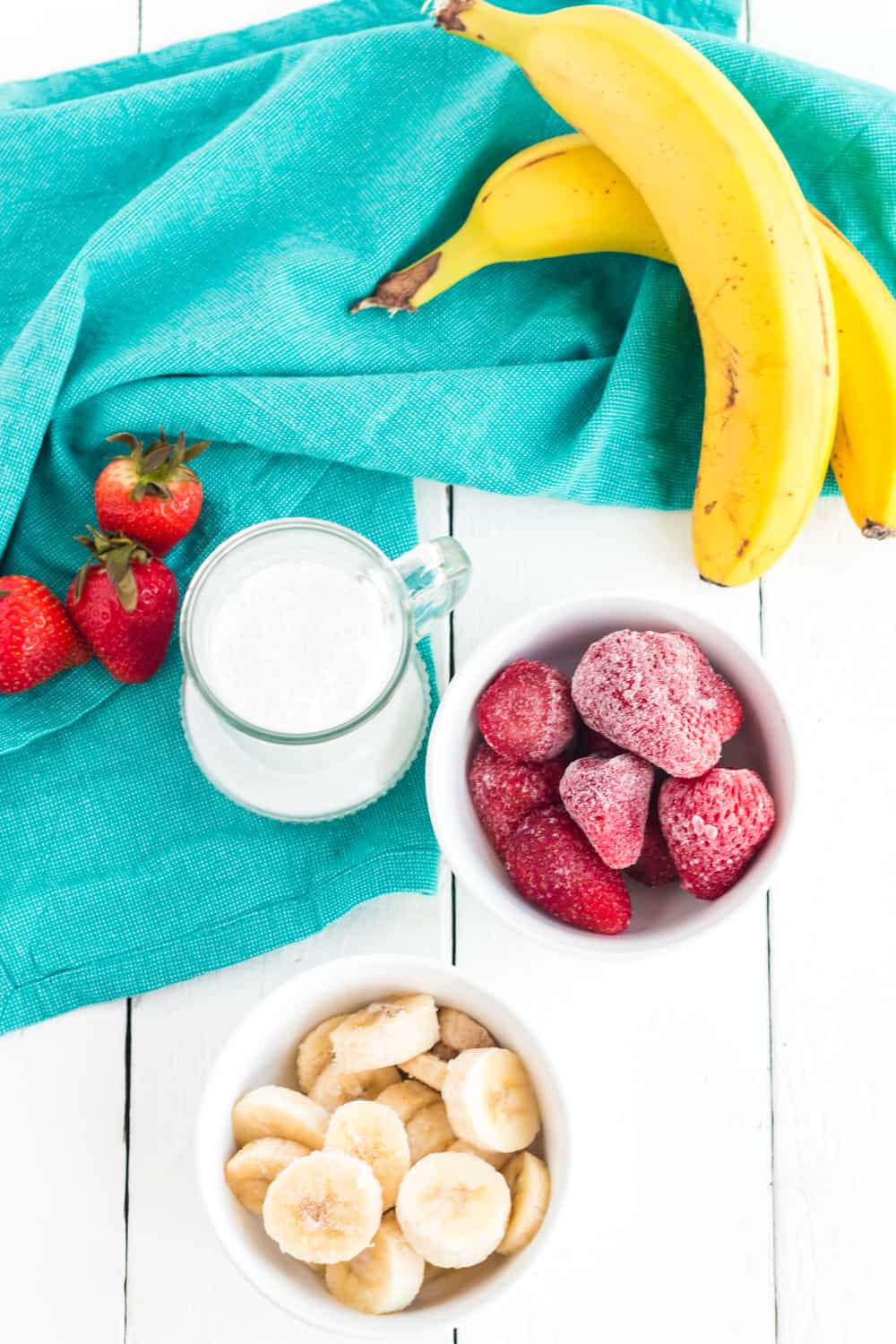 Optional ingredients
Sweetener. The fruit will likely be sweet enough, though feel free to add a bit of honey, sugar, stevia, or another sugar-free sweetener if you do need to sweeten it up a bit.
Greens. Any smoothie can be a green smoothie. Many people choose to add kale to their smoothies, but I am a fan of baby spinach. It still has plenty of fiber, vitamins, and minerals, however, it breaks down easily and doesn't impart as strong of a flavor.
Superfood seeds. Chia seeds, flax seeds, and hemp seeds add heart-healthy omega 3s, and they actually can help make a smoothie extra thick.
Protein powder. There are many kinds of protein powders on the market. Some are whey-based, whereas others use plant-based protein. Stick to a vegan protein powder if you want to keep your smoothie dairy-free. I actually like collagen powder as find it does not give it a grainy or powdery texture like some other protein powders.
Toppings and garnishes. Smear a little honey or agave around the rim of your glass or jar and dip it in shredded coconut, or just sprinkle some coconut on top. Place a sliced strawberry on the rim or float banana slices on top. You can also thread them onto a wooden skewer and place that in the glass. And a little whipped cream or whipped coconut cream always makes a healthy smoothie feel like a treat.
Last updated on September 30, 2023 6:03 am
How to Make a Strawberry Banana Smoothie
Ok, let's make this smoothie! You won't be surprised to learn that it is incredibly easy to do. Here's how:
Blend the Smoothie. Add the three main ingredients to you blender, plus any of the optional add-ins you choose. Turn on your blender and blend until smooth.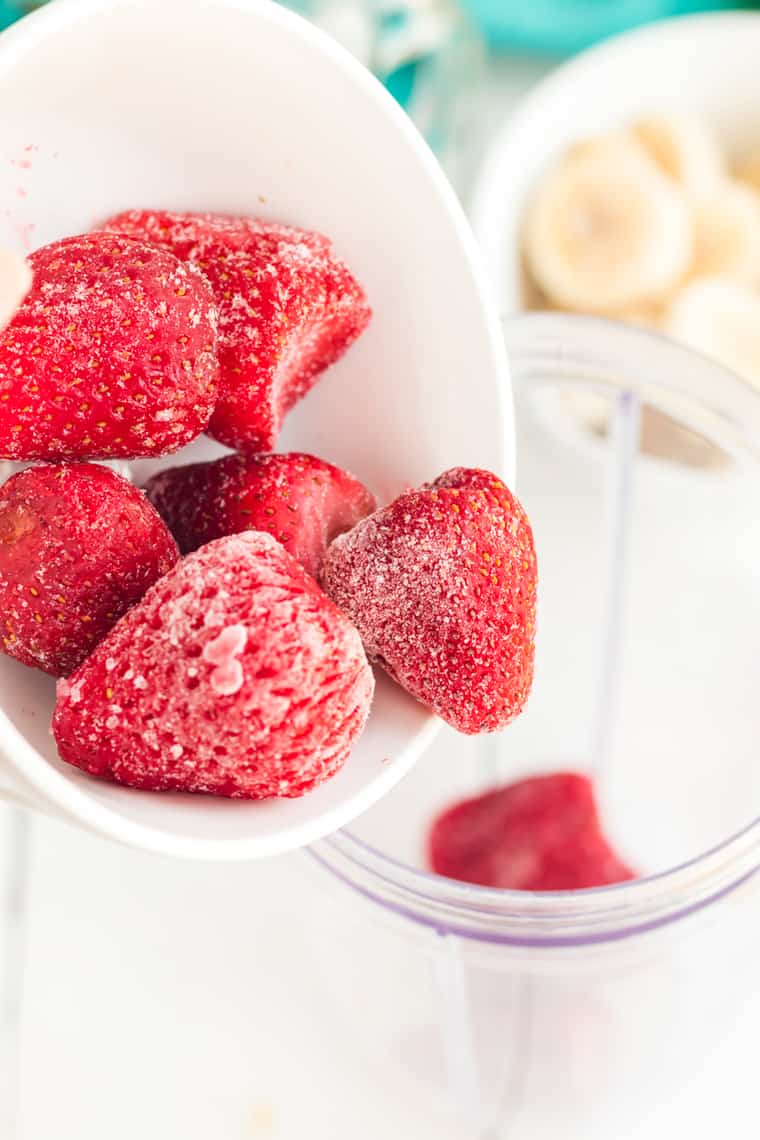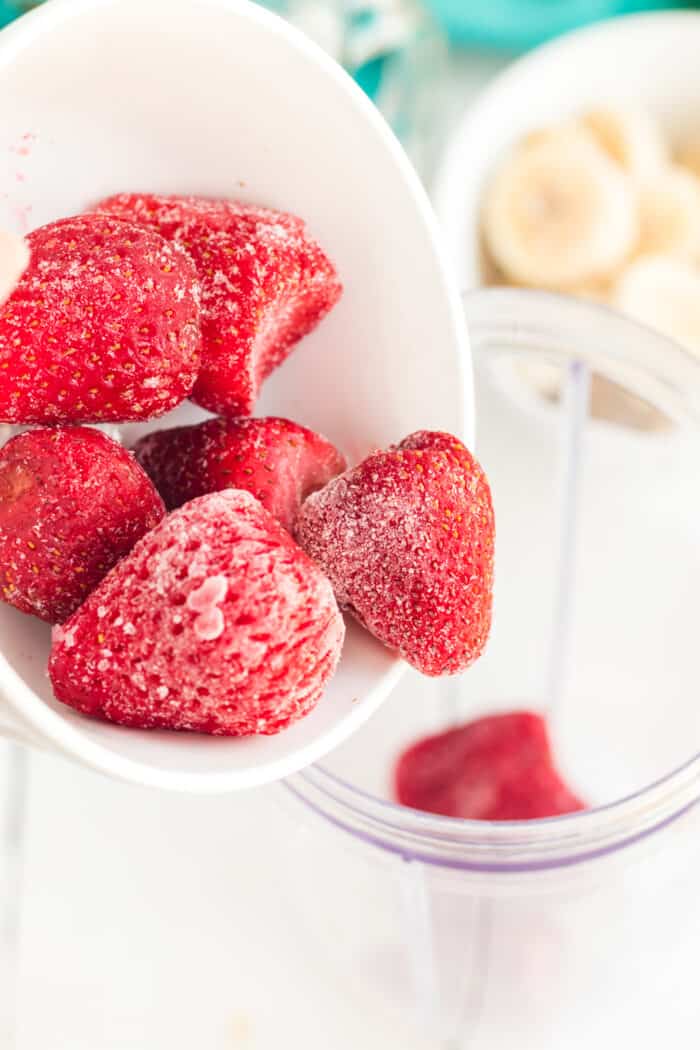 Garnish and Serve. Pour the smoothie into a cup or glass and garnish as desired. Then stick in a straw and enjoy!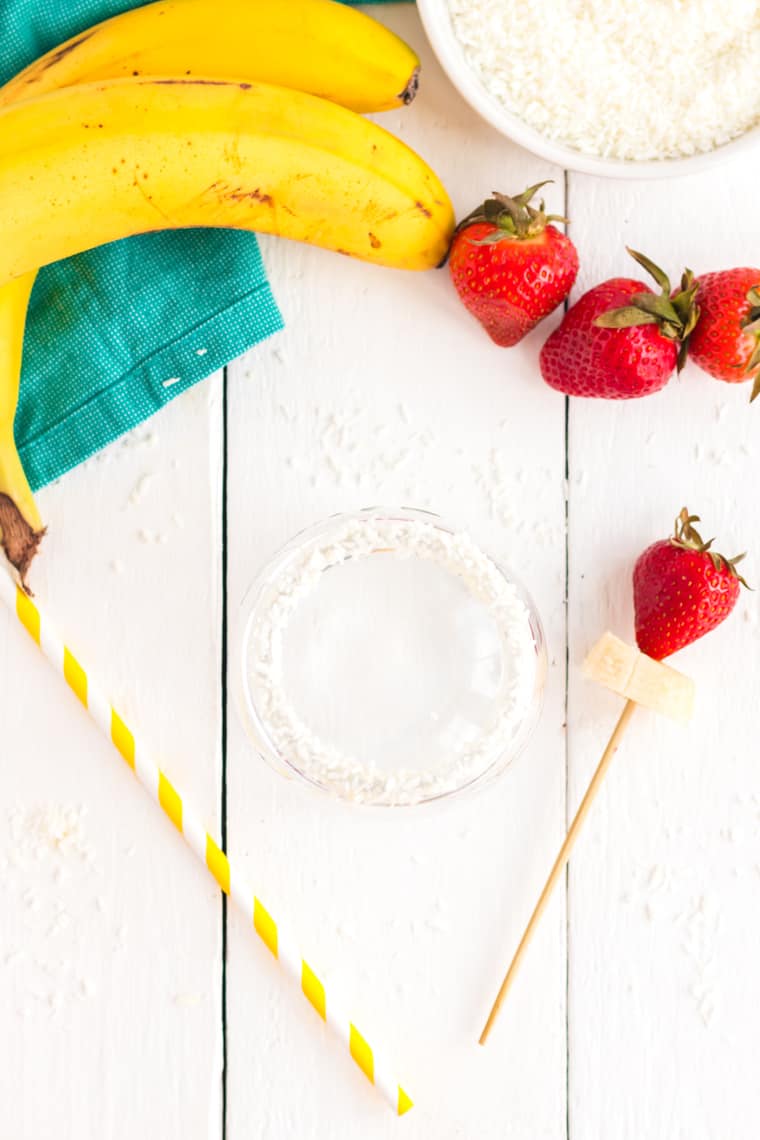 Tips for the Best Smoothies
Choose Your Milk. You have a few options for what to use in this coconut milk smoothie.
Coconut milk from a carton typically has less calories, particularly if it is unsweetened. However, it will also give you a thinner smoothie and likely is not as filling.
Canned coconut milk gives your smoothie a richer texture, stronger coconut flavor, and makes it more filling. Light coconut milk still makes a pretty thick and satisfying smoothie. But you can also choose full fat coconut milk. In fact, this makes it so filling that you can even divide it into two smoothies.
Another milk. While I love the richness of coconut milk, you can certainly make this with your favorite dairy or non-dairy milk (see: Is Oat Milk Gluten Free?)
Choose Your Fruit. Using all frozen fruit makes this strawberry banana smoothie extra thick, almost like ice cream. Only freezing one of the fruits or adding in a little more liquid can thin it out closer to a milkshake. If you are only going to freeze one of the fruits, I'd recommend the banana. Frozen banana helps add a great creamy texture to banana smoothies.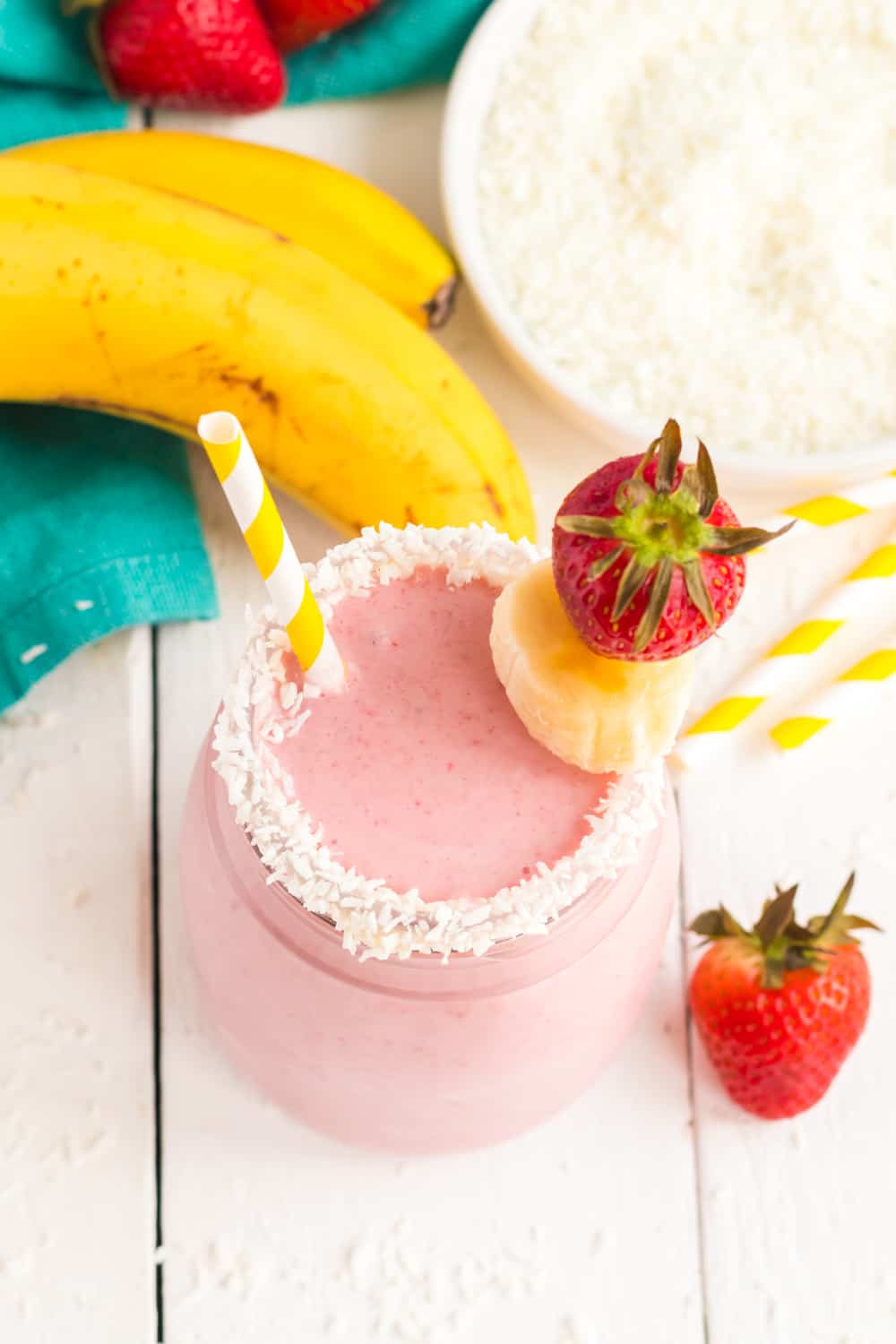 Make it a Meal
If you are looking for a light breakfast or lunch, this strawberry banana smoothie might be all you need. And it certianly makes a satisfying snack on its own. But if you want something a but more hearty, sip on one alongside ont of these breakfast ideas:
You can also make your snack more filling if you have it with: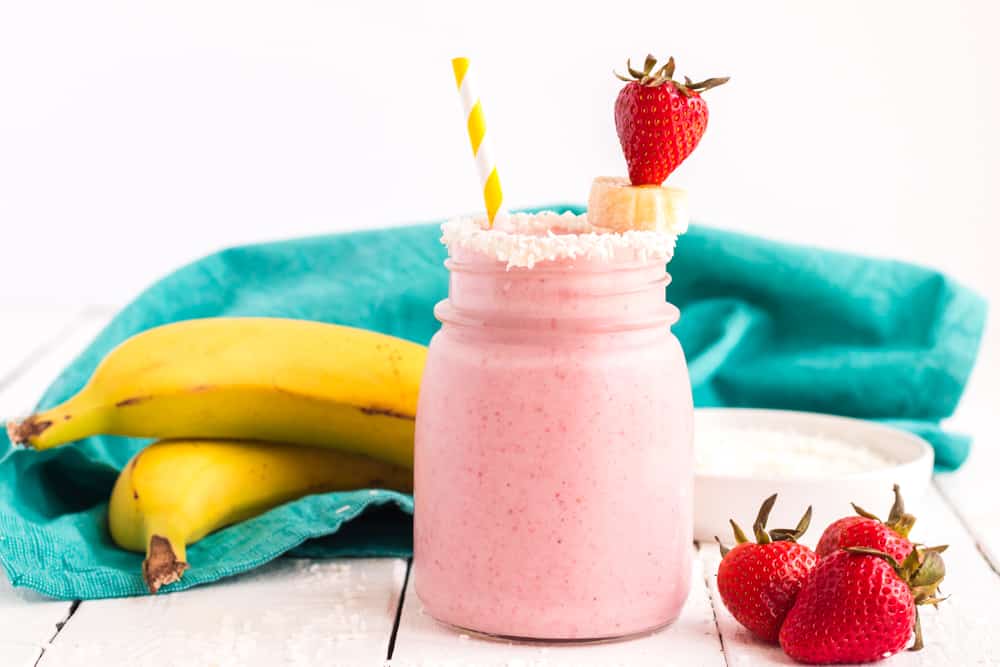 Brianne's Favorite Blender
I always recommend a high-powered blender like the Blendtec for the smoothest, most creamy smoothies. The Mini Wildside+ Jar is the perfect size for one or two smoothies. You can even use the "Smoothie" setting to have it gradually increase the speed to perfectly incorporate the liquids and frozen ingredients. Note, I do usually stop it a little before the cycle is over because I prefer an extra thick smoothie.
I am a Blendtec ambassador, and should you make any purchases through my  Blendtec Store link, I will receive a small commission, but that also means you can use the code CUPCAKESANDKALECHIPS to receive 20% off.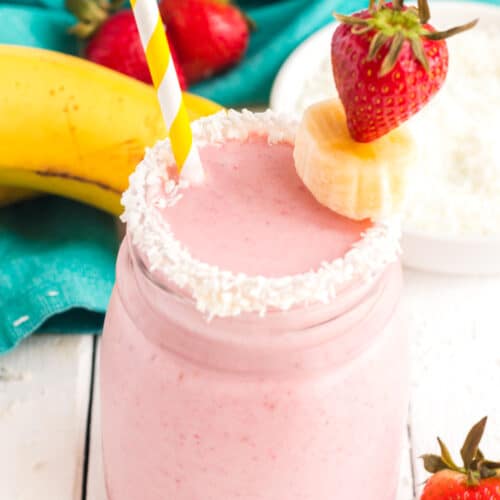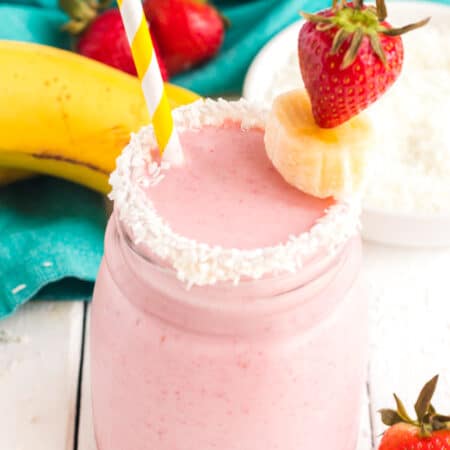 Strawberry Banana Smoothie
This easy, healthy Strawberry Banana Smoothie is a sweet and satisfying recipe that you can enjoy for breakfast, as a snack, or even as dessert! You only need 3 ingredients to blend up this dairy free but ultra-creamy coconut milk smoothie.
Ingredients
1

cup

frozen strawberries

1

frozen very ripe banana,

cut into chunks

1

cup

coconut milk

(from a can or carton, regular or light)

Optional leafy greens (kale or spinach), superfood seeds (chia, flax, or hemp), protein powder (collagen or vegan), and garnishes (more fruit, shredded coconut, whipped cream)
Instructions
Add the frozen strawberries, bananas, and coconut milk to a blender, plus any additional optional ingreidents. Blend until smooth and pour into a glass, then garnish as desired and enjoy immediately.
Nutrition Facts
Strawberry Banana Smoothie
Amount Per Serving (1 smoothie)
Calories 318
Calories from Fat 126
% Daily Value*
Fat 14g22%
Sodium 169mg7%
Potassium 643mg18%
Carbohydrates 45g15%
Protein 2g4%
Vitamin A 76IU2%
Vitamin C 95mg115%
Calcium 23mg2%
Iron 1mg6%
* Percent Daily Values are based on a 2000 calorie diet.
Categories:
More Strawberry and Banana Smoothies