This post may contain affiliate links. Read my disclosure policy.
Banana Smoothie Recipes are a sweet and creamy way to enjoy a healthy breakfast or snack. You can even enjoy them as dessert. Here are some helpful tips to make banana smoothies plus 15+ of the best recipes!
Banana Smoothies
Smoothies made with bananas might just be the best ones to enjoy. Adding frozen bananas to your blender makes smoothies that have a rich and creamy consistency. It's almost like drinking a healthy milkshake!
By letting them get overripe before using them in a smoothie, they add a natural sweetness so that you may not even need to add any extra sugar or other sweeteners.
And the flavor possibilities to pair with banana are endless.
Freezing bananas
While there are some smoothies recipes that call for just overripe bananas off of your counter, freezing them is what makes the smoothie thick and smooth.
You can either freeze your bananas whole and cut them into chunks once frozen, or freeze the chunks. Place them in airtight containers or freezer storage bags before freezing.
How to make a banana smoothie
You'll need
What order to add smoothie ingredients
You will typically want to add the ingredients to your blender in the order listed above. If you are using leafy greens, it is best to add them first to ensure they are able to be broken down completely because they get submerged in the liquid.
The small amounts of dry add-ins and soft ingredients go next because they break down and distribute in the liquid. Frozen fruit and ice are last so that they blend just enough to keep a thick texture and don't melt completely.
Now if you are using one of those blender cups that you flip upside down before blending, generally you'll want to reverse this order.
Then just blend until smooth, which, of course, means you'll need…
I always recommend a high-powered blender like the Blendtec for the smoothest, most creamy smoothies. The Mini Wildside+ Jar is the perfect size for one or two smoothies. You can even use the "Smoothie" setting to have it gradually increase the speed to perfectly incorporate the liquids and frozen ingredients. Note, I do usually stop it a little before the cycle is over because I prefer an extra thick smoothie.

I am a Blendtec ambassador, and should you make any purchases through my Blendtec Store link, I will receive a small commission, but that also means you can use the code CUPCAKESANDKALECHIPS to receive 20% off.
15+ Healthy Banana Smoothie Recipes
CLICK ON THE TITLES TO GET THE RECIPES
Let's kick this off with a classic flavor combination, one I affectionately refer to as "Funky Monkey". It's chocolate and peanut butter along with those bananas, so naturally it tastes totally decadent. But it's a healthy way to indulge.
The coconut milk in this strawberry banana smoothie does triple duty. It makes it extra creamy. It's actually dairy free. And it gives this classic fruity pairing a little tropical twist. You only need three ingredients to make it so pretty in pink, but you can always sneak some superfoods like greens and seeds.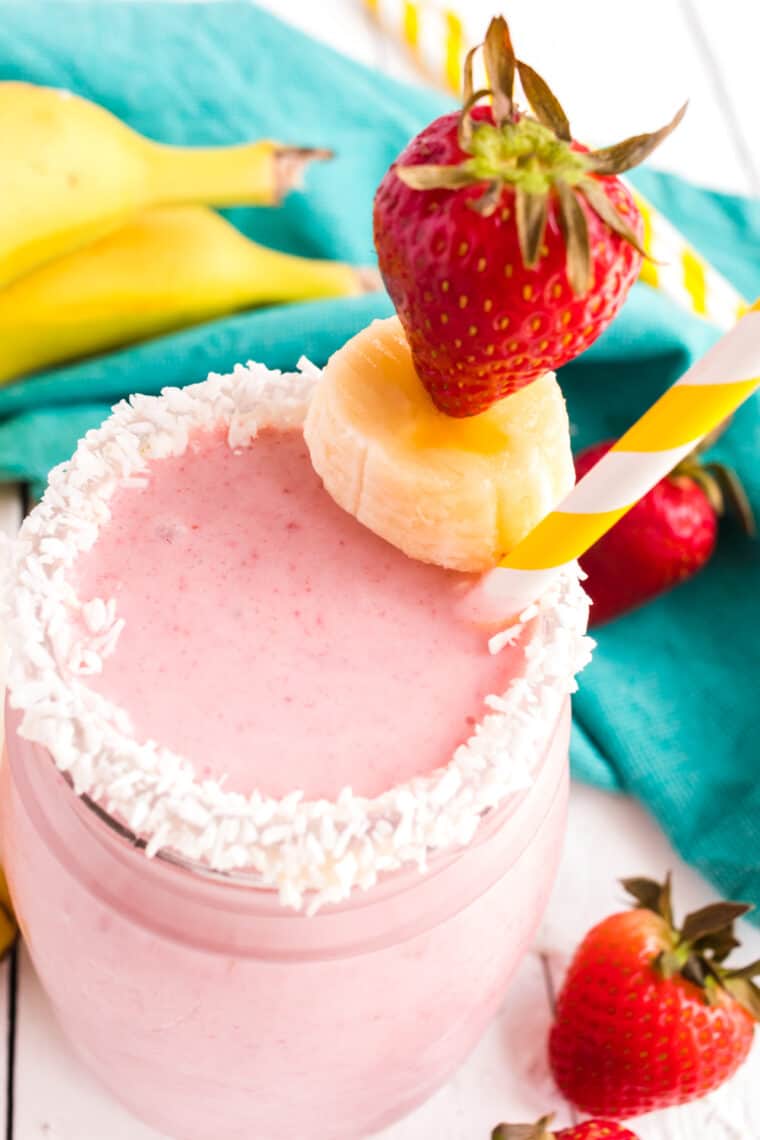 You only need four ingredients, and no super sweet concentrates or powdered mixes. Naturally sweet and creamy with the perfect hint of vanilla and warm spices you love in a Chai tea latte. But now you can enjoy it as a frosty breakfast, snack, or even dessert.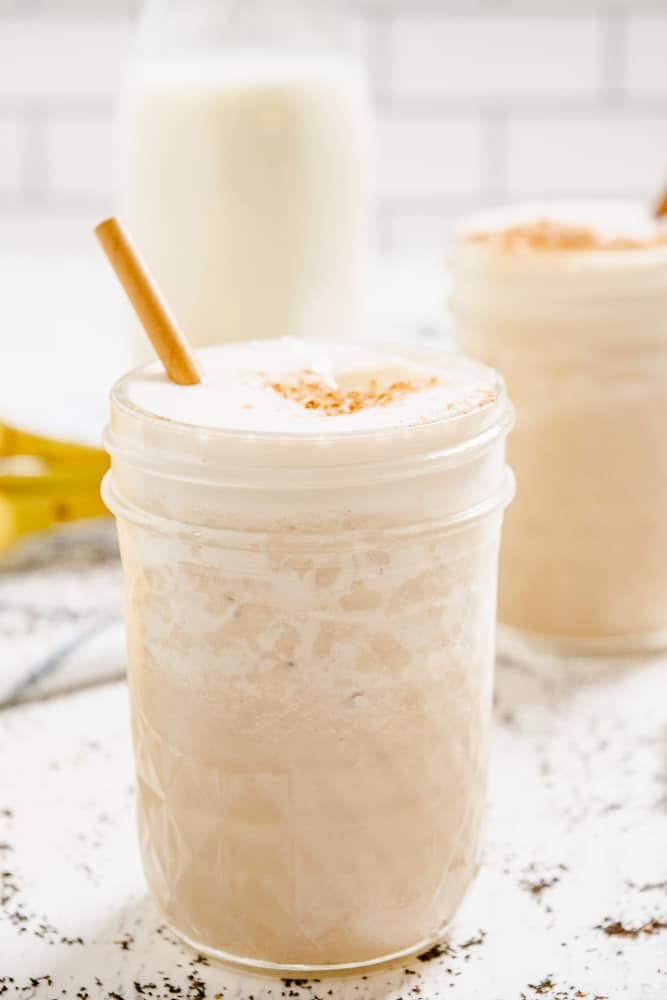 Coffee and chocolate come together with a frozen banana and almond butter make it rich and creamy, but still good for you. Move over Starbucks, there's a leaner, meaner option to satisfy your Frappuccino cravings.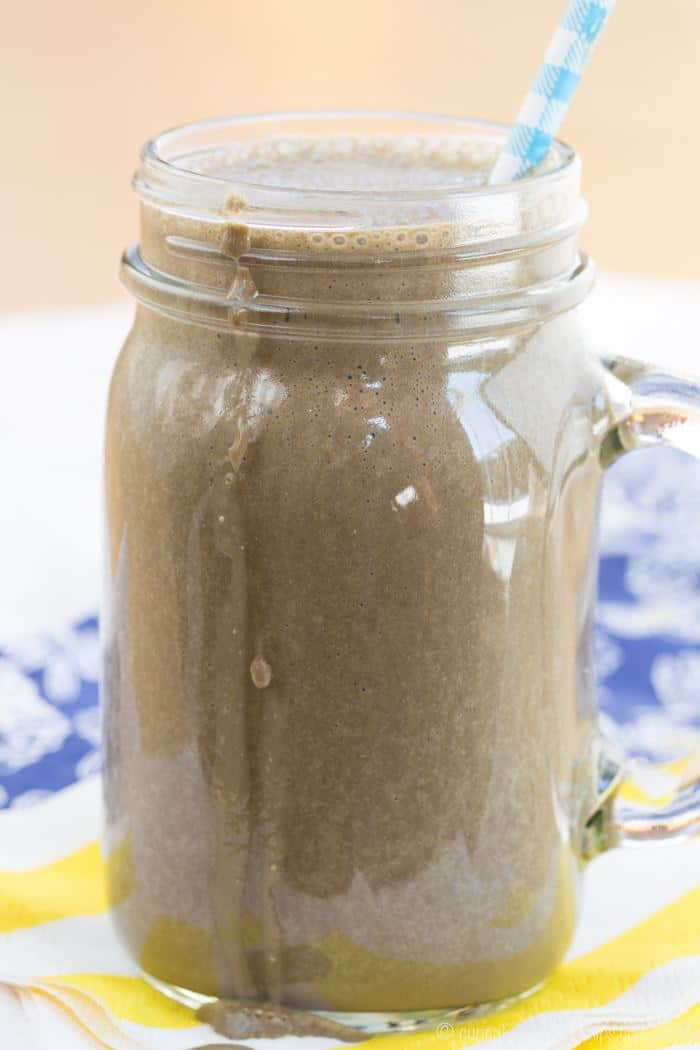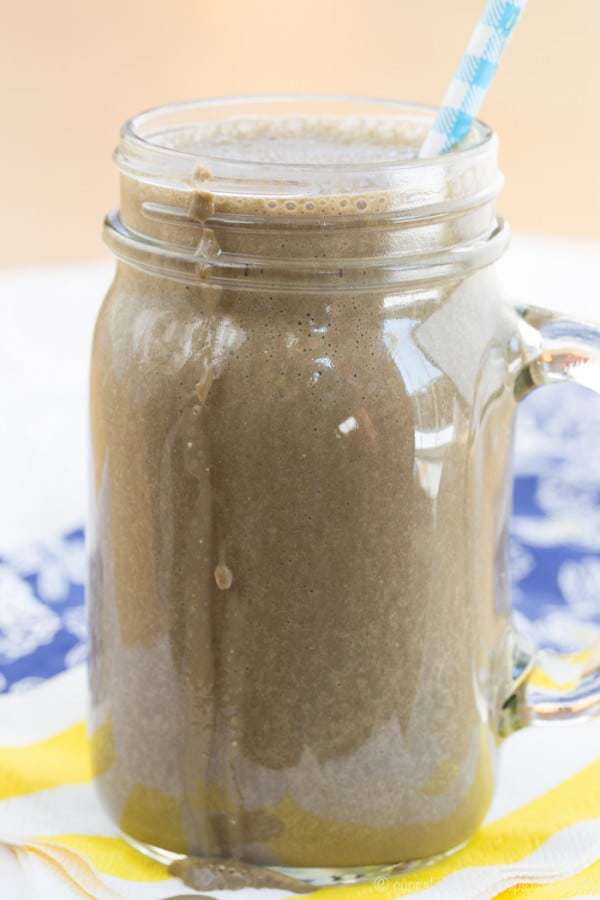 Satisfy your minty milkshake craving, but without the extra sugar, crazy ingredients, or artificial colors. Yes, this naturally green mint smoothie has the refreshing flavor and creamy texture you love, but with these ingredients, you can feel good about enjoying a Shamrock Shake for breakfast, as a protein-packed snack, or even a healthy dessert.
Thick, chocolaty, and oh so naturally sweet and delicious. The pistachios add a richness along with extra protein, fiber, and healthy fats to make it more satisfying. And of course the banana gives it that milkshake texture.
A bright and refreshing way to start your day with a nostalgic flavor that kids love and will bring you back to your own childhood. Only five ingredients, this creamy, easy sweet treat is packed with Vitamin C and protein.
Nobody can resist rich chocolaty flavor with a fresh burst of mint. With the flavors of a sweet treat, you'll think you are enjoying a milkshake for dessert, but it's truly a wholesome breakfast or snack.
This healthy smoothie can be made ultra decadent with peanut butter or lighter with powdered peanut butter. But either way, it's a healthy, protein-packed snack that has the consistency of a thick milkshake. Add some texture, and, yes, chocolate with a few mini chips or pack in the chocolaty flavor with super foods by adding cacao nibs.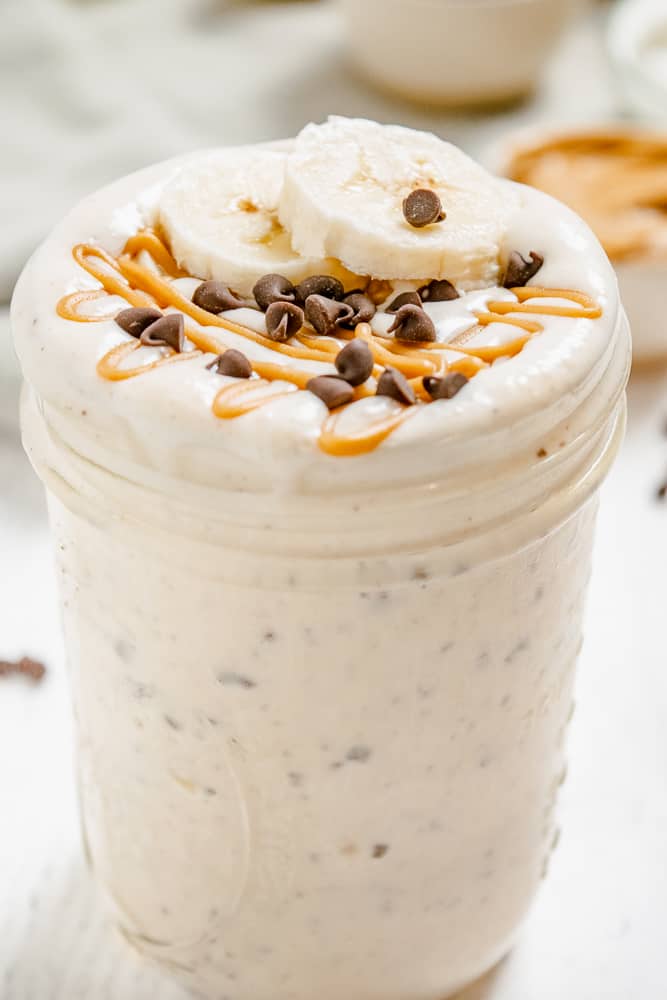 Remember the Protein Blended Cold Brew from Starbucks? This is an even healthier version of that temporary menu item with flavors of chocolate and almond butter to make it healthy, full of protein, and delicious with a little jolt of caffeine.
While this smoothie might be all about the strawberry flavor with the tangy goodness of cream cheese, it's the banana that makes it feel extra luscious. You don't get that smooth consistency reminiscent of cheesecake with just strawberries.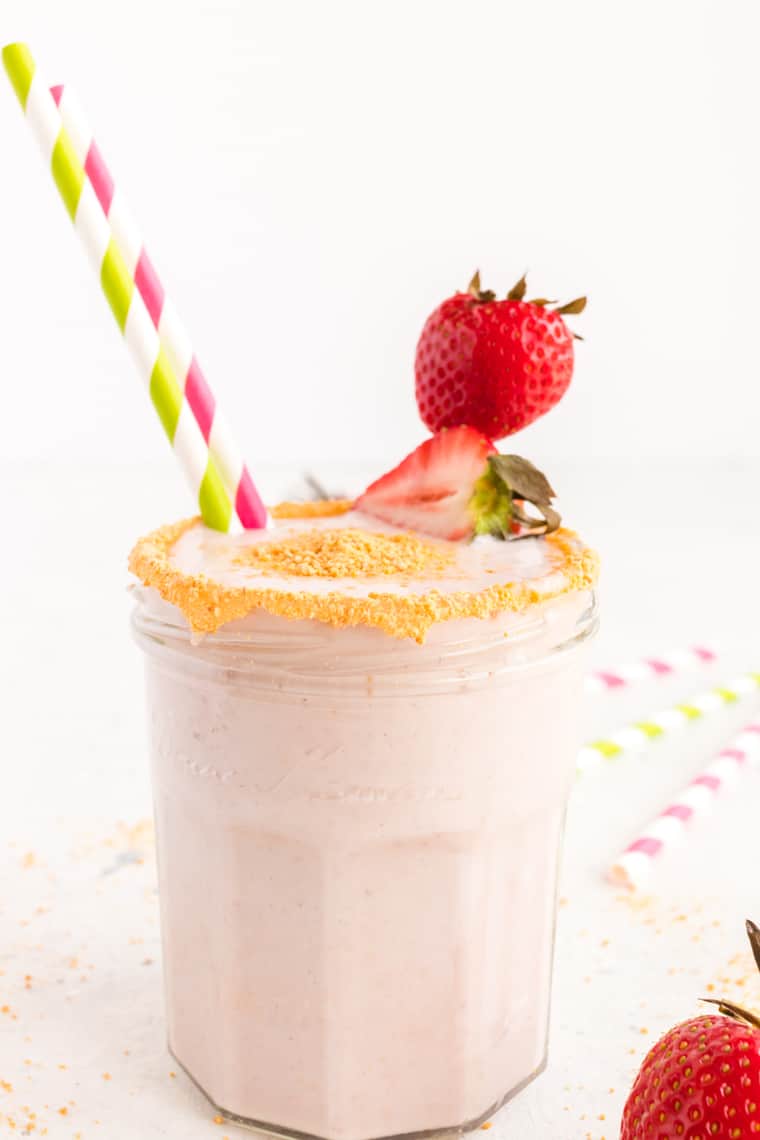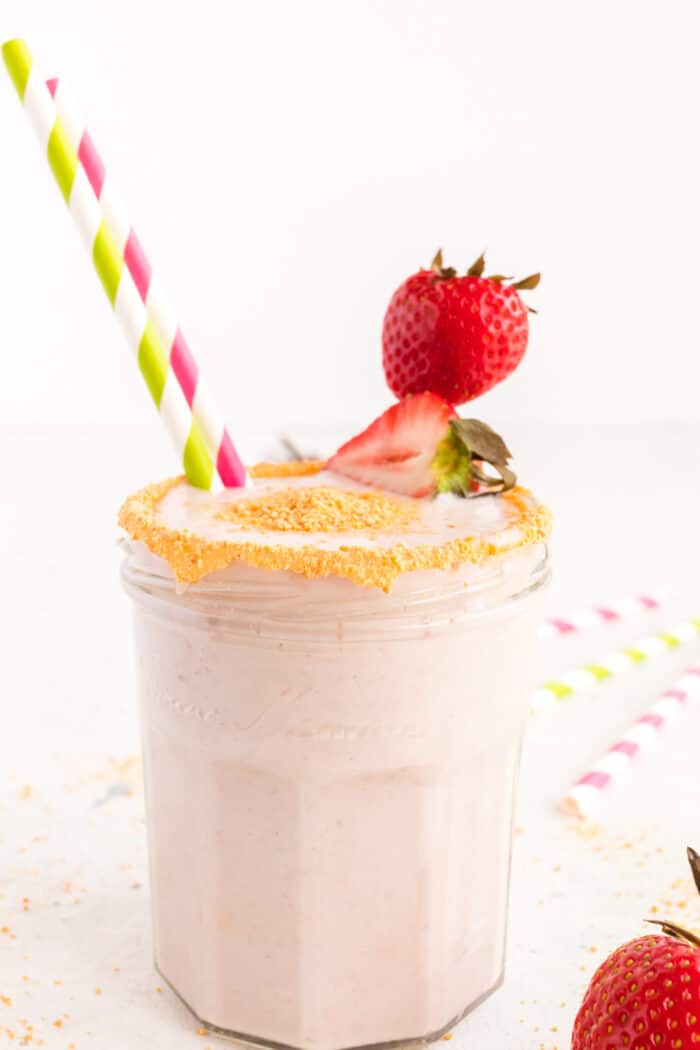 Here is another case where the banana doesn't add so much to the flavor as it does to the texture, as well as providing some natural sweetness. If you are a pumpkin-lover, you'll be pleasantly surprised by the pairing of the warm pumpkin spices with just the right amount of chocolate.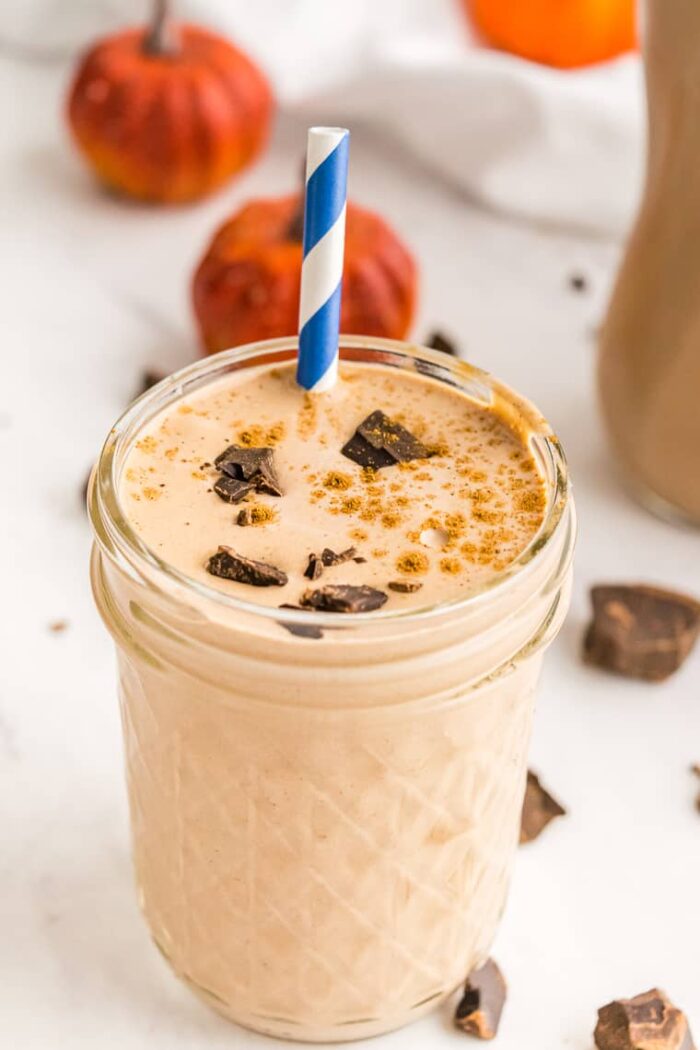 Start with a strawberry smoothie and add a banana matcha swirl. This makes for an extra special smoothie that's as sweet and yummy as it is beautiful. It's a healthier version of a limited-edition Starbucks treat, the Cherry Blossom Frappuccino that was available only in the Washington, DC area.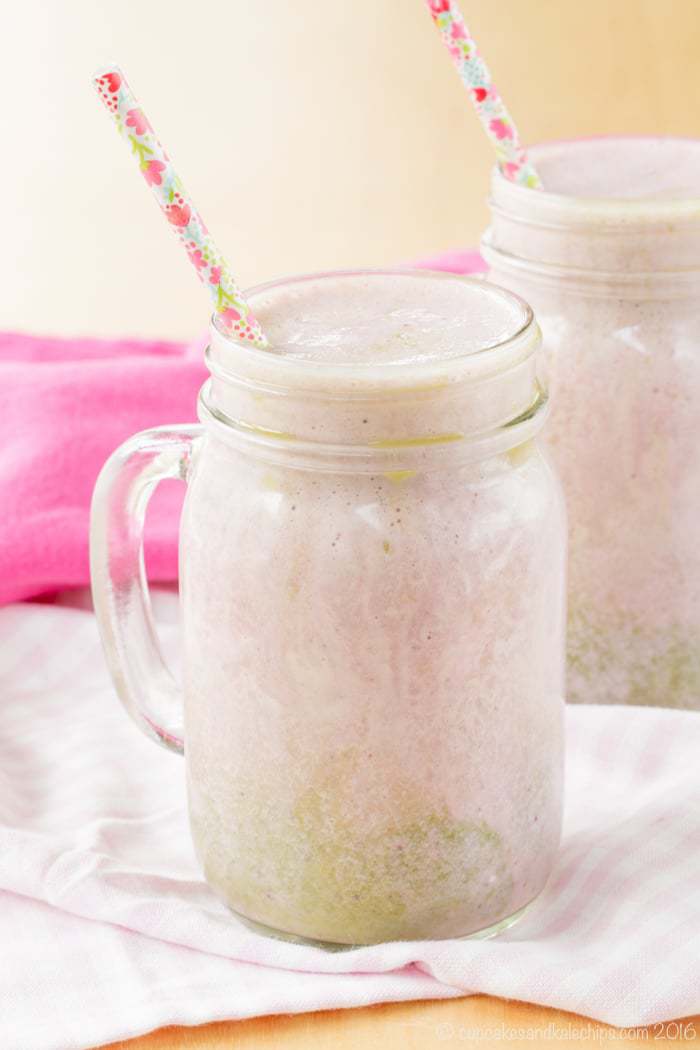 Another swirly smoothie, this one combines a basic blueberry smoothie with a honey vanilla smoothie made with bananas. Sure, you could just blend everything all together, but this makes it a little more fun. And then you have two smoothies to share with someone special or split between the kiddos.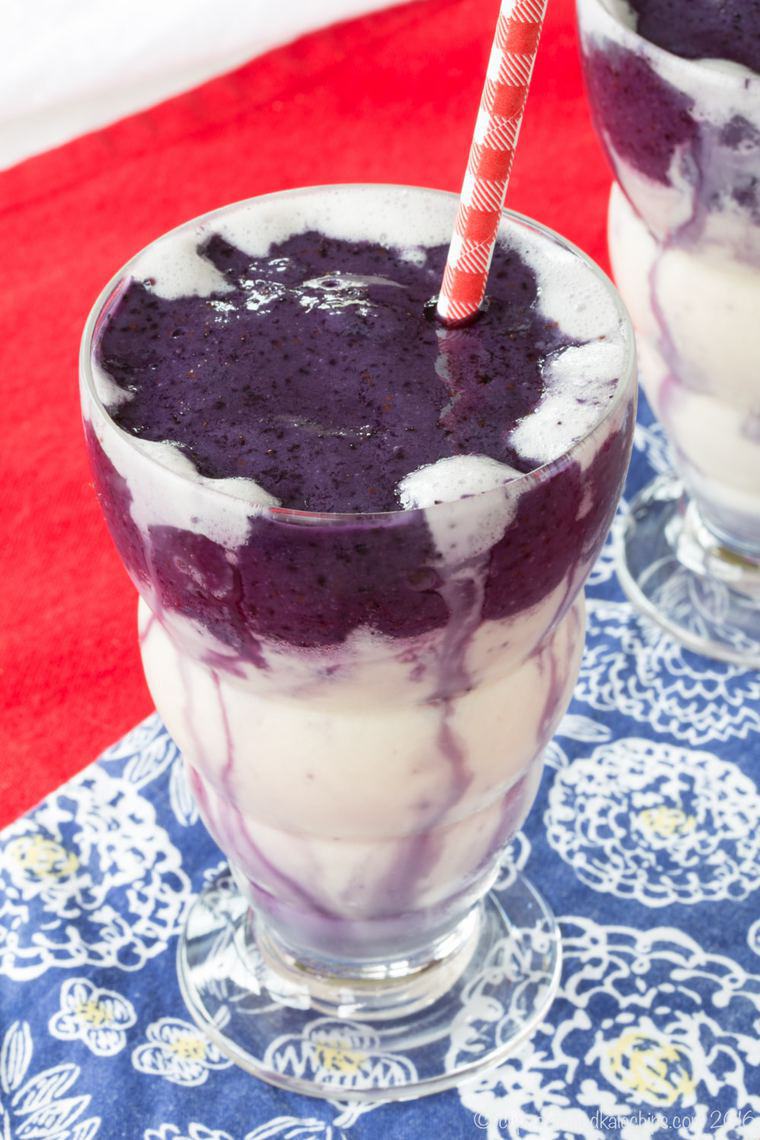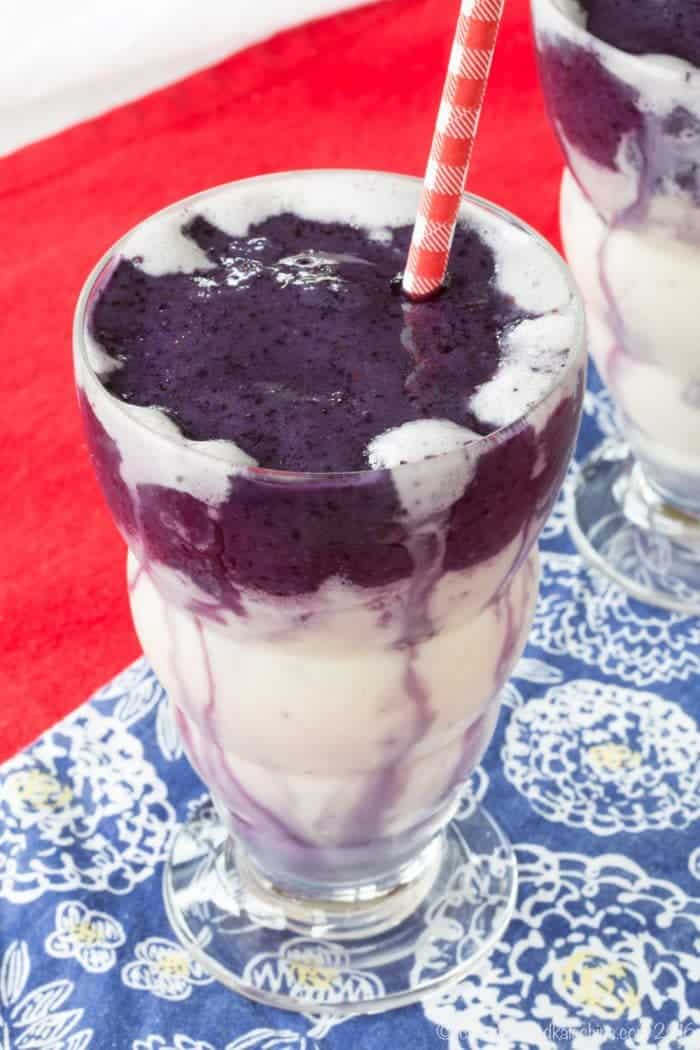 More Recipes for Banana Smoothies
Banana Smoothie Bowls
If you prefer to eat your smoothie with a spoon, maybe you prefer a smoothie bowl. They are blended up extra thick, poured into a bowl, then dressed up with your favorite toppings.
Try these smoothie bowl recipes
If you want some more fruit smoothies, check out these: